Making purchases at Amazon.com and other website funds this website by generating revenue. Any help is appreciated and supports both me and content like this.
All Clad 8 Inch Non Stick Skillet Review
The 8 inch skillet is one of the most used pan at home. They are perfect for cooking small items such as eggs, bread, browning small cuts of meats or just cooking for one. Today we will be looking at All Clad
8 Inch Non Stick Skillet to see what sets it apart from the competition. This particular model is the D5 Stainless steel version. Is the non stick really worth it? What about the price tag? To see, if this is true, we will look into the design and see how it performs.
All Clad 8 Inch Non Stick Skillet Review Quick Summary
| Categories | All Clad 8 Inch Non Stick Skillet |
| --- | --- |
| Performance | Great |
| Compatibility | Gas, Electric, Halogen, Glass Top, Induction |
| Colors | Polished or Brushed Stainless Steel |
| Warranty | Lifetime Warranty |
| Brand Awareness | America |
| Country of Manufacturer | America |
| Thoughts | A great performing non stick pan. You can really see the attention to detail. On the test performed, you can see a pretty good distribution of heat. |
| Reviewed Cookware | All Clad Non Stick Fry Pan |
All Clad 8 Inch Non Stick Fry Pan Design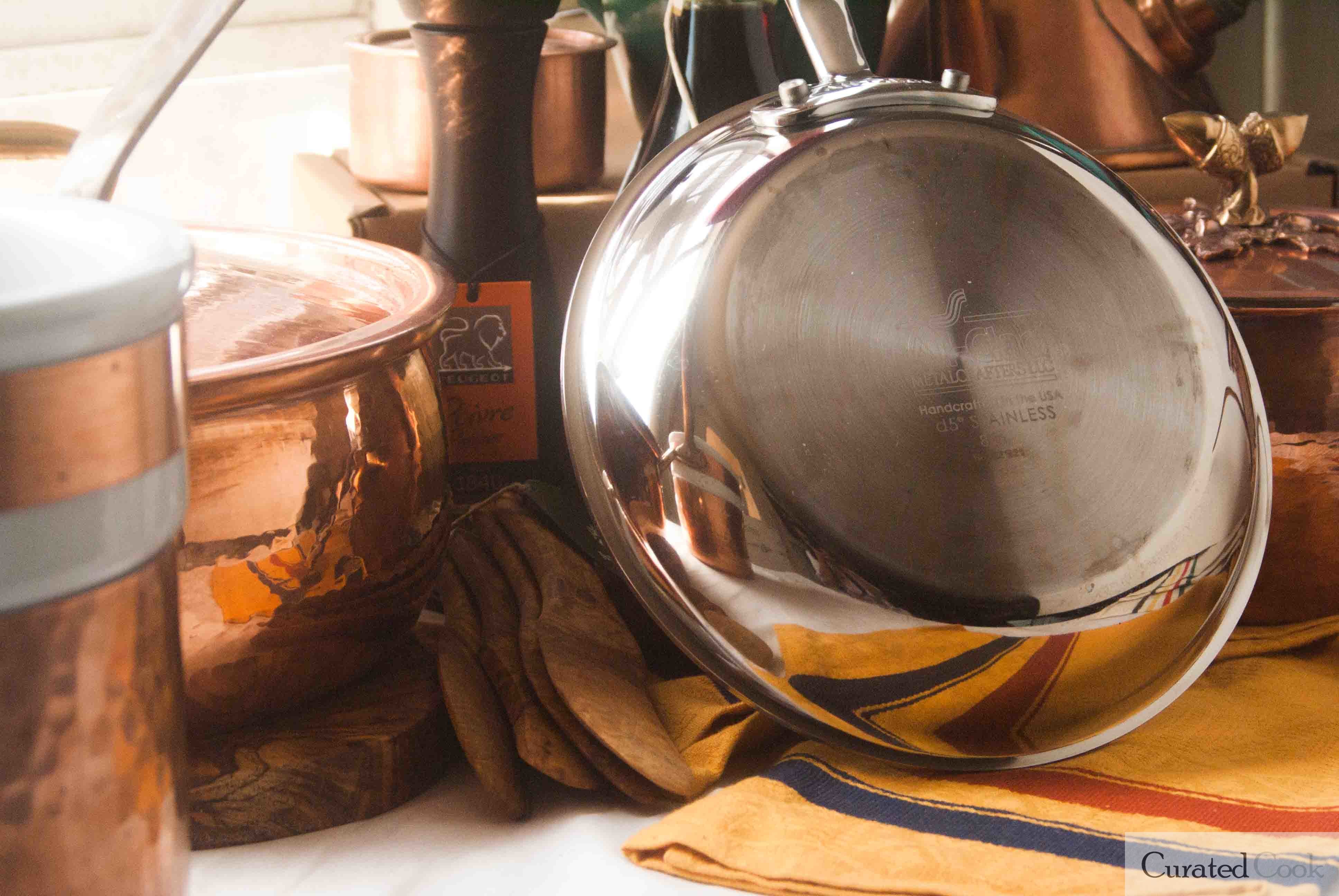 Handle
We will start off with all clad's handle design. In short, it is one of the most painful handle in the industry. It has sharp edges that cuts into your hand when you grip it. You might not feel the pain initially but imagine being a professional cook who has to stand on their feet for 12 hrs straight. This handle will eventually cause some pain. You will eventually develop the Mark of All Clad.
Now there is an upside to this design, the two edges really dig into your hand so that it provides excellent grip. That grip lets you pour things with ease.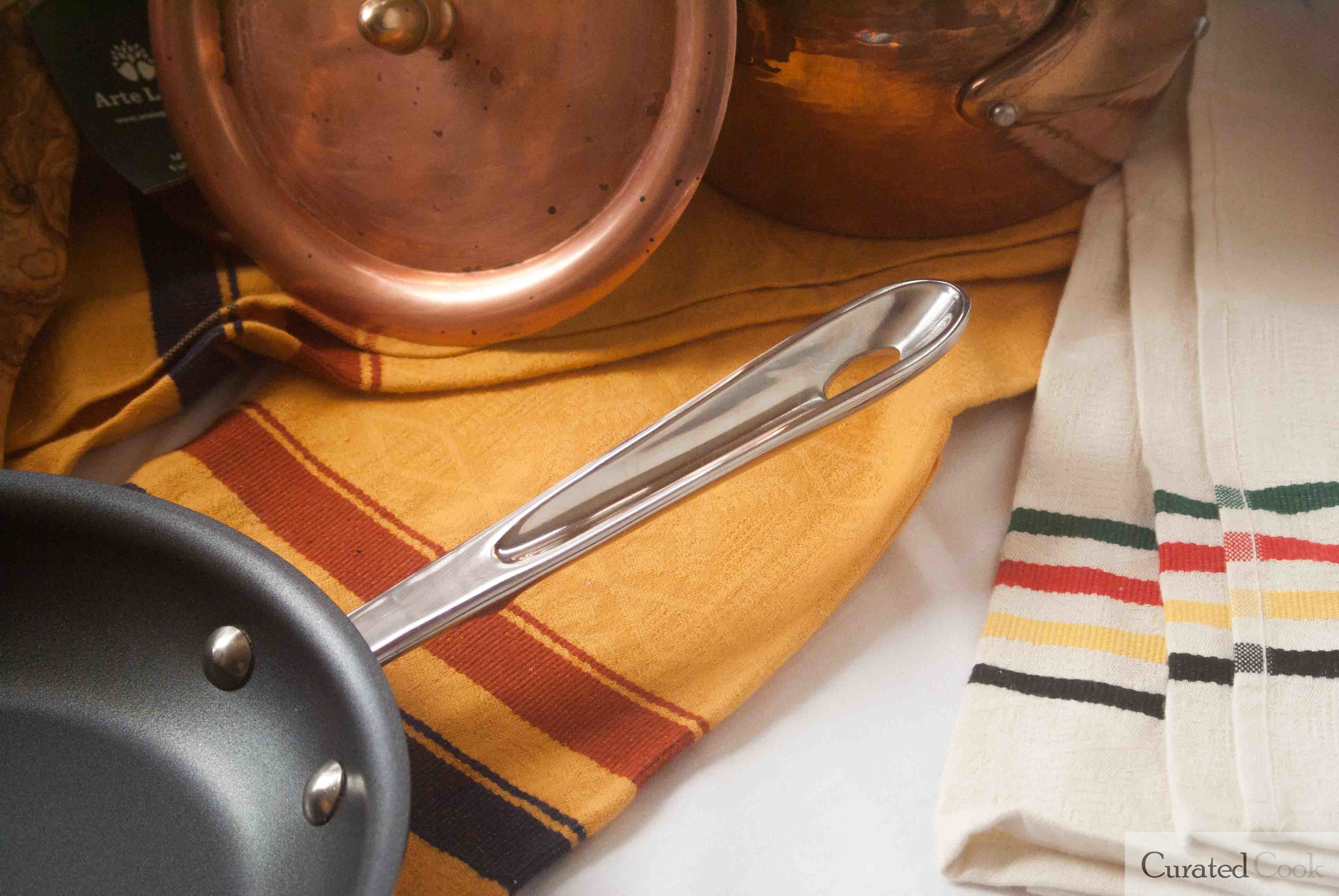 The second benefit is that the handle stays cool when you are cooking on the stove top. Because of the way the handle curves inward, there is a increase in surface area allowing for the heat to dissipate rapidly. Your palm will also be clear of direct contact with the metal, meaning less direct heat. This does not mean that the handle will not get hot though. If you stick the skillet in the oven or cook for two long, I recommend you use a towel or mitten. I do it regardless for pots and pans with metal handles just to be safe.
The handle is attached with two big rivets instead of a screw like other manufacturers. This means that it wont become loose over time.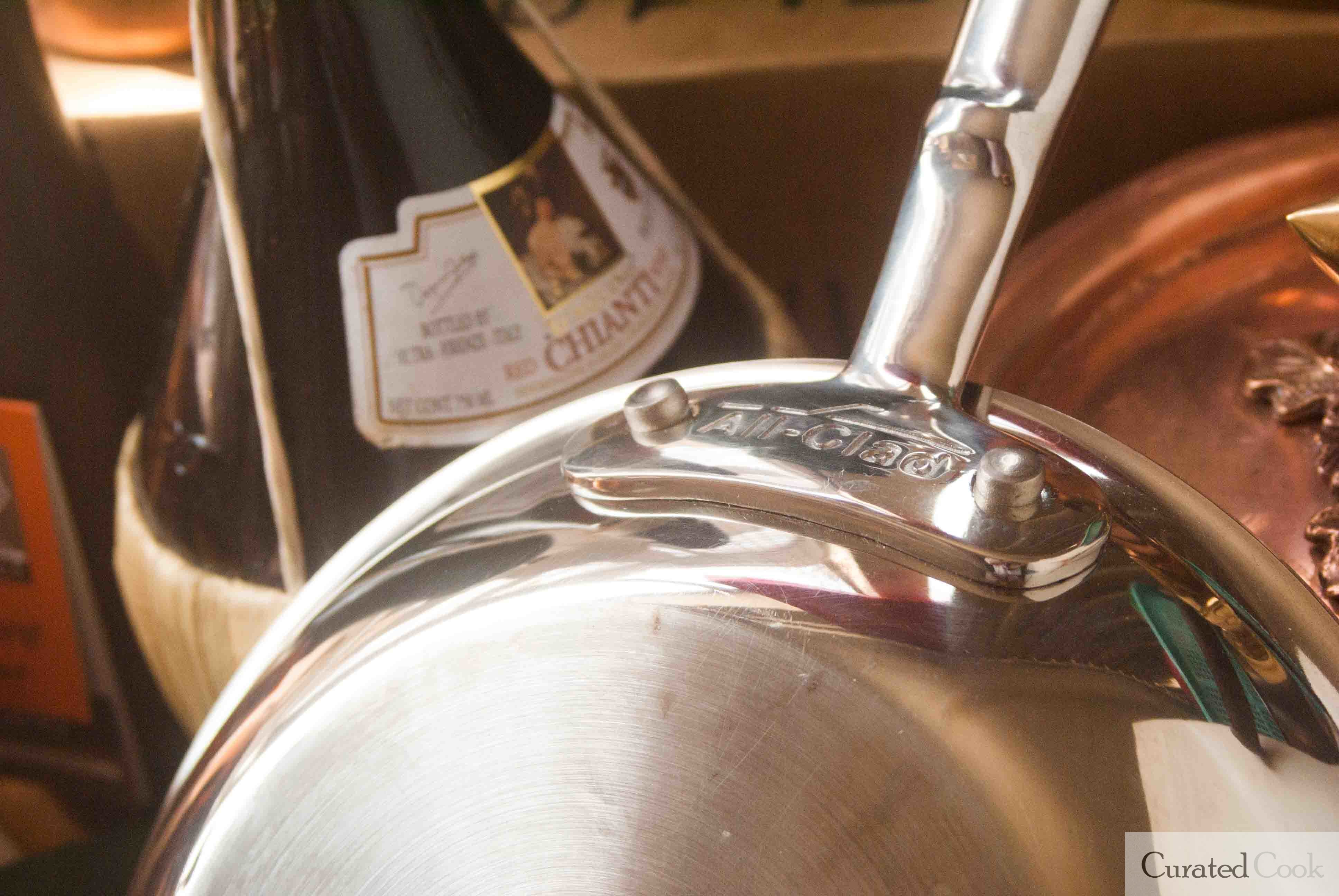 Bottom
The bottom of the pan is brushed in a circular ring like pattern. A polish finish actually reflect heat back to the stove, by scuffing it up, you are actually promoting more heat absorption. The bottom is also laser engraved with all clad logo and a model no.1221821.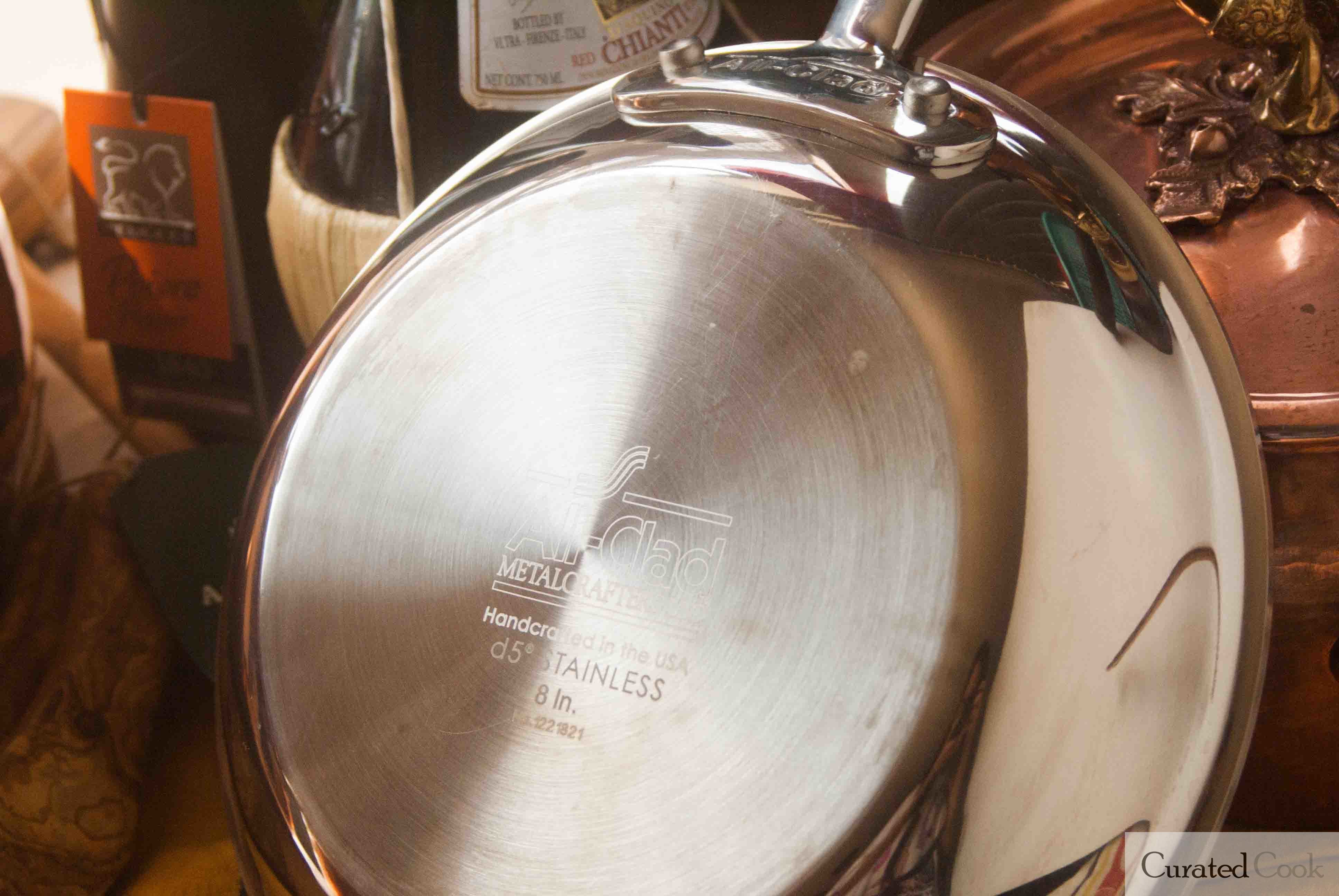 All Clad d5 Metal Cladding
The cladded construction on this pan is the d5 version. Per their claim on their website its "five-ply construction with alternating layers of stainless steel and aluminum" and the benefit of this is as follow "promote the lateral flow of cooking energy and eliminate hot spots". I suspect the result of this is that the pan will take a while to heat up like cast iron but still perform worse than straight copper for heat distribution. We will see if this is true with the toast test later.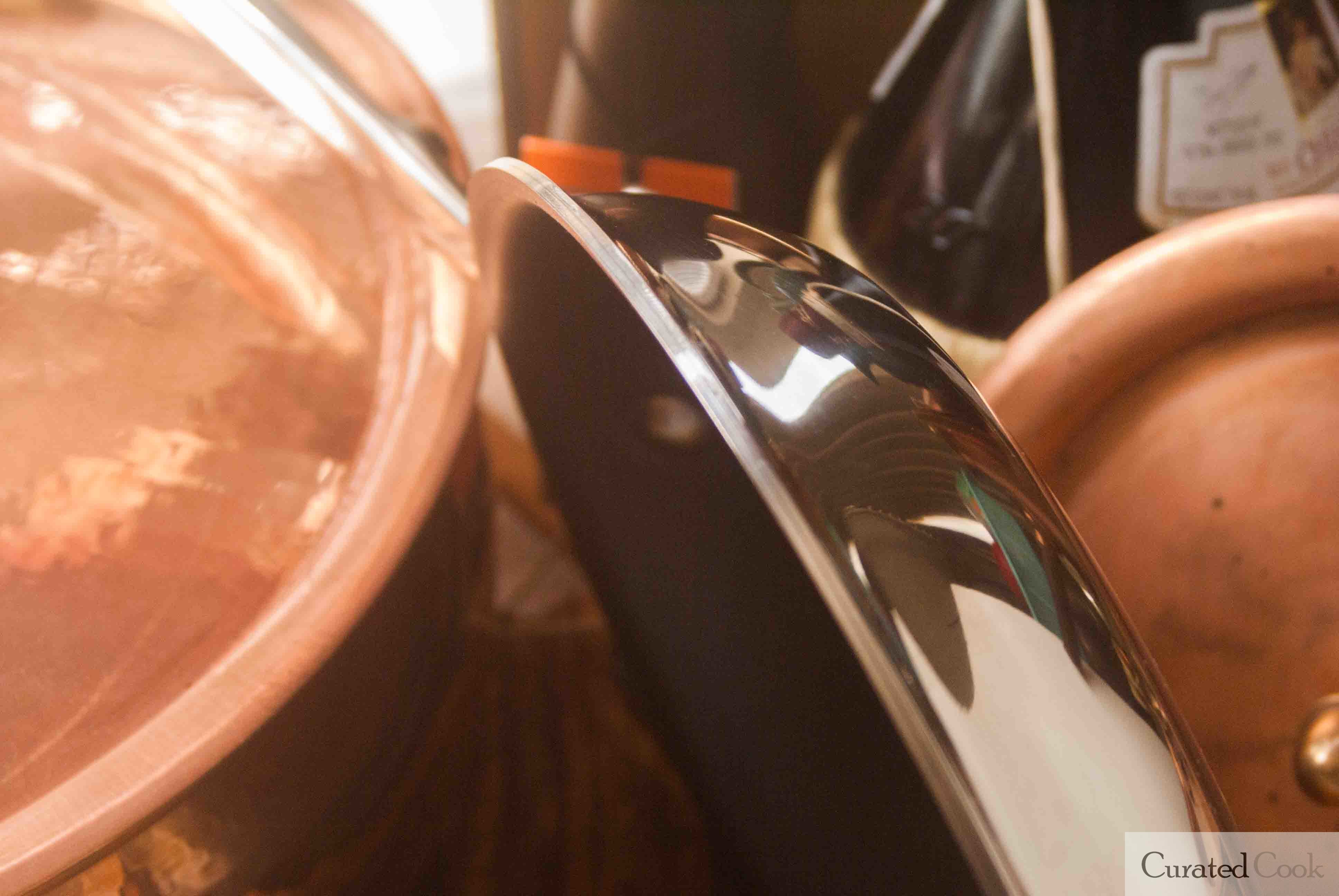 All Clad Skillet Teflon Coating
The non stick coating looks like your standard non stick teflon finish. I am not sure if they have their own formula or just outsource it. However, I highly doubt the durability is better than your standard teflon pan. Which is the main issue I have with paying a lot of money for high end non stick pan. Once the non stick finish goes, so does your pan. I read that All Clad have a lifetime warranty but I fear getting denied due to "mistreatment of the pan". Just be prepared for the possibility of getting denied warranty.
All Clad 8 Inch Non Stick Fry Pan Fit and Finish
Fit and finish is excellent like all, all clad product. Their logo is engraved into the handle and the marking on the bottom looks like it was laser etched. Small details like this is why all clad pans commands a higher price than your lower tier brands.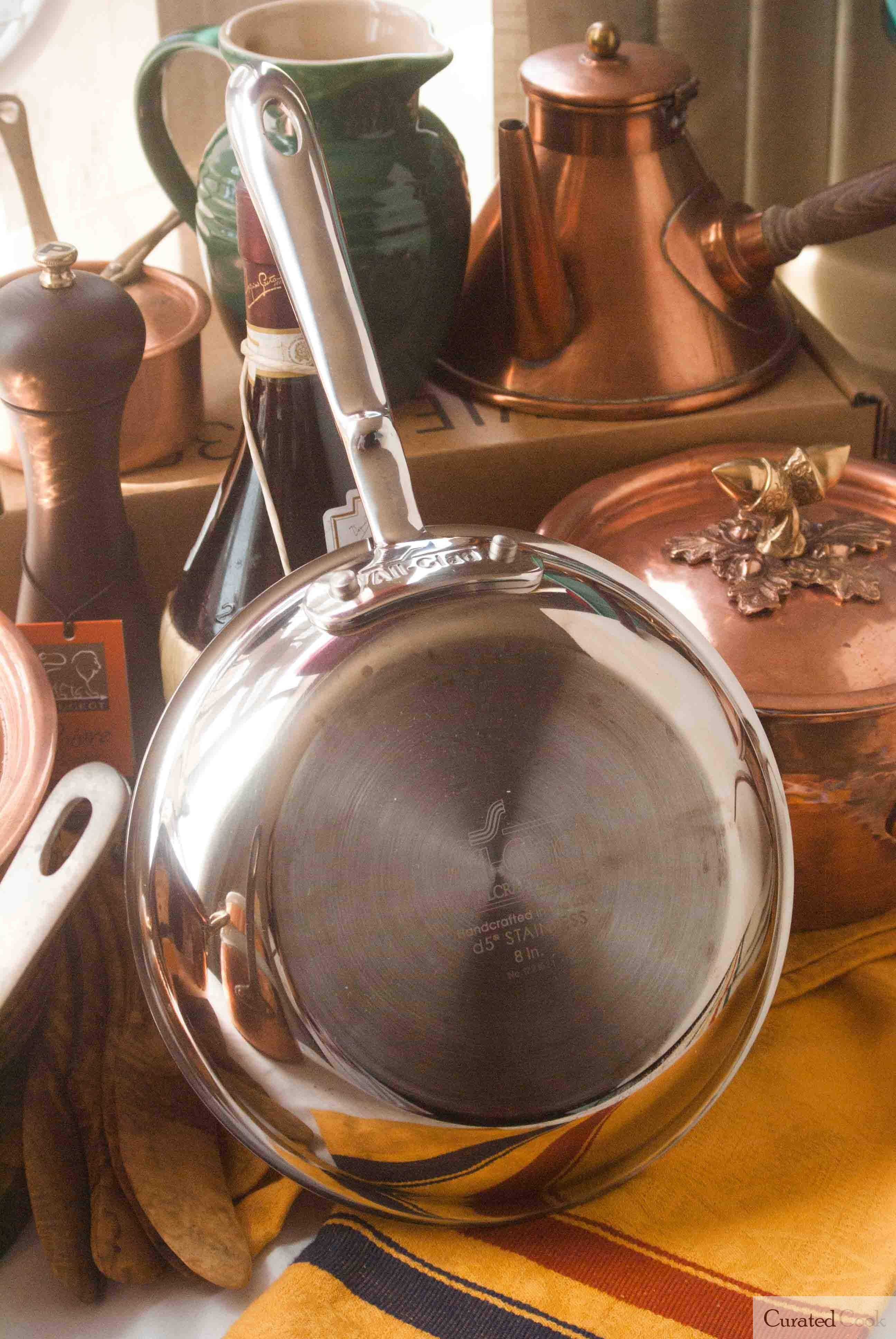 Specs:
Note:These measurement are done by me with the tools that I have on hand. The manufacturers have their own measurement guidelines and that should be assumed to be accurate. What I find on this review can vary widely due to several factors, such as ambient temperature, location, water, tool calibration, stove btu, etc..and should only be considered as my opinion.
Weight: 792g
Rim Width:Around 8.6 inch
Flat Cooking Surface Width:Around 5.5 inch
Sidewall Thickness:Around 3.2 mm
Performance
To test the how well it distribute heat and how well it heats up, I perform a toast test where I place a piece of toast in the center than weight it down with a meat pounder. I heat up the pan for a total of 2 min then see the color of the toast.

As you can see my stove top does not have an even heat distribution. The all clad was not able to spread out the heat as evenly as I would like. The lower right area of the toast is lighter than the top left corner. The performance is much worse than what you get from the Mauviel Pan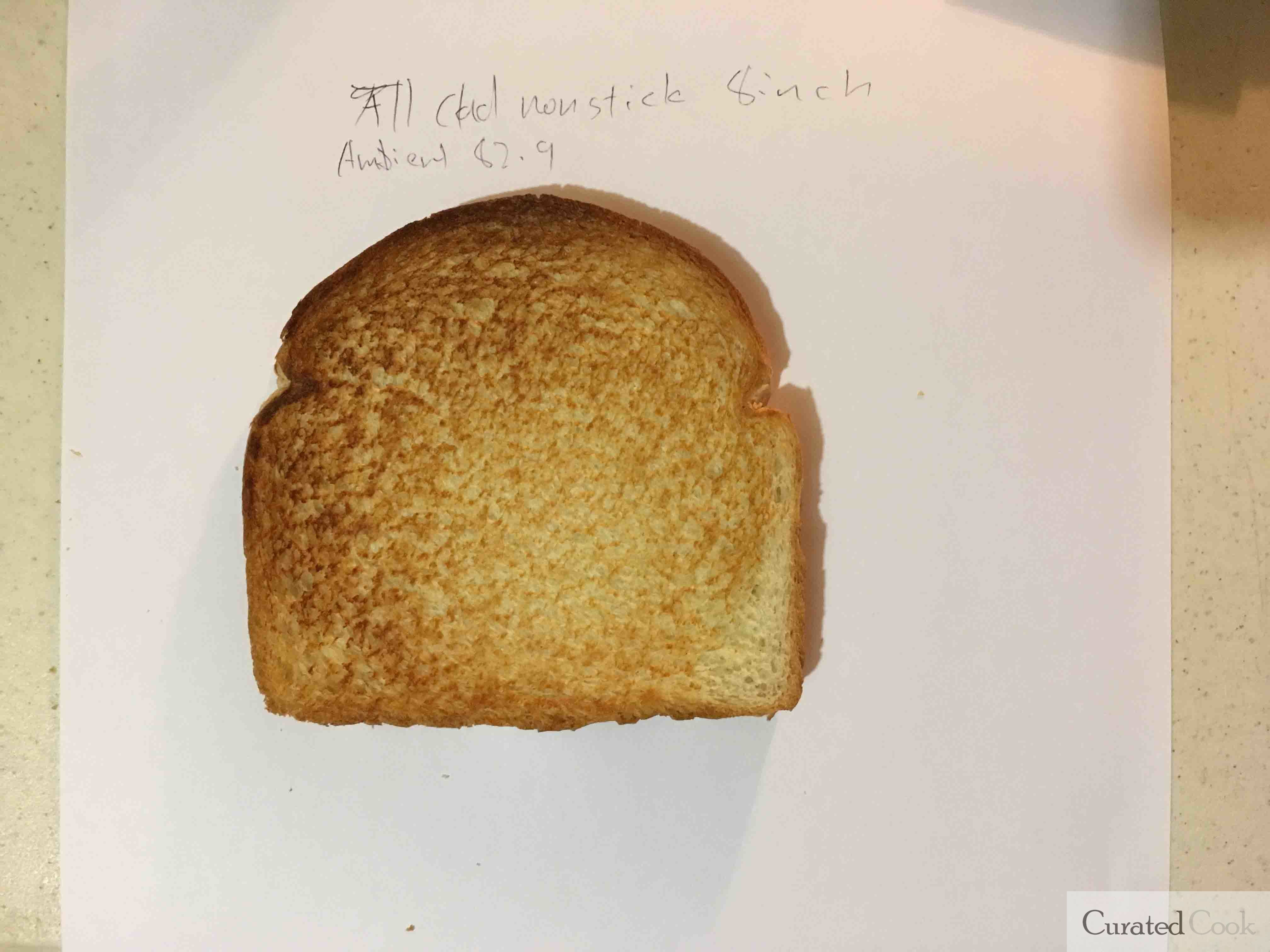 The color of the toast is fairly dark so it still heated up quickly. But is not as dark as the Copper Mauviel version.
All Clad 8 Inch Non Stick Fry Pan Conclusion
The performance of this pan is not bad. It is close to what I see in the copper 8 inch skillet. I would say this is a good compromise for those who do not want to buy copper pans. However, you have to take into consideration that this is a non stick pan, the durability is tied to its non stick coating.
A cheap t-fal pan has been shown to to perform phenomenally for a fraction of its price. When the non stick coating falls off, you can just buy a new one. Both comes with a lifetime warranty for normal wear and tear but they often deny it for misuse. Considering that you have to pay for shipping its usually not worth it.
I hope you enjoyed this All Clad 8 Inch Non Stick Skillet. If you would like to see more, please visit our Pots and Pans Review page.