Making purchases at Amazon.com and other website funds this website by generating revenue. Any help is appreciated and supports both me and content like this.
Staub Mini Cocotte Review
Dutch ovens are the mainline product for any cast iron cookware manufacturer. However, another trend seems to be coming along where they make a miniature version of the cast iron dutch oven. Staub, one of the largest enamel cast iron cookware manufacturer has decided to jump on the bandwagon. Staub Mini Cocotte is the miniature version of their dutch oven. They come in a Variety of Colors like their bigger brother like basil, red, blue, etc. There are two version of these miniature cocotte, we will be reviewing the cast iron version in Basil.
Staub Mini Cocotte Review Quick Summary
| Categories | Staub Mini Cocotte |
| --- | --- |
| Performance | Great |
| Compatibility | Gas, Electric, Halogen, Glass Top, Induction |
| Colors | Range of Color/td> |
| Warranty | Lifetime Warranty |
| Brand Awareness | World Famous |
| Country of Manufacturer | France |
| Thoughts | A cute little dutch oven that is great for baking food. You can use it for souffles, baked bacon, storage and salt pigs. The are better than the ceramic variations by Le Creuset. |
| Reviewed Cookware | Staub Mini Dutch Oven |
What are the uses for Staub Mini Cocotte?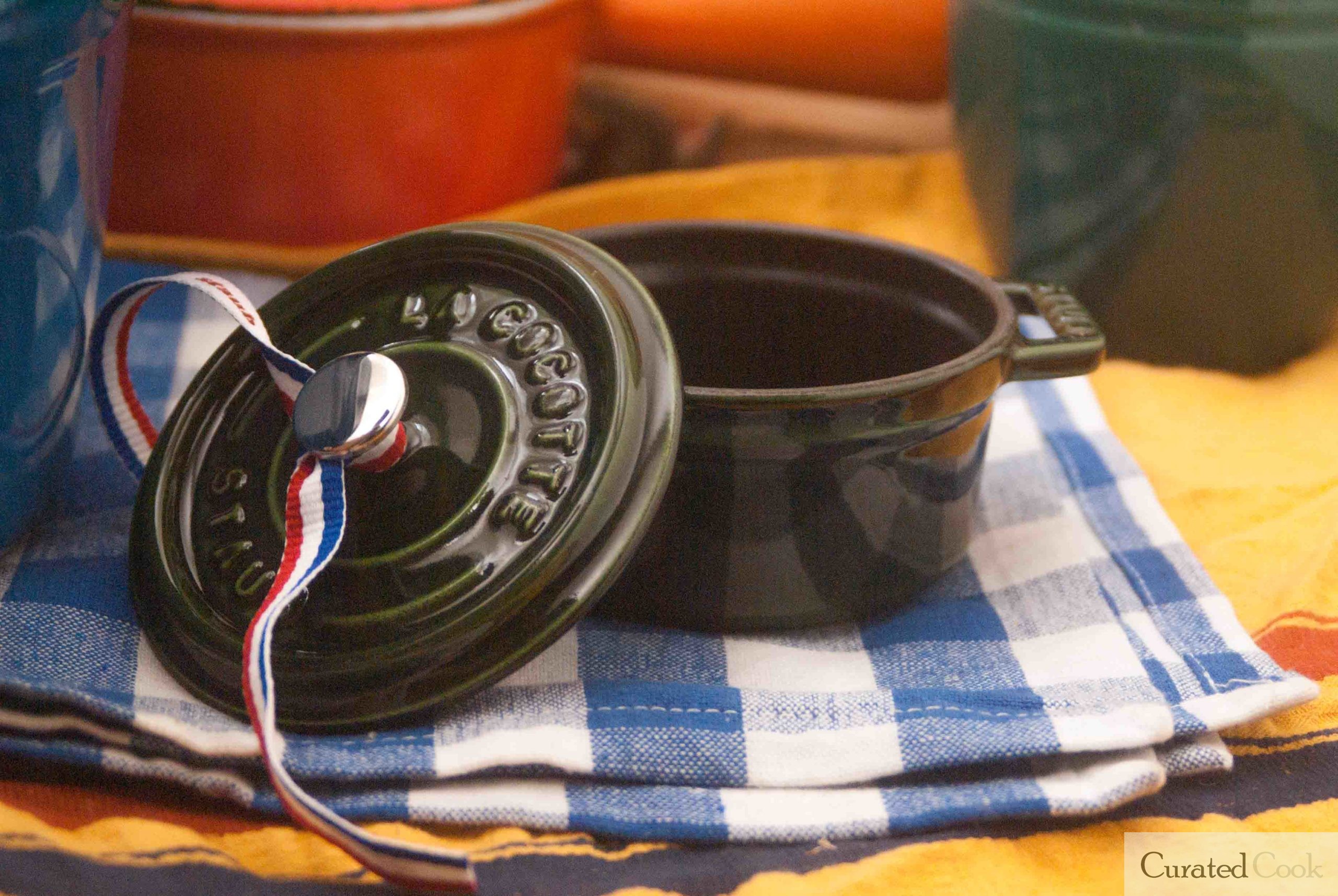 Given the size of these Mini Cocotte, I highly doubt you can do any meaningful cooking out of these pots. You can stick it on the stove but the flame will probably surround it instead of heating it from the bottom.
So what can you cook in these? Probably souffles or any type of baking like muffins. A good choice will be baked egg and bacon. You would line the cocotte with bacon and crack a egg in it. After baking, you can serve this dish with the mini dutch oven.
Aside from cooking, these makes for fantastic salt or sugar pigs. You can store any spices, condiment or garnishes and use it as a serving dish. They will add color and class at your table.
If you have sauces that goes great with a steak, heating it up in staub mini cocotte will keep it warm longer than a serving tray. You can also put on the lid to keep in the heat.
Staub Mini Cocotte Design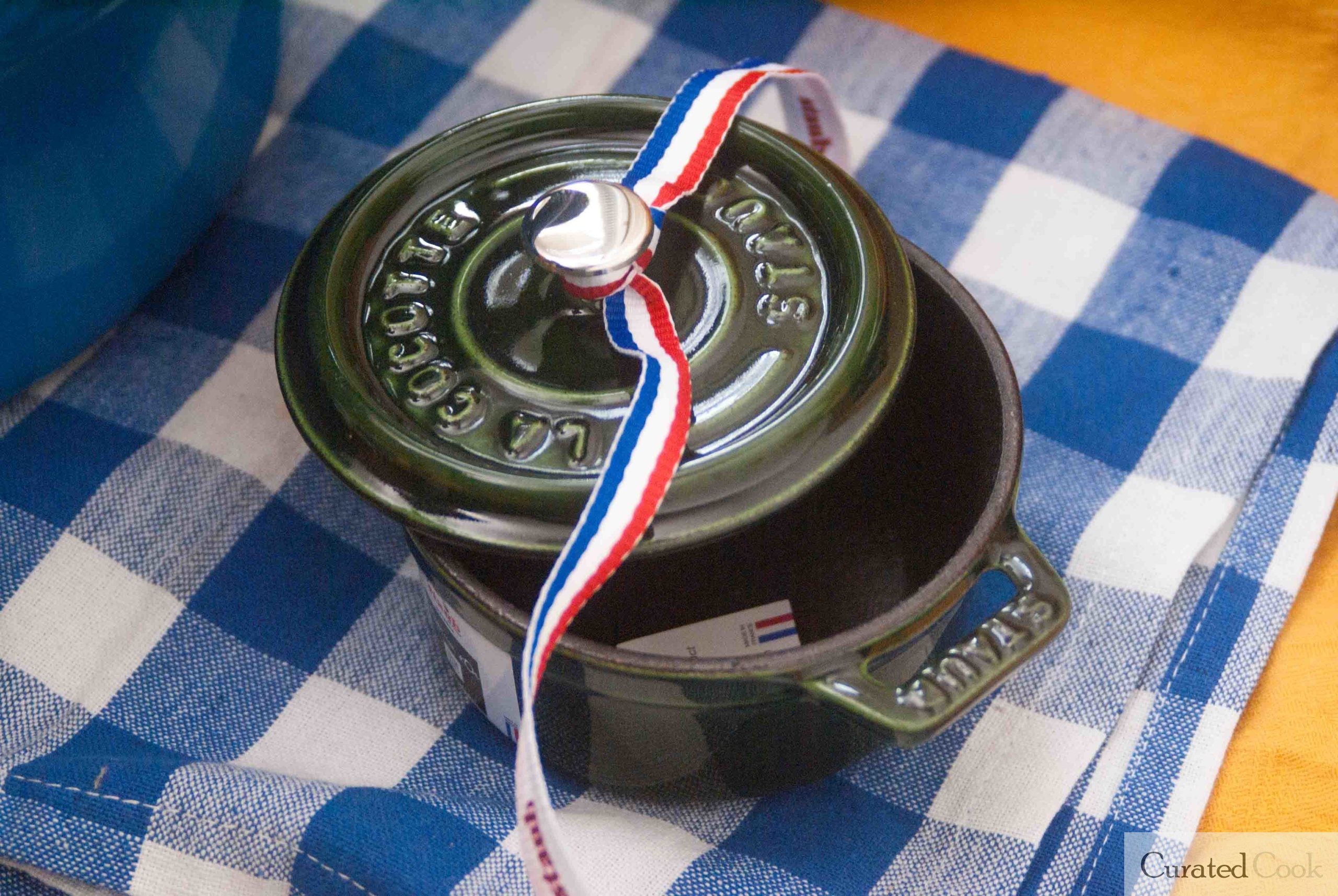 Handle
Staub handle share the same design as the dutch oven. It looks like a half hexagon that protrudes outward. On the large dutch oven, these handles are large enough to fit my fingers through it. The smaller one is mostly done for aesthetic. However, given that, it is still functional for lifting and moving it. The word STAUB is engraved on both handle and its beautifully well done.
Staub Interior Black Enamel Coating
The interior for Staub Mini Cocotte is the same as you would get with the large dutch oven. It is black both in the pot and in the lid. According to Staub, the major benefit of this is that you will not see the fond develop on the bottom of the pot. It is also supposedly more non stick.
I personally think that this is just more marketing from the team. Regardless, for the purpose of this mini cocotte, it is not necessary or important what color it is. Unless you just like the look of it. I will say that the interior surface of the lid is a lot more smooth and well made than the mini cocotte. On the mini cocotte, it looks a lot more rough and textured.
Staub Mini Cocotte Enamel Coating
The enamel coating on this cocotte is beautifully done and rich in color like their other cookware. There is minimal orange peel like you would get for le creuset. The color is more adult like and similar to what you will get from an automotive paint.
Lid
The lid shares a lot of similarities with the normal dutch oven. They both have the chistera dimple which drops liquid back onto the food. Although the benefit from the mini version is pretty much non existent. The bottom of both also have the size of the lid marked onto the lid. It even has a removable knob so that you can change it out, how neat is that?
The only difference between this lid and the larger one is the extra circle on the bigger dutch oven.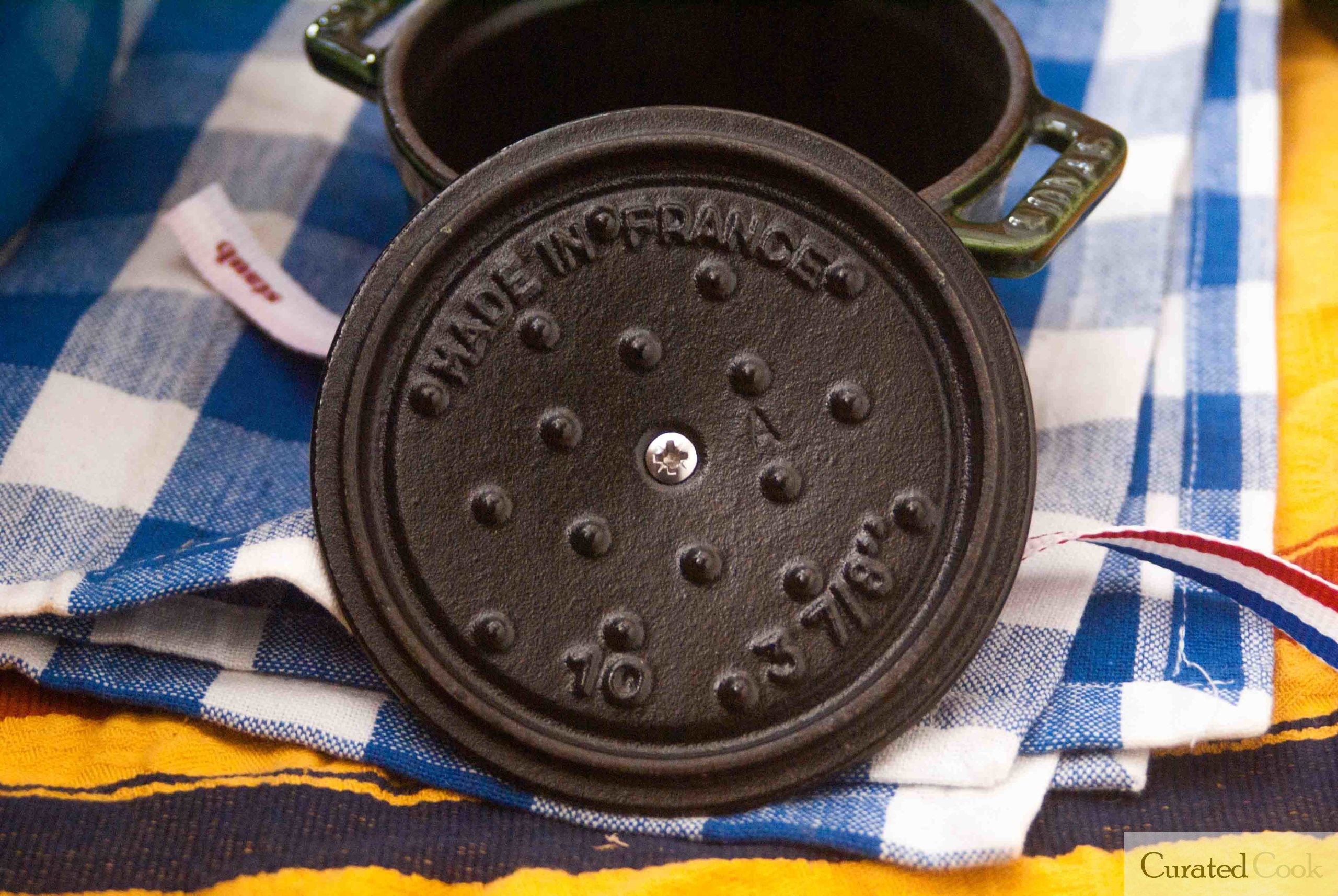 Staub Enamel Coated Rim
There is a lot of disagreement behind whether the rim of the dutch oven is covered in enamel. A lot of claims stating that it is covered in a matte enamel is due to the fact that it never rusted. I decided to ask the question itself to Staub and they state that it is not. The reason being is that an enamel coated lip will cause the lid to stick with the pot.

Fit and Finish
Fit and finish on Staub Mini Cocotte is excellent. Paint is excellent, as well as the construction. I have no issues or complaint about how its built.
Specs:
Note:These measurement are done by me with the tools that I have on hand. The manufacturers have their own measurement guidelines and that should be assumed to be accurate. What I find on this review can vary widely due to several factors, such as ambient temperature, location, water, tool calibration, stove btu, etc..and should only be considered as my opinion.
Weight: 492 g Lid Weight:255 g
Rim Width:Around 4 inch
Height no lid: Around 2 inch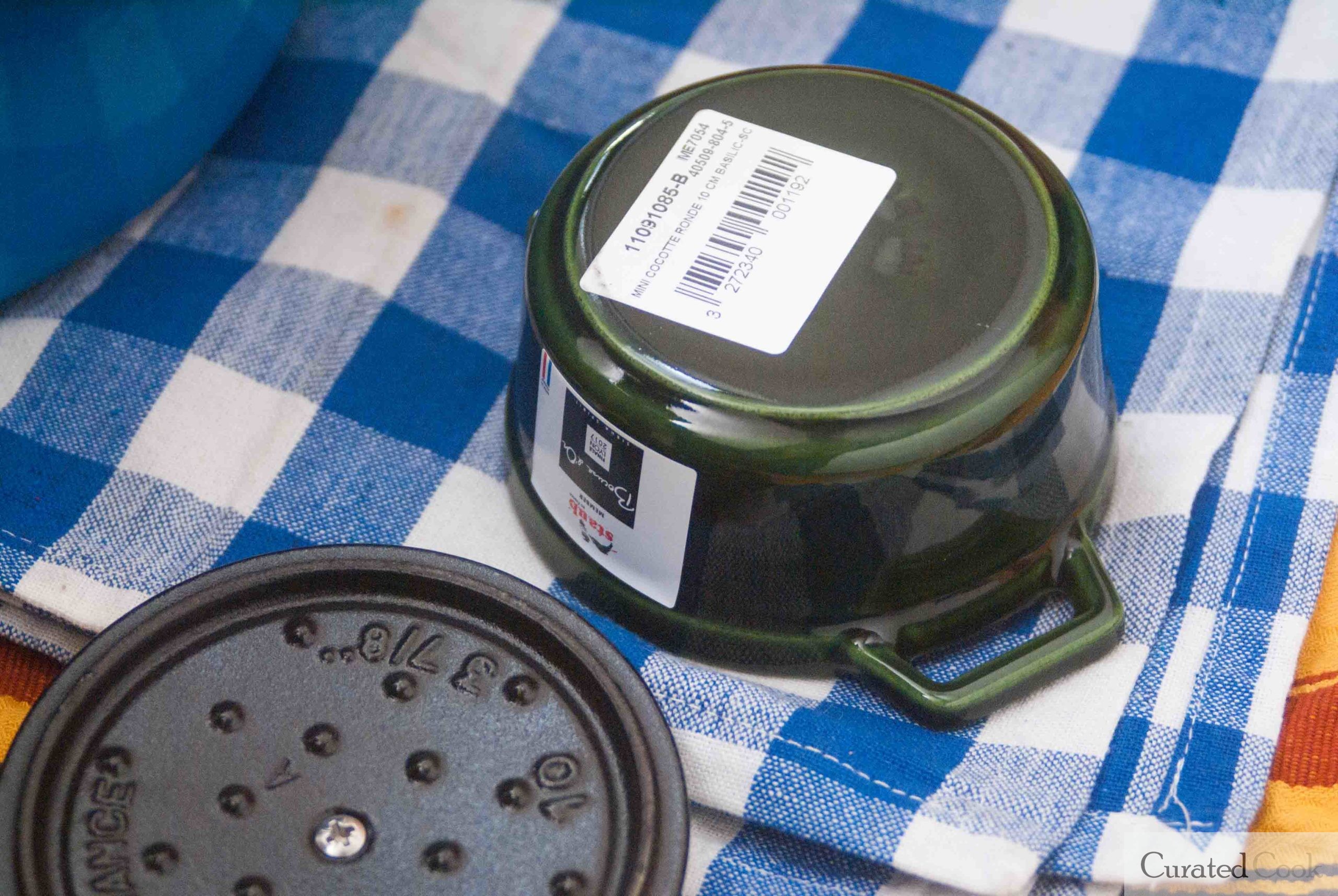 Performance
There is really not much performance you can expect from this type of cocotte. The real benefit comes from when you use this as a serving pot with sauce. The heavy weight of cast iron will keep the sauce hot longer than your standard ceramic bowl. The lid will also trap the heat in better than an open lid ceramic sauce pot.
If you do not use this for sauce but rather baking, I would argue that the ceramic or cast iron benefit will be pretty much naught.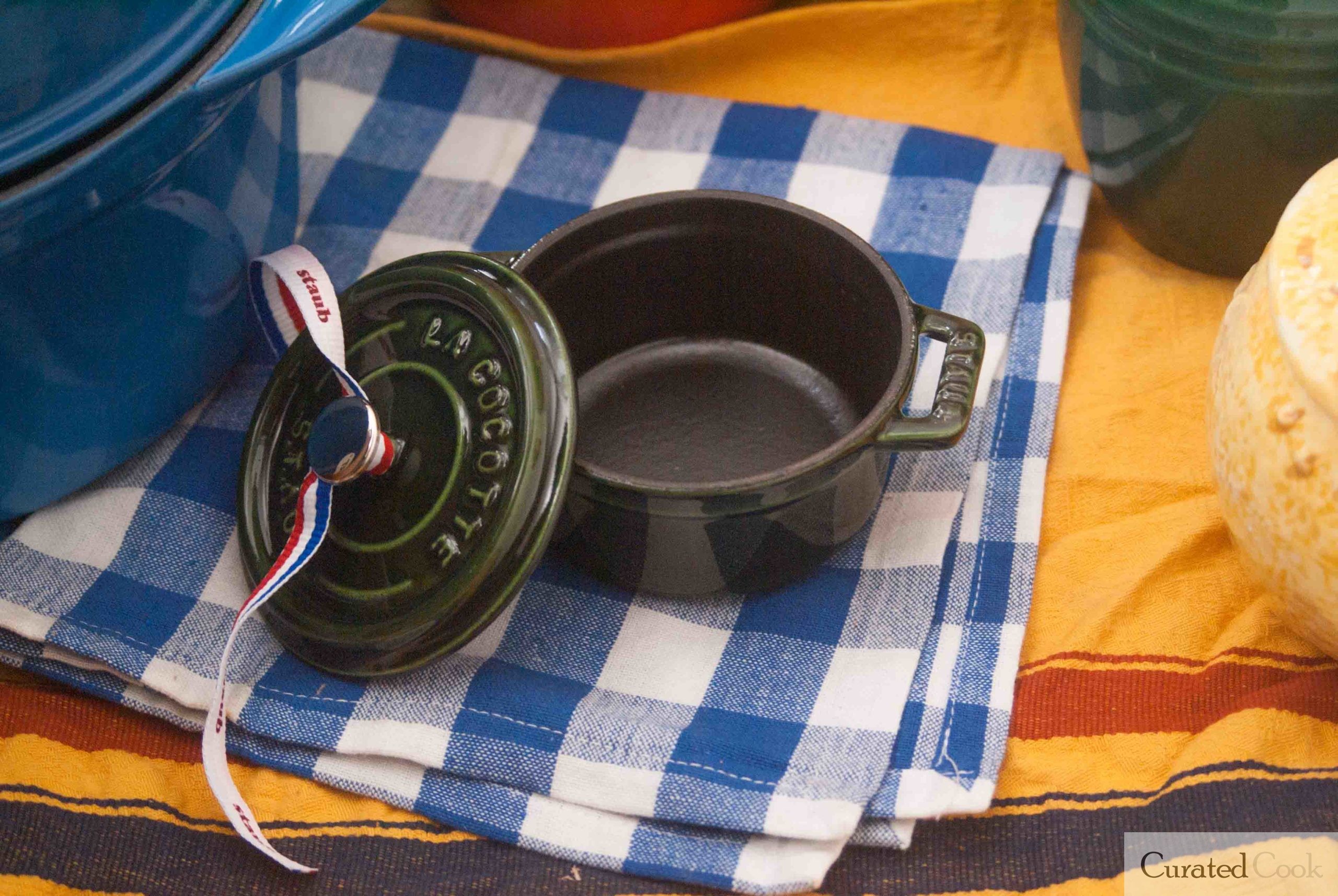 Staub Mini Cocotte Review Conclusion
This is a beautiful cocotte that is perfect to serve sauce and store spices. For the most part, it is almost the same exact clone as the regular larger dutch oven. You can find these cocotte at a lot more Affordable Prices than the regular version. They make for a great gift if the full size version is a little bit too expensive.
If you are looking to actually cook stews or bake bread, I highly recommend that you just get the Full Version. They can be bargains during special promotion like black friday. However, those are usually limited to matte black and cherry red.
I hope you like this Staub Mini Cocotte Review, If you would like to see more, please visit our Pots and Pans Review page.