Making purchases at Amazon.com and other website funds this website by generating revenue. Any help is appreciated and supports both me and content like this.
Copper Double Boiler by Mauviel X William Sonoma
What is Double Boiler Used for?
A double boiler or bain marie is a pot that rest on top of another pot of heated water to allow for gentle heating. There are many different variation of double boiler and they come in different material such as stainless steel, aluminum and copper. You might not know it, but it is often used right in front of your eyes. Those food that are served in rectangular metal trays, those are kept warm by a bath of heated water. They are also used in fine dining when chocolatier needs to temper chocolate or make custard. Because the top portion of the pot is not heated under direct fire but rather steam, chefs can ensure that the chocolate or egg will not overcook and scorch. Mauviel's Copper Double Boiler is made for the later. We will be reviewing it today to see how it works and how is it design.
Mauviel Copper Double Boiler Review Quick Summary
| Categories | Mauviel Copper Double Boiler |
| --- | --- |
| Performance | Excellent |
| Compatibility | Gas, Electric, Halogen, Glass Top |
| Colors | Polished Copper or Hammered |
| Warranty | Life Time Warranty |
| Brand Awareness | World Famous |
| Country of Manufacturer | France |
| Thoughts | A must have for candy and chocolate maker. A copper bain marie gently heat food to prevent overheating food. This is especially important when you are tempering chocolate. |
| Reviewed Cookware | Copper Double Boiler |
Design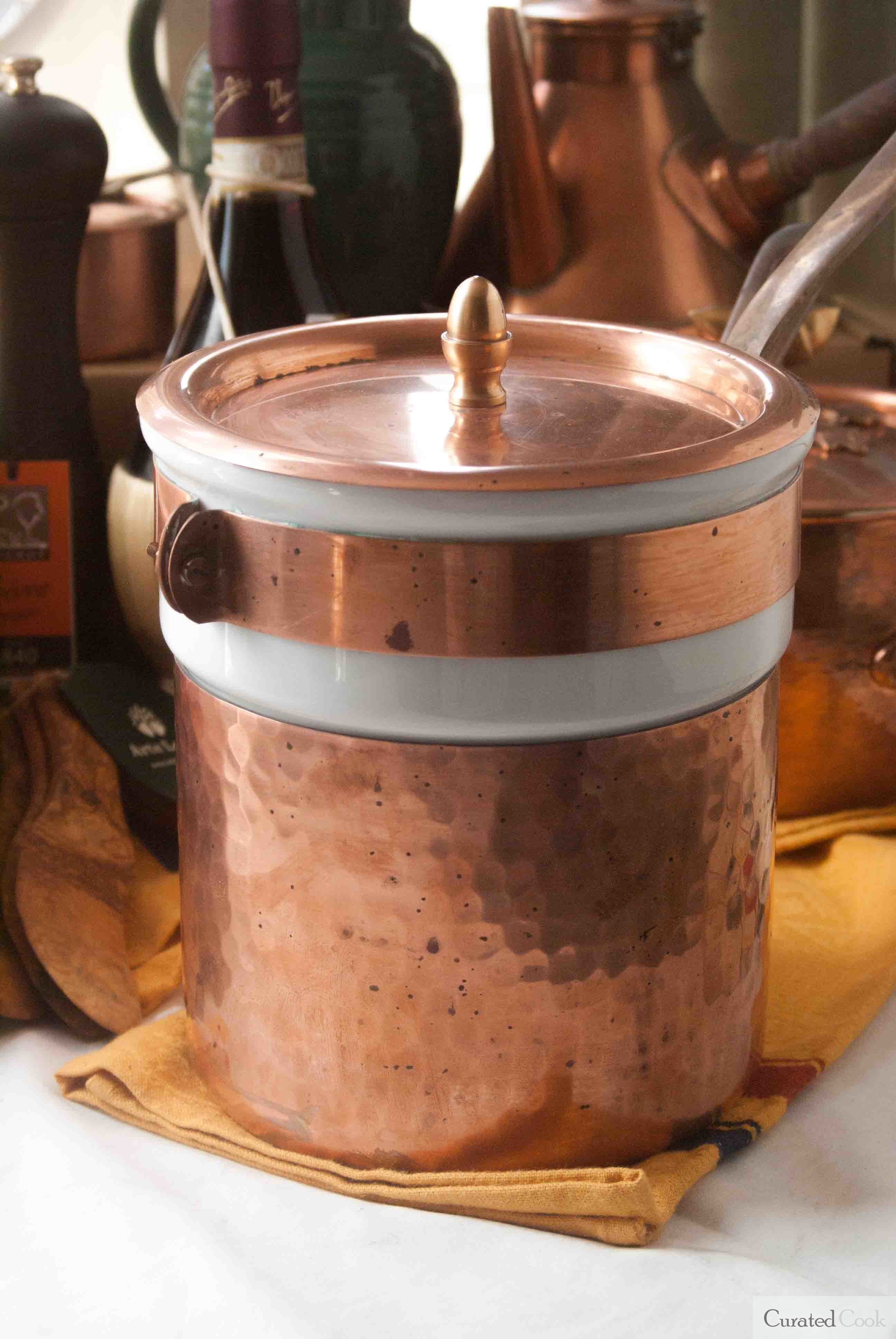 How a Double Boiler Works
We will start off with how a double boiler works. Because fire is a much more aggressive heat controlling the temperature for delicate food is a little difficult. In order to combat this, chef improvised a way to use steam instead. Steam can get hot, but not hot enough to the point where it scorches food.
Double Boiler DIY
In order to harness steam for cooking, a lot of chef rest a metal bowl on top of a pot of steaming water. The issue is that those metal bowl typically do not retain heat very well.
Copper Double Boiler
Mauviel's copper double boiler has three pieces. The bottom pot to boil water, a porcelain vessel to hold liquid and a lid. The bottom pot is a copper hammered pot with a small diameter and relatively tall height. This shape allows for a slower evaporation of water meaning a slow release of steam. The thickness of the pot is only 1.45mm thick at its highest peak. For the purpose of this pot, the thin copper was most likely done on purpose so that water can heat up quickly. Increasing the thickness and mass of the copper will only make the water boil slower. The hammering was probably done as a necessity to increase structural rigidity.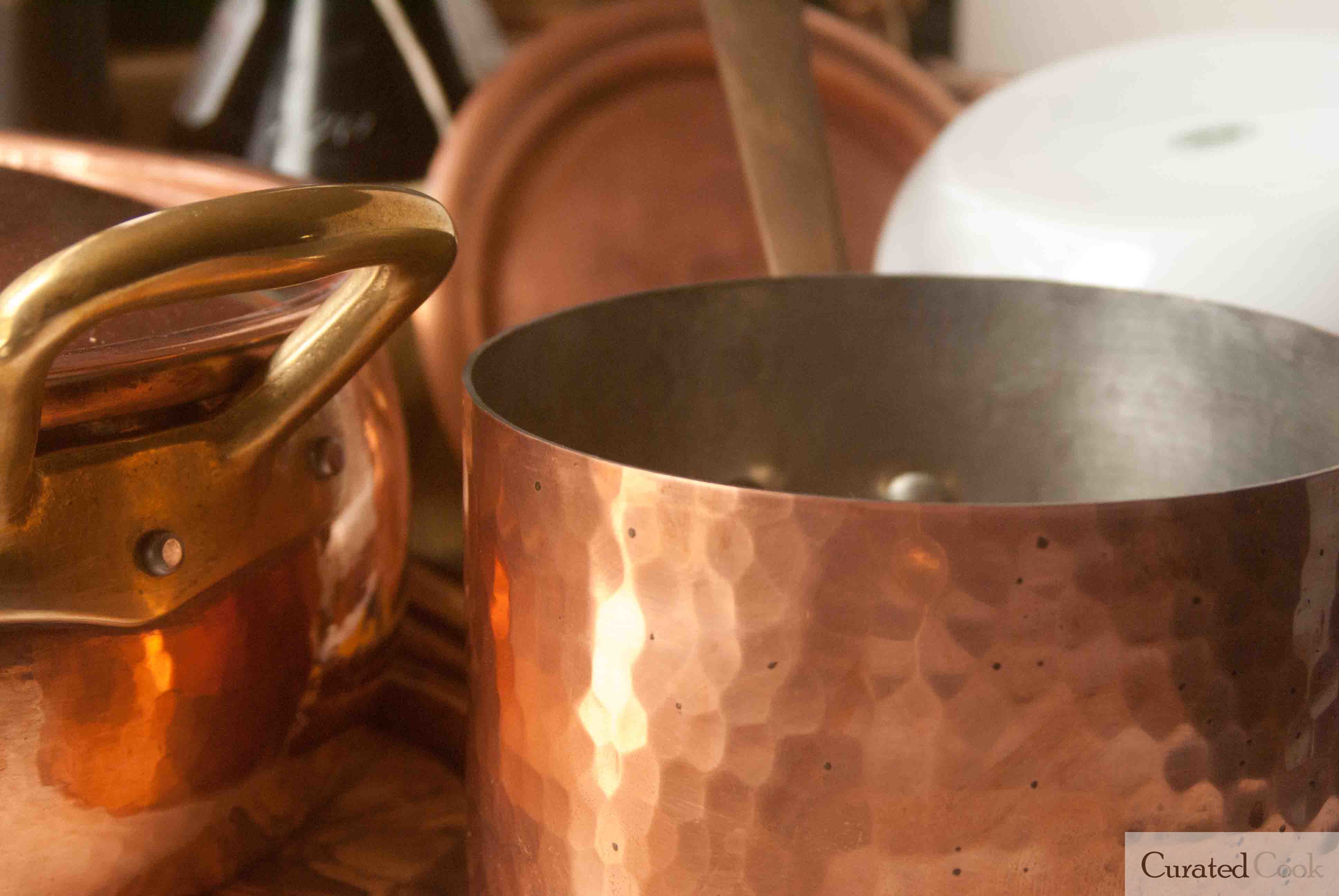 Copper Double Boiler Porcelain Vessel
The Porcelain Vessel of the pot is made by Apilco. The company is still operating so if you need a replacement pot, you can probably call them. The weight of the porcelain pot is by far the heaviest portion of the bain marie coming in at 1821g. The porcelain weight is actually advantageous to this design as the increase in mass also increase the amount of heat it can store. So when you are heating up chocolate, it will stay in that temperature range for longer. This gives you time to stir and incorporate whatever you need to. Not only that, porcelain is resistance to stain, it will clean up easily.


The porcelain insert is encapsulated with a copper band which can be undone with a screw. At the end of the band the handle is affixed to it via two copper rivets.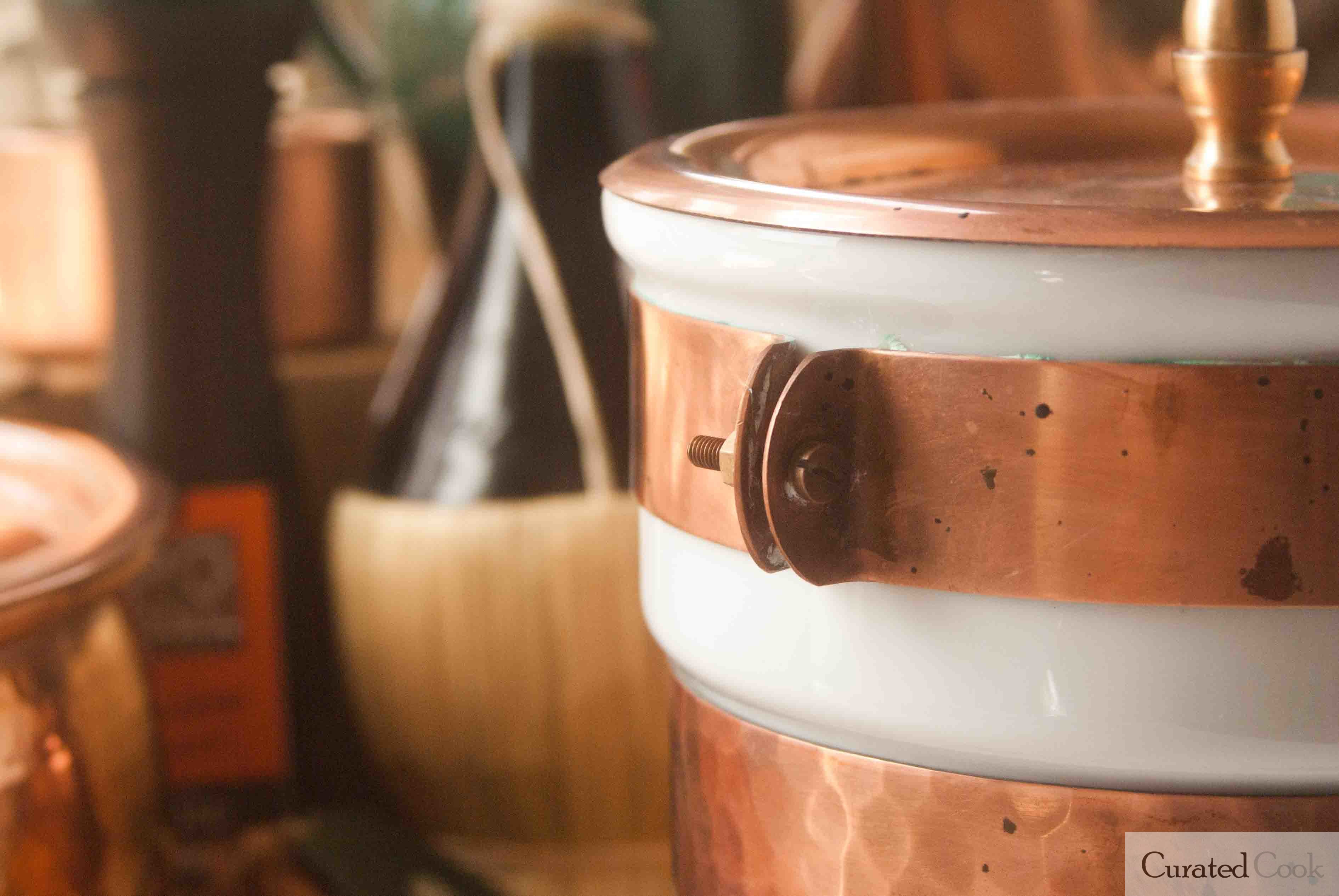 Handle
Both the handles on the porcelain insert and the copper pot is angled upward with very sharp edges. They did not take the time to round it off making it very uncomfortable to hold. The loop that is used to hang the pots are practically useless as the individual components need to stay together or they will become lost. The loop is also not your traditional tear drop shape, more of a oval type.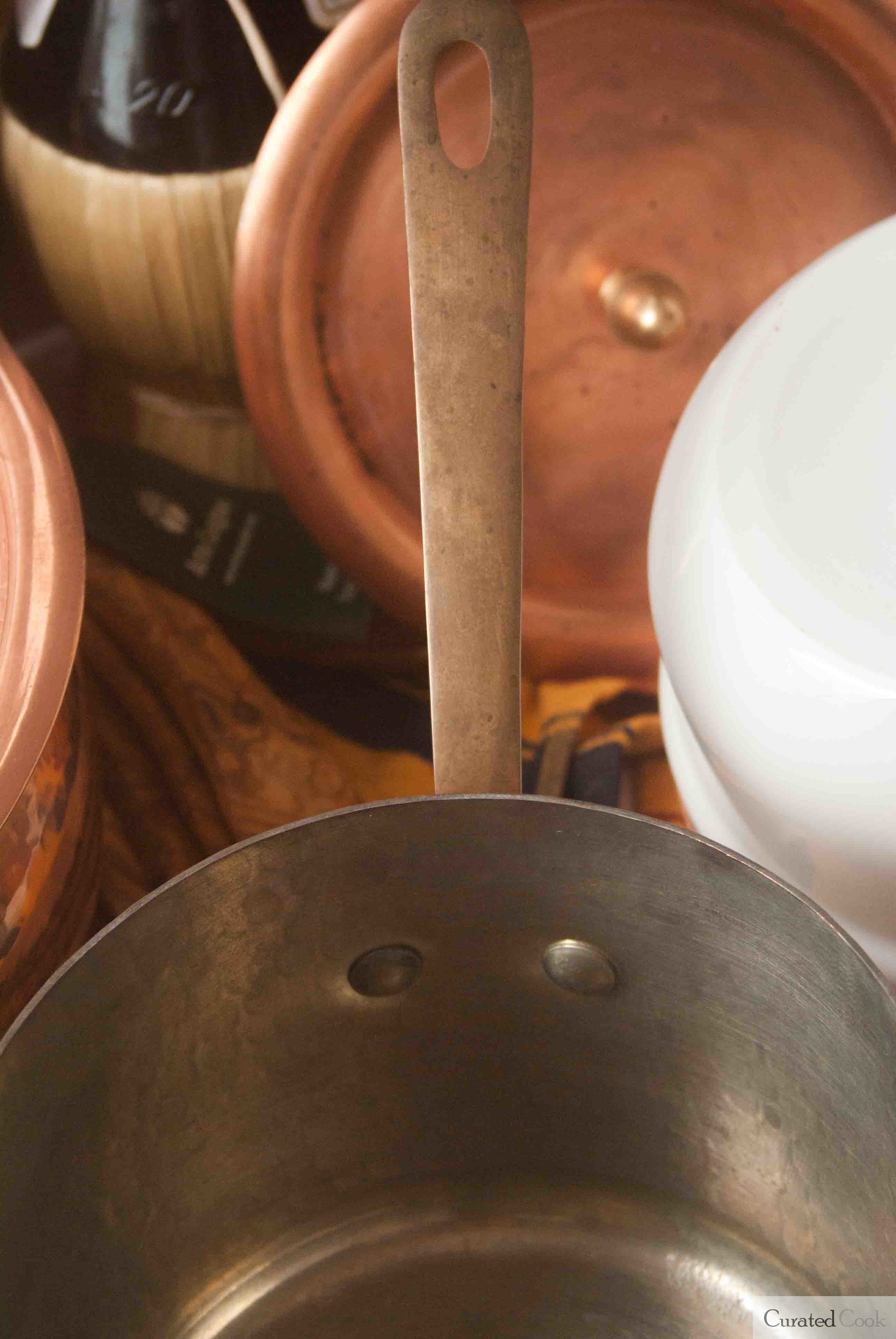 Finally, the lid is a tight fitting lid with ridges. It has an acorn top that looks like it is affixed via a rivet, I am not sure how they did that.
Fit and Finish
Fit and finish on this pot is acceptable. The handle edges could have been rounded off to make for a more comfortable grip. They could have also made it a little thicker so that you have something more to hold onto. The hammering on the pot is superb and uniform throughout. The Acorn on the top is one of my favorite part of the pot and looks really well done. The tin however, is very thin and a thicker layer would have been preferable.
The thing that I do have concern about is how the porcelain sit on top of the bottom pot. It just rest there, overtime the copper pot can warp and how flush it sits can change. There is already a minor gap difference from the front of the pot to the back of the pot.
Thoughts
Mauviel Double Boiler is great for gently heating chocolate and hollindase sauce. However, the price can scare off most people. If you really do not want to invest this much into a pot, I recommend making your own. All you need is a metal bowl and a pot. The effect should be similar, it just wont be as good as something that is dedicated for the task.
I hope you like Mauviel's Copper Double Boiler Review, If you would like to see more, please visit our Pots and Pans Review page.