Making purchases at Amazon.com and other website funds this website by generating revenue. Any help is appreciated and supports both me and content like this.
Copper Candy Pot By Mauviel
Confectioner and candy maker rejoice, there is a Copper Candy Pot that is unrivaled in terms of heat conductivity and performance. Copper Candy Pots are like the Ferrari in the cookware industry. They are rare in the USA, only those who truly loves making candy will truly appreciate the beauty and performance that they provide. They typically comes in all copper with no tin or stainless steel lining.
Mauviel currently makes the M'Passion Sugar Pot for the American market in a variety of different sizes. We will take a closer look at how this pot is designed and what quirks and feature it has.
Copper Pot for Candy Making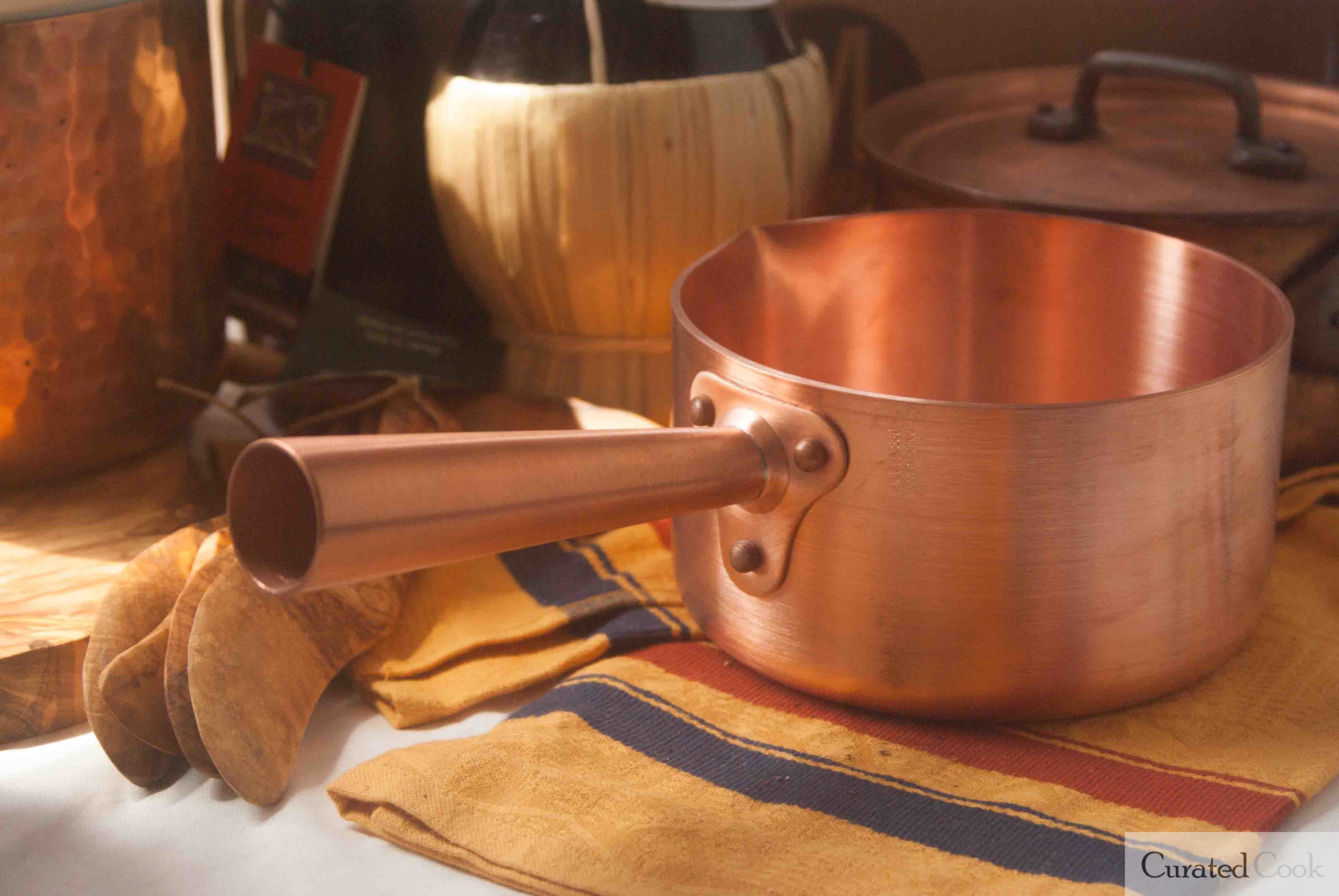 Usually for copper pots and pans, you need the inside to be lined with either stainless steel or tin. That is because acidic food will react with the copper and affect its taste. In sugar and candy making, traditional copper cookware are always unlined. That is because sugar does not react with copper. Most if not all of Mauviel M'passion line of cookware are unlined. As long as the candy or jam that you are making is not overly acidic, you should not have any adverse affect from the unlined copper. I know there are a lot of concerns about poisoning, but as long as there is no green patina forming on your pan, you should be fine.
Another good benefit about unlined copper is that your pot will not be combined with other metal. This means that all the heating properties of copper will be unhindered. Stainless steel and tin have a lower thermal conductivity than copper, then will either wear out or not conduct heat as well. With an unlined copper pot, you are getting the full 100% speed of copper.
Mauviel Copper Candy Pot Design
Handle
This Copper Candy Pot is certainty one of the most unique features of any copper pots that I have ever seen. The entire handle is made of brushed copper with a big hole in the center. This hole was most likely made with the intention of dissipating heat so that it will not get too hot. However, I question the effectiveness of using this when they could have just used a cast iron or stainless steel handle.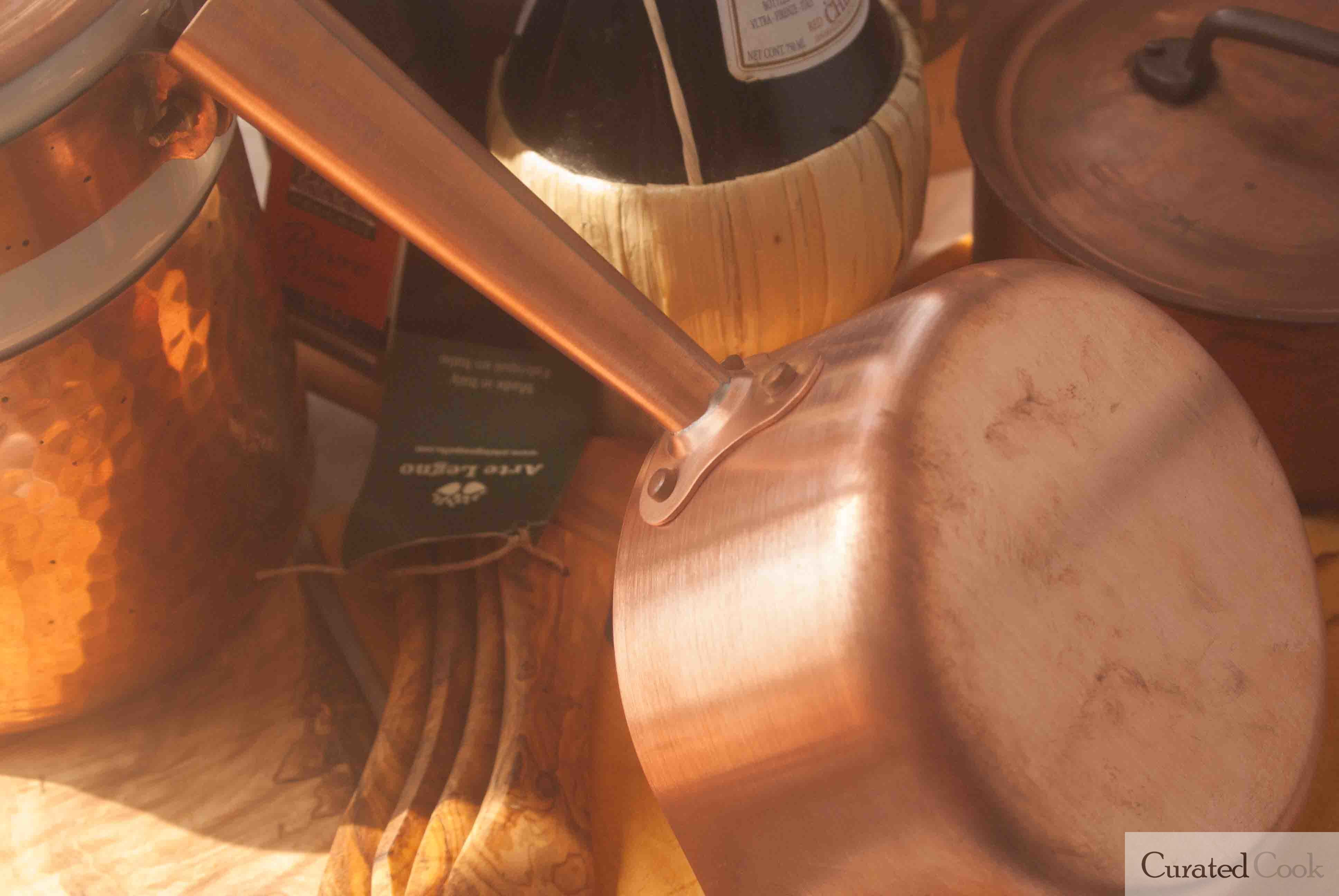 The base end of the handle looks like it was welded on to a plate that is mounted by three copper rivets. Given the size of this pot, the likely hood of the rivets coming loose overtime is very slim. The rivets has no number marking like the older copper pots have.
Exterior and Interior
The exterior and interior is the same. They are both made in brushed copper. This is interesting as with Mauviel you typically can only get a polished copper finish. This is very similar to how Falk makes their pots. Either way, it is a welcome addition as this will cut down on the need to constantly polish it to maintain its beauty.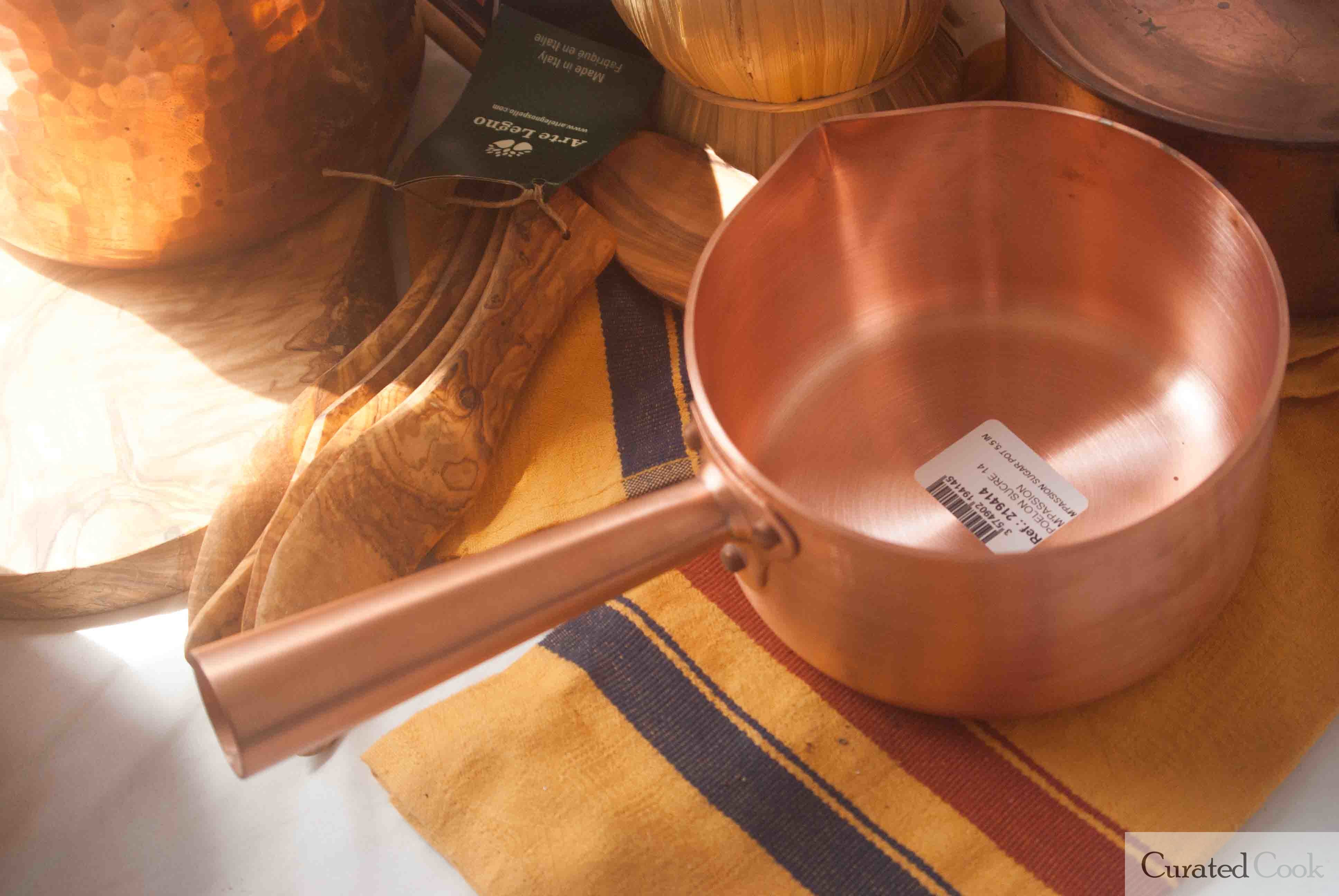 Mauviel Copper Candy Pot Thickness
The thickness of the pot is a healthy 2.31 mm. A welcomed surprise as most pots these day come in a significantly thinner thickness. With a thickness of 2.31mm on a 5.5 inch pan, you can expect very even heat distribution across the pan. What this means is that if you carmelize sugar on the pan, you can expect an even browning of the sugar when you make caramel. You do not have to worry about parts of the caramel over cooking and burning.
Pouring Lip
The pouring lip looked like it was made with an iron that pinched the end of the copper. At the exterior, you can see where the lines are marked. I am actually a little disapointed that Mauviel did this. The vintage version of these copper candy pot has a more pronounced edge. Those look like it was welded onto the pot instead of being clamped to form a pouring lip. Despite this, it still performs the job like the older one. Another thing to note is that those older pot pouring lip are typically hammered as well, at least the one made by Matfer was. This one has no hammering mark, probably to save cost.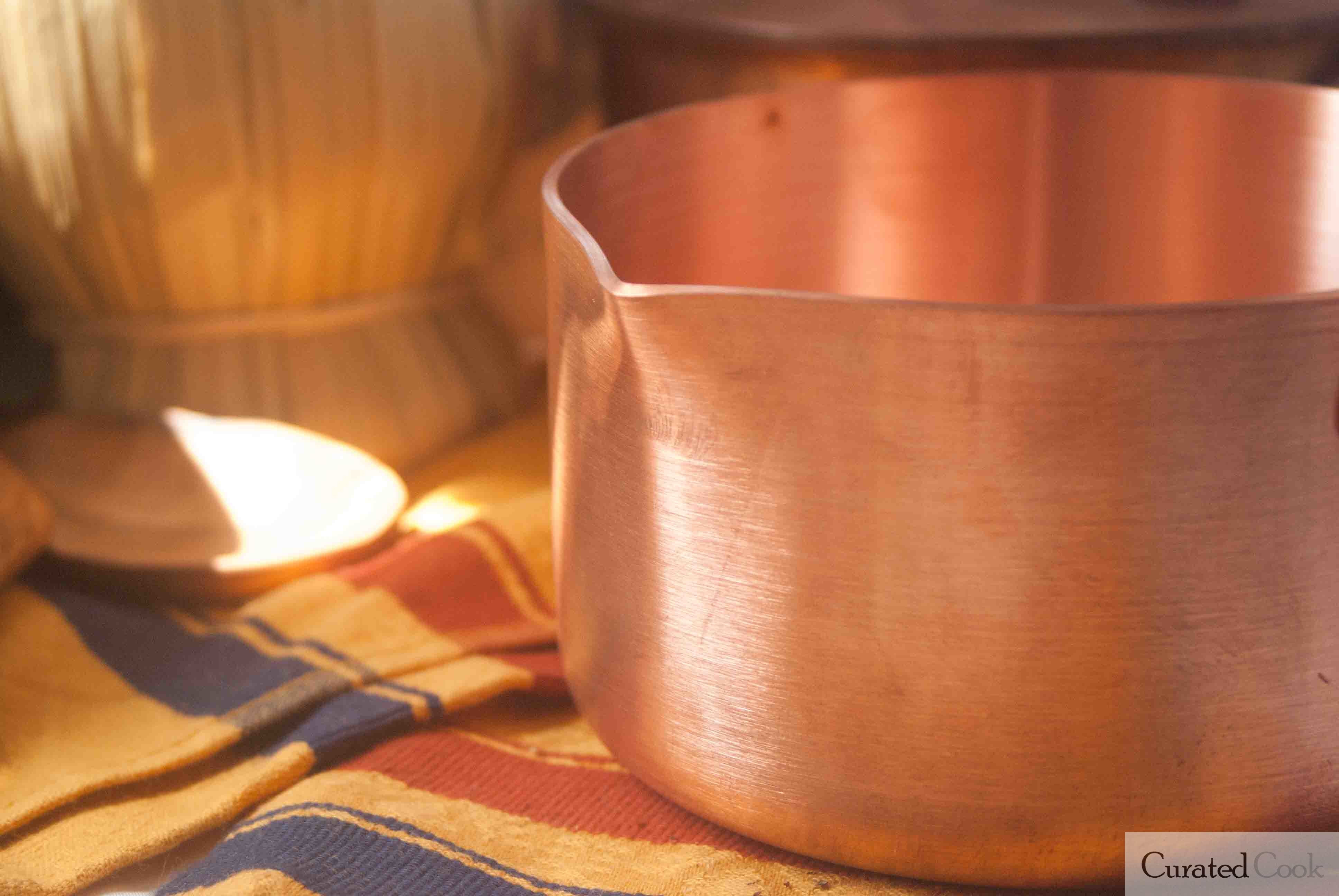 Fit and Finish
Fit and finish is excellent on this pot. It looks beautiful from afar and up close. However, this pot is not perfect. On the underside of the handle, you can see where the handle is welded together. It is a straight line to the base.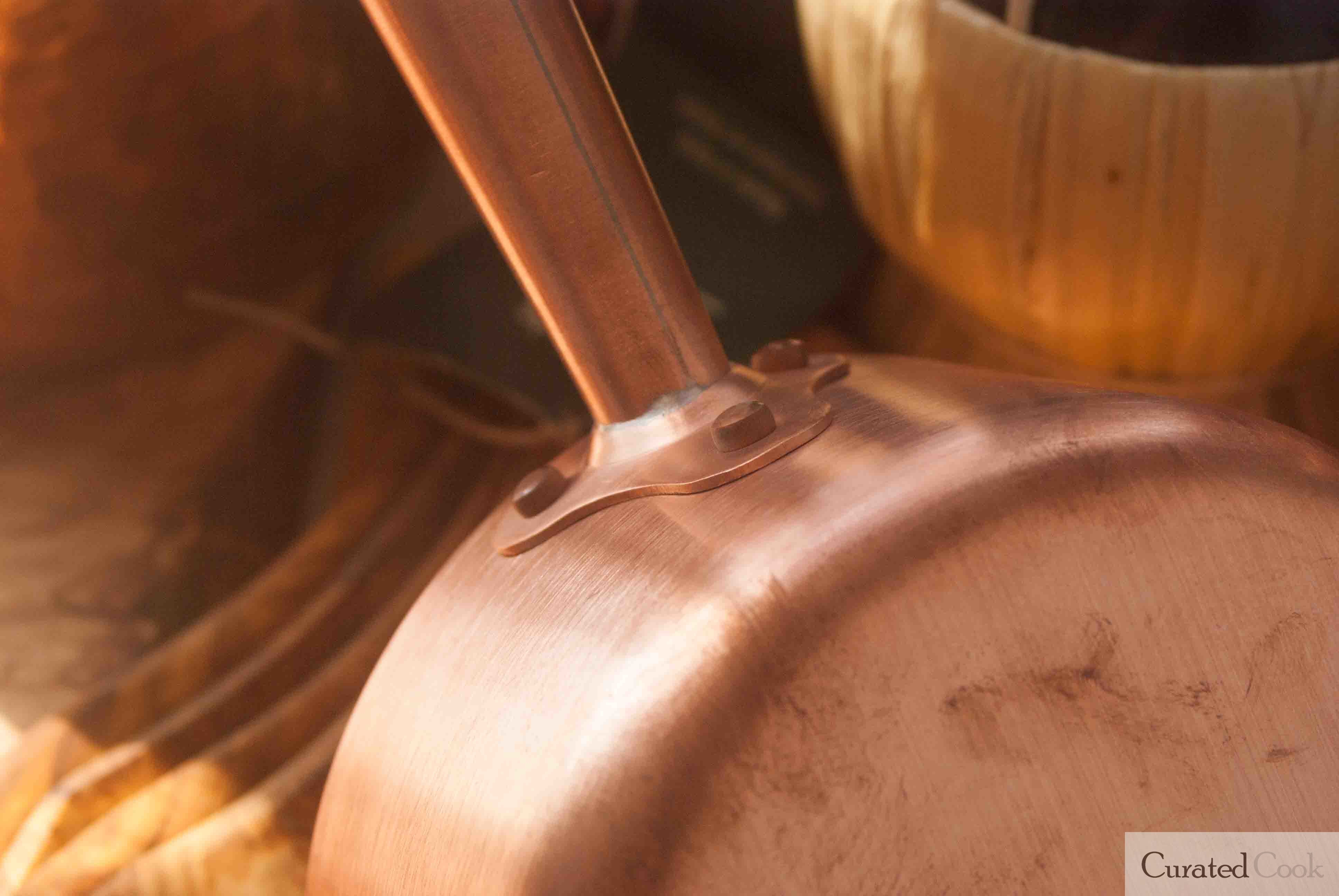 At the base area, you can see additional weld mark. The lip was also poorly done in my opinion, this was most likely due to a manufacturing saving cost.
M'Passion Sugar Pot Thoughts
I like how thick the copper is on this pot. Usually for a pot of this size, manufacturer will give you a very thin pan. This one has a hefty thickness of 2.31 mm. What I dont like is the fact that they tried to cheap out on the manufacturing process. The older sugar pot has a more pronounced bend on the pouring spout. This one just looks like it was clamped to give it a lip. Although I dont doubt its effectiveness, I find that I am paying more for less. Aside from those factor, I still find that this pot is very well made. I am sure that you can make a lot of sugar, candy or caramel with this pot.
Copper Jam Pot
Another type of pot that is typically used for making sweets is the Copper Jam Pot by Mauviel. It is unlined like the copper candy pot but this jam pan is beautifully hammered throughout the pot like Ruffoni's Rondeau. The shape is very similar to what you get in a Windsor Pan. With a relatively narrow base and a wide rim diameter to facilitate evaporation of liquid.
These pans are typically made in very thin gauge copper to allow for fast heating and cooling of the Jam. They are some of the most beautiful pot that you can get.
Looking at the reviews, some of it is just ridiculous. They would give it a low score for minor marks or scratches on it. Those same scratches will come out after a day or two of using it.
Bain Marie
A Bain Marie or double boiler is something that is used frequently by chocolatier. What it typically consist of is a pot of boiling water with a vessel on top. The idea of this is to let the steam gently heat the content of that pot. This is perfect for gently cooking chocolate or custard whenever you need to temper the chocolate.
Mauviel's Double Boiler consists of three pieces, a copper pot, a porcelain heating vessel and a lid. It is designed to maintain heat of any confectionery you might be cooking. The design is so iconic that all clad made a Copper Core Version that looks almost exactly like it. Whats the saying, the best form of flattery is initiation? Anyways if you want to deal with All Clad vampire handle go for it.
I hope you found this article on Mauviel's Copper Sugar pot to be informative, If you would like to see more, please visit our Pots and Pans Review page.