Making purchases at Amazon.com and other website funds this website by generating revenue. Any help is appreciated and supports both me and content like this.
Le Creuset Stainless Steel Saucier Review
A saucier is a cross between a skillet and a saucepot. It has a wide rim with a narrow base surface. The corner are curved and the sidewalls are tall. This makes it perfect for making soup and sauces. Many consider it to be the one of the most versatile pot in the kitchen.
Le Creuset Stainless Steel saucier has all the features of a winning saucier. Even America Test Kitchen rates it as one of the best around. Having said that, what exactly makes their saucier stand out from the rest? Hopefully its not just the price. This review will go through all the design features that this pot has and discuss whether it deserves a place in your kitchen.
Le Creuset Stainless Steel Saucier Review Quick Summary
| Categories | Le Creuset Stainless Steel Saucier |
| --- | --- |
| Performance | Excellent |
| Colors | Stainless Steel |
| Brand Awareness | World Famous |
| Oven Safe | 500 Degree Fahrenheit |
| Helper Handle | Yes |
| Pouring Lip | Yes |
| Thoughts | A excellent saucier whose sides are perfect for whisking. The Tri Ply configuration makes it a lot more responsive than the cast iron counter part. This is one of the best saucier on the market. |
| Reviewed Cookware | Le Creuset 3.5 qt Saucier |
Why you should avoid Le Creuset Cast Iron Saucier
Le Creuset has two version of a saucier, their traditional cast iron saucier and the stainless steel one. The main function of a saucier is to make sauces. In the beginning stages of the sauce, heat control is critical. Le Creuset Cast Iron Saucier, while a good vessel for retaining heat, makes for a poor choice. Sauces tend to be very delicate and they react negatively to either too much heat or too little. With a cast iron saucier the only temperature you can have is too hot. While that might be perfect for searing steaks and salmons, it is not good for sauces. A saucier that uses aluminum or copper will be much more responsive to changes in temperature. Not only that, cast iron is heavy. You will have a very difficult time manipulating and maneuvering the pan.
Le Creuset Stainless Steel Saucier Design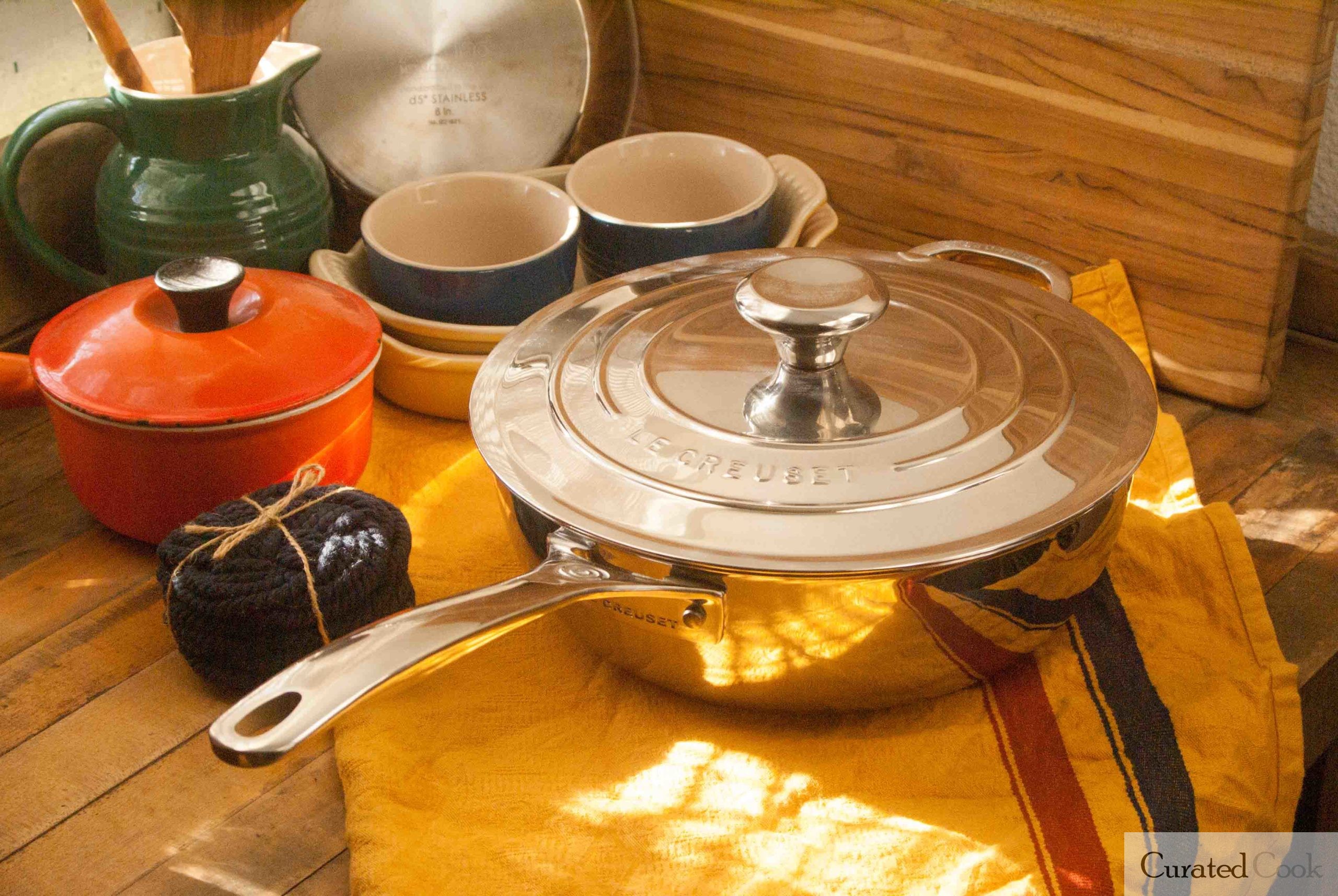 Handle
The handle is made of stainless steel with a hollow interior. At its base, there is a heat choke to prevent transfer of heat. On the Stove top, it is unlikely for it to get hot. However common sense should come in play here. Caution should always be taken when cooking with a metal handle. Always use a glove or towel when grabbing the handle. Do not be overly comfortable with a metal handle. This is especially true if you put it in a oven.
The angle of the handle affects ergonomic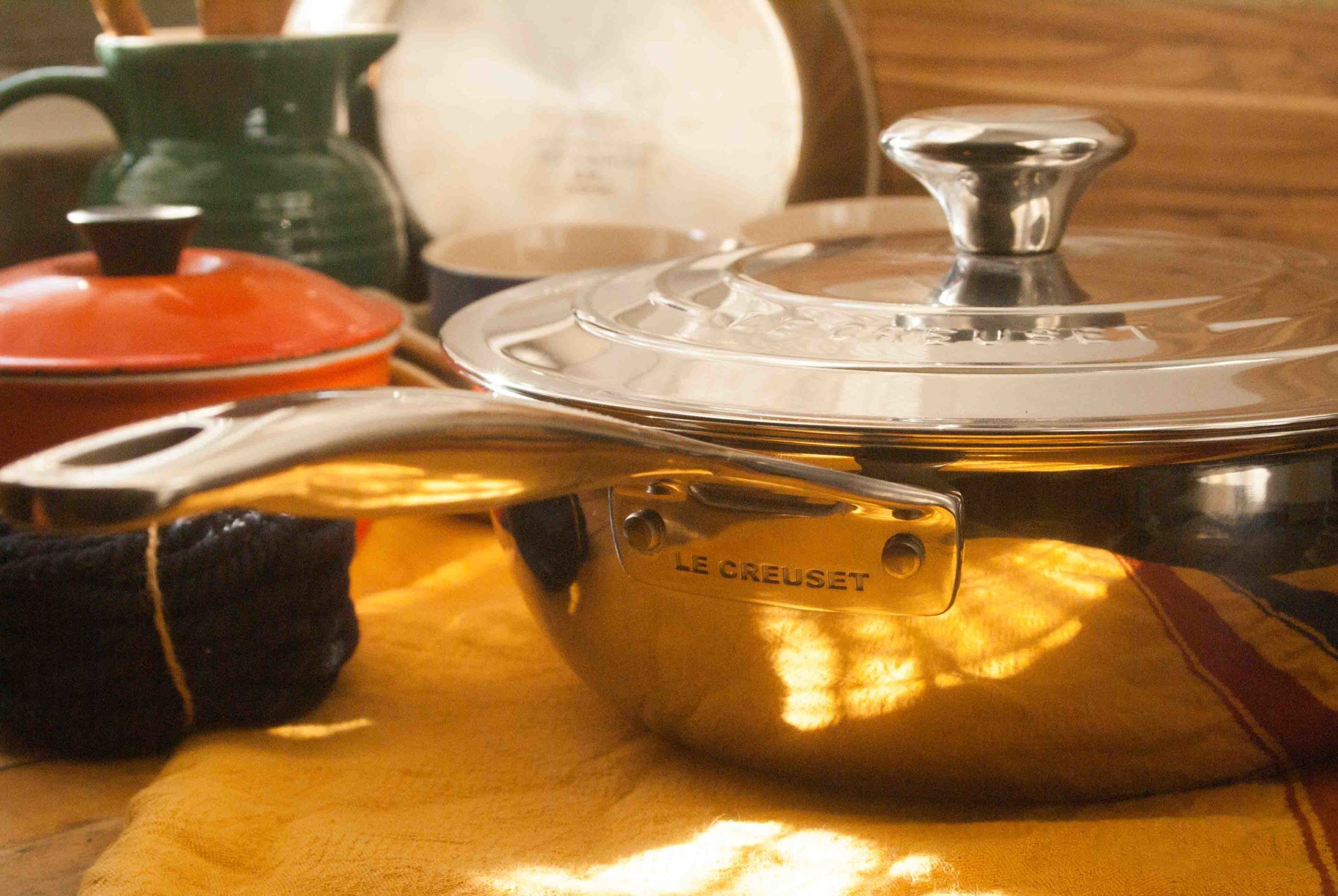 The angle of this handle is almost perpendicular to the pot itself. This throws off the balance of the pot and put strain on your wrist. It makes it feel heavier than a pot whose handle is raised higher. A raised handle will let you tilt and maneuver it a lot easier. Aside from that, it is nice and rounded. This makes the handle comfortable to hold. The top is also flat, this prevents it from rotating in your hand.
On the other end, there is a helper handle to reduce the load. Unfortunately the lip of the pan gets in the way. If you try to grip it the lip will digs into your hand. Nevertheless it does its job and that is what is important. Have you tried carrying a pot pull of liquid with just one handle?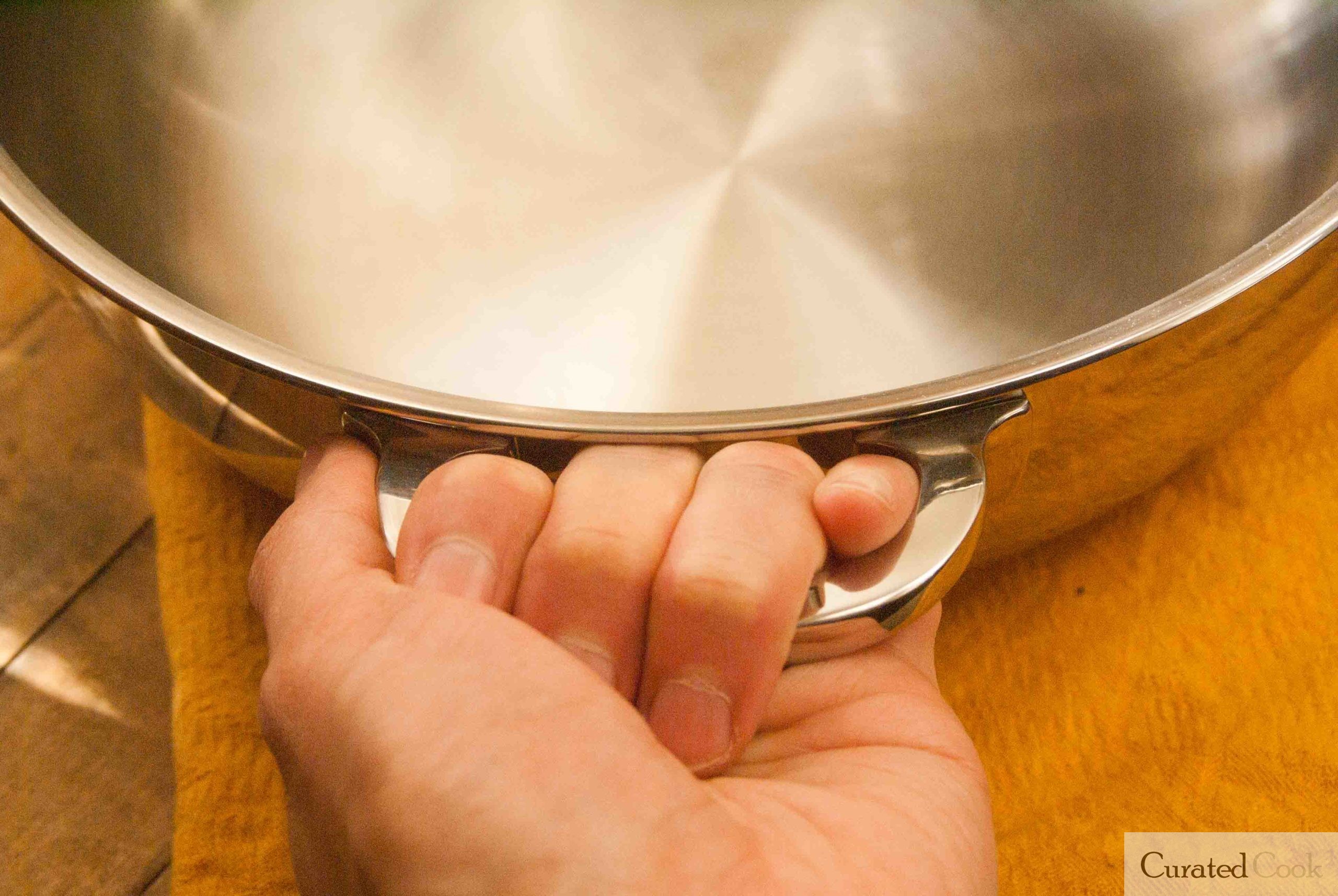 How materials and color affect branding
Oddly enough, the lack of color on the logo makes it looks like one of those Japanese fish cake. Near the base of the handle, the font of the Le Creuset looks almost robotic. Interesting how different color and material affects branding.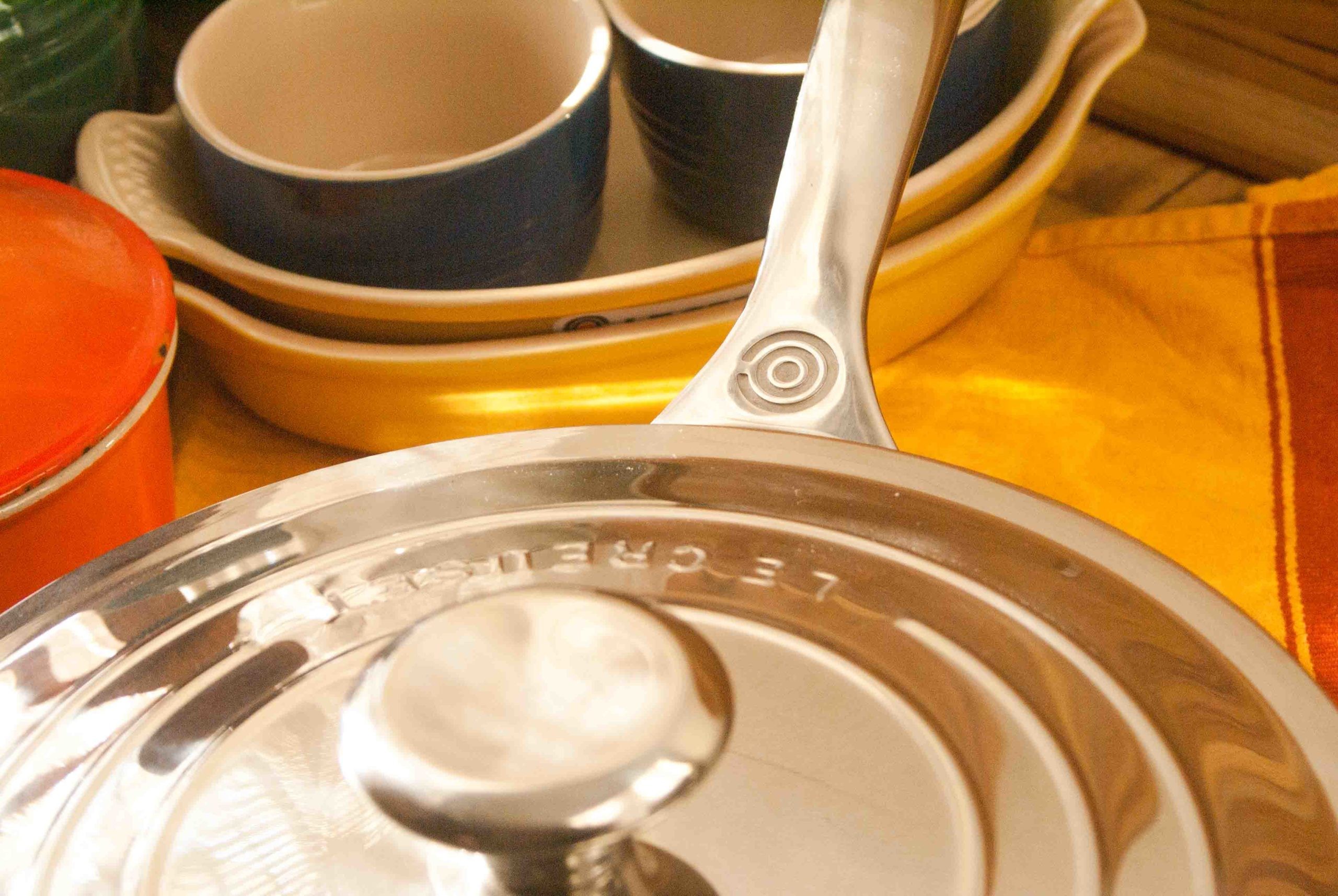 Shape of a Le Creuset Stainless Steel Saucier
The shape of this saucier is what makes it so great. The gentle gradient from the bottom to the top of the pan is seamless. Most other saucier have a straight L edge that lets food get stuck. It is very annoying when you are whisking sauces. You really have to dig in with a whisk or spoon to get to that edge.
The base is wide enough so that you can sear food but still small compared to a frying pan. You will most likely have to sear meats in batches. Also the area where it curves upward will not generate as much heat as the flat bottom. On the rim, the lip is rolled for easy pouring of liquid, a necessity for any saucier.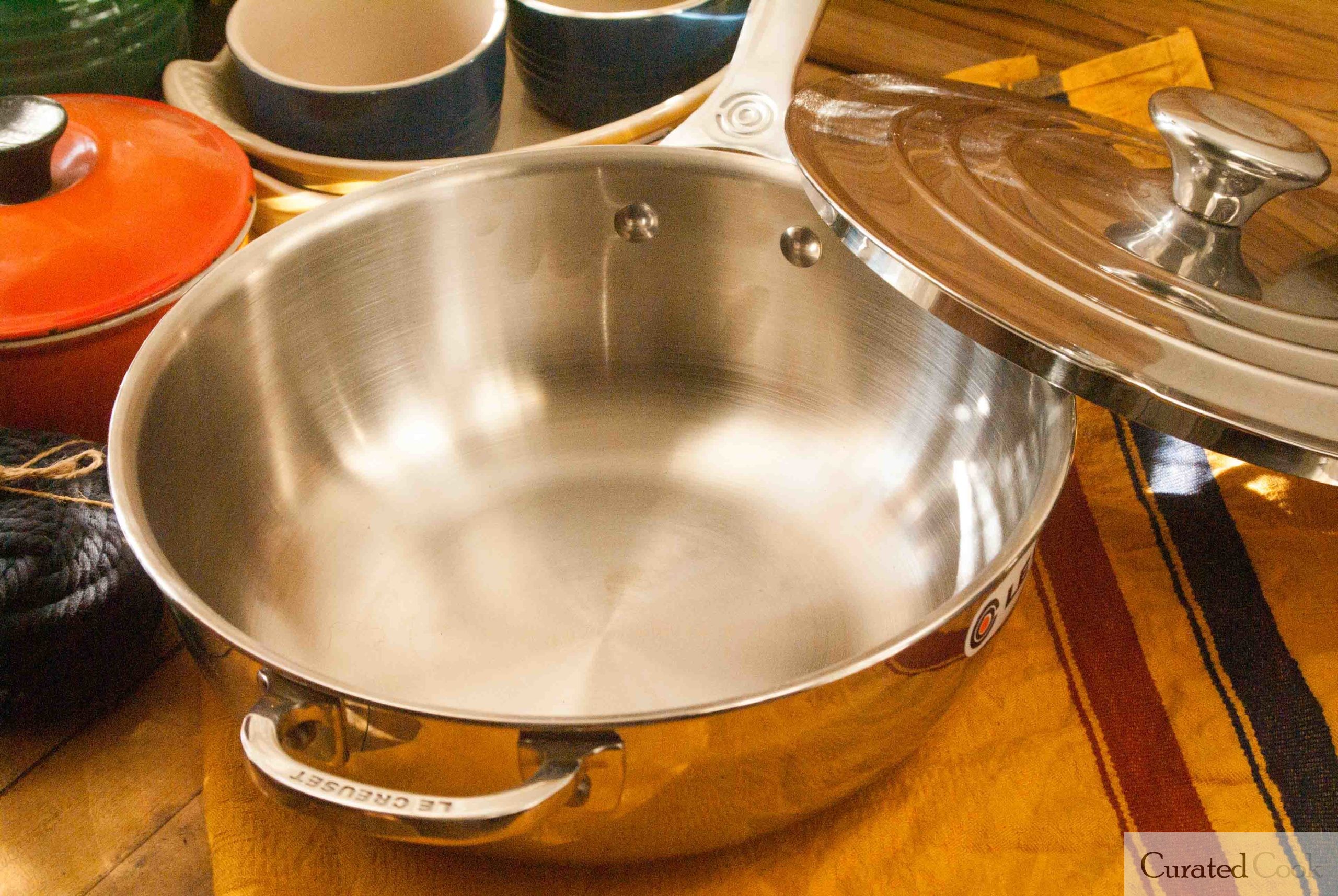 The reason why saucier is so effective at reducing liquid is because of surface area. The larger the surface area, the greater the reduction in liquid. They typically have a big taper in size from the diameter of the rim to the base. Rim to Rim I measure a 10 inch in diameter with the flat surface diameter being rough 5.5 inch. That is almost half its rim diameter!
Lid used as a serving tray
I think I heard in a review by America Test Kitchen that the lid can be used as a serving tray. I disagree, it is very unstable and food can fall over very easily. If you manage to place food on the lid, it is still very easy to knock over. I wouldn't put food on it.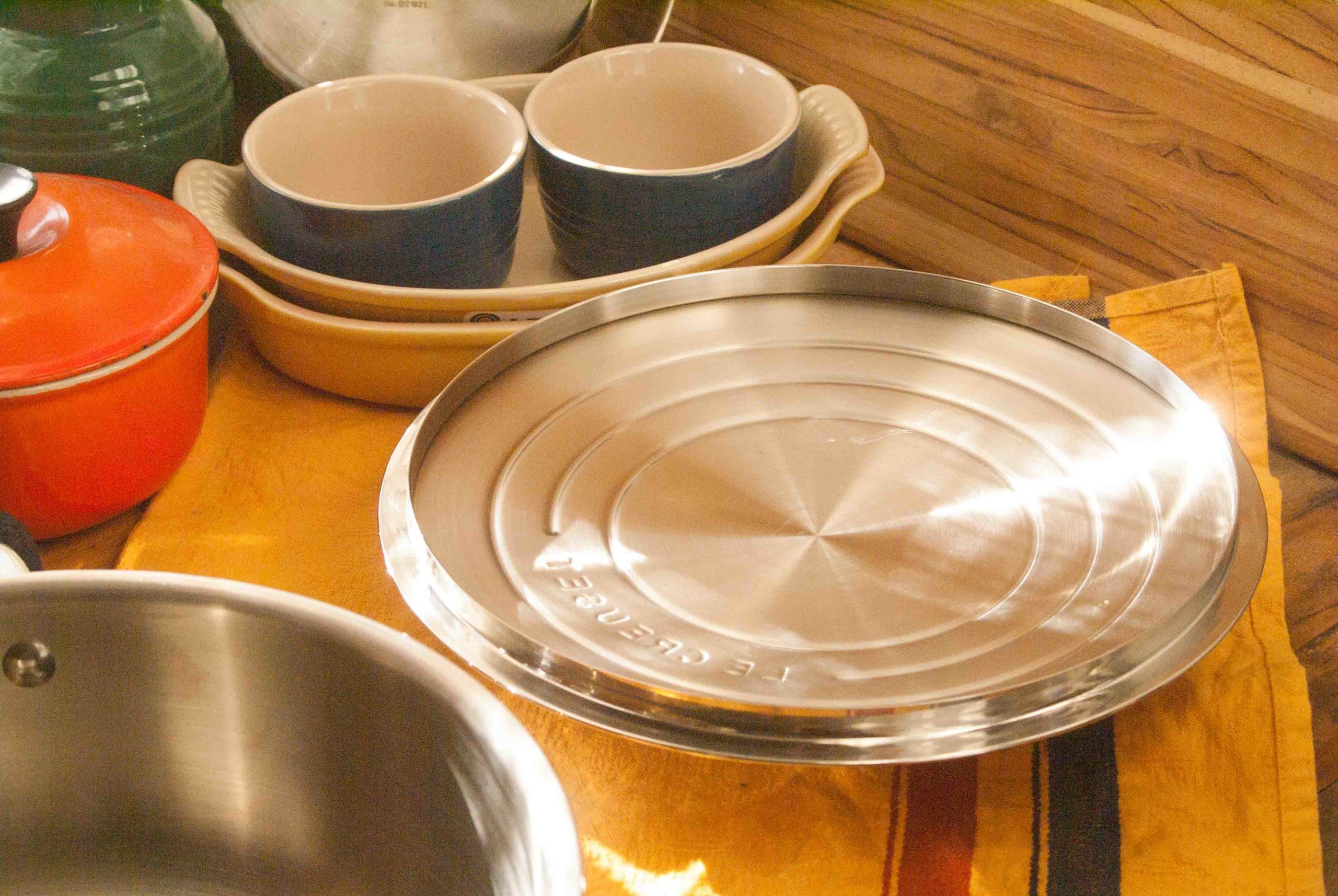 Cladding and Thickness
Most if not all Fully Cladded cookware is stamped via a hydraulic press. While the intial sheet might be a uniform thickness, as the metal get stretch, it will produce varying thickness. Since my caliper is too small I cannot verify this. However, the sidewall feel considerably thinner than the base. Using my micrometer I found that it has a thickness of around 2.22 mm. Honestly, something like this probably wont matter. I am just being picky.
Le Creuset Made in Portugal
Much like their stoneware, the manufacturing of these cookware is outsourced. This stainless steel line of Le Creuset product is made in Portugal. This does not necessarily mean its bad. My review on their Au Gratin Dish actually found that the stoneware actually has a superior fit and Finish then the cast iron model. And those products are made in Thailand, not France.
For more information about the stainless steel line of cookware from Le Creuset, check out the video below.
Fit and Finish
Fit and Finish is good, almost to the point where it seems machine made. On the rivets, there is a rippling affect on the metal. It is apparent on all the area where there are rivets. Interesting enough, the base is a brushed metal while the side is polished. This is probably done to promote heat transfer; a shiny surface actually reflects and inhibits heat transfer.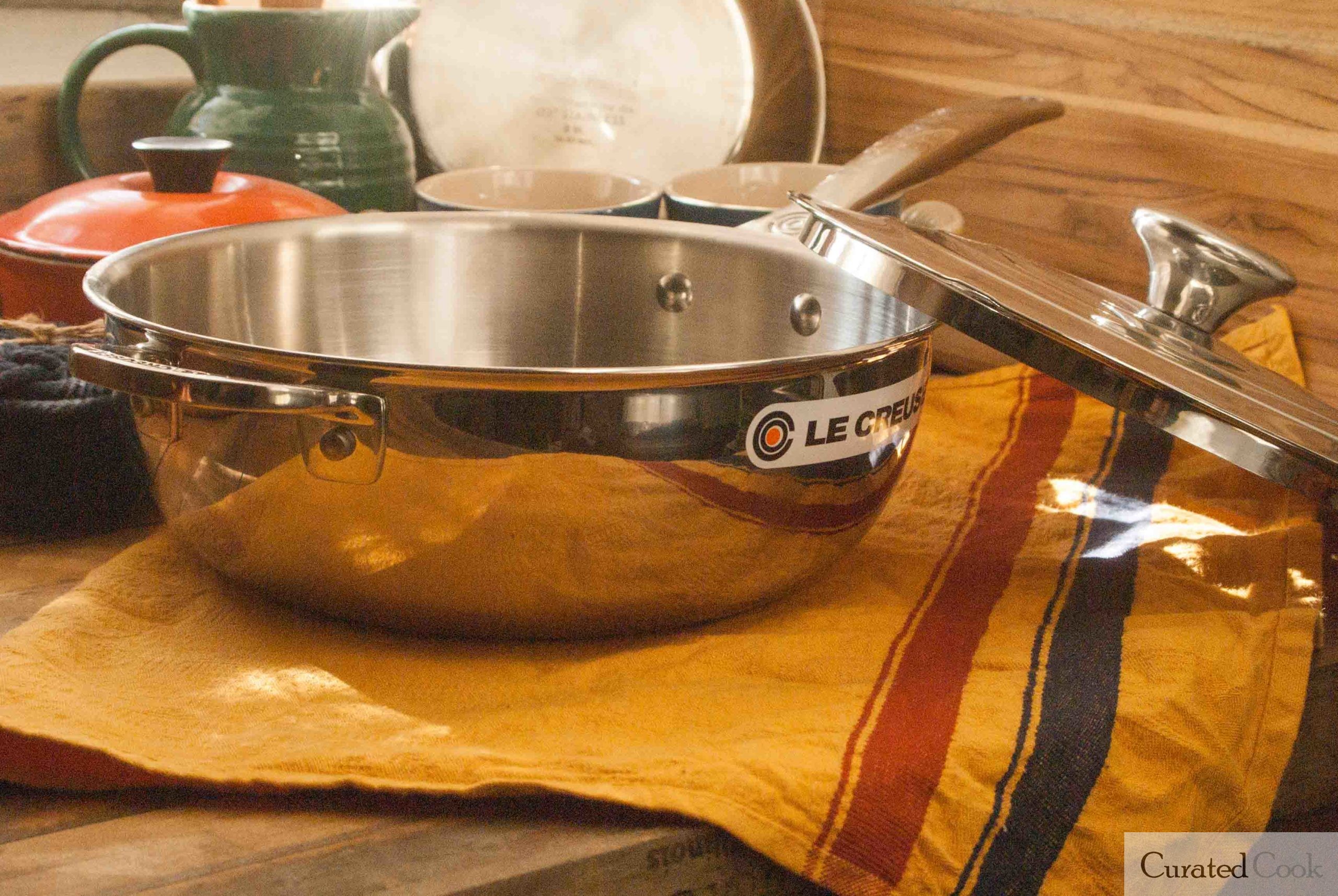 Le Creuset Stainless Steel Saucier Conclusion
What really makes this pan outstanding is the shape of the pan. The smooth gradient that you see on this saucier should be a standard on any saucier. As far as I know All Clad and Matfer Bourgeat are the only two other cookware manufacturer who follows this design. The handle on this saucier is my main concern about it, but other than that, it is a solid saucier. I recommend getting it if you are looking for a large size saucier.
I hope you like this Ruffoni Opus Prima Hammered Stainless Steel Pot Review, If you would like to see more, please visit our Pots and Pans Review page.