Le Creuset Doufeu is a special dutch oven designed to retain moisture. The top lid is recessed so that it can store ice cubes. By storing ice cubes on the lid, it converts steam back into a liquid state. In a traditional dutch oven, steam can easily escape from the gaps. While this design may sound great, a simple understanding of chemistry will show otherwise. This in depth review of Le Creuset Doufeu will see whether this system actually work. We will be looking at how the Doufeu differs from their traditional line. We will also discuss whether this type of oven is even necessary.
| Categories | Le Creuset Doufeu |
| --- | --- |
| Performance | Acceptable |
| Colors | Wide Range |
| Brand Awareness | World Famous |
| Country of Manufacturer | France |
| Warranty | Lifetime Warranty |
| Thoughts | A novel design great for retaining liquid. However a traditional dutch oven will work just as well. If you really want to retain moisture, I recommend buying a Pressure Cooker instead. |
| Reviewed Cookware | 4.5 qt Doufeu |
History of the Doufeu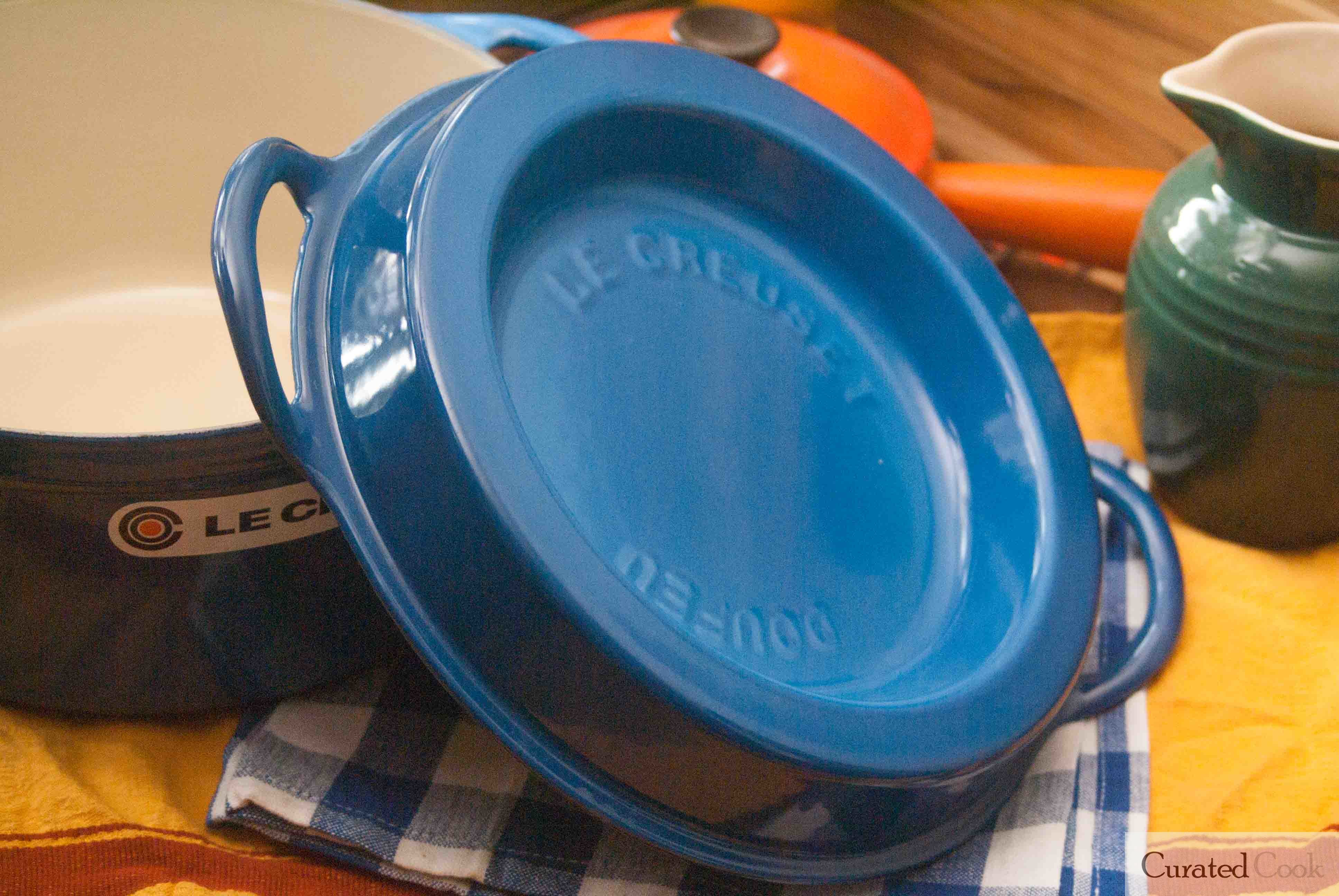 The use of ice cube in a doufeu is something relatively recent. In the 1600's, ovens were not as common. To get the same type of oven effect, people would load coal on top. This will surround the dutch oven with radiant heat giving off a oven effect. The ice style of dutch oven only started around the early 1900's.
Three Phases of Water
Before we go into the review here is a quick chemistry lesson about stages of water. Water or h2o has three phases. A solid (ice), a liquid (water) and a gas (steam) phase. Depending on the temperature, the h20 will change between the phases. Some substance can jump between these phases but water cant. For those who really want to read more about this, I recommend the article that Wikipedia has on this subject. I have linked it below for your reference.
Design
How Le Creuset Doufeu Dutch Oven Works
When the steam start evaporating from the liquid it will start reducing. In turn the flavor will be concentrated. If lets say the steam should hit a cooler surface like a tray of ice on the lid. Steam will then cool down enough to be converted back to a liquid state. It will then drip back down to the stock/food. The chance of the steam escaping from the gaps is then reduced.
Logic behind this System
The conservation of mass which states the following "for any system closed to all transfers of matter and energy, the mass of the system must remain constant over time, as system's mass cannot change". This means that you cannot lose any liquid as long as the system is closed. In essence, with Le Creuset Doufeu dutch oven, you don't really seal in a liquid like a pressure cooker but rather convert the steam back to a liquid state.
Sealing in a traditional dutch oven with clay will probably get you the same if not better result. Indian chef has been using this method for cooking biriyani for decades. The only thing that I see working is the little dimplet on the lid. This drops the liquid back onto the food. Staub call this features the chistera droplet.
Le Creuset Doufeu Dutch Oven Handle
The handle is a little different from you standard Le Creuset Dutch Oven.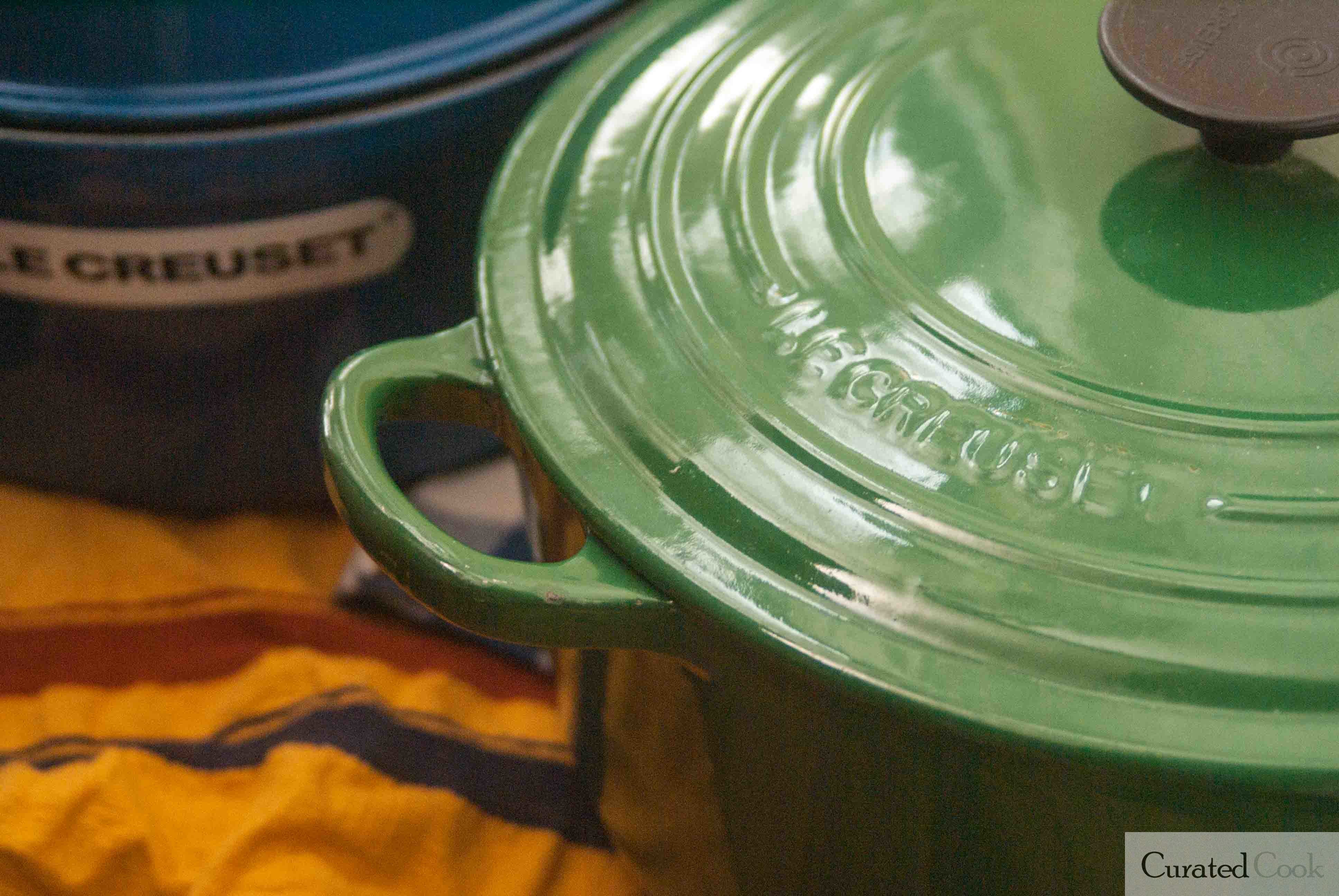 It is slightly smaller and has an more rounded shape to it. This design is actually the same as Cousances dutch oven. On the standard Le Creuset one, the opening is wider giving my bottom knuckle clearance.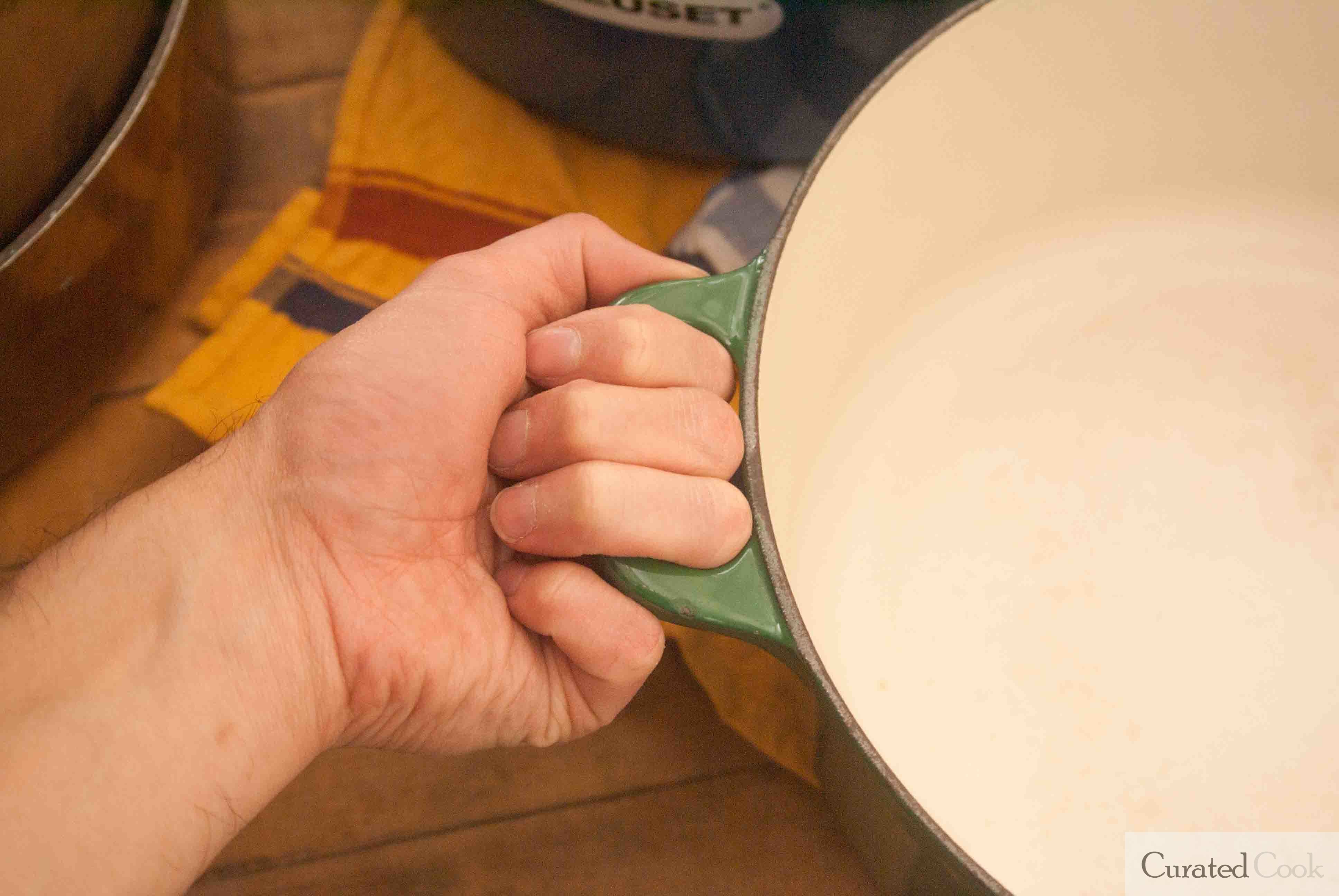 On the Doufeu model, my knuckle will actually hit the pot leaving little clearance.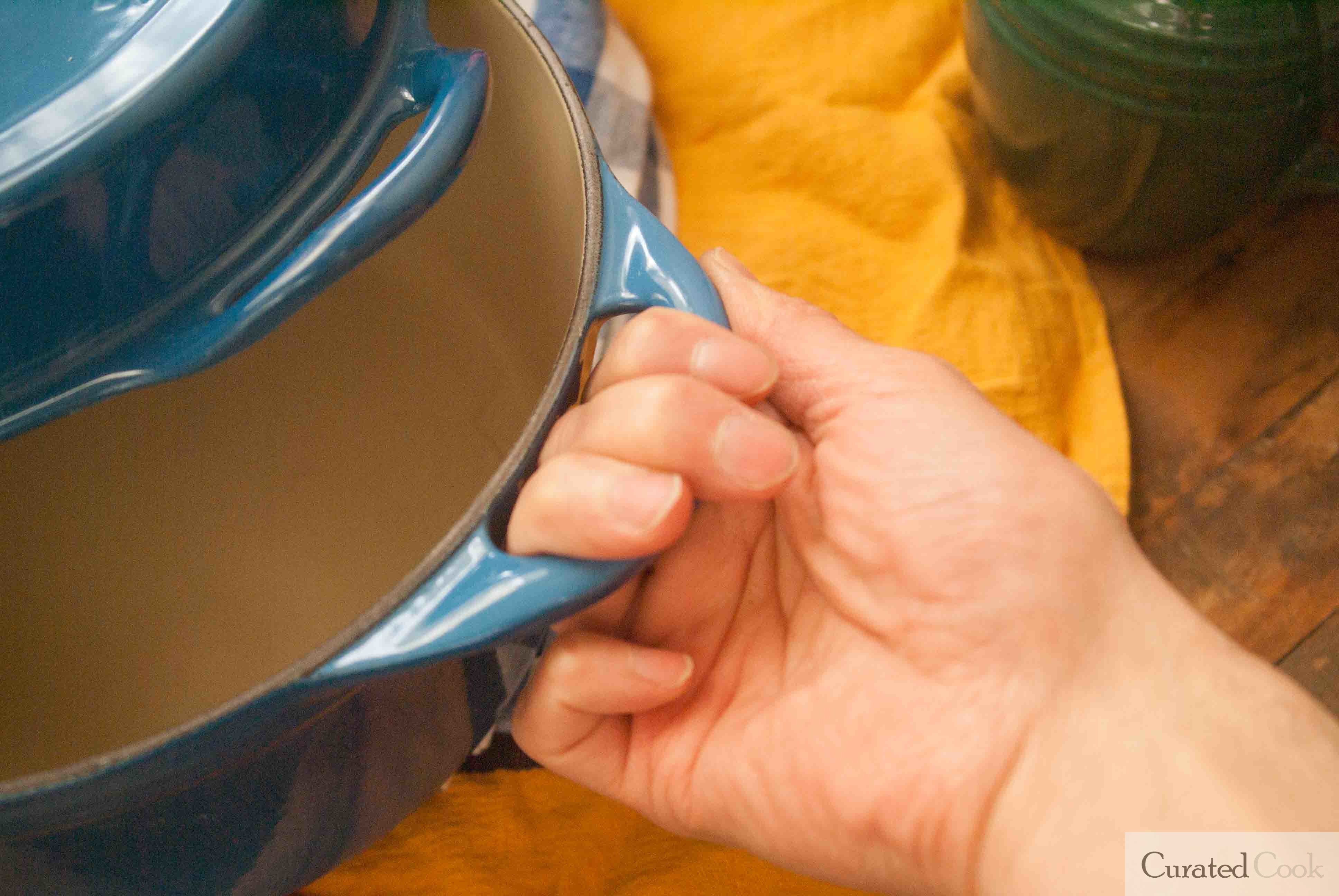 Although to be fair, with a towel or mitt, I probably wont be able to clear it either way. The lid also has its own handle, I am guessing its there so that you can transport ice easily.
They made it so that lid can line up with the bottom pot handle, giving you easier grip to hold both of them together. Interesting enough, the lid handle has more clearance than the pot handle.
Le Creuset Doufeu Lid
The lid is what makes this dutch oven different from rest of Le Creuset line up. Instead of a dome, the top is indented downward. This allows ice and water to be stored there. This will regulate the temperature of the lid. The word Le Creuset and Doufeu is engraved to ensure that you wont forget what it is.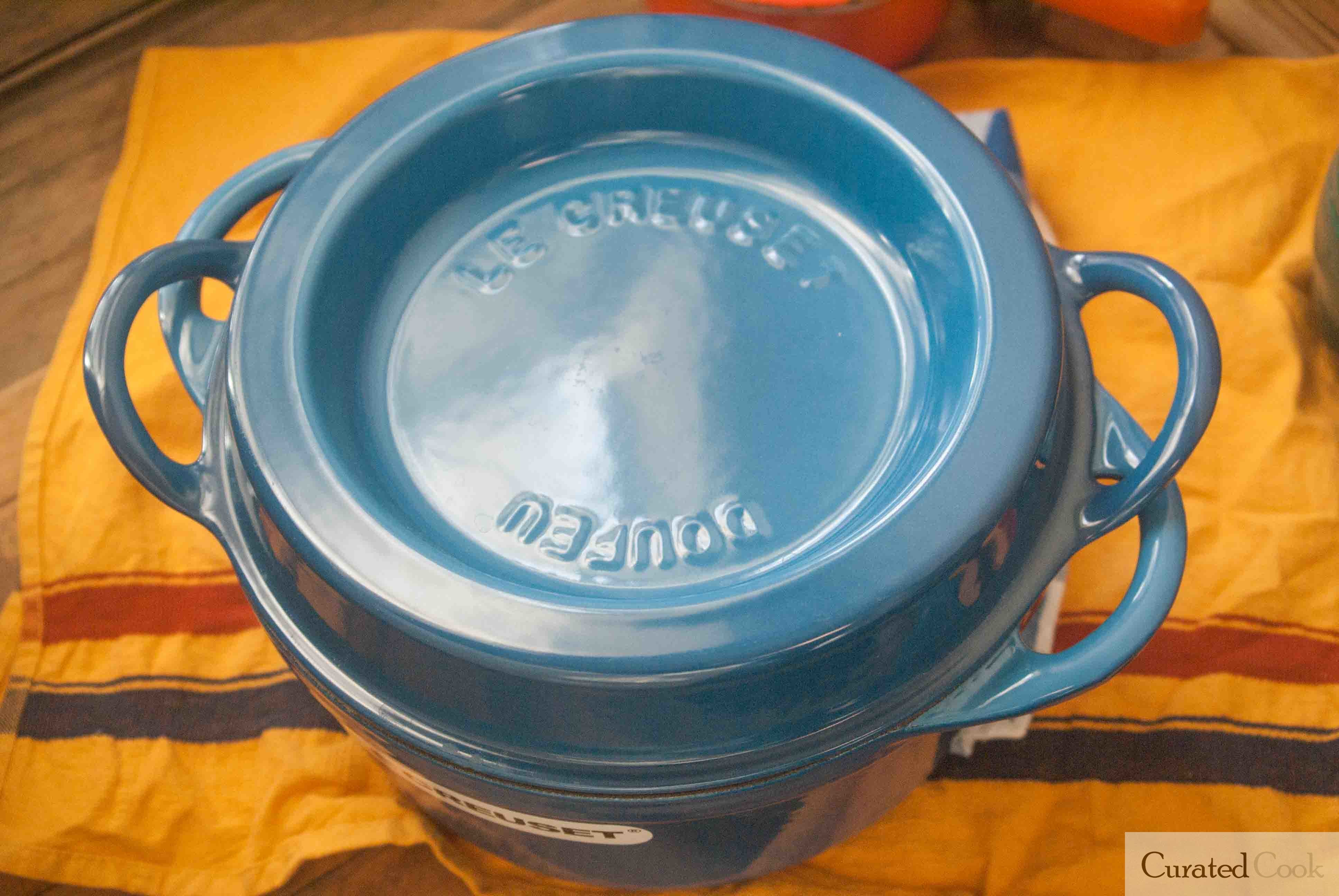 Flipping the lid over, you can see a large trench and dimples covering the lid. Le Creuset claims that these dimples will help baste the food. However, on their standard pot, they dont think its necessary to include this, Staub does…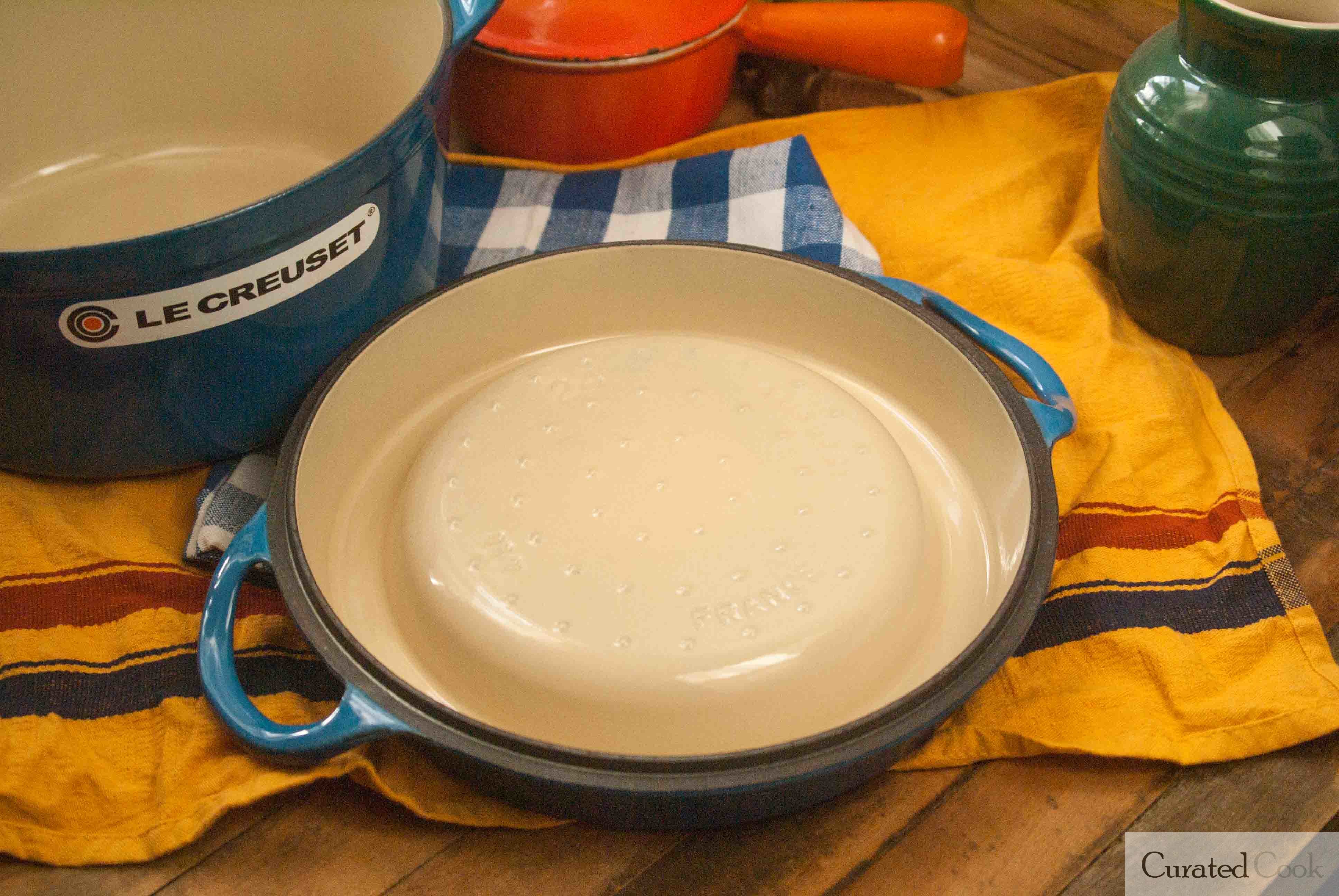 That aside, this lid can be used a mini hot pot stove. If you invert the lid, the meat can be seared on the top. While the trenches can be used to store the soup base. You can also store dipping sauces there. It will make for one of the prettiest hotpot stove around.
Another interesting thing is that the bottom has different engraving from the top of the lid. I see France, 24 (for the size in cm), 4 1/4 usa(Volume?) and 411. Not sure what the 411 means though.
Le Creuset Doufeu Base Pot
Nothing too interesting about this pot from your standard Le Creuset Dutch Oven. The handle will be the only thing that stands out. The base is covered in Enamel and the little lip near the rim is a little larger. The interior is your standard biege color. All still very shiny because its new. Also the lip itself is not rounded and bare so it will be hard to pour liquid out/rust over time.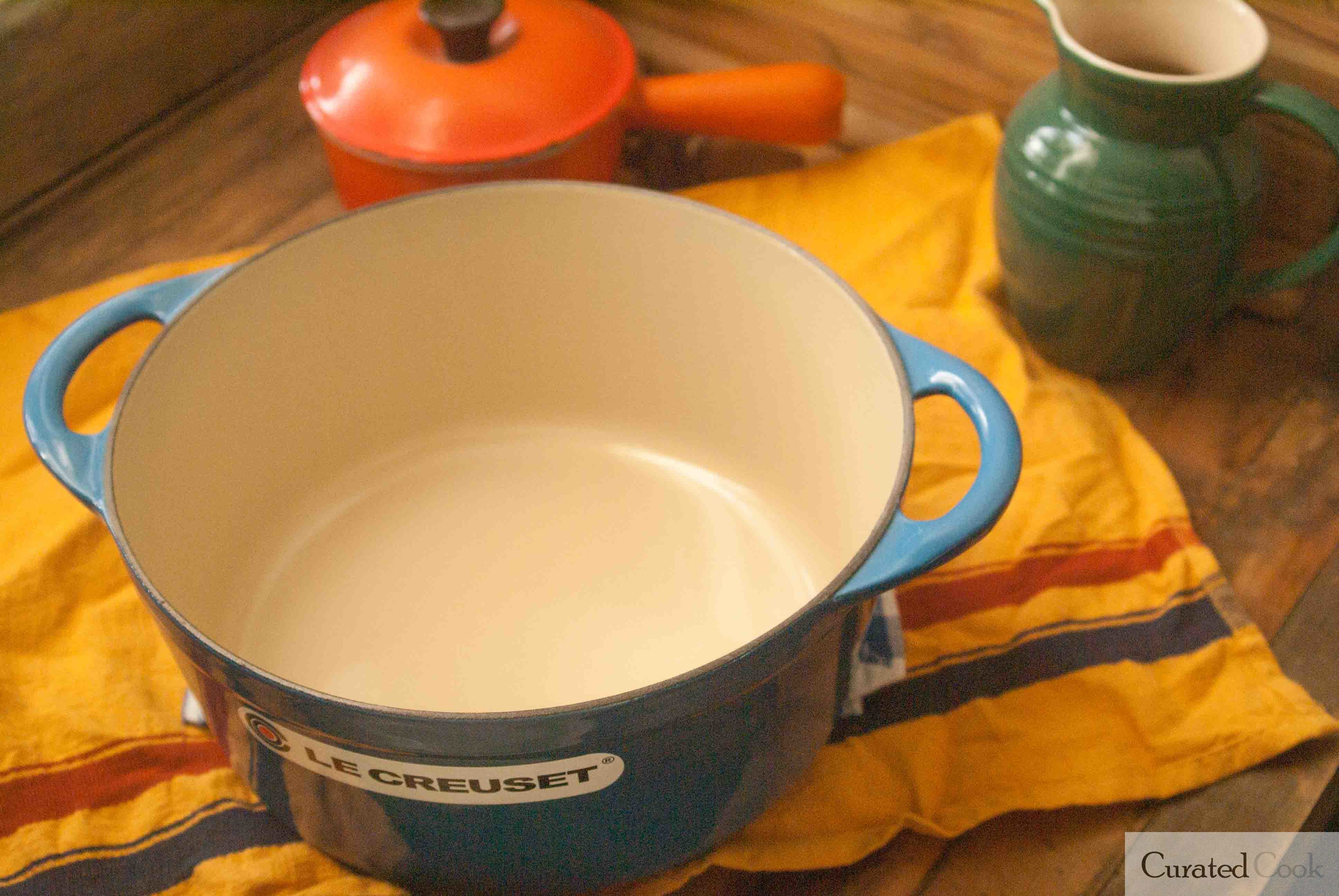 Fit and Finish
Fit and Finish is ok. The main issue that I have with Le Creuset and all other enameled coated cookware manufacturer is the orange peel. For those who do not know what orange peel is, its the ripple finish of the paint. In the automotive world, this is seen as a horrible paint job. You try to get a mirror like finish in your paint job. Unfortunately, cookware is usually held to a lower standard.
Specs:
Note:These measurement are done by me with the tools that I have on hand. The manufacturers have their own measurement guidelines and that should be assumed to be accurate. What I find on this review can vary widely due to several factors, such as ambient temperature, location, water, tool calibration, stove btu, etc..and should only be considered as my opinion.
Weight: 3063 g Lid Weight:2183 g
Rim Width:Around 9.6 inch
Flat Cooking Surface Width:Around 8 inch
Height: Around 4.49 inch With Lid: Around:6 inch
Sidewall Thickness:Around 3.67 mm then tapers to 4 mm. thickness changes….
Le Creuset Doufeu Thoughts & Conclusion
I personally feel like this Le Creuset Doufeu is more of a gimmick than anything else. If you really want to trap "Aroma" in, I highly recommend that you purchase a pressure cooker instead. They have the lowest rate of liquid loss. However, if you do need to maintain a certain temperature and still retain most of the moisture, this is the way to go. You can purchase the Le Creuset Doufeu that I reviewed at Amazon, the proceed from this or other purchases help support my cookware addiction.

I hope you like this Le Creuset Doufeu Review, If you would like to see more, please visit our Pots and Pans Review page.
Source
Water Phases
https://en.wikipedia.org/wiki/Phase_diagram