Making purchases at Amazon.com and other website funds this website by generating revenue. Any help is appreciated and supports both me and content like this.
Mauviel Copper Coffee Pot Review
Lots of claims online seem to state that the Mauviel Copper Coffee pot is either for hot chocolate or coffee. In all honestly, there really is no reliable information that can be found online. Based on Mauviel website, it seems to be made for coffee based on the product classification. But to me, it most resembles design and function of a cezve (A vessel for Turkish Coffee). It has a wide base that tapers to the top. When you boil Mauviel Copper Coffee Pot, the water will foam up and bloom then drop back down, very similar to what the cezve does. And on the side, you will find a detachable wooden handle. Which in my opinion is not really french coffee. In this review we will be looking at the design and the function of this unique coffee pot.
Mauviel Copper Coffee Pot Design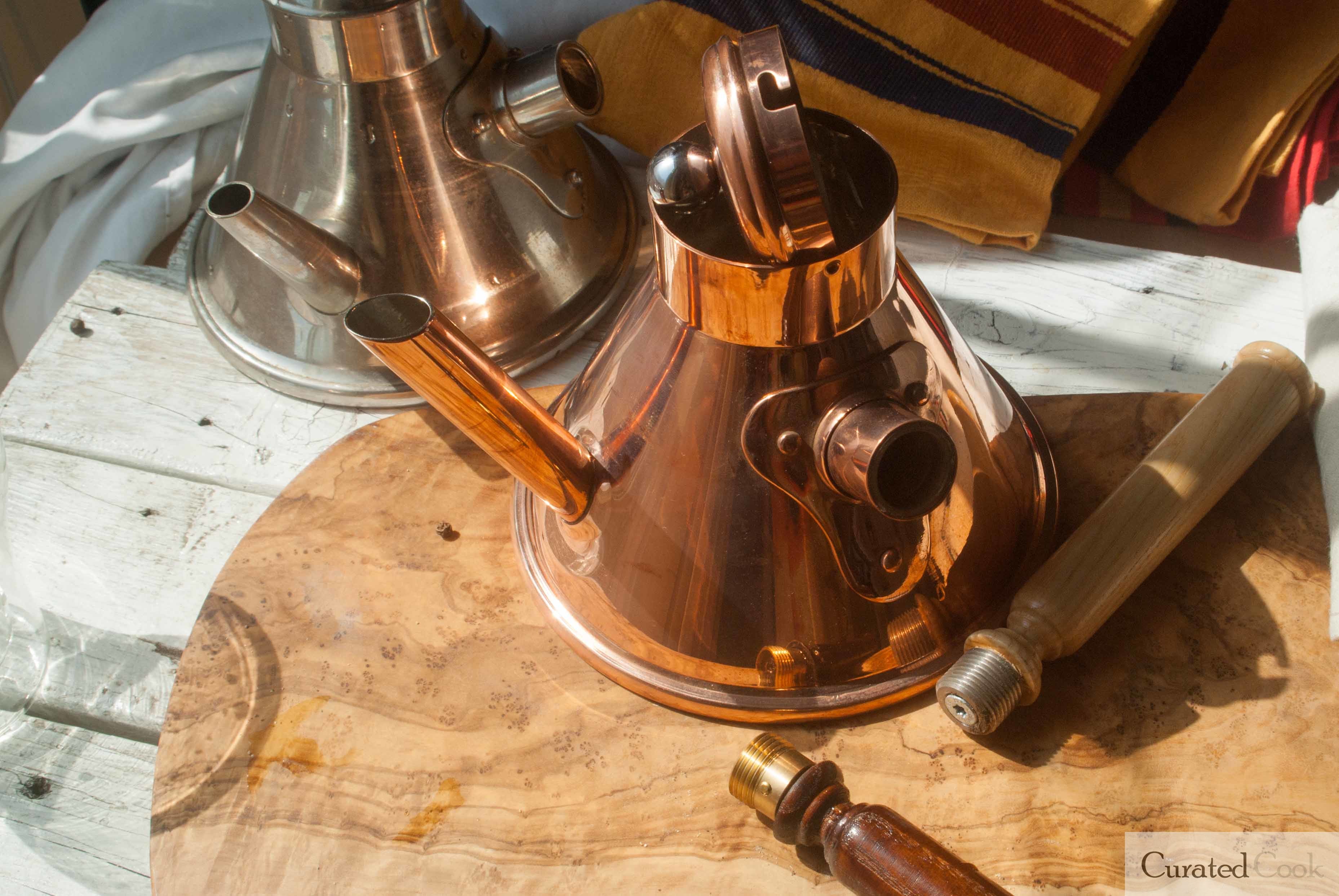 Handle
We will start off the review with the handle. The handle is wooden with a large thread fitted on the end. They seem to be interchangeable with the other type of version of these pots. The silver version has a dark brown wooden handle and I was able to switch it out without any issue. The base of the handle is held on by a triangular base with three rivets.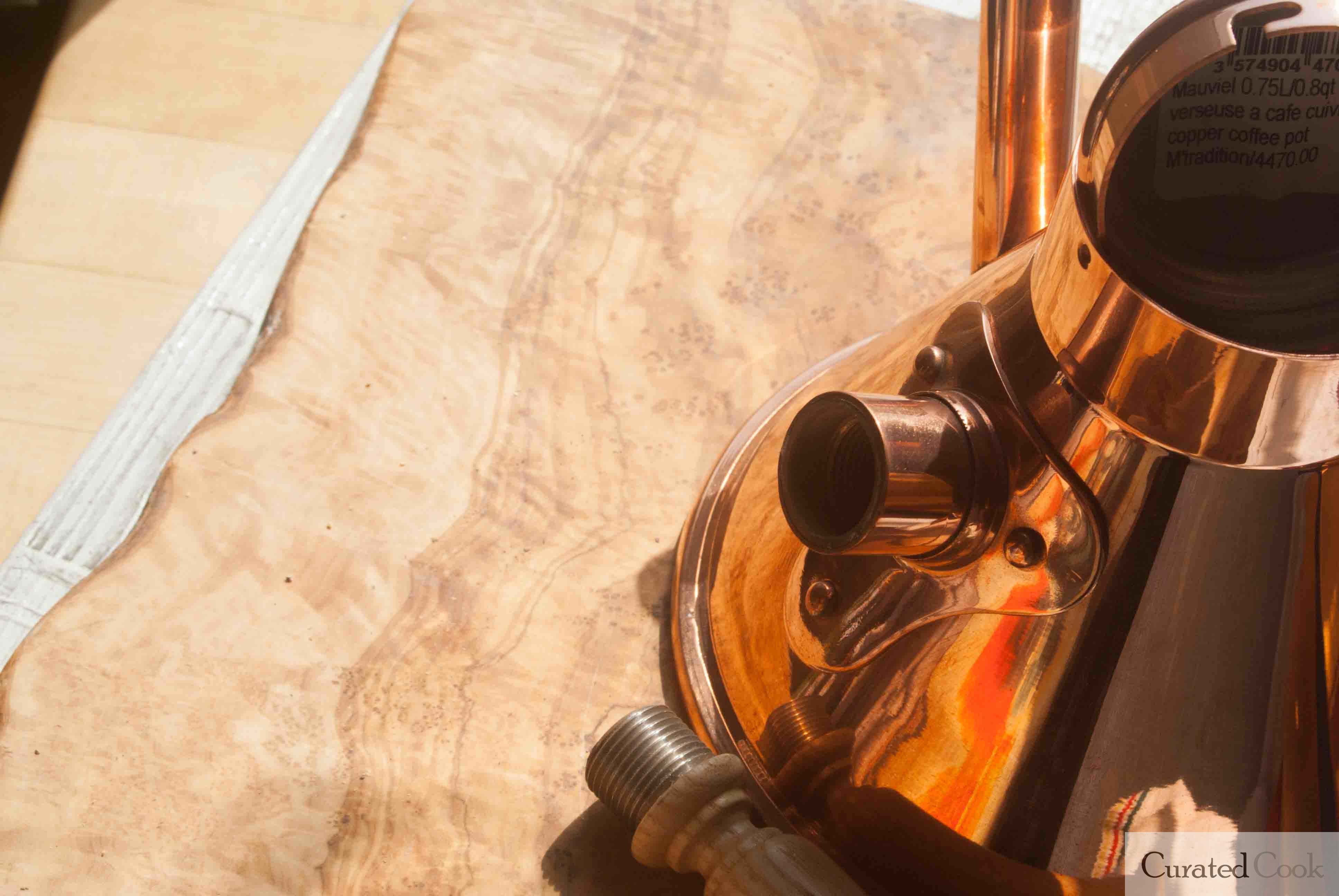 Shape
The bottom of the pot is wide then tapers upward to a narrow opening. I assume it was designed this way to get it the blooming effect where the water boils up then back down. The base also has a marking Mauviel 1830 France on the bottom.
Thickness
The whole pot itself seems to be made of thin copper. Using my micrometer, I measured the thickness of the top rim to be around 1.06mm. You would have to be very careful when using it otherwise you will be dent it. There are many examples of vintage style version of these pots with a lot of dents on ebay. It's important to note that this model is still thicker than the vintage model of .55mm thickness.
Spout
The spout opening seems to be pretty large in comparison with the vintage model with a diameter of about 18mm. What is interesting is that near the base of the spout, this model has only one hole to drain it. The vintage model has a flat base with 4 holes in the side. On the outside base of the spout, there seems to be a large raised base and it looks like it was welded on.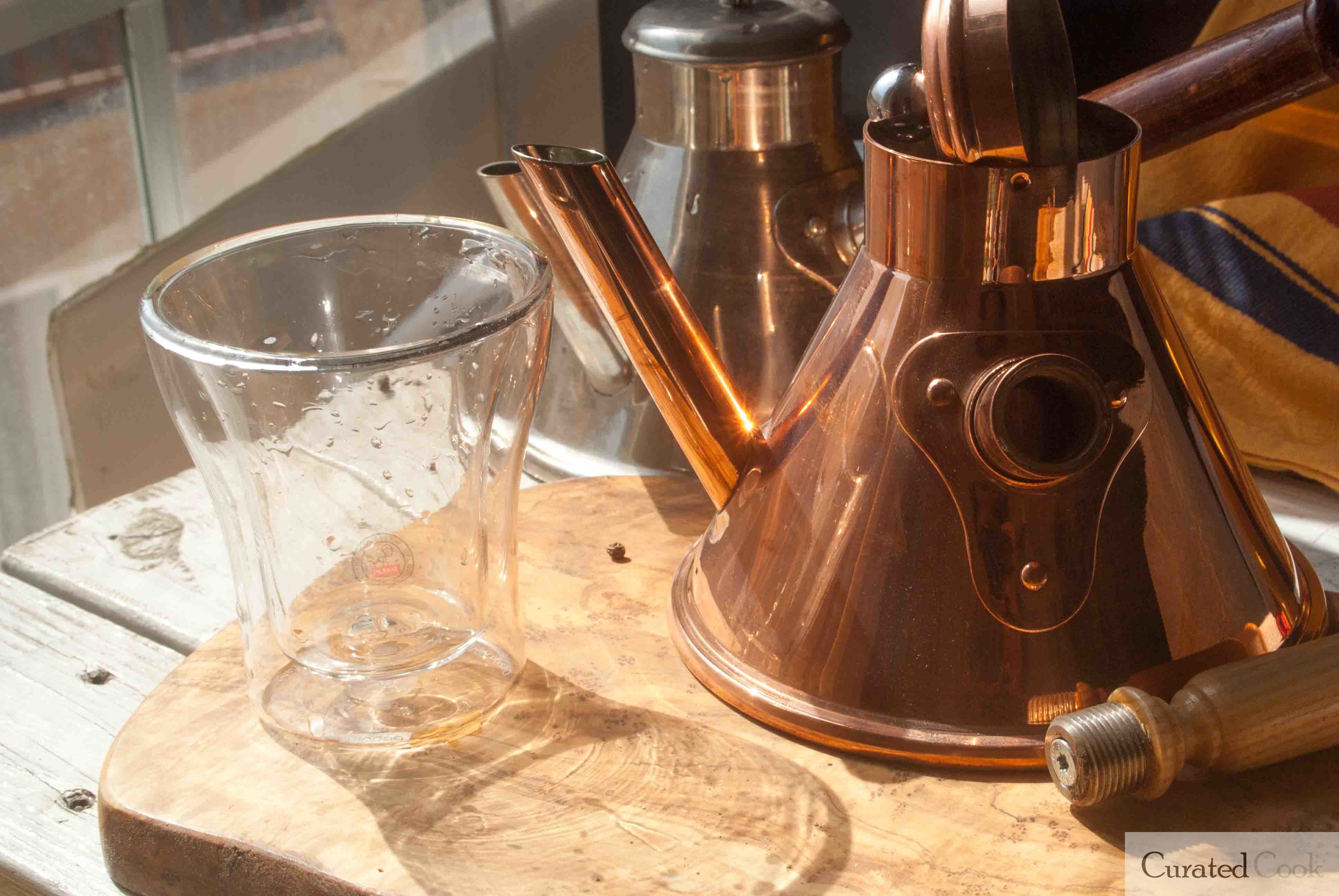 Lid
The lid design is better than the stainless steel version that I have. In the picture, you can see theres a little P hook design. The hook is there to latch onto the rim where there is a small dimple. When you are pouring, you can lock the lid in place by twisting it. The stainless version has nothing like that and the lid constantly falls over when you try to use it. Granted, you can just take it off but I forget each time. This particular Mauviel copper coffee pot model comes with a silver spherical knob. The color is a bit random, and I would have preferred a more traditional brass and copper look.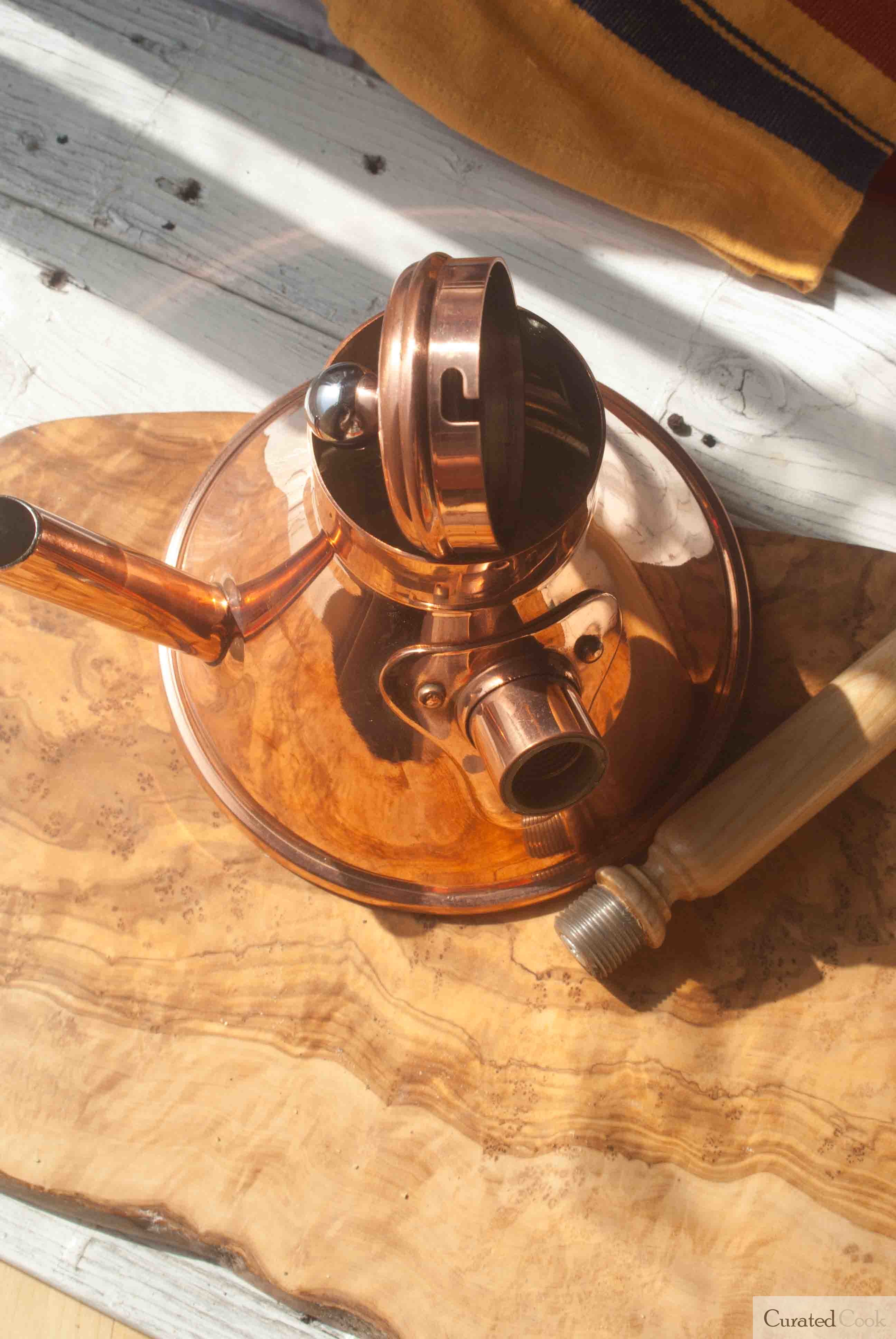 FMauviel Copper Coffee Pot it and Finish
The fit and finish of this pot is fantastic. The inside is tin looks thick and does not have any exposed copper. The area where the spot and vessel meets does have a little excess tin though.
The base of the pot is brushed as opposed to being polished. I have a suspicion that it was brushed due to it being able to absorb heat better. A polished one would just reflect it back. I will do some test later to verify this.
The bottom of the pot, where it clamps onto the body does have a weld mark or imperfection. The base has a dimple of copper missing and it is slightly indented inward.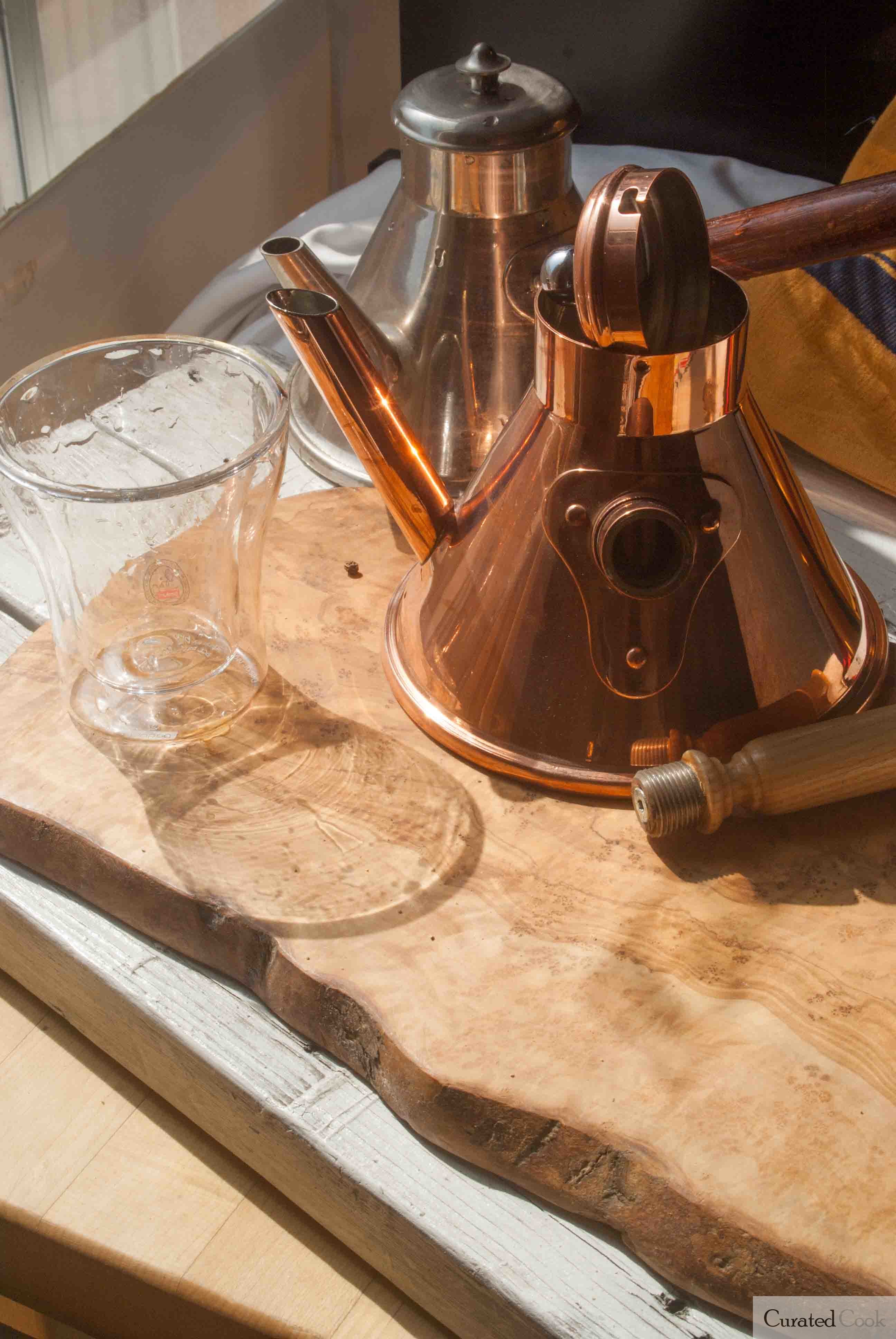 Specs
Note:These measurement are done by me with the tools that I have on hand. The manufacturers have their own measurement guidelines and that should be assumed to be accurate. What I find on the performance and specs section can vary widely due to several factors, such as ambient temperature, location, water, tool calibration, stove btu, etc..and should only be used for my own personal reference.
Weight without lid and handle: 541 g
Lid Weight:76 g
Handle Weight: 54 g
Total Weight: 671 g
Water Capacity:847 g
Mauviel Copper Coffee Pot Performance
Water was brought to a boil/max temperature then the rate of temperature drop was timed in a minute interval each.
Amount of water boiled:424 g at 80.1 degree Fahrenheit.
Max Temp Reached: 211 degree @ 3:46
Temp Drop Off Interval: 1 min: 206.6 2 min: 201.4 3 min: 196.5 4 min:192.7 5 min:188.1 6 min: 184.1 7 min 180.5 8 min: 176.5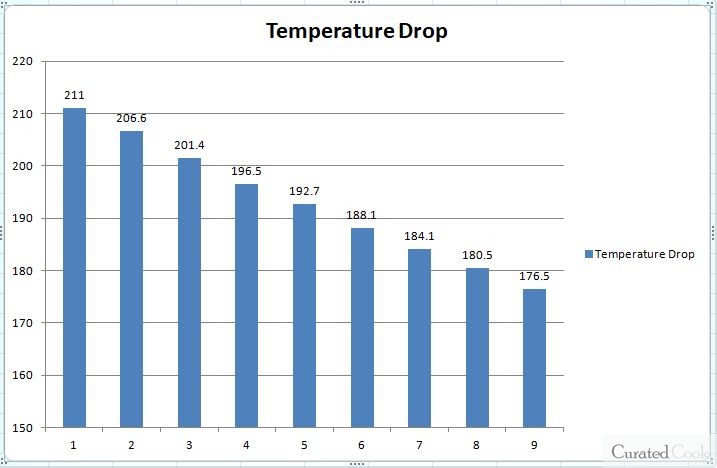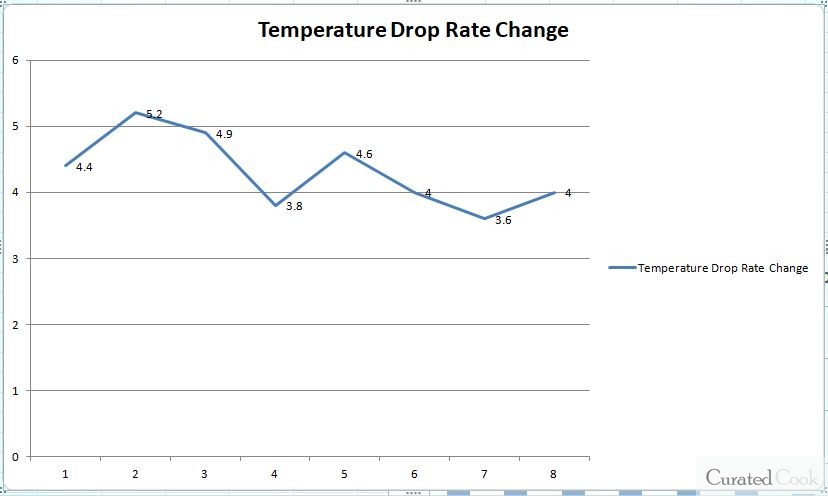 Because of the narrow opening, it does a really good job at maintaining its temperature. It also heats up moderately fast because of the narrow opening. It performs really well as a kettle, not so much as a traditional coffee pot.
Conclusion
Mauviel Copper Coffee Pot is a rare style of pot that many have never seen before. You can use this pot as a Turkish coffee pot, the coffee blooms upward so that you can scoop the foam out. The spout lets you pour water with great control and it holds the temperature relatively well compared to the other pots. However, at this price I recommend that you just get a traditional cezve
, it performs just as well as this model.
However, if you want to impress your guest, bring this out when you serve them tea. It will serve as a great conversation starter, they will be in awe at its beauty.
I hope you like this Mauviel Copper Coffee Pot Review, If you would like to see more, please visit our Pots and Pans Review page.