Le Creuset Au Gratin Dish Review
Le Creuset Au Gratin Dish is perfect for broiling and baking. Au Gratin is a french technique that browns food in an oven or broiler. The goal is to develop a crispy layer on the exterior top surface. These technique of cooking is most often done on low shallow pans. Le Creuset being one of the most well known cookware manufacturer in the world have develop their own version of this dish. Le Creuset Au Gratin Dish comes in a variety of color and sizes. You can find them in both stoneware and cast iron at Amazon. Both materials have their own quirks and features that defines them for one another. We will be going through what makes them different and discuss which one we prefer.

Le Creuset Au Gratin Dish Review Quick Summary
| Categories | Le Creuset Au Gratin Dish |
| --- | --- |
| Performance | Good |
| Colors | Wide Range of Color |
| Brand Awareness | World Famous |
| Handle | Two Little Handle |
| Pouring Lip | Yes |
| Thoughts | A great gratin dish. The stoneware fit and finish better than the cast iron version. But functionally, it is less versatile. Since you cant really buy the cast iron version anymore its pointless. Regardless, these are great as serving dishes. Guest will oohh and ahh at its cute design. |
| Reviewed Cookware | Le Creuset Stone Ware Gratin |
What to make with Le Creuset Au Gratin Dish?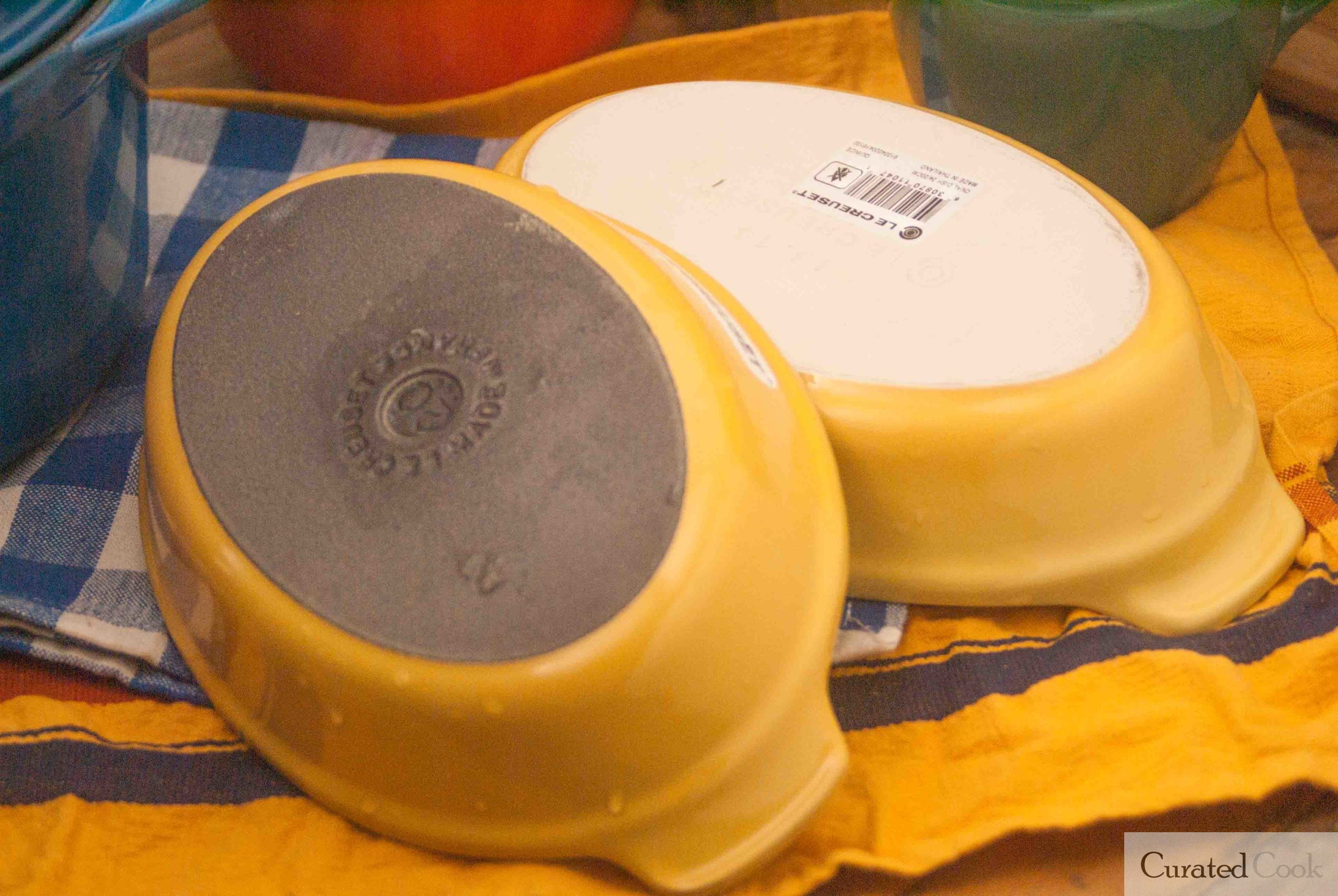 You can make almost anything with an Au Gratin Dish. They are more suited for food that needs to be finish in the oven. However, if you get the Cast Iron version, I do not see any issues with searing and cooking fish in these pans.
One of the most favorite dish that french cook love making is Scalloped Potatoes or Eggs Au Gratin. Both dish provide an rich cheesy and savory dish that will stun friends and family. Jacque Peppin old videos often uses the Gratin technique to make dishes for his videos.
Le Creuset Stoneware
Most if not all of Le Creuset stoneware is made outside of France. Maybe it was at one time made in France, but all the modern iteration seems to be made in either Thailand or China. These stoneware are typically made for dishes where you need to bake. Stuff like caserole, lasagna, pie dish, or soup bowl. You should not really use direct fire on these stoneware unless it is advertised for it. Emile Henry makes their Flame Ceramic line specifically for that purpose. I really should buy a few to do a couple of performance test on them. It would be interesting to see how they fare.
Their cast iron line are however still made in France. If the country of origin is important to you, seek out the cast iron cookware. They are in my opinion more durable. They also comes with a lifetime warranty as oppose to the stoneware version 5-10 year warranty.
Le Creuset Au Gratin Dish Design
Handle
Instead of a loop handle that is common with most cookware these day. Le Creuset uses a ear like shape with ridges that improves grip. Because there is no gap between the handle, these will not dissipate heat. Always use a glove when gripping theses dish.
Le Creuset Stoneware vs Cast Iron Handle Differences
For the most part they are very similar. The stoneware has a more gentle transition to the body of the dish while the cast iron version is more abrupt.
The ridges on the stoneware version are more widespread and they have two half ridges so that gentle transition is more prevalent. On the Cast Iron Au Gratin Dish, the ridges is more closely packed and uniform, it looks like something that is packed within in a box.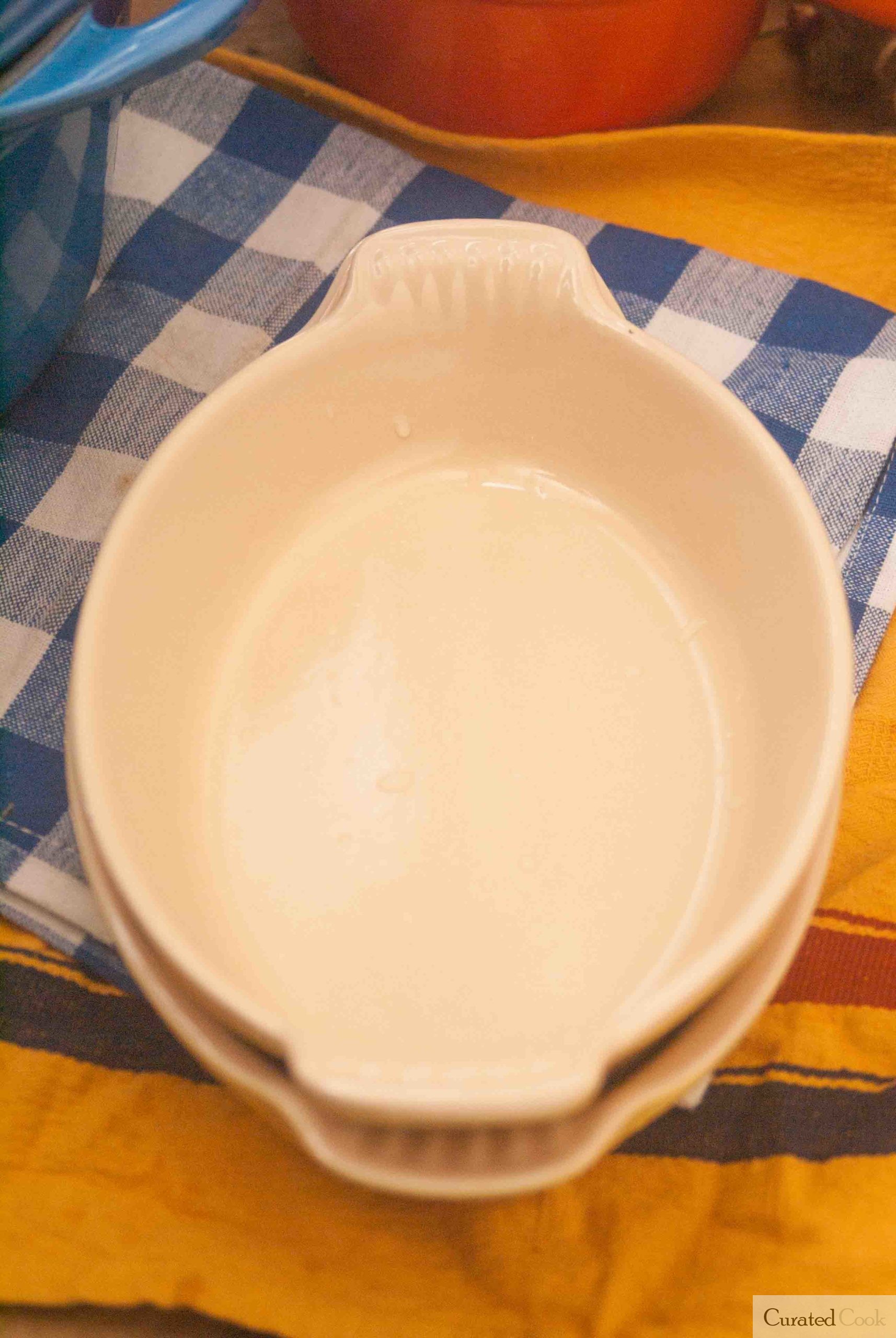 Color difference between Le Creuset Stoneware and Cast Iron
As with all Le Creuset Cookware, these gratin dishes come in a variety of beautiful colors. Although not as extensive as their mainline dutch oven cookware, there is enough varieties to satisfy the average chef needs.
Both of the cast iron and stoneware Le Creuset au gratin dish is made in the quince color. However, there is some differences when you look at them side by side. The interior of the stoneware version has a more rich and warm color. For these type of cookware, the warmth of these color gives a more inviting home feel. The Cast Iron version is more of a cold sandy look to it.
At the exterior, the stoneware yellow has a gentle gradient of dark yellow to light. The cast iron version has no gradient with just the same yellow throughout.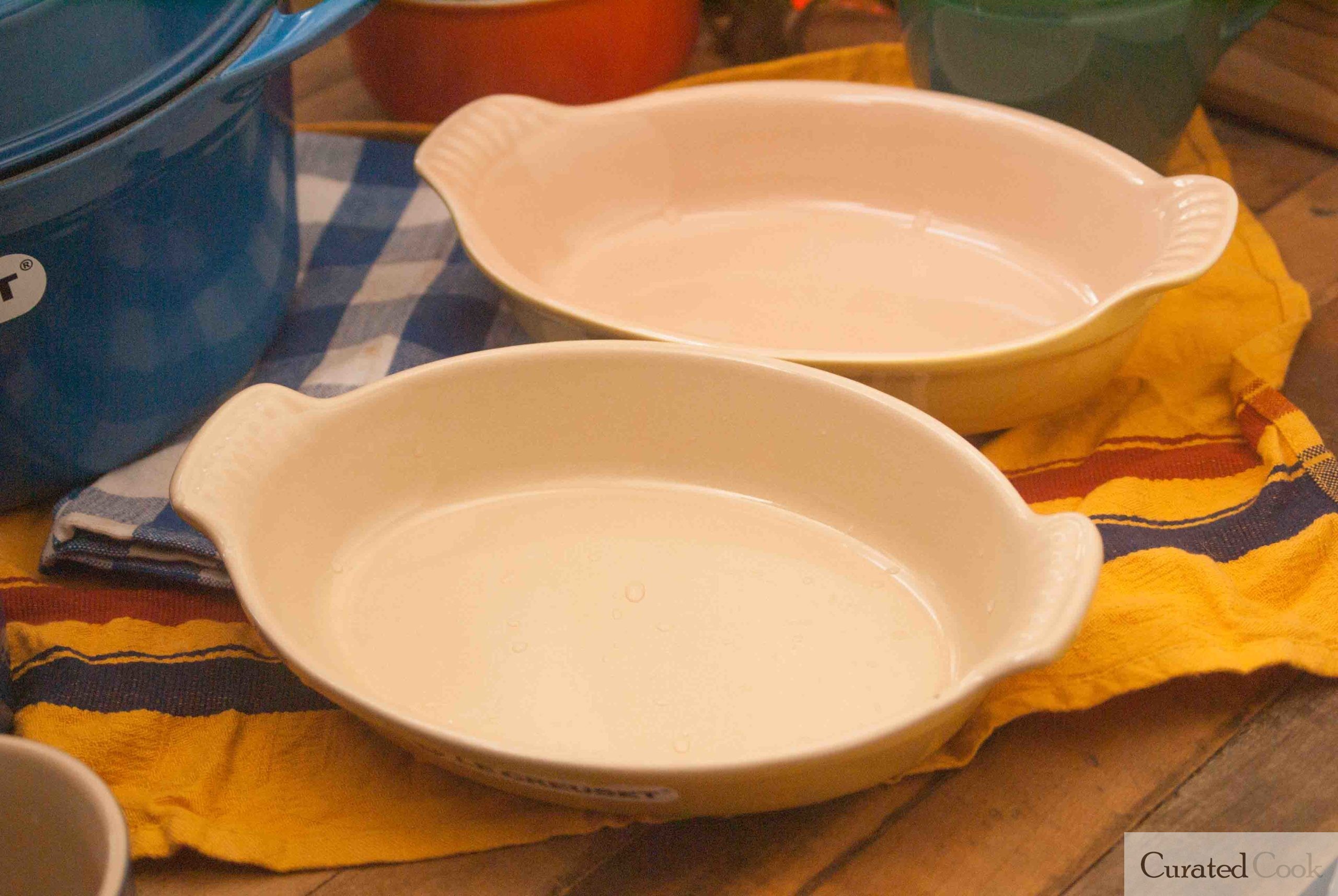 Shape
The shape is a very simple low profile oval shape. This forces you to spread the food out thin so that you will maximize the amount of surface area for browning. Having a thin dish will also reduce the amount of cooking time. A thinner dish does need as much time to cook the food to the center.
Comparing the two Au Gratin Dish together, what is interesting is that the Stoneware version is bigger both in length and width.
Le Creuset Au Gratin Stove Top Compatibility
I would say this is where the cast iron shines. Unfortunately the stoneware is not stove top compatible. If you want to warm up a dish or perform initial cooking on the stove top, you would be out of luck. You can only cook in the oven when using the stoneware version. Whereas the cast iron version can be used both on the stove top and oven.
Le Creuset Stoneware Durability
Yea, no way stoneware is more durable than metal. With the stoneware I am always careful and scared that I will accidentally drop or ding it. A simple smack in the wrong place will mean that it breaks. I have more freedom and confidence in the cast iron gratin dish.
The reviews on amazon are claiming that there are some issues in regards to it cracking. A lot of time when these dish crack is due to a sudden shock in temperature. For example, placing a hot dish on a cold surface or vice versa. You see this happen a lot with glassware dish.
That is also why borosilicate glass is so popular, they are resistant to heat change. I am not claiming that this is the reason why their dish crack but this is definitely a common cause for cracking.
Le Creuset Stoneware vs Cast Iron Fit and Finish
Normally I would say the fit and finish on most Le Creuset products are close to excellent. However, comparing the stoneware and cast iron finish side by side, I see how bad it really is. The overall paint job is better in the stoneware. There is no orange peel like you see in the cast iron version. For those of you who do not know, orange peel is wavy finish in the paint. A good paint job with no orange peel lets you see a mirror finish.
The paint on the rim of the Au Gratin Dish on the cast iron is not even and varies in thickness. The one on the stoneware is perfect and in line with the rim.
Finally, the subtle gradient in yellow richness is beautifully done on the stoneware but is lacking in the cast iron version.
Specs:
Note:These measurement are done by me with the tools that I have on hand. The manufacturers have their own measurement guidelines and that should be assumed to be accurate. What I find on this review can vary widely due to several factors, such as ambient temperature, location, water, tool calibration, stove btu, etc..and should only be considered as my opinion.
Le Creuset Au Gratin Dish Stoneware
Weight: 687 g
Rim Width:Around 9.75 inch
Rim Length: 6 inch
Height: Around 1.75 inch
Made in Thailand
Le Creuset Au Gratin Dish Cast Iron
Weight: 1063 g
Rim Width:Around 9.3 inch
Rim Length: 5.95 inch
Height: Around 1.55 inch
Made in France
Performance
Unfortunately, I do not have a good way to test the performance. I will say that the due to the shear mass of the cast iron version, it will retain heat better. Because of that alone, I will say it performs better. Keeping a food hot when serving is one of the important thing to do when entertaining. There is a reason why restaurant dinner plate is always served pipping hot.
Le Creuset Au Gratin Dish Conclusion
Well, this sure is surprising, the Le Creuset Stoneware Au Gratin pan is made to a higher standard than the cast iron version. This goes to show you that the country of manufacturer should not be what sways your purchase. Third world country can make products that is superior to first world country. Although this can be just due to the fact that cast iron is more difficult to manufacturer. It is hard to say as I am not the one making it.
But what you buy should depend on your wants and needs. I personally will still stick with the cast iron version even if it is not as well made. The main reason is for the durability. If you prefer the stoneware version, it is really affordable compared to the cast iron version. Its more well built fit and finish wise and its bigger.
I hope you like this Le Creuset Au Gratin Dish Review, If you would like to see more, please visit our Pots and Pans Review page.
Source
Le Creuset Gratin Information
https://www.lecreuset.com/heritage-au-gratin-dish
Gratin
https://en.wikipedia.org/wiki/Gratin