Making purchases at Amazon.com and other website funds this website by generating revenue. Any help is appreciated and supports both me and content like this.
Ruffoni Copper Saucepan Review
Ruffoni is one of the oldest and most well know copper cookware manufacturer from Italy. They are known for the beauty and design of their cookware. The Historia Decor Line, seems to cover the pages of Williams Sonoma store time and time again. Over the years, they have developed a reputation as being one of the best cookware manufacturer around. The prices that they charge for it is also in line with that reputation. But is all the flamboyant features of their cookware actually functional? This review will go through Ruffoni Copper Saucepan design and features. I will discuss how different parts affects cooking and whether its more form then function.
Quick Summary
| Categories | Ruffoni Historia Decor |
| --- | --- |
| Performance | Good |
| Colors | Hammered Polished Copper |
| Brand Awareness | Well Known |
| Weight | Pot Weight: 1.71 lb (776 g) Lid Weight: .90 lb (410 g) |
| Helper Handle | No |
| Pouring Lip | Yes |
| Thoughts | Great for Heating up Liquid. One of the Fastest I have Tested. However, the odd shape and handle makes it difficult to cook in. |
| Tested Cookware | Historia Decor Saucepan |
Finial from Acorn to Turkey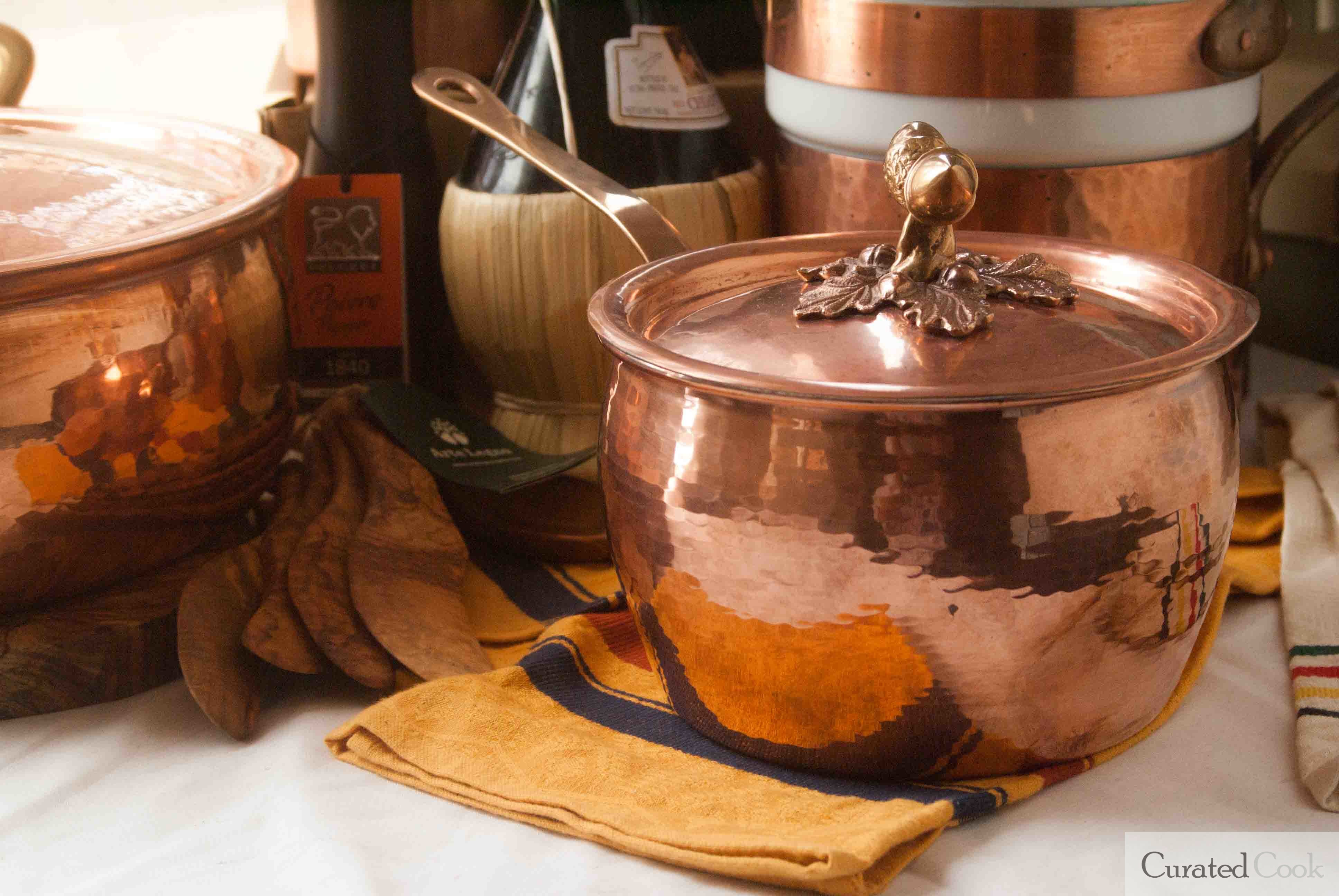 The Finial is the handle that you see on top of the pot. The most common one that you see is the one with the acorn. There are others like pumpkin, turkey, squash, etc…Different line of cookware will come with different version of the Finial. If you get the opus prima line, those are supposedly plated with silver. If you buy a special edition one from William Sonoma, you might get a pineapple. Honestly, they are addictive and I have been collecting too many of them. Be forewarned when buying these pots for the Finial.
Ruffoni Copper Saucepan Design
Handle
Copper pots with brass handles are usually incredibly uncomfortable to hold. They often time have very sharp edges and transfer a lot of heat. The Handle on this saucepan is no different, being one of the worse I have experienced. The edges are particularly sharp and it seems like no effort was placed into deburring it. The base of the handle also seems to lack the flowery design of other Ruffoni cookware. There seems to be no consistency in how the handle is designed.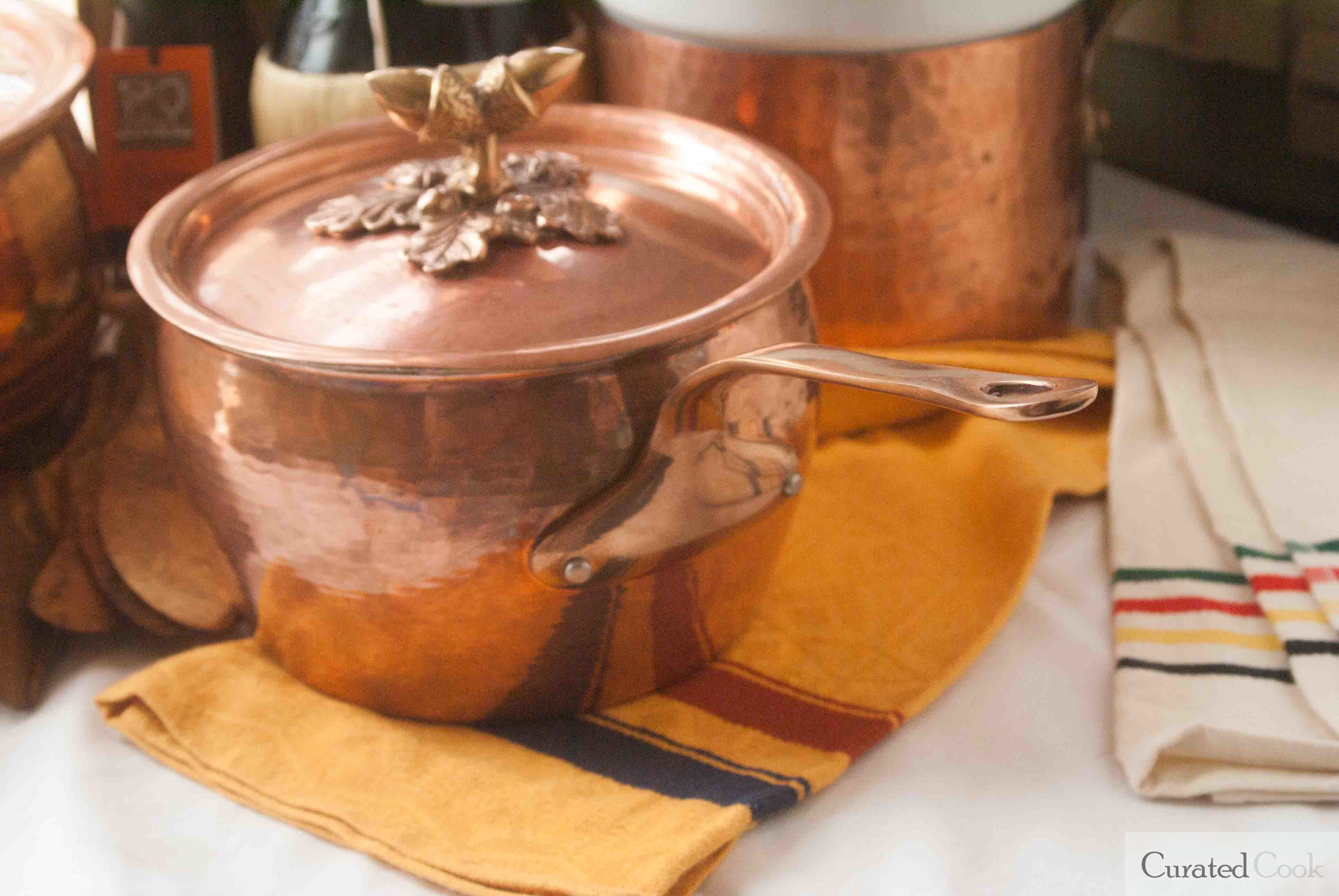 As stated before, expect the handle to get hot really fast. Always use a glove when handling the pot. The hole in the handle is there so that you can hang the pot but it also reduces the amount of heat transferred. If you do not have a glove on hand, you can manipulate the pot via that area momentarily. However, I caution those who are inexperienced in doing so.
Ruffoni Copper Saucepan Shape
Ruffoni always seem to use a oval like shape in the historia decor line. I always thought it looked like a chamber pot but it seems to sell well for them. The problem with this shape is that the opening is very narrow. Fitting a larger 8 oz soup spoon can prove to be a challenge. To get around this, you can try pouring it from the pot. It looks a little silly doing this when serving guest though.
The base of the pot is also another issue, it is simply too small. You cannot sear food in batches. For the most part, food will steam instead of caramelizing. It seems like what this pot really can do is to just heat up liquid.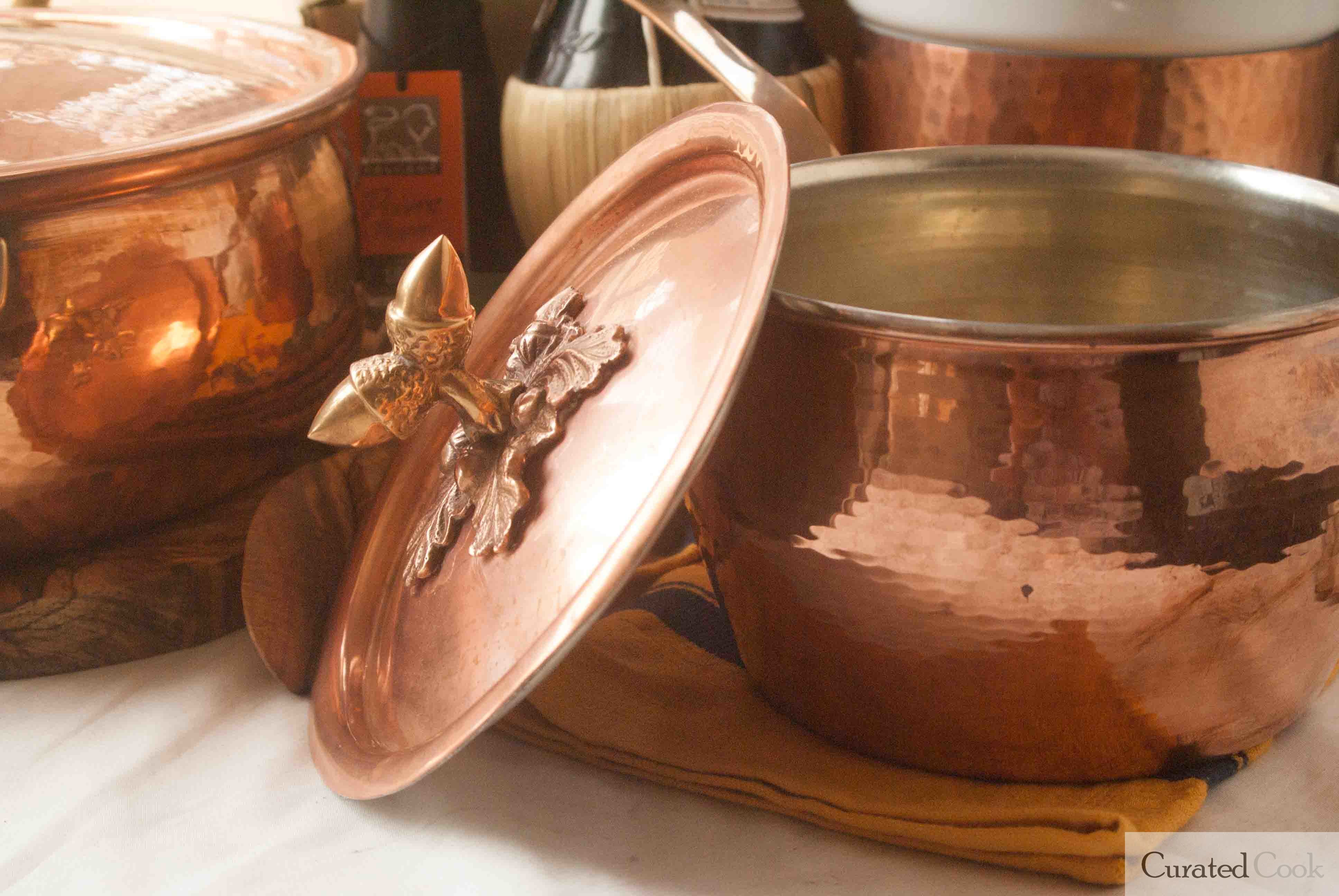 Rolled Lip with an Iron Bar
The rolled lip is something that seems to be unique in very thin copper pans. From what I read, inside the lip is a bar of iron so that the cookware can maintain structural rigidity. You can typically identify these type of finishing if the lip completely round. On other type of copper cookware, the only reason why they would roll the lip is to give it a pouring lip.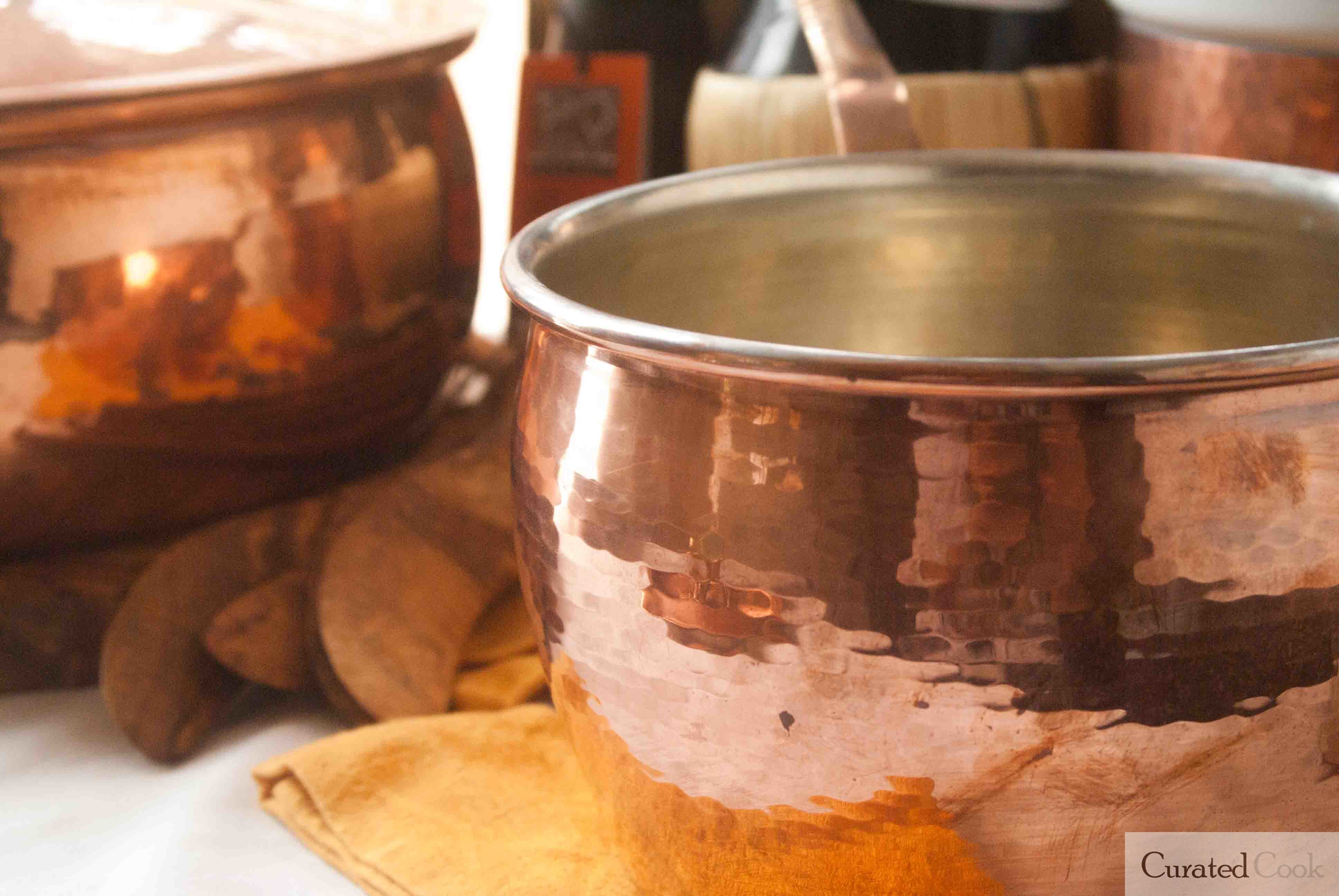 Ruffoni Tin Lined Cookware
On all of Ruffoni Historia Decor line of cookware, the inside is coated with tin. Tin is a fragile metal that can and will melt at temperature above 449.5 degree Fahrenheit. Not only that, it is a soft metal. Overtime, the tin will wear down and you would have to retin it. Other factor that you have to be aware of is that, it will darken. I read some reviews on William Sonoma about the tin getting dark and they claim that its defective, that is not true at all.
Some of you might ask why copper cookware need a tin lining. The reason is because copper can react with acidic food. It will change the flavor profile of the food. There are also copper cookware with stainless steel lining. If you want to avoid the headache of tin, you can always go that route.
For those who do care about it, Ruffoni tin linning is hand wiped. You can see them do it in the video below.

Ruffoni Copper Saucepan Thickness
The hammered finish in this pot was done to both harden the copper and to add aesthetic value. This hammering was a necessity on this pot because the gauge is so thin, based on my micrometer, the wall thickness of it is only .95-1mm. If this pot was not hammered, I suspect that it will warp very easily.
Fit and Finish
Fit and Finish is excellent as with all of Ruffoni product. Part of the reason the prices are so high is because you are paying for the artisan who hand made the pot. The hammering on this pot seems to be done with a smaller sized hammer, giving it a narrow slant type of finish. It is consistent and uniform throughout the pot, quite an amazing feet if the whole thing was done by hand. I have seen other hammer finish from the Ruffoni line with a larger diameter that gives it more of a disco ball look.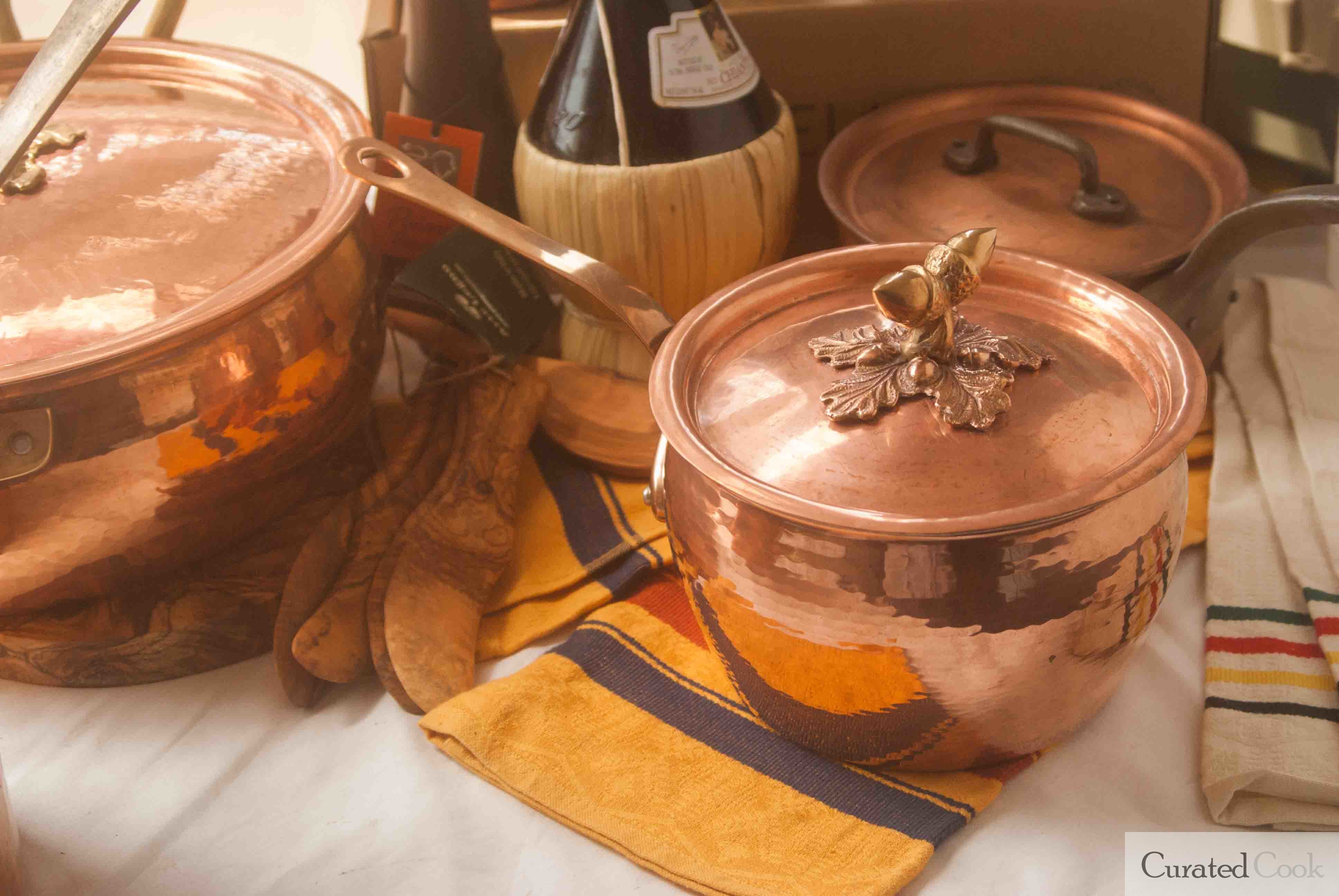 The Finial looks like it was hand sculpted then made into a mold. The mold is then used to make multiple Finial for mass production. The details on it is very meticulous giving it a beautiful fall like feel.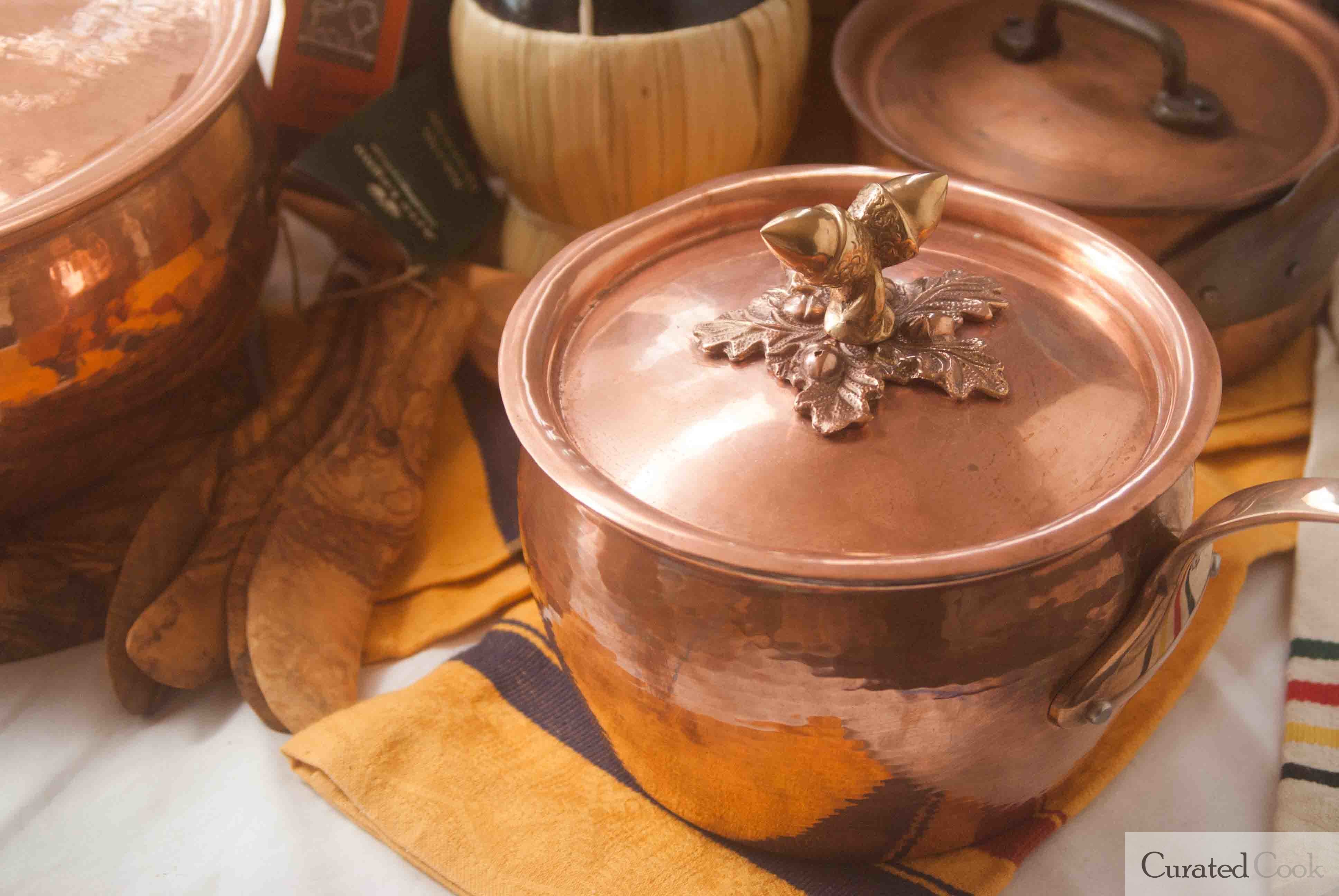 The handle also have very sharp edges, I would prefer that they have rounded it a bit but this seems to be common among copper cookware manufacturer. The handle loop looks like it was poorly done with pitting showing around the corner.
Specs
Note:These measurement are done by me with the tools that I have on hand. The manufacturers have their own measurement guidelines and that should be assumed to be accurate. What I find on this review can vary widely due to several factors, such as ambient temperature, location, water, tool calibration, stove btu, etc..and should only be considered as my opinion.
Weight:776 g Lid Weight:410 g
Water Capacity:1139 g
Rim Width:Around 7 inch
Base Cooking Width:Around 5.5 inch
Height: Around 4.4 inch
Thickness: Around 1 mm
Performance
To test the performance of Ruffoni Copper Saucepan. I measured how fast it took to boil water. I heated up water that is equal to half its max capacity to 211 degree Fahrenheit. Then I divided the temperature difference by the amount of second it took.
It boiled water at a rate of .26 degree f/sec or 15.6 f/min. The time it took to heat up 1139 g of water to 211 degree was 8:09. I did the same test on a thin saute pan with a volume of 570 g of water and it took 4:44 second to reach 211. It had a rate of .468 degree f/sec. Because the volume was basically twice of the saute pan. If you divide the the saute pan boiling pan rate you get .234 degree f/sec or 14.04 degree f/min. It is marginally better than the saute pan.
It is possible that I did something wrong in my test but based on this data, Ruffoni boils water at a better rate of 1.56 f/min than the saute pan.
Conclusion
If your intention is to just heat up liquid, then this will perform brilliantly. Because of the low weight and thin copper, the heat will transfer over almost immediately. However, if you plan on cooking and making sauces from this pan, I advise against it due to the narrow opening. Maneuvering a wooden spoon with such a small diameter will get annoying. Removing food after searing, will also be a challenge. I image that you would have to use a pair of tongs just to fish them out.
With that being said, if you use it for the purpose of being a presentation piece, its ok. It looks nice and people will be awed by its design. Just be aware that copper will patina, that luster wont last for long. You will be using a lot of copper polish to bring back its luster.
I hope you enjoyed this Ruffoni Copper Saucepan Review. If you would like to see more, visit our Pots and Pans Review page.