All Clad Frying Pan Review Which Model Is Best?
All Clad Frying Pan can and should be the most versatile pan in your kitchen. It is perfect for searing, braising, sautéing and shallow frying food. They have many different iteration of this multitasker and finding which is best can be difficult. To find what is best suited for you, ask yourself what do you cook the most? What is your intention for cooking and for what purpose. I personally used the copper core version for many years and love the fact that it heats up quickly. This review will go in depth on how the copper core is constructed and how it compares to the other model.
All Clad Frying Pan Quick Summary
| Categories | D3 | D5 | Copper Core |
| --- | --- | --- | --- |
| Performance | Good | Better | Best |
| Colors | Polished Metal | Brushed Metal | Polished Metal with Copper Band |
| Helper Handle | No | Yes | Yes |
| Pouring Lip | Yup | Yes | Yes |
| Recommendation | Buy for Value and All Around Performance. | Great for Searing Food with a Heft Weight. | Best Performer that lets you adjust heat Fast, it also has the most even heat out of the set. |
| Reviewed Cookware | D3 Frying Pan | D5 Frying Pan | Copper Core Frying Pan |
Which version to get?
Like car models and their option, all clad have different version for different price point. They all have their own unique feature and benefit, below you will find a quick summary of each model.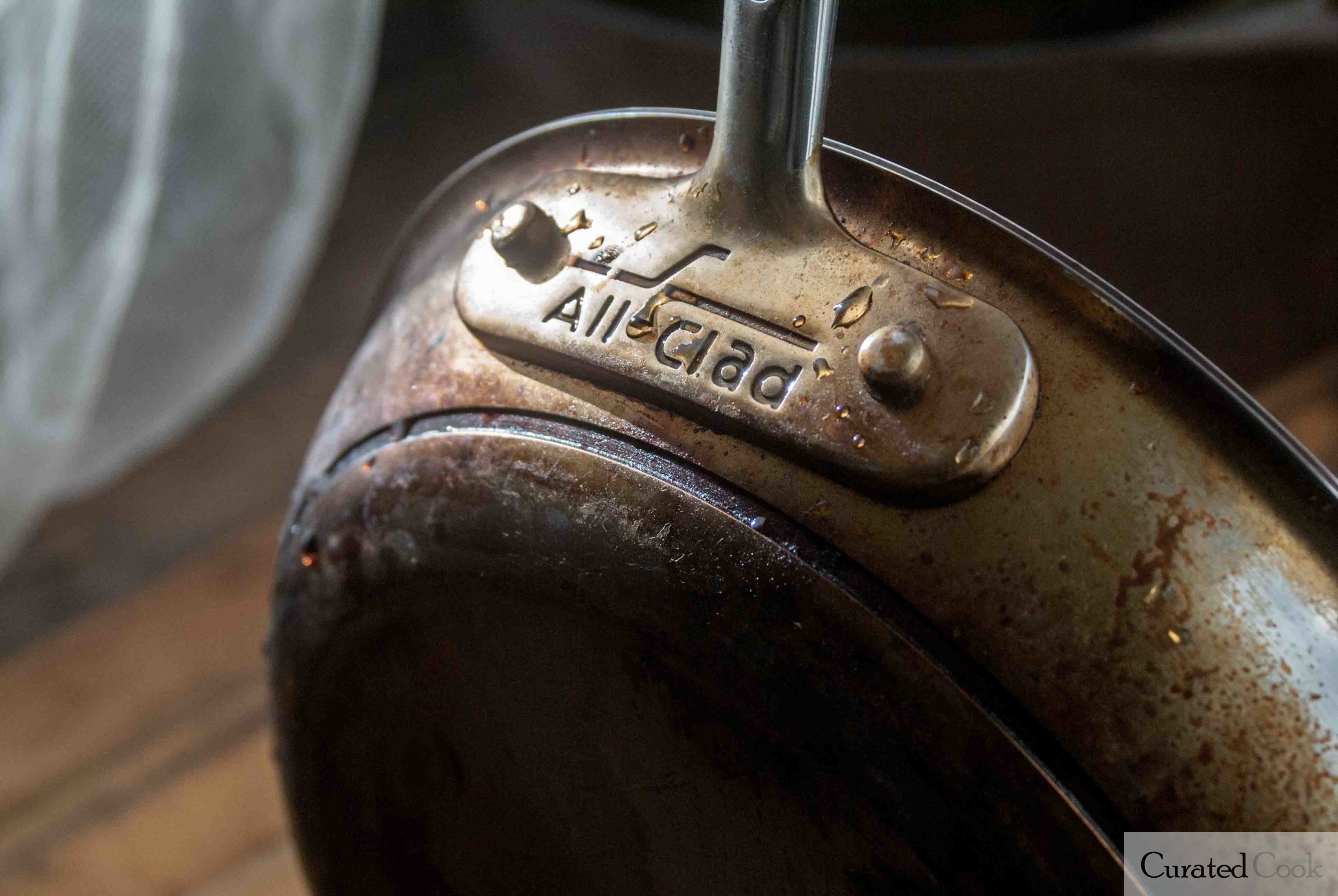 All Clad D3 10 inch Fry Pan (Best Value)
This is their entry level line, it has the best price yet all the performance and durability that you expect from All Clad. It has three layers with an aluminum layer in the center. For the everyday cook, this is perfect for what you need.
All Clad D5 5 layers of metal (Best Searing)
Those who are looking to replace their cast iron skillet for searing steak, this is the model for you. In this version, they add an additional layer of stainless steel and aluminum. The added weight means that there is more heat capacity so that you can sear food. Again, great for searing steaks and salmon.
All Clad Copper Core, Copper is Best (Most Responsive)
This is the most balanced of the lot. It has the ability to heat up quicker than both version and it sears better than the d3 thanks to the copper. It is perfect all rounder especially if you want to make sauces after cooking. The heat responsiveness of the pan lets you control the heat when making delicate sauces.
Why is my pan so dirty?
The reason why my pan is so dirty is because I actually use it. I am also lazy about cleaning it, but I don't have time to spend 30 minute every week buffing and polishing it. A true sign of a good pan is how well used it is. It shows that it is actually being used and it is one of the most preferred tools in the Kitchen.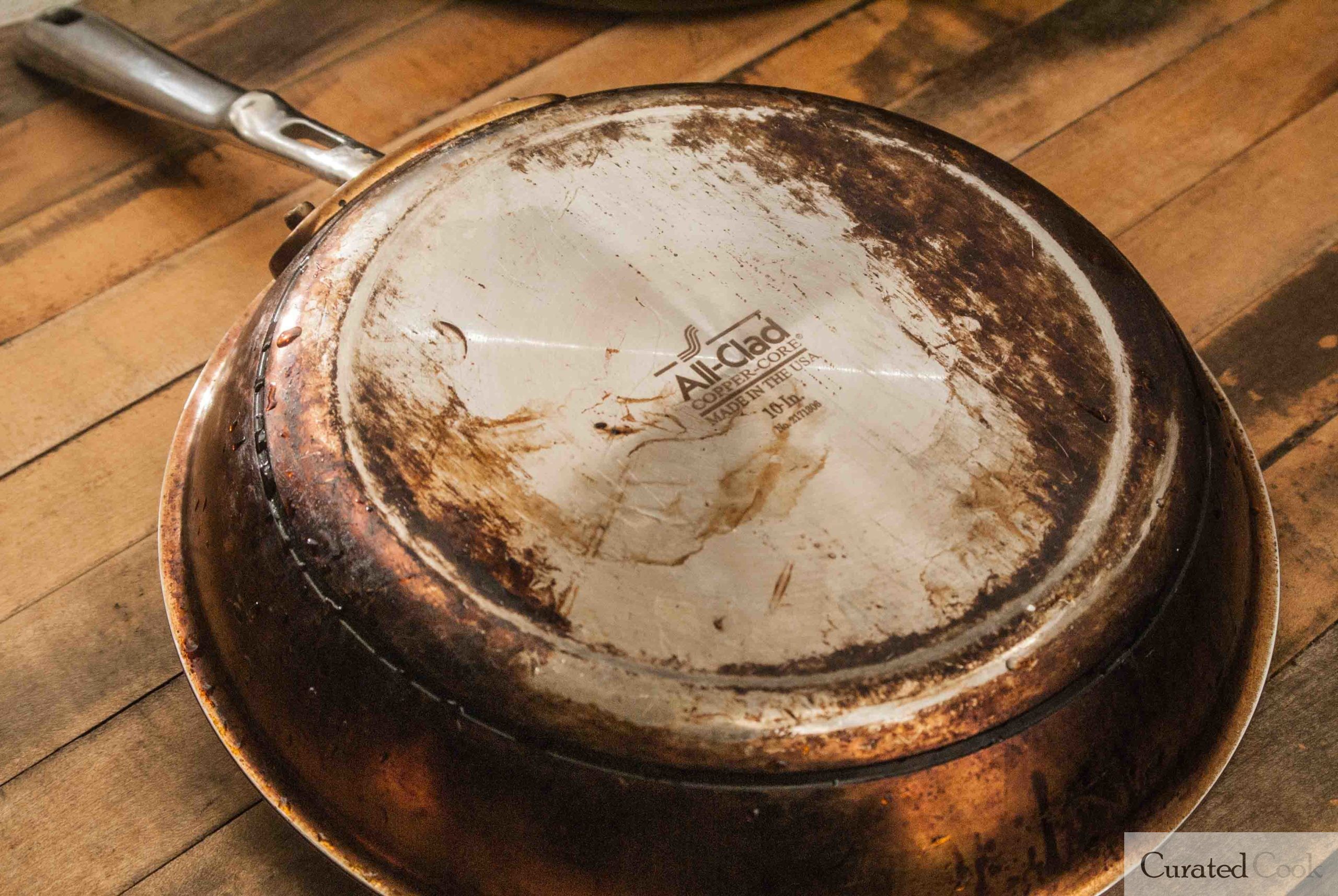 If you ever looked at video where there are professional cooks in a professional kitchen, their pans are caked in grease. The reason for this is because they simply don't have time to care and baby it like most home cooks do. Their pots and pans usually become warped and discarded after a few months. I guess it can come down to priorities. What is important to you, cleaning your pan regularly to have it shine or just cooking in it.
I will say this, those caked on grease is the same caked on grease that you see in cast iron pans. The proponent of cast iron cookware who look down on these dirty pan, has a pan literally covered head to toe in that same grease. It is that grease that gives their pan a non stick finish.
How do I keep my pan shiny?
Making sure that you clean it thoroughly after every use will ensure that your pan keeps its luster. There are many products out there that helps you clean the pan but I find that barkeeper friend works great on stainless steel product. A caution to note, my experience with mirror finish product is that it will eventually dull. The only way to bring back that finish is to buff it with a rotary buffer.
Design of All Clad 10 inch Fry Pan
All Clad Sharp Handle, "Mark of All Clad"
All clad pans are really one of the best in the industry, at the same time their handle is one of the worse. I like to think of it as a vampiric handle which takes a chunk of your blood when you use it. Its good but it also hurts to use. They have been stubborn and refuse to change the handle design for years. However, recently for certain model, they came up with a less painful version, which you can see in their LTD model and their C4 model.
With that being said, All Clad 10 inch Fry Pan handles for the most part have the sharp handle. I read that the reason for this design is so that when you are turning the pan, it digs in to your hand and give you grip. Feels good huh? Joking aside, I do give them credit for it staying cool. Whenever I cook on the stove top, I never felt a need to grab a glove. Don't fall into the trap though, if you use it in the oven and mistakenly grab the handle, you will burn yourself. Always take care with their metal handle unless you want to brand yourself. I imagine some all clad enthusiast wouldn't mind the "Mark of All Clad" on their hand.
All Clad Frying Pan Shape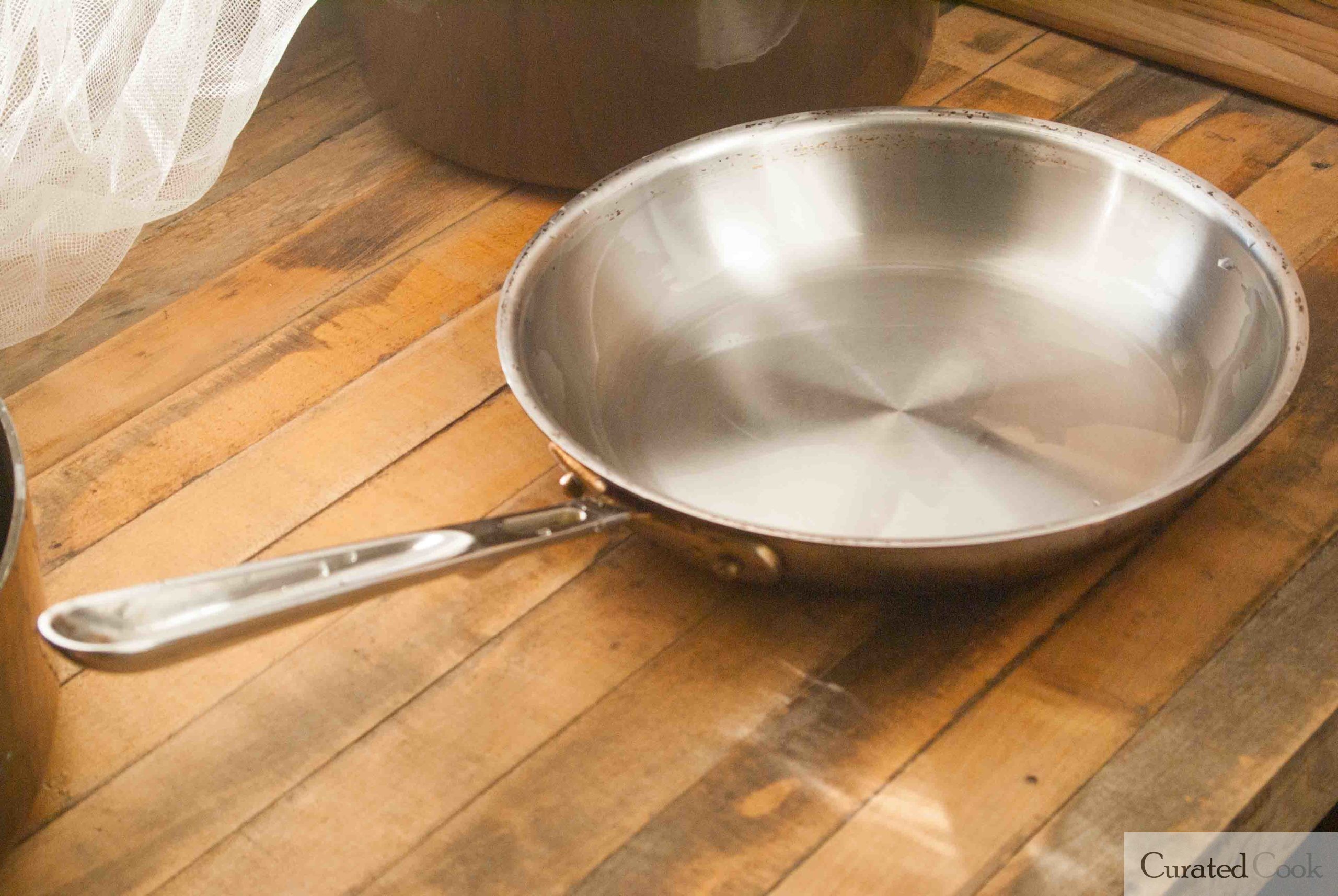 The shape of the pan itself is the epitome of what a frying pan should be like. It has a low gentle slow that promotes evaporation and allows you to turn food easily. There are not sharp corner for food to get stuck in and it has ample cooking space on the pan. And the lip is rolled so that you can pour liquids easily. They have developed the perfect balance for what a frying pan should be.
Be aware, that they have a French skillet model that does not have a rolled lip and it curves upward more abruptly. The benefit of that model is that it facilitates tossing of the food. When you toss the food, the chances of it falling out of your pan are reduced.
Specs for the 10 inch Copper Core
Weight: 1253 g
Diameter: Around 10.55
Actual Cooking Surface Diameter: Around 7 inch
Height: 2 inch
Thickness: 1.66 mm
Performance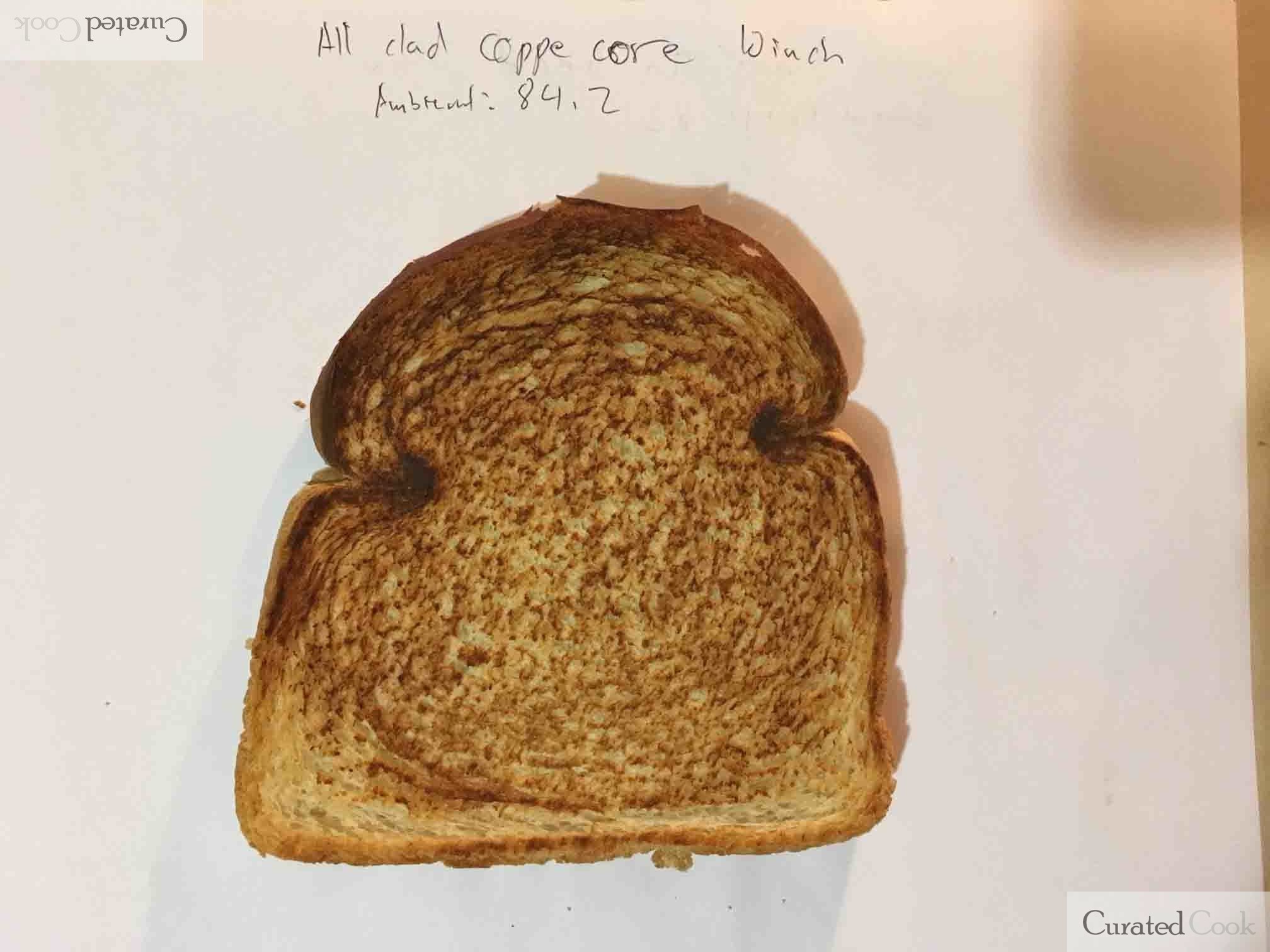 The speed and the distribution of heat on this pan is excellent. The coloring on the toast is uniform throughout and it is a nice shade of brown. This is certainly better than the 8 inch d5 version that I did before.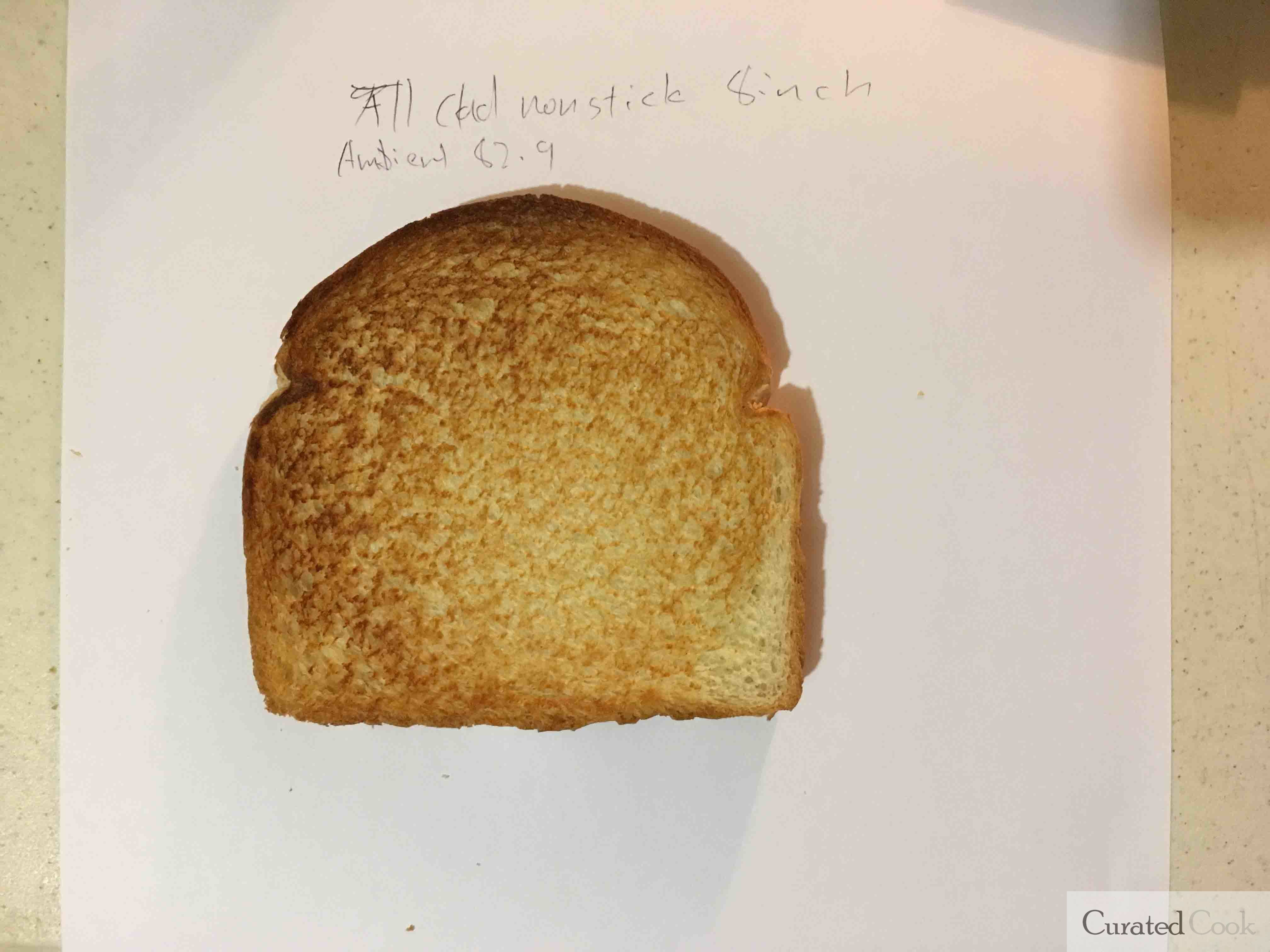 On that toast you can see that there are hot spots near the bottom edge of the pan. I will say this, the d5 is meant for searing food, it will outperform the copper core version if all you want to make is steak.
All Clad Frying Pan Conclusion
The best thing about All Clad Frying Pan, is that it is balanced. They take into careful consideration of how people use the pan and design it accordingly. It heats up quickly and distributes heats evenly. The pan is not overly heavy so that it alienate most cook. Its one of the most durable pan on the market and it is backed by a lifetime warranty.
You cannot go wrong with any version of All Clad frying pan, they all perform beautifully. Choose one that is best suited for your need. For a casual cook, get the d3 version. If you like steaks, I recommend getting the d5 version. If you want an all around great performer, get the copper clad version. I choose the Copper Core one simply because I love cooking and want the best of the best.
I hope you like this All Clad Frying Pan Review, If you would like to see more, please visit our Pots and Pans Review page.