Making purchases at Amazon.com and other website funds this website by generating revenue. Any help is appreciated and supports both me and content like this.
Copper Windsor Pan by Mauviel
The pot that we will be reviewing today is Mauviel's Copper Windsor Pan. A windsor pan is a pan with a wide rim that tapers downward. It's purpose is to allow for rapid evaporation of liquid when you are reducing sauces or soup, similar to what a saucier does. They use the increase surface area to promote evaporation of liquid and sometimes they are called a fait tout pan. You can think of these pans as a predecessor to the Saucier.
Because of the dying popularity, the availability of this pot is also somewhat limited. It is no longer in production for the American market and it would be difficult to find in the big box store. The closest thing you can get is the Mauviel M'Heritage M250C 6543.16. It is done with a bi-metal of copper and stainless steel instead of tin. Regardless, we will be looking at Mauviel's copper windsor pan design and features, how thick is it and how does it perform.
Falk Copper Frying Pan Review Quick Summary
| Categories | Mauviel Copper Windsor Pan |
| --- | --- |
| Performance | Excellent |
| Colors | Polished Copper |
| Brand Awareness | Europe and America |
| Weight | 2752 g |
| Helper Handle | No |
| Pouring Lip | No |
| Thoughts | The original saucier pan. The wide rim helps promote evaporation of liquid. These pans are getting more and more rare. Most people in the american market are unaware of its existence. My test results shows that its copper construction gives it an almost perfect heat distribution. |
| Reviewed Cookware | Mauviel Splayed Pan |
Mauviel Copper Windsor Pan Design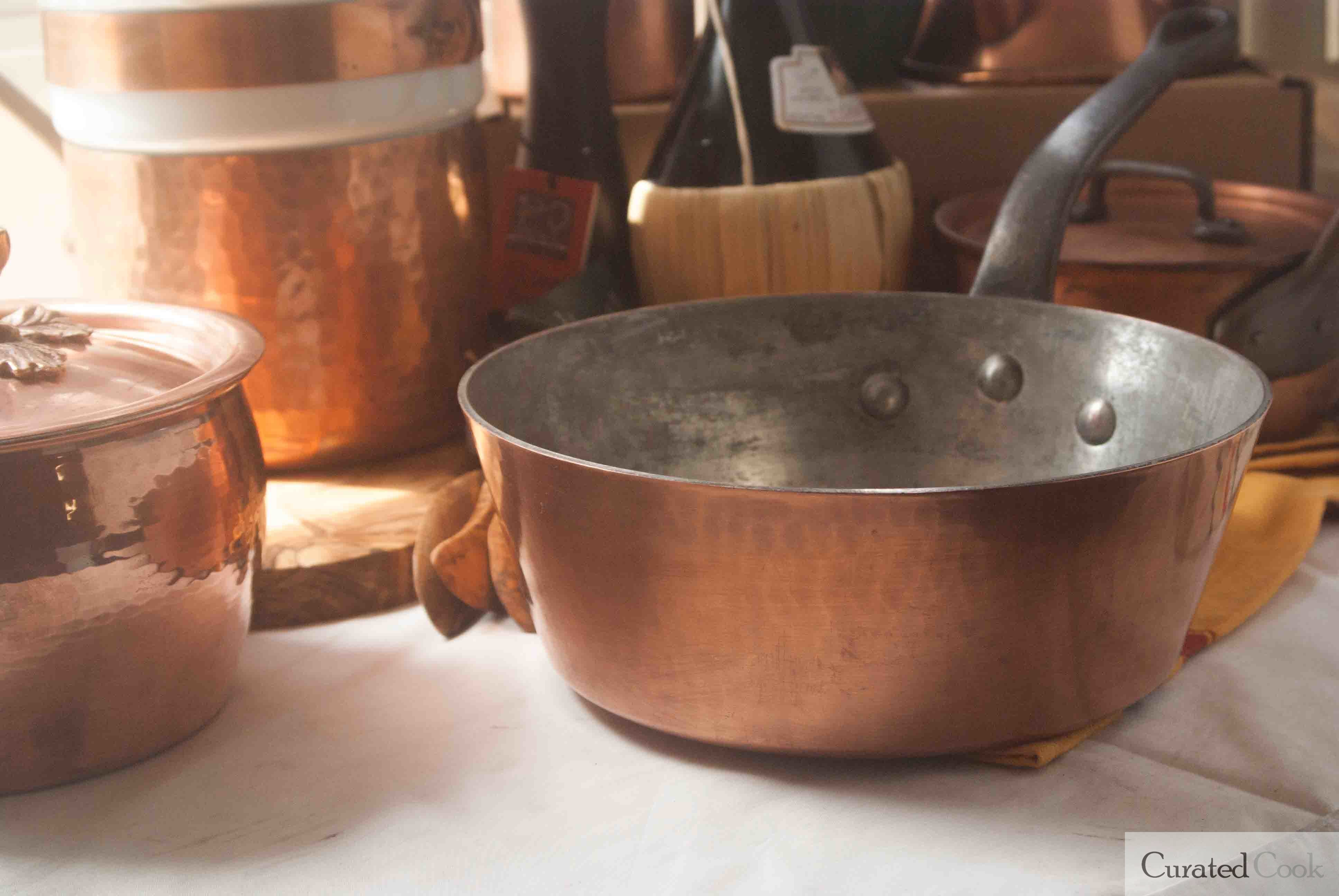 Handle
The handle is your standard cast iron handle with copper rivets on it. They are stamped with the number 17 on them. These number typically denotes the gauge of the rivet.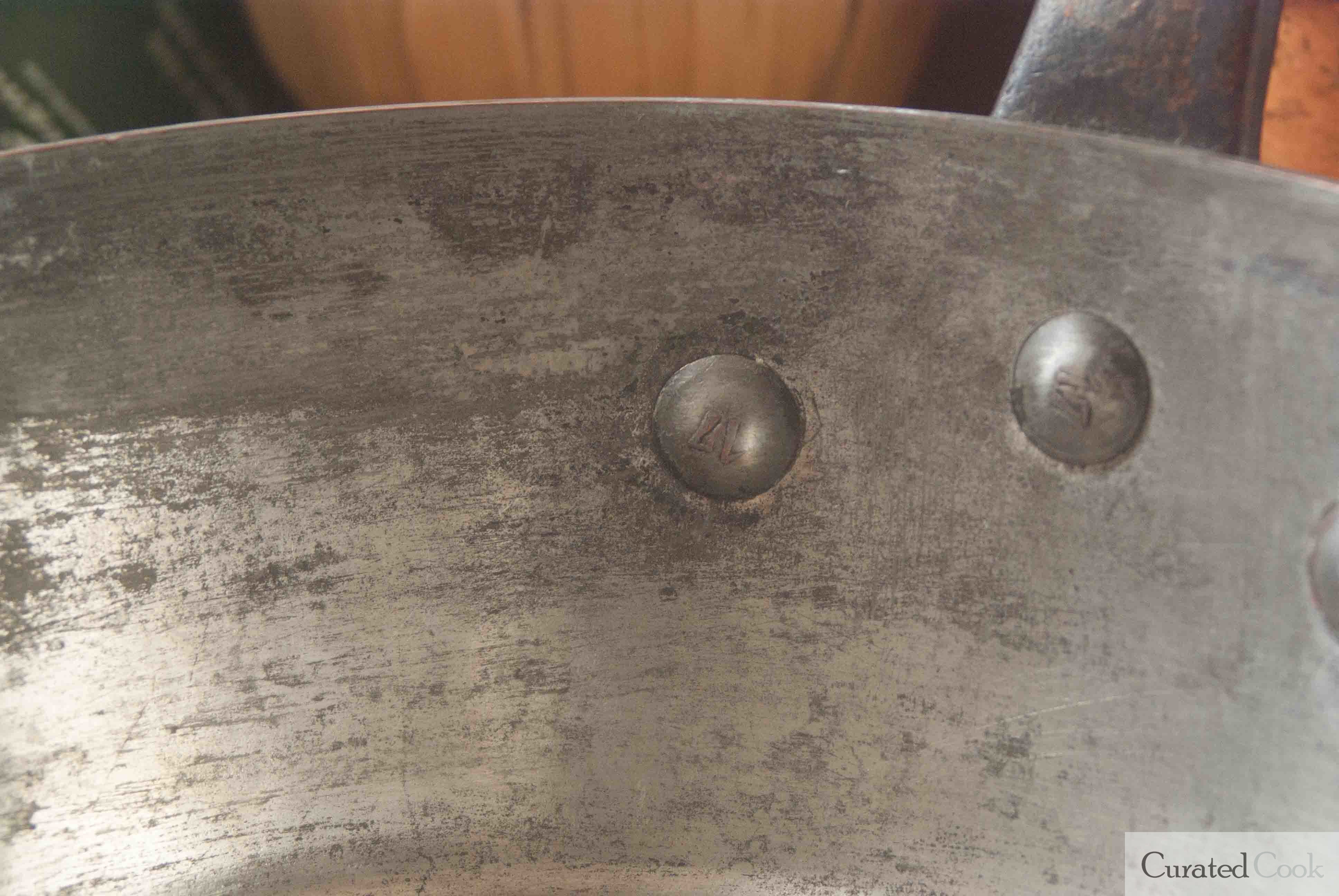 One way to tell if you have a tin lined or stainless steel pan is by looking at the rivets. You will only see copper rivets in Copper and Tin lined pan. For stainless steel line pan, you will see a stainless steel rivet. Older more vintage copper cookware often time have a flat rivet because retinner will tighten the handle by hammering it. For whatever reason, newer pans with stainless steel rivet seems to come with one less rivets. I am guessing this is to either save money or its not necessary due to stainless steel being stronger.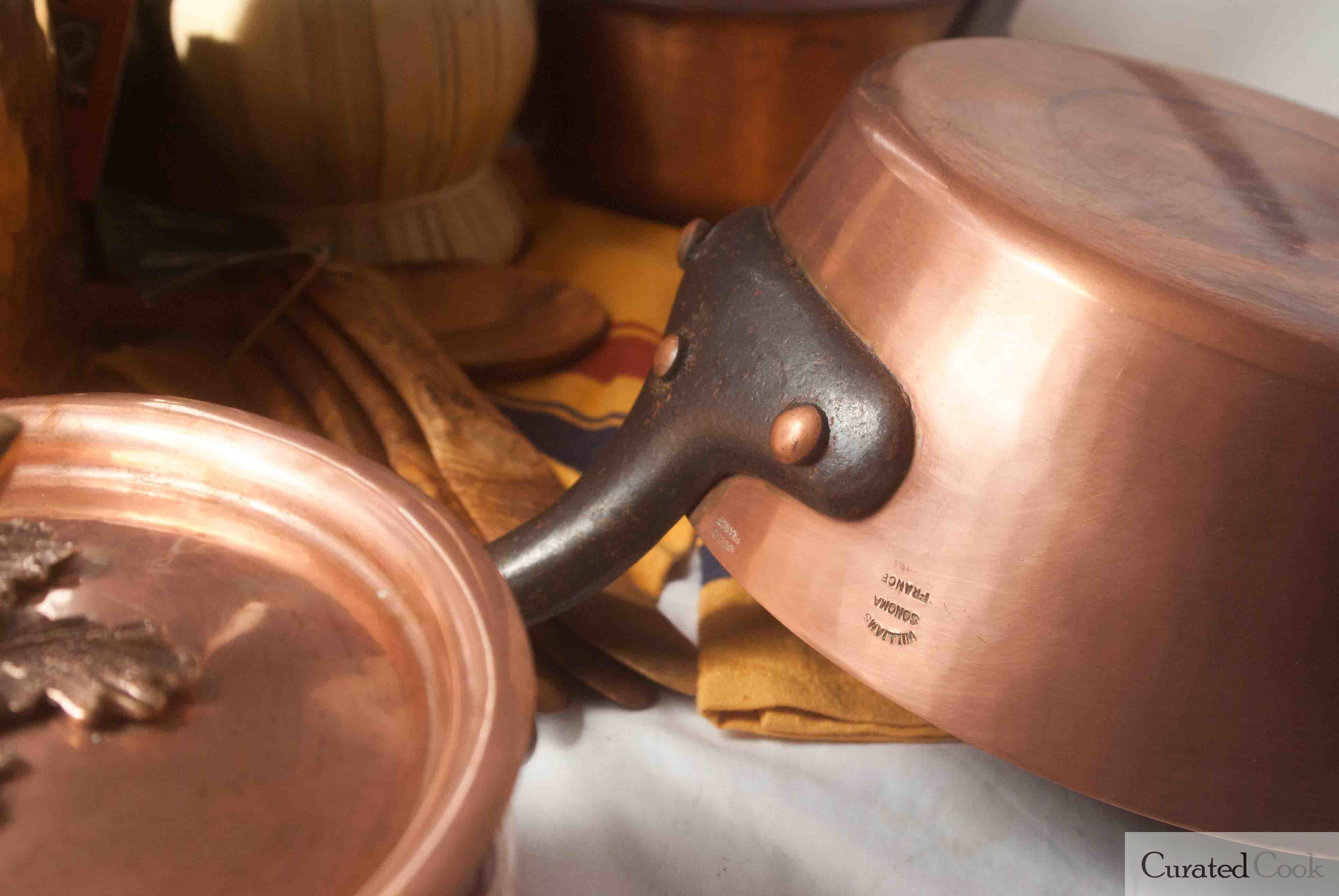 Windsor Saucepan Shape
The Windsor design is characterized by the difference in size from the rim and the bottom of the pan. On this particular pan, the rim diameter is 9.5 inch, while the actually cooking surface is 7.5 inch. Although this does not seem like much, the larger 2 inch in diameter gives it a significant increase in surface area. A larger surface area allows for more liquid to evaporate quickly.
For those who do not understand why a 2 inch diameter increase the surface area, think of this in terms of pizza. A 12 inch diameter pizza is more than double the surface area of a 8 inch pizza. That extra 4 inch surrounds the whole 8 inch pizza. So you are getting 4 inch more surface area around the whole pizza, not just one side.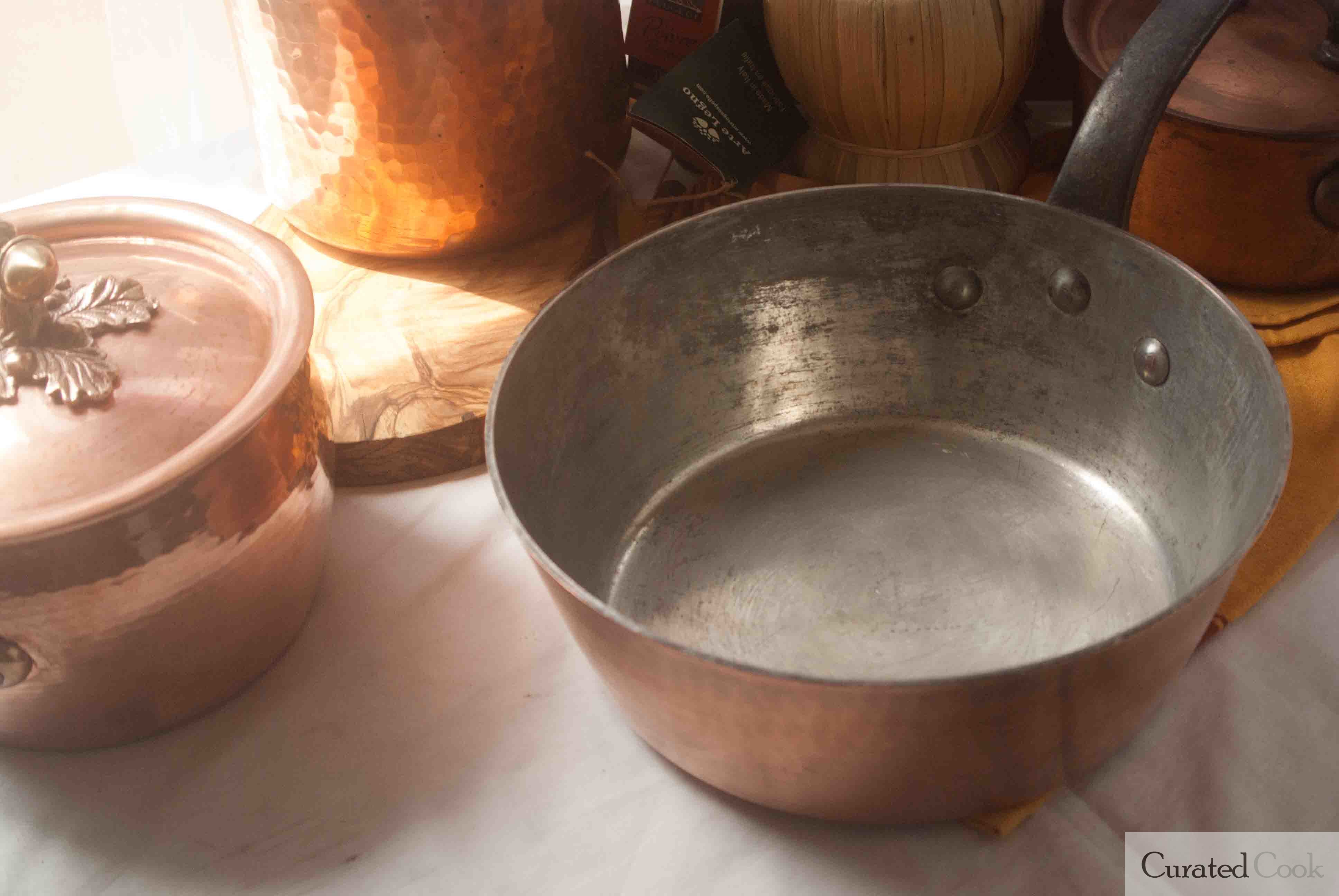 The bottom cooking surface is generous enough so that you can brown and saute vegetable without steaming it. A bottom that is too narrow will crowd food preventing steam from escaping. The end result is that liquid will pool together and your will steam instead of fry.
Thickness
The thickness of Mauviel's Copper Windsor Pan vary based on where you measure the pan. Near the top of the pan, it has a thickness of 2.75 mm, the lower I go, the thickness of the pan becomes 2.35. I believe they used a sheet of 2.75 mm copper and stamped it with a machine. As the pan stretch, the thickness becomes thinner. I have two version of the pan, one is hammered and the other is not. They both have the same issue. The hammered one is slightly heavier by a few grams though. The one without the hammered finish has lines throughout the pan. This version was most likely spun on a lathe and a metal rod was used to push the shape together.
Fit and Finish
Fit and Finish is excellent like all of Mauviel's product. The hammering is not as deep as I would like, you can hardly make it out. On the one without the hammer finish, you can see lines across the polished exterior. I am not sure if this was unfinished by Mauviel or done by the previous owner.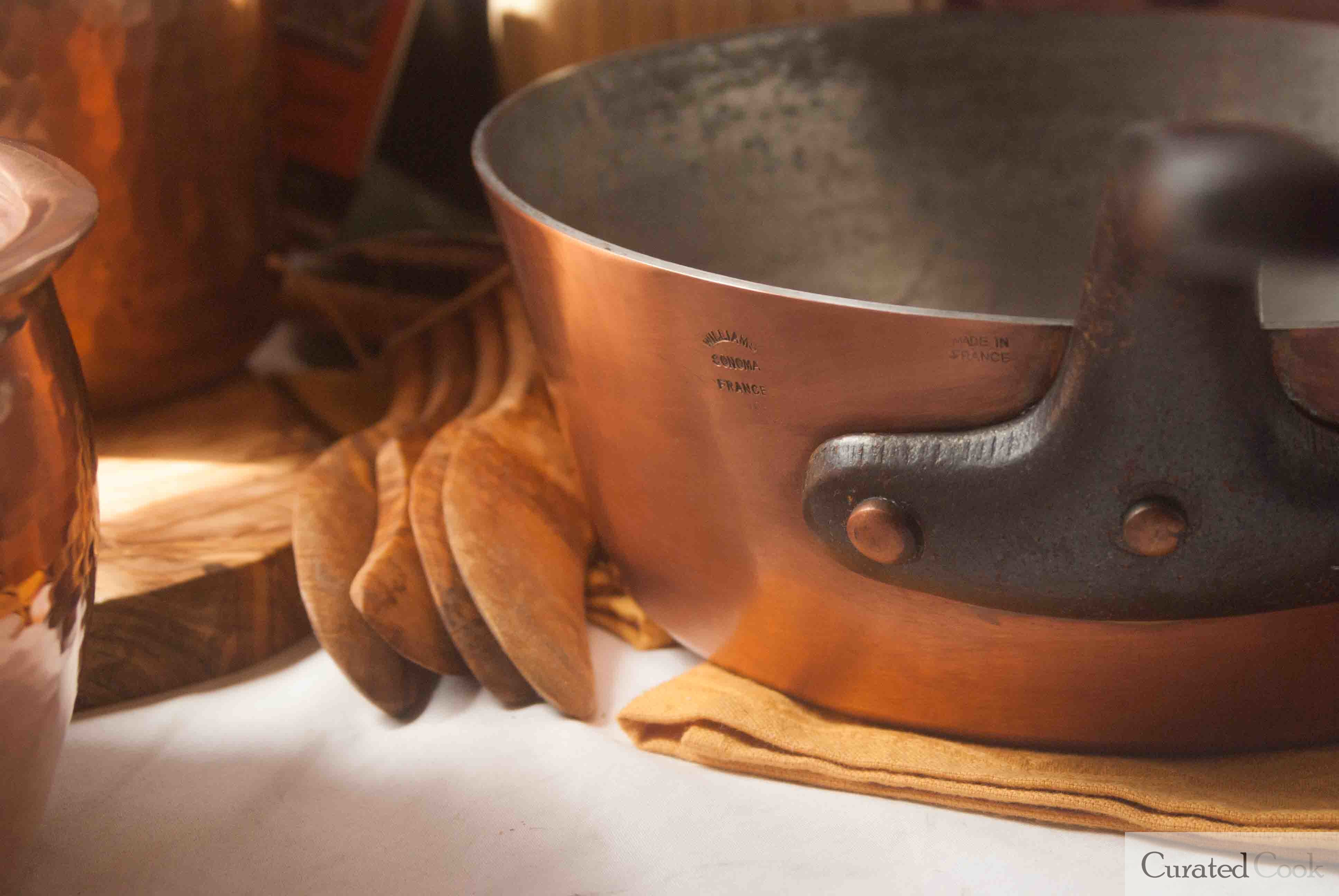 Mauviel Copper Windsor Pan Specs:
Note:These measurement are done by me with the tools that I have on hand. The manufacturers have their own measurement guidelines and that should be assumed to be accurate. What I find on this review can vary widely due to several factors, such as ambient temperature, location, water, tool calibration, stove btu, etc..and should only be considered as my opinion.
Weight: 2752 g
Rim Width:Around 9.5 inch
Flat Cooking Surface Width:Around 7.5 inch
Sidewall Thickness:Around 2.78 mm then tapers to 2.48 mm
Copper Windsor Pan Performance
Toast Test
To test the how well it distribute heat and how well it heats up, I perform a toast test where I place a piece of toast in the center than weight it down with a meat pounder. I heat up the pan for a total of 3 min then see the color of the toast. Look at the picture below to get an idea on how this test was done.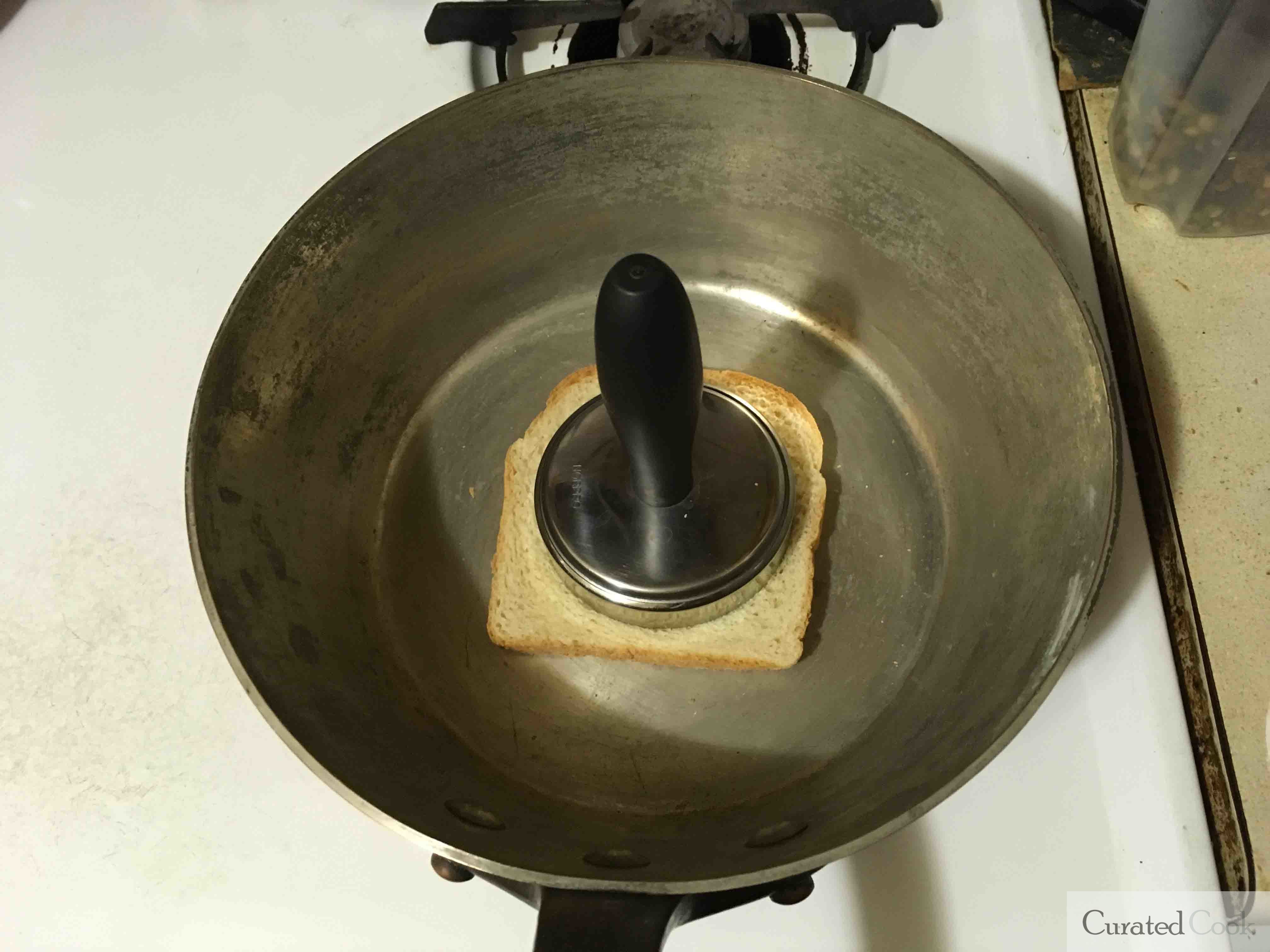 The result of this test was pretty much inline with what you would expect from a thick copper pan. I had to increase the typical testing time of 2 minute to three minute because of the weight of the pan. But as you can see from the result, the heat distribution of pretty even throughout. It is slightly lighter on the bottom right hand corner but that is minor. In general you really do not have to worry about scorching all too much.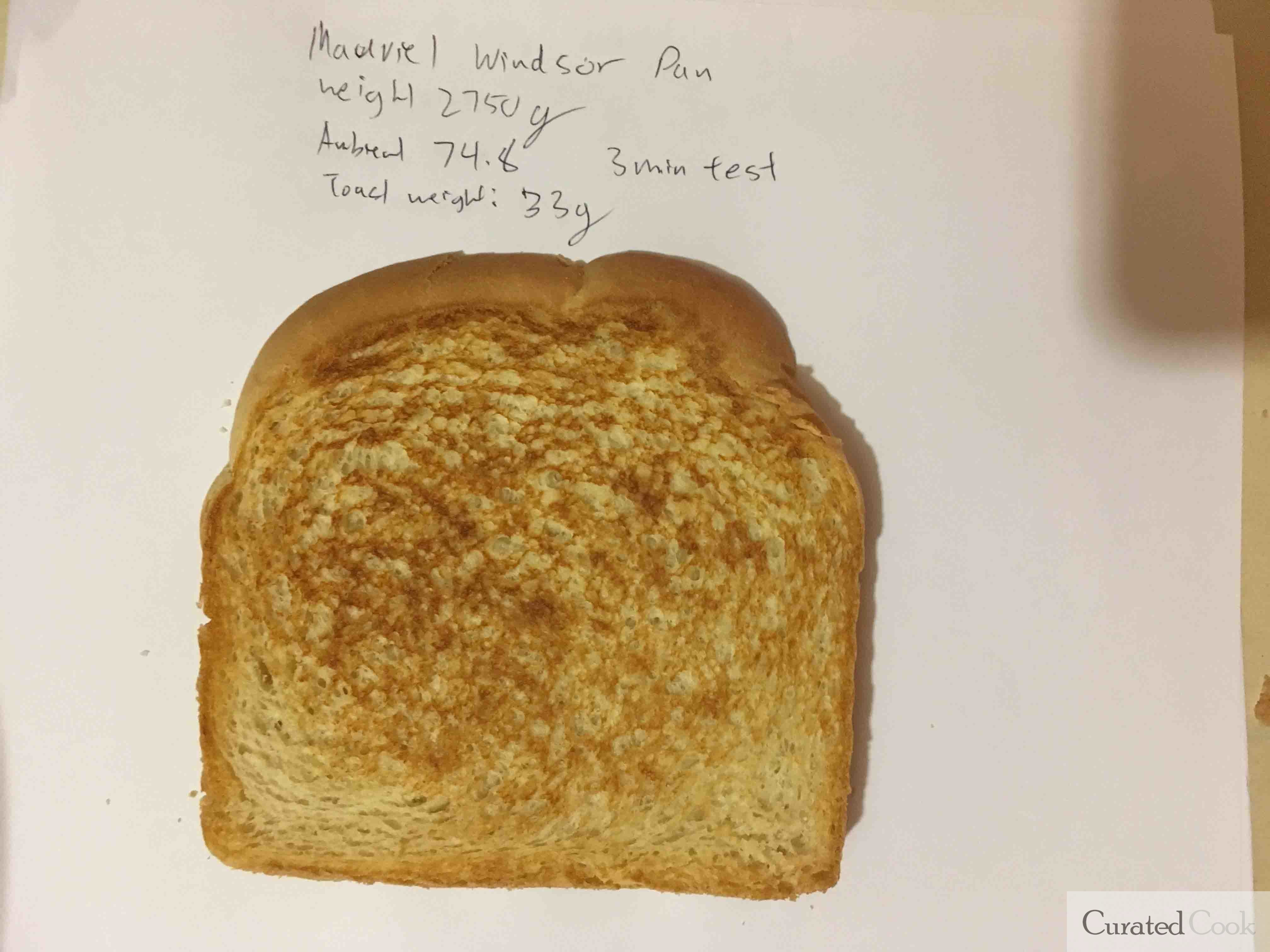 In terms of heat conductivity, I will include a test result from a cast iron pan by Le Creuset, it weighs 1930 g, almost 1 kg lighter than this pan and it performed almost the same. Heat conductivity is just all around superior in a copper pot.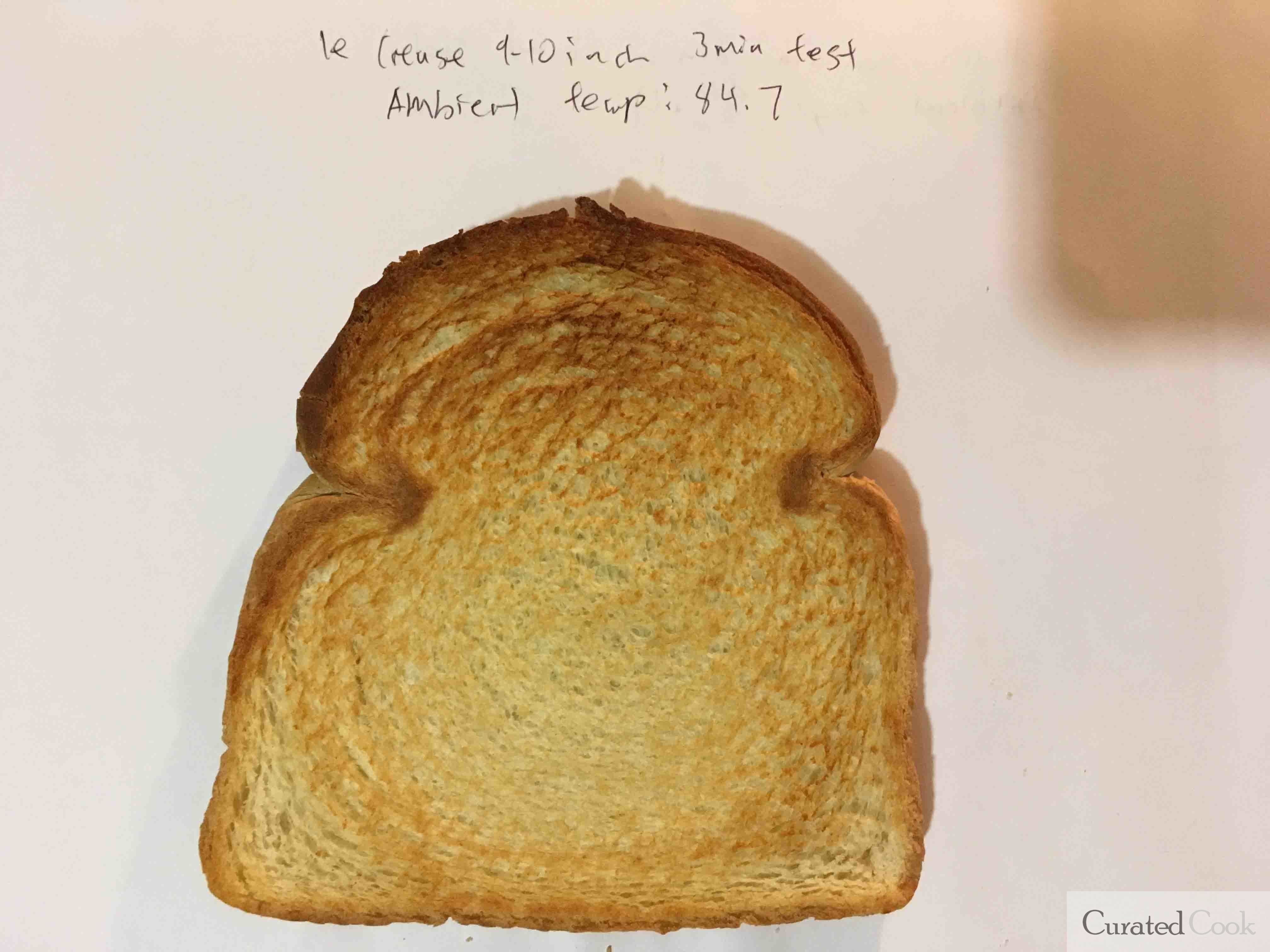 The base where heat is applied is similar in size for both pans.
The windsor pan does have a much larger sidewall height. It contributes to a good chunk of weight to the windsor pan. It is still unclear how this affects the overall heat pattern to the toast.
Windsor Pan Thought and Conclusion
In general this pan performs very well. The main purpose of a windsor pan is to reduce liquids from soup and sauces. That is why it has a large diameter on the top, more surface area means more evaporation.
You can argue whether a copper pan is necessary in a pot that evaporates liquid but the real benefit is the even heat distribution of the pan. When you are first creating a sear for food or creating a roux, you want even distribution of heat that wont scorch food. A roux for example, if you have one area that is burnt that the other that is uncooked, you will have just ruined your dish.
The other benefit, aside from the superior heat conductivity, is the shear weight of the pan. More mass means more heat stored. When you add liquid from your soup or sauce, you want it to evaporate quickly.
Having a heavy pan means that there is more heat available to transfer to the liquid. In turn, it will decrease the time it takes to reduce liquid.
To purchase the modern version of this pan, click the link below. This helps me fund more reviews for cookware.
I hope you like this Mauviel Copper Windsor Pan Review, If you would like to see more, please visit our Pots and Pans Review page. Mauviel's product can be found on Amazon, clicking this link helps me purchase more cookware to review.