Making purchases at Amazon.com and other website funds this website by generating revenue. Any help is appreciated and supports both me and content like this.
All Clad Saucier X Thomas Keller Review
All Clad Saucier X Thomas Keller is a result of the collaboration between all clad and Chef Thomas Keller. Thomas Keller is a three Michelin Star Chef at The French Laundry. He provided his input on what he would like in this series cookware. How the cookware was designed is based on what is needed. For exmaple, the Frying Pan uses a 5 layers of metal. This means that it is thicker and holds heat better for high heat searing. The sauce pot uses a copper core for better heat control. The Saucier that we will reviewing today uses the copper core construction. What make these cookware unique is the small addition that he added that which completely changes the cookware. We will be taking a closer look at what these changes are and the impact it did to the look and feel of this saucier.
All Clad HA1 Cookware Set Review Quick Summary
| Categories | All Clad Saucier |
| --- | --- |
| Performance | Excellent |
| Compatibility | Gas, Electric, Halogen, Glass Top, Induction |
| Colors | Polished or Brushed Stainless Steel |
| Warranty | Lifetime Warranty |
| Brand Awareness | America |
| Country of Manufacturer | America |
| Thoughts | One of the best Saucier in the industry. It has a gentle slope that aids in Whiksing. Unfortunately this line is not as common. The closest equivalent is the Copper Core line but the handle is not as nice. |
| Reviewed Cookware (Closest Equivalent) | All Clad Saucier |
All Clad Saucier Design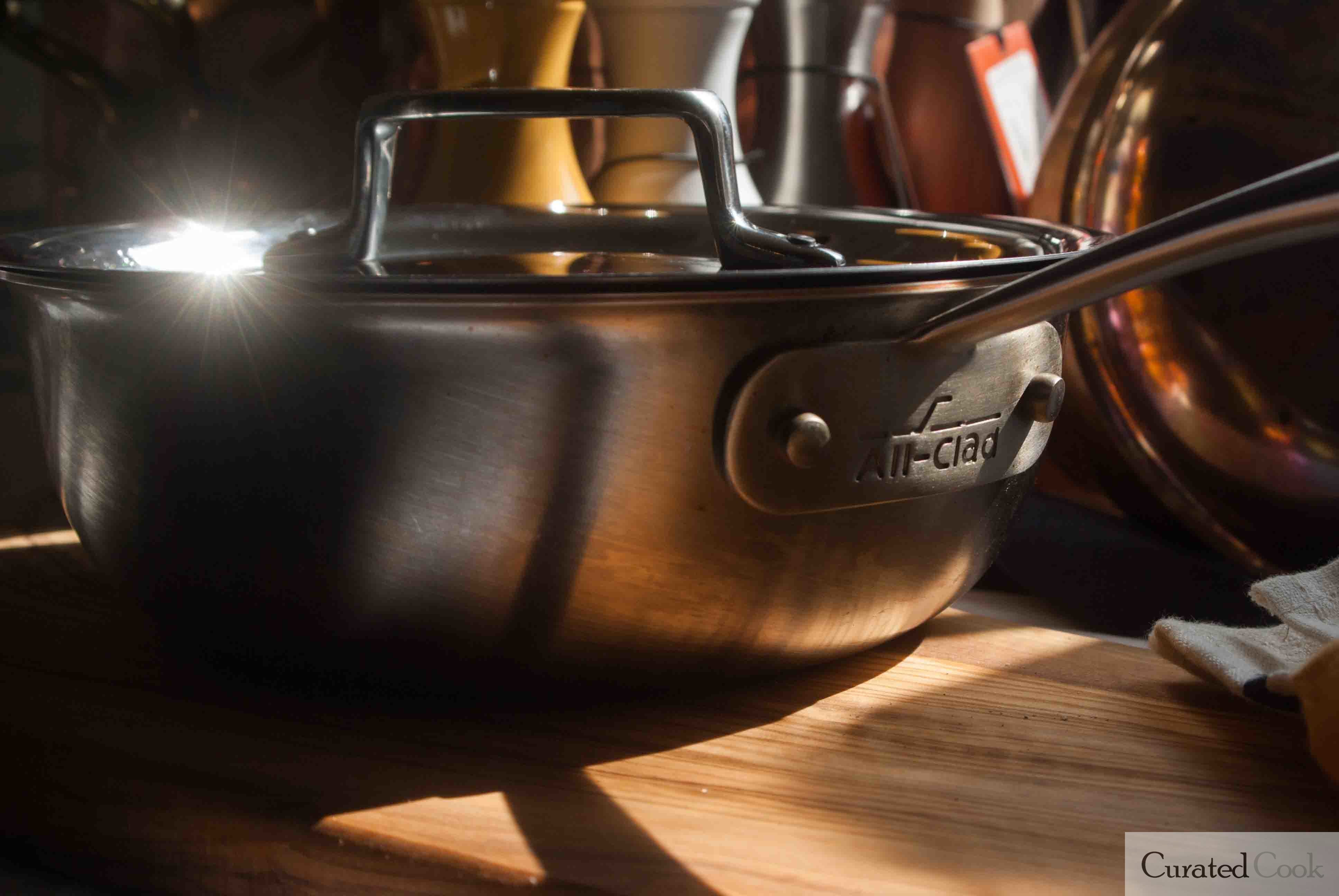 Thomas Keller All Clad Handle Design
The most important addition that this saucier has over the standard version is the handle. When you grip it, it feels like a natural extension of your hand. The top part is flat with a rounded bottom to provide both comfort and stability. It is because of this design alone that I have bought the other line of the cookware in the series. It really is that amazing.
Copper Core for Superior Heat Control
The cladded construction looks like it is the copper core line with the main difference being the brushed exterior. The brushed exterior the reduces amount of maintenance and cleaning needed. You do not have to worry about small scrapes and scratches as that is inherent in the way its built.
Aesthetic reason aside, the choice to use a copper core is a wise one. The main purpose of a smaller 2qt saucier is to reduce and make sauces. With a thin copper core you can stop cooking very quickly. A heavier pan will not cool down fast enough as the mass will retain the heat for longer. This is especially helpful if you might have overcooked a dark roux like for gumbo.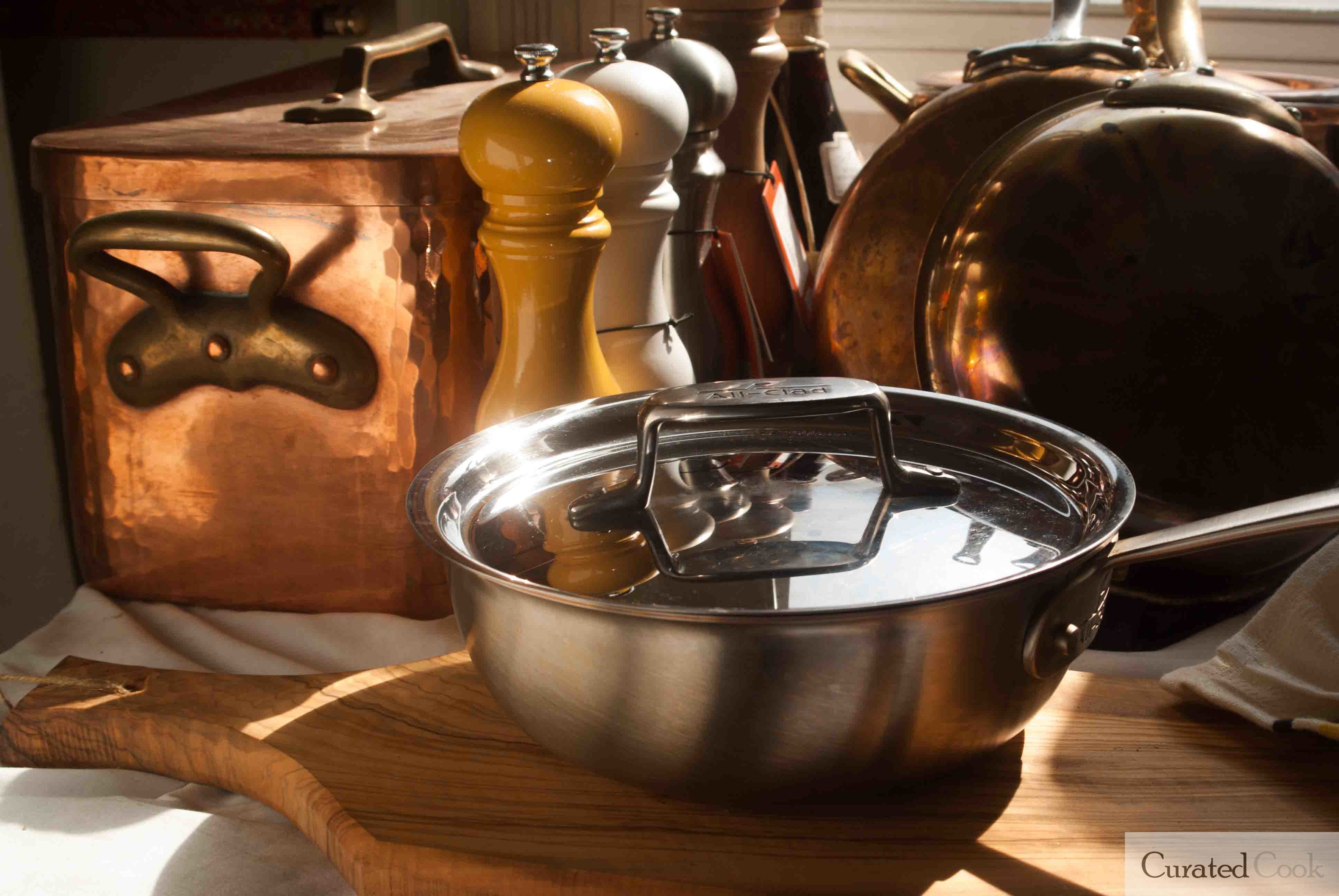 All Clad Saucier Rounded Interior for Easy Whisking
This is something that is often time overlooked when manufacturer make a saucier. Often time manufacturer of saucier has a very sharp edge which cause food to be trapped and burn there. A interior with a rounded bottom to allow for a whisk to scrape the corner without leaving unbeaten residue. Another manufacturer that has this rounded edge is Matfer Bourgeat Saucier. I recommend them if you are looking for a more heavy duty saucier.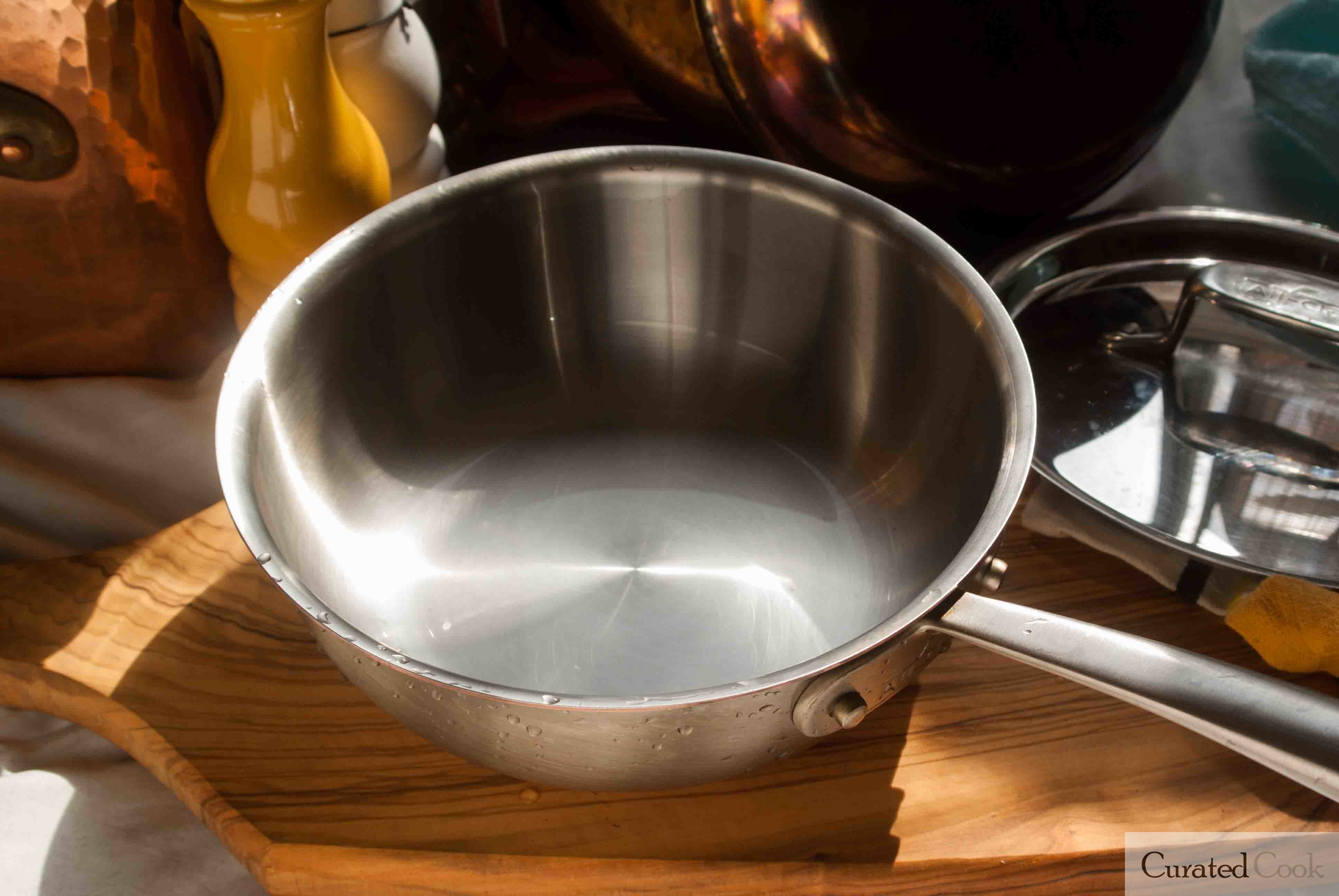 Rounded Lip
A rounded lip is something that should be standard for any modern cookware these day. A rounded lip lets liquid flow easily when you pour. If there is no pouring spout or lip, what will happen is that the sauce or liquid will follow the side of the pan.
How does a saucier reduce liquid faster?
The main purpose of a saucier is to make sauces. One of the most utilized technique used when making sauces is reducing the liquid to concentrate the flavor. How it does this faster than other saucepan is simply through surface area. The bottom of this saucier is smaller then the diameter expands outward to increase surface area. A larger surface area means more opportunity for the liquid to evaporate and reduce the sauce.
Fit and Finish
Fit and finish like all clad product is excellent. The brushed exterior and smooth shiny stainless steel interior is so simple and beautiful at the same time. I have never been disappointed with the build quality of all clad products.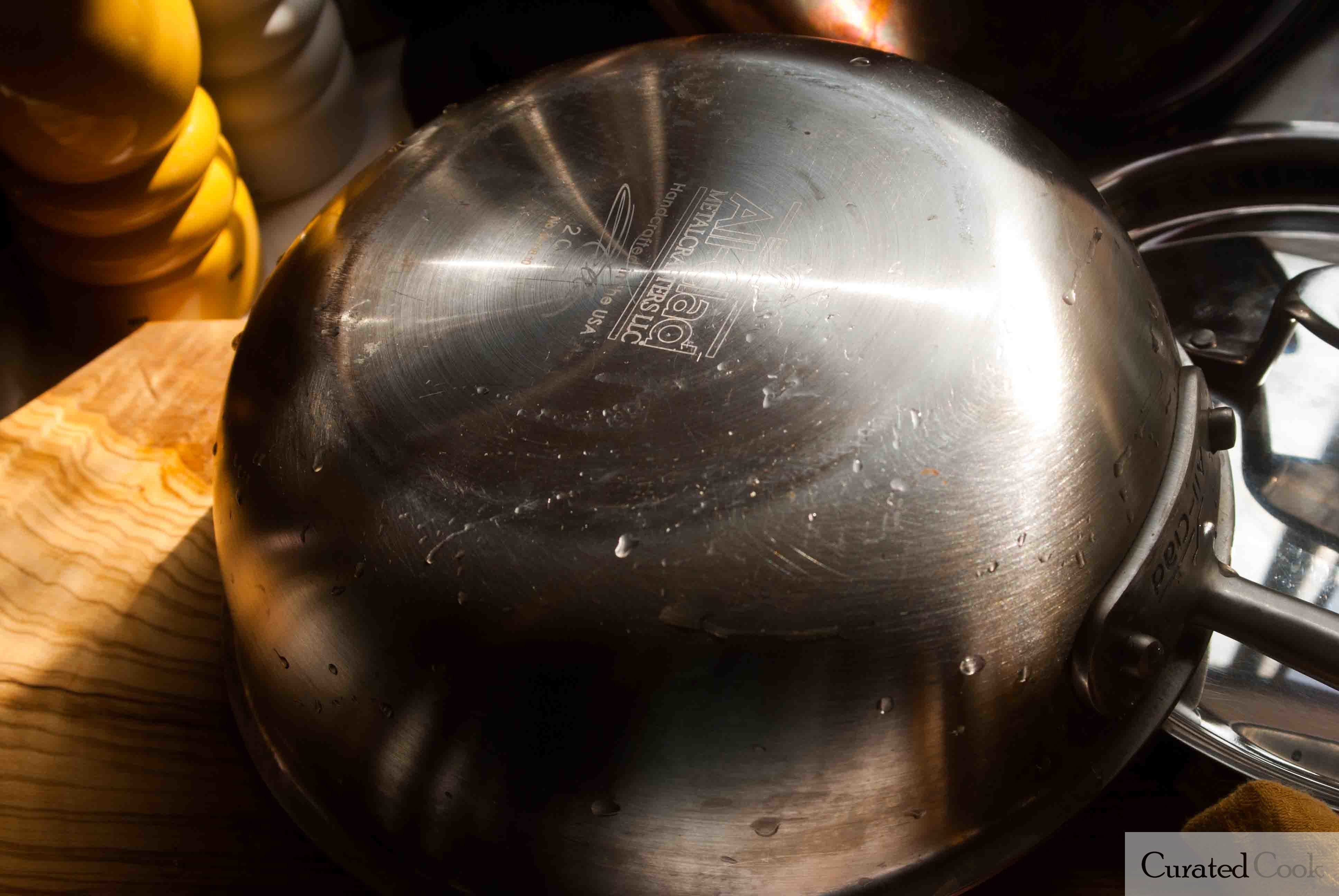 Specs
Note:These measurement are done by me with the tools that I have on hand. The manufacturers have their own measurement guidelines and that should be assumed to be accurate. What I find on this review can vary widely due to several factors, such as ambient temperature, location, water, tool calibration, stove btu, etc..and should only be considered as my opinion.
Weight:1062 g
Water Capacity: 2133 g
Rim Diameter: Around 8.5 inch
Flat Cooking Surface Width: Around 5.25 inch
Wall Thickness: Around 1.7-1.75mm
All Clad Saucier Performance
Water was brought to a boil/max temperature then the rate of temperature drop was timed in a minute interval each.
Location:Los Angeles
Ambient Temperature: 80.1 Water Temperature:80.6
Water Weight Tested: 1067g
Max Temp: 7:40 @ 208.9
Temperature Drop Off: 1 min:203.5 2 min:194.7 3 min:188.6 4 min:182.7 5 min:177.1 6 min:172.6 7 min:168.6 8 min:164.7 9 min:161.2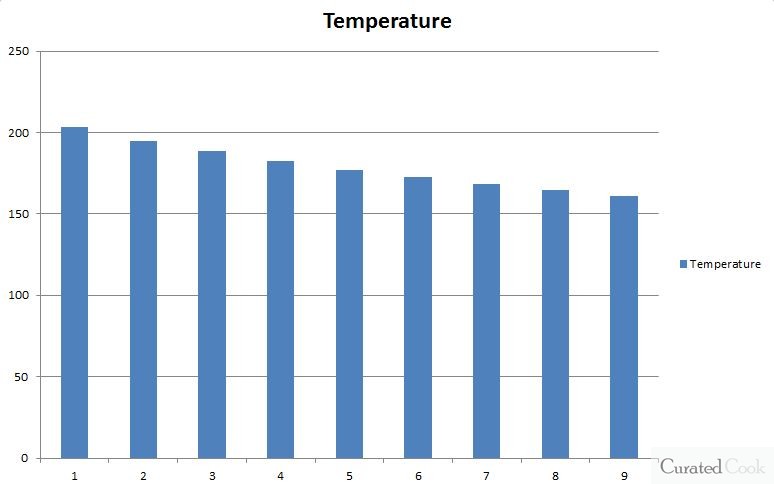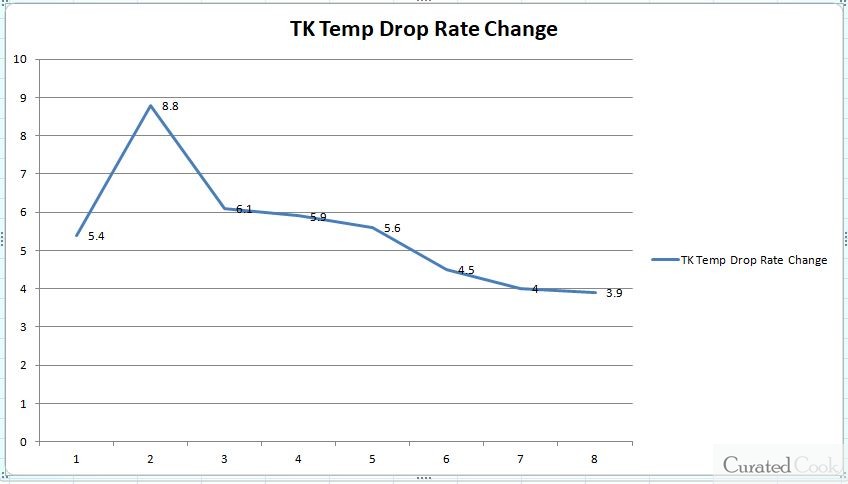 For whatever reason, the water was not able to reach over 208.9 on my first test. On the second boil, I was able to reach a max temperature of 210 but I did not time it. I believe this is due to the increase surface area of the water. The drop in temperature seems to be more rapid than other pots. I might be able to test this with a pot of similar diameter.
Conclusion
All Clad Saucier x Thomas Keller is one of the most used pot in my Kitchen. It is the perfect size for making soup or stew for one or two. The rounded edges and wide rim allow sauces to be reduced quickly and whisked effortlessly. The handle is simply the best in the industry, which is funny considering that All Clad normal handle is one of the worst. If you must get one sauce pot, I recommend this saucier. It has more use and is more versatile than any other cookware that you can buy.
I hope you like this All Clad Saucier X Thomas Keller Review. If you would like to see more, please visit our Pots and Pans Review page.