Mauviel vs All Clad Frying Pan
Today, All Clad is known as an American cookware giant. They are constantly recommended by cookware publication like Cook's Illustrated. What most people dont know was that they use to be a lot more affordable. However, because of the rise in popularity of All Clad, they have also raise their price accordingly. Mauviel, who is known as one of the Best French Cookware manufacturer, use to be unrivaled in performance. They were one of the most expensive cookware available, but now All Clad prices are coming close. But the question is are they comparable, which skillet is better? Is it even worth it to buy All Clad considering what they cost? This Mauviel vs All Clad Frying Pan comparison will look at all aspect between the two skillet. All Clad Copper Core Skillet vs Mauviel m250C skillet, which is better?
Mauviel vs All Clad Frying Pan Quick Summary
| Categories | Mauviel | All Clad |
| --- | --- | --- |
| Performance | Best | Good |
| Colors | Polished Copper | Brushed and Polished Stainless Steel |
| Pouring Lip | No | Yes |
| Handle | Black Coated SS and Comfortable | Polished SS Painful |
| Brand Awareness | World Famous | America |
| Weight | 4.08 lb (1851 g) | 2.76 lb (1253 g) |
| Thoughts | The best performing skillet of the two. A simple french classic skillet that should sear food better than any frying pan out there. | A well designed skillet, best used for heat control as it is the most responsive of the two. Perfect for finishing sauces. |
| Tested Cookware | Mauviel 10 Inch Skillet | 10 inch Copper Core Skillet |
Why Use Copper?
Copper is one of the best conducting metal that is used for cooking. In turn, they provide the shortest heat up time and the most even heat distribution. However, the downside to copper is that they tend to tarnish easily and react with acidic food. To get around this, manufacturer will line the inside of copper cookware with stainless steel or tin. All Clad seems to have taken this a step forward by lamenting both the exterior and interior with stainless steel. They are attempting to give customer the best of both world. The issue with this is that, stainless steel is a poor conductor of heat. It degrades the heat conductivity of copper. Not only that, All Clad uses a very thin layer of copper, while Mauviel copper layer is at least 2 mm thick.
How Copper Thickness Affects Cooking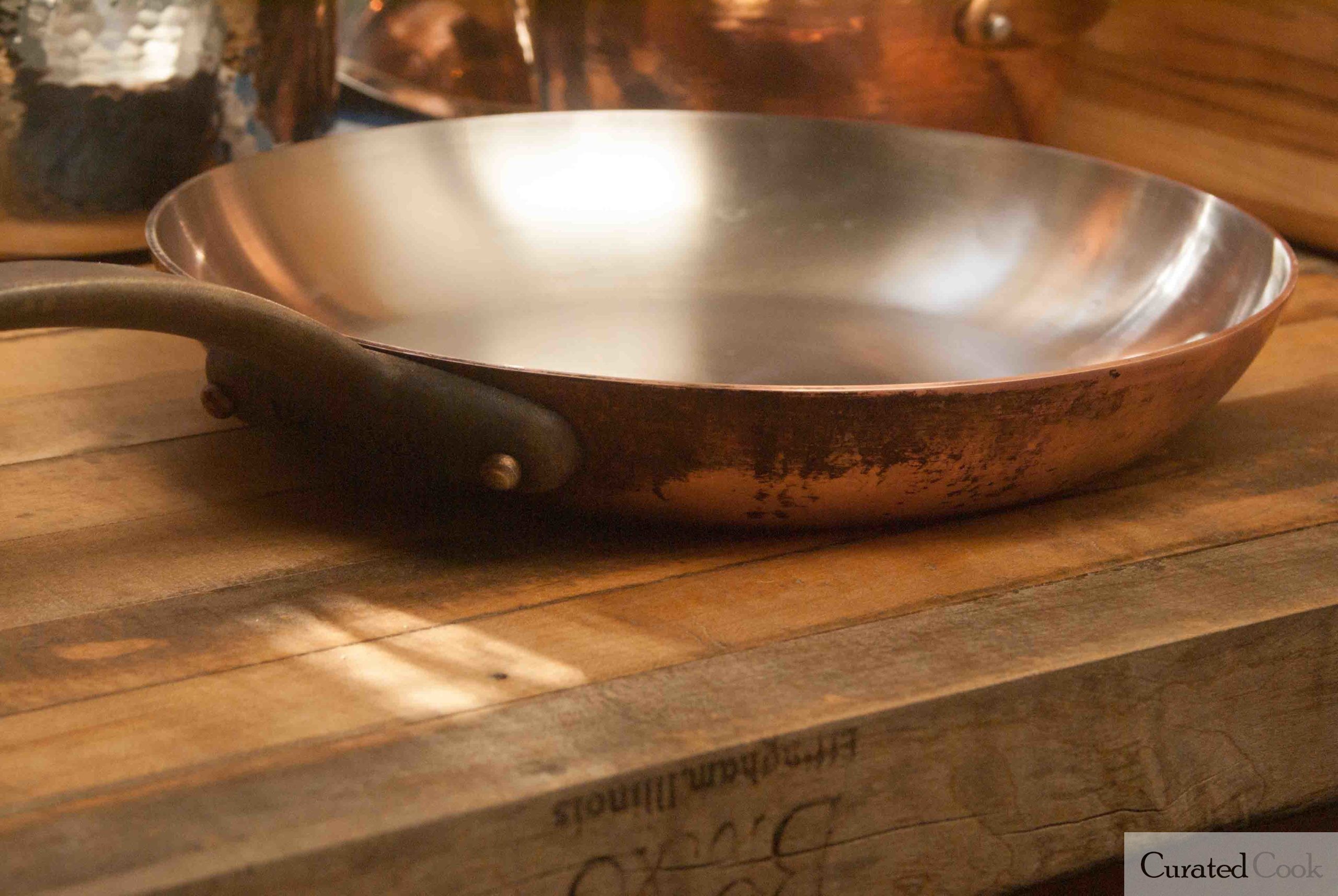 In general, the thicker the copper the better. A pan with at least 2 mm of copper is desired, especially for a frying pan. Thinner copper will heat up faster but it will also develop more heat spots. To compensate for this, you can make the copper thicker and the heat will distribute around the pan more evenly.
The other benefit of having a thicker copper is the thermal capacity of the pan. With a lighter pan, food will steam more readily. If you accidentally crowd the pan, liquid will not be able to evaporate quick enough. A thicker copper pan will heat up slower but it will also store more heat. The temperature will remain stable once you drop the food in. To get a better understanding of how copper cookware thickness affect cooking, you can read my article on the subject.
Mauviel vs All Clad Frying Pan
This section will go through the individual aspect of the two skillet. You can use this as a guide to make the best choice for your needs. The pan that we will be comparing will the the Mauviel m250c 10 inch and All Clad Copper Core 10 inch
Mauviel vs All Clad Handle
The handle is where all form of ergonomic begin. A poorly designed handle can make the difference between a good pan and a bad pan. People have thrown away their pans just because they did not like the feel of it.
All Clad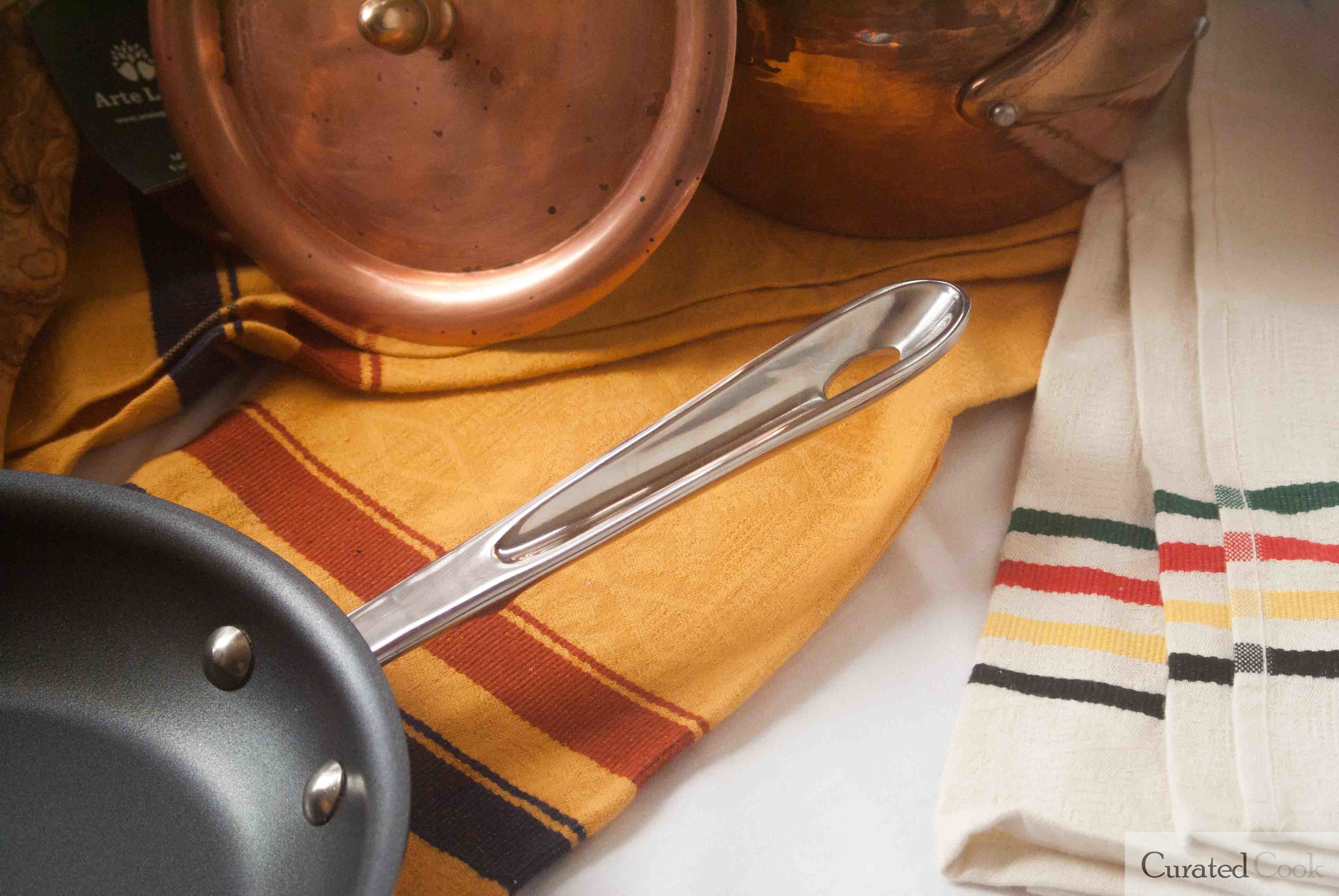 Unfortunately for All Clad, they are known to have one of the worse handle in the industry. It has two sharp edges that cut into your hand. The upside to this is that you get a more controlled grip when you pour. It also seems to dissipate heat pretty well.
Mauviel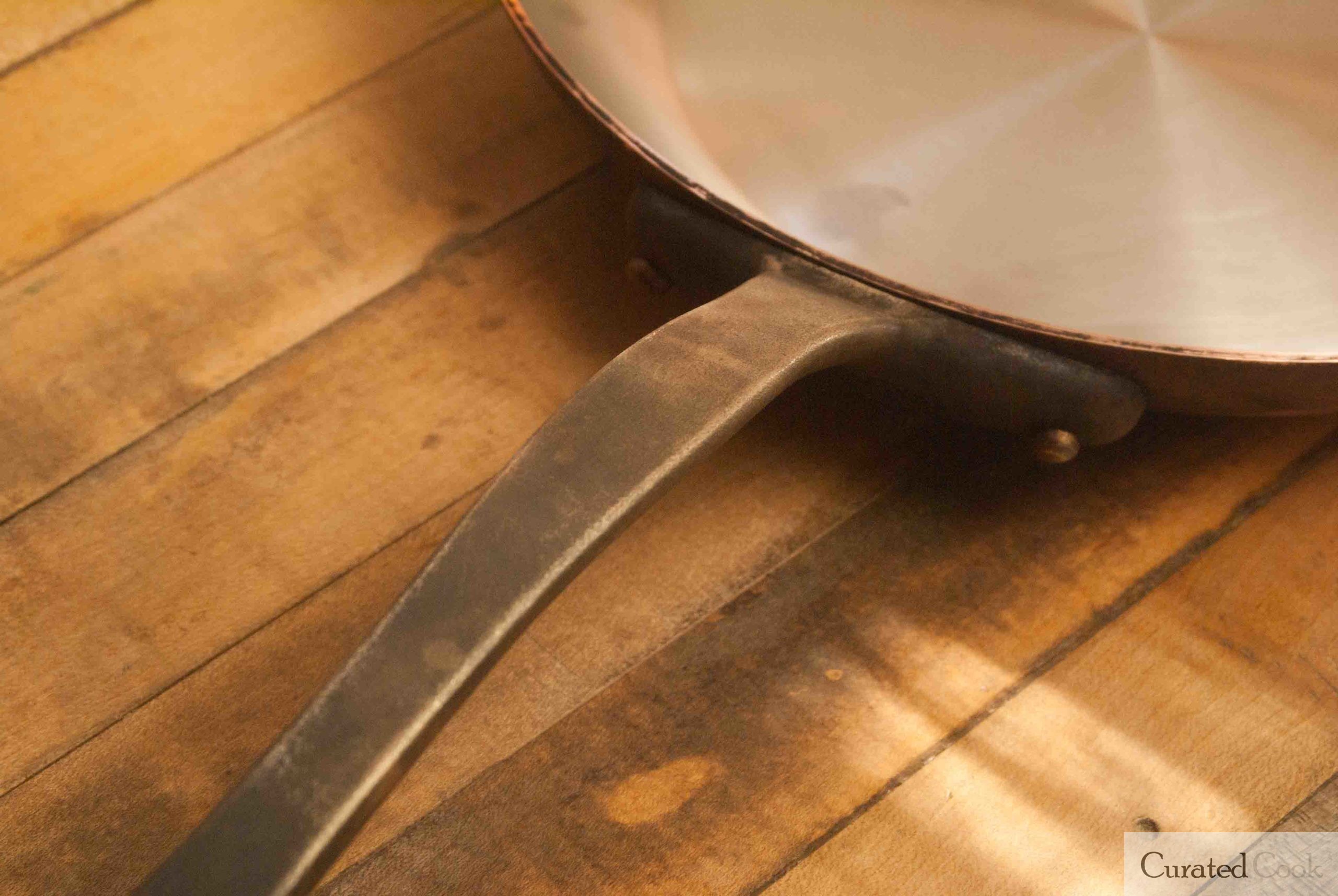 In the past, Mauviel only use two type of metal in their handle, iron and brass. Those get searing hot with use. However, with the m250c line, they used a stainless steel handle that is painted with a black finish. The end result is that it looks like cast iron but stays cool like stainless steel. Whenever I used it, it never got hot. It also does not have any weird burrs or edges to cut your hand. The issue that I had was that the color seems to rub off overtime. Looking online, I found that others had experience the same issue
Mauviel vs All Clad Pan Shape
The shape of the pan affects cooking more than most people expect. It controls the amount of cooking surface you have, how quickly liquid evaporates and the ease of turning food. Some pans dont even have a pouring lip. Most of the time, manufacturer will omit certain design to save cost on manufacturing. Other time, its just due to bad design.
All Clad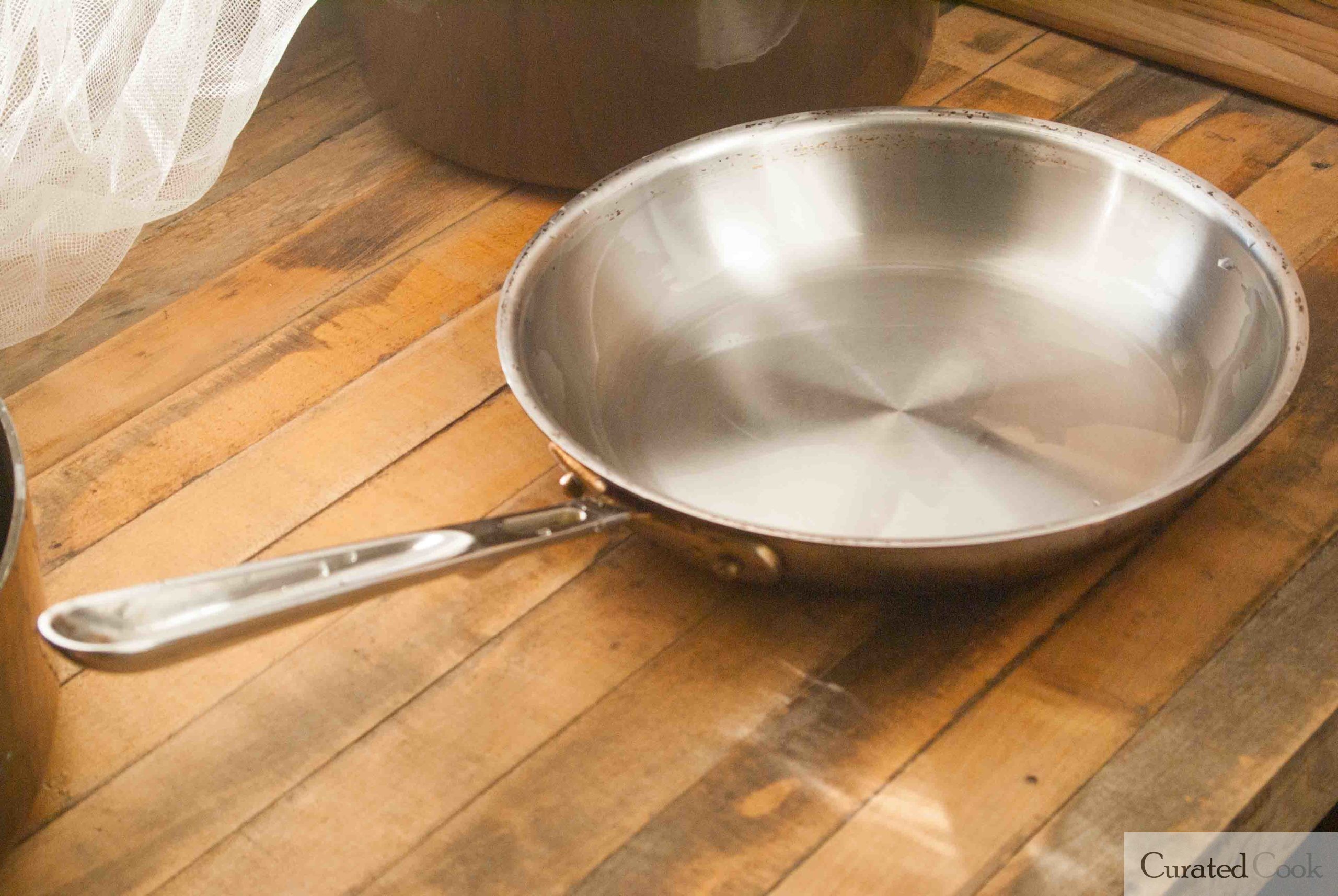 I got to say that the shape of All Clad Skillet is one of best I have used. It has low flaring side that lets you turn food easily. The lip is rounded so that you can pour pans juices easily. And it has a wide cooking surface area of 7 inch. This lets you sear a big batch of food in one go. Smaller diameter pans makes you sear food in multiple batches.
Mauviel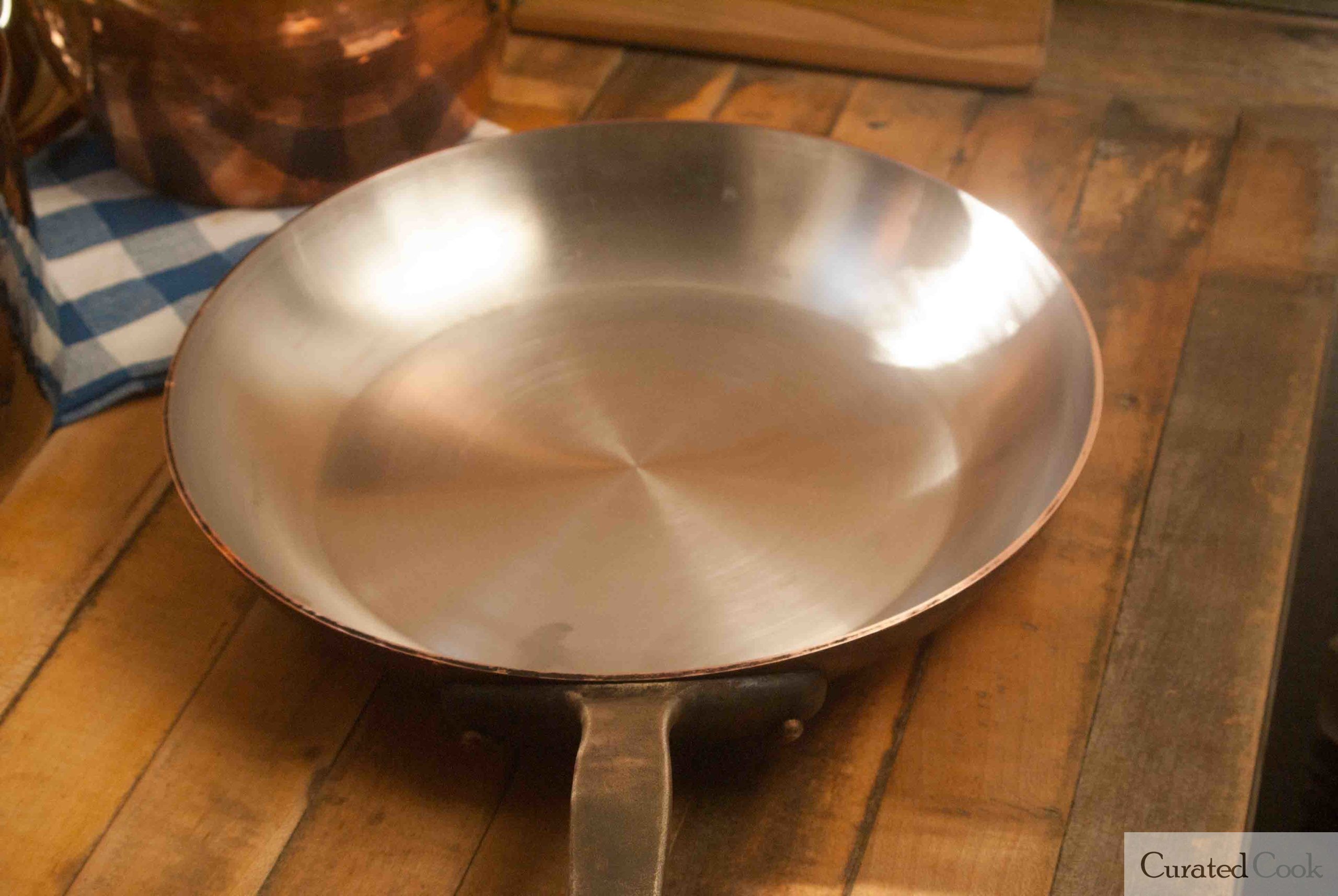 The shape of Mauviel frying pan should also be commended. It resembles that of a traditional french skillet. Low flaring sides with no pouring lip. It has a wide cooking surface area of 7.25 inch, slightly larger than All Clad. These pan was designed to carmelize food.
Mauviel vs All Clad Cleaning
The ease of cleaning seem to be very important for a lot of consumers. Unfortunately, most high end cookware is not dishwasher safe. So it is recommended to wash all cookware by hand.
Mauviel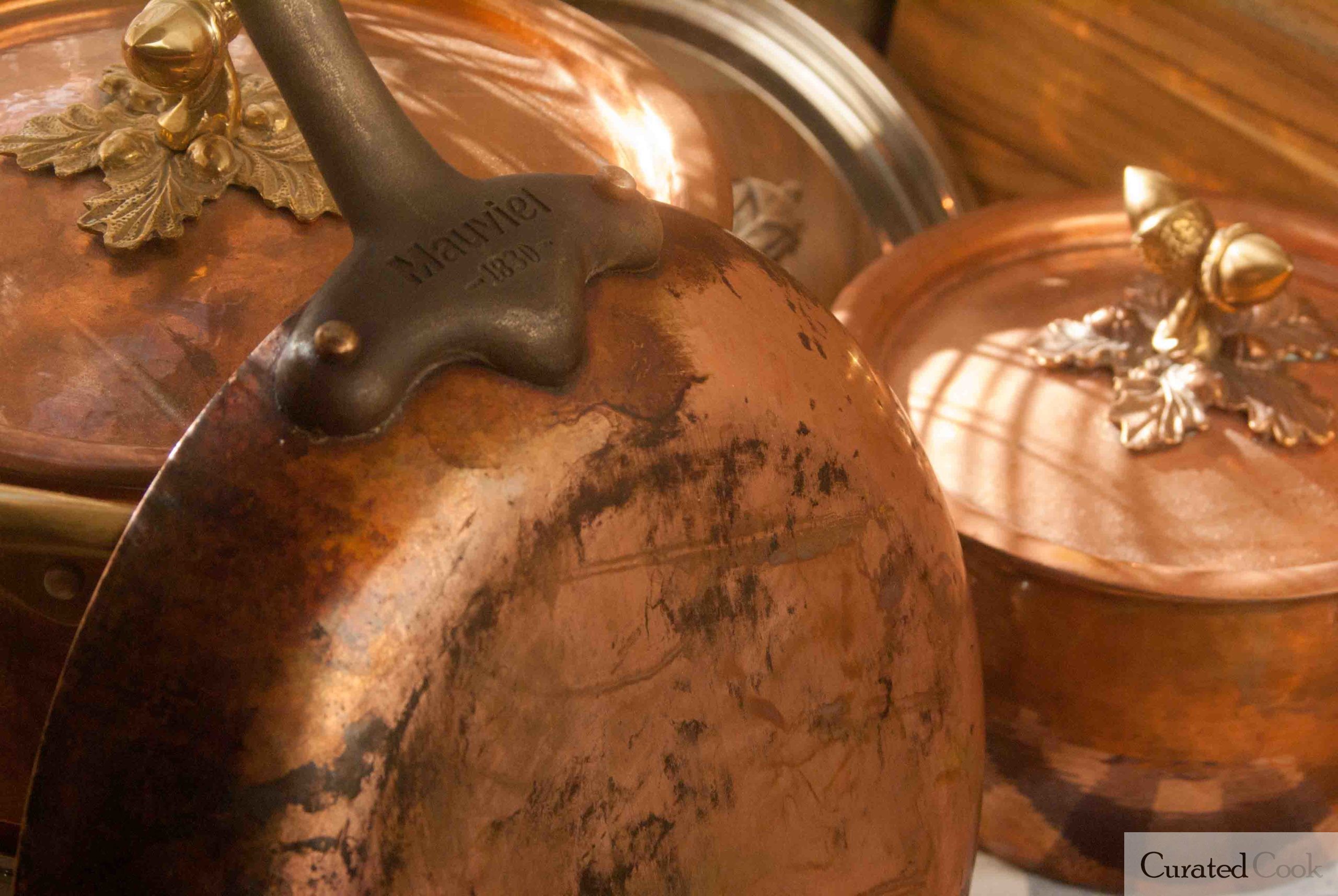 Mauviel pan is not dishwasher safe and the copper will tarnish over time. The beauty and luster of the mirror like finish will dull over time. In order to bring it back, you will need to constantly polish the cookware. in general, copper cookware is very high maintenance. However, if you can learn to like the patina, it can actually help the pan perform better.
All Clad
All Clad is Dishwasher safe and the stainless steel will keep its luster. If there are water mark or stains, you can easily use barkeeper friend to shine the stainless steel finish. For ease of cleaning, All Clad is the clear winner.
Mauviel vs All Clad Copper Thickness and Weight
This is the portion that copper cookware lover geek out about. Remember how All Clad uses different layers of metal to make a pan. Well, Mauviel only uses two layer, one thin layer of Stainless Steel and a big slab of copper. This section will discuss how each will affect cooking and how it affects the performance of the pan.
All Clad
All Clad pan might be heavy to those who are used to cooking with Non Stick Pan. It comes in at a weight of 1253 g. It has five layers which is stainless steel, aluminum, copper, aluminum and stainless steel. The thickness of the pan is 1.66 mm. Given that information, you should start to get an idea that the thickness of the copper. It is considerably thinner than the likes of Mauviel. While I cannot confirm this, the thickness of the copper does not look to be over 1 mm.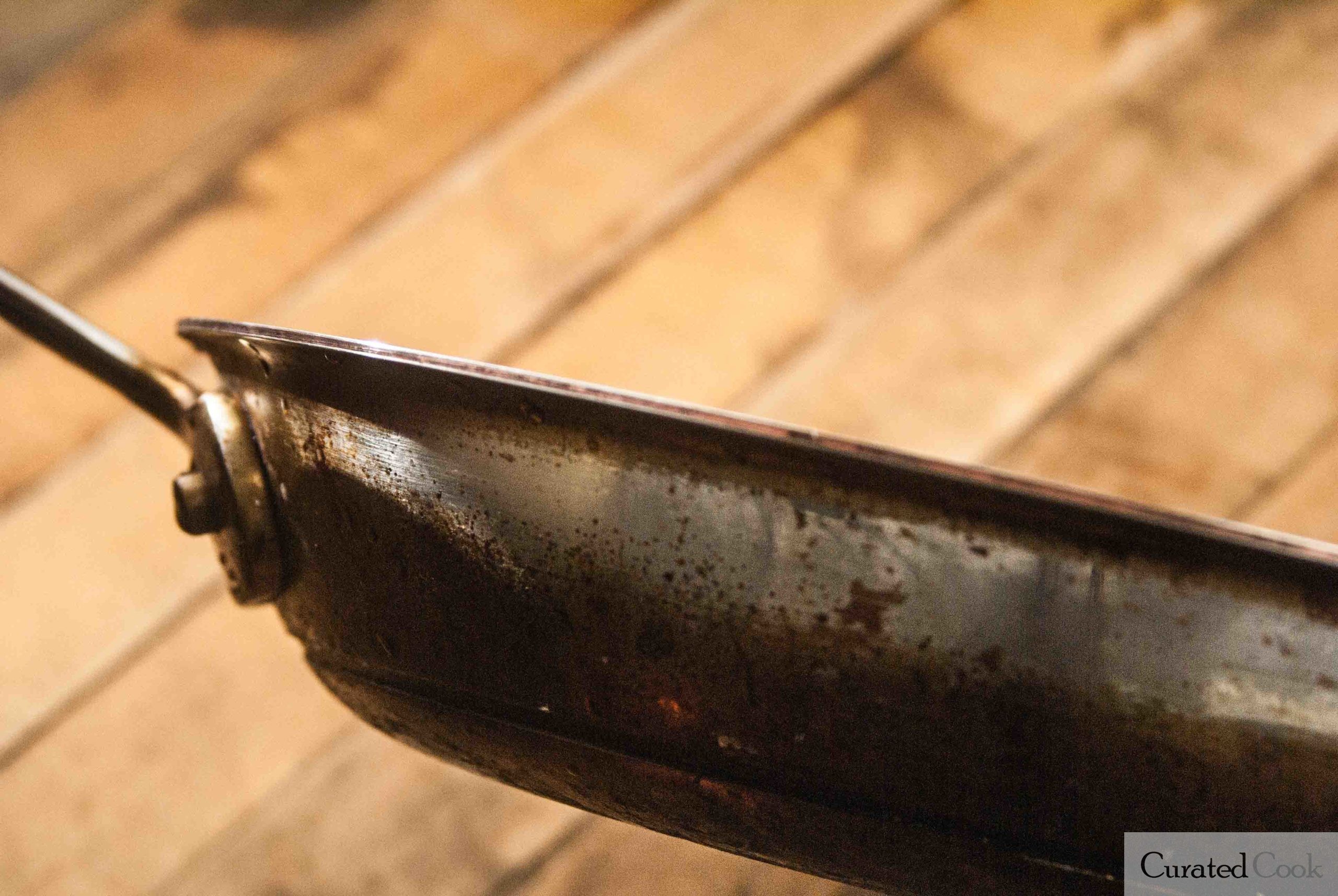 In terms of cooking, what it means is that the pan will heat up very fast. However, it wont store a lot of heat. You need to be careful during the initial sear. If you add too much, food will begin steaming.
There is an upside to thin copper though. Thin pans are extremely heat responsive and it is perfect when making sauces. Thicker copper cookware takes a while to cool down.
Mauviel
Mauviel comes in a at a hefty weight of 1851 g with a sidewall thickness of around 2.40-2.45 mm. If you compare it with All Clad, it is almost one lb heavier and they only use two layers, copper and stainless steel.
In general, more copper is better, you can change some characteristic of how metal work by combining metal. However, you cannot beat the performance of straight copper. The added weight of this pan also means that more heat can be stored into the pan. When you sear food, the chances of food steaming is reduced. While this pan may not be as good as All Clad for making sauces. It should still be a highly responsive pan. The many layers of All Clad will actually degrade the performance of the pan. If you truly want a pan for making sauces, get a very thin copper pan. I would say in terms of performance, Mauviel win this round.
Mauviel vs All Clad Performance
To test the how well it distribute heat and how well it heats up, I perform a toast test where I place a piece of toast in the center than weight it down with a meat pounder. I heat up the pan for a total of 2 min then see the color of the toast.
Below you can see how the test was performed.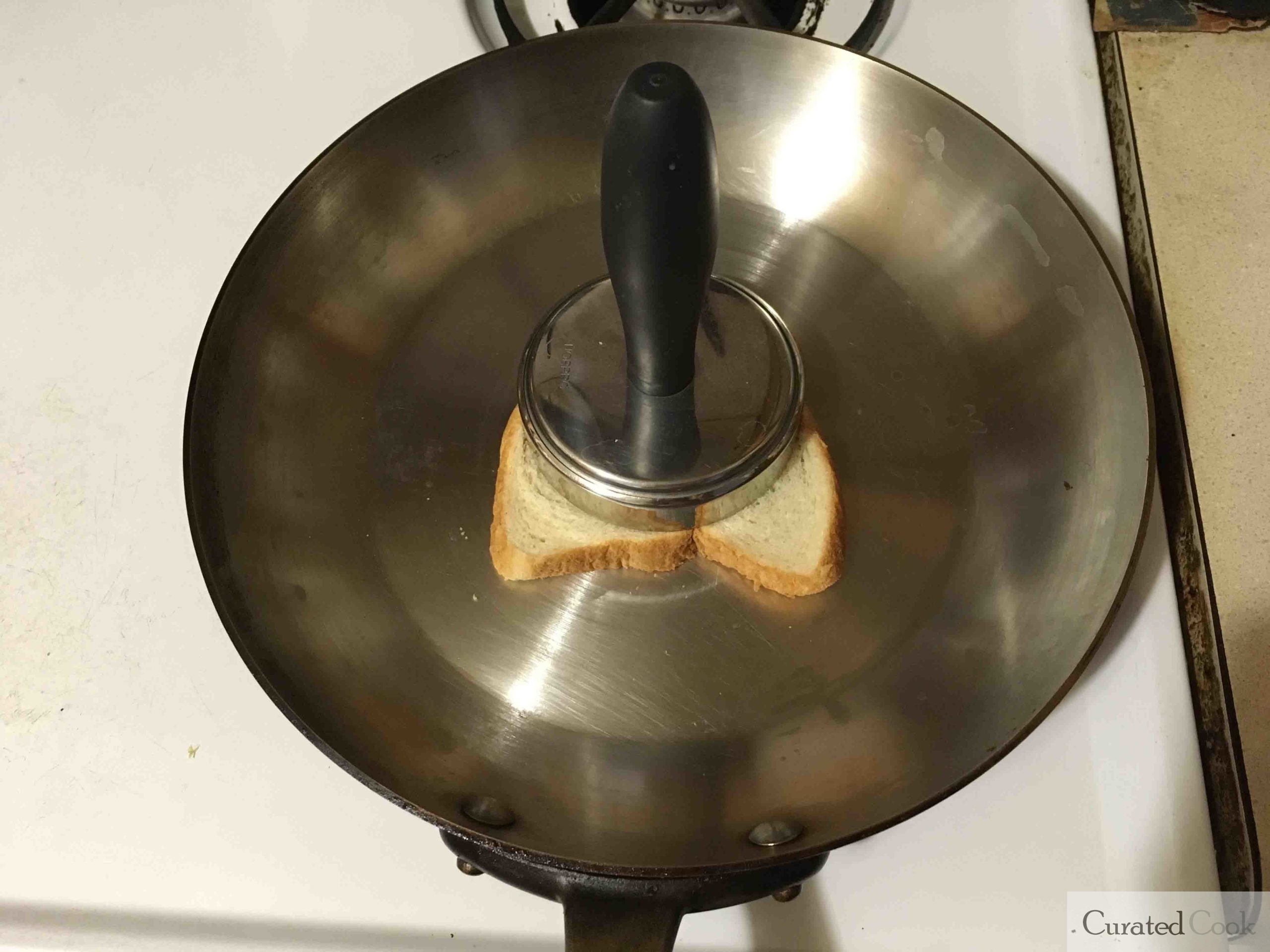 Mauviel
Below you can see that the heat distribution is almost perfect. It is slightly lighter on the bottom but over all, this is a great performing pan. The color of the toast is a golden brown indicating that it heats up fairly quickly.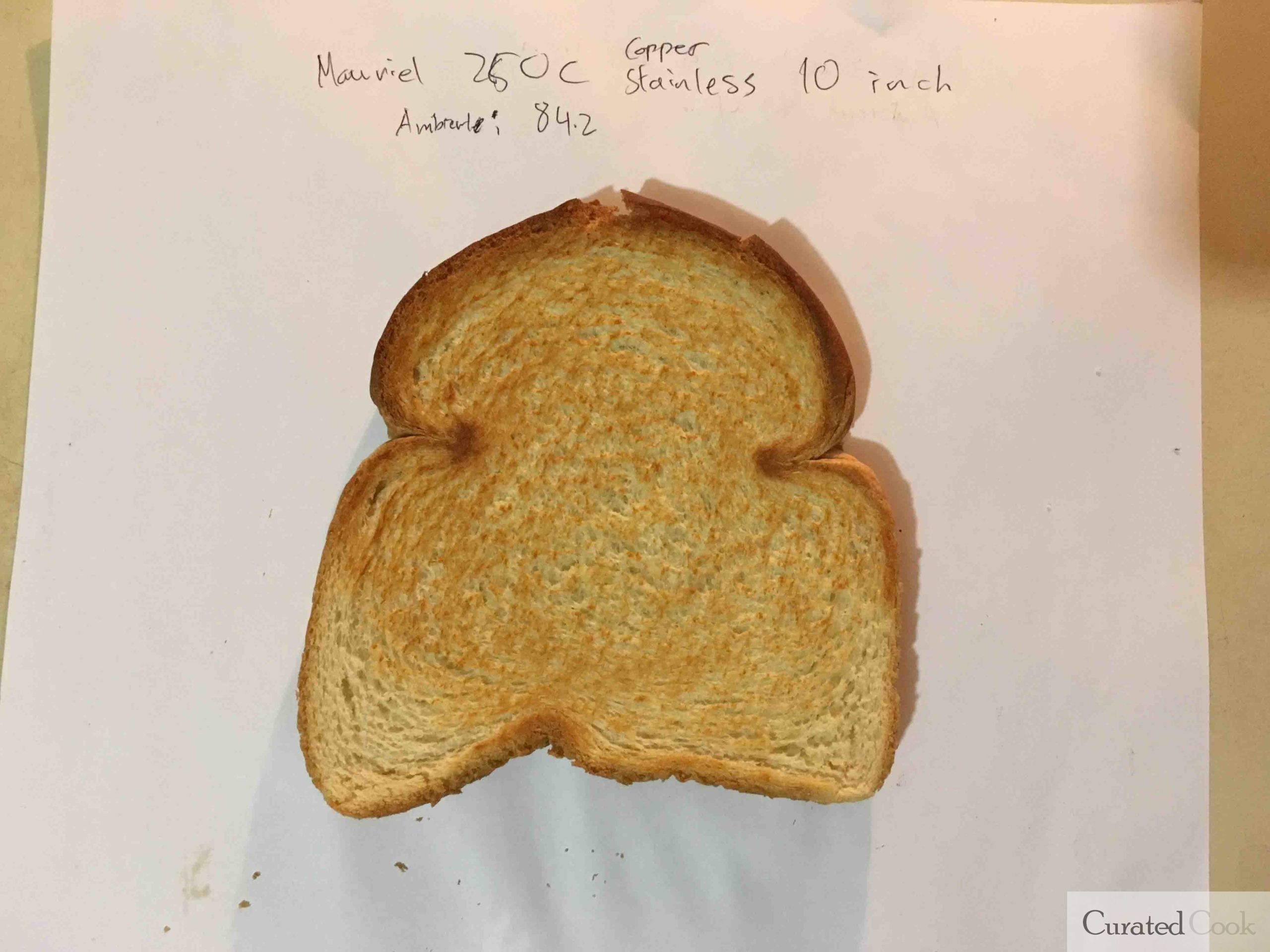 All Clad
All Clad heat distribution pattern is almost the same as Mauviel. It is also slightly lighter on the bottom portion. Because of the lighter pan construction, it is much more dark than Mauviel Pan. This is because of the heat responsiveness.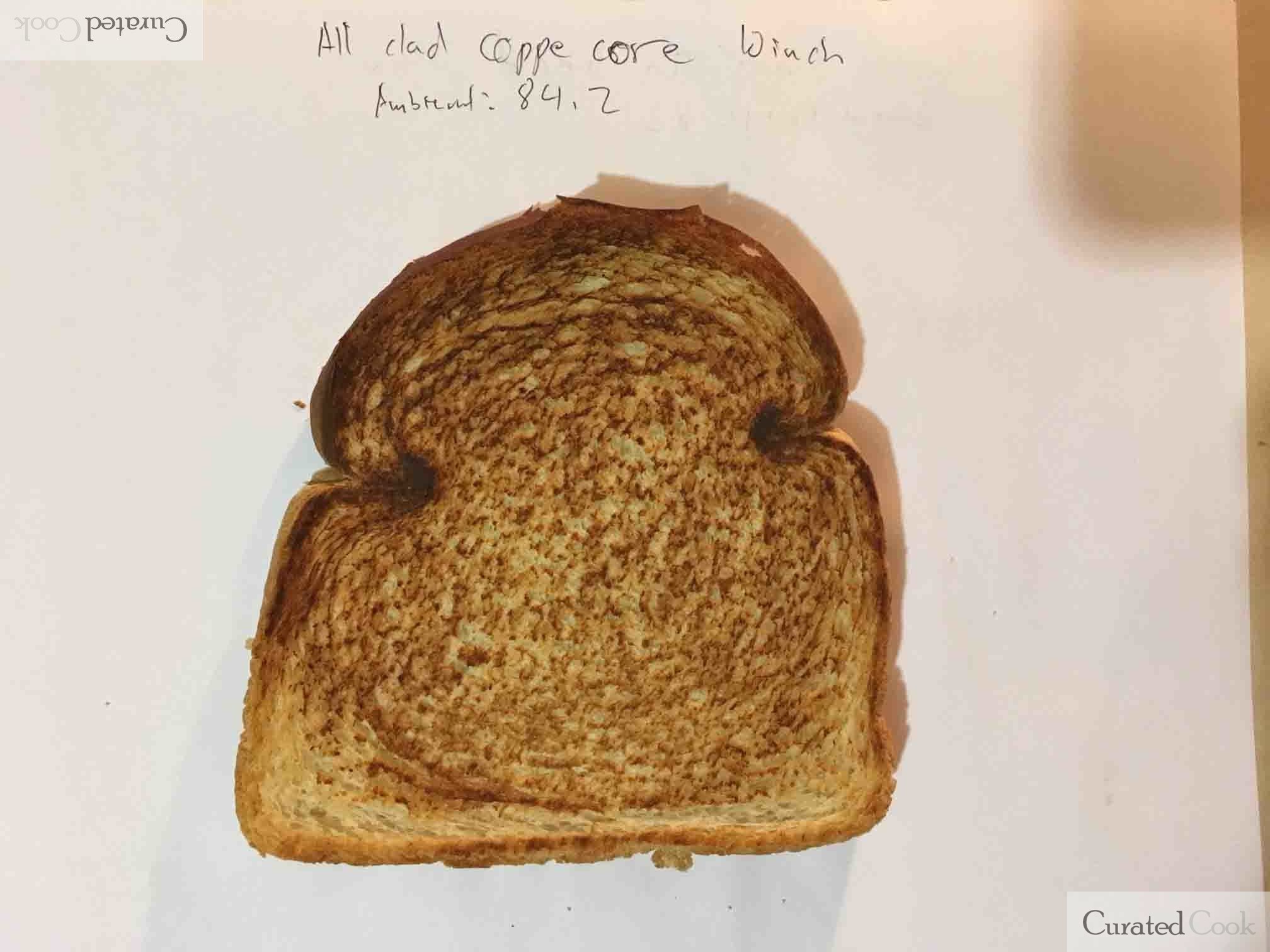 Remember how the weight will affect cooking, these two pan can serve different purpose. Lighter pan is more geared toward sauce making while a heavier pan is better for searing food.
Mauviel vs All Clad Specs
Note:These measurement are done by me with the tools that I have on hand. The manufacturers have their own measurement guidelines and that should be assumed to be accurate. What I find on this review can vary widely due to several factors, such as ambient temperature, location, water, tool calibration, stove btu, etc..and should only be considered as my opinion.
Mauvie M250c 10 Inch
Weight:1851 g
Rim Width:Around 10.3 inch
Base Cooking Surface:7.25 inch
Height: Around 1.7 inch
Thickness: 2.45-2.40 mm
All Clad Copper Core 10 inch
Weight: 1253 g
Diameter: Around 10.55
Actual Cooking Surface Diameter: Around 7 inch
Height: 2 inch
Thickness: 1.66 mm
Mauviel vs All Clad Price
The prices of these two pans differ by a margin of 50 – 70 dollar. The question is which do you prefer? All Clad is an American made pan while Mauviel is French. You get more copper out of Mauviel and in my opinion better performance. But all clad performance is nothing to laugh at, it performs really well.
To Check Mauviel Current Price click Here.
To Check All Clad Copper Core current price, click Here.
Mauviel vs All Clad Thoughts
Since I collect copper cookware I am a little bias. I personally prefer mauviel simply because you get more copper. With the All Clad pan, it feels like they are just trying to save money with the copper. It is the most expensive metal out of all of them. I would like to see All Clad make a pan that is just copper and stainless steel. But for now, searing is better on the Mauviel Pan and no one likes steamed food.
Dont get me wrong, All clad makes a great performing pan, its perfect for finishing sauces. It is also dishwasher safe and slightly cheaper to boot. They both have their strength and weakness. Which pan you choose should really depend on what you need.
I hope you like this Mauviel vs All Clad Frying Pan comparison, if you would like to see more, please visit our Pots and Pans Review page.