Making purchases at Amazon.com and other website funds this website by generating revenue. Any help is appreciated and supports both me and content like this.
Mauviel 8 Inch Copper Skillet Review
For those of you who are not familiar with Mauviel, they are a major French copper cookware manufacturer. They make a variety of cookware from pots to pans and even fish steamer. Often time you will see the same shape pan with different store name stamped on the side. But for the most part, I suspect that all these cookware are primarily made by Mauviel.
The particular model (Mauviel 8 Inch Copper Skillet) that I will be reviewing today is out of production. The closest thing you can get these days are the Mauviel M'Heritage M250C 2.5mm
Whether it is better than the older design is a matter of preference. There a variety of things that are different such as the shape, handle and thickness. This review will primarily see how the vintage model is designed and how it compares to the m250c.
Mauviel 8 inch fry Pan Design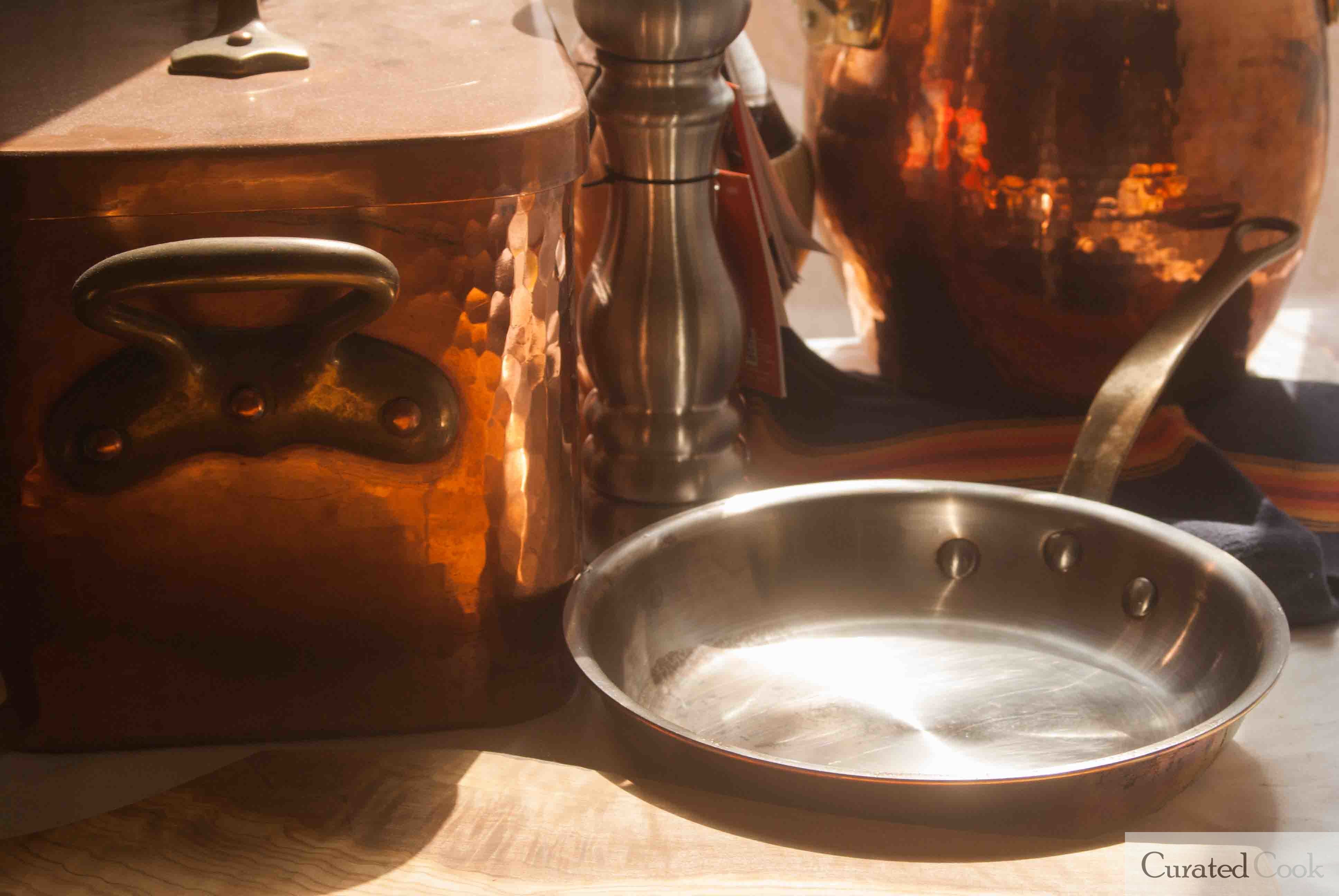 Brass Handle
The handle is the point where the ergonomic of a frying pan is decided. For whatever reason, a combination of copper and brass seems to be one of the most common combination for french frying pan. The downside to this is that that brass conducts heat very quickly. You almost always have to use a glove when cooking with these handle. The corners of this particular skillet is sharp and feels unfinished. The top is flat with a rounded bottom and a slight curve to allow for a more ergonomic grip. However, because of how thin and sharp the handle is, overtime you hands will become fatigued.
Benefits of a Cast Iron Handle
In this application, I believe a cast iron handle might have been more suited for it. Your typically cast iron handle are usually thicker allowing for a more ergonomic grip. It also conducts heat more slowly so you might be able to get away without using a glove.
Mauviel m250C Stainless Steel Handle
Mauviel m250C looks like its cast iron but in reality it is made of stainless steel. They painted it in black but overtime, this color tends to rub off. The performance of this handle absolutely perfect. After 15 minute of cooking, I was still able to comfortably hold the handle without burning my hand. It combines the benefit of stainless steel and the allure of cast iron.
Rivets and Copper linning
At the base, the handle is affixed to the skillet with three stainless steel rivets. This material of the rivets usually denotes that you have a Stainless Steel lined cookware. If you see a copper rivet, more than likely the inside is tin lined.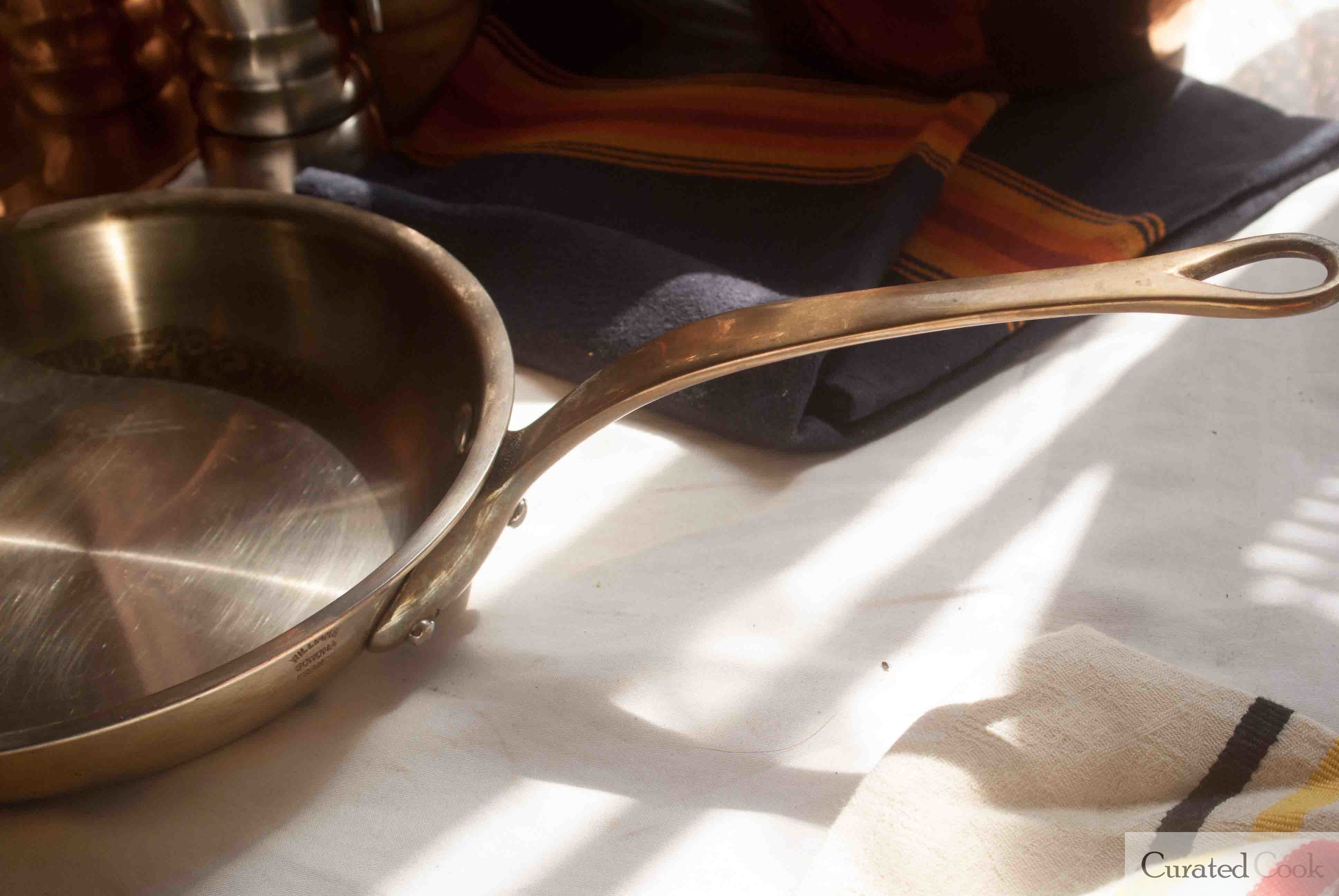 Something else that I notice is that the newer version of Mauviel Skillet seems to only have 2 rivets. I think this was done to save money on manufacturing. Although I am sure 2 rivets is more than enough to handle what most home cook use it for, but it is still something that's gone. I have a 17 inch roaster and even that only have 2 rivets, in the past, they always had 3 rivets.
Stainless Steel Interior
Both pans uses a combination of stainless steel and copper. A lot of proponent of tin linned copper claim that tin is the original non stick pan. In my experience, I do not get much benefit from it. What I do experience is the accidental overheating of the tin. The end result is bubbles on the edge of the tin. I believe the movement toward copper and stainless steel cookware is the right choice.
Sidewall
This pan has a wide base cooking surface area with sides that rises up creating a sharp slope. The tall side walls can make it difficult to use a spatula or spoon to lift food from the side. However, the trade off is worth it for the additional cooking surface area. The taller sides also prevent food and oil from splattering everywhere.
Rolled Lip for Easy Pouring
The lip is rolled on this pan to let liquid and sauce pour easily. Something that newer Mauviel 250cc pans doesn't seem to have anymore. I am not sure why they removed this feature, but it is a critical feature in any modern pan.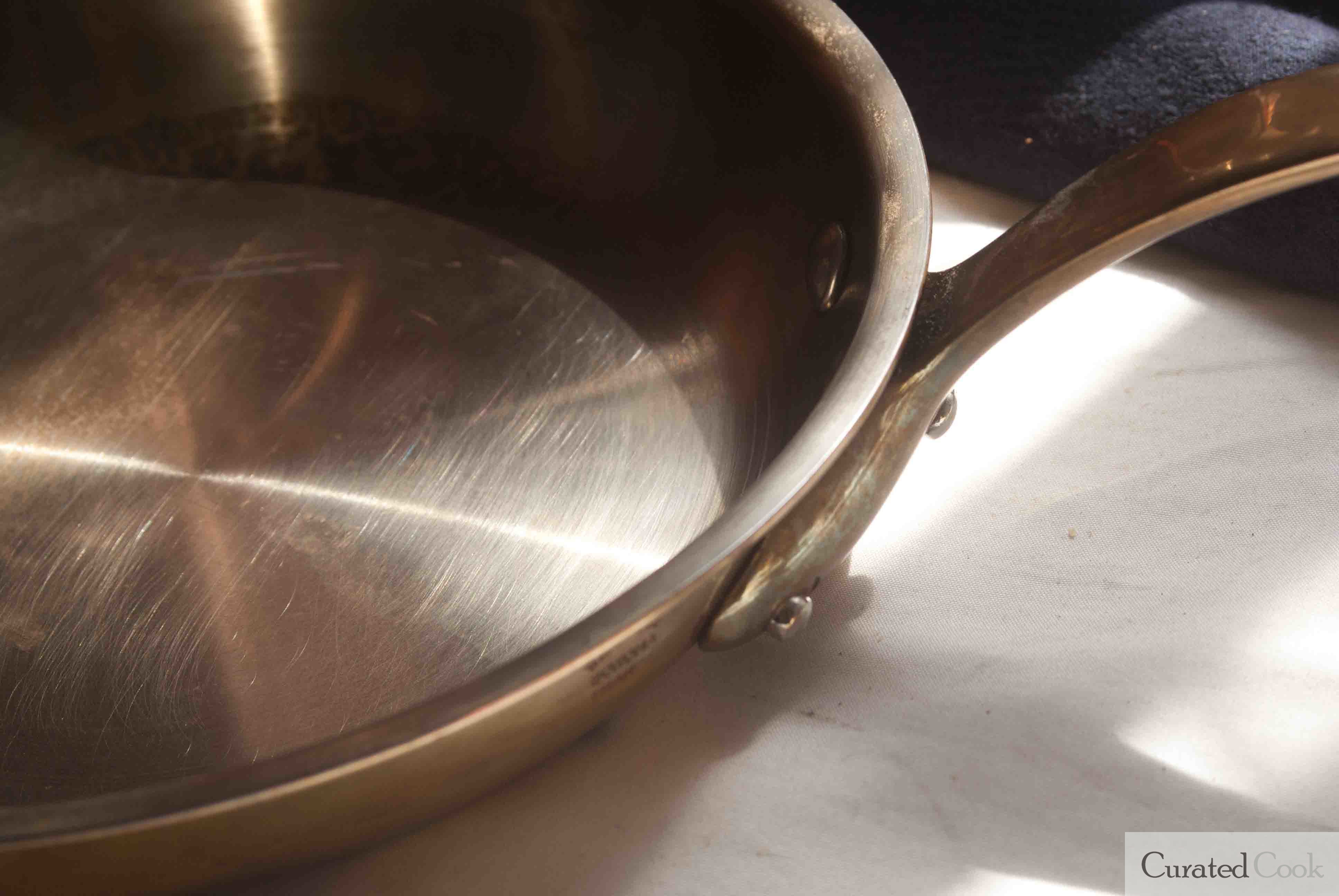 Exterior
The exterior is a polished copper that will tarnish and patina over time. Unless you constantly polish the pan, the mirror finish will dull quickly as will the brass handle. I personally like the look of the patina and keep my pans that way. There are also some claims that polished copper will reflect heat more than a copper pan that patina on it.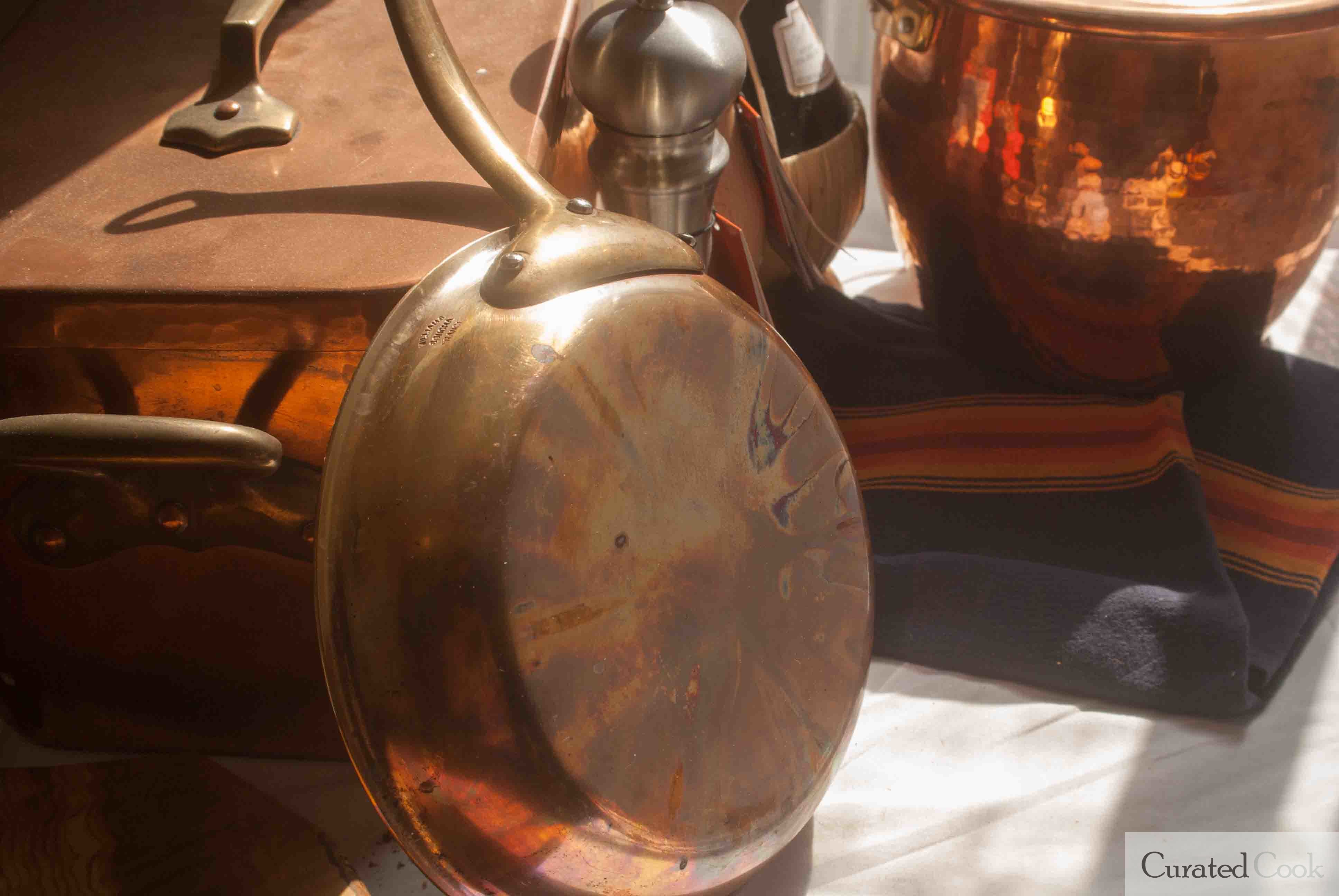 Fit and Finish
Fit and Finish is excellent like all of Mauviel's products. The William Sonoma stamp seems to be partly missing but this is always the case. The base of the handle has a nick that was done by the riveting machine. Finally the interior is a brushed stainless steel finish with a expanding circle.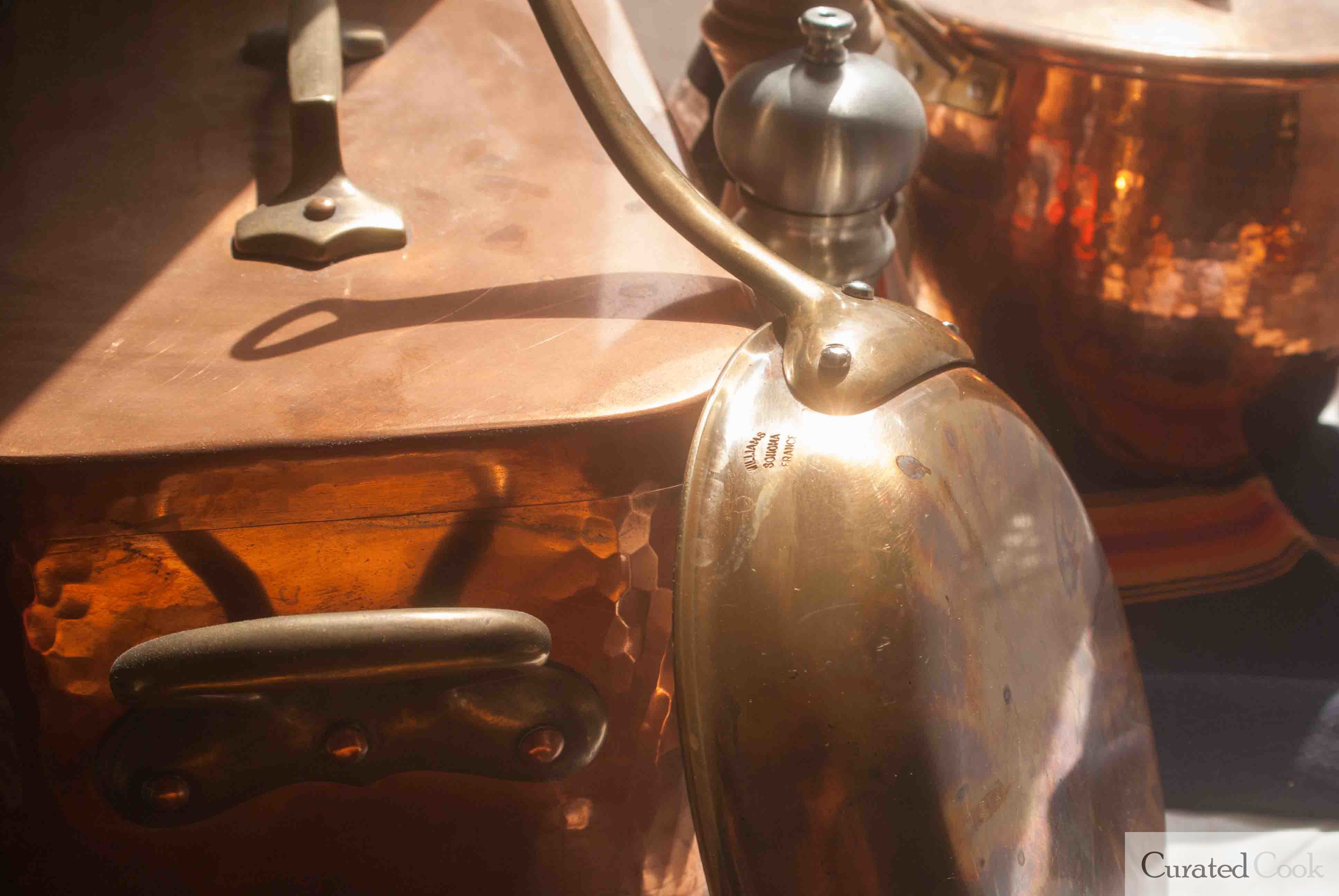 Mauviel 8 inch fry Pan Specs
Note:These measurement are done by me with the tools that I have on hand. The manufacturers have their own measurement guidelines and that should be assumed to be accurate. What I find on this review can vary widely due to several factors, such as ambient temperature, location, water, tool calibration, stove btu, etc..and should only be considered as my opinion.
Weight: 1104g
Rim Width:Around 8.5 inch
Flat Cooking Surface Width:Around 6 inch
Height: Around 1.6 inch
Sidewall Thickness:Around 1.8 mm
Mauviel 8 inch fry Pan Performance
To test the how well it distribute heat and how well it heats up, I perform a toast test where I place a piece of toast in the center than weight it down with a meat pounder. I heat up the pan for a total of 2 min then see the color of the toast.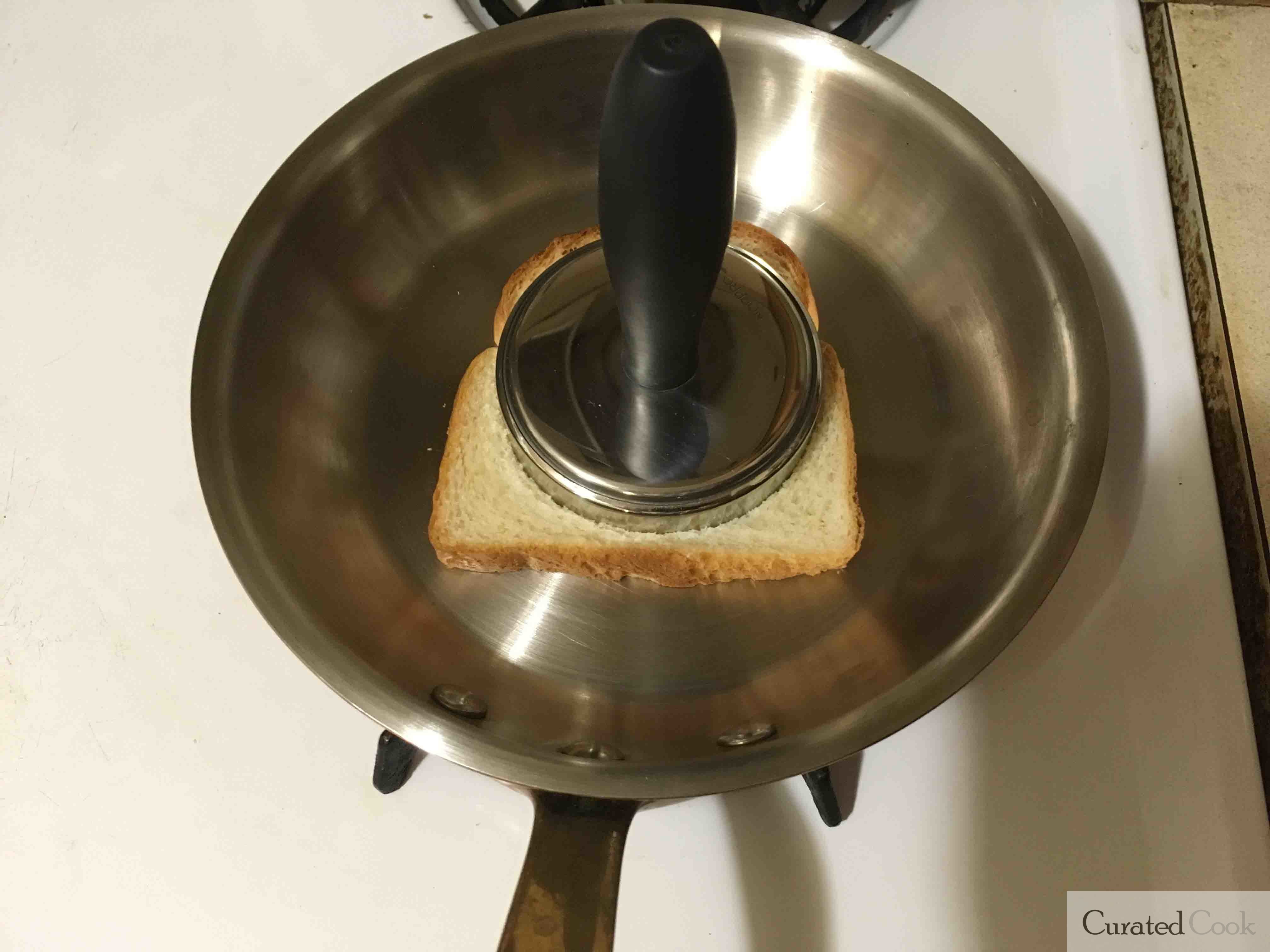 The pan perform fairly well with a slight area of uneven heat. The color is fairly dark so that means the pan can heat up quickly. If you compare it with the All Clad's Non stick Skillet, this pan weights 200g more but browns faster. The heat distribution of Mauviel 8 inch copper skillet is also more uniform than All Clads.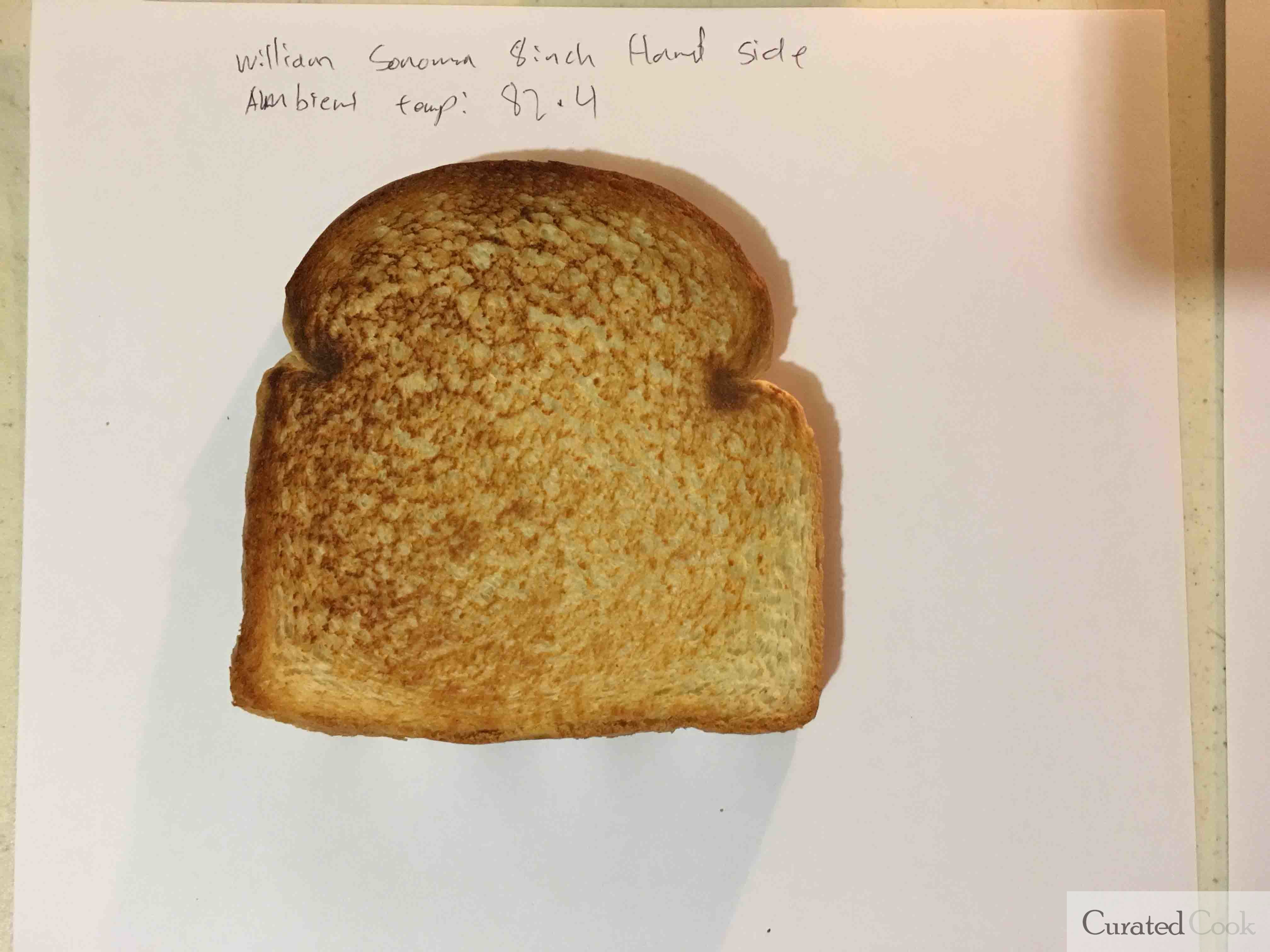 Mauviel 8 inch fry Pan Thoughts
This Mauviel 8 Inch Copper Skillet is a top performer in my kitchen. I wish i had the lid so that I can steam vegetables and eggs when I need it. The heat distribution is pretty good as you can see on the toast test but I feel that a thicker copper base will result in a more even heat. This will also increase its thermal mass so that it wont lose as much heat when you add food. I personally believe that a thicker copper base of at least 2.5mm will make this pan a winner.
For those who want to purchase the newer 250 CC model, you can find it at the link below.
I hope you like this Mauviel 8 inch copper skillet Review, If you would like to see more, please visit our Pots and Pans Review page.