Making purchases at Amazon.com and other website funds this website by generating revenue. Any help is appreciated and supports both me and content like this.
Dansk 2qt Kobenstyle Review
Dansk produces one of the most unique looking cookware in the cookware industry. The bottom has flared sides which tapers upward with a sharp angle and their handles usually protrude outward like a spiderweb. These odd shape interestingly enough produces one of the most beautiful cookware in its class. But is all this quirky features actually functional? Our Dansk 2qt Kobenstyle Review will be looking at how it actually performs and take a closer look at its design, is it worth it? Hopefully, after this review, you can supplement the information here with amazons own user reviews
to help guide you in your purchase.
Dansk 2qt Kobenstyle Quick Summary
| Categories | Dansk 2qt Kobenstyle White |
| --- | --- |
| Performance | Acceptable |
| Compatibility | Gas, Electric, Halogen, Glass Top |
| Colors | Wide Range of Colors |
| Warranty | Unclear, closest that I saw was a 120 day replacement plan. |
| Brand Awareness | America |
| Country of Manufacturer | Unclear, probably China |
| Thoughts | A beautifully artsy cookware. However, it seriously lacks durability. The handle design and enamel leads me to question how long it last. It is great for home decoration though. |
| Reviewed Cookware | Dansk Sauce Pot |
Design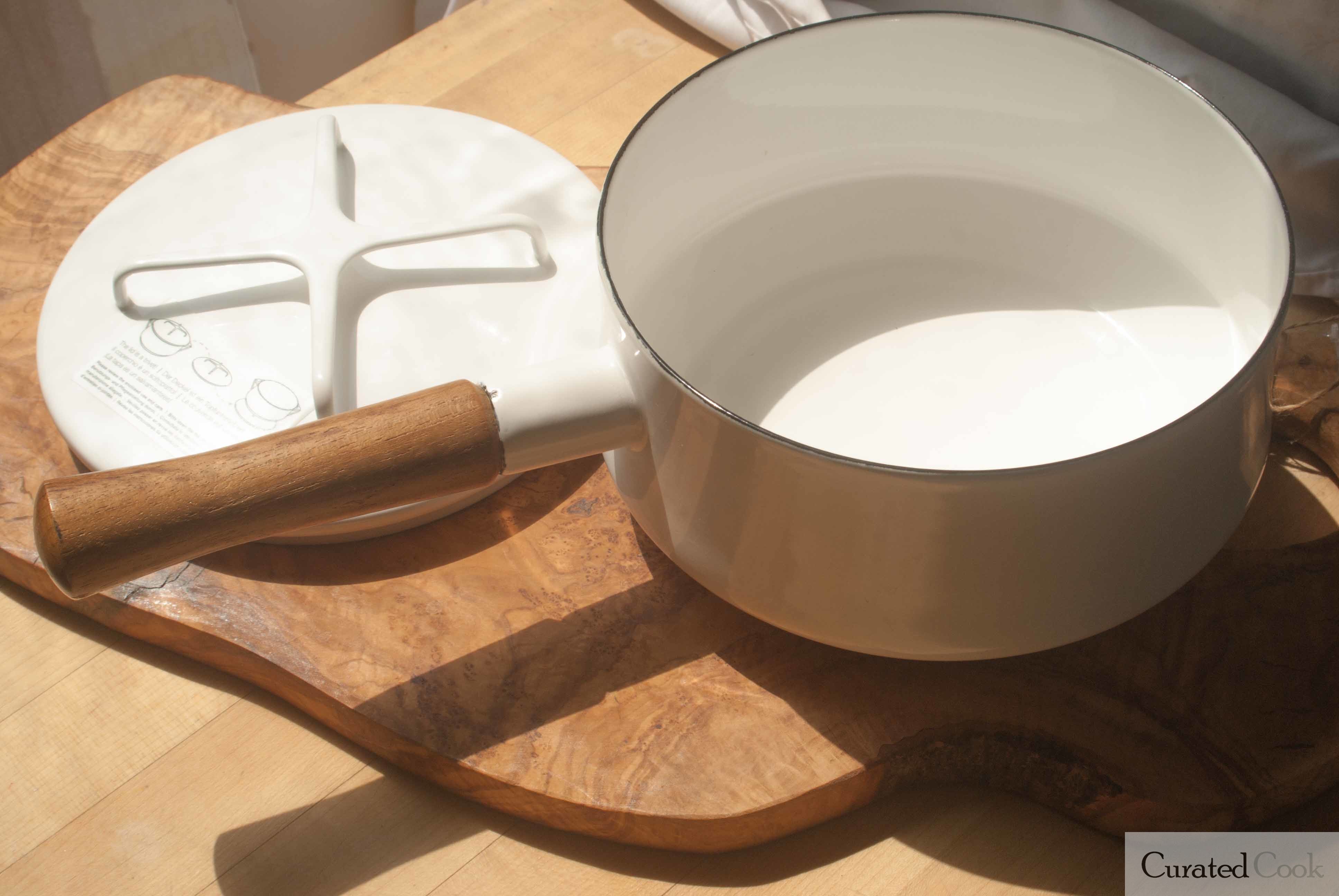 Dansk 2qt Kobenstyle Shape
We will first look at the shape of the pot. This particular pot has base a 6 inch diameter then it angles sharply to a 8 inch width then tapers to a 7 inch rim diameter. The small base means that you will only have a 6 inch space of cooking area to brown meat and vegetables. The flared side seems to be a mostly decorative design. When you stir a ladle or wooden spoon inside it, you would not be able to get into the sharp corner. If you have a silicone spatula you are able to scrap into the corners of that area, but then again imagine scrapping a straight sided pot.
Dansk Kobenstyle Enamel Coating
The pot is covered in an enamel coating which gives it a very vibrant and beautiful color. In general, I love the simple and solid colors of their pots. The enamel durability does leave something to be desired though. The one I am reviewing has never been used and its already showing some chipping in the paint. The top of the rim has is also coated in a black enamel, making it look like its exposed metal when its not, a nice touch. The bottom of the pot is painted black which I assume is to better transfer heat(because black absorbs heat better).

Dansk Kobenstyle Teak Handle
The wooden handle provides a beautiful contrast with the white enamel. The way it is attached to the pot is via a screw…I question whether something like that would be very durable in the long run. If the wood should somehow rot, over time it would become loose and fall off. Certainly something you do not want happening when carrying boiling liquid. I prefer a mechanism similar to what Le Creuset has in their wooden handle. (A hook that is tightened via the loop at the end) If the handle should ever become loose, I recommend that you unscrew it to check the condition of it.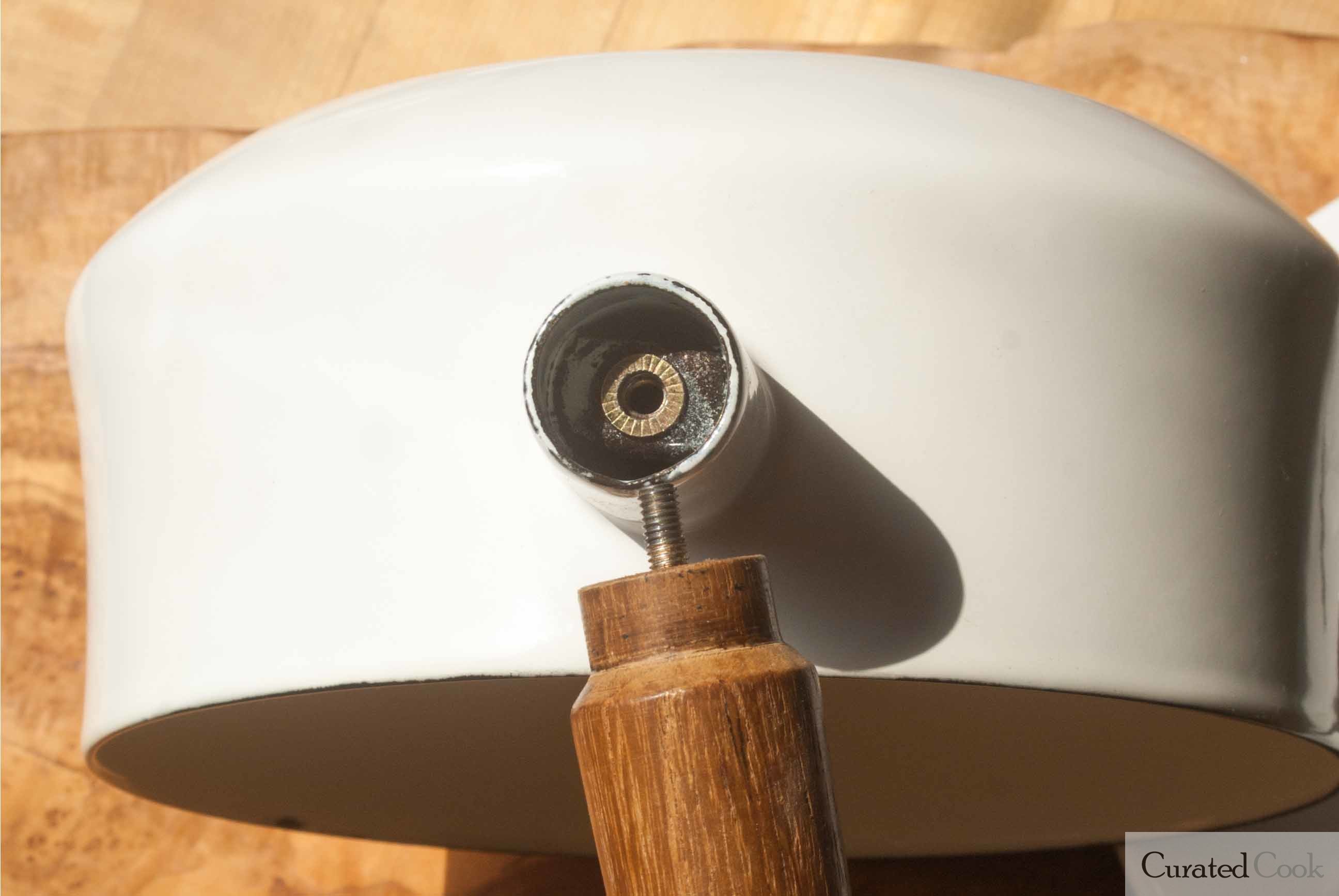 The rim itself has no pouring lip. When you pour, you need to do it in one fast motion, otherwise the liquid will run down its side.
Dansk Kobenstyle saucepan Lid
The lid handle consists of a X shape. It is also meant to double as a trivet. The first issue that I have with the handle is not so much with the X shape but rather the height of it. I have enough trouble gripping it with my bare fingers. If you have mittens on (which you would if the pot is hot) you would have a difficult time getting it on and off. Secondly the trivet is not very functional. It is very easy for the pot to fall off of it, spilling the content all over the table. I recommend a towel over it or better yet, just put a towel on the table. That will provide the most stability.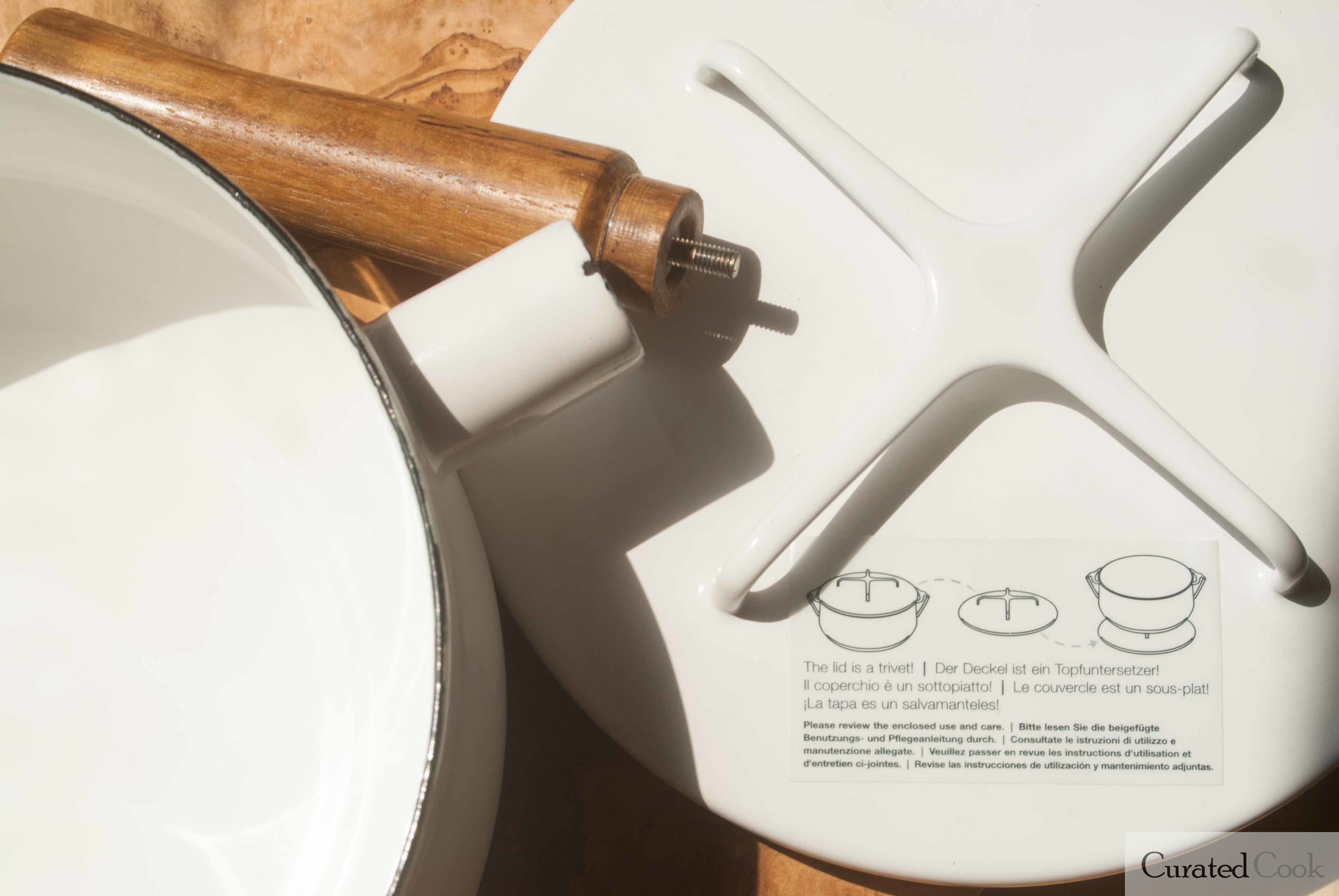 Fit and Finish
The paint job on this pot is in general very good, there is a pretty good reflection on some of the paint. The lid follows the same theme but when you look underneath it, you see a lot of orange peel and it does not follow the same luster as the exterior. The painted rim on the top could be more uniform though. There has also been a lot of complaints on amazon about the paint chipping while in use. I however suspect that some of those pots has been used passed its recommended temperature.
Dansk 2qt Kobenstyle Performance
Water was brought to a boil/max temperature then the rate of temperature drop was timed in a minute interval each.
Location: Los Angeles
Water: Los Angeles Tap Water
Ambient Temperature:80.1
Water Temperature:87.9
Time to Boil:6:46
Temp of water added:85.7 Temperature Drop:171.1
Temp Drop interval per min 1 Min:205 ,2 Min:199.2 ,3 Min:192.4 ,4 Min:187 ,5 Min:182.1 ,6 Min:177.8 ,6 Min:173.5 ,7 Min:173.5 ,8 Min:169.7 ,9 Min:166.1,10 Min: 162.9
Time for 50 degree drop: 10:12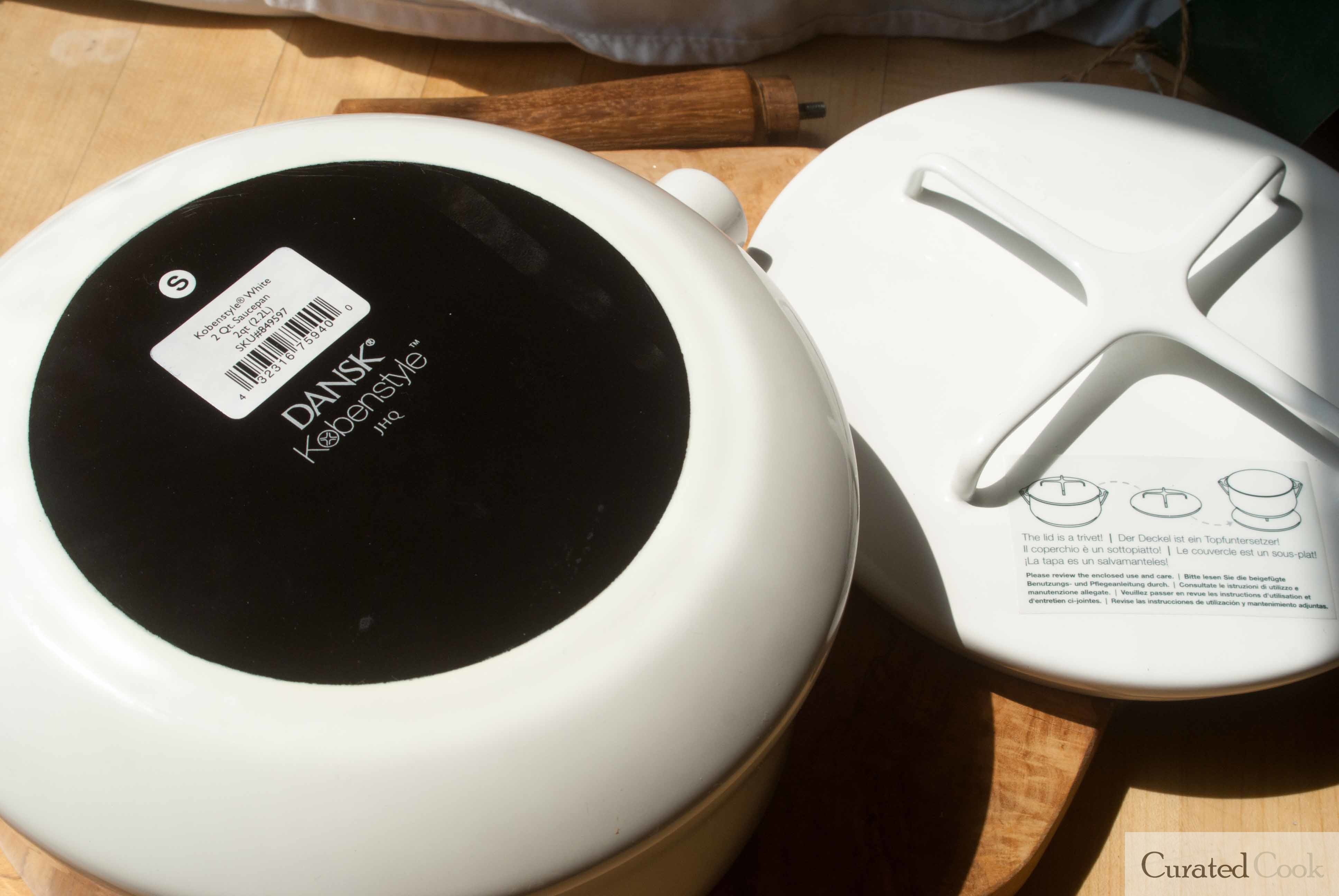 Conclusion
In my opinion, the pot can be a little bit more well made. Some of its design is purely for aesthetics. It held onto the temperature pretty well with an average of about 5 degree drop per minute but that might be due to the mass of the pot. I personally wouldn't buy anymore of these pots unless I would want it for a specific purpose like photography or using it as a centerpiece.
The screw on the wooden handle also makes me question the durability of it. If you are looking for a good looking pan with a wooden handle, you might want to look into le creuset wooden handle line instead. For my review on Le Creuset's cast iron cookware, click here.
I hope you like this Dansk 2qt Kobenstyle Review, if you have any questions or comments, please feel free to let me know. For more reviews, on pots and pans click here.