Making purchases at Amazon.com and other website funds this website by generating revenue. Any help is appreciated and supports both me and content like this.
Cousances Dutch Oven 26 Review
Cousances was a French Cast Iron Manufacturer whose history started in 1553. They were one of the oldest cast iron manufacturer in the world until they were bought by Le Creuset in 1957. Prior to being acquired, Cousances Dutch Oven was one the best Enamel Cast Iron Dutch oven you can buy. Le Creuset, being in their infant years, competed with them. However, because Le Creuset offered a much wider range of colored, they eventually lost market share. Today, Le Creuset makes their cookware in Cousances original foundry/factory. They are only released in limited quantities. You will only them in their outlet or online store. This article will take a closer look at how Cousances was designed. We will see what changes Le Creuset has made and the difference between them.
Cousances Dutch Oven Quick Summary
| Categories | Cousances Dutch Oven |
| --- | --- |
| Performance | Good |
| Colors | Wide Range |
| Brand Awareness | Europe and North America |
| Country of Manufacturer | France |
| Warranty | Unclear, Modern Version should be Lifetime |
| Thoughts | One of the original Enamel Cast Iron Dutch Oven. While their handle is not as comfortable as a modern day Le Creuset Dutch Oven, it is still very unique. In terms of performance, they should do just as well as a modern one. |
| Reviewed Cookware | Cousance 26 cm Dutch Oven |
Cousances Dutch Oven Design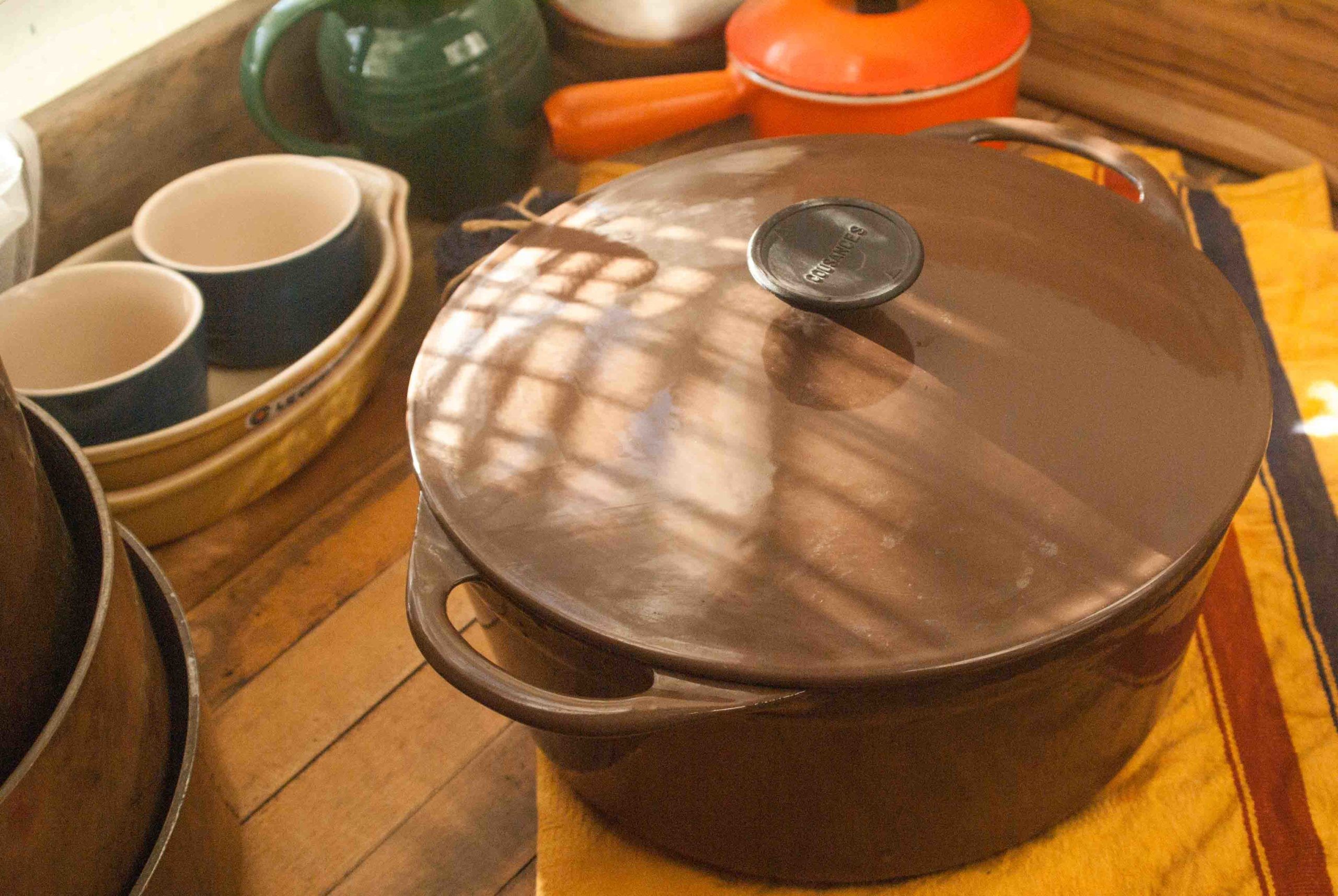 Cousances Rounded Handle
What makes cousances so unique is their round handle. Cousances has a half moon handle that flows with the pot design. However, these handles are narrow and sharp. While it wont cause too much discomfort, its narrow opening makes it difficult to carry. This is made worse when you have a glove on.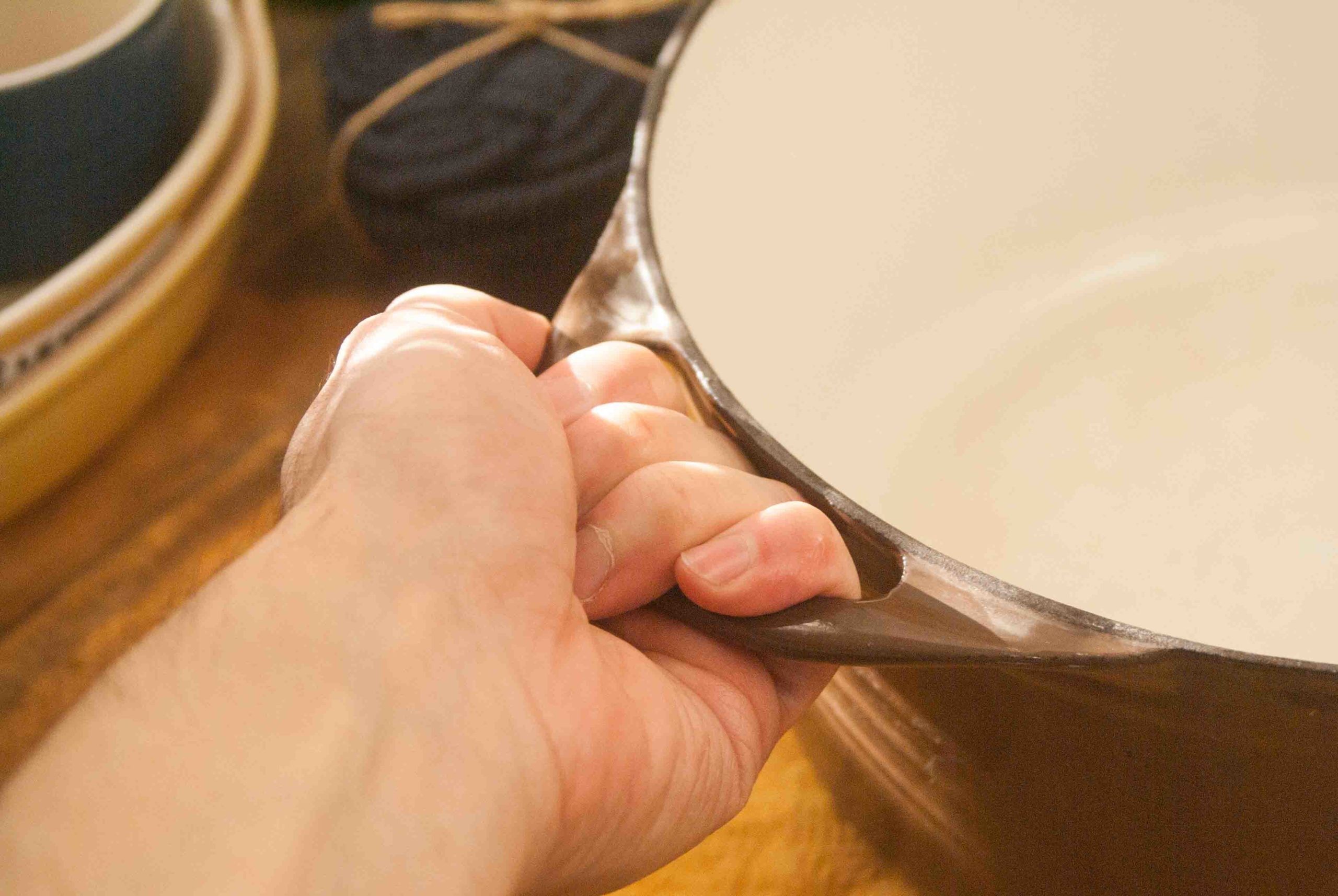 Looking at the handle, it is very similar to Le Creuset Doufeu Dutch Oven Design. Both of them has the same sort of curved handle. What is even more interesting is that if you search for Cousances, you can find their own version of the Doufeu. The only differences I see are the markings on the lid.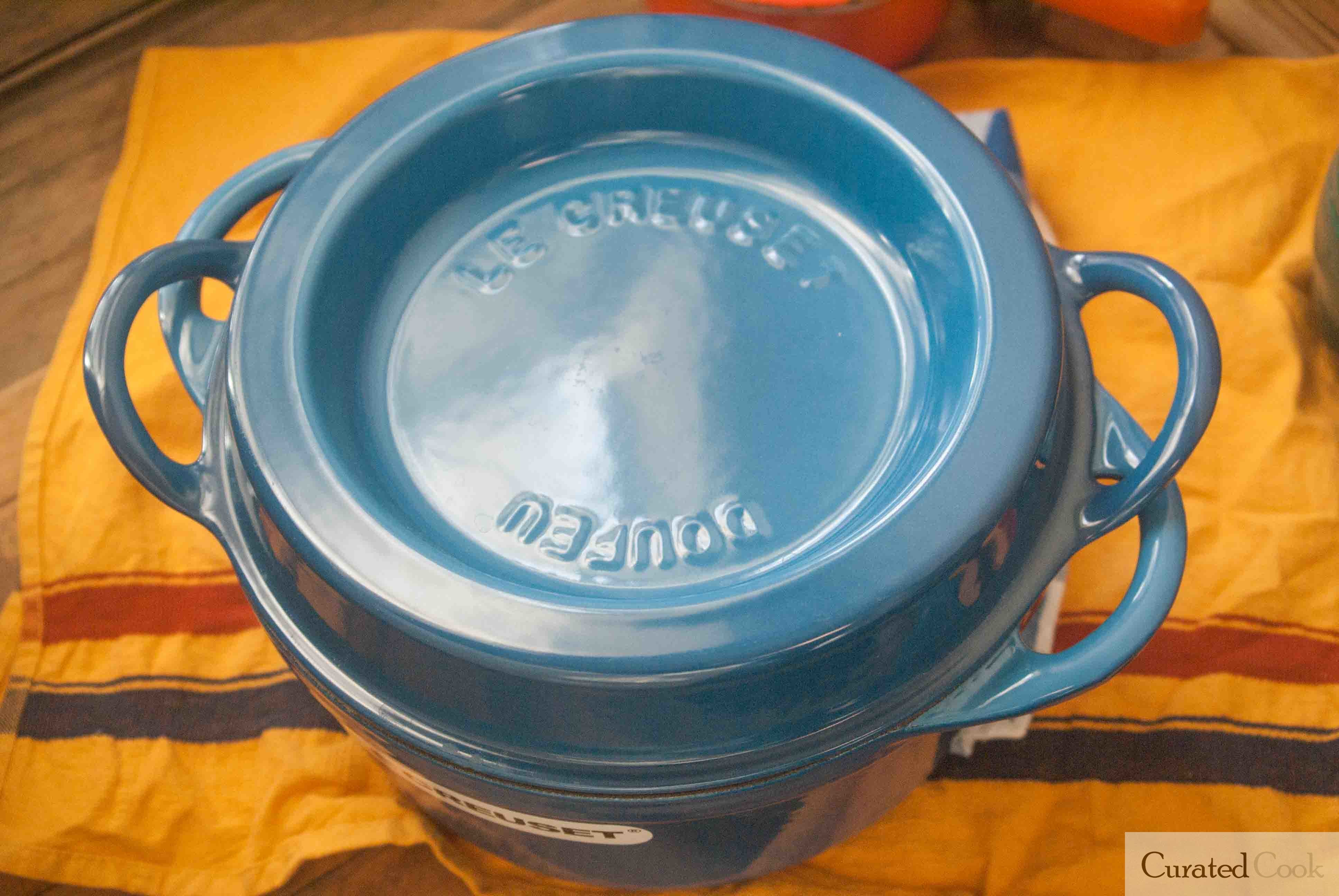 I am not too verse on the history of Cousances so I cannot tell who copied who. Since Le Creuset owns all of Cousances design, it wouldn't surprise me if Le Creuset just adopted it as their own design. Either way, they are almost identical. However, I did find an article from the new york times in 1972. The Article stated that it was a new pot. It was a very heavy "self-basting oven". At the time of its release, it had a price of 29.95.

Cousances Dutch Oven Lid
The design of the lid is a little different from Le Creuset Lid. On the Le Creuset model, you will see circular lines across the top with their logo usually engraved on it. Cousances lid has no marking at all. It is a smooth seamless design. This makes for a more minimalist design.
The knob is also very interesting. While the base of it is all metal, the cap is plastic and says cousances. I did not remove it in fear of it breaking. This will get hot with use so I would use a towel when holding it. If anything, I would just remove it all together and just use an all metal one. This should give it a higher oven safe temperature as well. With the plastic on there, I would not put it above 375 degree fahrenheit. That is the official oven safe temperature for the classic plastic handle.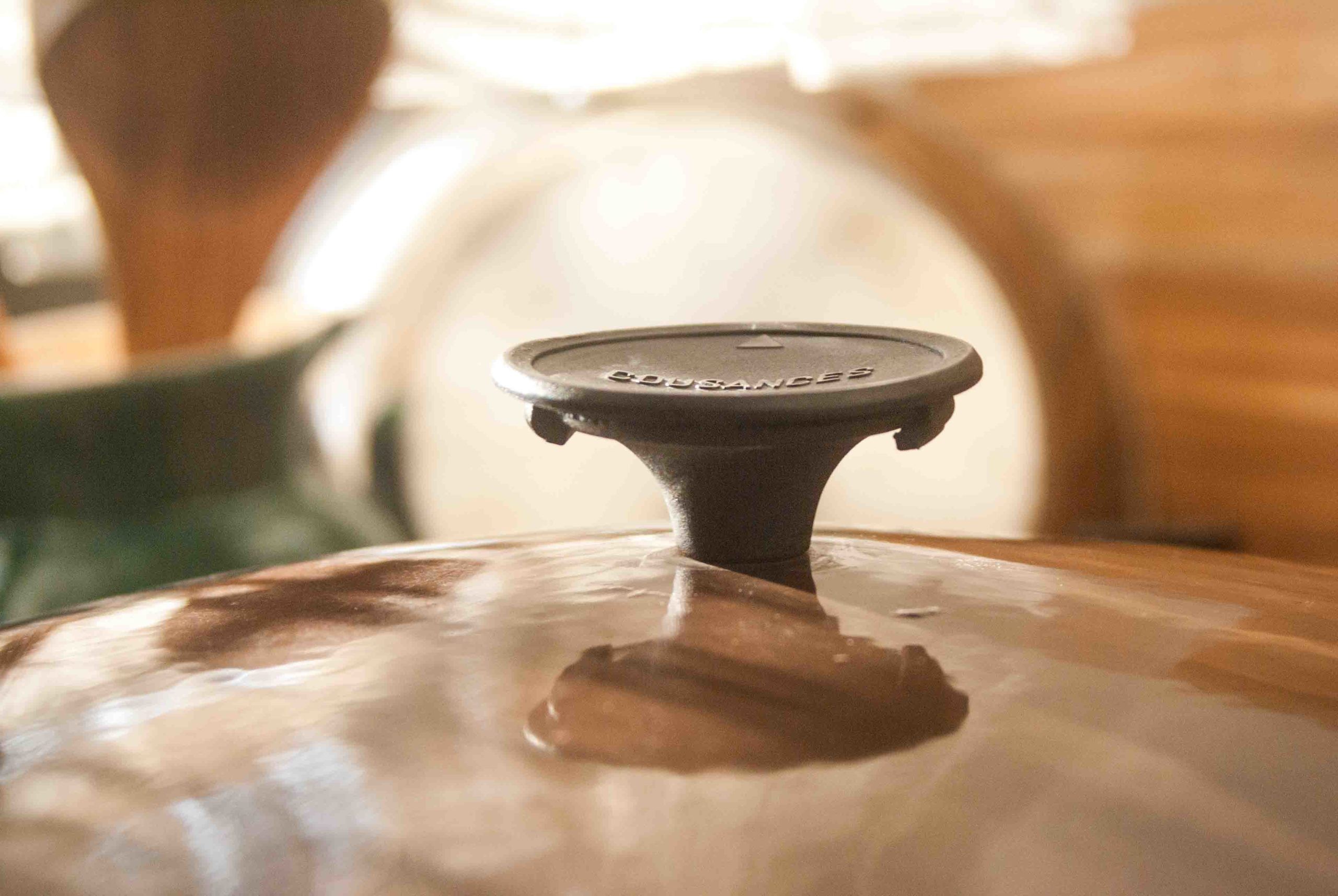 Enamel Coating
The enamel coating is very similar to how vintage Le Creuset model were designed. The bottom is bare cast iron, while the side is enamel coated. Newer Le Creuset Dutch have the bottom coated in Enamel. The interior is a cream color, this lets you judge the condition of the fond much easier. The issue with a cream interior is that they will develop cracks and mark. It will start to turn black with use. There is a considerable amount of orange peel on the paint. Although, I cant really tell if its due to the cast iron or is it due to the paint job. Either way, it looks poorly done.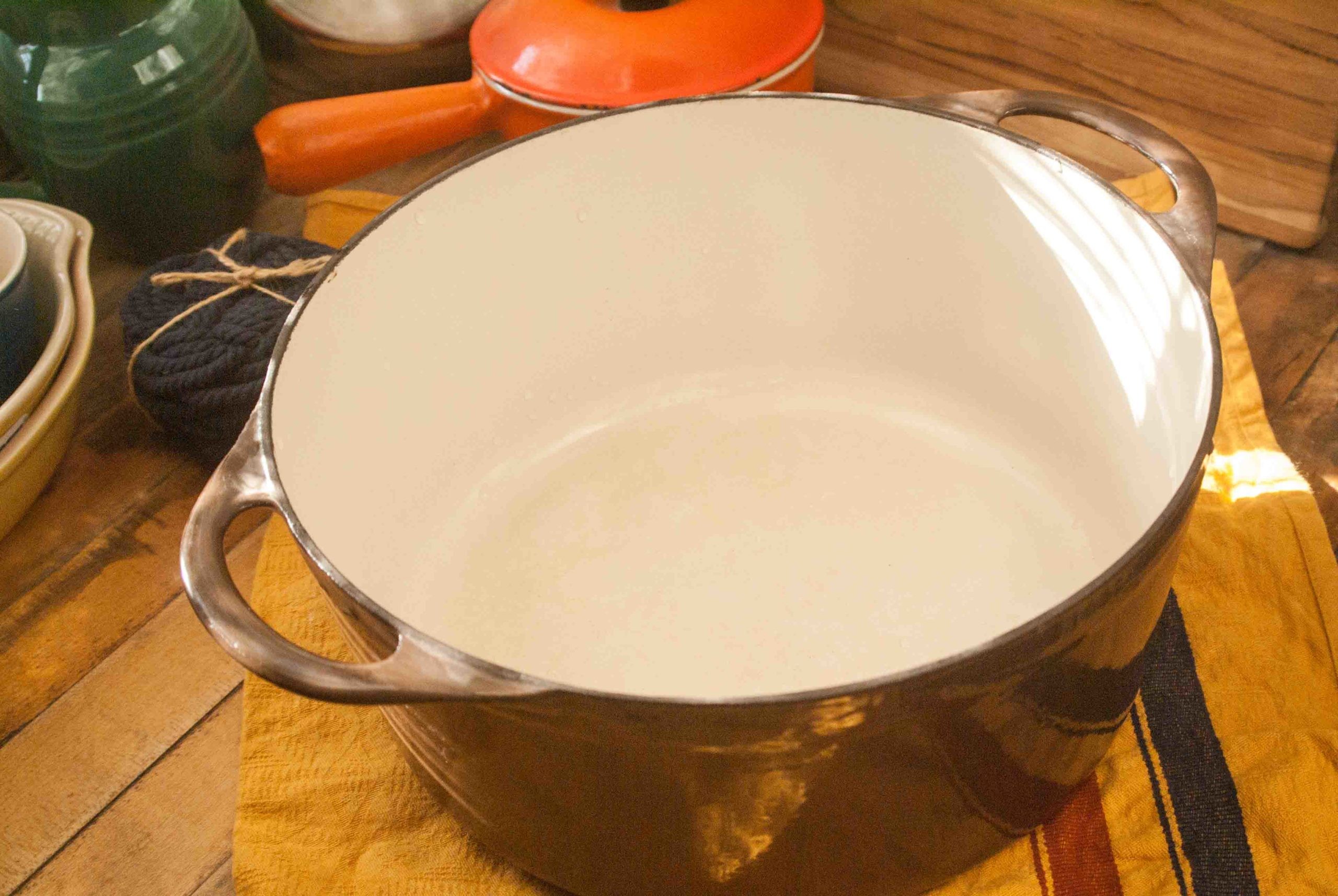 The lip on these dutch oven are not coated in enamel. The reason why this is done is to prevent the lid from fusing with the pot at higher temperature. There are often arguments about it being matte enamel, this is not true at all.
Cousances Dutch Oven Colors
Although the variety of colors on the Couscanes Dutch Oven is not as extensive as Le Creuset, you can still find some very desirable colors. The one that I have is a beautiful brown. But I have also seen blue, red and orange. This limited color range is one of the reason why they were eventually bought out by Le Creuset. They did not have the variety that consumer wanted.
Chipping and Cracking
The Couscanes Dutch Oven I have is over 30 year old and I do not see any sign of chipping or cracking on the Enamel. You can be assure of its durability. As opposed to my Tranmoniata pot that chipped after one of two month of owning it.
Cousances Marking
The marking or numbers on their cookware will typically denote their size. For example, the 26 on this dutch oven will mean it has a diameter of 26 cm. This is quite common among European cookware manufacturer.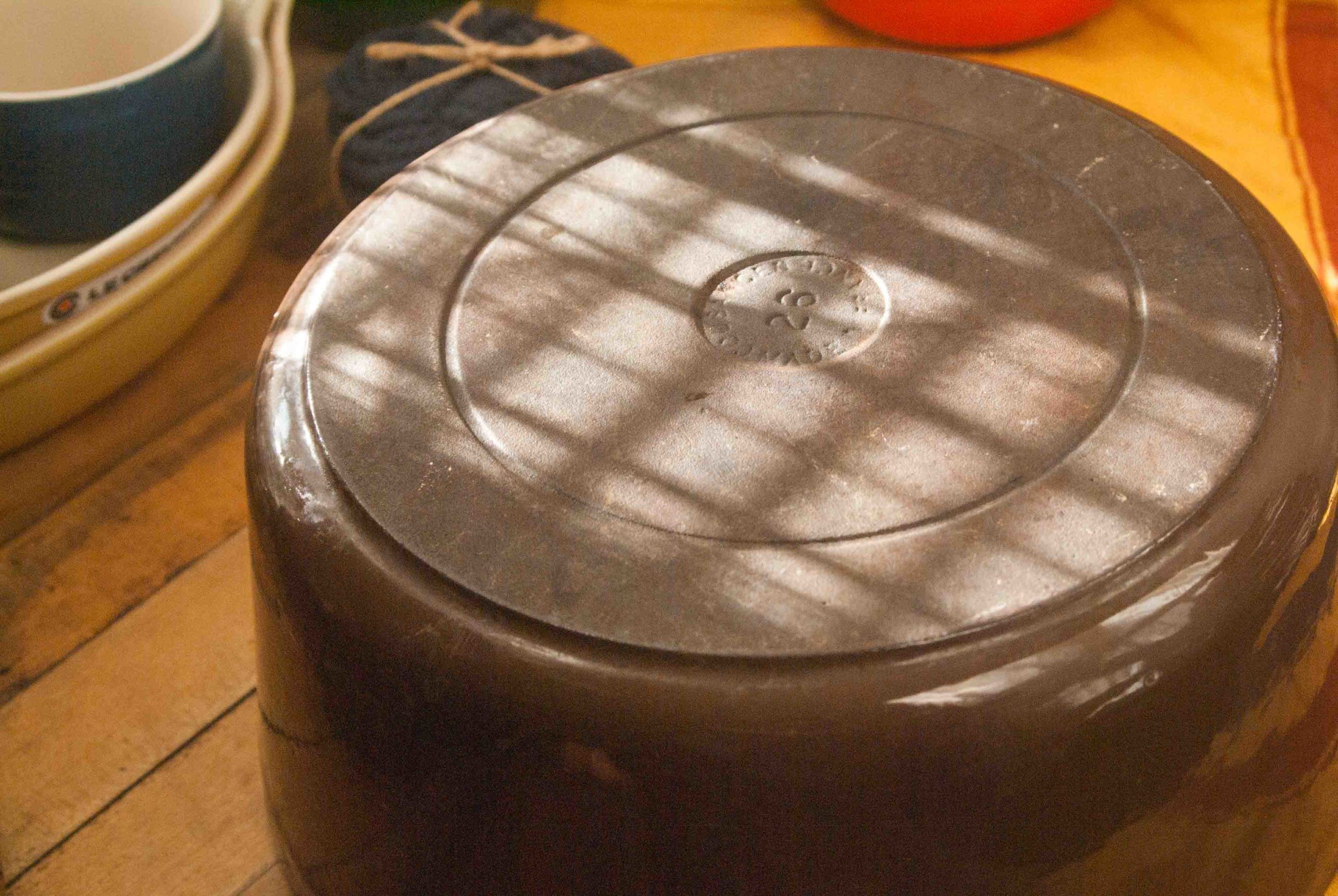 Fit and Finish
The fit and finish is good for a Enamel Dutch oven. Other than the orange peel, everything else is fine. The newer Le Creuset model is slightly better but still pretty bad.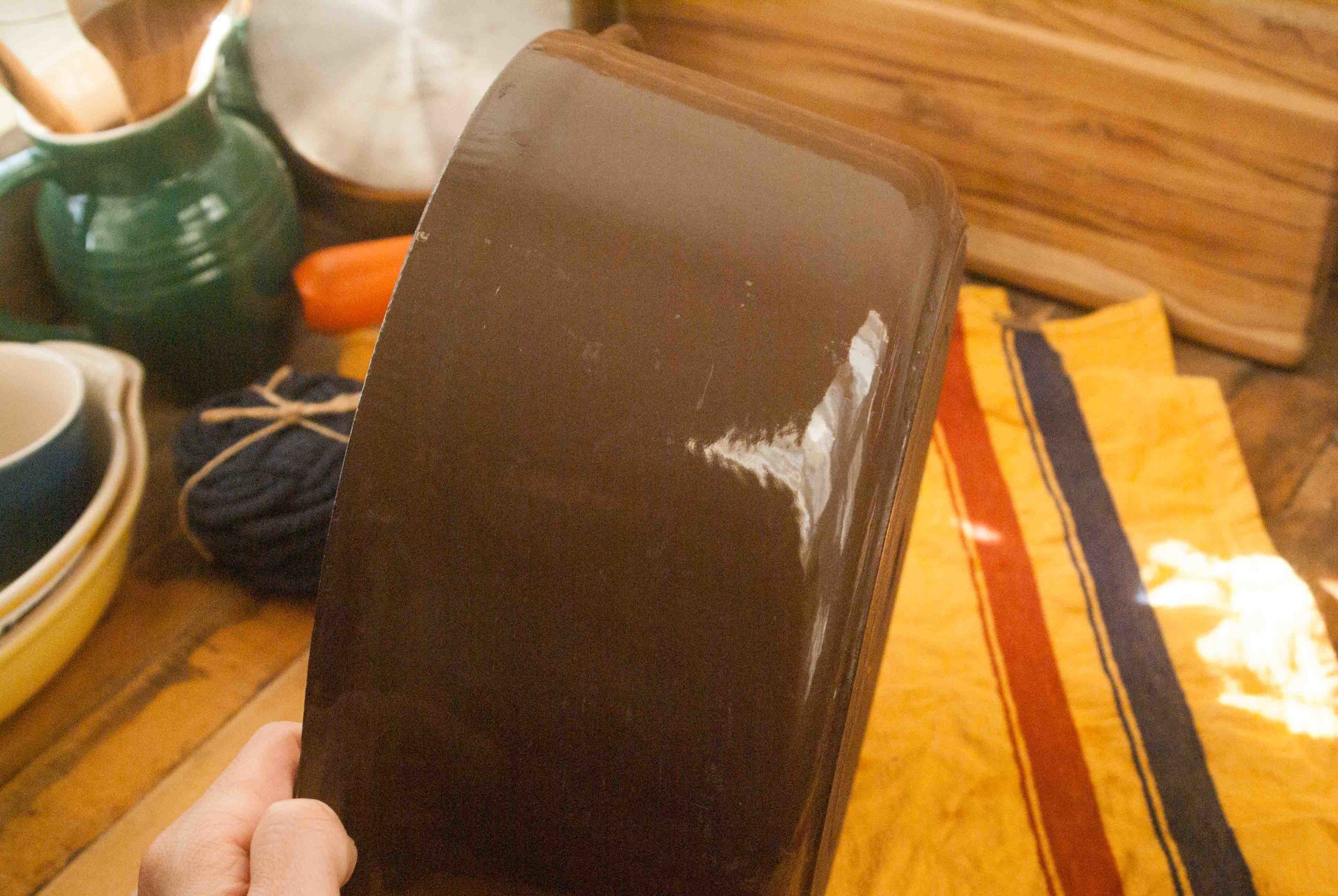 Specs
Note:These measurement are done by me with the tools that I have on hand. The manufacturers have their own measurement guidelines and that should be assumed to be accurate. What I find on this review can vary widely due to several factors, such as ambient temperature, location, water, tool calibration, stove btu, etc..and should only be considered as my opinion.
Weight 3800 g
Height: Around 4.75 inch
Diameter: Around 10.65 inch
Thickness: Around 3.45-3.50 mm
Where to Buy Cousances
Cousances products are not as common as they used to be. Le Creuset will occsainaly do special release on their products. However, the only places you can buy them are at outlets and online store. Because of this, I doubt that Le Creuset really have much incentive to market the brand. Nevertheless, you can still purchase the older pots on Ebay, they are a lot more affordable. You might be able to find them on Amazon but I doubt it.
Conclusion
It's pretty much the same thing. The fit and finish is a little better on a modern Le Creuset Dutch Oven. I also like how Le Creuset dutch oven handle is wide and it can accommodate my fingers. I recommend you get one that is either cheaper or in a color that you like.
As stated before, you might have some issues finding couscanes for sale online. Your best buy is at ebay and its one of the best bargain for vintage enamel Cast iron cookware. If the Couscanes name does not really matter to you, Le Creuset is more readily available and in a wider array of colors.
I hope you like this Cousances Dutch Oven Review, If you would like to see more, please visit our Pots and Pans Review page.
---
Curated Cook
---
Sign Up For Our Email List!
We will keep you up to date with the latest
Articles, Reviews and Cookware Deals.