Making purchases at Amazon.com and other website funds this website by generating revenue. Any help is appreciated and supports both me and content like this.
Descoware Belgium Oval Dutch Oven Review
Descoware Belgium cookware was a porcelain coated cast iron cookware manufacturer. The company originally operated under the name Bruxelles Ware in Oudenaarde Belgium. A man by the name of David E Sanford purchased the manufacturing right from General Houseware Corporation in 1940. He rebranded the product as Descoware. It slowly gained popularity as celebrity chef Julia Child praised Descoware for its quality and durability. However, Le Creuset used an aggressive marketing campaign to take more of the market share. They offered a much wider range of colors that consumers wanted. Eventually, descoware was bought out by Le Creuset. Today, you can find similar products in Le Creuset Heritage Stoneware line. Sometimes you can find it in Cast Iron, but those are getting more and more rare.
This review will take a closer look at how the original Descoware Oval Dutch oven was constructed. We will see whether the design and product is actually good. Hopefully, this will give you some insight on this vintage cookware!
Quick Summary
| Categories | Descoware Belgium Oval Dutch Oven |
| --- | --- |
| Performance | Good |
| Colors | Flame |
| Brand Awareness | American and Europe |
| Handle | Two Little Handle |
| Pouring Lip | Yes |
| Thoughts | A great braising and baking pot. However the handle makes it difficult to grip. This can potentially cause you to toss your food. However, if you like the design, this is the way to go. It is great for presenting and serving at the table. |
| Reviewed Cookware | Descoware Oval Dutch Oven |
Advertisement in 1956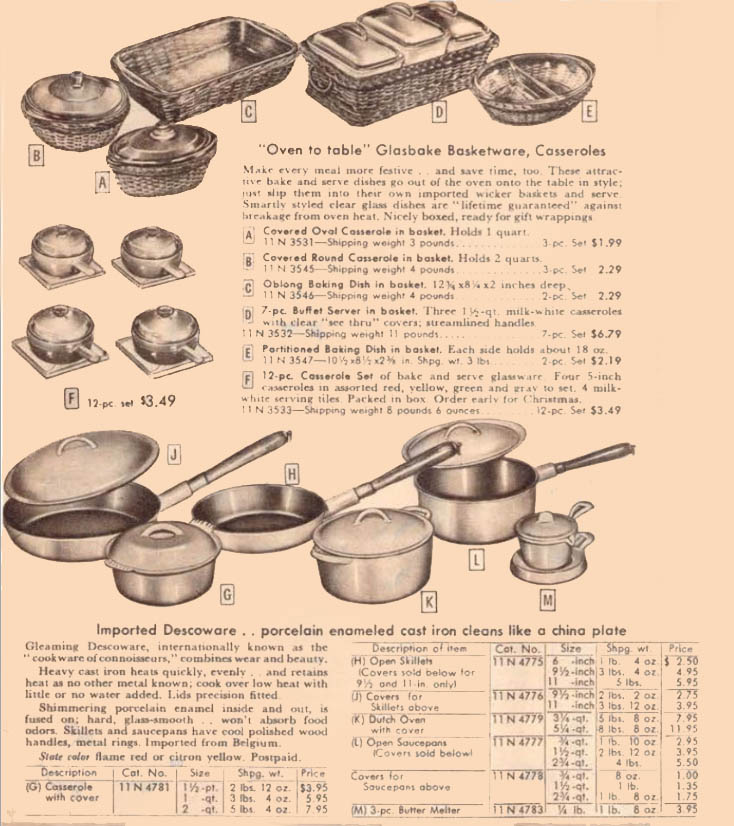 Advertisement in the 50's was very different from how it is today. Instead of posting actual pictures, they would get a sketch artist to illustrate the cookware. In the picture above, you can see a wide range of available cookware at the time.
Some of the advertised features that was its Heavy Cast Iron construction and even heat distribution. Which is a little odd considering that what descoware was known for was its light weight construction. They also made it a point to state how easy it was to clean. "Porcelain Enameled Cast Iron cleans like a China plate."
The prices are also very different from what you pay today. The 3 qt dutch oven costing 7.95 and the 5 qt model costing 11.95. Then again, you should be factoring in inflation.
Descoware Belgium Dutch Oven Le Creuset Version?
Since Le Creuset bought out the company, there are modern versions available for purchase. These modern version are known as heritage model. And they are more prominent in their bakware series. Cast iron iteration are available but they are more rare.
Below you will see a Le Creuset stamped model that looks very similar to how descoware product were.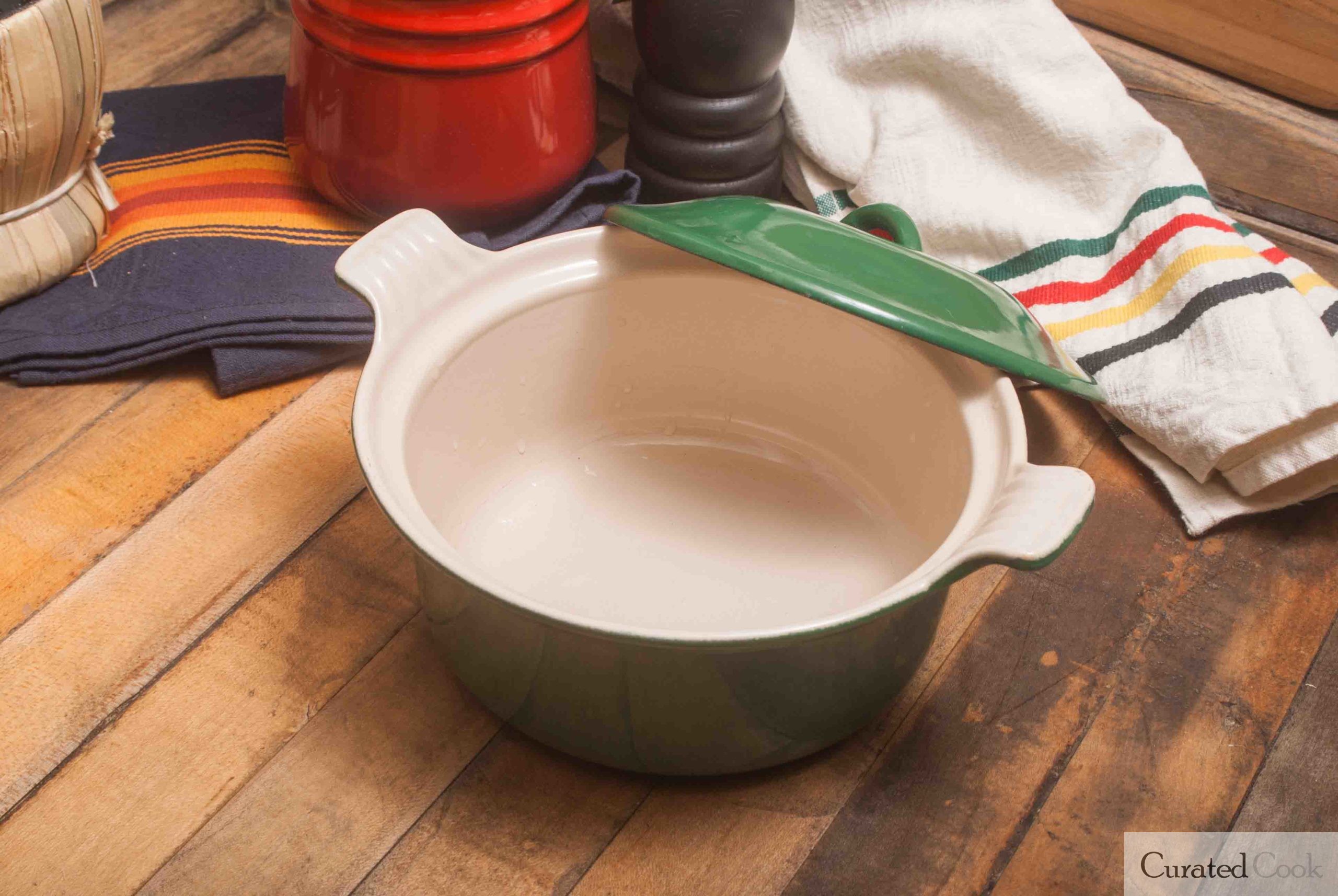 Interesting enough, they did the same thing with the Cousances brand. If you look at the modern day Le Creuset Doufeu Dutch Oven, they share almost the same design as the vintage Cousances dutch oven.
Descoware Belgium Oval Dutch Oven Design
This section will go through the construction and design of this cookware. We will go through aspect of the handle, shape and overall performance.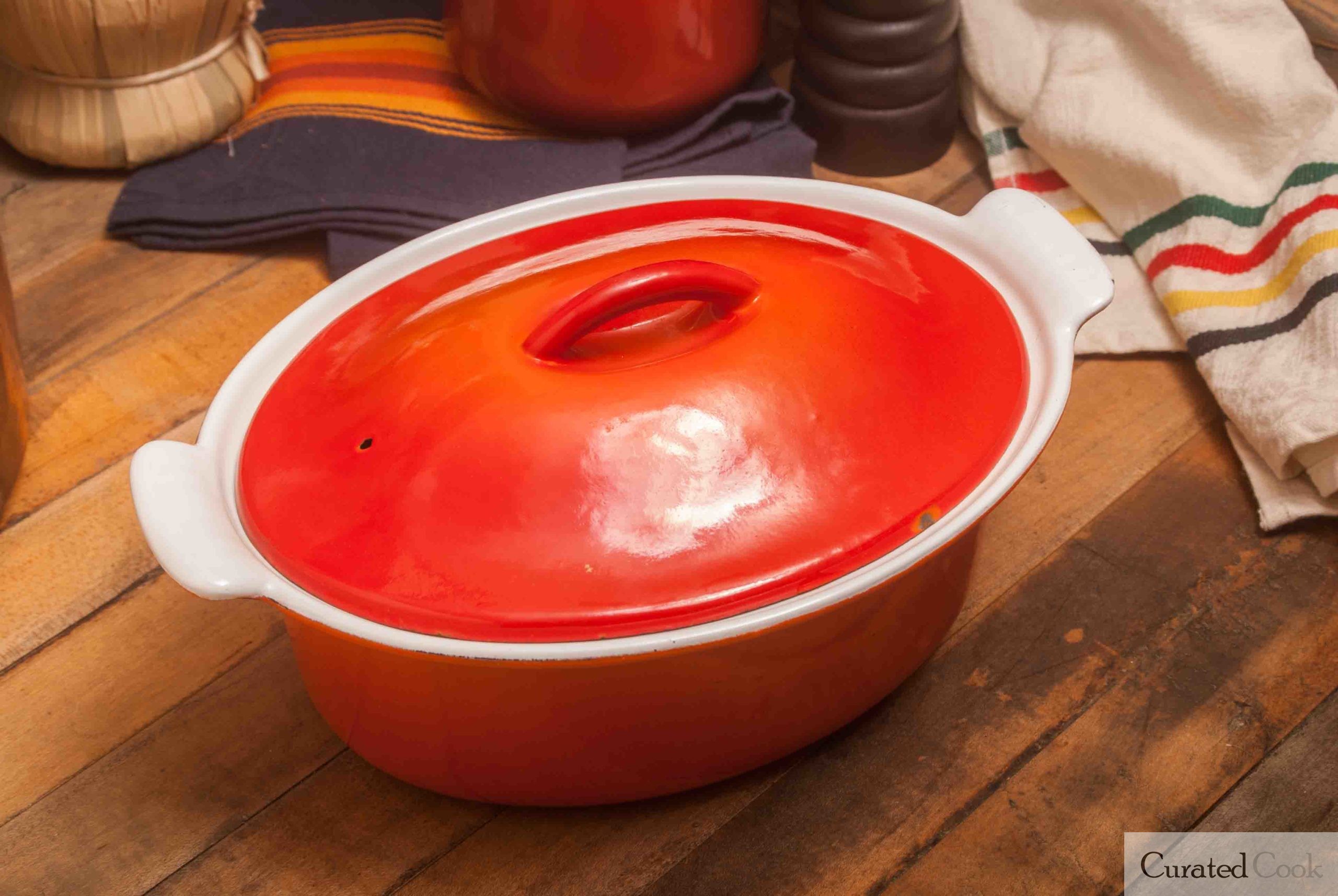 Handle
One of the most unique characteristic of Descoware Dutch oven is its unique handle. It is small and resembles little ears. In terms of design, it is very attractive. However, for usability, a lot can be improved upon.
Small handles, like those on Descoware Dutch oven are usually bad. For one reason, it is very difficult to get a good grip on it. The last thing that you want is to drop the pot. The second reason is there is no loop. Most other handles have holes where you can hook your finger in. If your hand or mits is greasy, it wont slip out. There is some texture to improve grip, but it really doesnt do much.
The one good thing about this design is the amount of space saved. Usually the handles take up too much room making it difficult to fit in tight spaces.
Shape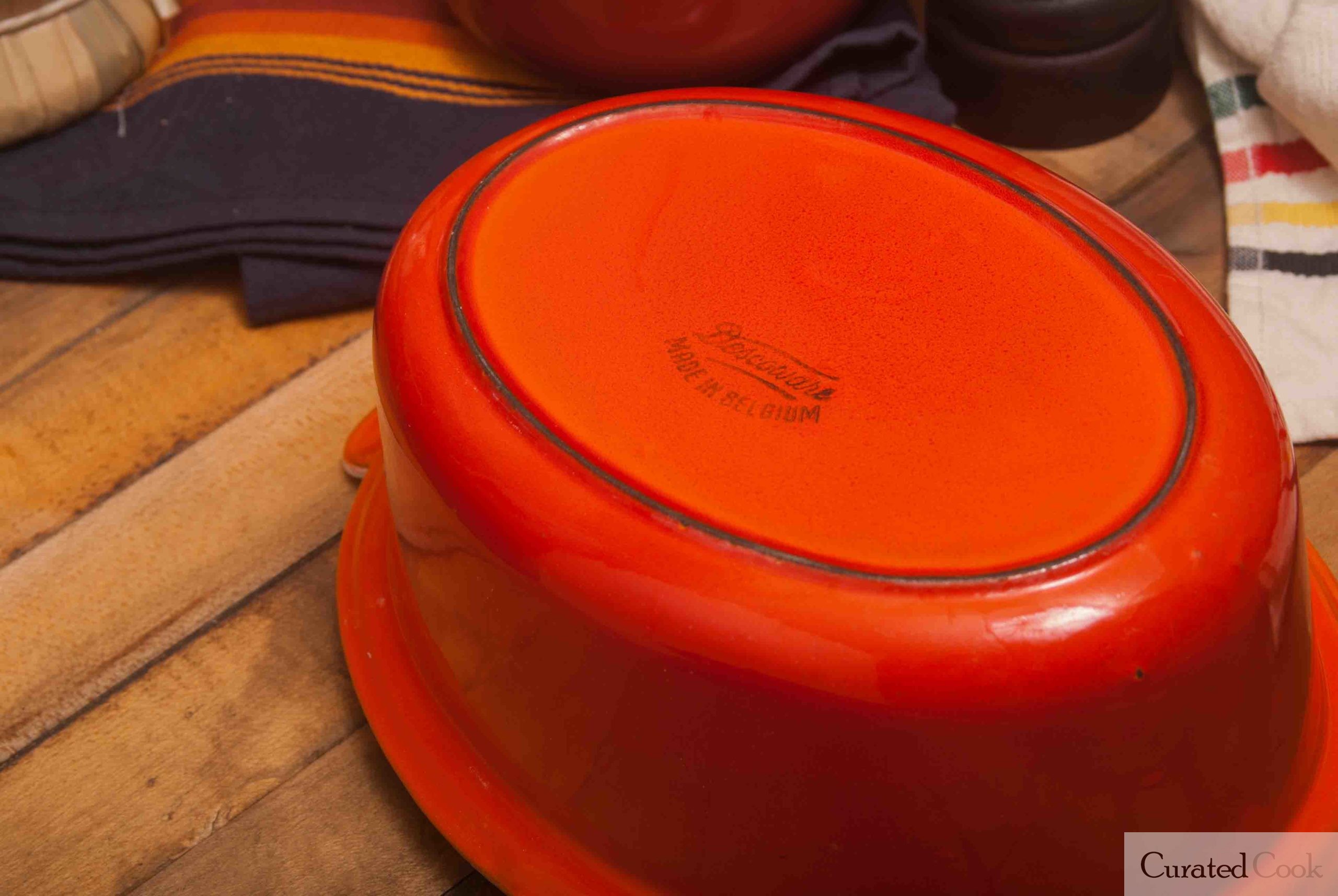 For dutch oven, there are two major shape, round and oval. Usually round dutch ovens are more useful. They can cook a wider range of things and it fits the standard stove top. Since most stove top are round and in lined with its shape, it is less prone to heating issues.
For the oval dutch oven, the sides hang outward from the burner. Given cast iron poor thermal conductivity, this will result in very uneven heating. You can get around this by heating it slowly, but really who has the time?
However, there are situation where an oval design is preferred. For example, when you are braising shanks, the bones are usually too long to fit in a round dutch oven. In this situation, the oval dutch oven is better. Space saving is also another reason to have a oval dutch oven. You should be able to fit more if you have a small oven.
Porcelain Coating and Colors
The color that descoware is most famous for is the flame orange. Coincidentaly, it is also one le creuset most well known color. The flame is a orange-red hue that has a gradient to it. The coating is made of porcelain enamel and it still holds up to this day. Although my pot does have some chipping to it.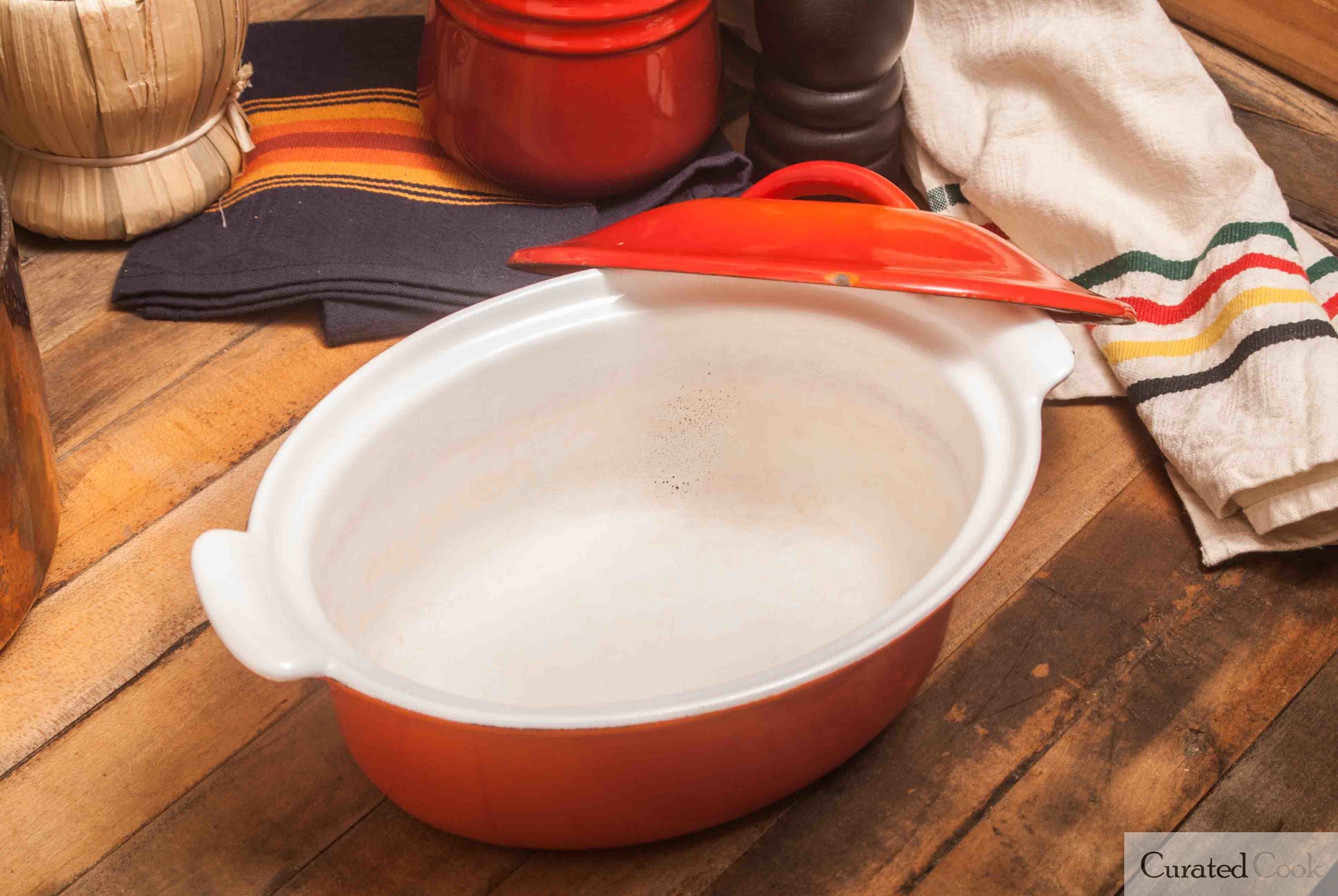 The interior is a clean white finish. This is in contrast with Le Creuset modern cream color. I personally find the cream color to match better. You see too much stains with a white finish.
Light Weight Construction
The selling point that Descoware had over its competition is how light it is. Most consumers prefer this over the heavy cast iron construction. However, in terms of performance, this is actually bad.
What most people do not know is that cast iron is poor conductor of heat. They have numerous hot spot and it takes a long time to heat up. You can get around this by having thicker gauge of metal. This will force the pot to slowly heat up and smooth out any inconsistency. Another benefits of having a thicker cast iron is heat retention. If you are serving guest food on the table, you want it to shine on the table. Thinner lighter pots means that it will get cold faster.
Overall, you do not want something that is too heavy or too light. If you have a very heavy pot, it takes forever to heat up and consumer will complain. A pot that is too light will have performance issue. You need to find a sweet spot to get the best of both worlds. If you look at today's offering, Le Creuset is actually one of the lightest cast iron cookware out there.
Lid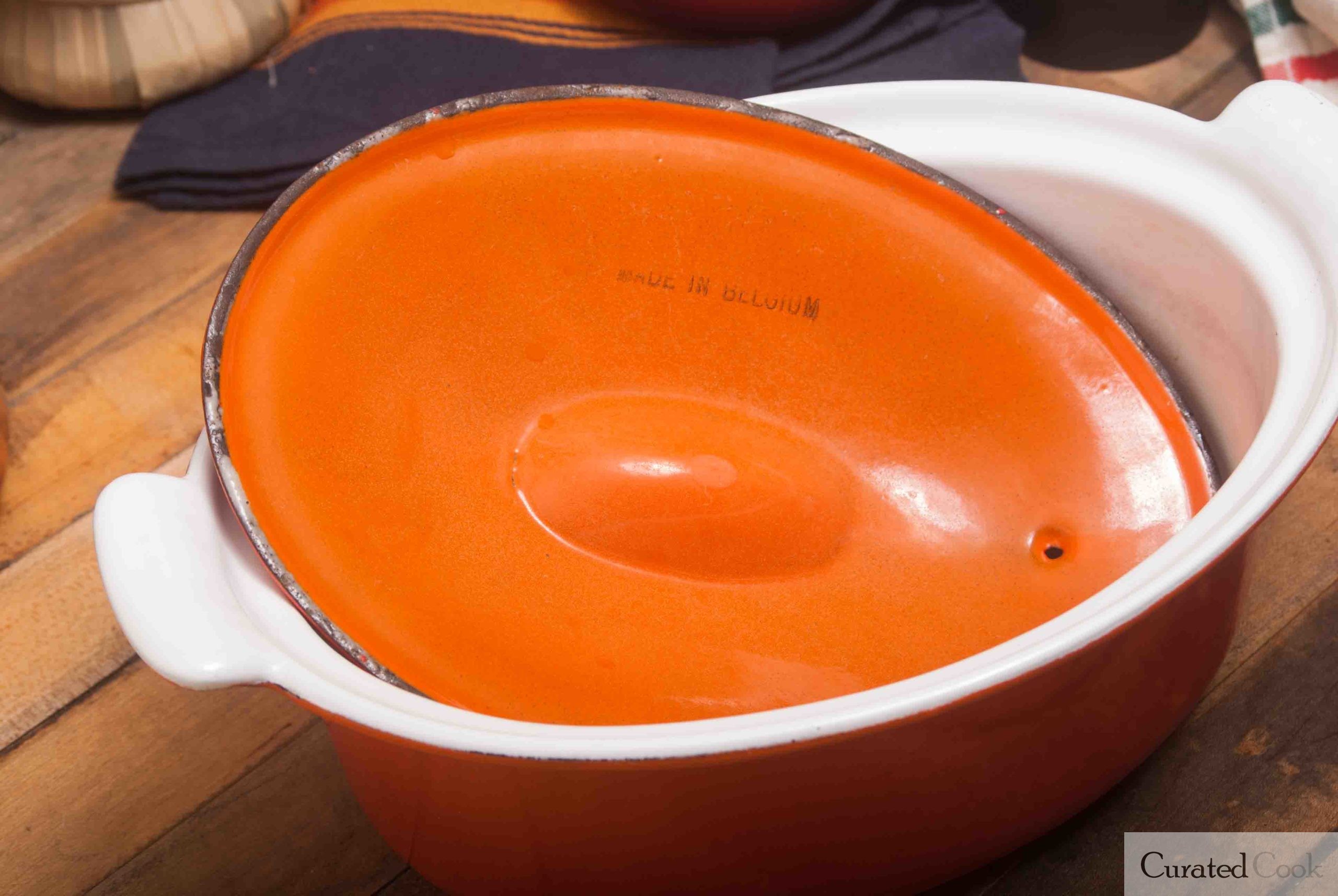 The lid is also very unique. They are one of the original one with a vent holes. This will prevent the lid from popping due to steam. Modern day Le Creuset sauce pot also have this same vent hole.
On the rim of the lid, the coating is bare cast iron. This is done to prevent it from fusing with the pot. There are a lot of arguments online whether its matte enamel or not. It's not, they left it bare for a reason.
Descoware Belgium Oval Dutch Oven Thoughts
Descoware Belgium Oval Dutch Oven is a very unique pot. You can find the vintage one of ebay or you can get the modern day version at amazon. The only issue that I see with this pot is the handle. They are simply too small and you can very easily drop it. Other than that, its gorgeous and its great for braising and baking food.
If you would like to see more articles like this Descoware Belgium Oval Dutch Oven review, please visit our Vintage page.