Making purchases at Amazon.com and other website funds this website by generating revenue. Any help is appreciated and supports both me and content like this.
Ruffoni Opus Prima Hammered Stainless Steel Pot Review
Ruffoni Opus Prima Hammered Stainless Steel Cookware is a line made by the Italian Cookware manufacturer. In my opinion, this is the best looking cookware in the industry bar none. There are many other manufacturer who makes a hammered stainless steel cookware like Mauviel and Langostina. However, the execution of those manufacturer fails in comparison with mauviel. You use to be able a good amount at Amazon, but for a wider selection, you would have to go to William Sonoma. They perfected the balance with a strong but subtle hammer finish and a sculpted leaf handle. Top that with a silver plated finial and the end result is a beautifully sculpted work of art. Ruffoni Opus Prima hammered cookware are also very functional. They have a very heat conductive aluminum core and a stainless steel exterior/interior to maintain its finish. This review will go through the different aspect of how this pot was designed. I will discuss the benefits of each and whether it is worth the high price tag it commands.
Ruffoni Opus Prima Quick Summary
| Categories | Ruffoni Opus Prima Stock Pot |
| --- | --- |
| Performance | Great |
| Compatibility | Gas, Electric, Halogen, Glass Top, Induction |
| Colors | Hammered Stainless Steel/td> |
| Warranty | lifetime warranty |
| Brand Awareness | America and Europe |
| Country of Manufacturer | Italy |
| Thoughts | One of the best looking cookware around. The hammering finish is unrivaled and the cladding is thicker than All Clad. These are getting more and more rare. The only place you can find it now is at William Sonoma. It seems like amazon is phasing it out. |
| Reviewed Cookware | Ruffoni Opus Prima Stainless Steel Pot |
Art Deco or Functional?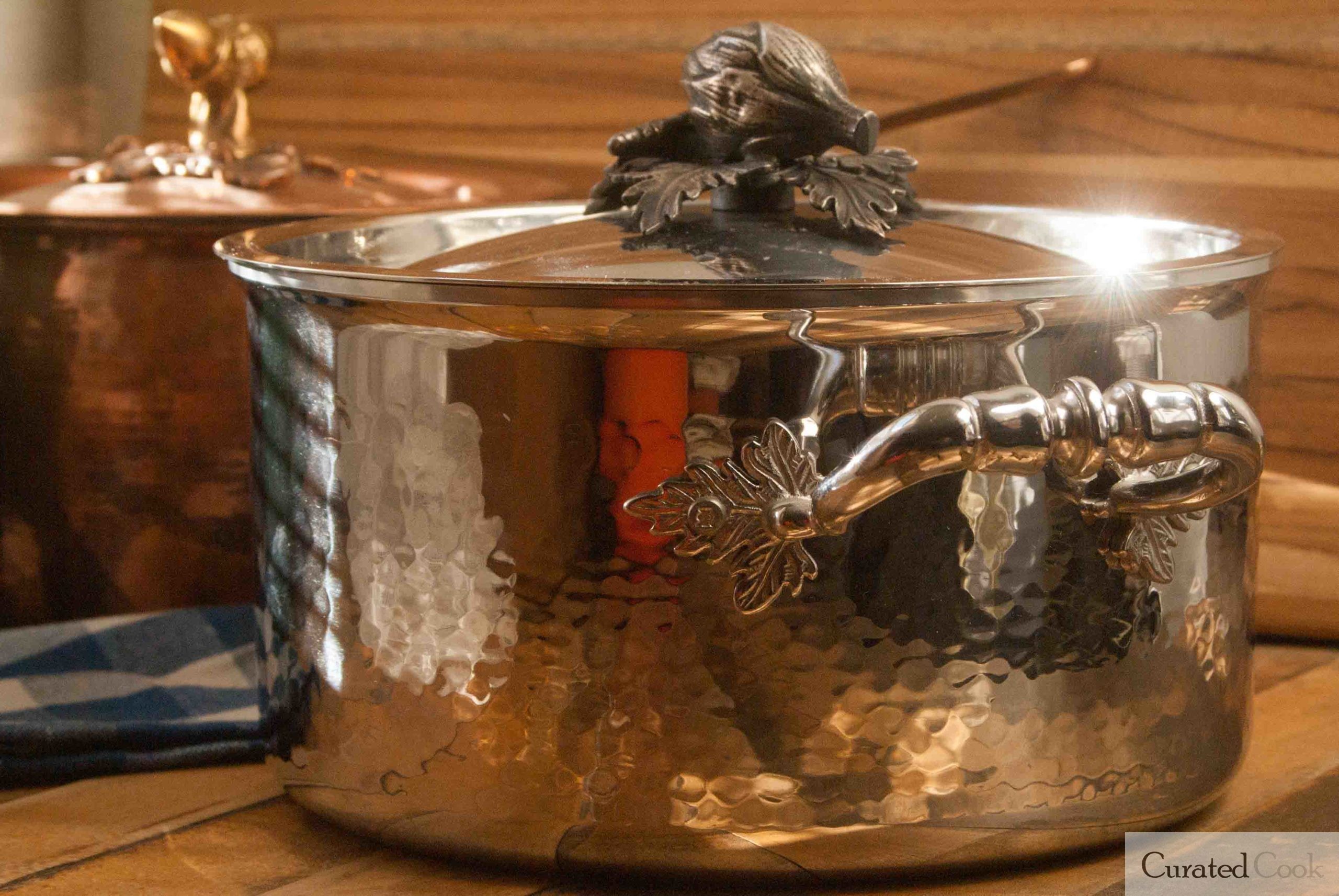 Ruffoni is starting to push the boundary of whether this cookware is meant more for decoration or cooking. On its own, its beautiful enough to put as a display piece. But if you want to use it, the performance should be inline with all clad d3 series. Both cookware uses a 3 layer cladding design where there is a center aluminum core and a outer and inner stainless steel finish.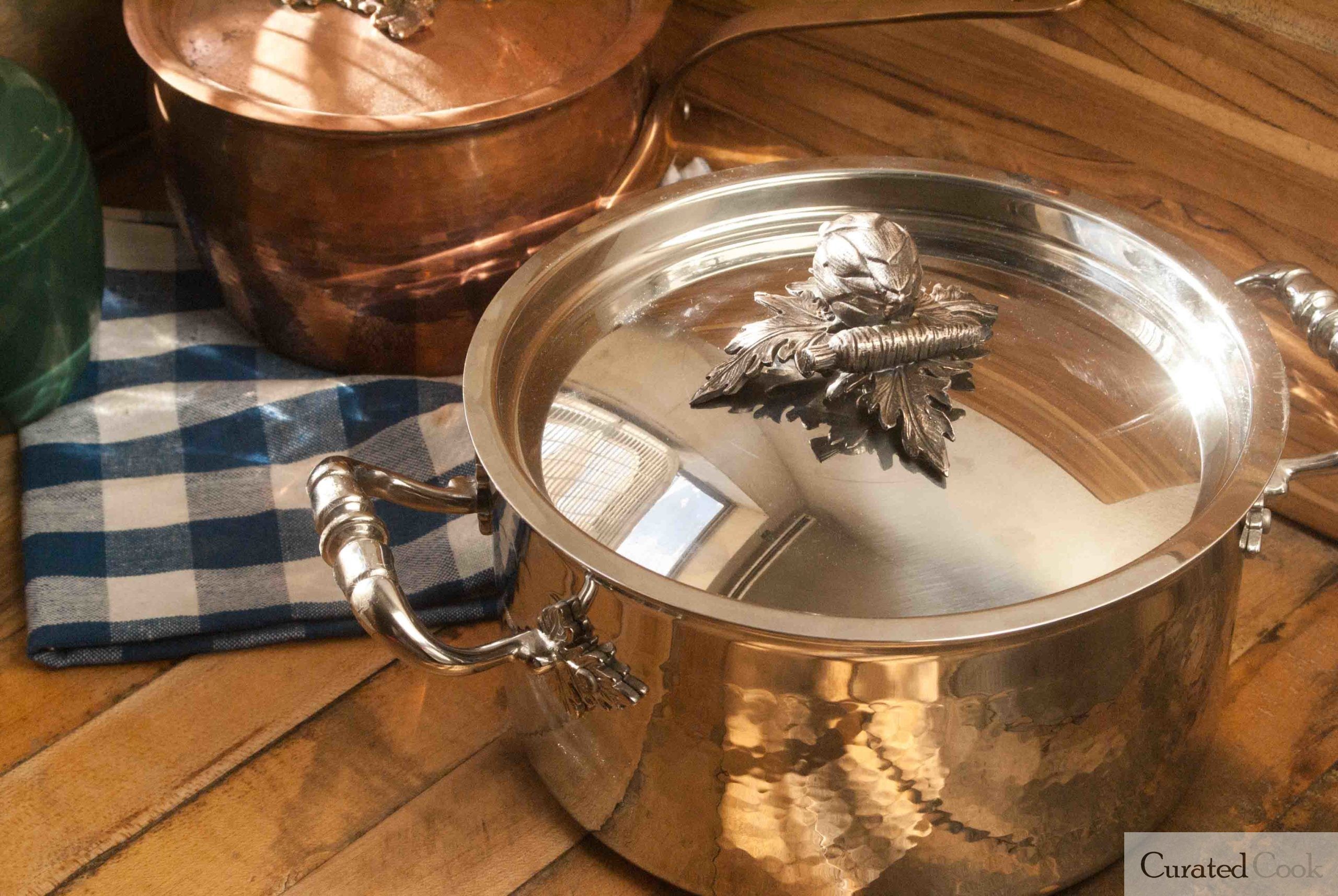 The major thing that I want to emphasize is that although you can get it for both, its best to get it for one or another. If you actually cook with these pans, overtime grease and marks will build up. It will loose all the luster and polished mirror finish when new. That is not to say you cant do it, but it is going to take a lot of elbow grease from your part to constantly polish it. If you have the funds available get a set of two, this way you have the best of both world.
Ruffoni Opus Prima Cookware Design
Ruffoni Opus Prima Handle
The overall design of the handle is very well made. It has the perfect blend of function, ergonomic and aesthetic. Firstly in terms of ergonomic and functionality, it is very wide to make for easy handling. I can easily fit 4 fingers into the handle. Most other manufacturer makes handle where I can barely put three fingers through it. The extra rooms gives you more confidences when holding it. The stainless steel used on the handle also reduce the amount of heat transferred to the handle. It will stay cool longer than cast iron or brass.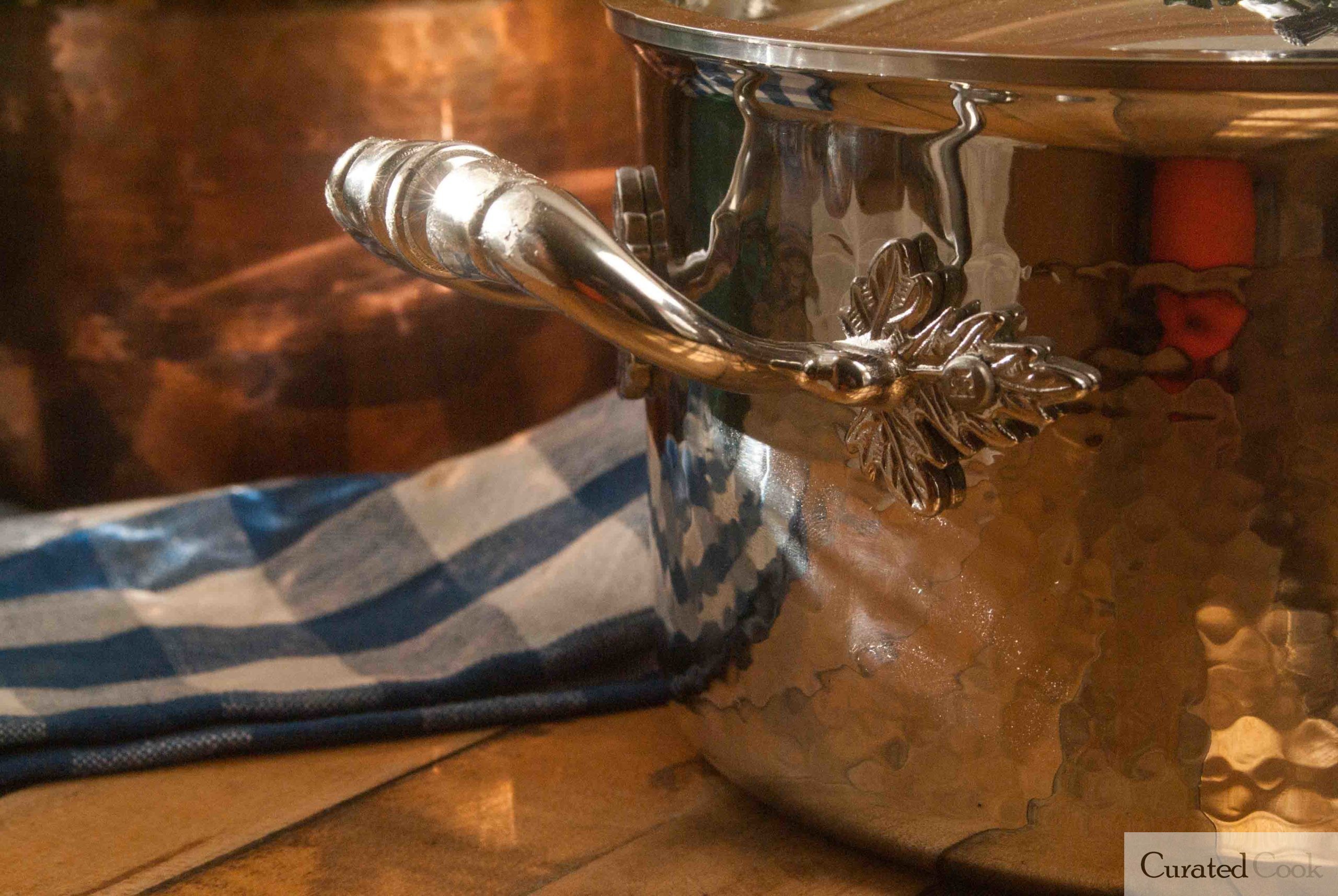 In terms of design, the base have a leaf shape on either side of the pot. The rivets use have the Ruffoni Logo onto it. Something that you often do not see in cookware. In the center of the handle, there are more rings and holes to give it more of a flair. Unfortunately, those serve no other purpose than to look pretty.
Dutch Oven Shape
The current pot that I am reviewing is a traditional 4 qt dutch oven like shape. You can think of this as a rival to Le Creuset 4 qt dutch oven. All Clad also makes a similar sized dutch oven but those are more tall than wide. With that being said, Ruffoni version emphasize width more than height. You will have ample space to sear food than a pot whose base is more narrow. I measured an approximate 7.5 inch of cooking space as opposed to all clad's 7 inch.
On the rim, there is a subtle rolling of the lip to allow for easy pouring of liquid.
Ruffoni Serial Number and Silver Plated Finial
Ruffoni Opus Prima have a serial number stamped onto each of their cookware for warranty purpose. This is something that you often dont see with cookware manufacturer. It is nice to see that a company is actually tracking their product for quality. Hopefully, its not just a gimmick.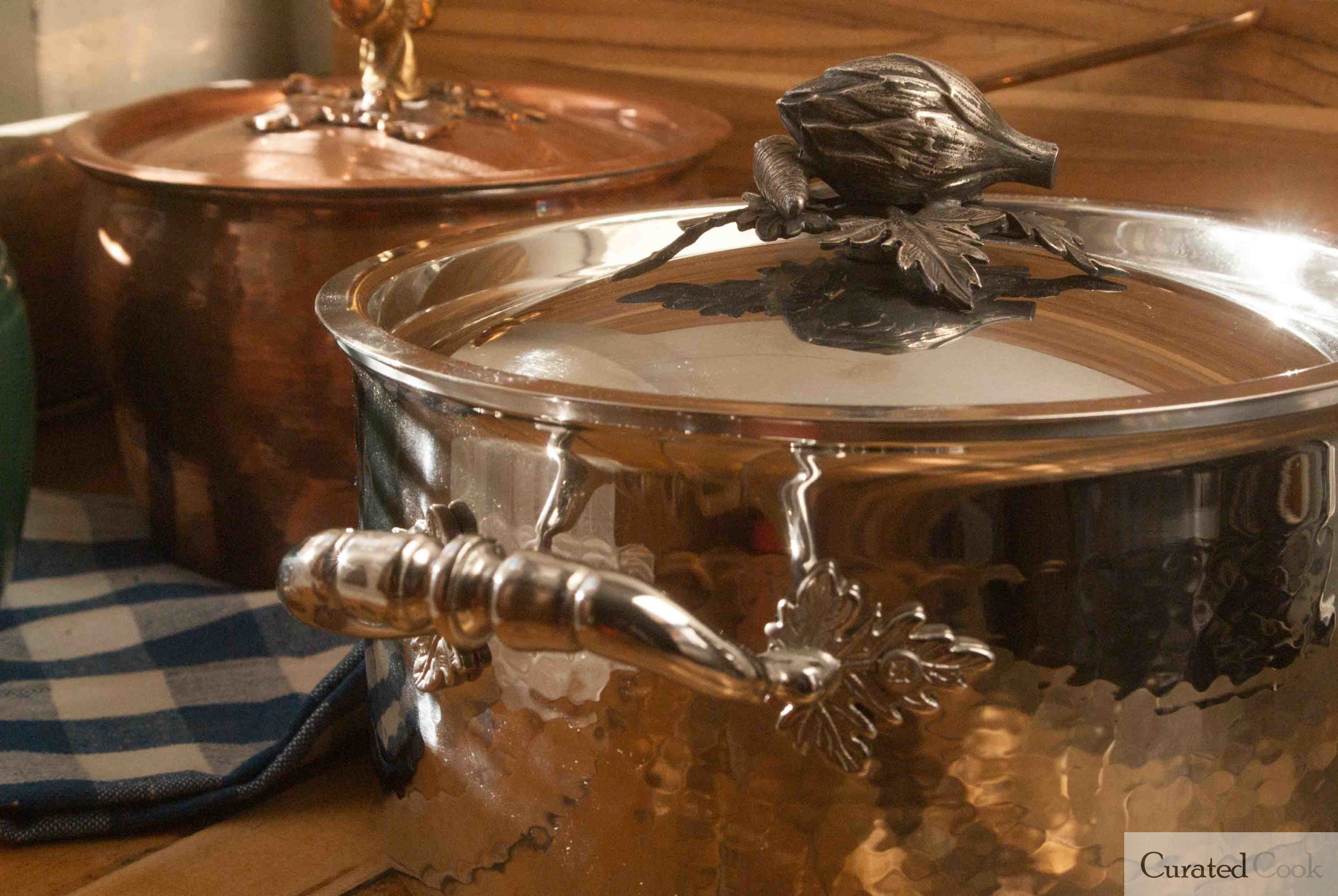 As for their silver plated finial. Underneath should be the traditional brass Finial. They come in a variety of fruit and vegetable and I collect them when I can. I am not sure if if it is really silver plated, but I read reviews of it being worn off in the dish washer. I recommend that you only wash these cookware by hand.
Ruffoni Opus Prima Polished Mirror Finish
Everything in this cookware is polished. The exterior, interior and handle all have a shiny finish. You can easily see you reflection in this pot. I think this was mainly done for appearances, looking at the inside you can see how it shines and glimmer with the hammered area. Functionally, I believe they did this to reduce the amount of sticking that will occur. Stainless steel are notorious for sticking and a rough texture will only make it worse. One thing that I will caution is that overtime with use, this finish will due. Little nicks and scratches will take away from the glimmer and to bring it back, you would need to use a rotary buffer. Which is why I said, get it for what you intend to do with it. Either cooking or for display.
Ruffoni Cookware Thickness and Cladding
I am glad to say Ruffoni Opus Prima comes in at a very healthy sidewall thickness of 3.05 mm. This is even thicker than All Clad D5 2.68 mm. As with any cookware, the thickness matter. The heavier the pot, the more heat capacity it has. This means that when you go to sear a food, food will not steam. The vast majority of that thickness is mostly aluminum. It will transfer heat quickly to your food and provide a more even heat distribution.
Ruffoni Opus Prima vs Symphonia Hammered Finish
This is something that most people will not realize unless you compare both of them side to side. The hammer finish on the Opus Prima model is simply more deep and refined. The reason for this is because of the thickness. The symphonia model is thicker than the opus prima line. I guess it was a little more difficult to make that indentation. Overall, if you are more focused on performance, I recommend that you go with the symphonia line. As a general rule, the thicker the cookware, the better.
You can see a demo on this line of cookware
Specs:
Note:These measurement are done by me with the tools that I have on hand. The manufacturers have their own measurement guidelines and that should be assumed to be accurate. What I find on this review can vary widely due to several factors, such as ambient temperature, location, water, tool calibration, stove btu, etc..and should only be considered as my opinion.
Weight: 1416 g Lid Weight:524 g
Rim Width:Around 8.44 inch
Height no lid: Around 4.48 inch
Ruffoni Opus Prima Hammered Stainless Steel Cookware Conclusion
These cookware does not have get enough attention. They are beautifully well made and functional. I am not sure if it is due to a lack of marketing or a lack of desire from the community. However, they are honestly the most beautiful cookware that you can purchase these day. They hold their gleam and luster better than Hammered Copper Cookware. Those will usually patina and dull after a few usage. If you want a piece of cookware that will impress friends and family, I recommend buying this piece.
I hope you like this Ruffoni Opus Prima Hammered Stainless Steel Pot Review, If you would like to see more, please visit our Pots and Pans Review page.