Making purchases at Amazon.com and other website funds this website by generating revenue. Any help is appreciated and supports both me and content like this.
Bourgeat Saucepan Review 16
Matfer Bourgeat is one of the few copper manufacturer that makes a bi-metal copper and stainless steel cookware. This type of cookware configuration is relatively new as copper cookware use to be coated with tin. However, there are some enthusiast who will claim that stainless steel will never transfer heat as well as Tin. That is because stainless steel have a very poor thermal conductivity. They also claim that tin is the original non stick pan, but from my experience is that if you cook in stainless steel properly, your food wont stick. Also, the thickness of the stainless steel is so thin that it doesn't really affect the thermal conductivity. This Matfer Bourgeat Saucepan Review will look at what makes their Sauce Pan different from other manufacturer. I will test how fast it boils water and see whether this configuration will make a difference.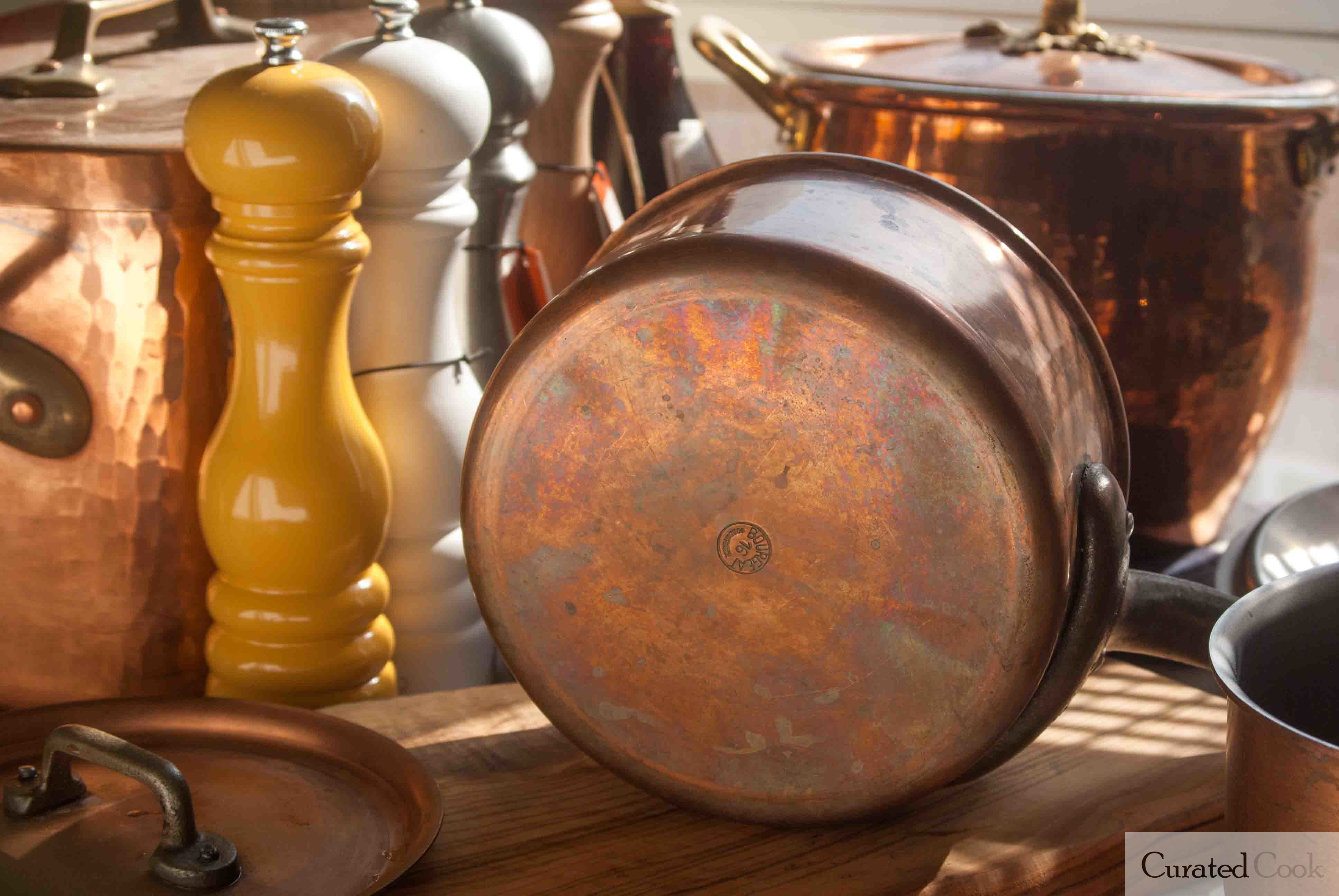 Benefit of using Copper in a Saucepan
When boiling liquid, the benefit that you can gain from using copper is an increase in the rate at which water boils. However, that rate will probably amount to less than 30 second. Water has a high thermal capacity and it takes a long of energy from the stove to raise its temperature.
What you can get though is the even heat distribution when you first start cooking. This is particularly important when you first start making a sauce. Hollandaise sauce is a perfect example of of where both heat control and heat distribution matter. So for instances such as this, a copper pot is important. If you intention is to just boil water, I recommend getting a very thin pot copper pot. A thicker heavier pot will just increase the amount of energy need to raise the temperature of water.
Matfer Bourgeat Saucepan Design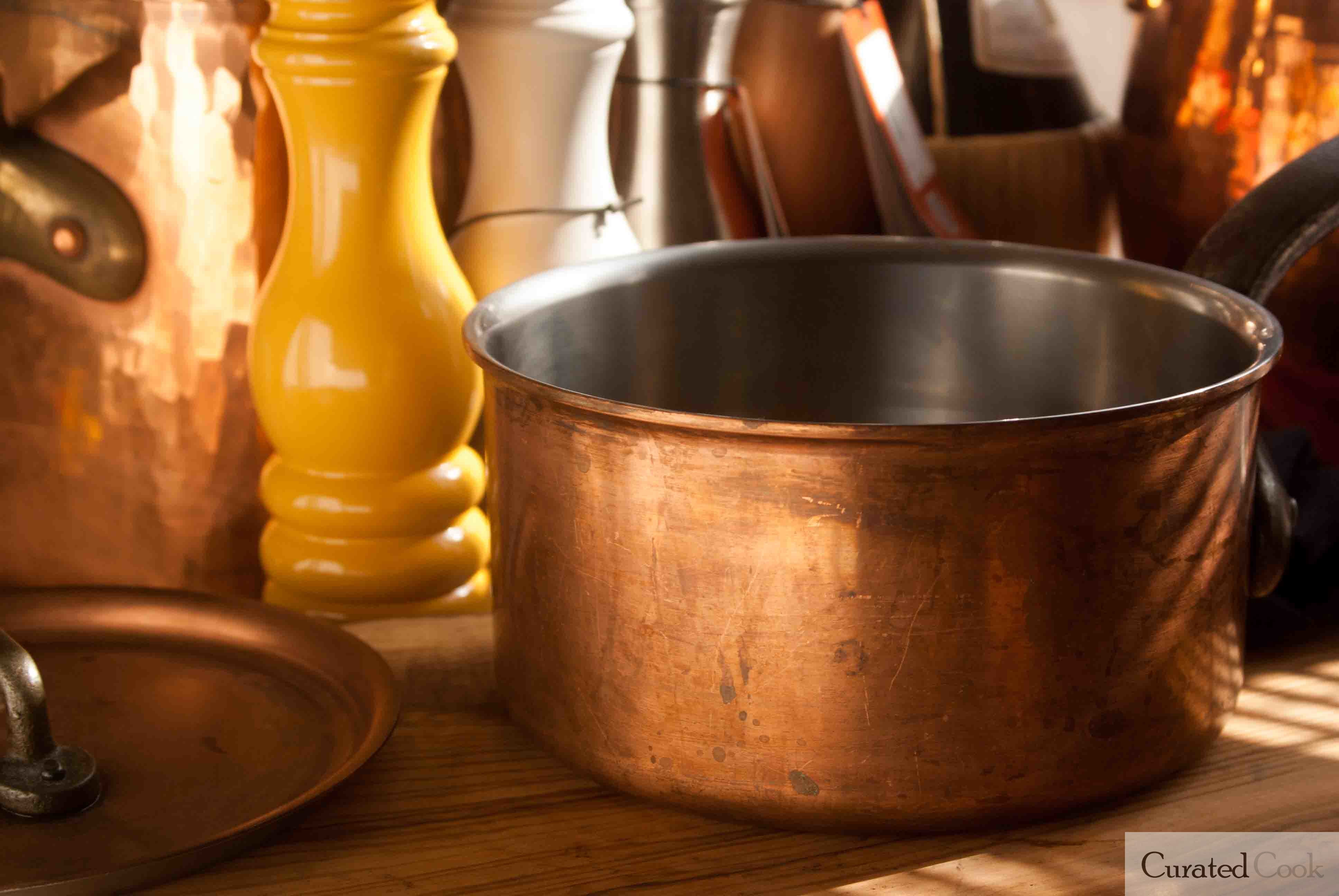 Stainless Steel Lining
We will start off with what makes Matfer Bourgeat bi-metal copper different from other manufacturer. The most obvious key difference will be the interior stainless steel finish. It has a clean polished and almost mirror like quality. It feels smooth to the touch, which I assume is to help prevent sticking.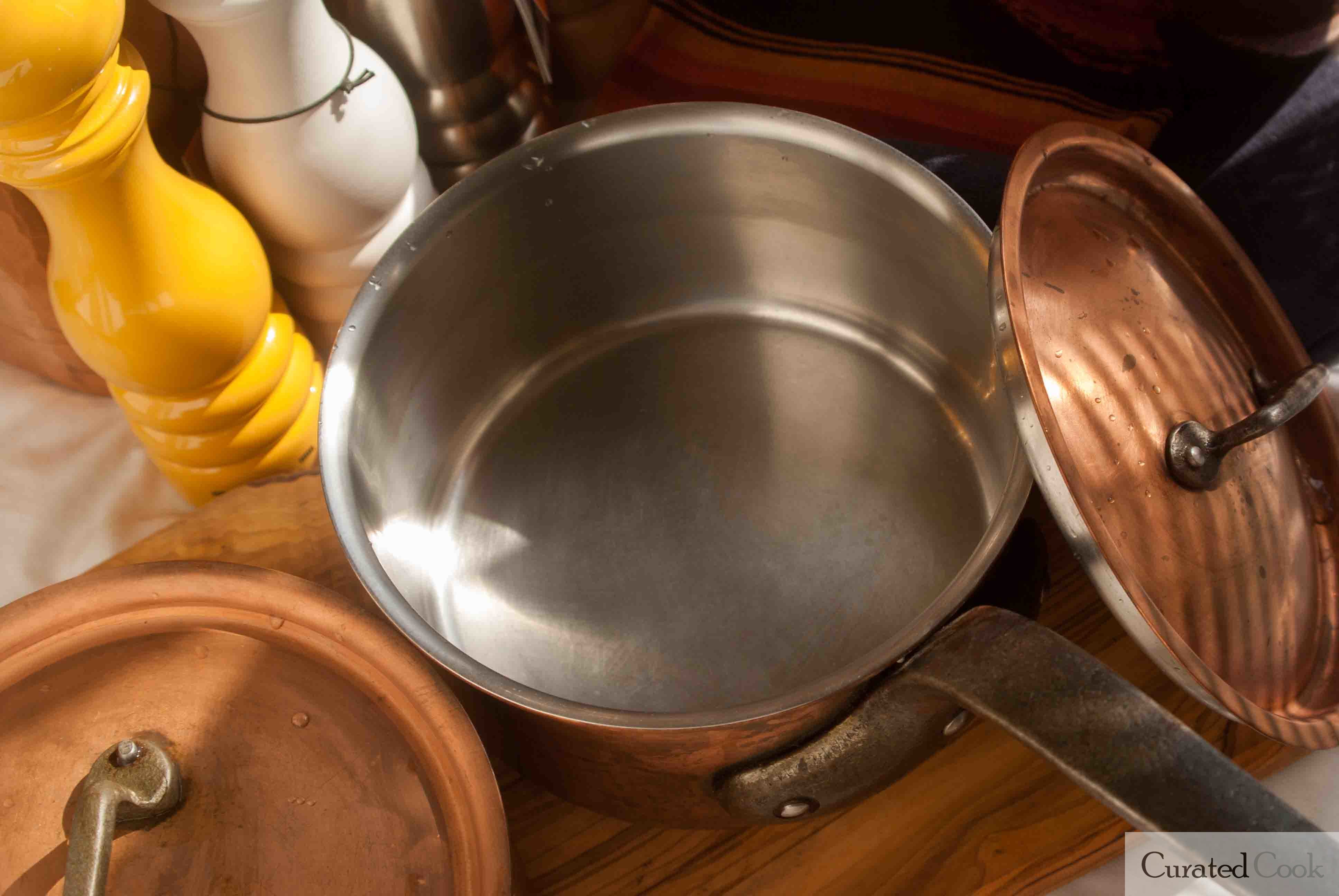 Handle
The handle is your typical cast iron, with a very thick base that attaches via rivets. When compared to a similar model by Falk(vintage/older style) you can see that the base of Matfer Bourgeat saucepan is considerably thicker.
I am not too sure of the purpose of the thicker base, but I believe that this helps in reducing the amount of heat that will reach the top of the handle. But eventually it will turn hot and will take longer to cool due to the increase mass.
I wonder if it actually affects the time it will take to heat up the pot. You can see the falk model on the left, it is a slightly smaller version but you can see the difference.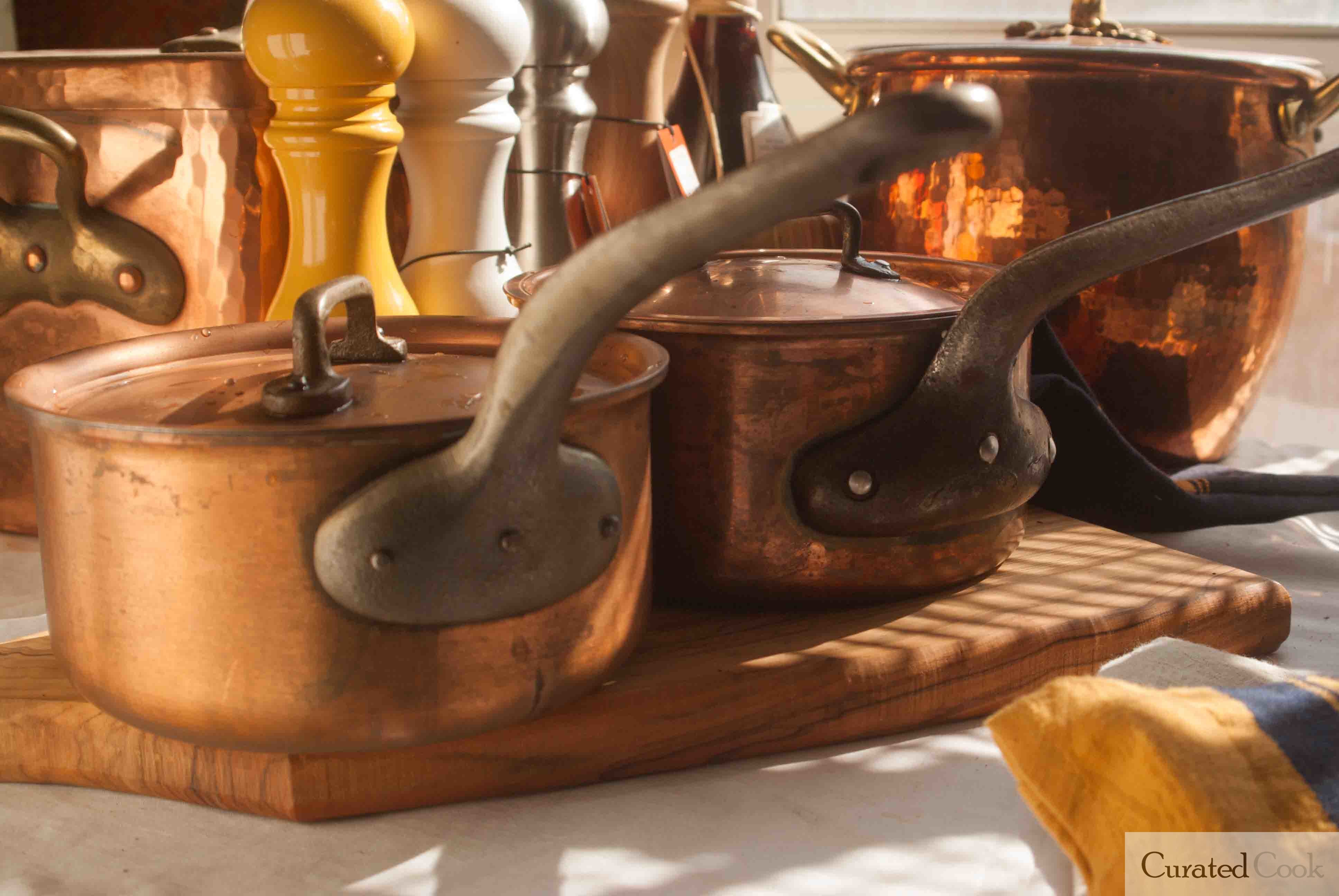 Exterior
The exterior is polished to a mirror finish and it will tarnish overtime. For those of you who want a clean copper look without the maintenance, I recommend looking into the falk line for their brushed copper exterior.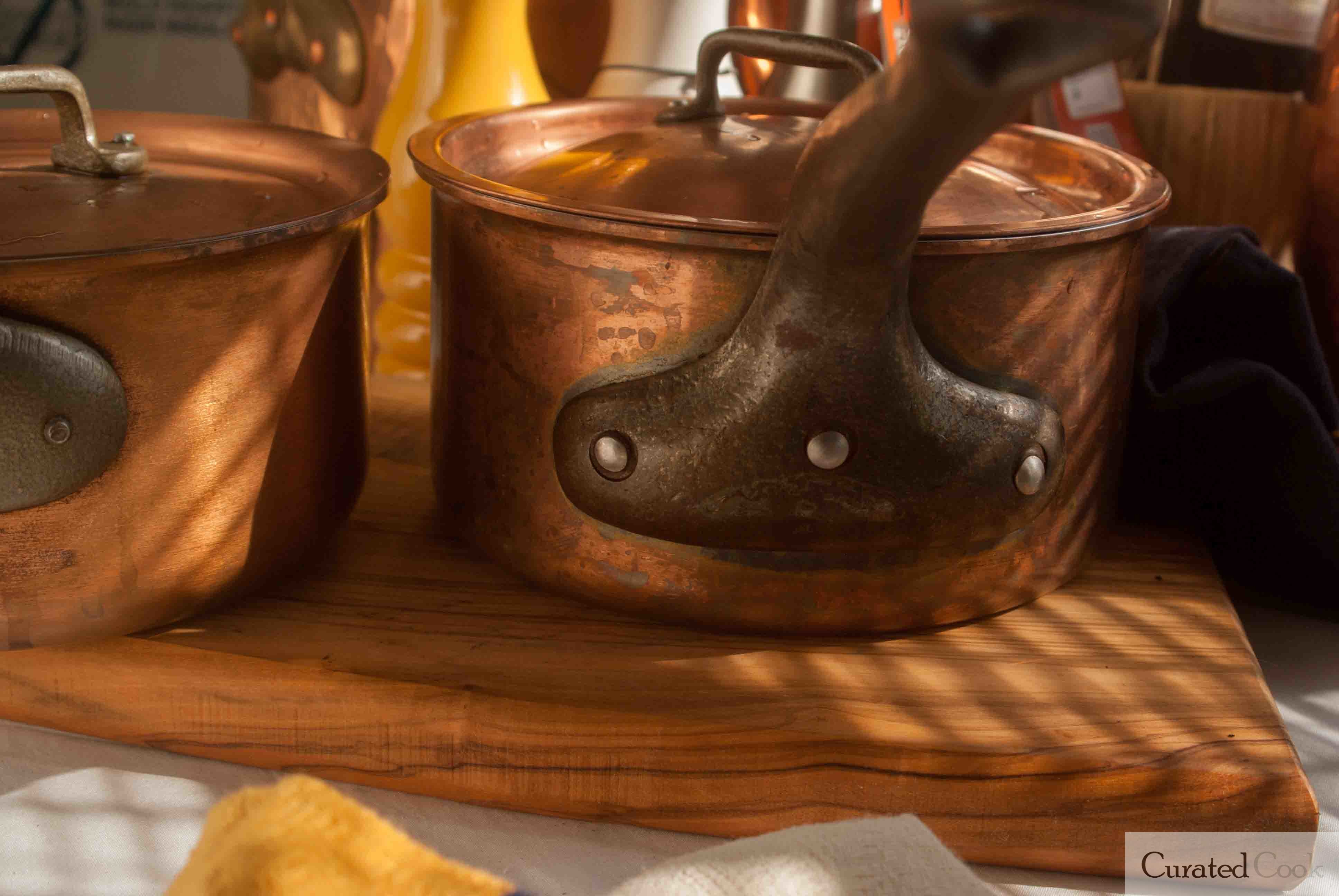 Matfer Bourgeat Saucepan Shape
This is a standard shape for almost all sauce pan. I assume the reason why they all look the same is probably due to manufacturing. To make a cylinder, you get a flat sheet of copper and then stamp it down with a press. There are minor differences in manufacturing like the handles stated above, or even the diameter. But they all pretty much look the same. The lip on Falk and Matfer Bourgeat both have rolled lip so water can be poured easily. Older model copper cookware tend to not have the lip.
Fit and Finish
Fit and finish is excellent as with all bourgeat products. The polished stainless interior is extremely well done but will dull with use. The cast iron handle will eventually rust as well, but that is inherent with cast iron.
Matfer Bourgeat Saucepan Specs
Note:These measurement are done by me with the tools that I have on hand. The manufacturers have their own measurement guidelines and that should be assumed to be accurate. What I find on the performance and specs section can vary widely due to several factors, such as ambient temperature, location, water, tool calibration, stove btu, etc..and should only be used for my own personal reference.
Weight: 1839g
Water Capacity: 1715g
Rim Diameter: Around 6.75 inch
Pot Height:Around 3.4 inch
Flat Cooking Surface: Around 6 inch
Pot wall Thickness: 2.4mm to 2.35mm near the center.
The side wall thickness got slightly thinner the lower I go. I assume its due to the metal being stretched out when the machine presses the pot.
Performance
Water was brought to a boil/max temperature then the rate of temperature drop was timed in a minute interval each.
Location:Los Angeles
Room Temp:81.5 Water Temp:80.4
Water Weight Tested: 855g
Max Temperature: 210 @ 6:59 sec
I am not sure why the max temperature maxed out at 210, I wonder if my thermometer needs to be re calibrated.
Temp Drop Off: 1 min:204.8 2 min:198.5 3 min:193.3 4 min:188.4 5 min:184.1 6 min:179.8 7 min:175.8 8 min:171.5 9 min:168.6 10 min:165.4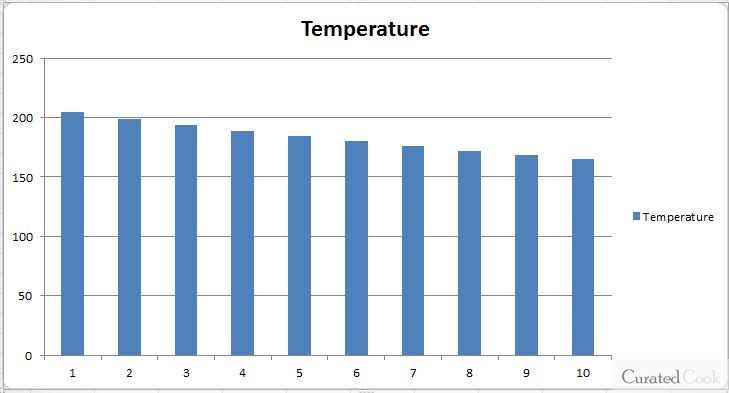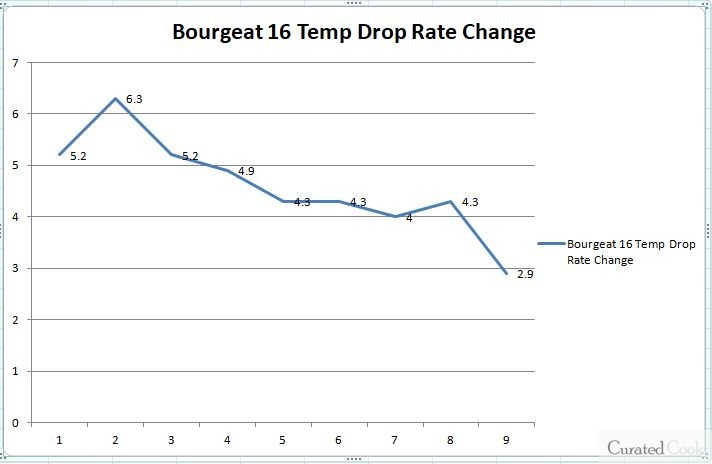 It is a little disappointing that the copper does not seem to provide any advantage in speed when it comes to boiling water. I have a suspicion that a very thin copper pot will provide the quickest speed in boiling water. The main thing that is affecting the boiling speed would be the mass of water.
With that being said, this is not the only thing you should be looking for when buying copper pot. As stated before, the main advantage of thick copper pots is the rate of how fast it heats up and the even heat distribution. This will also let you sear food better than other type of saucepan. For example, if you want some fond from searing meats. That fond will add an additional depth of flavor.
Matfer Bourgeat Saucepan vs Falk
There are very few reviews about copper cookware online, let alone a review on Matfer Bourgeat. From what I can see, it shares a lot of similarities with Falk Saucepans. The main difference between the manufacturers will be the handle and how they choose to finish the exterior and interior. For a less maintenance type of cookware, I recommend Falk. However, if you like the gleam of a traditional copper cookware, Matfer Bourgeat is the choice for you. The saucepan from either manufacturers are some of best and well made pots that you can buy, however also the most costly.
I hope you like this Bourgeat Saucepan Review, If you would like to see more, please visit our Pots and Pans Review page.