Mauviel M250C Copper Skillet Review
Mauviel M250C Copper line of Cookware combines the benefit of stainless steel with the traditional look of cast iron. The main issue that cast iron is that one it rust and two it gets screaming hot. To circumvent this, Mauviel have designed a ingenious method to electroplate the handle to give it a traditional cast iron look. Now, it has the added benefit of staying cool and not rusting. All while keeping the traditional feel of a copper skillet. This review will look at how the Mauviel M250C Copper Skillet captures the magic of what a traditional french skillet is while using the technology of the modern day.
Mauviel M250C Copper Skillet Review Quick Summary
| Categories | Mauviel m250c Fry Pan |
| --- | --- |
| Performance | Excellent |
| Colors | Polished Copper |
| Brand Awareness | Europe and America |
| Weight | 1851 g |
| Helper Handle | No |
| Pouring Lip | No |
| Thoughts | The best copper skillet on the market. The low sides promotes evaporation and makes flipping food with a spatula easily. The solid copper construction will sear food better than any pan out there. Finally, the stainless steel lining will ensure that this pan will last a lifetime. |
| Reviewed Cookware | Mauviel Copper Frying Pan (Stainless Steel Lined) |
Mauviel 150 vs 250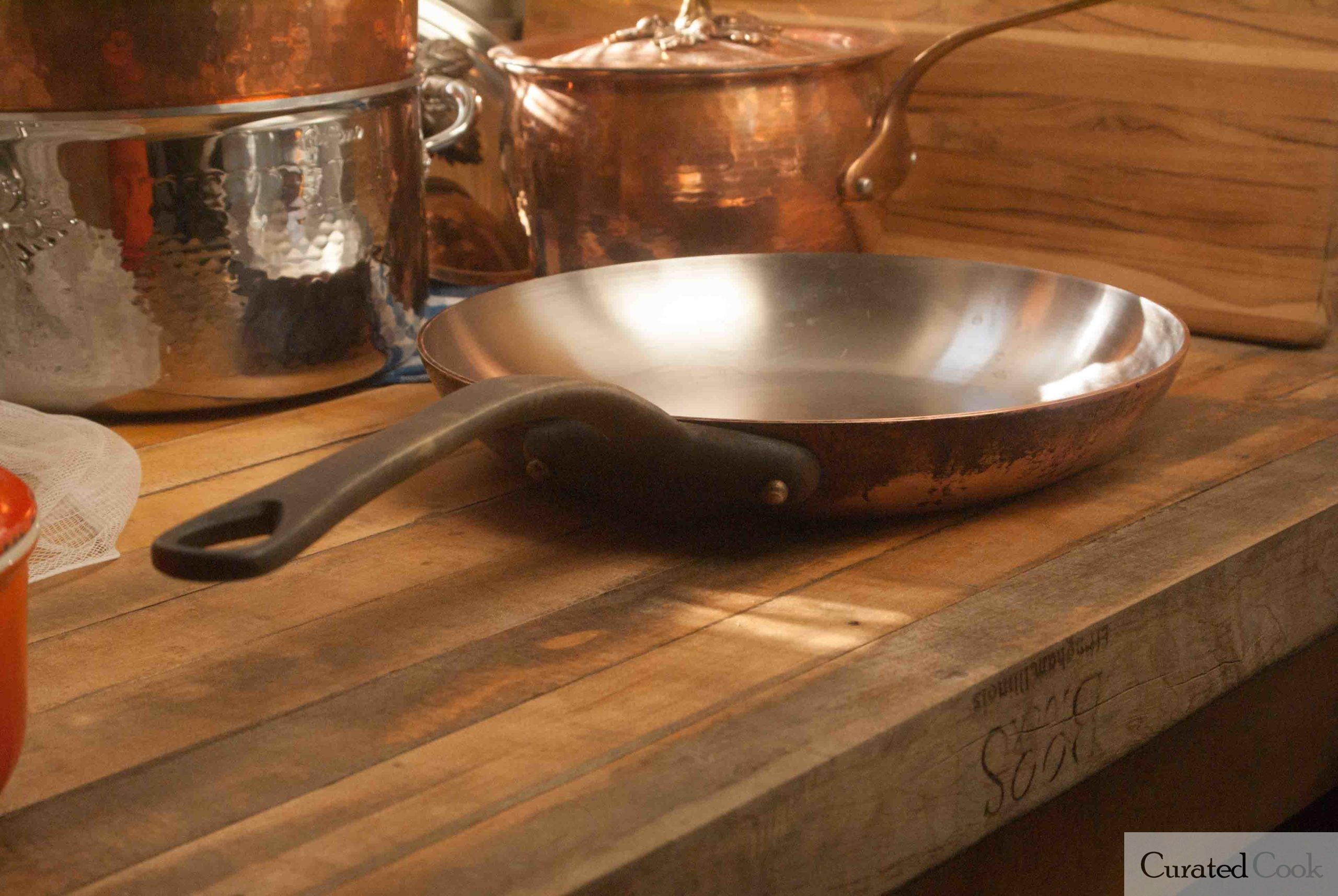 The difference between the 150 vs 250 is the thickness of the copper. 150 has a thickness of 1.5 mm and the 250 has a thickness of 2.5 mm. The general idea is that the lower grade of copper is more for table-service cooking. Meaning they use the pan more for presentation when serving customer. Thicker copper usually gives you a more even distribution of heat and a increased heat capacity. However, you should buy a cookware that is based on your need. A thinner copper heats up faster and its actually better if your intention is to boil water. For more information on copper thickness, read my Article on the affects of cooking.
Design
Mauviel M250C vs M250B a History of Handles
Traditionally, French Copper Cookware comes with two type of handle, Brass and Cast Iron. Some claim that a Brass handle means that it is a consumer grade and that cast iron is meant for professional. In my experience, this is not true at all. I have many copper cookware with brass handle which are thicker than 3mm. Those are usually made and designed for Hotels and Restaurants.
For the most part, what handle you choose is a matter of personal preference. Cast iron will rust over time while brass will transfer heat rapidly. They each have their cons and benefit.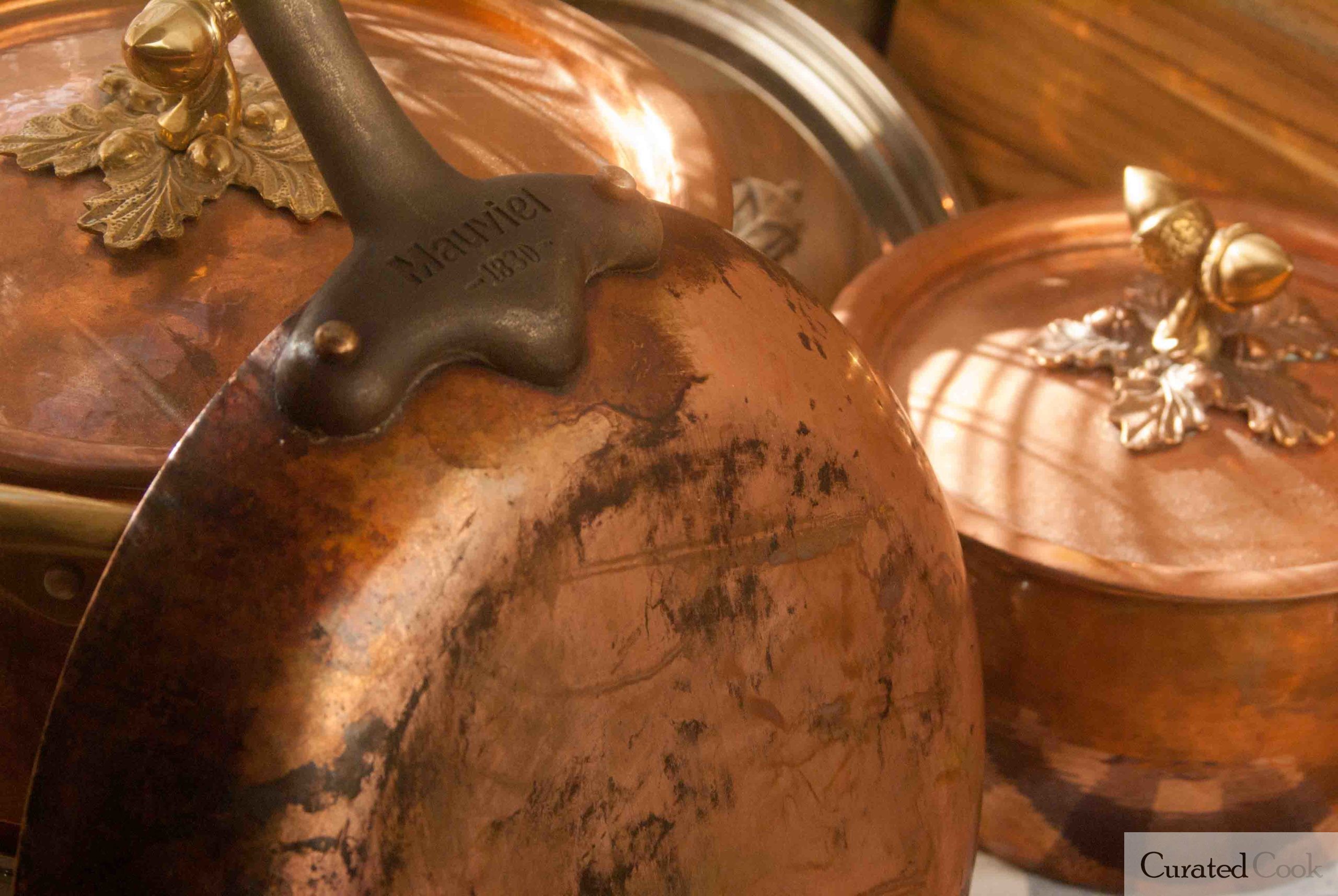 With Mauviel M250c line of coookware, Mauviel seems to have given the M250C all the benefit of a modern stainless steel handle while maintaining the cast iron look. It looks like the handle on the M250C gets its black color from electroplating. However, after a while, the black coloring on the handle wears out. What is interesting is that beneath the black color, the handle is actually gold color. I do not know if this was intentional but it is definitely a very interesting find. Overtime, you will get a a black and gold patina color.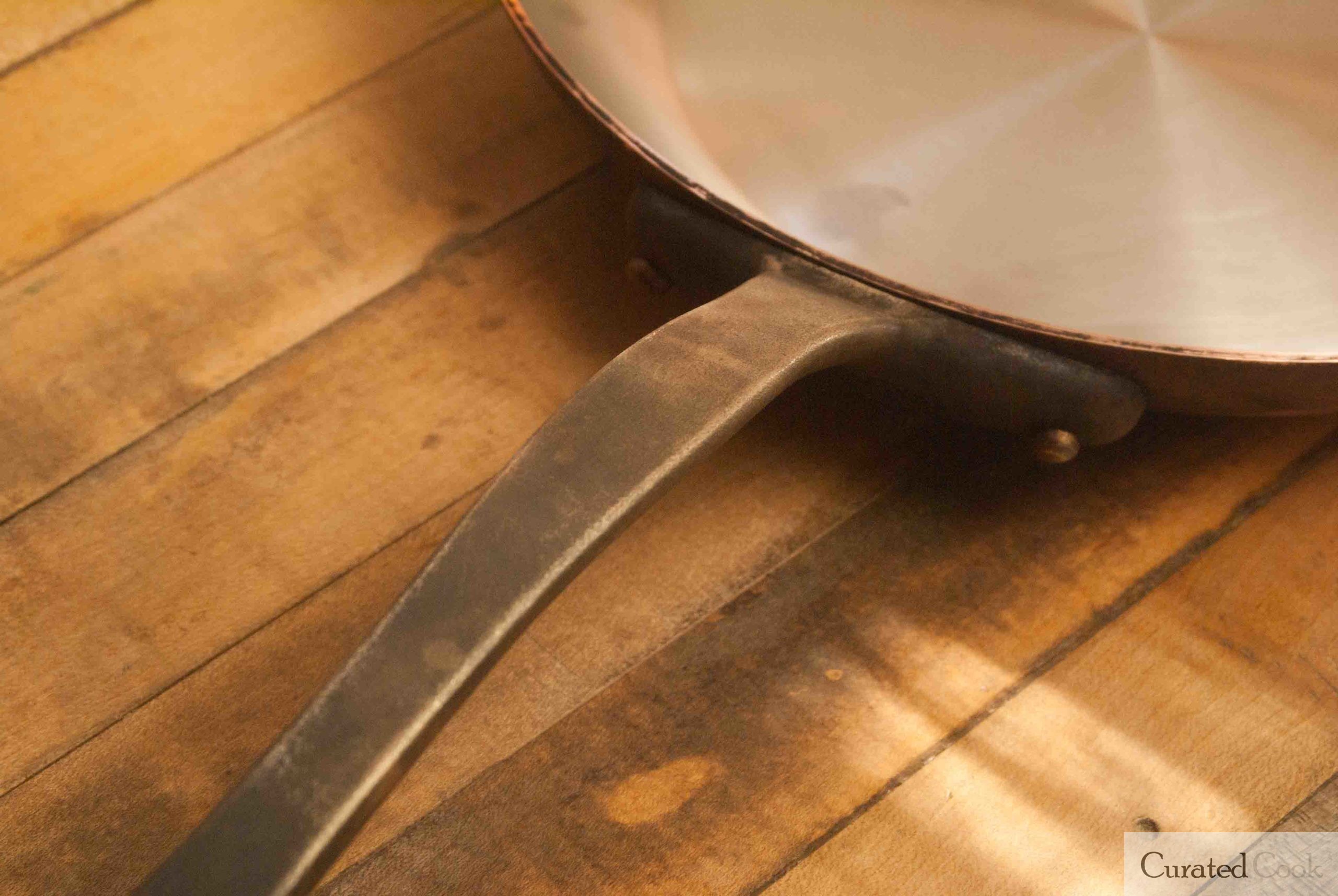 The M250b looks just like a traditional brass handle. It shares the shame shape but the logo is different. On the m250b, its just a round M and the m250c it has Mauviel 1830 engraved onto it.
A Note about Rivets
You can usually identify the lining of a copper pot by its rivet. Usually, when you have copper rivets, those pots are lined with in. Cookware with Stainless Steel rivets usually means that its made with a stainless steel lining. I know that in the past, those rivets will become loose over time. That is in part due to using copper rivets, which is a soft metal. Sometimes tin smith will hammer those rivets to make it tight. Which is why you see on some cookware a flat rivet appearance.
What is also more interesting is that on this skillet, there is only 2 RIVETS. I want to emphasize this, other model frying pans with the same shape but a cast iron handle have 3 rivets. Those even pan even have a stainless steel lining like the m250c. They might have done this to save money or they just deemed it as not necessary. I personally believe that they were just trying to reduce cost but you can use your own judgement.
Angle and handle Ergonomic
The angle of the handle is slightly raised and bent downward to give it parallel angle. I find that a parallel handle actually cause strain to my wrist. A handle that is tilted upward slightly will give you the best leverage on the frying pan. Traditional copper skillet all have the same angle, its a wonder why they changed it.
Traditional French Skillet Shape
In the previous iteration of frying pan that Mauviel make, those have a more sharply angled sidewall with a rolled lipped. The m250c copper skillet has a more gentle slope to the angle with no rolled lip. These type of shape are more like the traditional type of French Skillet. They allow for easier turning of food with a spatula. If you look at All Clad nomenclature for those skillet, you will see the same exact shape as their "French Skillet".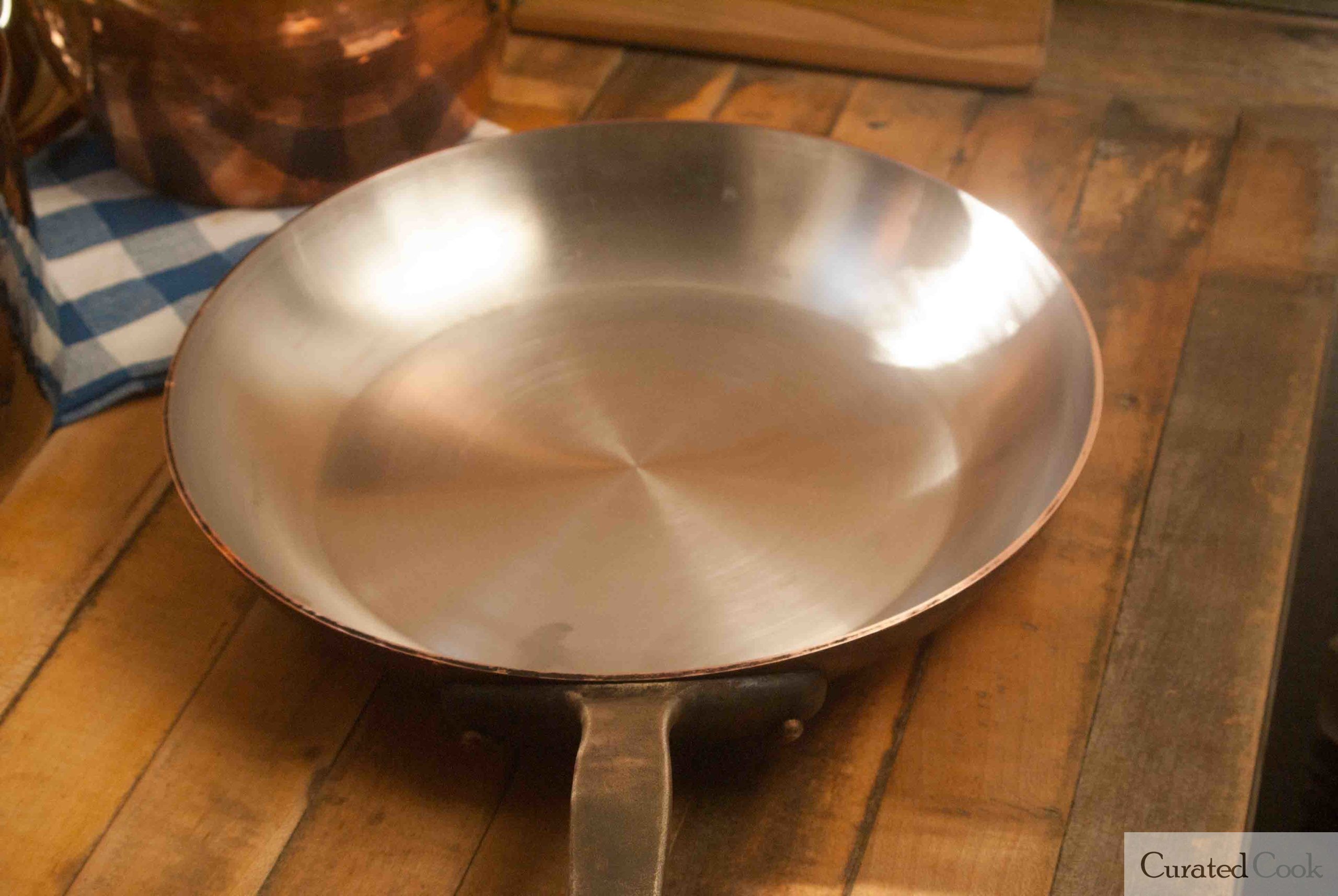 Mauviel M250C Copper Skllet Thickness
This is something that I have issues with. In my experience the thickness on the cookware that you receive and the advertised thickness seem to vary. When I measure it, the sidewall thickness varies from 2.45-2.40. Since my Micrometer can only measure the wall thickness, I can only comment on that. It is possible that when the machine stamp the metal sheet, the wall got stretched out. If the thickness of copper cookware matter to you, I recommend using a micrometer to measure how thick it is.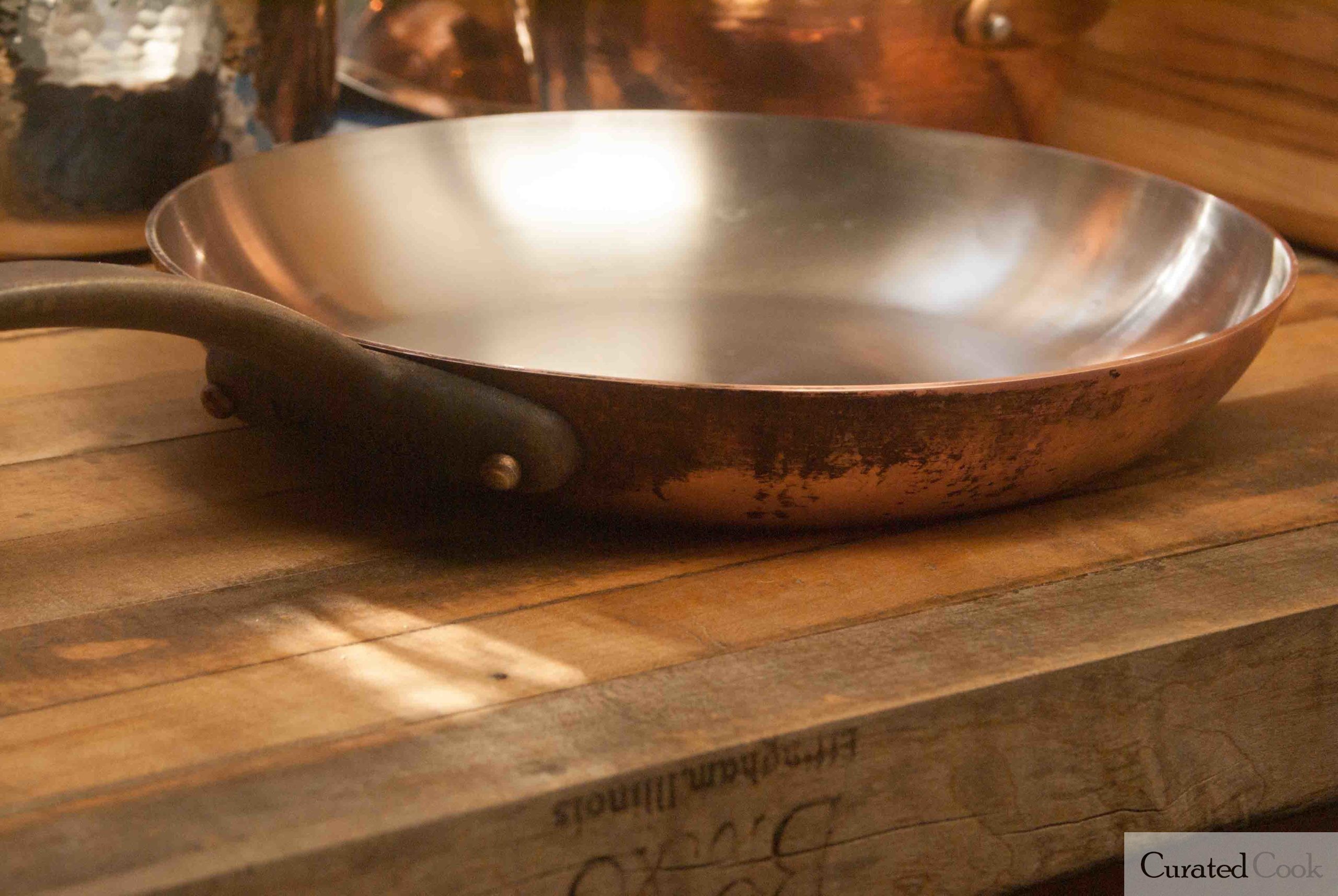 Specs
Note:These measurement are done by me with the tools that I have on hand. The manufacturers have their own measurement guidelines and that should be assumed to be accurate. What I find on this review can vary widely due to several factors, such as ambient temperature, location, water, tool calibration, stove btu, etc..and should only be considered as my opinion.
Weight:1851 g
Rim Width:Around 10.3 inch
Base Cooking Surface:7.25 inch
Height: Around 1.7 inch
Thickness: 2.45-2.40 mm
Mauviel M250C Copper Skillet Performance Test
To test the how well it distribute heat and how well it heats up, I perform a toast test where I place a piece of toast in the center than weight it down with a meat pounder. I heat up the pan for a total of 2 min then see the color of the toast.
Below you can see how the test was performed.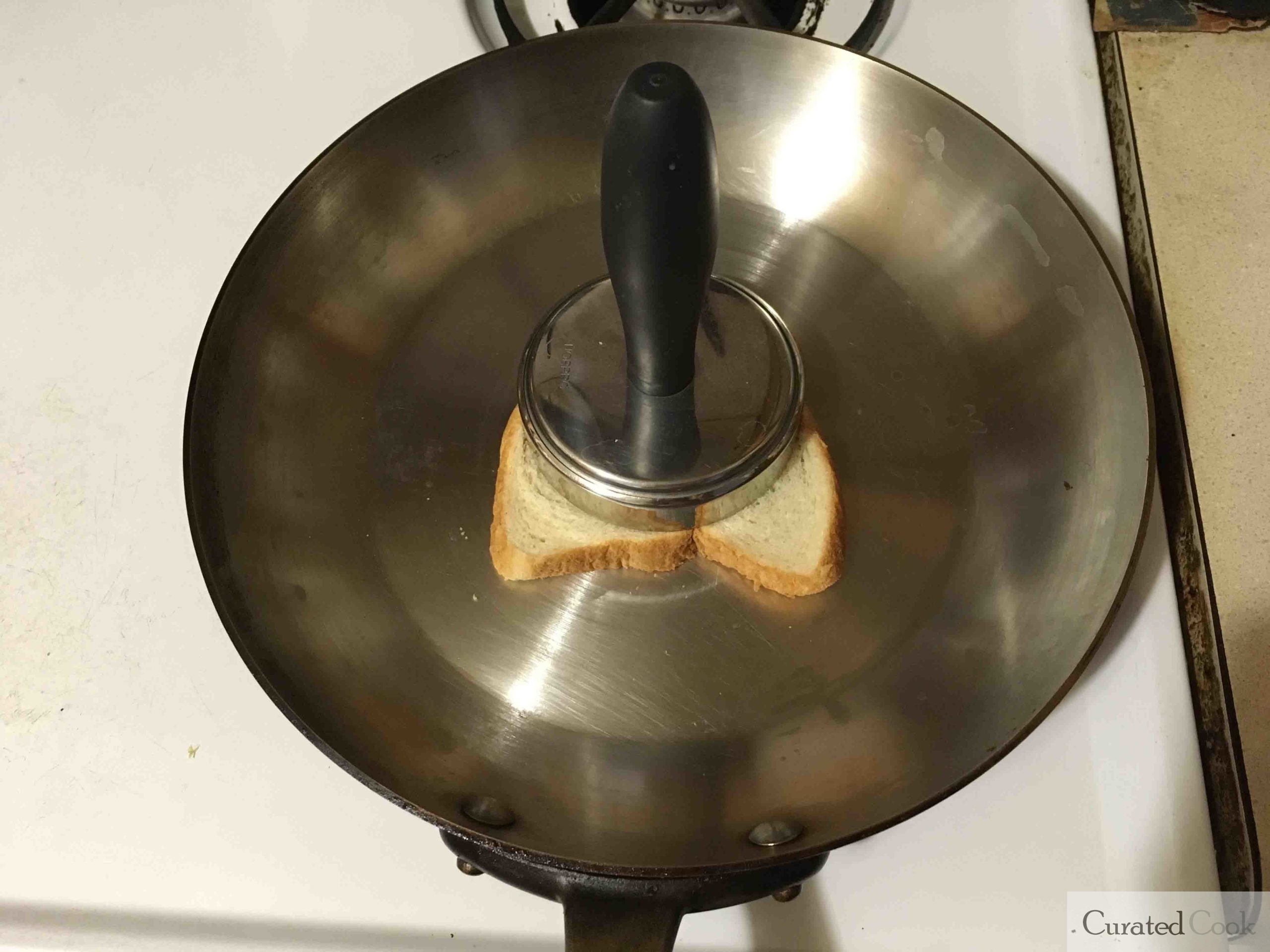 The results are very good. The color on the toast is perfectly uniform. Meaning that the heat distribution on it is perfect. At the 2 minute interval, the shade of the toast is pretty moderate, meaning that it heats up fairly quickly. As a frying pan, Mauviel seems to have a hit a home run with this skillet.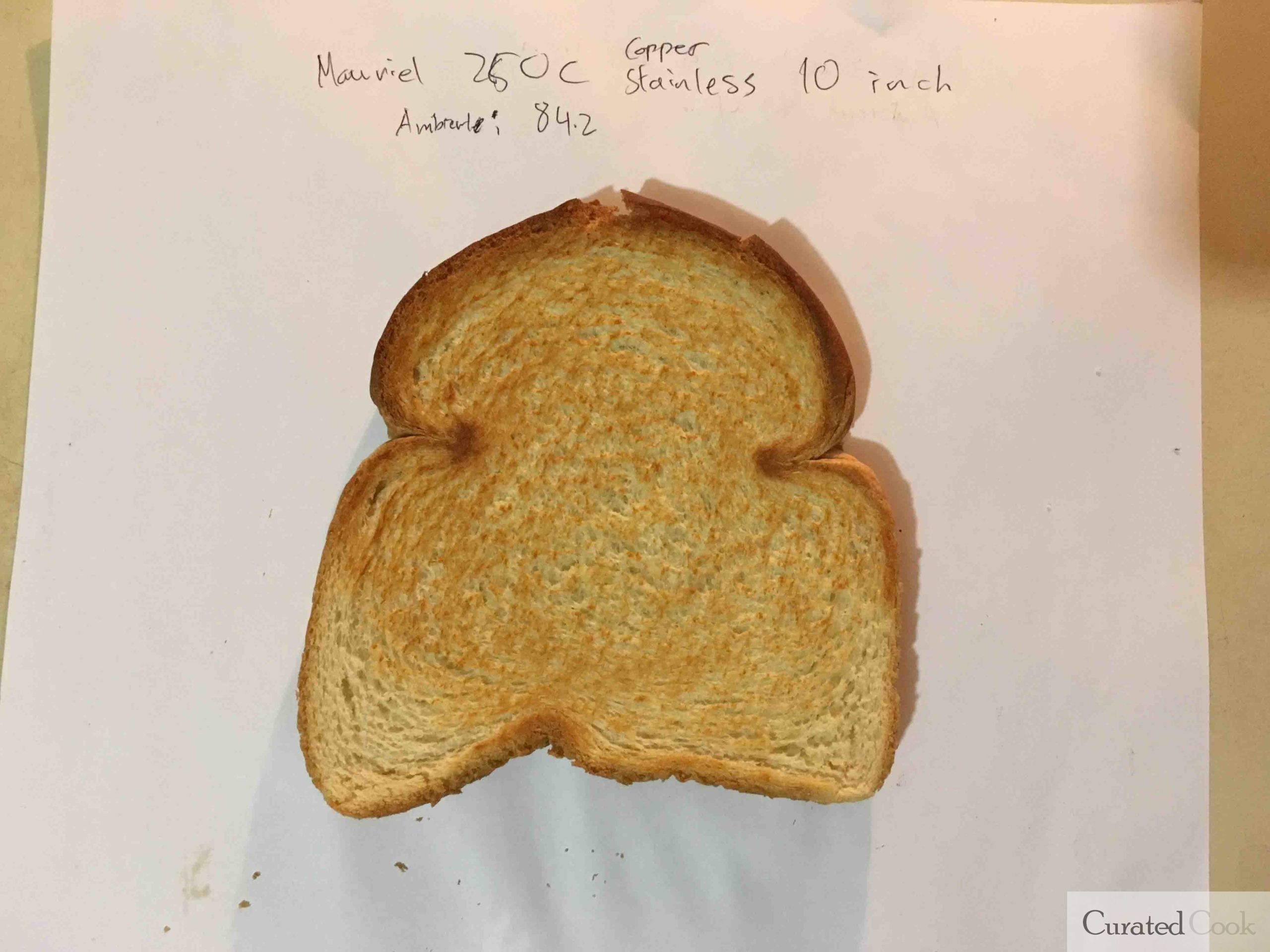 To give you a comparison with Falk, their skillet performed well but it was not as even as Mauviel. The picture below, you can see that it is slightly more blonde on the bottom portion.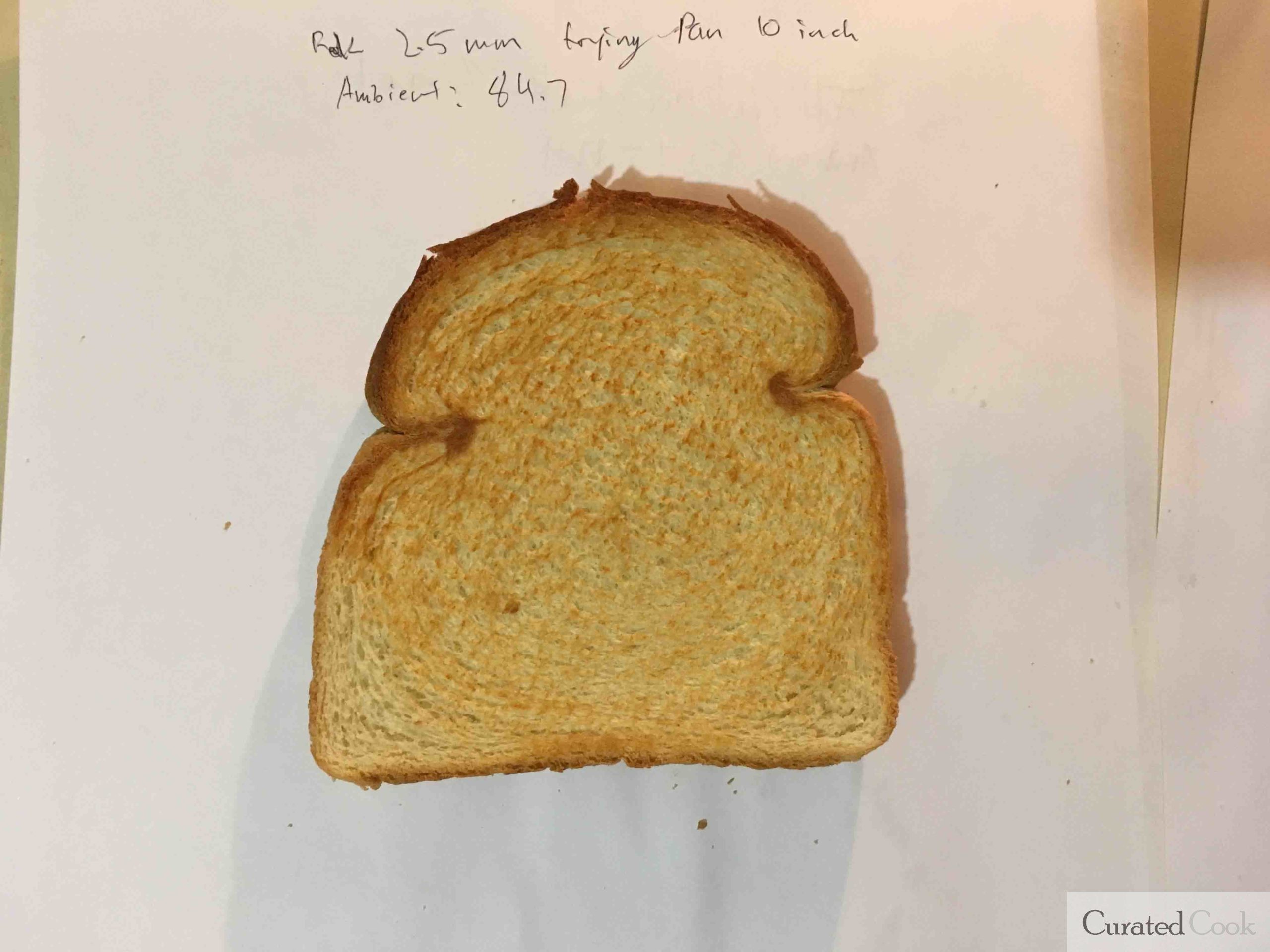 The weight of the two skillets are also pretty similar, only a 50 gram difference between the two.
To see the cookware in action, check out a demonstration that was done by William Sonoma.
Conclusion
Overall, Mauviel M250C Copper Fry Pan is an excellent Skillet. The performance on it is simply outstanding. There is a very uniform distribution of heat and the speed at which it heats up is quick. Some copper pots are so heavy that it takes a long time to heat up, Mauviel balanced it so that you get the best of both world. The handle is stainless steel and will stay cool on the stove top. The color rubbing off is a cool addition in my opinion. Although I suspect that many will not like this. Regardless, I highly recommend buying this if you are looking for a skillet.
I hope you like this Mauviel M250C Copper Skillet Review, If you would like to see more, please visit our Pots and Pans Review page.