Making purchases at Amazon.com and other website funds this website by generating revenue. Any help is appreciated and supports both me and content like this.
Vintage Sunbeam Mixmaster Review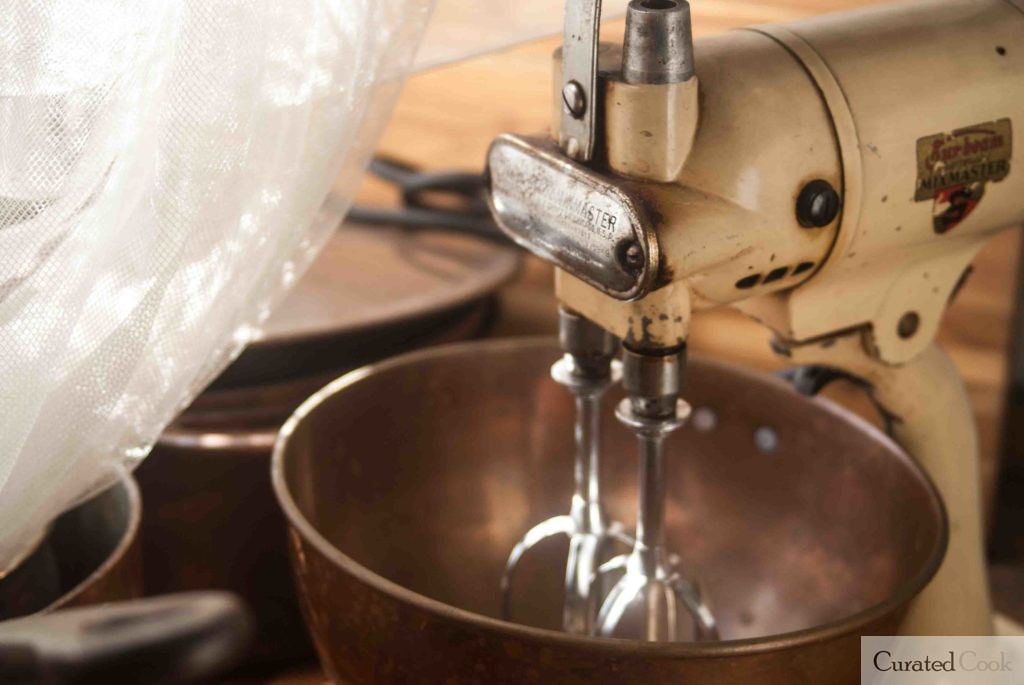 Vintage Sunbeam Mixmaster, looks like something out of a steampunk comic. Production for the mixmaster started in the 1930's. The first model was called the m4b. This model was produced by Chicago Flexible Shaft and only had 60 watts of power. During that era, they were the primary competitor against Kitchenaid. However, because they were a lot more competitively priced, the mixmaster flourished. Throughout the years, many different models came out with different speed and power. And soon became an american icon. Stamps were even produced in the image of the mixmaster. Today, Sunbeam mixmaster is a shadow of its former self. The models are now made in plastic and quite frankly disposable. This article/review will go through the design and configuration of the Vintage Sunbeam Mixmaster. We will take a look at how it function and its general construction.
Vintage Sunbeam Mixmaster Review Quick Summary
| Categories | Sunbeam MixMaster Model 1 |
| --- | --- |
| Performance | Acceptable |
| Release Date | May 16, 1935 |
| Price When New | 12.85 (242.63 USD in 2020) |
| Place of Manufacturer | USA |
| Colors | Tannish yellow |
| Brand Awareness | America |
| Handle | Yes |
| Thoughts | This mixer is a piece of America's history. While it doesn't have the performance of a Kitchenaid mixer, it should perform just fine as a light mixer. |
| Modern Equivalent | Sunbeam 2594 350-Watt MixMaster Stand Mixer with Dough Hooks and Beaters |
Sunbeam Mixmaster Model 1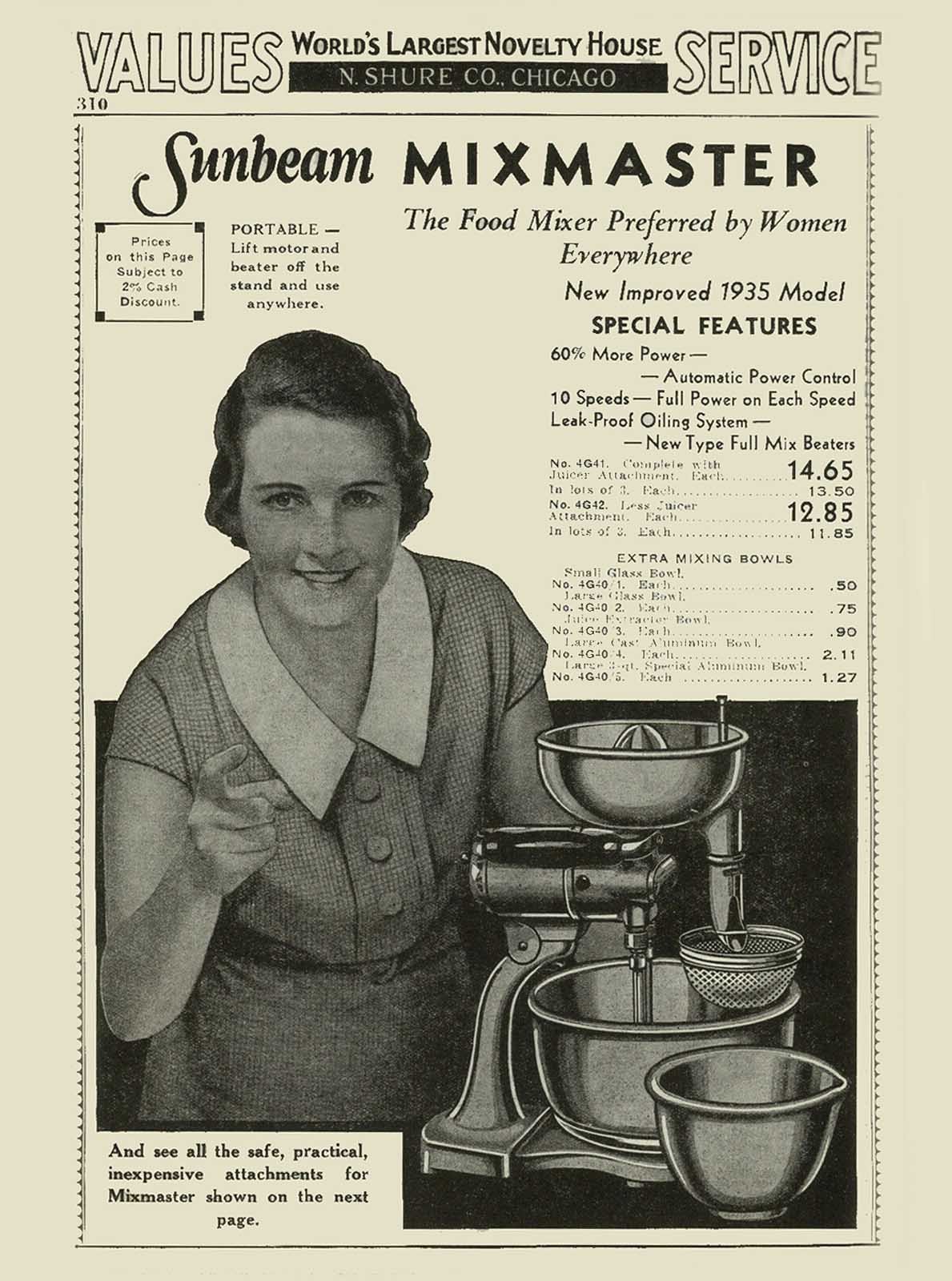 The model that I have is classified as the Model 1. The manufacturer date was May 16, 1935. It was the first model that featured a variable 10 speed configuration. The back featured vent hole to help cool the motor during use. Unlike today mixmaster, the body is all metal in construction and generally very durable. Even after 80 years, it still work.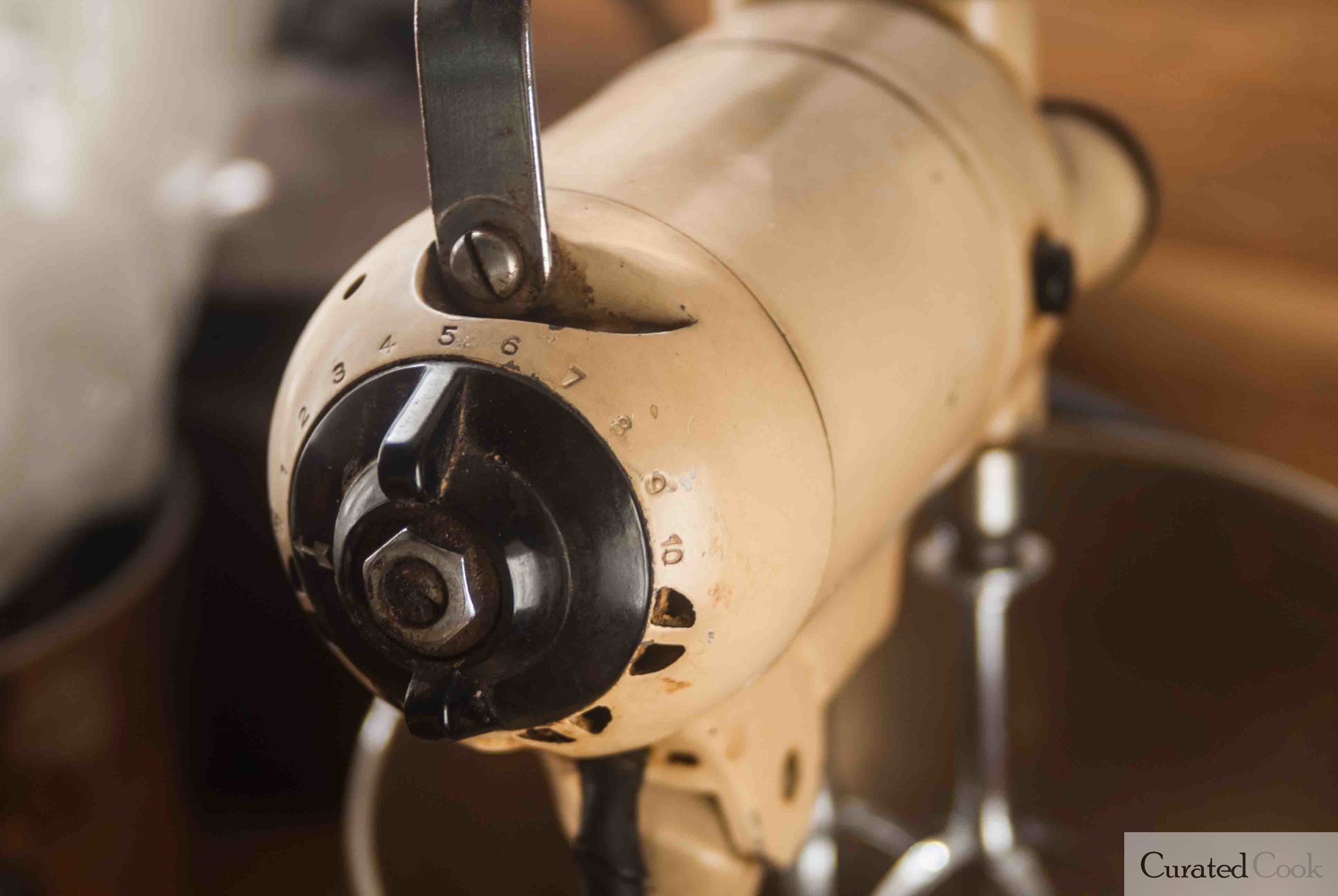 Base and Bowls
The bowl that come with the mixmaster of this era is a green jadeite bowl. It is made of glass and comes with a juicer attachment. The color is a striking contrast with the tannish yellow body of the mixer. An odd choice that made it iconic. Unfortunately for me, I dont have that bowl so I use a copper bow as a replacement.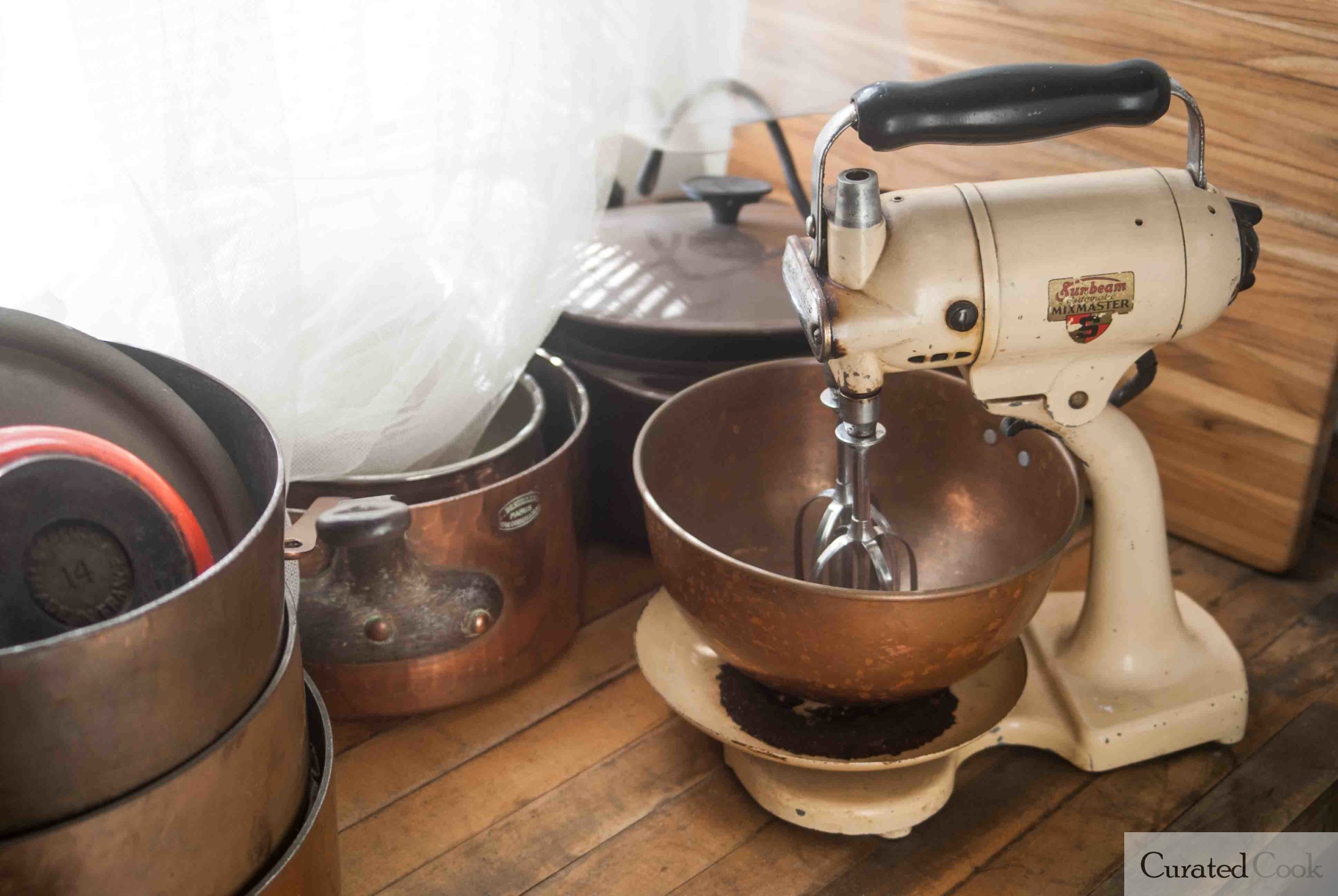 At its base, there is a plate that can be removed. This base has two position, center and offset. This was most likely done so that you can move and mix more content of the bowl. The plate also rotates at its axis so that it can aid in mixing. In the modern iteration, the bowl holder is motorized and rotates by itself.
Vintage Sunbeam Mixmaster Attachment and Accessories
There are a wide array of attachments available for the Sunbeam Model 1. However, the only common one these day is the Juicer and the meat grinder. The juicer attaches to the circular tube on top of the mixer. When you power on the machine, the spindle inside turns. This will motorize the attachment of the juicer. Essentially, it is a motorized orange reamer that sits on top of the mixer. While nice in theory, by pressing on it, you are stressing the base. I cant imagine that this was used too often.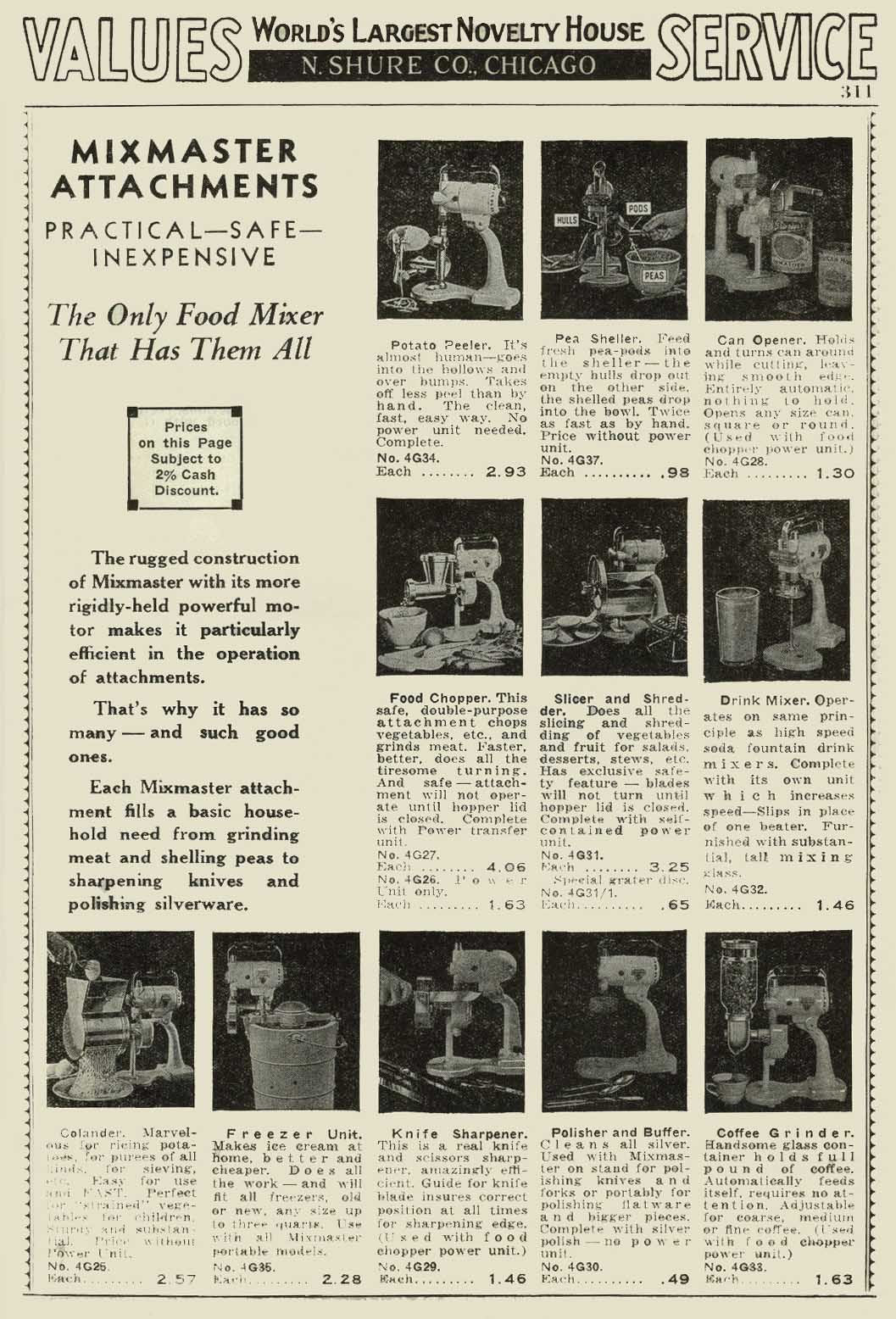 The meat grinder looks like a generic meat grinder. What is unique about it is the attachment mechanism. Sunbeam calls it this Power Transfer Unit. The power transfer unit attaches where the beater goes. It then secures itself onto the base holes. Attaching requires you to tilt the head upward and then lower. After you secure it, then you can affix the meat grinder.
Interesting enough, the food chopper was the most expensive. However it is also the most common one today. The coffee grinder commands a much higher price than the other one.
Handheld Mixer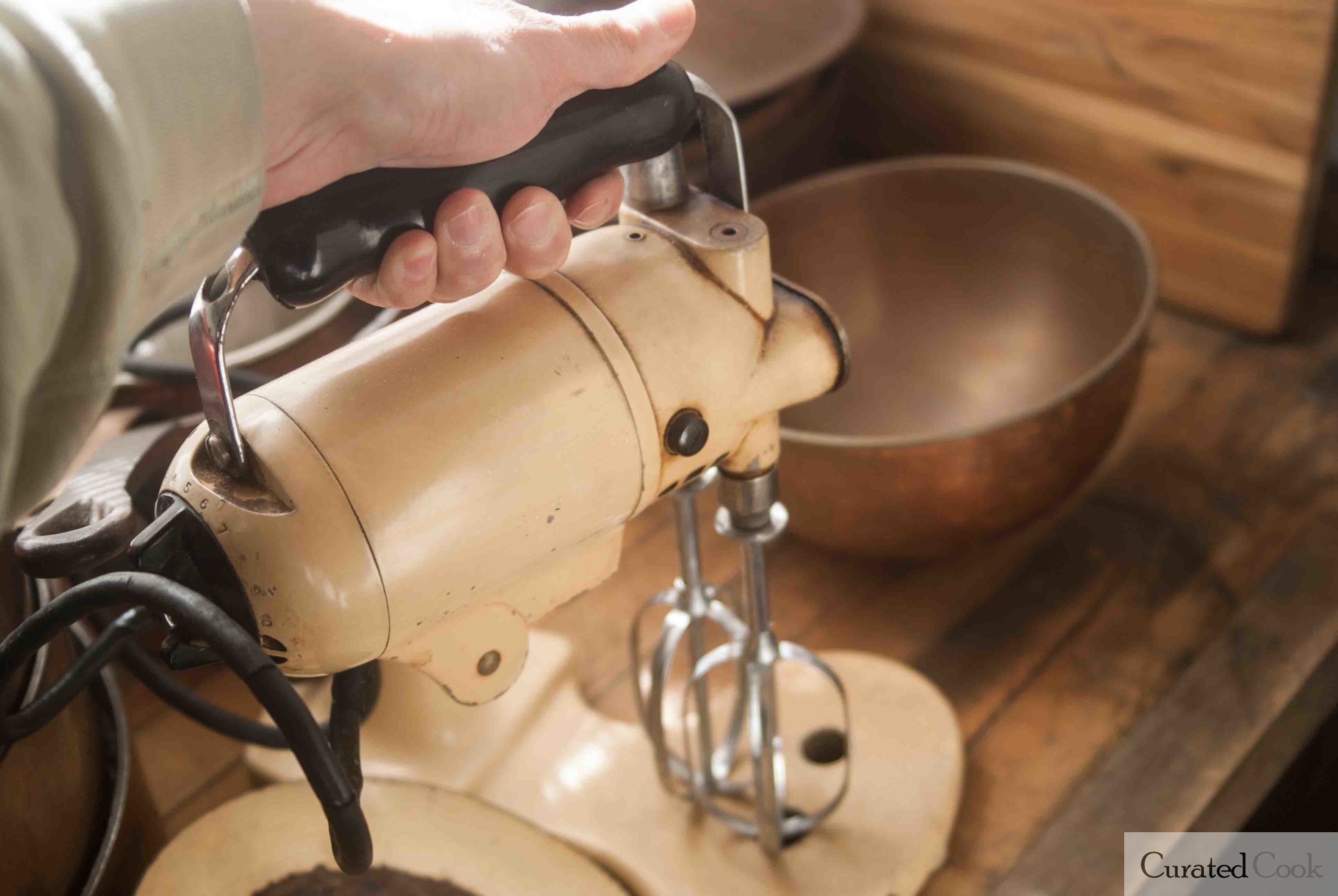 What is interesting about this model is that it doubles as a handheld mixer. You can detach the mixer from the base. This is done by depressing the switch underneath the mixer. The handle is large and comfortable, give you a secure and firm grip. The mixer itself, while heavy by today standard, is still moderately light. The only issue that I see is that the power cord is not particularly long. I recommend getting an extension cord if you plan on using it like this. Overall, this is a pretty unique and interesting feature. I love the duality of it.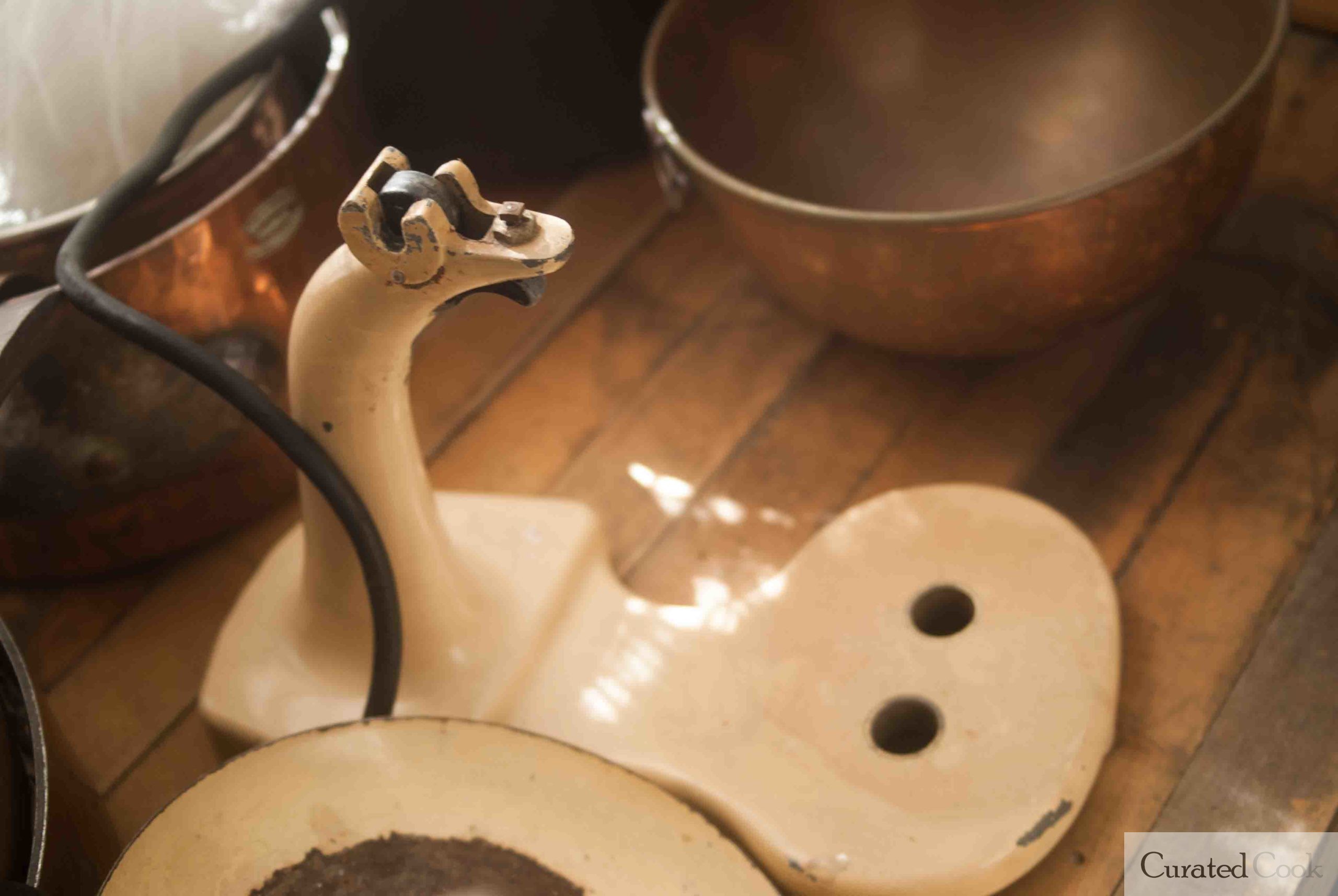 Vintage Sunbeam Mixmaster Performance and Oddities
The beater is a fixed type of beater. It does not have the same dual planetary rotation that kitchenaid has. It simply wont mix as well as the bigger competitor. You can get around this by spinning the bowl. Moving the bowl to the other side also helps with mixing. In terms of power, I would not recommend mixing heavy bread dough. I doubt it has enough power to do that and I fear attempting this in this mixer. It will most likely break the motor. Overall, the mixmaster model 1 is more like a suped up handheld mixer that you can get today.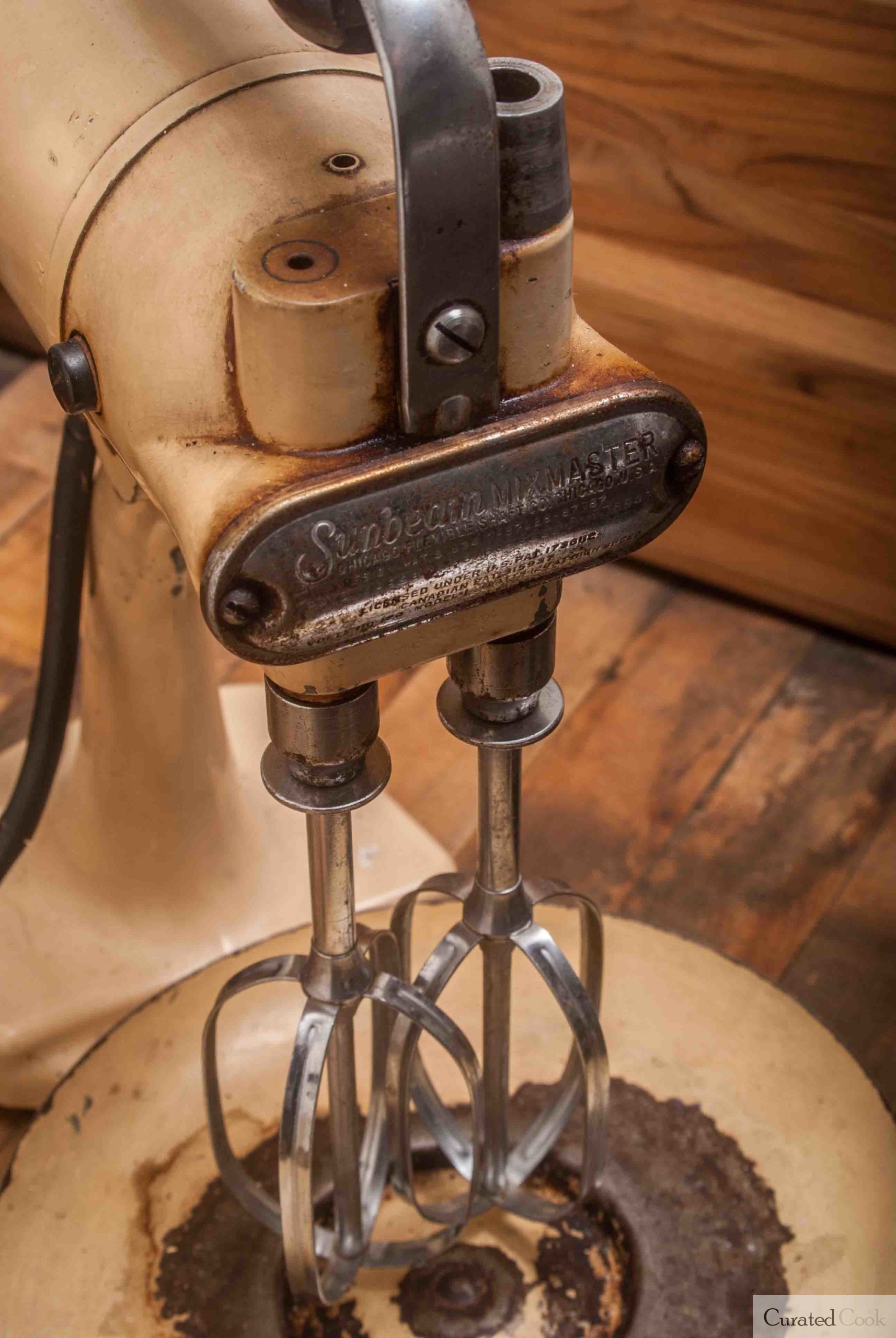 One odd thing that I notice of the mixmaster and other mixer of this era is the smell. They all have this distinct grease smell when turned on. The whirring of the motor though sounds beautiful. There is something about motors from the 50's and earlier that is very distinct and sounds incredibly well built. Something that is simply lacking today.
One for the Kids?
Sunbeam had a pretty good sense of humor. In partnership with the model one, they also released a miniature version known as the "Jr Mixmaster". It was meant as a toy for kids. That model only had a 25 watt motor. The height was only 9 inch in height and comes with a 4 inch jadeite bowl. Funny enough, this model is now worth more than the larger version. If you manage to find one, I recommend picking it up.
Vintage Sunbeam Mixmaster Thoughts
This mixer are a part of America History. I find them to be incredibly interesting and beautiful. It is a shame that manufacturer are more focused on profits than quality. As a mixer though, dont expect it to perform like a Kitchenaid. Those machine are a lot more robust but they also cost an arm and a leg. I would just get this mixer to mix simple stuff like egg whites or light batter.
If you would like to see more articles like this Vintage Sunbeam Mixmaster Review, please visit our Vintage page.
Sources
Wikipedia:
https://en.wikipedia.org/wiki/Sunbeam_Products
Decodan:
https://www.decodan.com/Sunbeam-ID