Falk Copper Frying Pan Review
Falk Copper Cookware is considered to be one of the best in the industry. The company was started in 1958 by Pieter Paul Van Achter a industrial engineer. In the past, they use to make copper cookware with the traditional tin lining. However, today the company specialize in a bi metal copper and stainless steel configuration. They were at the forefront of this technology and held the patent for quite some time. The thickness of the copper is usually 2.3 mm with a .2 mm stainless steel interior layer. Often time, they have a try me sale on their saucier, but most would agree that the Falk Copper Frying Pan is the star of the show. With that being said, how does their frying pan stack up against other manufacturer like Mauviel. Mauviel has been around for much longer than Falk, is their design any better?
Falk Copper Frying Pan Review Quick Summary
| Categories | Falk Culinair |
| --- | --- |
| Performance | Excellent |
| Colors | Brushed Copper |
| Brand Awareness | Europe and Copper Collector |
| Weight | 4.39 lb (1990 g) |
| Helper Handle | No |
| Pouring Lip | Yes |
| Thoughts | A excellent performing pan that is held back due to its shape. It resembles too much like a saute pan. If it had lower sidewalls, it would be excellent. |
| Reviewed Cookware | Copper Skillet |
Falk Copper Frying Pan Design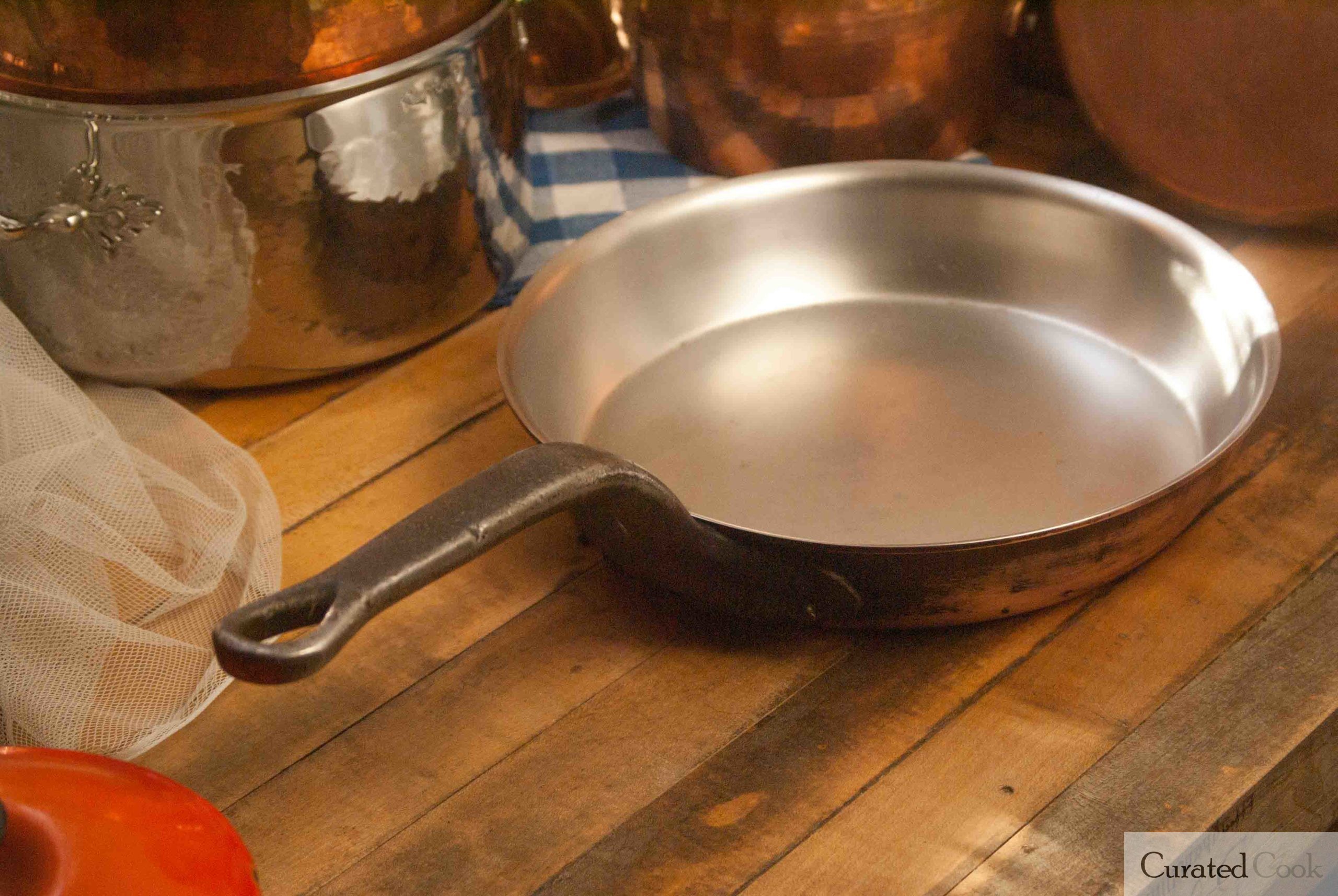 Falk Classic Handle vs Signature handle
The frying pan that I have uses the Classic Cast iron handle. The signature handle uses a thick stainless steel. Angle wise, they are different. The classic version has a curve near the base while the Signature is angled more perpendicular.
Performance wise, the signature series handle is better. It does not transmit heat like cast iron and it will stay cool longer. It has a simple design where it extends almost straight towards you. The center divots in slightly much like how All Clad handle is. This improves the grip on the skillet but at the same time causes discomfort. The main benefit from this design is that it wont rotate in your hand.
Rounded handles are more comfortable but they become slick when your hands are greasy. Given as such, its still more comfortable than All Clad's design. The handle is also quite a bit more substantial than All Clads. Theirs is puny by comparison.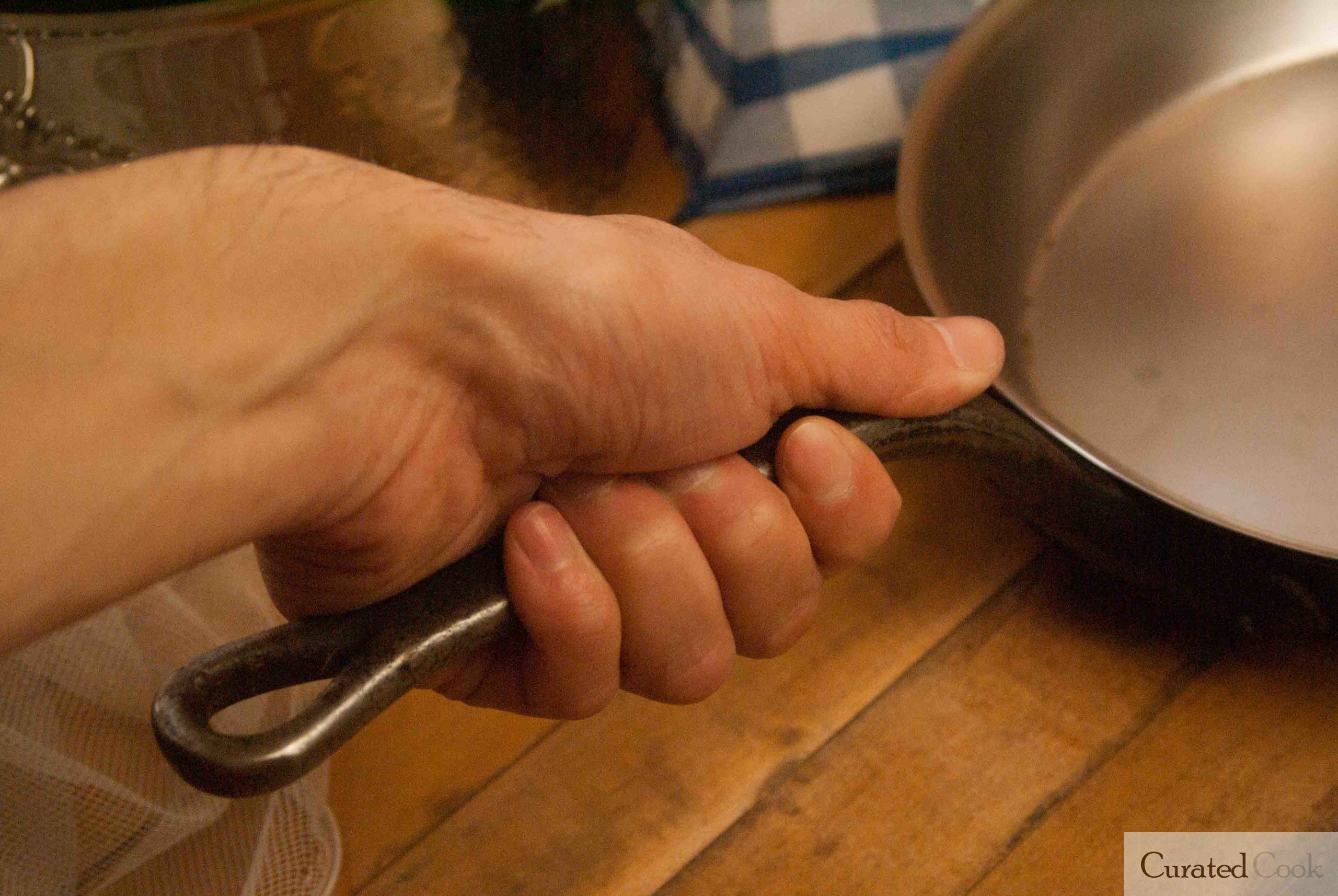 The cast iron classical handle on the other hand will transmit heat. If you cook on the stove top for a extended period of time, it will get hot. It resembles more of a traditional french skillet. I personally find that it flows better with copper cookware. The stainless steel on the signature series looks out of place and I never liked it.
Something interesting to note is the length of the handle. Measuring the distance of the curve to the loop, I found that it is around 4 inch. Roughly the same size of my hand.
On the base of the handle, the name FALK is engraved. Older model do not have their logo engraved. You can use this as a means of identifying vintage falk cookware.
Is the Falk Vintage Model Inferior?
With the logo being mentioned, I should note that I use to have both version of the pan. When I measured the wall thickness, it is around .2-.3 mm thinner. Which leads me to believe that the older model might be inferior in terms of thickness.
This can affect how the pans perform. Thicker copper are usually heavier and hold heat better. This is especially important if your goal is to sear food. A pan that is too thin, will loose heat fast. If your intention is to sear and brown food, go for the newer model.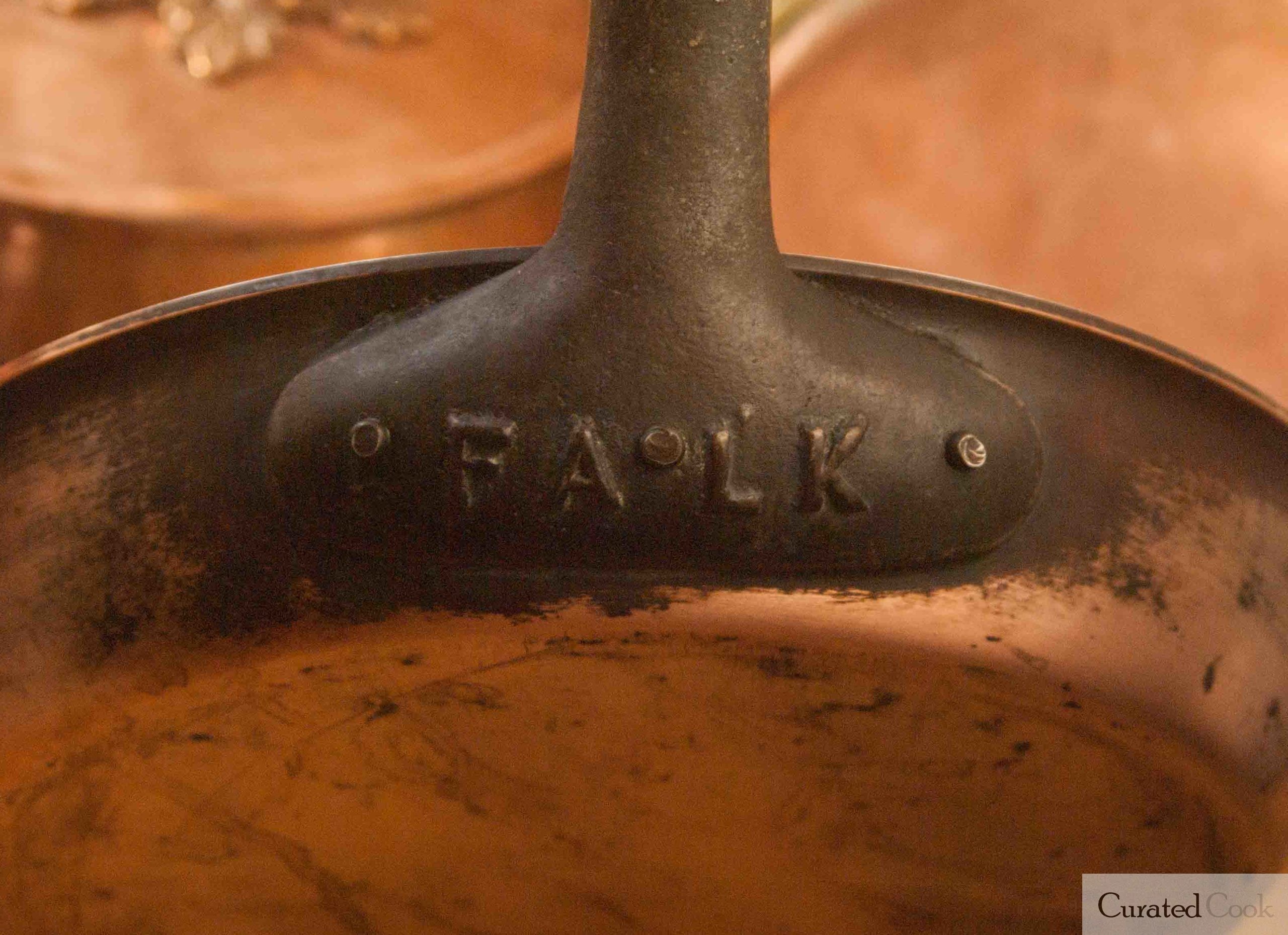 Falk Copper Frying Pan Shape
The shape is the major issue that I have with Falk copper frying pan. Although it is a frying pan, due to the high sidewall, it functions more like a saute pan. If you look at the corner of the interior, it rises up almost right away. A better design would be a gradual slope, much like the skillet from Mauviel. This prevents food from getting stuck in the corner.
However, this is a great choice if you do plan on getting a hybrid type of skillet. It can save you money and space by just buying their skillet.
For me I would prefer a skillet with lower sides. If I wanted a saute pan, I would have bought a saute pan. There is a good thing about this design though, it helps in tossing food. A lower sidewall will probably cause food to fly out of the pan.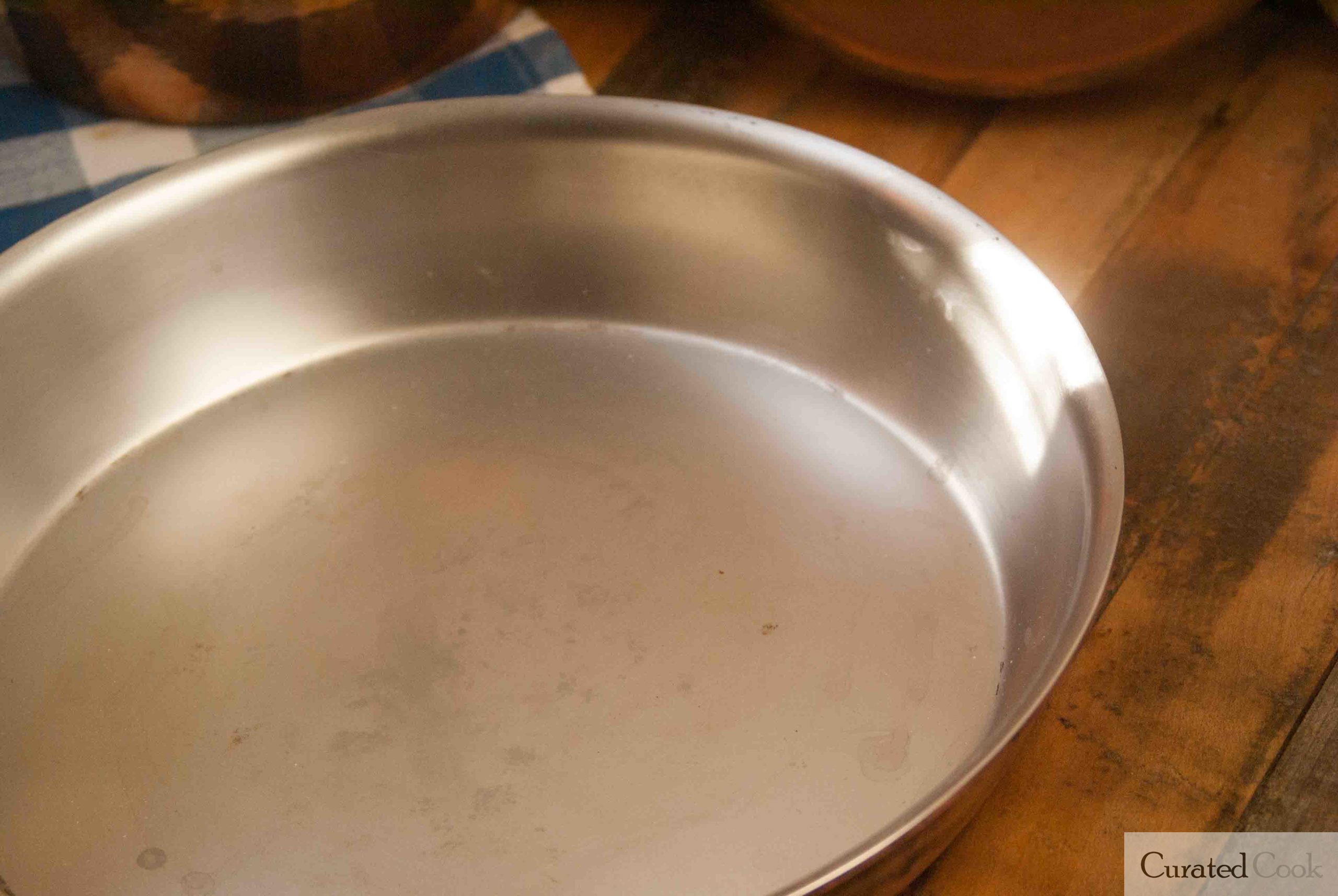 Other than that, I like that they have a rolled lip. A rolled lip allows for liquid to fall freely from the pan. It wont travel along the side and cause a mess. This is something that the newer Mauviel M250C pan seems to lack. I suspect that they are trying to save money on manufacturing.
Falk Copper Brushed Finish
Falk brushed copper exterior is what made them so unique. While most French Copper manufacturer relied on a polished smooth or hammered finish. Falk seems to pride itself on its matte interior and brushed exterior. Those who own copper cookware can tell you how high maintenance it is. By having a brushed exterior, any nicks or mark will be masked by it. Not only that, a mirror finish will dull with use. Polishing it by hand will not bring back its luster. You would need to get a rotary buffer to do that.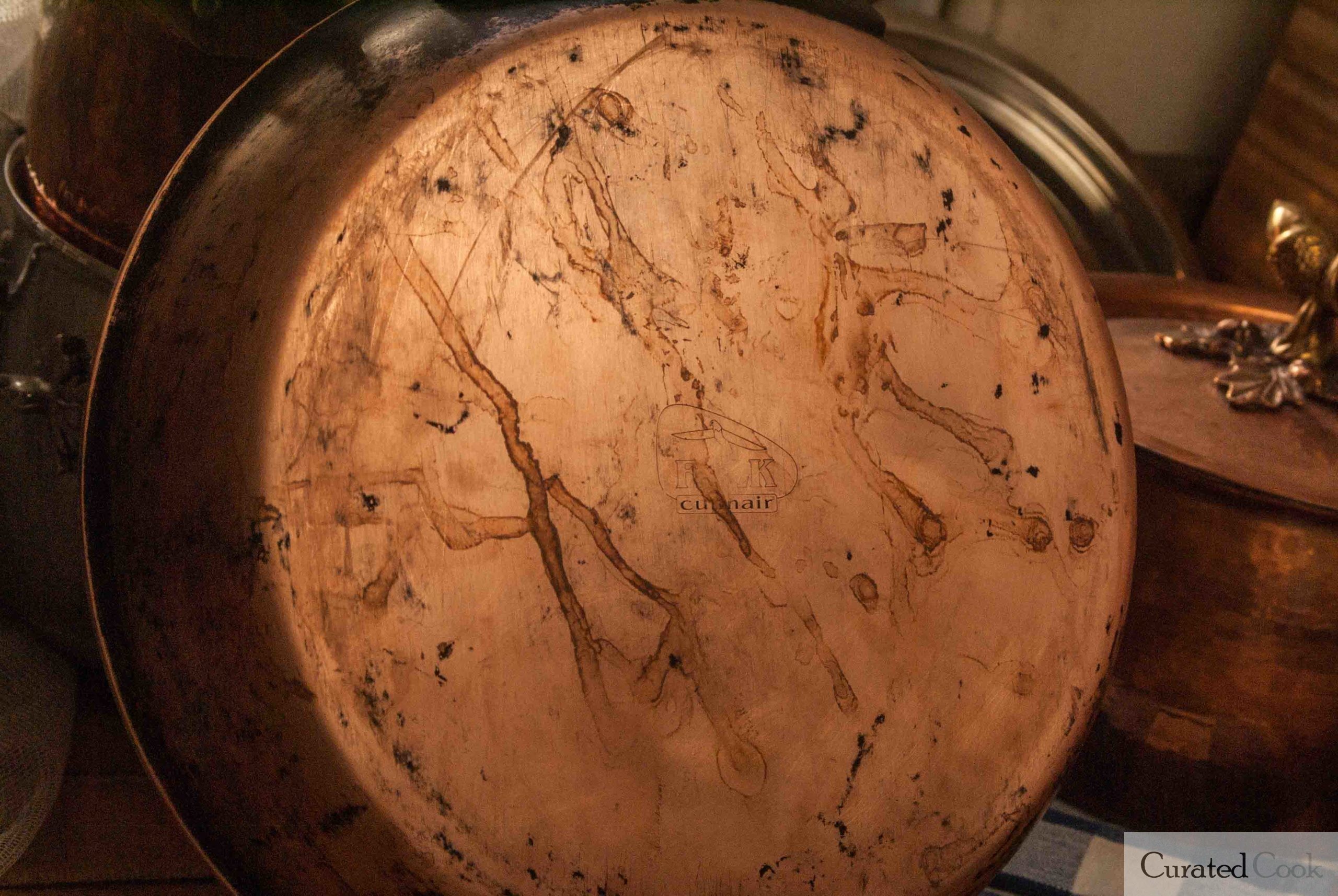 With that being said, a professional kitchen will not care about this. They are more interested in how well it performs. Regardless of what you do, if you cook regularly it will get caked in grease. I tried to remove all the caked on grease but gave up half way. I have to admit, it looks pretty disgusting. But cast iron cookware is literally caked in the same grease. This caked on grease is better known as "seasoning", but in reality, it is just caked on fat.
Specs:
Note:These measurement are done by me with the tools that I have on hand. The manufacturers have their own measurement guidelines and that should be assumed to be accurate. What I find on this review can vary widely due to several factors, such as ambient temperature, location, water, tool calibration, stove btu, etc..and should only be considered as my opinion.
Weight: 1990 g
Rim Width: Around 9.8 inch
Base Cooking Width: Around 7.8 inch
Height: Around 1.8 inch
Falk Copper Frying Pan vs Mauviel Performance Test
To test the how well it distribute heat and how well it heats up, I perform a toast test where I place a piece of toast in the center than weight it down with a meat pounder. I heat up the pan for a total of 2 min then see the color of the toast.
Below you can see how the test was performed.


Looking at the result, you can see how even the heating of the toast was. There was a slight cool spot on the bottom though. Given the weight of this pan, I would say the shade of the toast is pretty indicative of how fast copper pan heats up.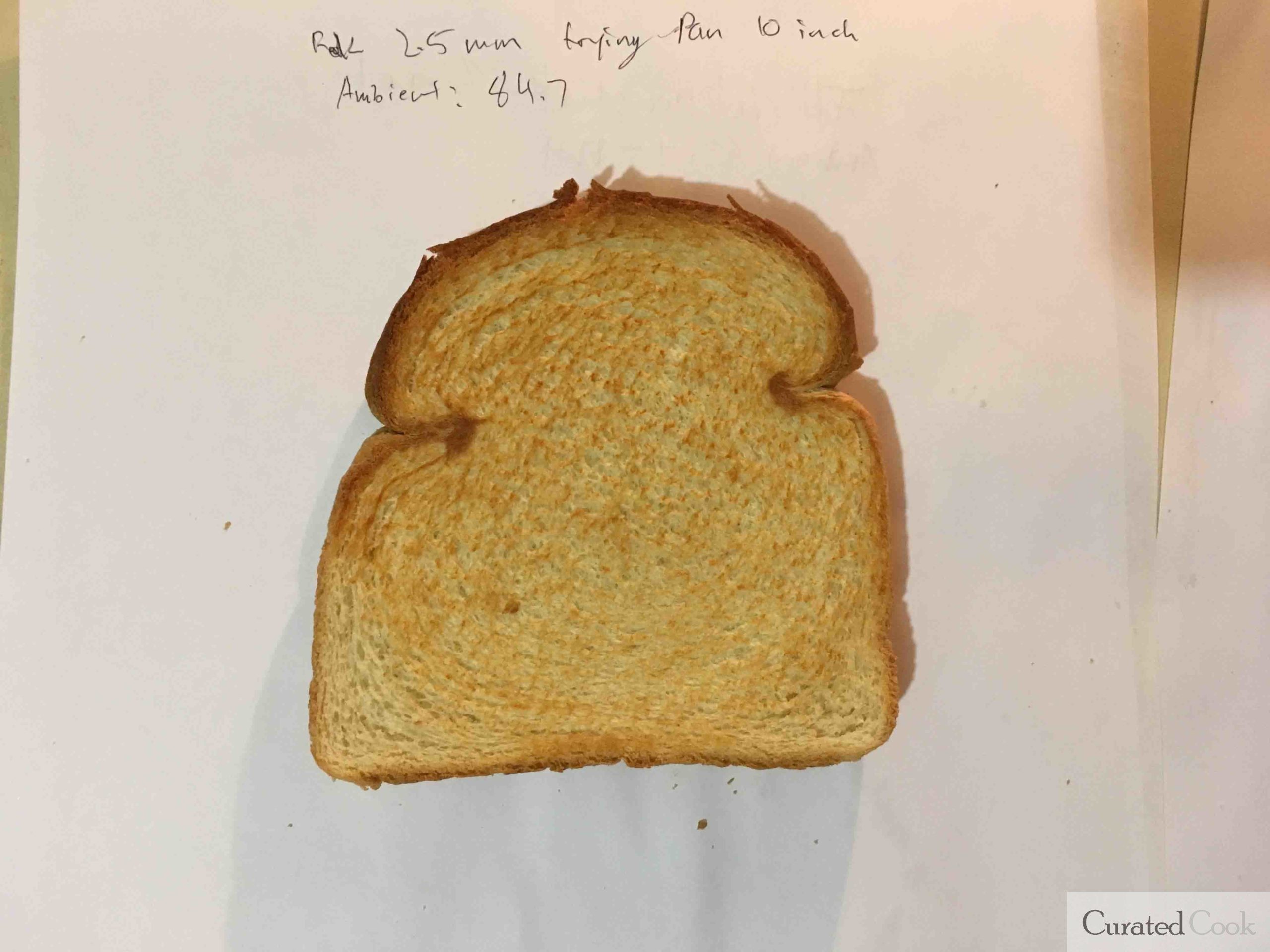 Now, we will compare this same test on Mauviel's Modern Frying Pan, the M250C. As you can see, the result is slightly more even and darker. The darker shade of toast can be easily be explained due to the weight(1848 g). In general for a result as close as this, a heavier pan is better. The reason being is that you have more heat stored into the pan. Having more energy means there is less of a chance of food steaming when you accidentally over crowd the pan during initial searing.
The heat distribution might be due to chance, I really don't know but it looks like Mauviel win this round. The toast shade is beautiful though isn't it?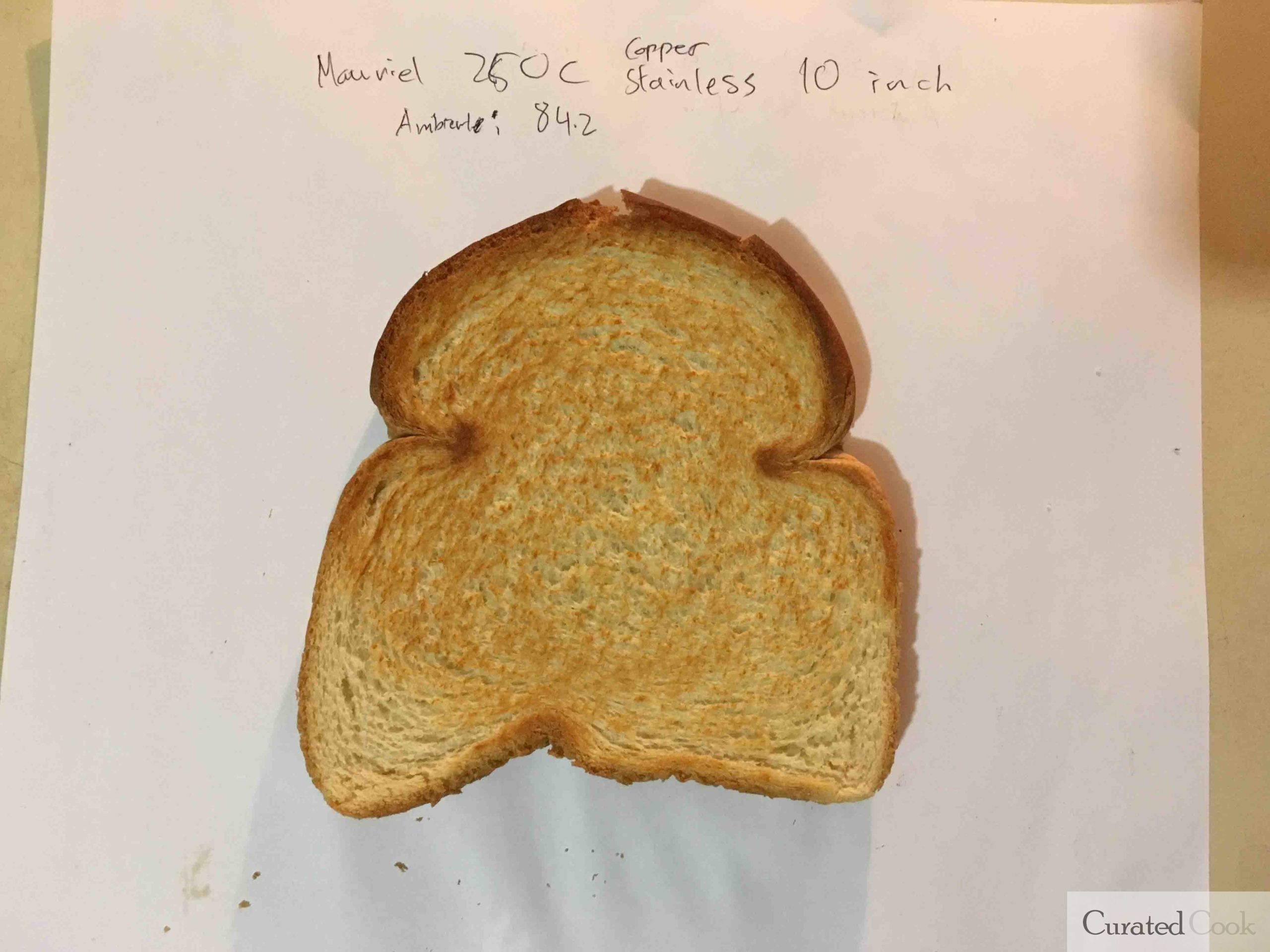 Conclusion
There is a lot of thought and ingenuity that went into designing Falk Copper Cookware. However, I would say that the major downfall for this frying pan is simply due to the shape. To me, it does not fit what a traditional frying pan is like. It would be perfect if the sidewall was a little bit more slanted and shorter.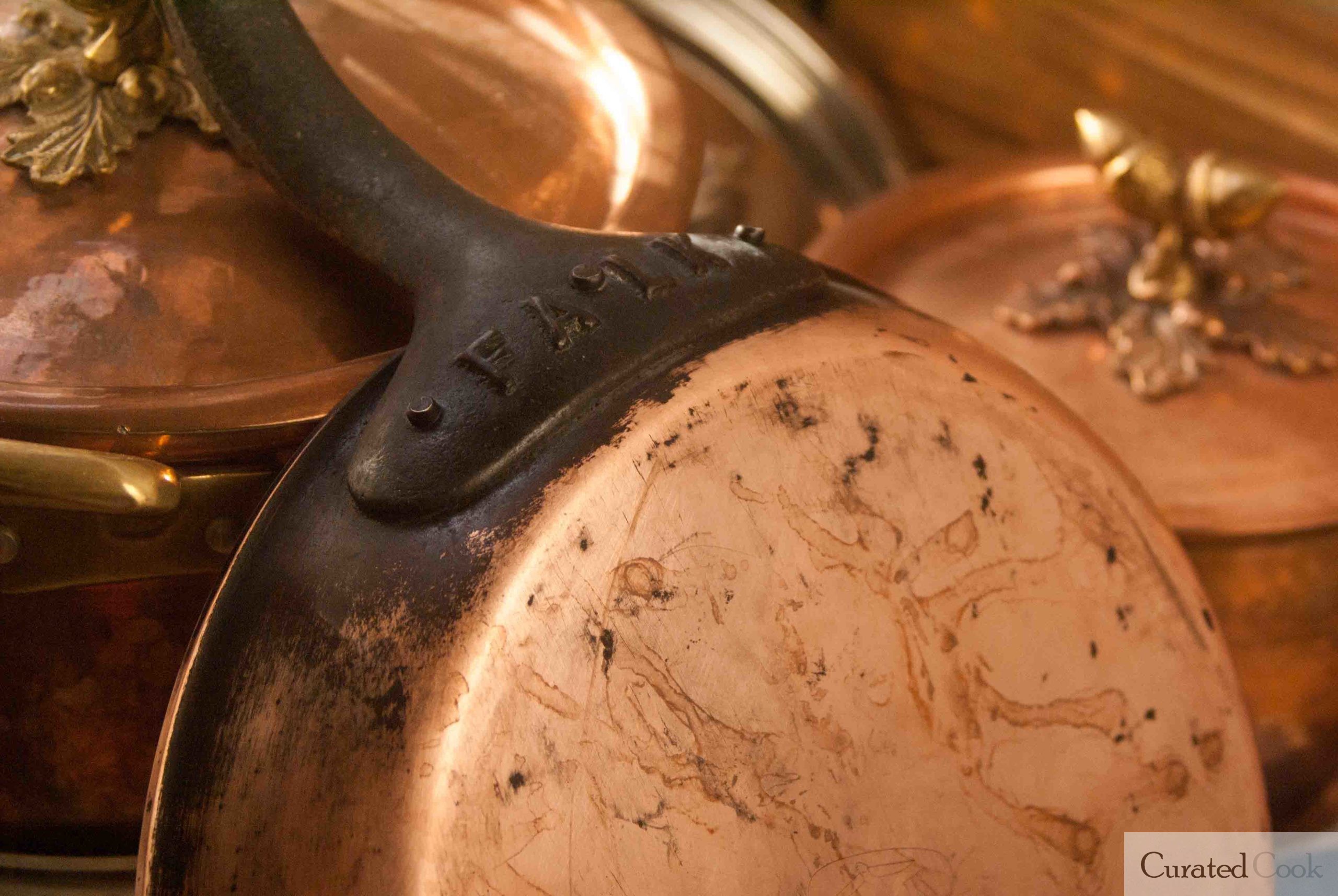 Both Mauviel and Falk has its strength and weakness, what you choose should really be dependent on your preferences. In the Toast Test, both performed beautifully with a slight edge given to Mauviel.
I hope you like this Falk Copper Frying Pan Review, If you would like to see more, please visit our Pots and Pans Review page.
Source