Making purchases at Amazon.com and other website funds this website by generating revenue. Any help is appreciated and supports both me and content like this.
Matfer Bourgeat Saucier Review
Matfer Bourgeat is a french cookware manufacturer that caters to cooking professionals. Most of the marketing that you see online is curated for the professional kitchen. For that reason, most consumers have never heard of them. However, if you do come across their cookware, the shape and design is one of the best in the industry. The Saucier is a bi metal copper and stainless steel pan. For those who do now know what a saucier is, it is a combination of a frying pan and a sauce pan. It has the curved flared edges of a frying pan and the sidewall of a sauce pot. Today, we will be reviewing Matfer Bourgeat saucier. We will be testing its heat conductivity, take a closer look at its design and see how it does on the toast test.
Matfer Bourgeat Saucier Review Quick Summary
| Categories | Matfer Bourgeat |
| --- | --- |
| Performance | Excellent |
| Colors | Polished Copper |
| Brand Awareness | Professional Kitchen |
| Weight | 4.06 lb (1844 g) |
| Helper Handle | No |
| Pouring Lip | Yes |
| Thoughts | Buy for Performance and Easy Whisking Corner. Other manufacturer like Mauviel and Falk has harsh sharp corners in the interior. This is one of the best copper saucier for sauces. |
| Tested Cookware | 7.8 Inch Saucier |
Matfer Bourgeat Saucier Design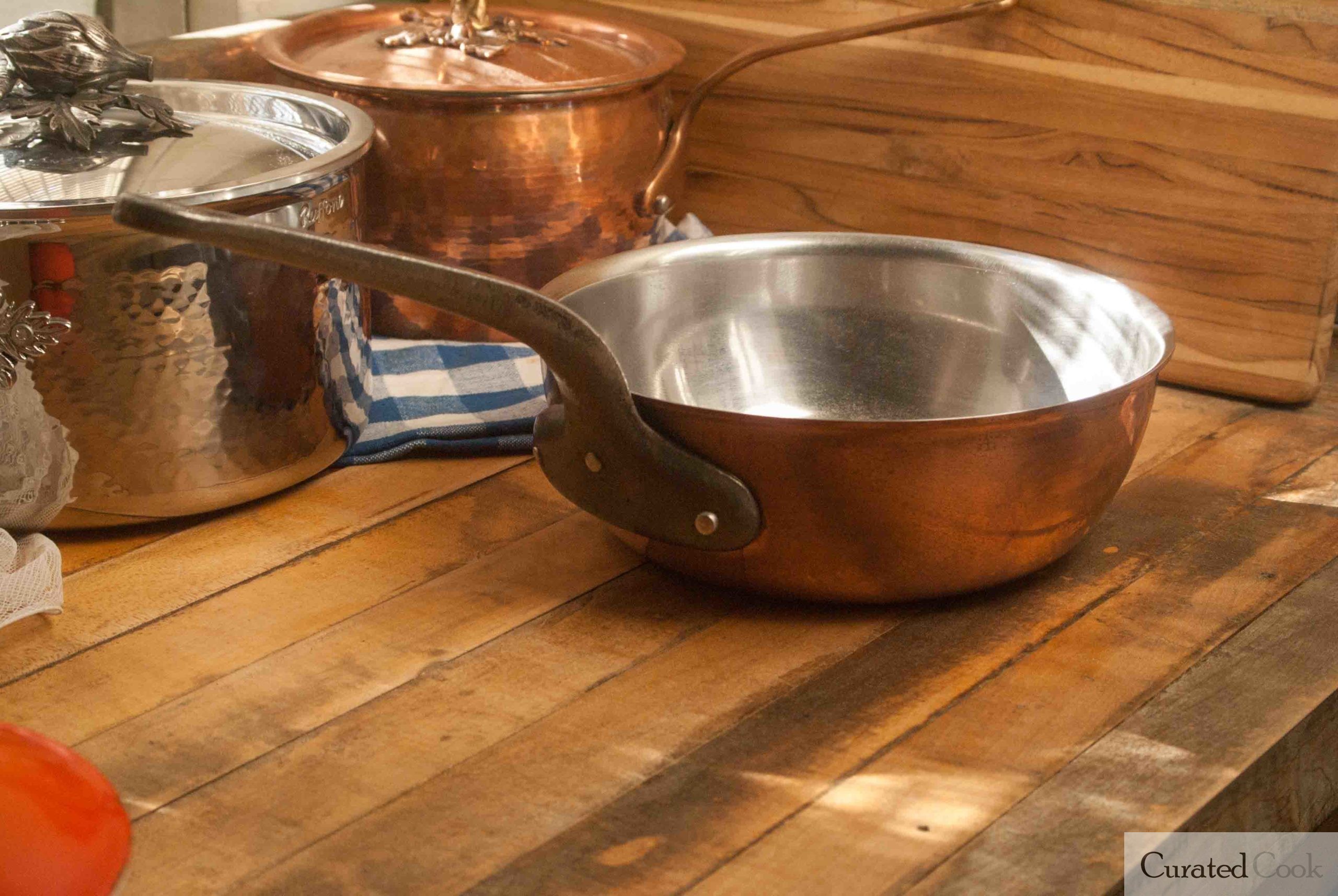 Handle
The handle is a cast iron handle that is mounted near the base with three stainless steel rivets. Mounting near the base gives the user more control over the saucier. To better understand this, think of a pendulum. Gripping a pendulum at the far end will increase the amount of momentum that the pendulum has. If you grip it near the metal end of the pendulum, you will have more control over it.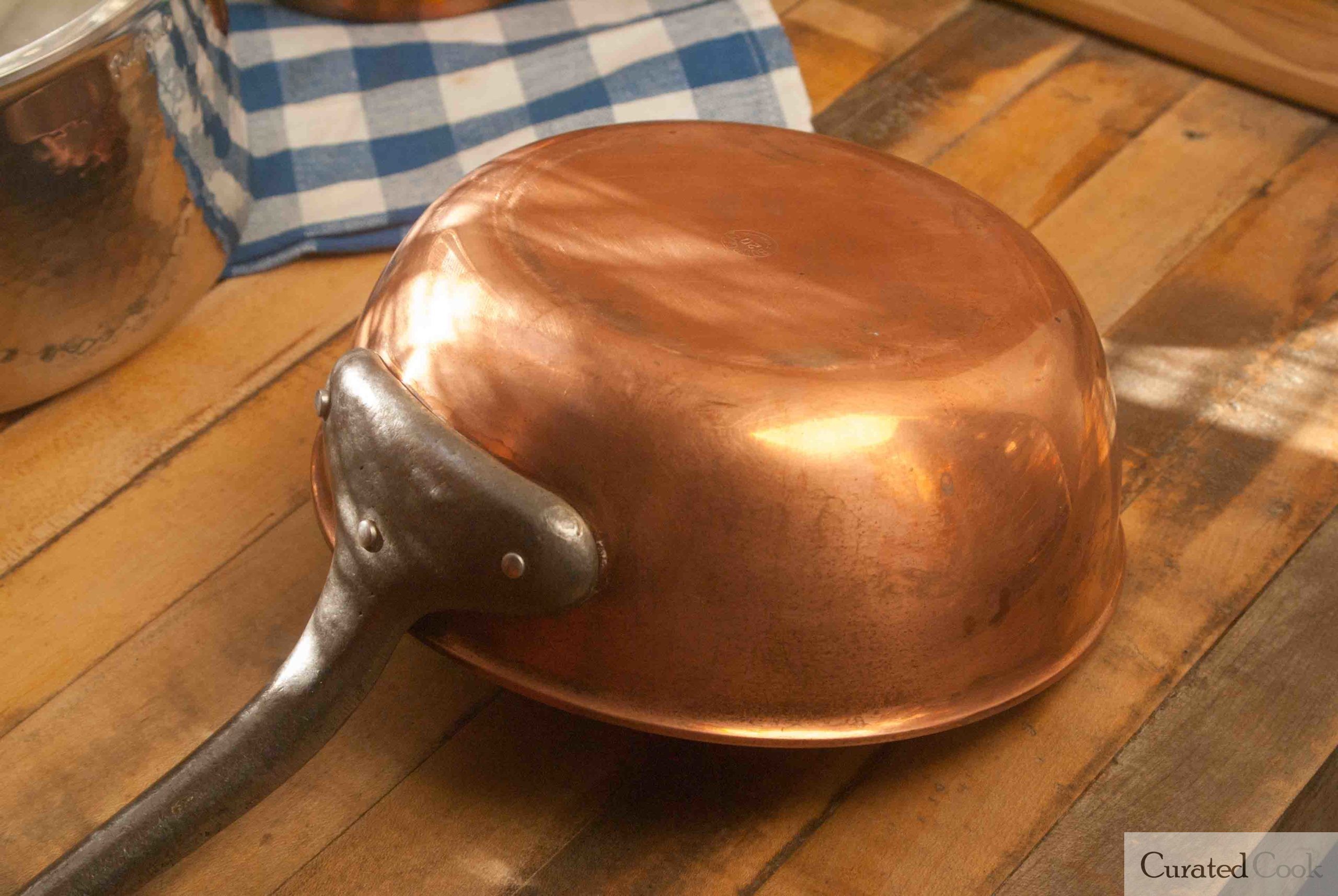 The cast iron handle itself is filmed with a shiny coating. More than likely this was done to prevent rust from forming. However, this coating can be worn down over time as there is still some rust coming through. For the area where the film is still intact, it still does a fantastic job in maintaining it finish.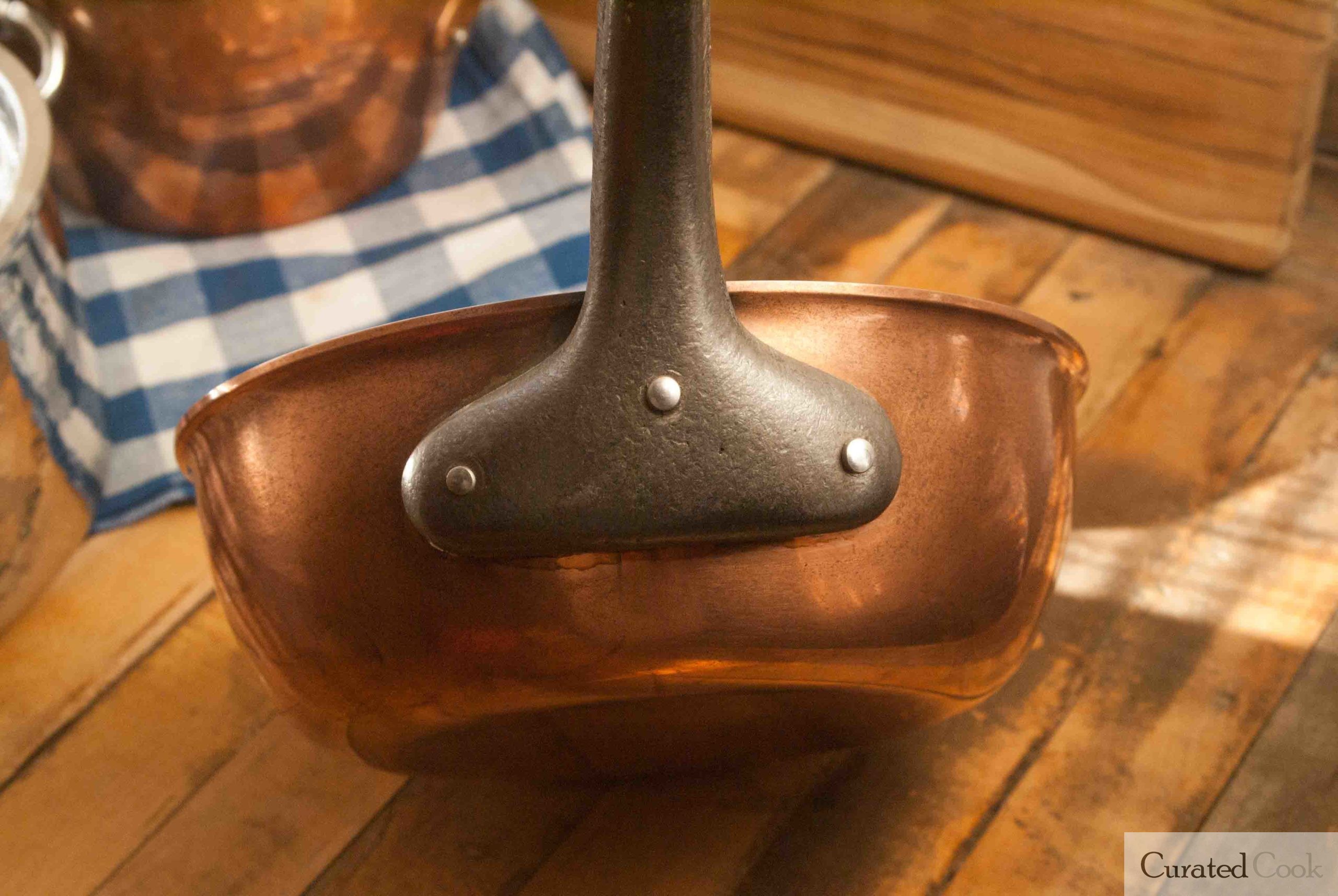 The base of the handle, like most Matfer Bourgeat Copper Cookware has a very large cast iron base. I do not know the exact reason for this but I assume it is too reduce the amount of heat that transfers to your hand. A larger base means that it will take longer for it to heat up. If you manage to cook your dish before it reaches that point, you can avoid burning your hand.
Matfer Bourgeat Saucier Shape
Matfer Bourgeat Saucier is shaped like a half circle with a flat end. It curves from the bottom of base and tapers gently to the top. This shape allows for liquid to evaporate quickly due to the increase surface area at the rim of the pan. Measuring the length, I found that the top is 8.5 inch in diameter and the flat base has a width if 5 inch. A 3.5 inch reduction in side.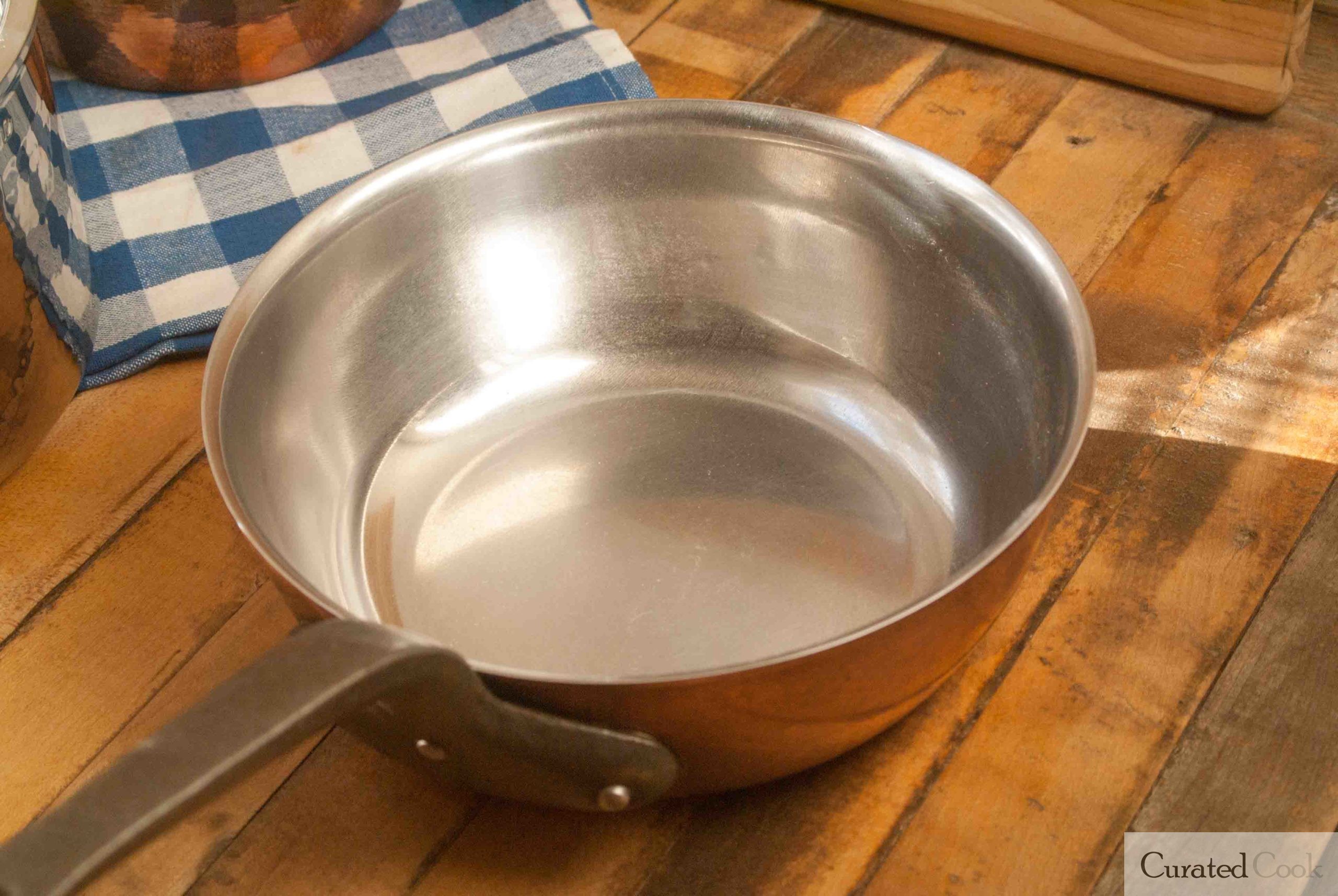 Typically this small cooking surface is not desirable. However, this saucier has a curved interior that allows a wisk to contour to the edges. When you are cooking or making sauces this is one of the primary benefit of a saucier. Other shape design like the windsor pan does not have this gentle slope. Sauciers like those from Mauviel and Falk has a sharp edge. That is not desirable when you are whisking. You have to really dig in there to get at those corners.
Copper and Stainless Steel
Matfer Bourgeat copper cookware typically comes in a bi metal copper and stainless steel configuration. The stainless steel lining gives you the durability of stainless steel. When searing, you do not have to worry about the tin melting or wearing down through normal use. The downside to this is that some claim that stainless steel negatively affects the thermal conductivity of the copper. However, in my opinion, the thickness of the stainless steel is so thin that it does not matter that much. I much rather take a hit in performance than pay for a retin that cost as much as the pan itself.
Other issue of stainless steel is the amount of sticking that occurs. Tin is considered to be the original non stick finish according to collectors online. Matfer Bourgeat Saucier have a stainless steel lining that is polished to a mirror finish. My saucier is well used so it is a little clouded. Nonetheless, I believe the original reason why it was polished smooth is because smooth object are less resistance to sticking than a rough surface. If you use the saucier for a good period of time, expect that the mirror finish will go away. Any benefit from that will be gone.
Matfer Bourgeat Copper Thickness
In the older models, before Matfer and Bourgeat merged, you can find that their cookware comes in a Copper and Tin finish. Some of those models also comes with a very thick copper, thicker than what you can get today. Thickness of 3mm+ are highly sought after by copper cookware collector. It seems like the maximum thickness you can get in the stainless steel finish is only 2.5mm. Measuring this saucier with my micrometer, where the lip curve, the thickness is 2.5mm, as I go down the side, it thins out to 2.35mm. This can be due to the copper being stretched by the hydraulic press.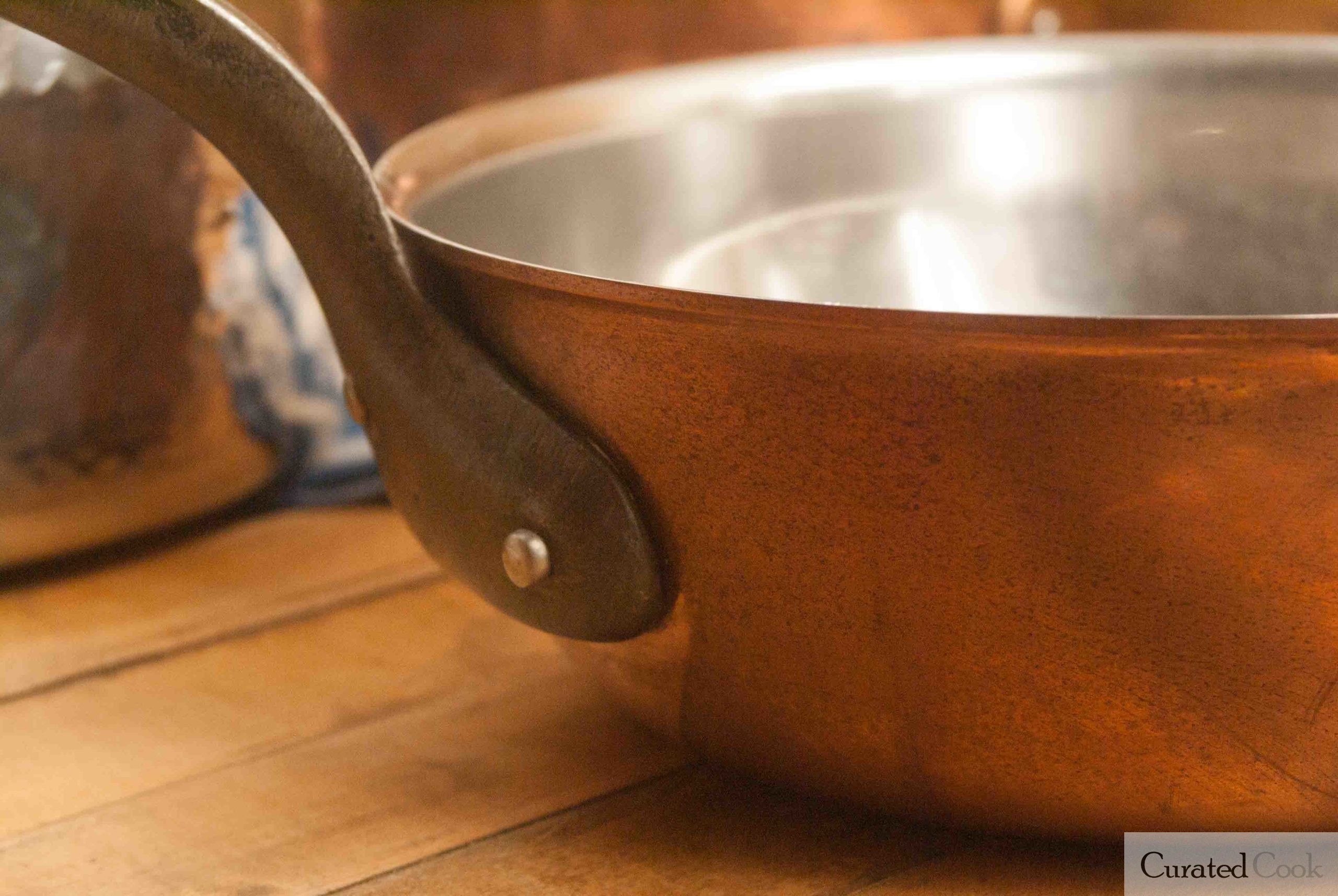 Fit and Finish
Fit and Finish is excellent on this copper saucier. Most of the process is making this saucier was most likely machine made. The only area where I see a nick is the rivets, that was probably done by the riveting machine.
Specs:
Note:These measurement are done by me with the tools that I have on hand. The manufacturers have their own measurement guidelines and that should be assumed to be accurate. What I find on this review can vary widely due to several factors, such as ambient temperature, location, water, tool calibration, stove btu, etc..and should only be considered as my opinion.
Weight: 1844 g
Rim Width:Around 8.45 inch
Flat Cooking Surface Width:Around 5.1 inch
Sidewall Thickness:Around 2.5 mm then tapers to 2.35mm
Matfer Bourgeat Saucier Performance
Toast Test
To test the how well it distribute heat and how well it heats up, I perform a toast test where I place a piece of toast in the center than weight it down with a meat pounder. I heat up the pan for a total of 2.5 min then see the color of the toast.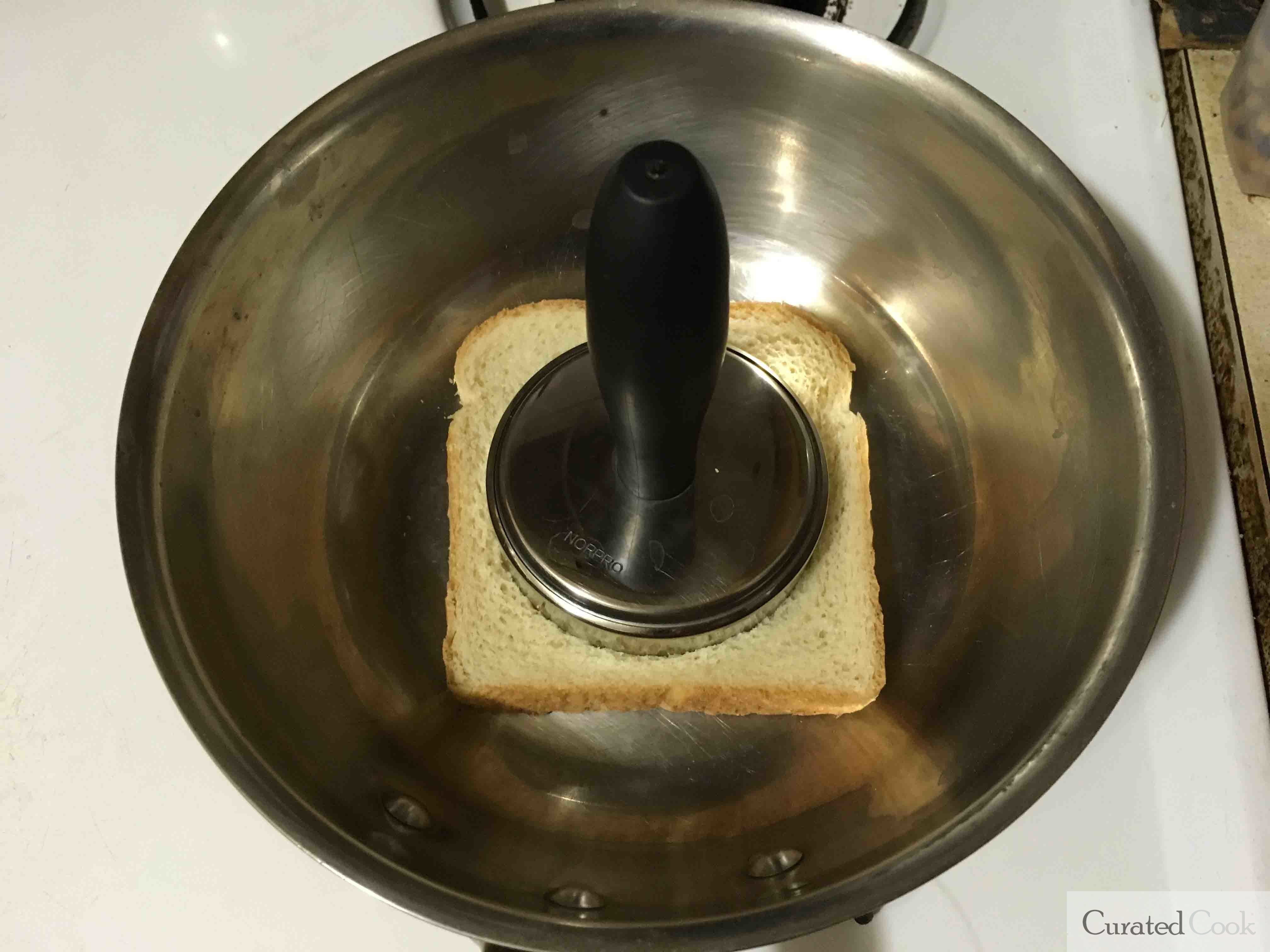 Because of the weight of this saucier. I added an extra 30 seconds to the test. The result are pretty good, the heat distribution is almost perfect. It is slightly lighter near the bottom but minor all around. This type of material is perfect for a saucier.

Conclusion
This is a pretty well made saucier. Heat distribution is excellent, the curve sides allows for easy whisking, and copper/stainless steel allows for maximum heat efficiency and durability. The only downside I would say is that for a saucier, you need very good heat responsiveness. Because of the mass on this pan, I would say that it wont be able to respond to heat drop as well as the one from All Clad. Given that, I would still buy a heavier saucier for the initial stage in cooking when searing is important. I recommend buying this Matfer Bourgeat Saucier to anyone, it is one of the best copper/stainless steel saucier in the market.
I hope you like this Matfer Bourgeat Saucier Review, If you would like to see more, please visit our Pots and Pans Review page.