Making purchases at Amazon.com and other website funds this website by generating revenue. Any help is appreciated and supports both me and content like this.
Matfer Carbon Steel Pan Review
Matfer Bourgeat is a french manufacturer of cookware that targets restaurant professionals. Cookware used in a professional kitchen is subjected to more abuse and heat than your typical household. Given as such, Matfer need to build their cookware to withstand the heat and abuse of a professional kitchen. Matfer Carbon Steel Pan is one such pan, its durability allows cook to use and abuse it without worry. Where as your typical non stick pan will be lucky if they last half a year. Today we will be reviewing Matfer Carbon Steel Pan to see exactly why chefs and cooks love their cookware so much.
Check Matfer Bourgeat Best Price
Matfer Bourgeat Carbon Steel Pan Quick Summary
| Categories | Matfer Bourgeat |
| --- | --- |
| Performance | Good |
| Colors | Steel Grey, changes to black as you Season. |
| Country of Manufacturer | France |
| Brand Awareness | Professional Kitchen |
| Weight | 2.66 lb (1208 g) |
| Helper Handle | No |
| Pouring Lip | No |
| Thoughts | The Performance of Cast Iron at Half the Weight. Great if you want a non stick pan alternative. You can also use this pan to sear food. This pan can last a lifetime. |
| Reviewed Cookware | 8 5/8 Inch Carbon Steel Skillet |
What is Carbon Steel?
You can think of Carbon Steel as cast iron skinnier sister. It has the same benefit as cast iron but with a portion of its weight. Looking up the thermal conductivity at the engineering toolbox website, the performance is very similar to what you get in cast iron. Carbon steel, depending on the grade has a 54(W/m K) Thermal Conductivity. While cast iron has a 52(W/m K) Thermal Conductivity. The specific heat, which is the amount of energy needed to raise the metal temperature, is very similar. With cast iron having a .46 kJ/(kg K) and carbon steel .49 kJ/(kg K). Both of these pans should heat up and conduct heat very similarly if they have the same amount of weight/density.
Matfer Carbon Steel Pan Seasoning
When you first receive Matfer Carbon Steel Pan you need to season it so that it develops a patina and the non stick coating will form. If you do not do so, the non stick performance will be lacking and rust might form, much like cast iron pans. Seasoning the pan can be usually done by cooking potato peels salt and oil.
Matfer Carbon Steel Pan Design
Handle Shape and Design
The handle is a wide 1.2 inch flat bar that has a slight concave shape to it. I am assuming it is made of a metal similar to the carbon steel. They finish the handle in a tumbled like design so that you do not have to worry about keeping it pretty. Over time, if you use it regularly, it will become covered in grease. The slight concavity allows for a better grip that digs into the base of your hand. However, depending on the size of your hand, you will have difficulty hold onto it properly. I have a smaller 8 inch and a 11 7/8 inch version of this pan and they are both the same width. The only difference between the two is the length of the handle.
Matfer Carbon Steel Pan Rivetless Design, is it better?
The handle is mounted to the pan via rivets that has been shaven off. It is one of the few carbon steel pans that offer this feature. Rivetless pans allows you to clean the area around the rivets where food and gunk usually get stuck. The ironic thing about this is that since this is a carbon steel pan, you purposely want to have oil build up on the pan. The more oil build up, the more seasoned and non stick it is. Kind of defeat the purpose of it. I am actually more interested in how they were able to mount the rivet so securely onto the pan. I reckon that they welded it on.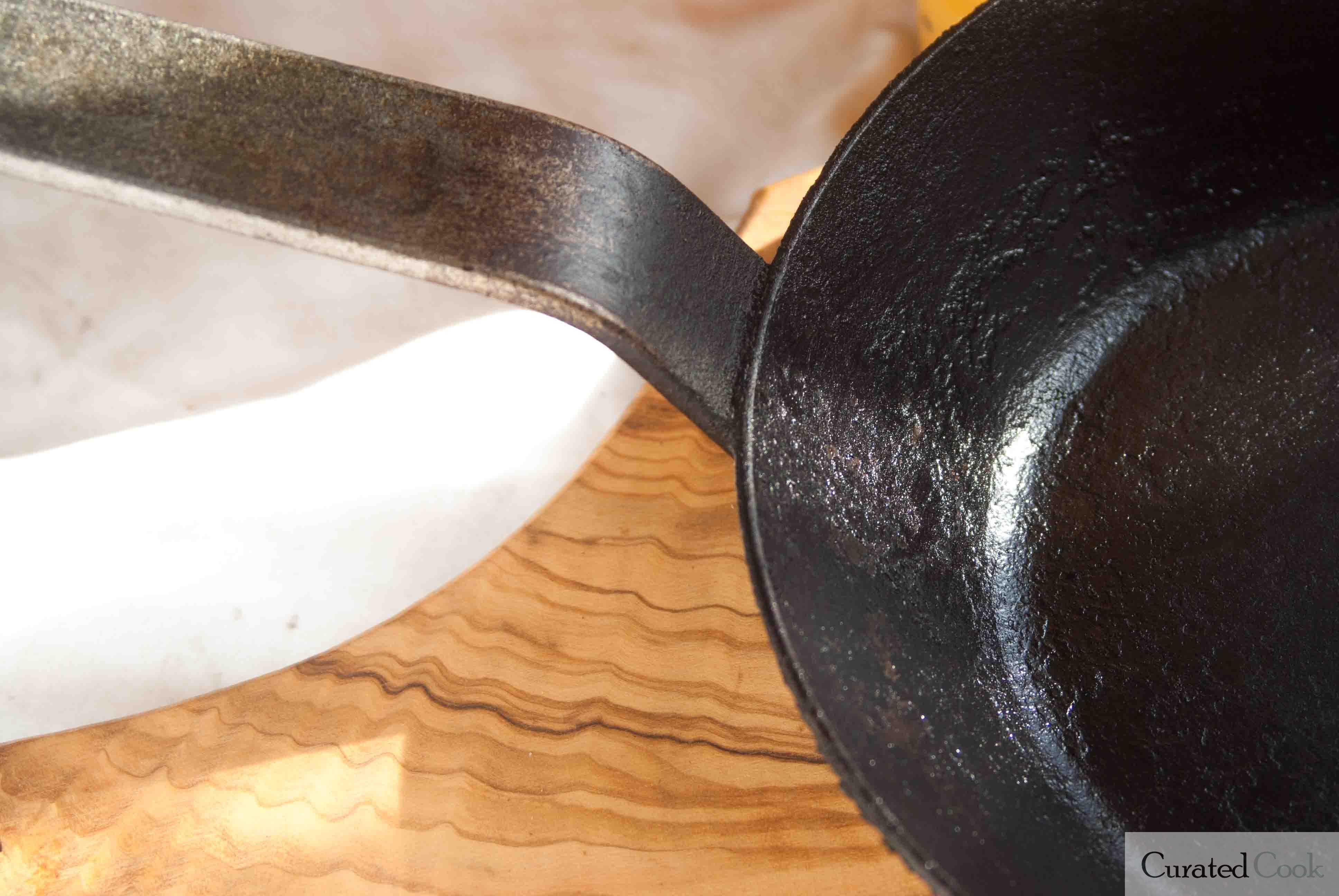 Carbon Steel Cooking Surface
There is not much to say about this that hasnt been already been said. It provides a good non stick performance much like cast iron does. Looking at the thickness, it is considerably thinner than you standard cast iron pan. Using a Micrometer, I found that they are around 3.1 mm in thickness. Thinner than your Le Creuset or Lodge Cast Iron Pan which has a thickness of around 3.78mm.
For those who are obsessed with the smooth cast iron pan, these are the pan for you, they come smooth from factory. You dont even have to grind it down. As stated before in my other reviews, I do not believe that they smooth surface adds much performance. Foods which sticks will stick, unless you have a completely unseasoned pan. A rough or smooth surface wont help much.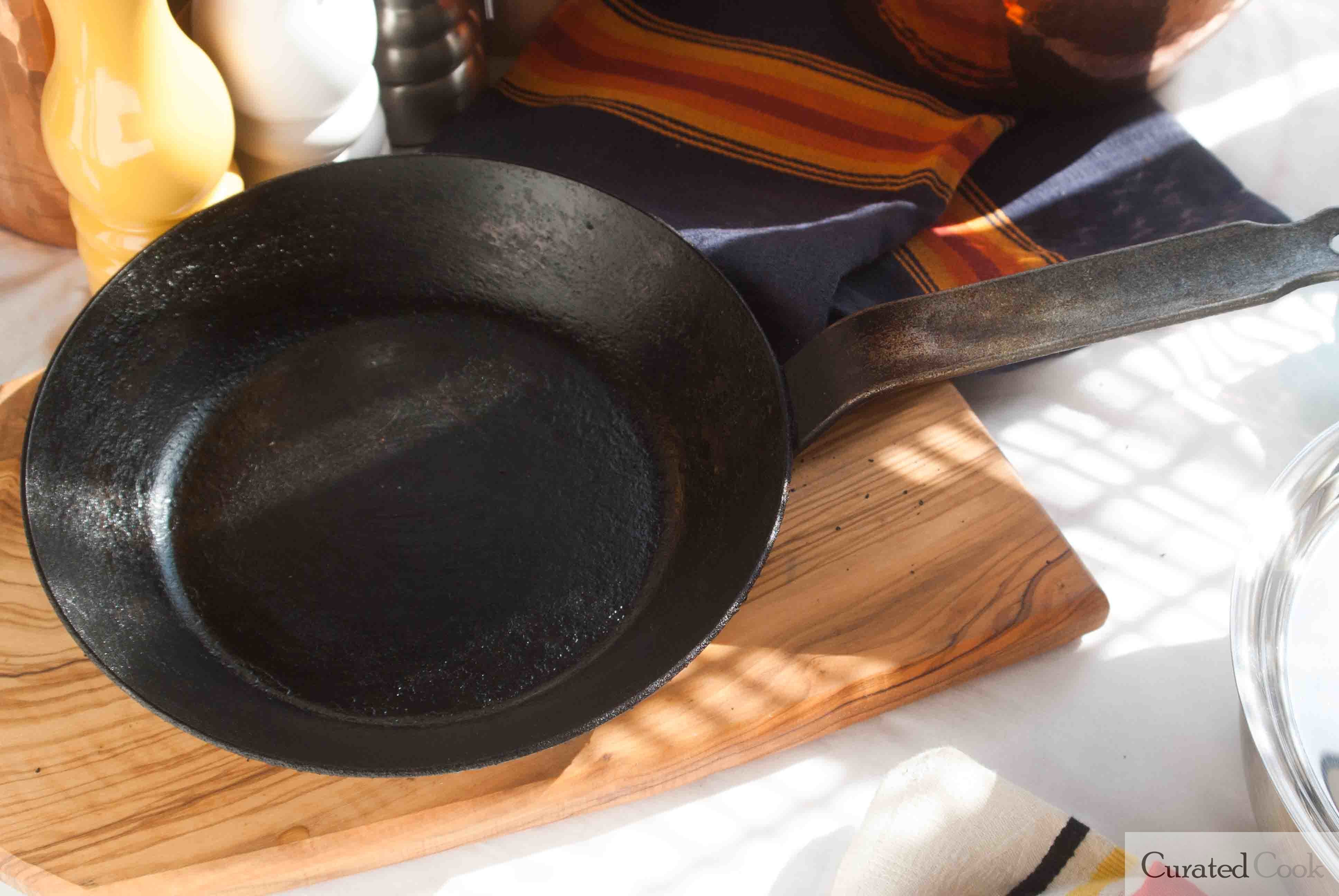 When purchasing this pan, its important to buy it based on the bottom diameter, not the advertised diameter. On matfer bourgeat 11 7/8 inch carbon steel pan I measured the cooking surface area to be around 8 3/4 inch. That is around a 26% lost in cooking space. Interesting enough, the 8.5 inch pan only drops 2.5 inch in diameter, which is roughly 70% of the overall width. Whatever your needs are, minus 2-3 inch from the advertised diameter.
Aside from that, the shape is similar to those older pan shape. A strong taper upward with no rolled or pouring lip. When pouring sauces or emptying the grease from the pan, you might have some trouble doing so.
Fit and Finish
Fit and Finish is good for what it is. It is meant to look raw and unfinished, and for the most part it is. The handled are tumbled so that you do not have to worry about keeping it polished and the cooking area is covered in wax to prevent it from rusting. Other than that, I do not see any sharp edges where it will cut your hand.
Specs:
Note:These measurement are done by me with the tools that I have on hand. The manufacturers have their own measurement guidelines and that should be assumed to be accurate. What I find on this review can vary widely due to several factors, such as ambient temperature, location, water, tool calibration, stove btu, etc..and should only be considered as my opinion.
Weight: 1208 g
Rim Width:Around 8.5 inch
Base Cooking Width:6 inch
Height: Around 1.55 inch
Matfer Carbon Steel Pan Performance
To test the how well it distribute heat and how well it heats up, I perform a toast test where I place a piece of toast in the center than weight it down with a meat pounder. I heat up the pan for a total of 2 min then see the color of the toast.
Below you can see how the test was performed.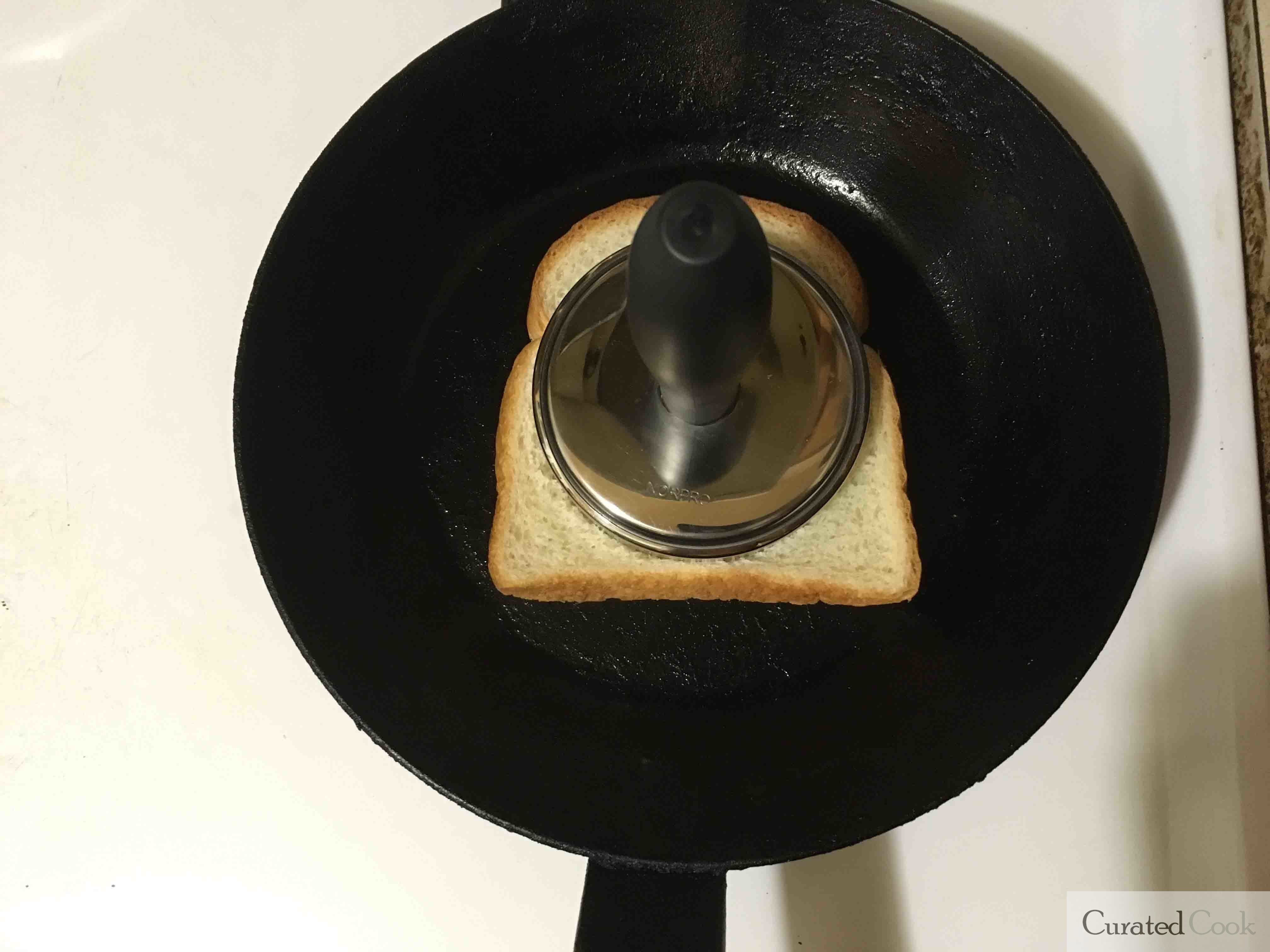 The result was pretty much what you should expect from a carbon steel pan. They are not really known for its heat distribution but rather for its durability and its non stick property. You can see that there was very little browning and there are heat spots on the upper left edge of the toast.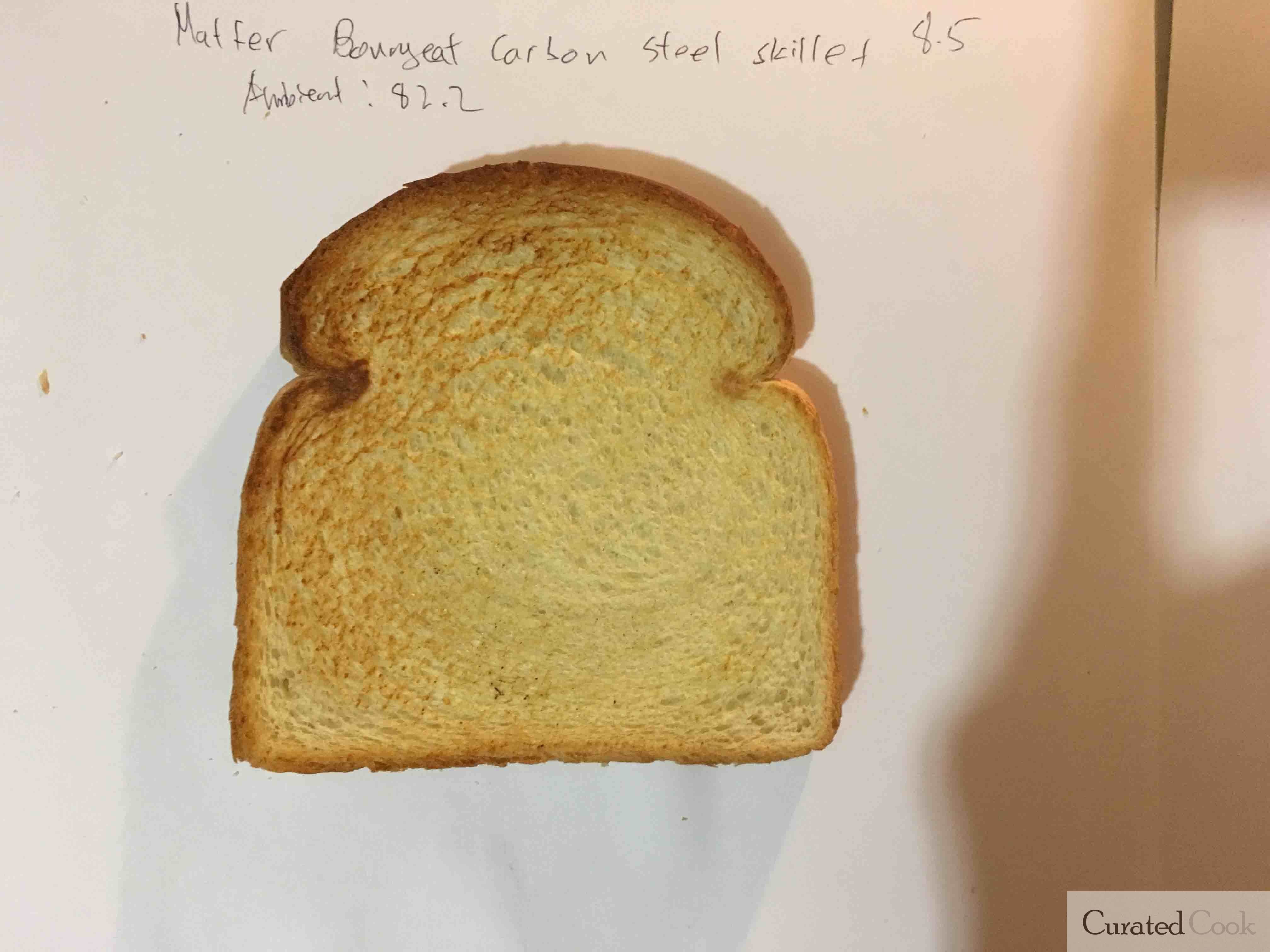 To get a better idea of how this performs compare to a cast iron pan, I did the same test on the Lodge 8 inch skillet.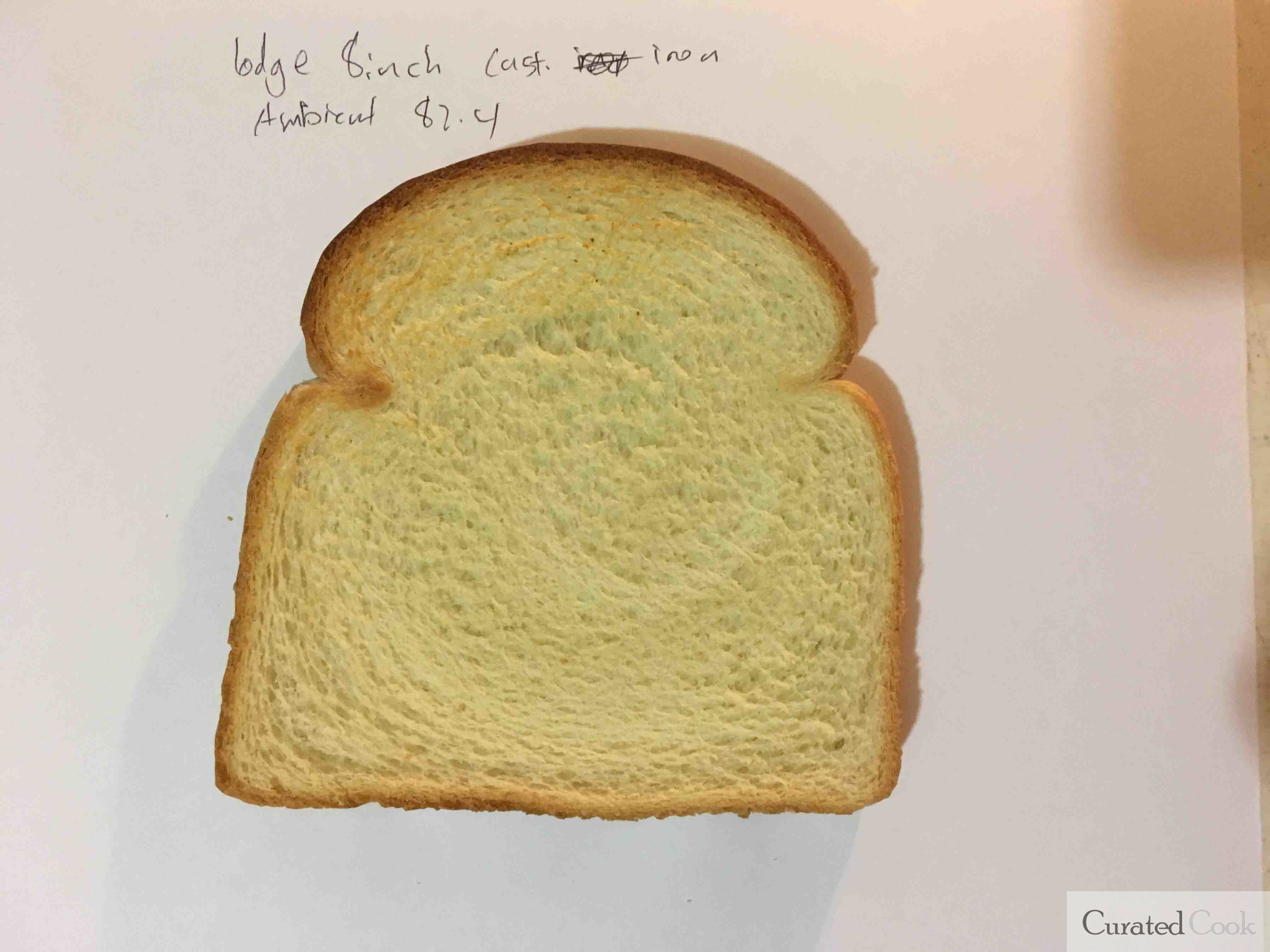 Since the pan is heavier, there is almost no browning at all. To see how it does on a 3 minute interval, I did the same test on a ten inch skillet.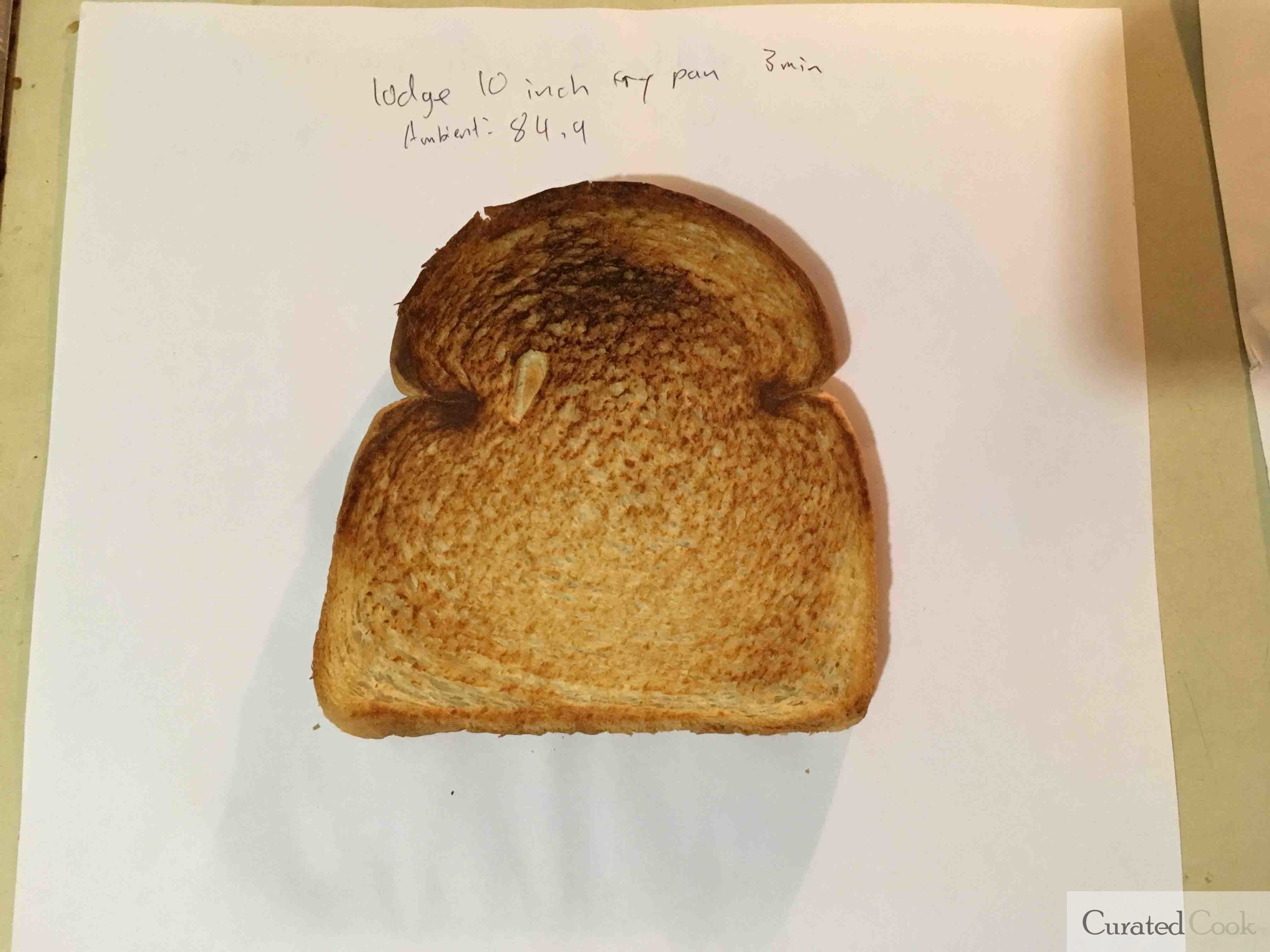 You can see where the heat spots are more apparent. In terms of heat distribution, these carbon steel skillets are in line with cast iron pans.
Matfer Carbon Steel Pan Thoughts
There you have it, the Matfer Carbon Steel Pan is a great pan to have if you intend to abuse and sear food in. It is Relatively Cheap compared to other copper cookware but slightly more pricey than Lodge's Cast Iron pan. But for those of you who want the same great non stick performance of cast iron but with a reduced weight, these are a great alternative. The interior is also smooth so you get that same smooth surface that vintage cast iron pans has.
Check Matfer Bourgeat Best Price
I hope you like this Matfer Carbon Steel Pan Review, If you would like to see more, please visit our Pots and Pans Review page.
Source
Engineering Tool Box Thermal Conductivity
Engineering Tool Box Specific Heat