Making purchases at Amazon.com and other website funds this website by generating revenue. Any help is appreciated and supports both me and content like this.
Le Creuset Takoyaki Pan X Ebelskivers Pan Review
To be honest, I am not really sure if this is really Le Creuset Takoyaki Pan. All I know is that this shape resembles that of any round type dumpling. the size of the hole indicate that this can also be called Le Creuset ebelskivers pan. However, I really cannot find any information online about this Model. Either way, this pan is perfect for making any dumpling ball shaped snack.
These pans are pretty rare and it's difficult to find a place to buy it. If you want an alternative I recommend Lodge's Ebelskivers Pan. For those of you who manage to locate one, this review will give you a better insight on how its constructed and designed.
Quick Summary
| Categories | Le Creuset Ebelskivers X Takoyaki Pan |
| --- | --- |
| Performance | Good |
| Colors | Black |
| Brand Awareness | World Famous |
| Helper Handle | No |
| Pouring Lip | No |
| Thoughts | A beautiful pan that can make both Ebelskivers and Takoyaki. Unfortunately, they dont make it anymore. Your best alternative would be Lodge's Ebelskivers Pan |
| Reviewed Cookware | Le Creuset Ebelskivers X Takoyaki Pan |
Takoyaki vs Ebelskivers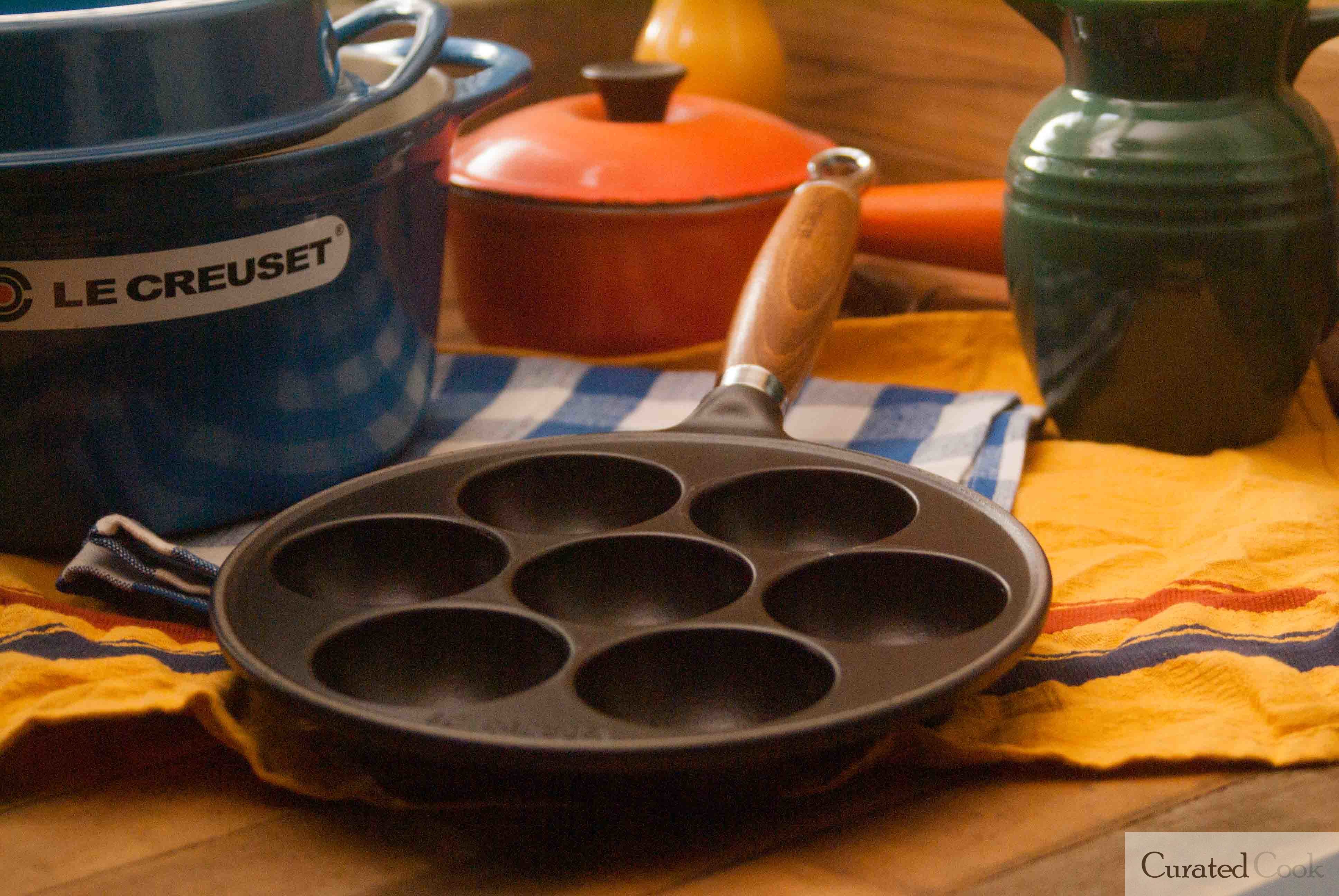 Before we get into the review, here is a minor introduction on the difference between takoyaki and ebelskivers.
What is Takoyaki?
A takoyaki is a ball shaped snack that is usually made with wheat based batter and diced ocotpus. Osaka a city in Japan, is best known for their Takoyaki. However, due to the popularization of Anime, it is more well known among westerner as a Japanese Snack.
Often time this snack is covered in a Japanese worcheister sauce then topped with mayo and bonito flakes. You can sometimes hear that takoyaki dish moves but in reality that is the bonito flakes that is moving with the air.
If you ever go to Japan, I highly recommend getting some from Osaka, that city really does produce the best Takoyaki.
What is Ebelskivers?
Ebelskivers are a Danish snack that means apple slices. Unlike Takoyaki, a savory dish, these Ebelskivers are meant more for dessert. While the Ebelskivers are not sweet, you can often find them with apple or other types of jam. They go great with a cup of coffee or tea in the morning. However, the Danish traditionally eat this during Christmas with a swig of glogg a spiced alcoholic drink.
Both of these snacks are very similar but both need a pan with a half round shape to get that iconic ball shape.
For a general idea on how to use these pan effectively, I recommend that you watch the video below.

Le Creuset Ebelskivers Design
Wooden Handle Design
As far as I know, there is two variation in Le Creuset's wooden handle design. One is like the one seen on their Vintage and some modern Cast Iron Skillet. The other is a slight variation of that mechanism. The main difference is the way the metal rod is latched on to the pan. In this Takoyaki pan you can see that its more compact and more fitted. It keeps the pan small and gives it a more sleek look. On Le Creuset's Vintage Cast Iron Skillet, there is a longer base and the bar that hooks onto it is a lot bigger.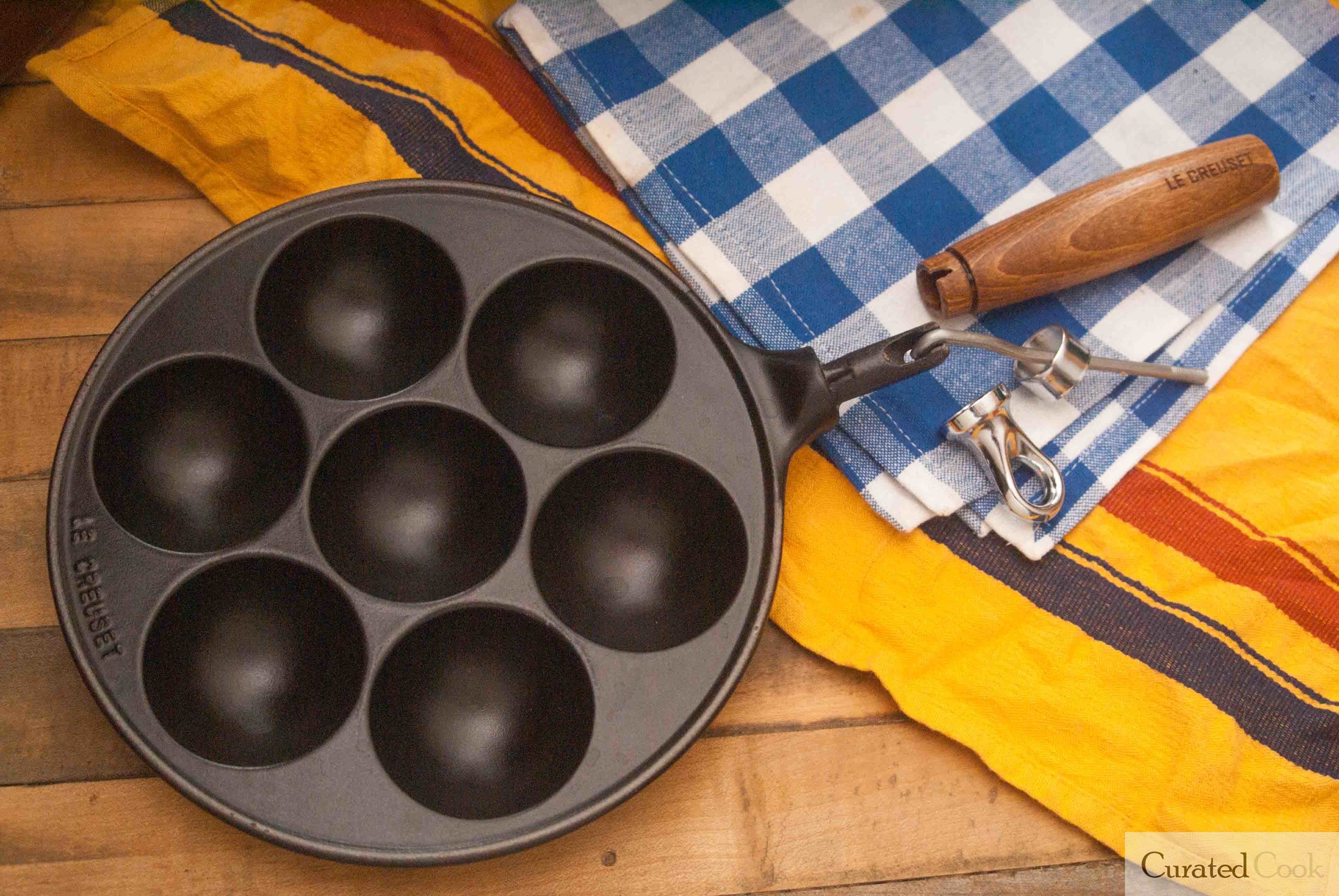 The wooden handle also has a notch on it so that it can fit the indentation of the Takoyaki pan. This keeps the wooden handle in place and keeps the le Creuset Logo pointed up toward you. It;s possible that it is meant for another reason but I cant tell. The base metal ring that covers this notch and the loop end looks like cheap pot metal and I question its durability.
At the end of the handle, the metal loop screws onto the metal rod. It provides tension so that the wooden handle will stay firmly in place.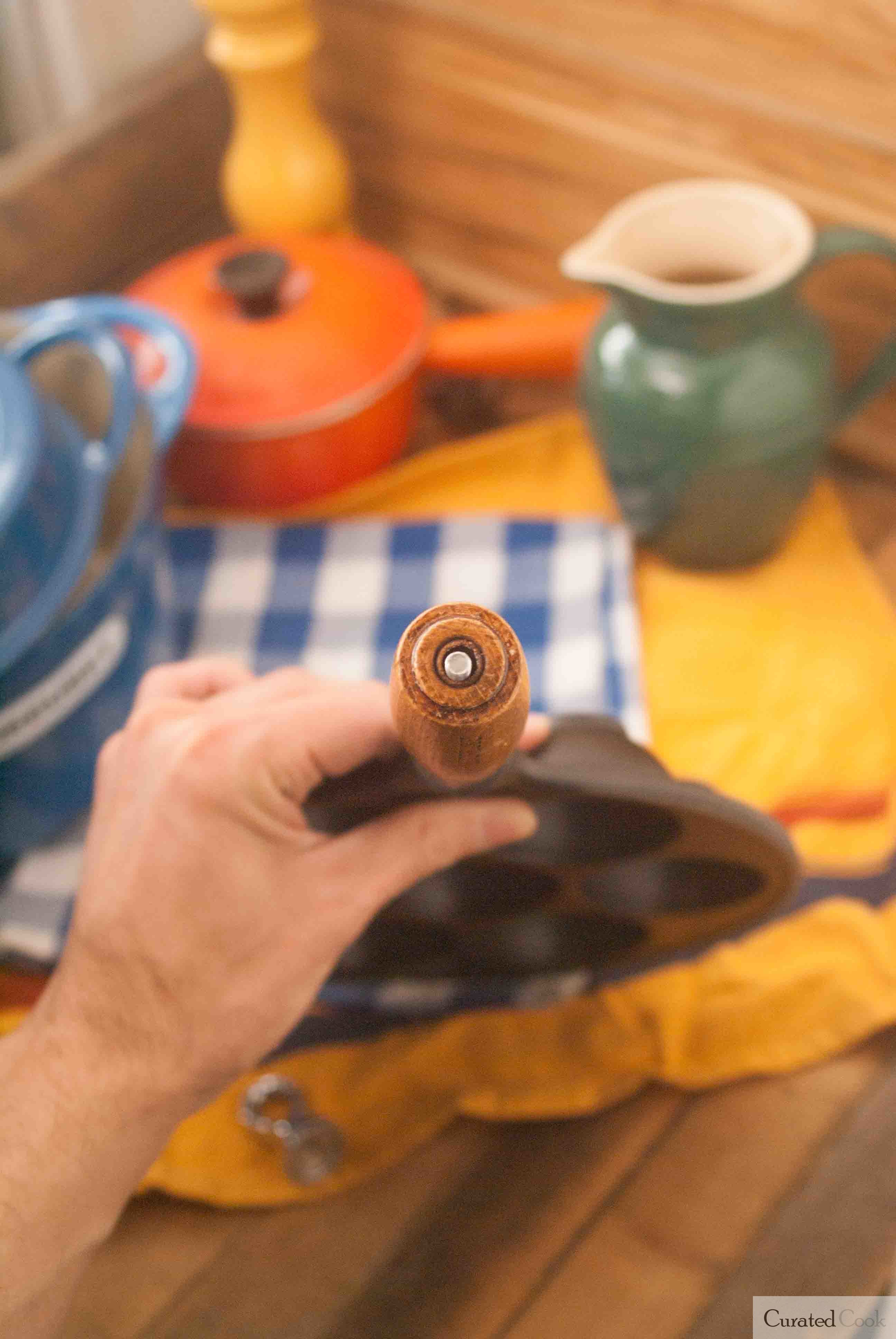 Aside from anesthetic purpose, this wooden handle prevents heat from conducting like metal would. Which means that you should be able to cook on this pan for the better part of the day. The metal loop on the end might get hot though. It connects directly to the pan via the metal rod.
Le Creuset Takoyaki Pan Cast Iron Design
The dimples
The dimples are there so that you can get a round shape when you make the dish. You are supposed to pour batter into the crevices and when the batter form a skin, you add your filling and then flip the half ball over to make a full ball. The problem with this is that the enamel is enamel. Cast iron has a reputation of being non stick after continuous use but in my experience enamel never performs as well. For this type of coating, more oil and technique is need to use this pan effectively.
Measuring the size of the dimple, I find that each is around 2 1/4 inch in diameter. The depth of the hole is around 1 inch. It will make for a pretty hefty ball.
Oddities in the Pan
Interesting enough the Le Creuset logo is only seen on two portion of the pan, one is the wooden handle and the other in near the lip of the pan.
The lip itself for whatever reason is also bare cast iron. I understand the need for this in their dutch oven because eventually the metal will rub each other out but why in a pan that has no lid. Furthermore, the handle end of the lip is still finished in Enamel. For what reason does that portion need the enamel coating and the rest not?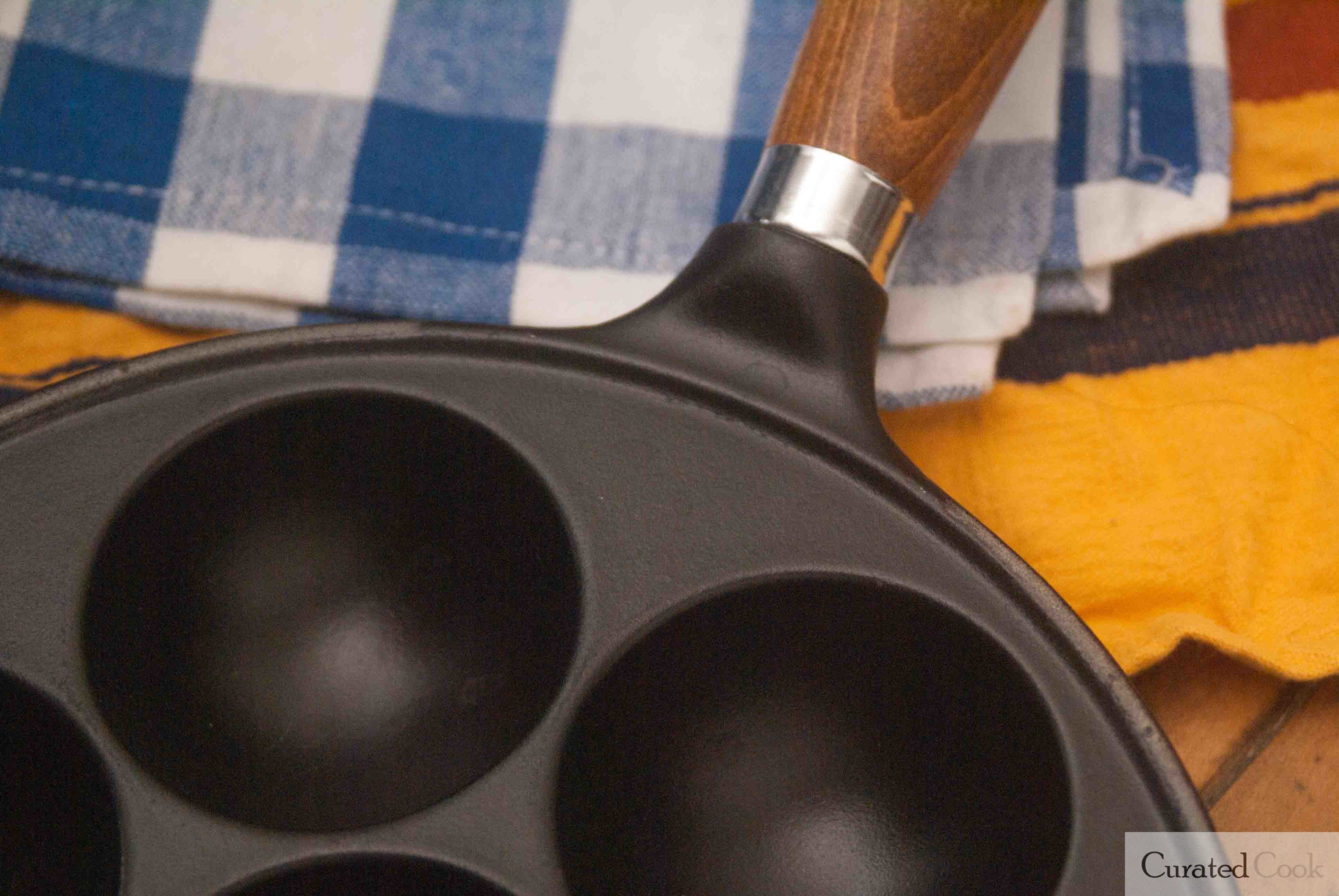 Bottom of the Skillet
Aside from the dimple, to me the most interesting aspect of this pan is the metal ring. I dont know the exact reasoning for this but I assume its to better able distribute the heat. If you look at the picture, you can see a lot of dips in the contact point of this pan. There would be a lot of uneven heat throughout the pan. Pair it with the fact that it is cast iron, you should expect a lot of heat spot to develop. I recommend that you first heat up the pan on low heat so that it can spread through the pan evenly. The good news is that since its cast iron, once you heated it up properly, it will stay hot. You can keep on cooking those Takoyaki and Ebelskivers all day long. Not so good if you are only making a small batch though.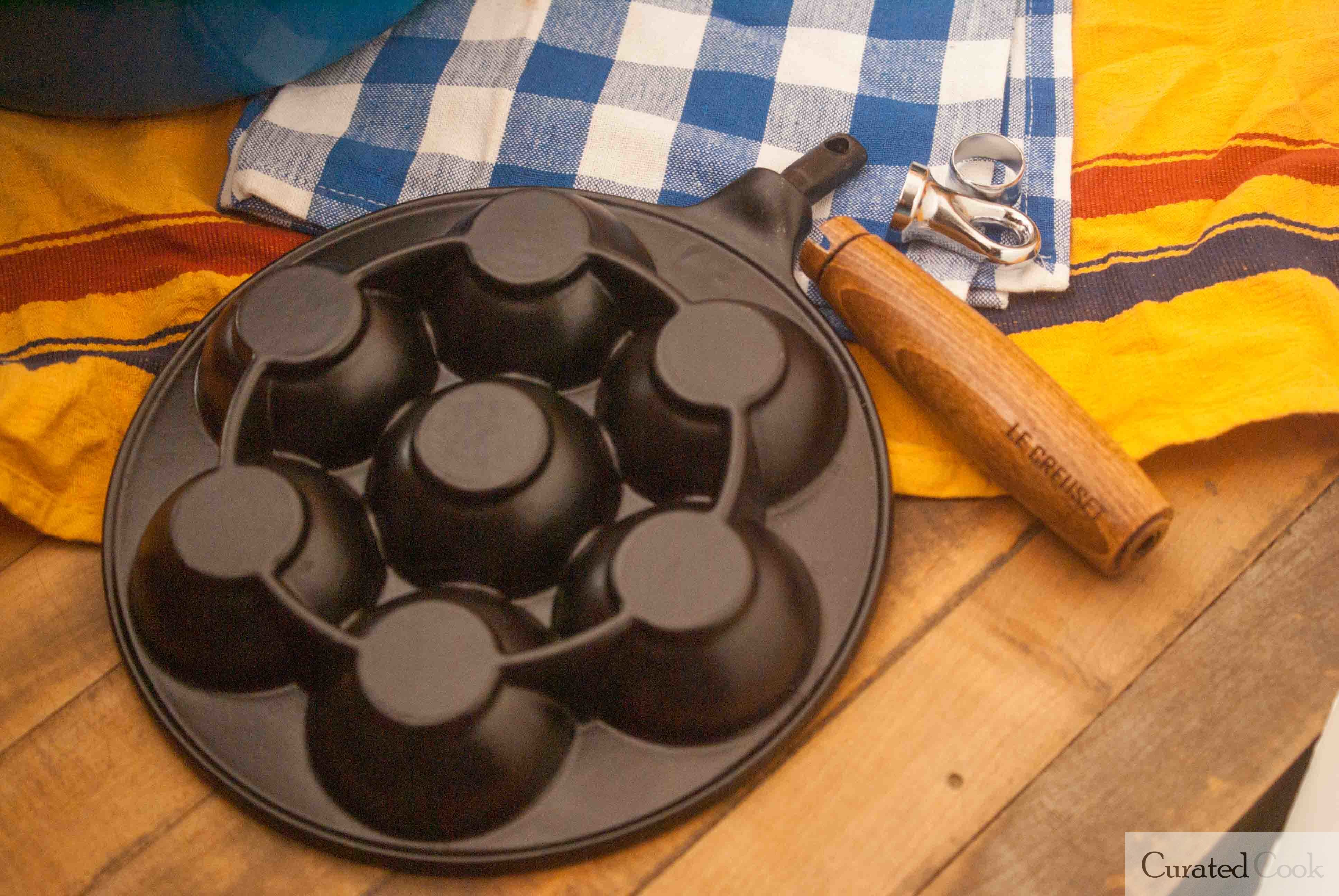 The center dimple seems to be lacking any connection though, I am not sure how that will affect the heat of that one.
One more odd thing that I see is the CJV stamped on the bottom of the pan, I have no idea what that means.

Le Creuset Ebelskivers Pan Fit and Finish
Fit and Finish on this pan is excellent like all of Le Creuset product. Since the pan is more of a textured black there is no orange peel finish. The Le Creuset Logo on the wooden handle looks like it was laser etched and is extremely well done. The notch on the wooden handle near the base though looks like it was just cut with a small file. But aside from that, the wood handle is beautifully finished and has a nice feel.
Specs:
Note:These measurement are done by me with the tools that I have on hand. The manufacturers have their own measurement guidelines and that should be assumed to be accurate. What I find on this review can vary widely due to several factors, such as ambient temperature, location, water, tool calibration, stove btu, etc..and should only be considered as my opinion.
Weight: 1530 g
Rim Width:Around 8.1 inch
Dimple Width:2 1/4 inch Depth:1 inch
Height: Around 1 1/4 inch
Le Creuset Ebelskivers Pan Thoughts
This is a well purpose made pan for Takoyaki and Aebleskiver. There are many different version of these pans, Lodge makes an excellent one and I would argue that the bare cast iron one are even better. Bare cast iron is simply more non stick then its enamel counterpart. This Le Creuset Aebleskiver pan is incredibly rare to find online. There was literally zero to no reference information online. But for those of you who are thinking about getting this Le Creuset Aebleskiver/Takoyaki Pan, I hope this review was helpful to you.
If you would like to see more reviews like this Le Creuset Takoyaki Pan, please visit our Pots and Pans Review page.