Making purchases at Amazon.com and other website funds this website by generating revenue. Any help is appreciated and supports both me and content like this.
Best Hammered Copper Cookware
Hammered Copper Cookware is the creme de la creme of cookware. They command high prices and have the glistening warm glow of copper. Very few can match its beauty as long as you keep the copper polished and maintained. These Hammered Copper Cookware are typically made by Mauviel, Ruffoni, langostina and many other antique and artisinal french manufacturer such as gaillard.
Although beautiful and expensive not all are created equal. They come in many different forms, material and thickness. Working through which one to buy is quite difficult. However, every manufacturer tend to follow a simple formula in their cookware design and material. Some are better than other and some are not really justified in their prices. I have compiled a list of some of the Best Hammered Copper Cookware and we can see what each brand tends to make. What are its benefits and is it really worth it?
Benefits
The main benefit of these Hammered Copper Cookware is simply the beauty of it. When you hang it on your walls or roof rack, it gleams a warm glow and stuns everyone looking at it. The downside of it is that if you actually cook with it, the pot will tarnish and patina. To get an idea on what patina looks like, look at the dark color of the pan below.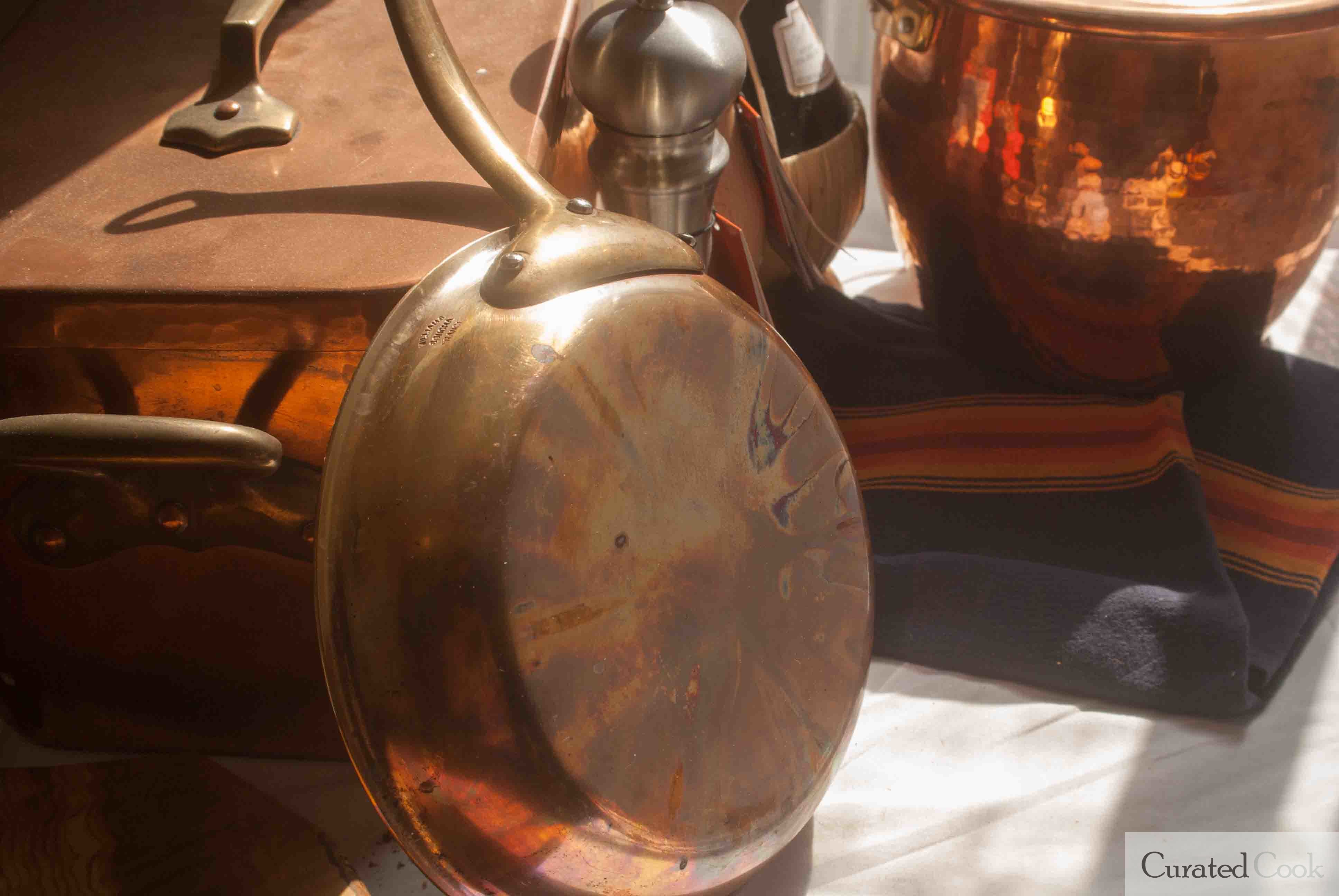 Over time, this dark discoloration with get more pronounced. Some enjoy how the color develops and some do not. However, this is expected when it comes to copper. If the purpose is to keep it as a center piece, then it will suit your needs perfectly.
The practical benefit of the hammered finish and the original reason why it was done is to improve structural rigidity. Thin copper cookware especially needs the hammering to make it harder. Ruffoni tend to use thin copper in their historia line and you will see that almost all of it has a hammered finish.
Best Hammered Copper Cookware List
Copper and Tin
Copper and Tin is the most common make of Hammered Copper Cookware. The benefit of copper and tin is that tin has the fast reaction time then all the other material. However, the issue with tin is that it melts at above 500 degree celsius and then tend to wear out over time. You would then have to retin it at a significant cost. These copper and tin cookware come in various thickness and shapes. What I seem to notice is that the thicker you go, depending on the shape, the finish of the hammering tend to be degraded. Although that is not necessary true for all of the thick (3 mm+ sidewall thickness) copper cookware.
Mauviel Coppper and Tin
In the states, it is getting more difficult to get these version of Mauviel pans. You can only find these type of pans in specialty cookware store like amazon or William Sonoma. The few that you can get are called the M'Tradition line. However, they are not as thick as the vintage model that you use to get. This is a Copper Windsor pan that is hammered and manufactured by Mauviel. The thickness of this Hammered Windsor Pan is 2.75 mm.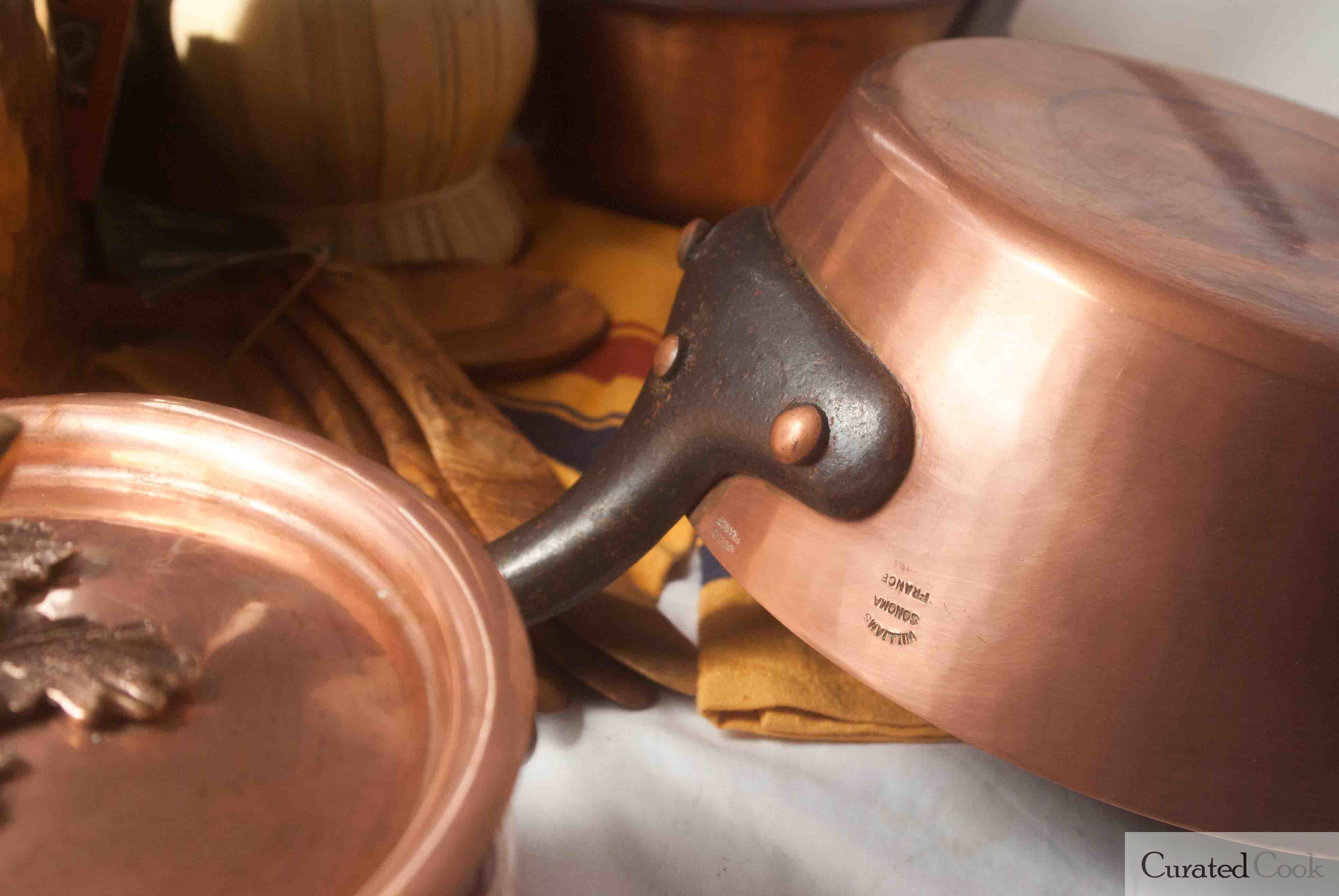 The hammered finish does not seem to be as pronounced. I surmise that the reason for this is because a lot of the hammering is done by hand. When you get a thicker copper, it becomes a lot more difficult to hammer. Especially when it is sharp angle like a Windsor pan. When it is right side up, you can hardly make it out.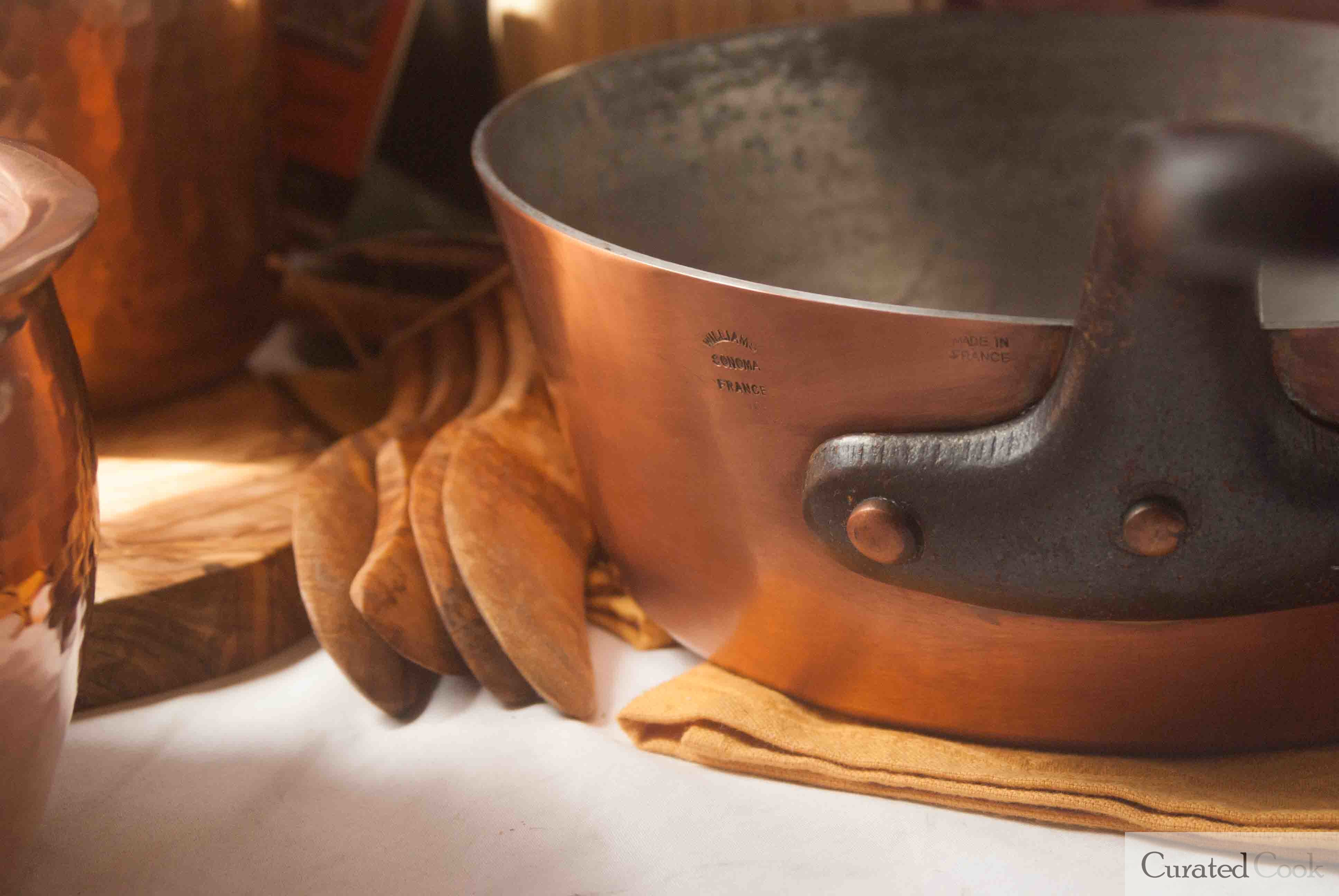 I also have several Copper Hammered Rondeau and Dutch Oven that has beautiful hammering through the pan and this is uniform and substantial. They might have used an actual hammering machine instead of a smaller hammer. I am not sure how they would develop that much force with a hand hammer.
Ruffoni Copper and Tin
Looking at Ruffoni, you can see that their pots and pans are always beautifully hammered, particularly in the Historia line. The reason for this is because they are incredibly thin. In my measurement with a micrometer Ruffoni Copper Sauce Pan has a thickness of less than 1 mm. However, when you look at the hammered finish, you can just see how beautifully well done it is.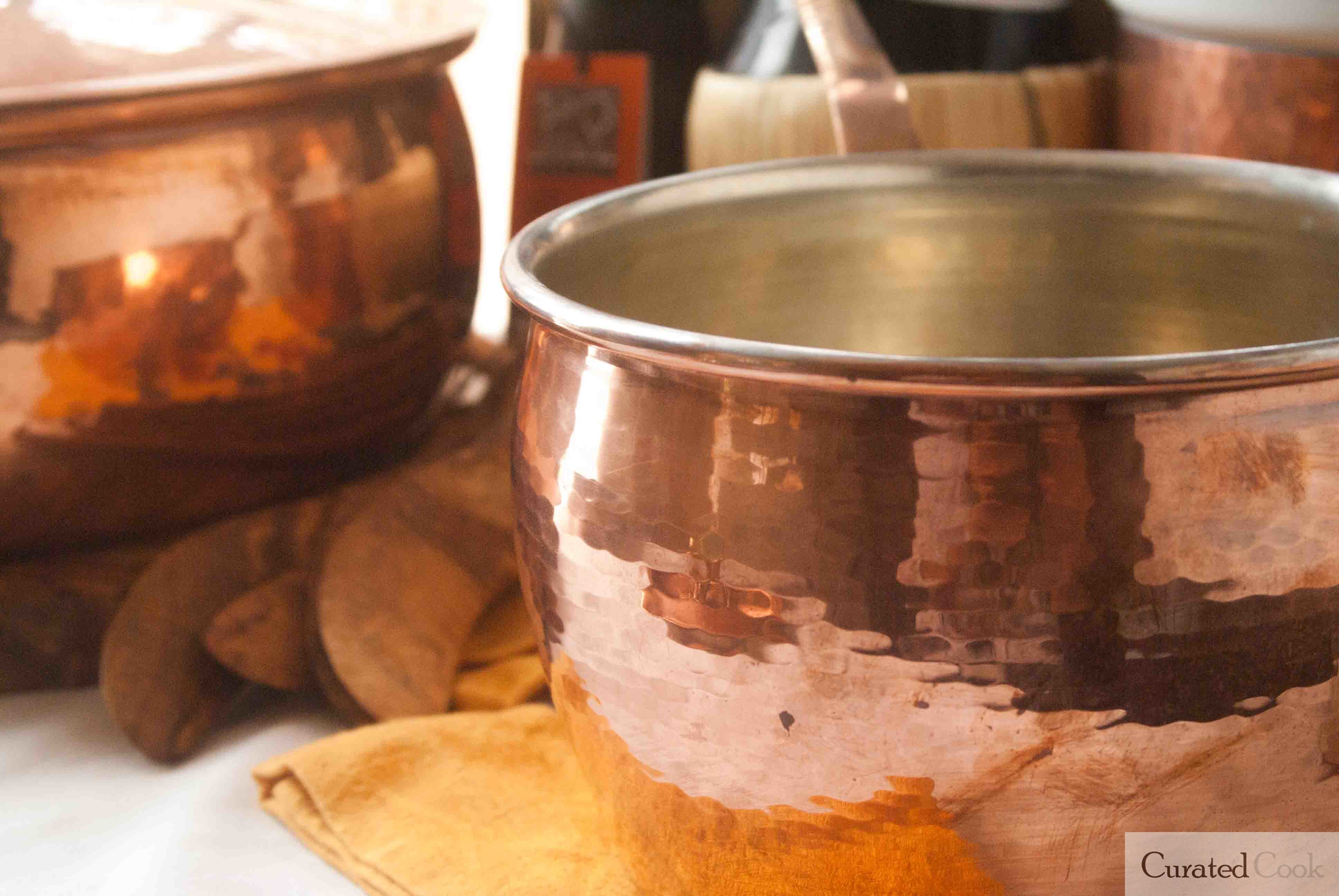 This particular finish has a beady eye hammering, probably done with a small hammer.
There are also other type of finish that resembles more of a disco ball look. Their Rondeau Version looks like it was done with a more rounded medium sized hammered. Which gives it a different look and feel.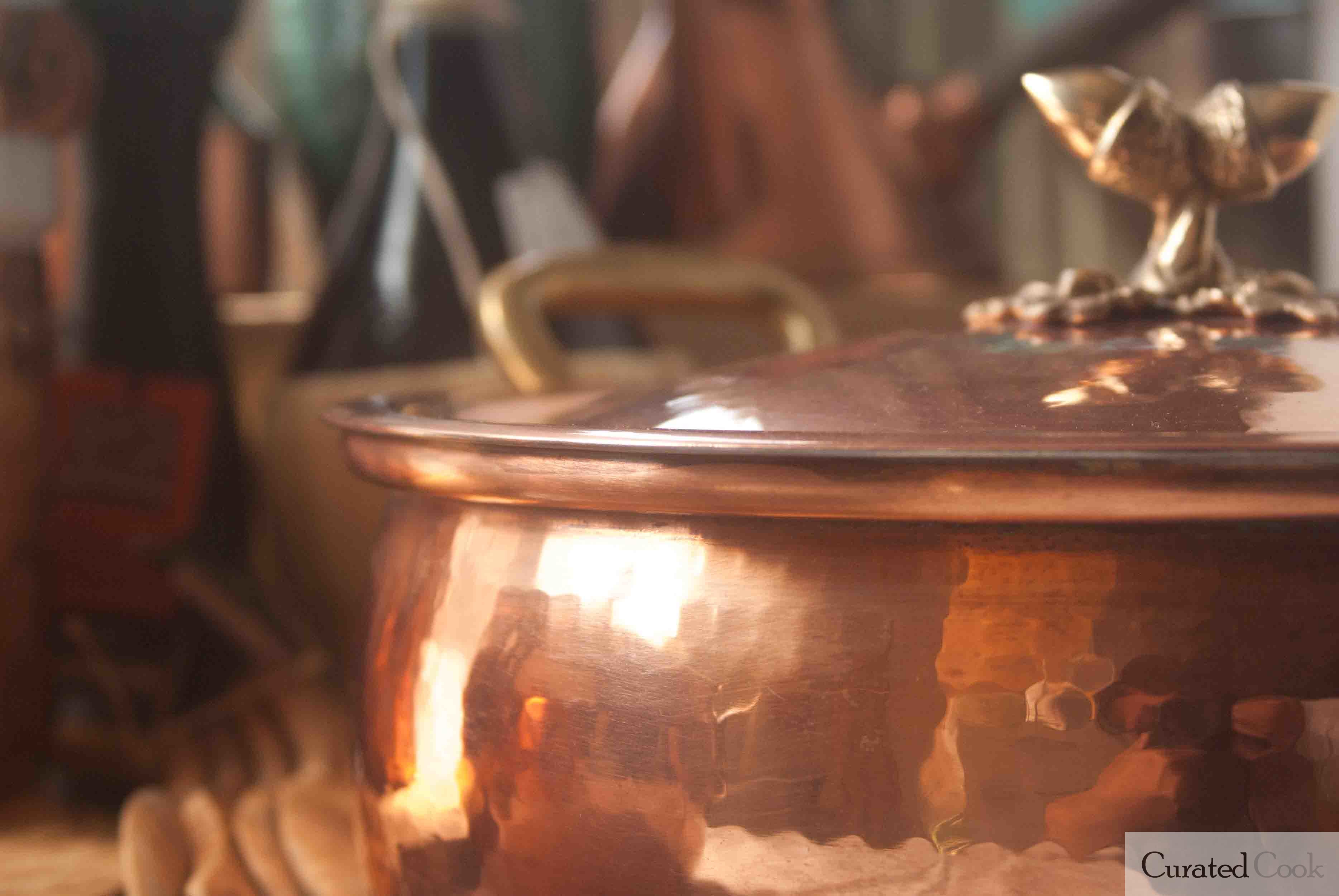 If you look at the bottom, it was done to a beautiful wavy type of look.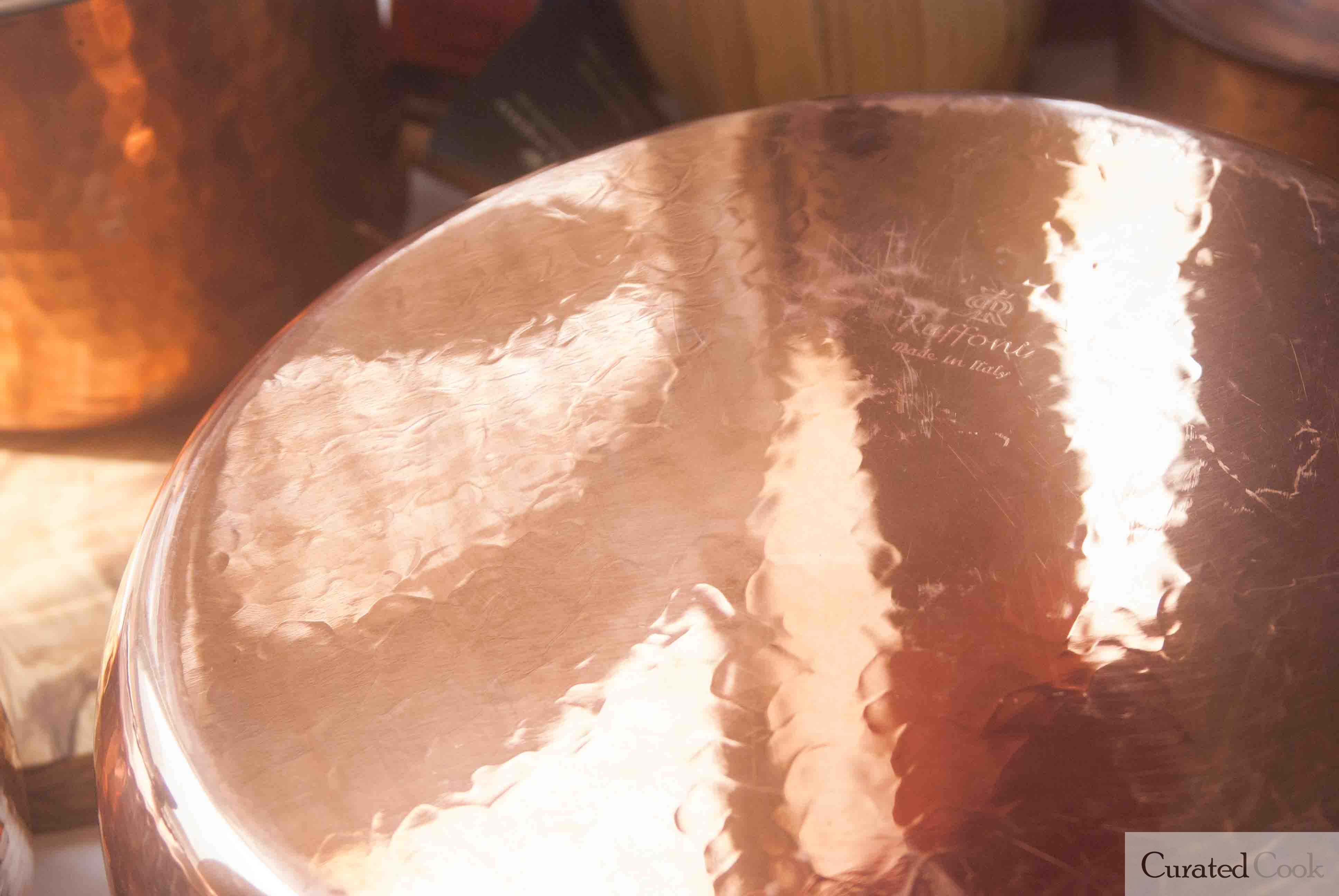 The bottom portion looks like it was done with a large hammer. It was also done so well that it still maintained a flat bottom surface.
Tri-Ply Hammered Copper Cookware
Tri-Ply is the weakest performer of the bunch, but it is also the most affordable. Usually how it is constructed is that the outer layer has a very thin layer of copper for looks. The center is aluminum to allow for fast heat conduction and the inner layer is to prevent food from reacting with the aluminum. Acidic food can give off an metallic taste when cooked in Aluminum.
Aside from the cost, the other benefit of triply hammered copper cookware tend to be a lot lighter than the other two. This is mostly due to the lack of copper used. Aluminium tends to take a good portion of the pan/pot thickness. If you are only interested in the beauty of hammered copper cookware, these are your best choice.
Ruffoni Tri-ply Copper
I would say that this is the best performer out of all the triply hammered copper cookware based on the thickness of the pot. As far as I know, only Ruffoni is the only manufacturer that makes a tri-ply hammered copper cookware with at least 1.2 mm of copper in their exterior. It does not have the downside of tin. Meaning you do not have to worry about issues of tin melting or it discoloring and wearing off. The downside is that because of the stainless steel, it is not as heat responsive as tin.
One of their line is called the Ruffoni Symphonia Cupra line.
Since I personally don't have a piece in this line I cannot tell you the exact thickness of these pot but they are considerably thinner than pans that you can get from Falk, which has a hefty 2.5 mm thickness. Unfortunately they do not make any copper in a hammered finish. If you enjoy Ruffoni's traditional Finial, the make a Opus Cupra line which has a silver coated Finial. Although I personally kind of wish they kept a traditional brass finish.
Lagostina Copper Tri-Ply
Lagostina Hammered Copper Cookware is the next tier below Ruffoni for the triply copper pots and pans. Their price is still pretty expensive but that is mostly due to their brand being italian. However, their triply cookware is made in China. They lack the fit and finish of an Italian made cookware like ruffoni has. That is not to say it is not beautiful. I still find it better than Cuisinart or Fleischer & Wolf but not as good as Ruffoni. Honestly, you cannot beat the 1.2 mm thick copper that the Ruffoni Symphonia Cupra line has. I would say they are one of the worst value for money in terms of tri-ply. For whatever reason they always show up in google result though.
Cuisinart Tri-Ply Hammered Copper Cookware
The tri-ply copper cookware from Cuisinart is beautifully made. The hammered finish is very pronounced and uniform, almost to a point where most likely it was done by a machine. I suspect that you wont get the same artisinal craftsman as you will get from Ruffoni or Mauviel. I bought their cookware set and the place of origin claims that it is made in China. That is not to say that it is automatically bad. You just wont get the same history as the other french and Italian manufacturer. You are also not getting the same performance benefit that made copper cookware so popular back in the day. Since the layer is so thin, it is there mostly for looks. You also have to deal with constant polishing of the cookware if you want to maintain its beauty.
The plus side is the handle is made of stainless steel which slows the heat conduction to the handle. Which means that it will stay cooler for longer. The main draw that I see from these cookware is simply the price. For literally the price of one pan from the French and Italian cookware manufacturer, you can get the Whole Set. That whole will be enough for all your common day cooking needs.
Fleischer & Wolf Tri-Ply
Fleischer & Wolf is a company that seems to have come out of nowhere. They do not have the manufacturing might that Cuisinart has or the history that Mauviel or Ruffoni carries. However, their Seville Series Copper Cookware line bears a striking resemblance to that made by Cuisinart. The hammering finish is almost the same and so is the handle. It would not surprise me if they are made by the same factory in China. However, if you do like Oprah endorsement of these pots, they are just as good compared to the Cuisinart one. However, they cost a bit more than the Cuisinart line. In my opinion they are equally as pretty as the one made by Cuisinart.
So far, these are all the major Hammered Copper Cookware manufacturer. As I see more, I will update this list to help you make a more informed decision when purchasing these cookware. They cost a lot of money and I hope you enjoy whichever cookware that you buy. Please comment below if you have any other manufacturer that you would like listed or review.