Making purchases at Amazon.com and other website funds this website by generating revenue. Any help is appreciated and supports both me and content like this.
Le Creuset Heritage Stoneware Review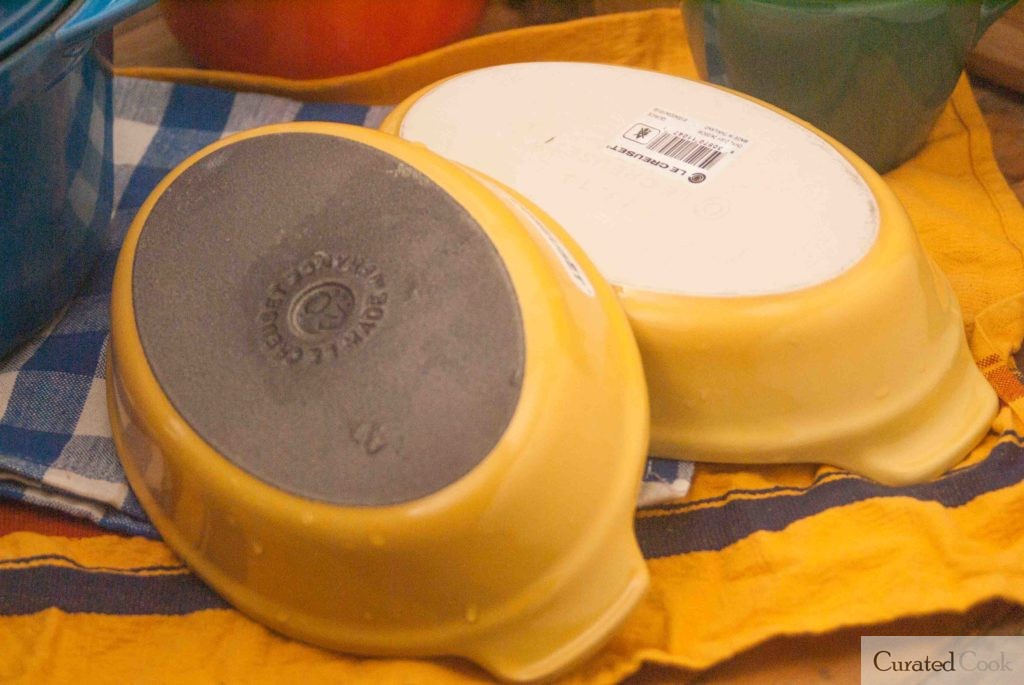 Le Creuset Heritage Stoneware is one of the best stoneware available. From its colorful design to its iconic handle. Few matches its durability, design and overall performance. However, what most people do not know is that these design are very similar to a company that existed in the mid 1900, Descoware. Descoware was an early competitor to Le Creuset until they bought them out. This review will take a closer look at the history and design and construction of Le Creuset Heritage Stoneware. We will see what exactly makes them part of their heritage.
Le Creuset Heritage Stoneware Review Quick Summary
| Categories | Le Creuset Au Gratin Dish |
| --- | --- |
| Performance | Good |
| Colors | Wide Range of Color |
| Brand Awareness | World Famous |
| Handle | Two Little Handle |
| Country of Manufacturer | Thailand or China |
| Thoughts | Great for home decor and baking. They come in a wide variety of product like cups and plates. They also match the dutch oven color. However, they are not as versatile and durable as the cast iron variety. |
| Reviewed Cookware | Le Creuset Stone Ware Gratin |
Descoware and Le Creuset History
Descoware was started in 1940 by David E Sanford. He wanted to bring a light weight version of enamel cast iron. At first, his company started to get traction. Famed celebrity chef Julia Child even stated how good the cookware was. Unfortunately due to rising cost and economic condition force them to sell off the company to Le Creuset.
Le Creuset has since took over most of the production. Their heritage stoneware and cookware actually has a striking resemblance to descoware product. Most notably is the shrek ear like handle. While you can find some example of these heritage cookware in cast iron, those are not as common as stoneware. They also do not have the light weight construction that past descoware have. Below, you can find an example of what a cast iron example of a heritage product.
See how there is a shrek ear like handle. Now take a look at the descoware product. They both share similar shrek ear design. The lid on the handle is also very similar.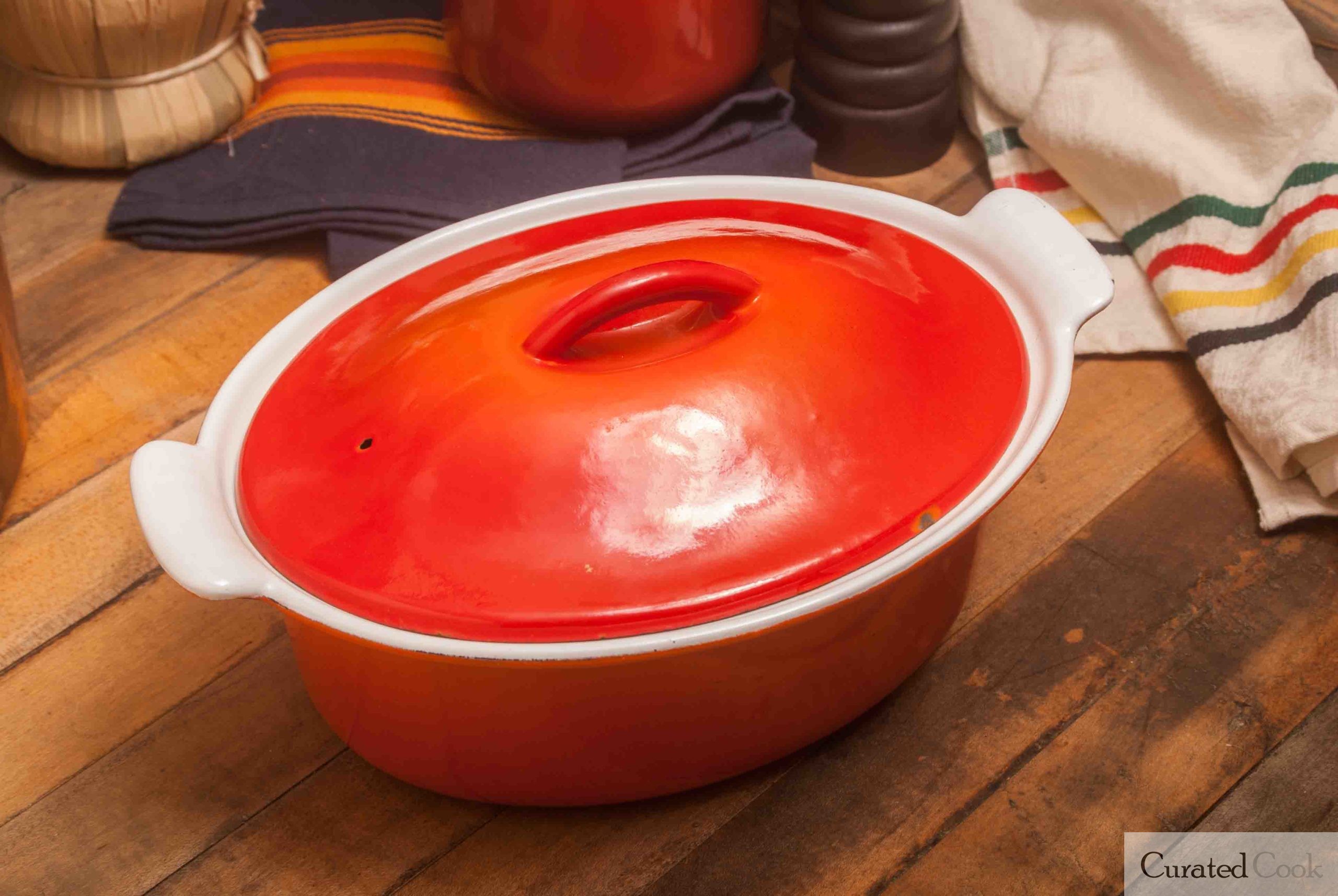 Both of these product also share a very similar white enamel coating. Although the coating on the Descoware product is a lot more white.
Le Creuset Heritage Stoneware Design
This section will discuss the various design and construction of Le Creuset Heritage Stoneware. We will go over handle, shape and overall performance.
Handle
The handle on these handles are generally horrible. They do not offer a good grip when you carry them. If these ears should be greasy it would be easy for it to fall off. There are ridges to help with the grip but they dont help much. I recommend that you hold the stoneware from the bottom when you transport them.
Shape
They come in a wide variety of shape and design. From soup pots to dutch oven, they have what you need. They even come in jugs and utensils jar. These stoneware are more meant as decorative than anything else. While you can serve in them I think the main target audience is more concerned with how the table presentation is like.
Having said that, the stoneware offering are actually very well built. If you ever picked up a cup or plate, it is quite heavy. Heavier than other stoneware manufacturer. As such, it can hold heat better. This translate to hot food staying hot longer.
Le Creuset Heritage Stoneware Colors
The range of colors is what sets their stoneware apart from other manufacturer. They come with a wide range of color that matches their Cast Iron Dutch oven. Making it easier to color coordinate your dining table. You can even so far as mix and match the different color. The one thing that I will say is that I find the fit and finish of the stoneware product to be better than the cast iron one.
Cooking with Stoneware
The cooking aspect is the main limitation that the heritage product have. While it is designed to be baked in, they have issues with thermal shock. Meaning that if you go from a very hot oven to a cool surface, they can crack. Another issue is that the stoneware cant be heated on the stove top. Making it difficult to serve guest with a hot plate.
Having said that, this is true with most if not all of ceramic and glass based product. The good thing about Le Creuset Heritage stoneware is that they often come with a lid. Most other ceramic bake ware dont even come with that. I caution using a soft touch when using it. Accidentally slamming it down means that you have a cracked or broken lid.
If you manage to find a cast iron variety, I recommend that you go with that one. The most common one that I found is the gratin pan. Those comes in a variety of size from large to small. These cast iron product are also more durable in general. They wont crack and shatter as easily as the stoneware.
Le Creuset Butter Dish
Le Creuset Butter Dish is a great way to serve and store your butter. It has a beautiful color that match the traditional decor of Le Creuset. Unlike the cast iron model, these uses a stoneware construction. They can hold their temperature relatively well. Which is great if you intend to serve cold butter to your guest. However, it also works well in a room temperature setting. If you want to keep it relatively soft for pancakes or just food in general, just leave it on the table. The cover will keep it away from any environmental containment.
The main issues that you have to worry about is the fragility of the stoneware. Every time I go to the store, I see one chipped or otherwise cracked. You just have to treat it like a little more care. I would personally avoid dropping the lid onto the base. Some stoneware can also be affected by thermal shock. That is when you put it from hot to cold. Thankfully since you will not likely be placing this in the oven, this probably wont happen. As for scratches and nicks, Le Creuset enamel is relatively durable. But it is not impervious. If you have a gun ho guest, they might leave a mark on the interior enamel.
Le Creuset Casserole Dish Review
Le Creuset Casserole Dish is a popular choice for baking lasagna, meatballs, gratin and more. It is oven safe up to 500 degree Fahrenheit. One thing to note is that you need to keep the dish at least 2.5 inch away from the heat source.
One issue that you have to worry about is thermal shock. When you bring it to a table, I recommend that you lay down a towel. This prevents it from possibly cracking. This also mean that you should not wash the dish when its hot. This will reduce the chance of it cracking.
Made in Thailand/China
At least for the stoneware product, these are made in either Thailand or China. While the cast iron products are made in France. Having said that, if you put them side by side, the product that is made in Thailand actually have a superior finish. The edges and pigments are just more rich and vibrant than the cast iron product. I imagine that this is due to the manufacturing process. More than likely applying paint is a lot easier on ceramic products is easier than cast iron. Either way, I would say the country of manufacturer makes little difference.
If you want more information, you can read my article on Le Creuset Stoneware vs Cast Iron.
Le Creuset Heritage Stoneware Thoughts
Overall, Le Creuset Heritage Stoneware product is geared more towards home decoration than actual cooking. If you can find a cast iron version, I recommend you go for that model. They are more durable and in general more versatile. Aside from cooking, they are great for home decoration and they are a great way to match your dutch oven colors. The colors are the same and they add a bright warming hue to your home.
I hope you like this Le Creuset Heritage Stoneware Review, If you would like to see more, please visit our Pots and Pans Review page.