Making purchases at Amazon.com and other website funds this website by generating revenue. Any help is appreciated and supports both me and content like this.
What is the Best Copper Frying Pan on the market? When cookware manufacturer are asking 2-400 dollar, this is a completely justified questions. Unfortunately, there are not a lot of information out there. This guide will consolidate some of the best copper cookware in the industry and take a closer look at their offering. We will be looking at brands from Mauviel, Falk, All Clad and Matfer Bourgeat. This will be a battle royal of the high end frying pan.
Best Copper Frying Pan Quick Summary
| Categories | Mauviel | All Clad | Falk | Matfer Bourgeat |
| --- | --- | --- | --- | --- |
| Performance | Excellent | Great | Excellent | Excellent |
| Colors | Polished Copper | Brushed and Polished Steel | Brushed Copper | Polished Copper |
| Rolled Lip | No | Yes | Yup | Yes |
| Cookware Construction | Bimetal Copper and Stainless Steel | Stainless Steel with Aluminum and Copper Core | Bimetal Copper and Stainless Steel | Bimetal Copper and Stainless Steel |
| | | | | |
| Country of Manufacturer | France | America | Belgium | France |
| Thoughts | My Personal Best Skillet. Handle is comfortable and it comes with a solid 2.5 mm of Copper. Low Flaring side allows for easy turning and liquid evaporation. | Classic example of how a frying pan should be. Low sides and rolled lip to promote evaporation. Handle is the main issue and it has a very thin copper. Better for sauces. | Solid 2.5 mm of copper. However, the issue is the shape of the pan. It is more like a hybrid between a saute and skillet. The high sidewall makes it difficult to turn food. | Nice thick copper pan but has the same issue as with falk. High sidewall is the major issues. I have also heard issue of the bottom having a raised divot due to the stamp. |
| Reviewed Cookware | Mauviel 10 inch M250C | All-Clad 10 inch Copper Core | Falk Copper Frying Pan | Matfer Bourgeat 11 inch Copper |
Why use Copper?
Thermal conductivity is the measure of how well an object transfer heat. Looking at the different metals used in cookware, copper has the highest thermal conductivity 413(W/m K). This means that it can heat up and provide the most even heat distribution. If you look at the metal of lets say cast iron, it only has a thermal conductivity of 52 (W/m K). Which is almost 8 times better. In terms of performance, it is one of the most efficient metal to use for cooking.
Some of you might wonder, if its so great, why not use it more. Simply because of price and local trend. Copper is an expensive metal. As of today, it cost 1.96 per lb, compared to Aluminum which cost only .21 cent per lb. For manufacturers, this difference will cost them literally millions.
In terms of popularity, there seems to be a nostalgic trend for cast iron. And for that reason, numerous amount of cast iron manufacturer seems to be popping up. Which in turn, drives up supply and drive down prices. For this reason, it makes no sense for manufacturer to keep on producing copper cookware. Only niche manufacturer will make these cookware.
Why the Best Frying Pan should be Copper
In essence, the frying pan is the workhorse of a kitchen. It is the pan that is most often used. As such, this should also be the best cookware in your arsenal. Because of the superior heat conductivity, you can get the best maillard reaction out of any pan. It will sear food so well, that you might actually have to turn down the heat.
The distribution of the heat will also be perfect. Have you ever notice that some parts of your food is brown and the other is not? That is because there are heat spots in those pans. Getting a pan with superior heat conductivity is crucial in these situation. To show you an example, I tested heat distribution of cookware by toasting bread. I normally heat them up for 2 minutes. Here is the heat distribution of a copper skillet by Mauviel. Notice how the toast is evenly brown?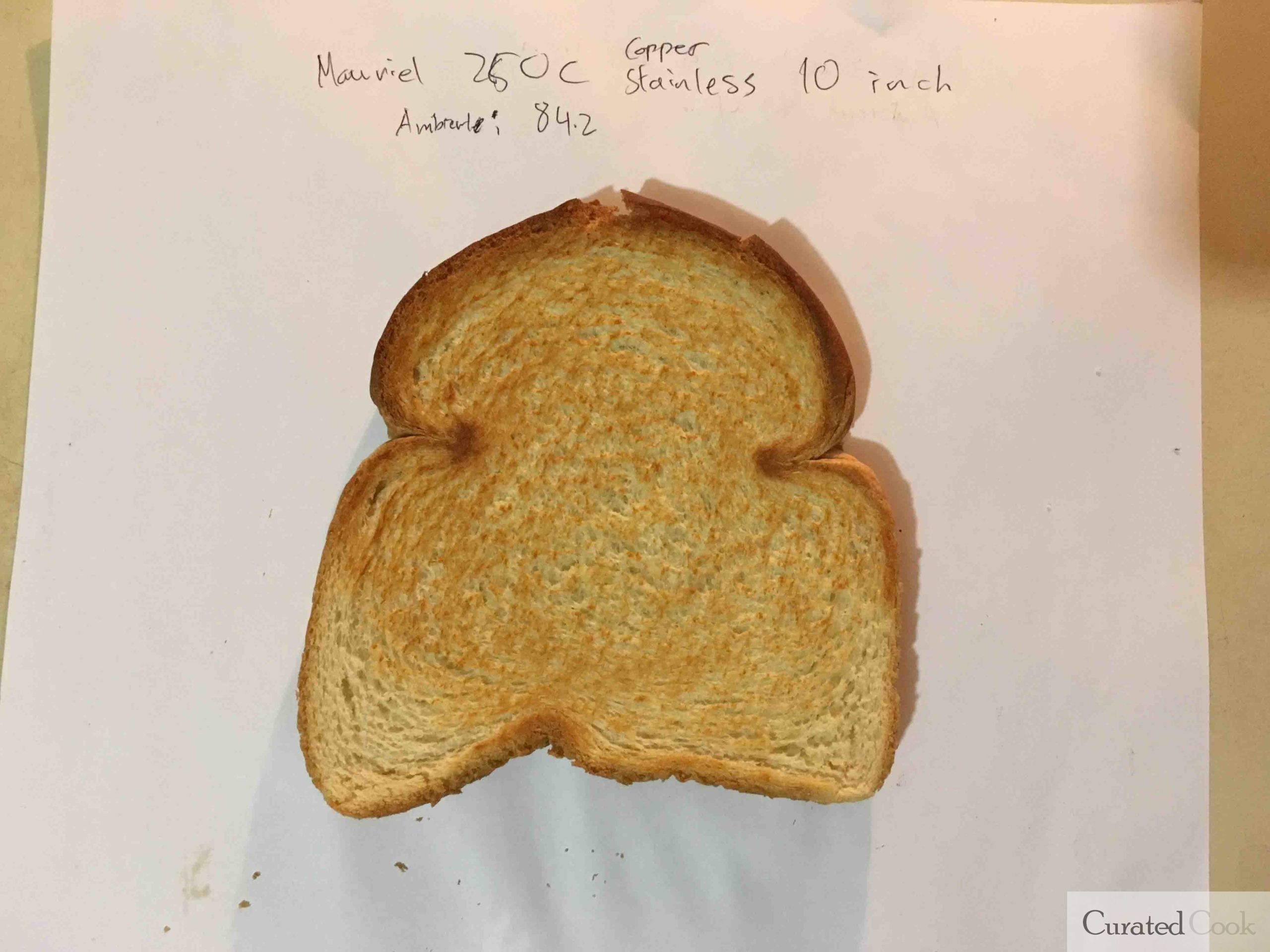 Now, look at the heat distribution of a cast iron pan. There are significant heat spots throughout the toast. Not only that, I actually have to increase my test time to 3 minute.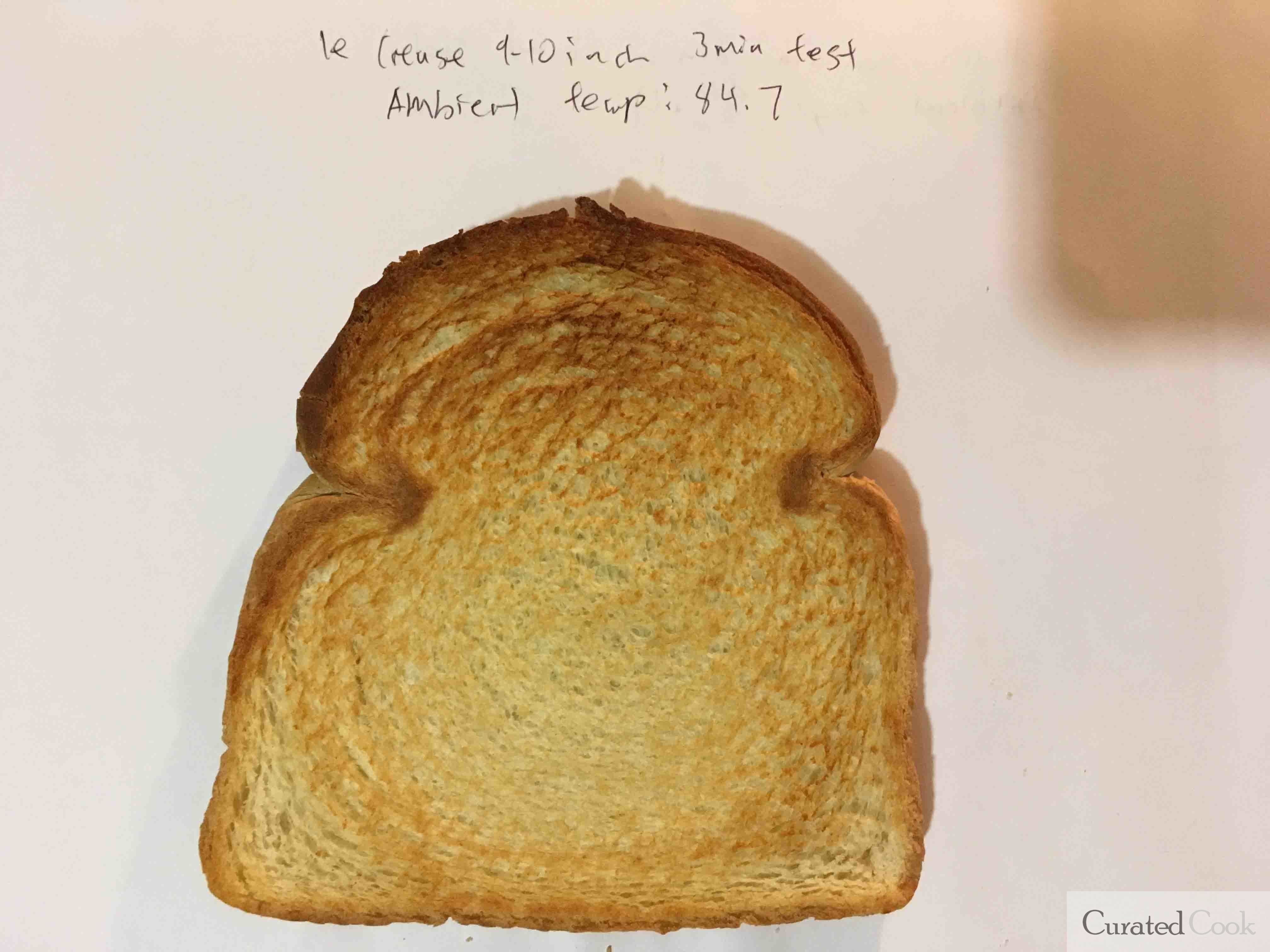 I hope that this test will show you why copper is the best choice for a skillet.
Best Copper Skillet Design
This section we will go through individual aspect of the different Skillets. We will be looking at handles, shape and finish. We will discuss how it affects cooking and go through what you should look for.
Best Copper Frying Pan Handle
The handle can and will affect how comfortable the frying pan is. A horrible designed handle will cause fatigue and make you wish you had a different pan.
Mauviel (Winner)
I will spare you the suspense, Mauviel is the winner. On the m250c line, they have a stainless steel handle that is coated in black. This makes it look like a cast iron handle. But it doesn't get hot on the stove top. It is comfortable in the hand and does not make the pan feel overly heavy. The only downside that I notice is that over time, the coating will rub off. What is interesting is that underneath, its gold.
All Clad
This is the worse of the bunch. They have two sharp edges that dig into your hand. If you cook for an extended amount of time, you will want to toss the pan out. The upside to this is that it gives you good grip. It also manages to stay cool for a long amount of time.
Falk
Falk uses a traditional cast iron handle. The handle is short but fits just right into your hand. It is angled perfectly so that it is ergonomic and lets you lift the pan with ease. It does get hot so a towel is always recommended when cooking with this skillet. Other than that, it does rust so care has to be used when washing it.
Matfer Bourgeat
Matfer Bourgeat handle is like falk, but more of a traditional french design. The handle is much longer but angled like falk. It is comfortable and does not cause unnecessary fatigue. Although, you still have to grip it near the base. The extra length that it has is kind of pointless. All in all, its a decent design.
Best Copper Frying Pan Shape
The shape affects the rate of evaporation, cooking surface area and ease of use. All these different factors will change based on how the manufacturer design their pot.
Mauviel
The shape that Mauviel used for their skillet is a very traditional french skillet. The sides are low to aid the turning of food. It also helps liquid evaporate faster it has more room for steam to liquid. It has a wide cooking surface area of 7.25 inch. The only downside is that the lip is not rolled. This makes it difficult to pour liquid out of the pan.
All Clad (Winner)
The design of All Clad Frying pan is simply perfect. It has low flaring side that aids in turning food and evaporation of liquid. It has a wide cooking surface of 7 inch. The lips are also rolled so that liquid can be poured easily. The edges are also gradual so that you can use a spatula easily.
Falk
The shape of Falk's skillet is the worse of the lot. It is more of a hybrid between a saute and a skillet. Because of this, it makes it difficult to turn food with a spatula. The higher sidewall means that steam will be more easily trapped. Making it slower to evaporate liquid. The lips are rolled for easy pouring of liquid. In this instance, I would recommend their saute pan instead.
Matfer Bourgeat
The design is very similar to Falk design. The high sidewall hinders the evaporation of liquid. It also makes it difficult to use a spatula. For this reason, it is better to get a larger skillet if you do plain on buying their skillet. I have the 28 cm version and I measured the base cooking diameter to be 9 inch. That is almost a 3 inch reduction in area.
Copper Thickness
The copper thickness of Mauviel, Falk and Matfer Bourgeat are all 2.5 mm. These pans should all pretty much perform the same. The only one that is obscured is All Clad. Their copper core line thickness is 1.7 mm. And looking at the side, the thickness of the copper is no less than 1 mm. Because of this, you can expect All Clad to heat up the fastest out of all of them. But the main issue is when you go to sear food. Since the pan is relatively light, it wont sear as well as the other manufacturer. Once you drop food in, the pan will loose a good chunk of heat. What it does have is superior heat reaction. It should be more adept in making sauces than all the other pans.
I guess it really depends on what you intend on using it for. But for me, a frying pan is a workhorse. It is suppose to brown food and develop fond. Sauces are second and can be made in a saucier.
Best Copper Frying Pan Specs
Note:These measurement are done by me with the tools that I have on hand. The manufacturers have their own measurement guidelines and that should be assumed to be accurate. What I find on this review can vary widely due to several factors, such as ambient temperature, location, water, tool calibration, stove btu, etc..and should only be considered as my opinion.
Mauviel M250c 10 Inch
Weight:1851 g
Rim Width:Around 10.3 inch
Base Cooking Surface:7.25 inch
Height: Around 1.7 inch
Thickness: 2.40-2.45 mm
All Clad Copper Core 10 Inch
Weight: 1253 g
Rim Width: Around 10.55
Actual Cooking Surface Diameter: Around 7 inch
Height: 2 inch
Thickness: 1.66 mm
Falk Frying Pan 24 cm
Weight: 1990 g
Rim Width: Around 9.8 inch
Base Cooking Width: Around 7.8 inch
Height: Around 1.8 inch
Thickness: 2.40-2.45 mm
Matfer Bourgeat Frying Pan 28 cm
Weight: 2772 g
Rim Diameter:Around 11.75
Base Cooking Diameter: 9
Height: Around 2 inch
Thickness: 2.51 mm
Performance Test
To test the how well it distribute heat and how well it heats up, I perform a toast test where I place a piece of toast in the center than weight it down with a meat pounder. I heat up the pan for a total of 2 min then see the color of the toast.
Below you can see how the test was performed.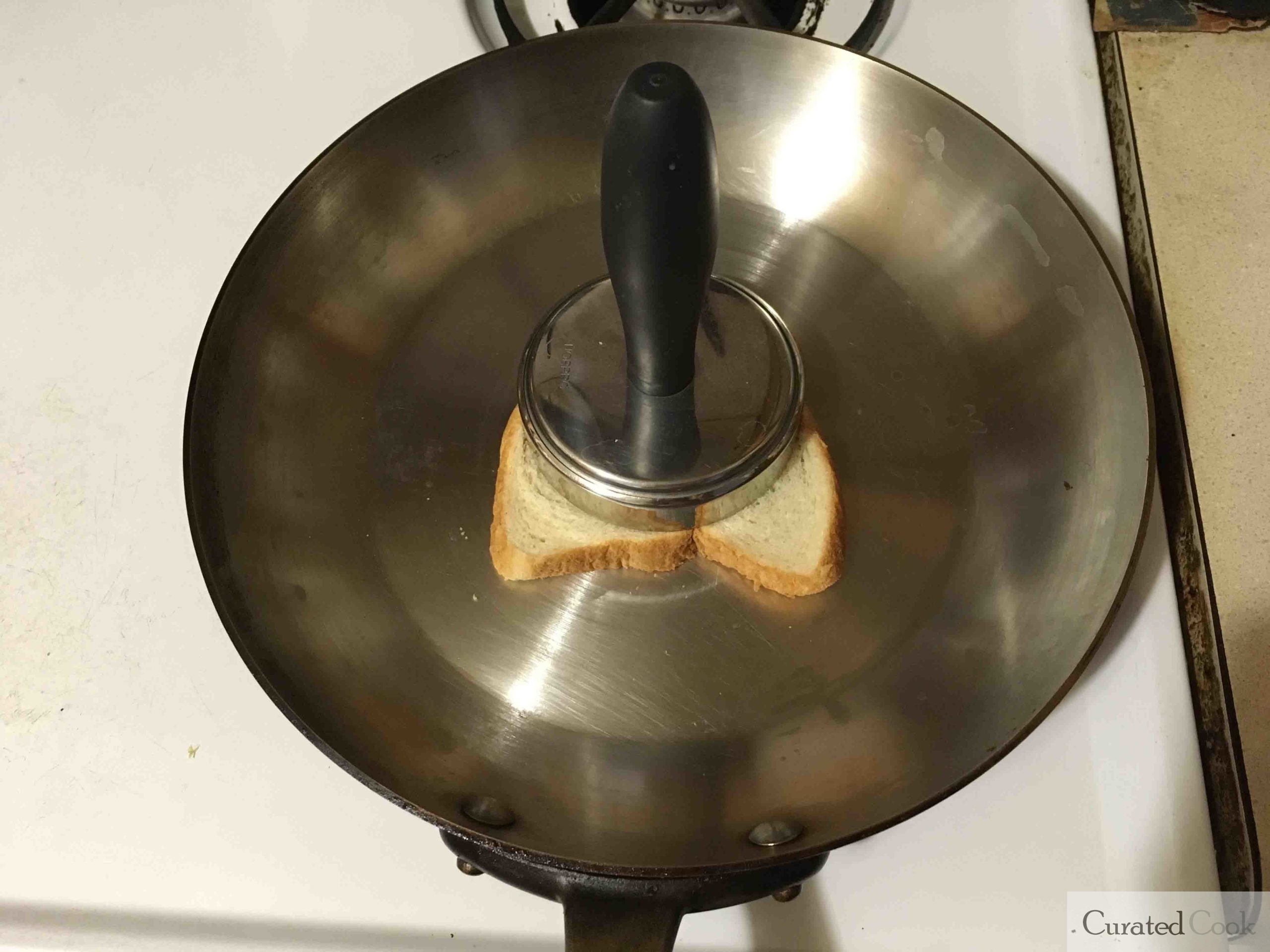 Mauviel (Winner)
The test result on Mauviel Skillet is perfect. There is an even distribution of heat throughout the toast.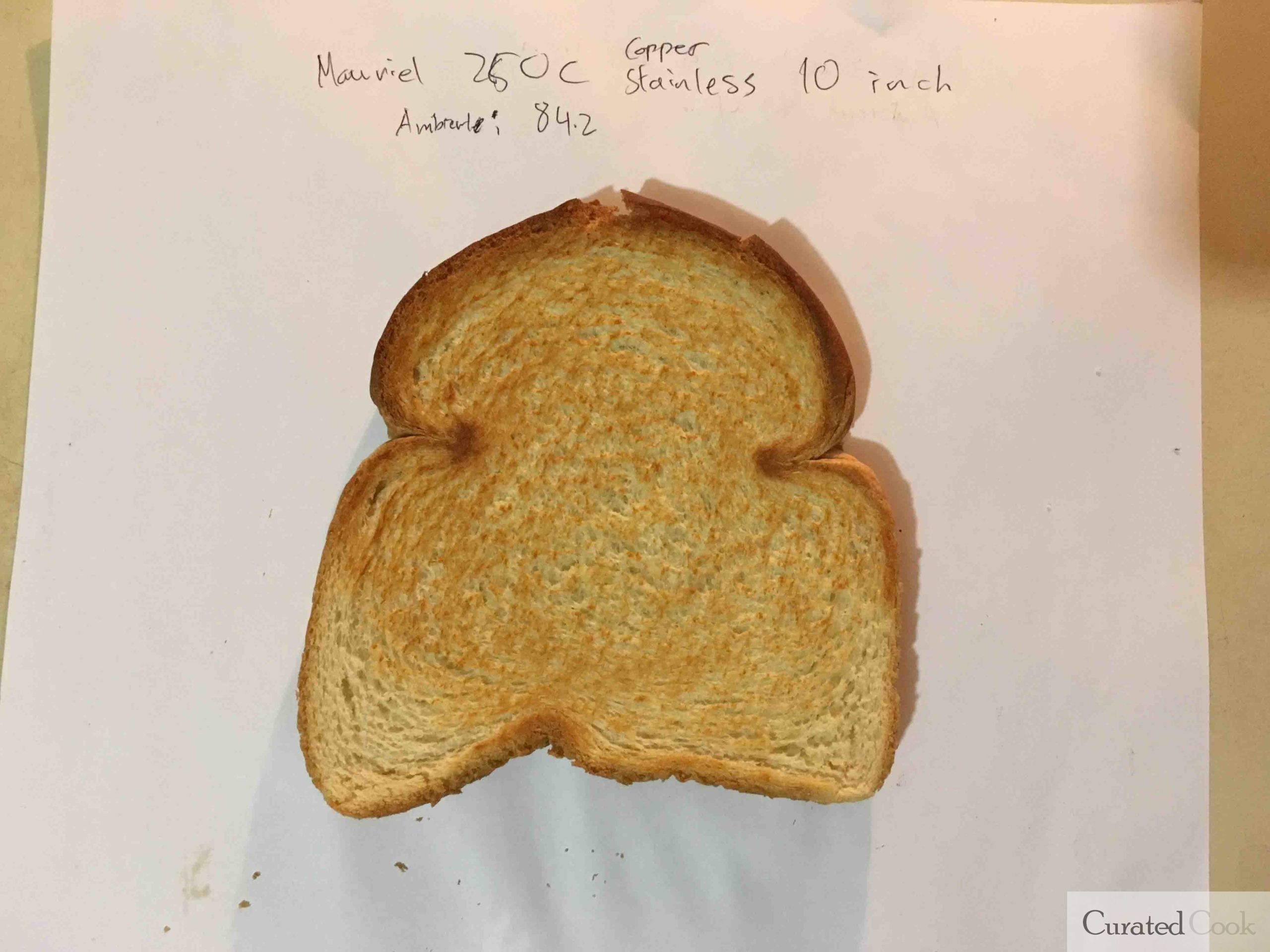 All Clad
Heat distribution is almost perfect. A slight darker region on the top of the toast. Because of how light the pan is, it is the most responsive out of all of them. This is evident by how dark the toast is.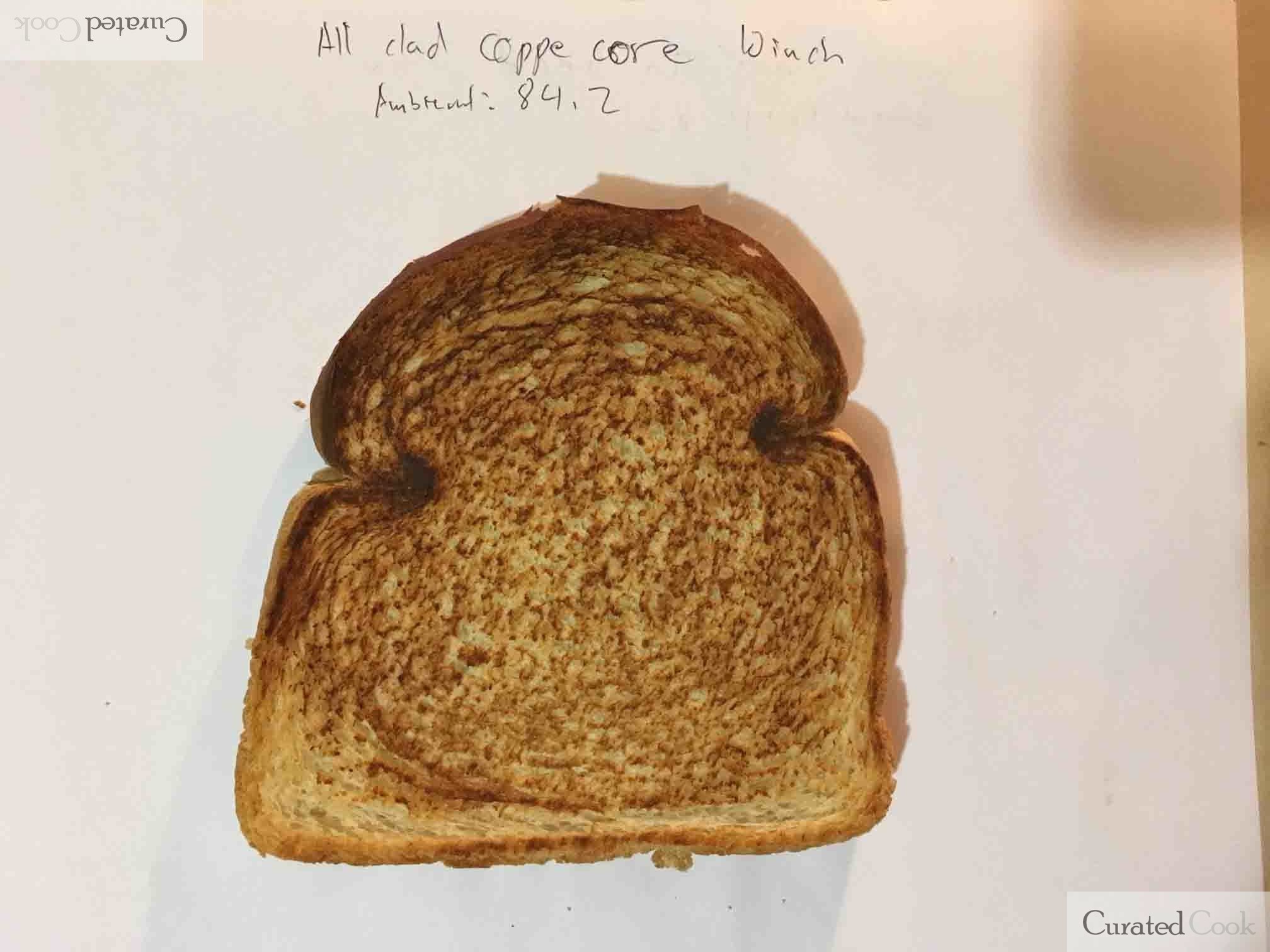 Falk
There is a slight heat spot on the bottom of the toast. But overall, it is good and very similar to that of mauviel. I would attribute this result to just random testing error.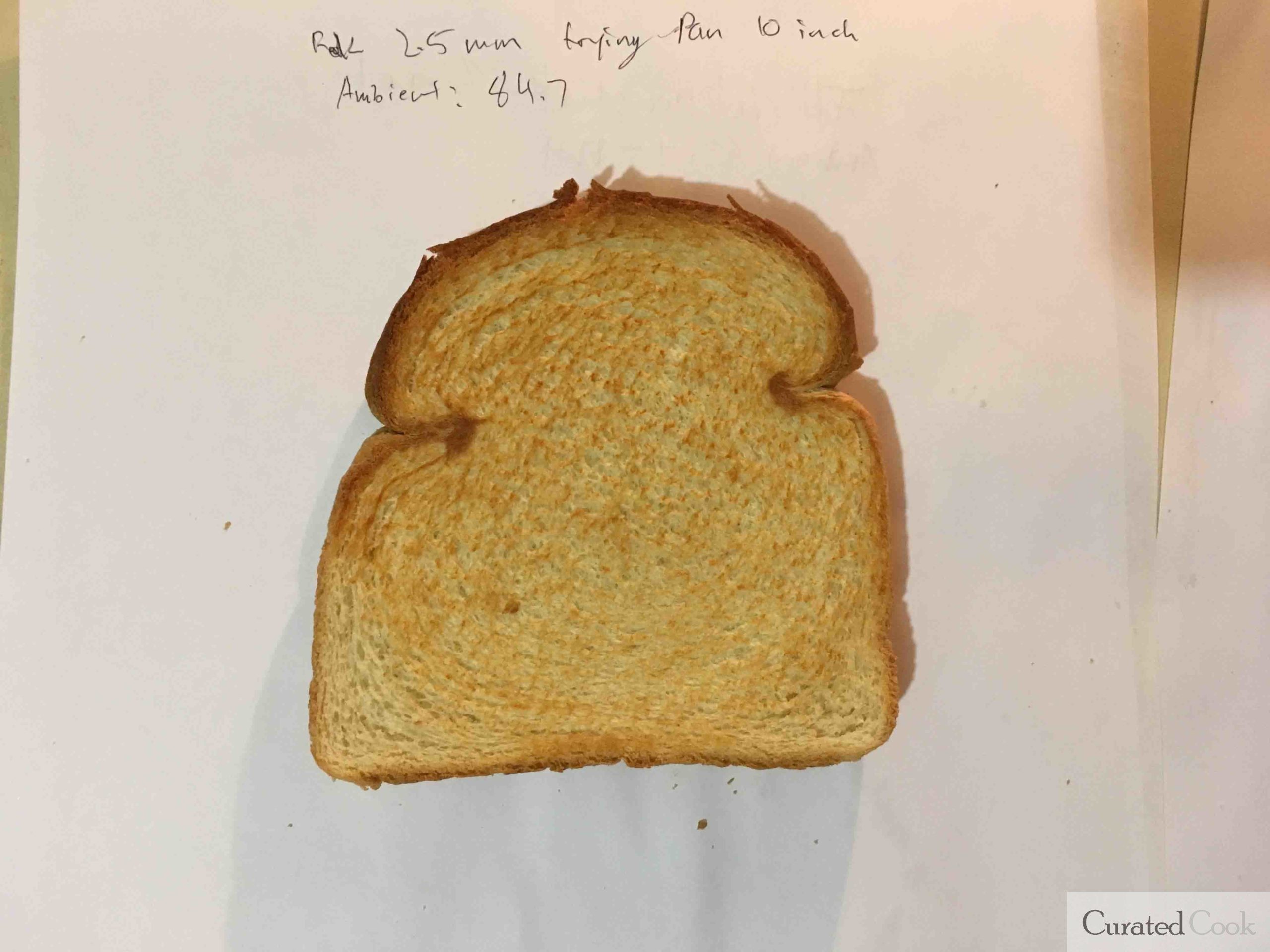 Matfer Bourgeat
The result of this test is pending.
Which is the Best Copper Frying Pan
If I had to choose one, I would go with Mauviel. While Mauviel does not have the best skillet shape, it is still very well designed. The copper used on their skillet is thick unlike that of All Clad. The handle is also comfortable and stays cool. While All Clad has a very well designed pan, the lack of copper and weight does not make it an ideal workhorse. Falk and Matfer Bourgeat are good choice if you want a hybrid between a skillet and saute pan. But this article is on the Best Copper Frying Pan, not a hybrid.
I hope you like this Best Copper Frying Pan Article, If you would like to see more, please visit our Pots and Pans Review page.