Making purchases at Amazon.com and other website funds this website by generating revenue. Any help is appreciated and supports both me and content like this.
Best Le Creuset Dutch Oven Sizes
The Best Le Creuset Dutch Oven Sizes depends on your need. While the 4qt models seems to offer the best value. Sometimes the larger one are the worth the extra expense. Confusingly, Le Creuset and other european manufacturer list their cookware base on diameter not by size. For example, if you see 24 on the bottom, that usually means its 24 cm. This is pretty much true whether its a dutch oven or a braiser.
Even though this might be infuriating, there is a upside to this sizing. You can usually find a size that suits your stove top. You typically dont want something that is too large for the cast iron grate. When it hangs over the grate, it causes the pot to warp. The heat soften the metal and it is pushed downward. Although it is unlikely to happen on cast iron which is really thick.
Le Creuset Dutch Oven Sizes
These numbers were pulled straight from Le Creuset website. However, they did not list the official cm marking. I converted the number based on the value. I recommend that you use the number closest to the one listed. They dont seem very consistent and usually the manufacturer will just increment by even number. For example 14 cm-16 cm-18 cm-20 cm.
| Capacity (QT) | Diameter | Height |
| --- | --- | --- |
| 1 QT. | 5 3/4″ (14.6 cm) | 5″ |
| 2 QT. | 7 1/2″ (19cm) | 5 1/2″ |
| 3 1/2 QT. | 9″ (22.86 cm) | 6″ |
| 4 1/2 QT. | 9 1/2″ (24 cm) | 6 1/2″ |
| 5 1/2 QT. | 10 1/4″ (26 cm) | 7″ |
| 7 1/4 QT. | 11 1/2″ (29.21 cm) | 7 1/2″ |
| 9 QT. | 12 1/4″ (31.11 cm) | 7 3/4″ |
| 13 1/4 QT. | 14″ (35.56 cm) | 8 1/2″ |
What Size Le Creuset Dutch Oven Should I Buy?
1-2 qt
For small serving which you intend to use like a bowl, the smaller 1-2 qt models will work. But really, they arent practical for cooking. What you can do is use them as salt pigs. Although those are a pretty pricey endeavor. They have ceramic models in a similar size but those are quite fragile.
4 – 5.5 qt
The 4 qt models are the one that goes on sale most often. If you are lucky, you might be able to get it for around 150. These can be used to serve around 2 guest. Just be aware, that is not recommended to fill the pot all the way. It is better to have it filled halfway. When you cook and transport it, it will not spill over. For that reason, the 5.5 qt is more versatile. Just expect to pay more.
7 qt Plus
This is where you get to party sizes. If you are serving a large family, this will work best for you. Just be aware, the higher you go, the heavier it is. The pot alone is already heavy, imagine how bad it will be filled with liquid. If you really do get the 13 qt model, try to find a helper to help you carry it. I cant even imagine washing it either.
Best Le Creuset Dutch Oven Sizes Thoughts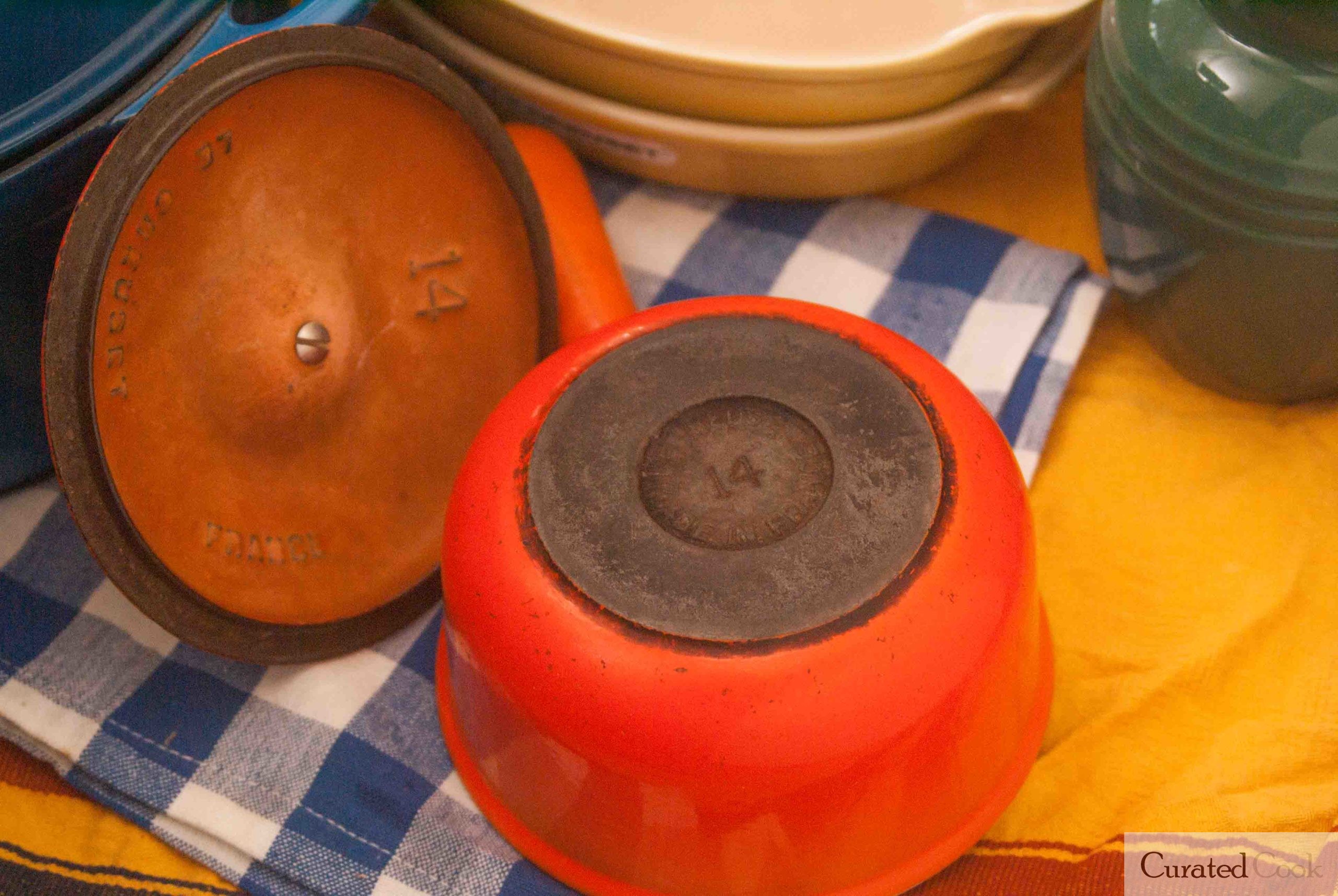 While this recommendation is very generic. I do have a preference. If I had to only get one, I would buy the 5 1/2 qt model. It has the best balance. Its not overly heavy and it has the right amount of capacity for a larger family. However, me being me, I like my choices. I would get the 4 1/2 qt 24 cm model and the 7 1/4 qt 30 cm model. They offer the most versatility. If I was cooking for 2 the 4.5 qt model would be perfect, its easier to clean and its affordable. Then if I have a large family coming over, I would whip out the 7 qt model.

I hope you like this Best Le Creuset Dutch Oven Sizes article, If you would like to see more, please visit our Article page.