Making purchases at Amazon.com and other website funds this website by generating revenue. Any help is appreciated and supports both me and content like this.
Cole and Mason Derwent Pepper Mill Review
Cole and Mason Derwent Pepper Mill is rated by America Test Kitchen as one of the best pepper mill in the market. You can typically find it at Amazon for a reasonable price. The design of the pepper mill takes on a more modern look with a sleek clear plastic interior. This lets you gauge how much pepper mill you have left at the same time it shows what the purpose of the mill is for. Other mills have no indication aside from a P or a S. What is special about this version is that they have a set fine adjustment setting on the bottom. This lets you skip the guess work that usually comes from pepper mill. We will go over how the pepper mill is designed and discuss whether it is actually functional.
Cole and Mason Derwent Pepper Mill Review Quick Summary
| Categories | Cole and Mason Derwent Pepper Mill |
| --- | --- |
| Performance | Excellent |
| Colors | Range of Colors |
| Warranty | Lifetime Warranty on Grinding Mechanism |
| Brand Awareness | America |
| Country of Manufacturer | China |
| Thoughts | An excellent performing pepper mill. However, you can feel the difference in construction compared to Peugeot. Cole and Mason uses a lot of plastic, while peugeot uses wood and metal. So while it does perform better, it feels cheaper. |
| Reviewed Cookware | Cole and Mason Salt and Pepper Mill |
Why is a Pepper Mill important?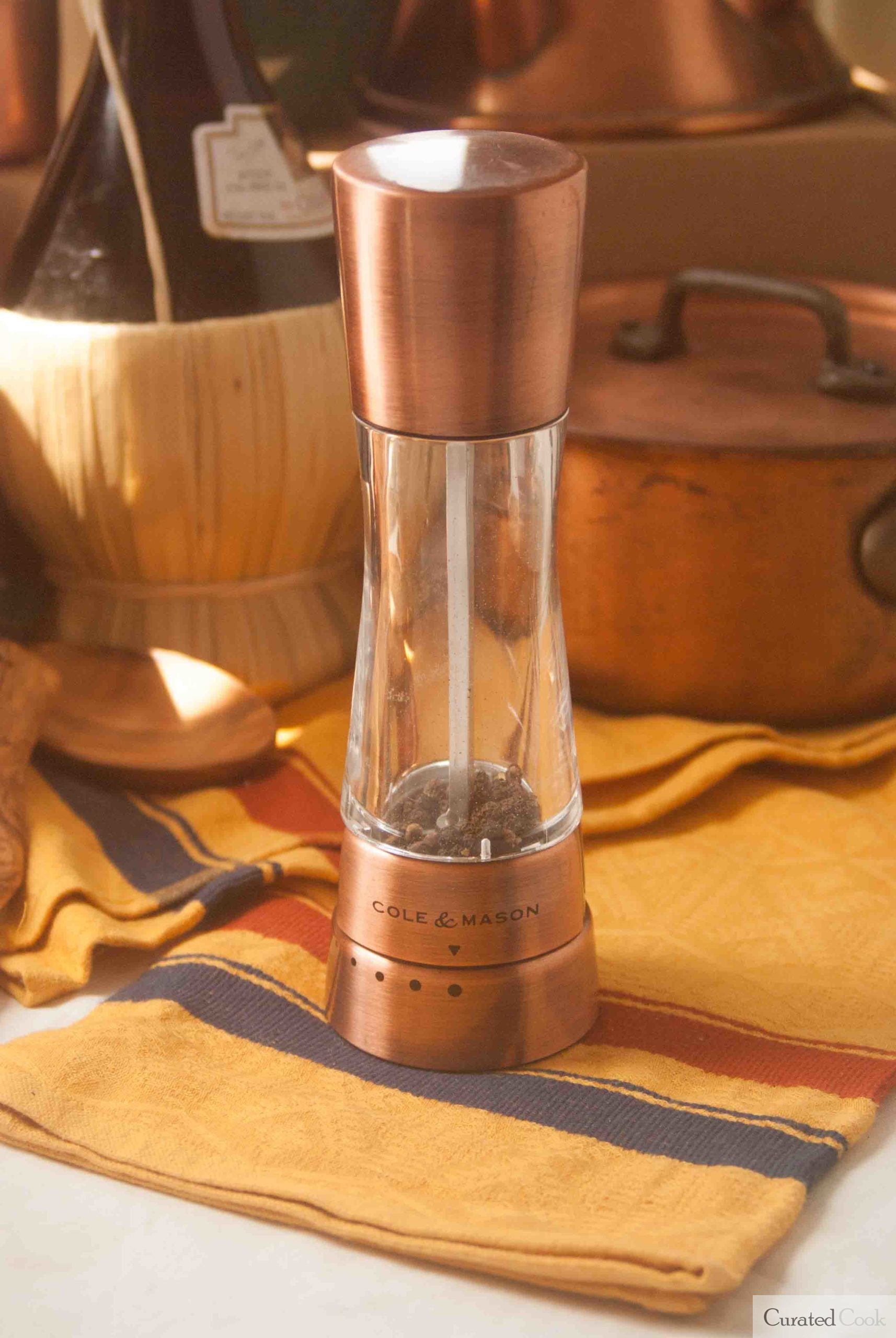 In order to understand the importance of a pepper mill, a understanding of oxidation is required. As food oxidzed a chemical reaction with air occurs and flavor and nutrients change. By exposing a fresh pepper to more oxygen, you are also rapidly changing the flavor compound that it has. It is for this reason, it is best to grind a pepper before using it. To have a better understanding on what oxidation does on food, go to the following link.
Salt on the other hand is not really affected by oxidation. The only reason why you would need a salt mill is to control the texture of it. Depending on the size of the salt crystal, it can affect the texture.
Cole and Mason Derwent Pepper Mill Design
Pepper Grinding Mechanism
What Cole and Mason did was added the adjustment on the bottom. The pepper adjustment setting is no longer done by a screw on the top. Which in my experience was guess work for the most part. As you select each setting, the gap between the burr grinder will change. The large the chunk the wider the gap. For the most part it is a pretty simple design. Because of this, most of the mechanism is encased with plastic. In a traditional pepper mill, they are usually just wood or metal.

The Lid is the Screw
Since it is missing the screw to adjust the grind, they just use the lid to latch onto the metal rod. When you twist the lid, the metal rod will rotate in unison. Given as such, they needed to design the lid so that it can fit the rod at any orientation. Looking down onto the cap, you can see it looks like a torx female insert. One major issue that I have with this is the durability of it. Overtime, something like this will become loose. It wont be able to stay in place for long and even worse, it will stop turning the mill.
Having said that, this design is a lot better than Peugeot U Select Pepper mill. Theirs do look like a traditional pepper mill but it has way too many issues with their mill. Since you can adjust it on both setting, you have to readjust both in order to get grind setting you would like.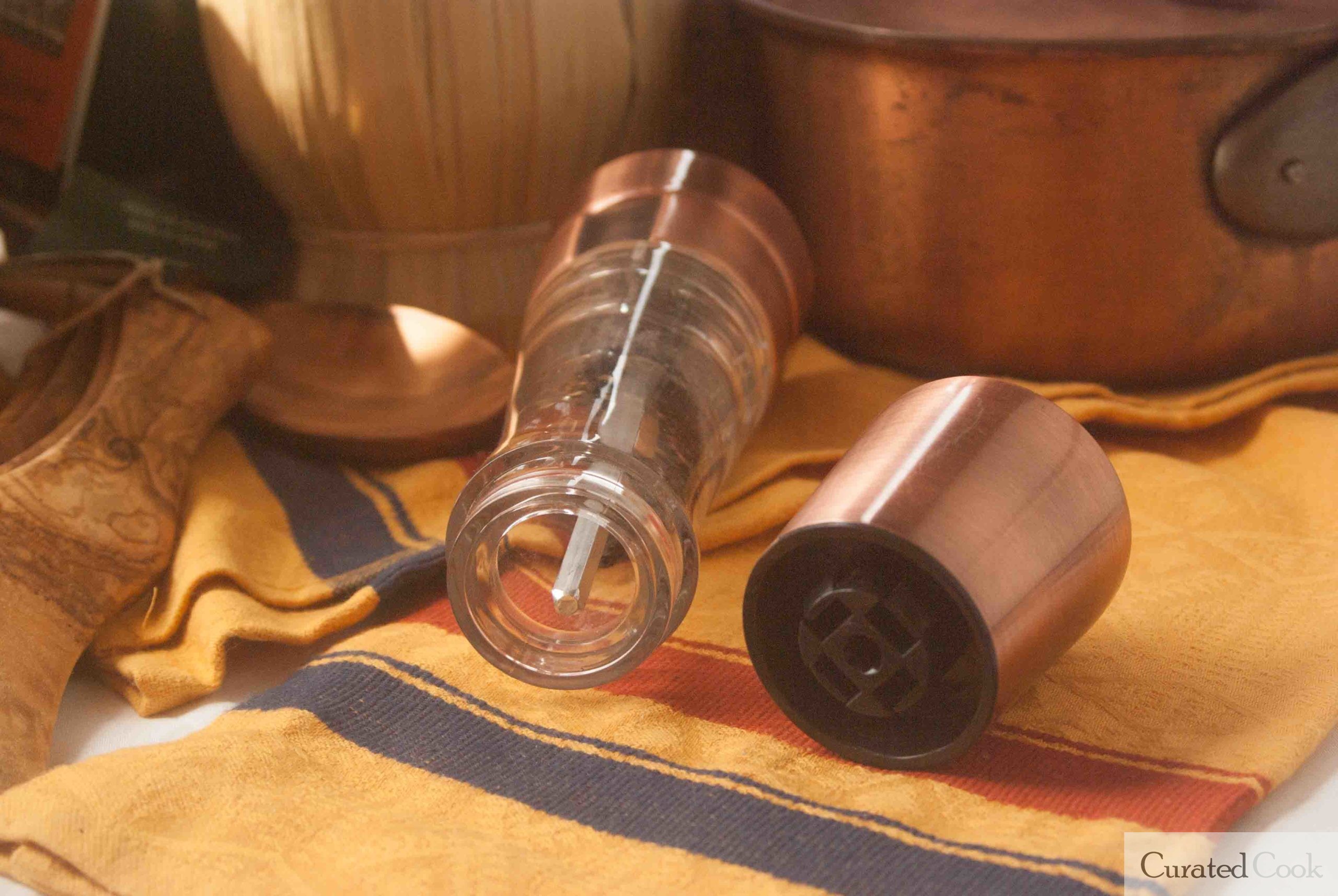 Adjusting the Grind setting on Cole and Mason Derwent Pepper Mill
Yea, this is a little trick as well. In order to adjust the setting on this mill, you need to grab center of the mill and twist that portion. Do not twist the bottom like I did and certainly do not try and force it like me… I am pretty sure I would have broke it if I went a little crazy with a plier.
Still cant adjust it?
So lets say you try adjusting the center portion of the mill and it still wont turn. Well this is something else I had to figure out. When something like this happens, it is usually because you are going from a larger grind setting to smaller. Chunks of pepper mill will tend to get stuck in between it making it almost impossible to adjust. What you can do is to turn the mill upside down and grind a few pepper. This will crush it and let you adjust it again. If you do it right side up, more pepper will just get stuck.
How do you refill Cole and Mason Derwent Pepper Mill
This is something that I struggle with initially. You literally just yank the top off. It was not intuitive for me at least and I was trying to unscrew the bottom. Do not do this as you might accidentally strip the thread.
Different color is just different casing
The variety of color that Cole and Mason provide is just a shell. It is not a solid piece of copper or gunmetal. The base skeleton are all the same. I have a gunmetal version of this as well and the cap fits just fine. You can see a plastic skeleton underneath it. I am pretty sure if you undo the whole mill, you can make a Frankenstein pepper mill.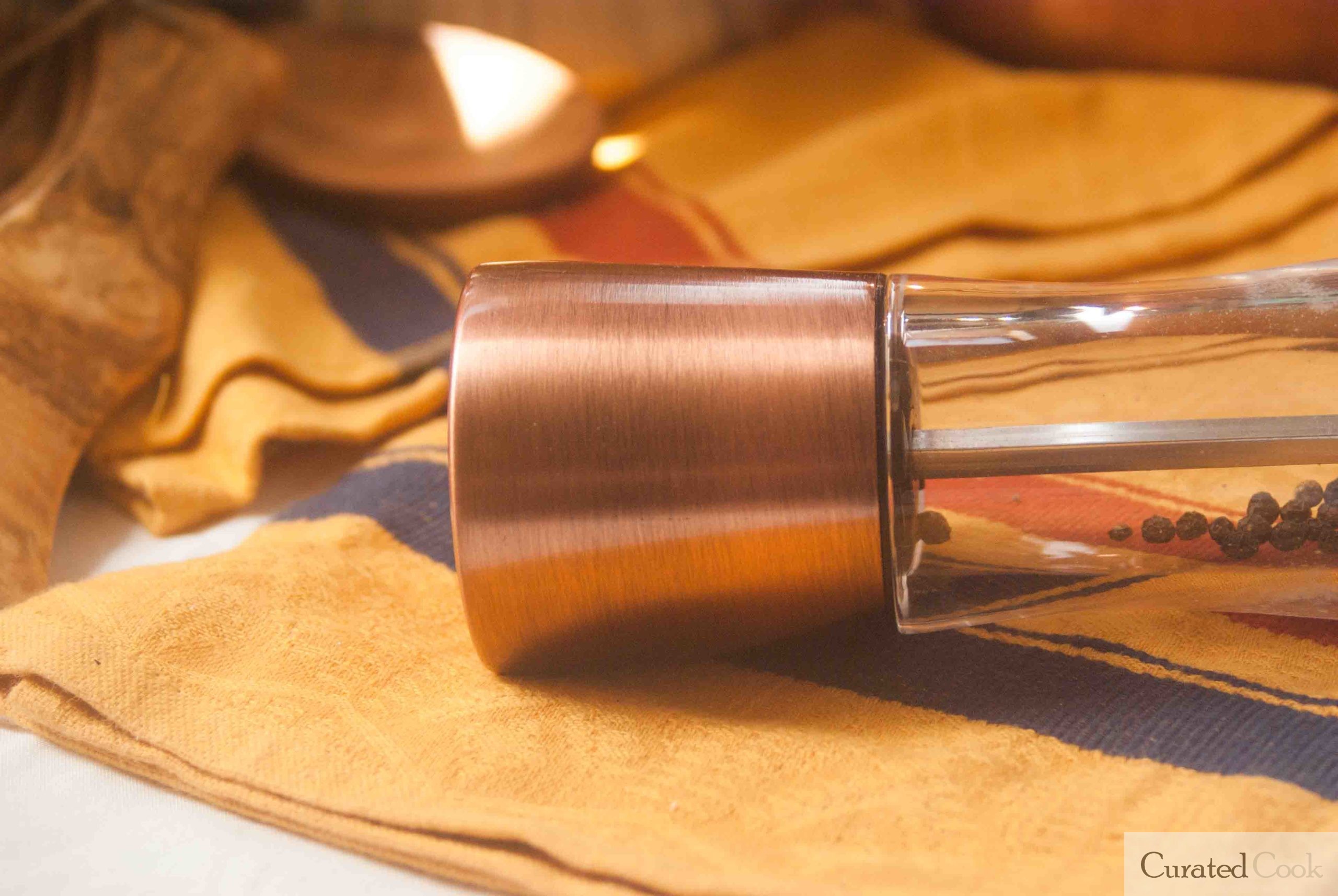 Is the body Glass?
No, the body is made out of plastic. It does resemble glass really well though. The good thing about this is that it is more durable. Not only that, it will not be as cold to the touch as glass will be. Overall, I think it is a good design choice but I personally just love the feel and class of glass. When I see plastic, it just feels like they cheaped out. But rest assured, they used a very thick piece of plastic.
One interesting thing to note is that the grinding mechanism is screwed onto the plastic body. You can actually see three screws on the bottom where it was screwed in.
Also, it looks like it was two pieces of plastic that was fused together. In the center, you can see a very faint line on either side of it. This make me assume that only one mold was used to make them. Making a mold where it produces a cylinder will be difficult to remove. They would have to break the mold each time. Making a half mold and fusing them together let them reuse the mold multiple time.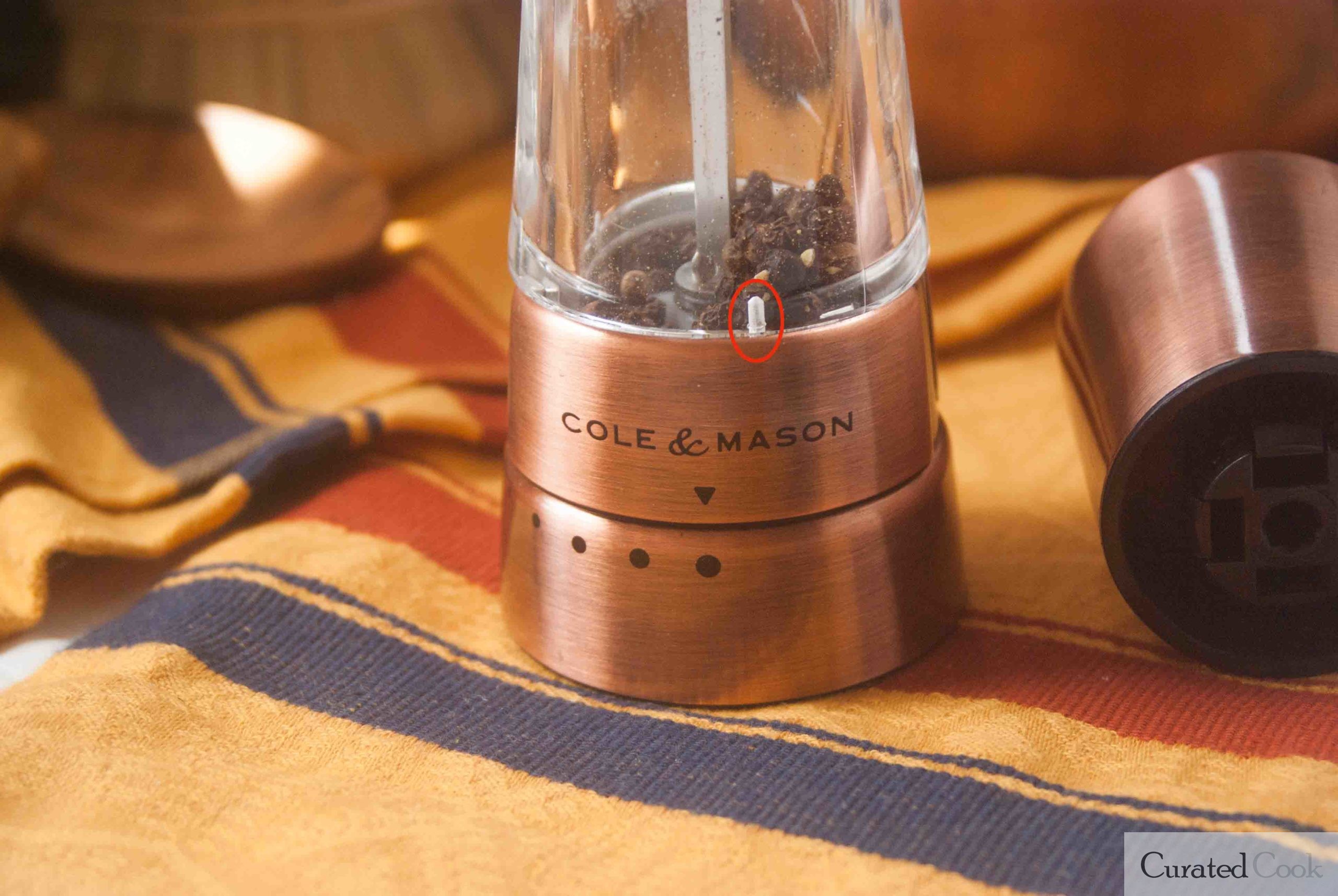 Fit and Finish
In general, the fit and finish is excellent on this product. This should be a machine made mass produce product so it would be a big disappointment if you saw a bunch of flaws that was hand made. I do not like the amount of plastic that they use but as long as it is durable I guess that is acceptable.
The casing for the color is actually metal so that is a definite plus. Whether it is actual copper that is something else. I do like that they did not use one of those cheap coating like other manufacturers use.
Conclusion
It is a pretty well engineered pepper mill. I love how they incorporate the top, the grind setting and filling mechanism all into one. Aside from the mental gymnastic that I have to do to figure out how to use it, it is a pretty good mill. Then again I am not very intelligent. I don't like the plastic body and the amount of plastic used because it feels cheap. Cole and Mason Derwent Pepper mill also lacks the aesthetic that a traditional pepper mill have also. However, it is a pretty well designed pepper mill and it performs well. This is great if you want a set and forget it kind of pepper mill. It will give you consistent result that the traditional mills won't.
If you want a more Traditional Handmade Mill, I recommend the Peugeot version. They use a higher grade of materials and it looks handmade. Not to mention it looks better.
I hope you like this Peugeot Paris U'select Pepper Mill Review, If you would like to see more, please visit our Kitchen Gadgets Review page.