Making purchases at Amazon.com and other website funds this website by generating revenue. Any help is appreciated and supports both me and content like this.
Fried Dace with Salted Black Beans aka Dou Chi Ling Yu (豆豉鯪魚)
Fried Dace with Salted Black Beans (豆豉鯪魚) is canned fish that is preserved with oil and Dou Chi. It was originally eaten by lower to middle class household in Hong Kong. However, today it is one of the most common canned food in Asia. It is usually paired with plain rice as a quick and simple dish. Although you can use it with stir fry or other dish.
Check Best Price
Fried Dace with Salted Black Beans Quick Summary
| Categories | Fried Dace with Salted Black Beans |
| --- | --- |
| Taste | Oily and Salty, needs to be balanced out with bland food like Rice. |
| Uses | Mostly eaten from a can with rice, but you can use it with stir fry. |
| Health and Nutrition | High in fat and sodium. Recommended to not eat daily. The black beans are edible, you can also use it to make other dishes like spare ribs. |
| Shelf Life | 36 month. |
| Thoughts | One of the most popular canned food in Asia. I recommend that you eat it at least once. However, be prepared that the black bean can be off putting to people who eat it for the first time. |
| Reviewed Noodles | Chinese Canned Fried Fish With Salted Black Bean |
What is Fried Dace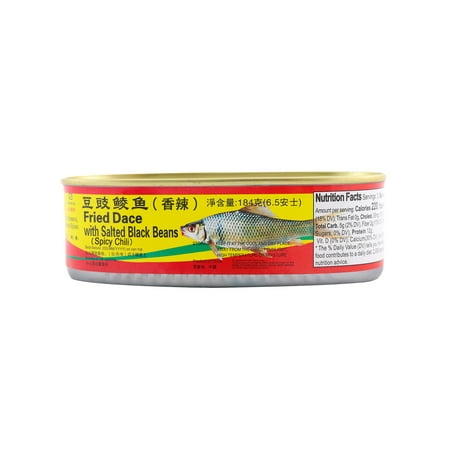 Fried Dace is usually made with Cirrhinus molitorella or Mud Carp. The fish is fried and then combined with dace to give a balance in flavor. It is designed to be eaten with rice to balance the saltiness of the dish. Originally, these dish were not canned. However, the company Guang Mao Xiang canned Food factory saw the opportunity. In 1893, they were the first company to offer it in canned form. It was a huge success with the lower middle class family. However, this was only because it was a cheap and convenient option. Much like how canned food is in America.
Taste
Fried Dace is incredibly oily. When you first bite into it, the oil will start to coat your mouth. It has a soft yet satisfying chew. Usually the bones are deep fried with the fish. This makes it soft and edible. While the fish itself is salty, the salted black beans is what actually makes the flavor overpowering. It has a strong pungent flavor that almost taste rotten. If you have never eaten it before, it can be a little off putting. However, once you acquire the taste, you will see how alluring it is.
Fried Dace Health and Nutrition
As with all canned food, it is not healthy. One canned of Fried Dace has 75 % of your daily recommended fat. 78% of your sodium intake and 600 gram of calories. It is not exactly something you should eat everyday. Given that, there is a significant amount of protein (33 g). Below you can find the full nutrition List.
3 Serving per Container the number is per serving.
Calories:200
Total Fat 16 g
Saturated Fat 3.5 g
Trans Fat: 0 g
Cholesterol: 20 mg
Sodium: 630 mg
Total Carb: 3 g
Dietary Fiber: 2 g
Total Sugar: <=1g Protein 11 g As with most food in this category, it is Halal Certified.
Ingredient List
The Ingredients are as follow.
Dace, Salted Black Beans, Soy Bean Oil, Salt, Sugar, Natural Spices(Grosvenor Momordica Fruit, Dried Aniseed, Fennel, Pepper, Cinamon, Clove)
No preservative was used in the making of Fried Dace. For that reason, it best to finish it within a day or two.
These food have an average shelf Life of 36 months or 3 years. However, you can probably keep for a lot longer.
Uses
As stated before, it can be eaten with rice or used with stir fry. Usually the black beans (Dou Chi) are given in an abundant amount. You can use the leftover to make some popular black bean dish. If you do not know what the Dou Chi is, they are fermented and salted black beans. They are used to flavor Chinese dishes. One popular dish that uses Dou Chi is steamed spare ribs (豉椒排骨) which is commonly found in Dim Sum. Another one would be Chinese Chicken Feat. All very common in Dim Sum Dishes.
Where to Buy
Fried Dace with salted Black Beans is common in Asian Supermarket. You will have a difficult finding it in Major Super Market in America. You can find it online at Amazon but they tend to charge an insane amount…Walmart has it for a much more reasonable price, still expensive though. I recommend you visit one of your local Chinatown if you really want to try it.
Fried Dace with Salted Black Beans Thoughts
It is one of the most popular canned food in Asia. I grew up eating it and I think its worth a try. However, the fermented black bean might be off putting to people who never eaten it before. I recommend just trying one can for now. If you like it, buy more. They are a cheap and convenient way to eat a simple meal. Cook some rice with some tea and you have a quick and easy lunch or dinner.
Check Best Price
I hope you find my article on Fried Dace with Salted Black Beans to be helpful, please visit the Food Review page for more!