Making purchases at Amazon.com and other website funds this website by generating revenue. Any help is appreciated and supports both me and content like this.
Lodge Camp Dutch Oven Review
Lodge Camp Dutch Oven is the best dutch oven for camping. It has feet to rest on top of the wood and a wire rack to hang over the fire. Its cast iron construction means that its nearly indestructible. And it comes in various size. For the price, you really cannot beat Lodge Camp Dutch Oven. There are some things to be aware of when using this dutch oven. This review will talk about the construction and design of this dutch oven. We will see just how good it is.
Lodge Camp Dutch Oven Review Quick Summary
| Categories | Lodge Camp Dutch Oven |
| --- | --- |
| Performance | Excellent |
| Compatibility | Charcoal, Fire or Wood |
| Colors | Black |
| Warranty | Lifetime Warranty |
| Brand Awareness | America |
| Country of Manufacturer | USA |
| Thoughts | Lodge Camp Dutch Oven is the best dutch oven for camping. The recessed lid lets you make a oven effect. The wide base lets you sear food without steaming. It also has a wire loop to let you hang it on a frame. If you do not have a frame, you can always buy the Tripod that Lodge Sells. |
| Reviewed Cookware | Lodge Cast Iron Camp Dutch Oven, 6-Quart |
Check Best Price
History of Lodge
Lodge has been around for over a hundred year. It was founded just Joseph Lodge in 1896. Known for their cast iron good, they manage to survive many struggles through the years. One such set back was the burning down of their factory, another was the great depression. However, through their perseverance and innovation, they always manage to pull through. They are one of oldest surviving cookware manufacturer around. Today, they are expanding their products to both enamel and carbon steel cookware. All this is done at an affordable price also. Very few companies can rival the offering of Lodge.
Lodge Camp Dutch Oven Design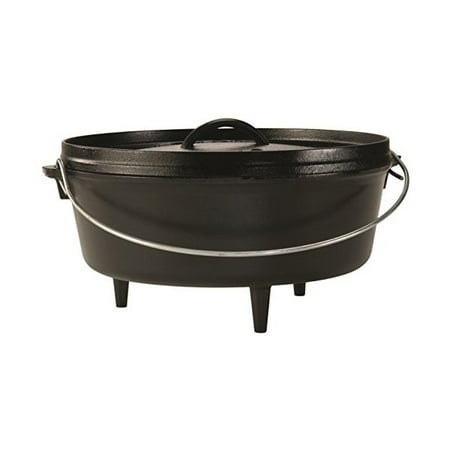 This section will discuss the design and features of Lodge Camp Dutch Oven. We will go over handle, lid, and overall performance.
Handle
Instead of a traditional two loop handle, Lodge Camp Dutch Oven uses a wire rack. This is meant to hang on top of a frame above the fire. This is perfect if you want to have a indirect heat. You can also rest it on top of the fire for a more intense heat. If you do not have a frame, lodge actually has a Tripod that they sell. Its a great alternative.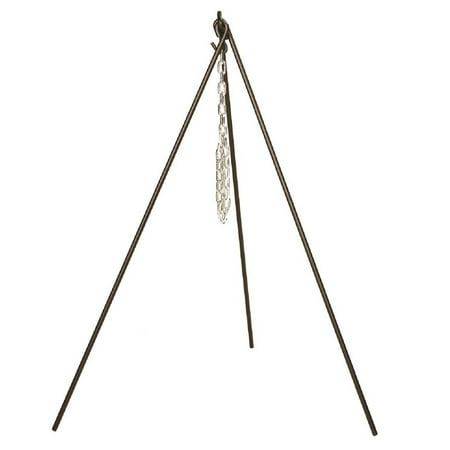 While functional, it is a little uncomfortable. The wire is think and it will cut into your hand overtime. Especially for something this heavy. When its cool, I recommend transporting the dutch oven by its base.
Shape
The great thing about the shape is that its very wide. This lets you maximize the area where the fire is in contact with the oven. Taller oven reduces the total amount of cooking surface you have. Which can promote steaming and boil your food. The wider design also lets you reach in with a tong a lot easier.
Lid
The lid is designed like a traditional doufeu. In the past, Doufeu dutch oven use to have embers or coals rested on top of it. This was a time when a home oven was not as common. By resting coals and embers on the lid, you will get a oven like effect. Heat will surround it from all side. This lets you bake stuff where you normally couldn't.
Le Creuset Doufeu has a modern version where they place ice cube on top of it. That goal is more designed to trap moisture. Kind of a change in how a traditional doufeu is like. Not as effective in my opinion. Nor is it really useful.
Some might wonder if you could just rest coals on top of a normal dutch oven. While you can, it will probably just fall off to the side. The lid on the camp oven is raised so that it was a resting place. It is also flat instead of angled.
Lodge Camp Dutch Oven Seasoning, Nonstick and Care
These dutch oven comes preseason from the factory. While you do not need to season it. It can come off with time. To re season it, just coat it with some oil and bake it in a oven for 350 degree fahrenheit for half an hr. If you do not have a oven, just coat it with oil and heat it up until smoking. You should repeat this step as necessary.
The seasoning is what gives it the nonstick coating. One common misconception is that it gives off flavor. That should not be the case at all. It just mainly there to give it a nonstick coating and protect it from rust. If you manage to strip the coating and leave it as is, it can and will rust.
To maintain the seasoning, it is recommended that you do not use soap to clean it. Using salt and a paper towel should be abrasive enough to remove it. If not, there are scarpers that lodge sell to help you clean it.
Why Cast Iron?
Cast Iron is one of the oldest metal used in cooking. It is cheap and durable. perfect for the rugged life of camping. Not only that, it holds heat very well. This means that it will keep your food hot and it will sear food well. This multi functional design will let you both sear steaks and make stew. The only downside is the shear weight of it. If you have to carry it for miles, this can be an issue. However, if you have a van or rv that you use to travel, then this is a great option.
Can you use a Camp Dutch Oven Indoors
While you can use it indoor. The feat does get in the way. The only compatible stove top would be the one with fire. Electric or induction will not heat it up properly. Unless you want to saw off the leg, its not going to be very effective.
Lodge Camp Dutch Oven Thoughts
Lodge Camp Dutch Oven is the Best Dutch Oven for Camping. It has all the trademark of what makes a good camp dutch oven. Recessed lid for coals, wide base for searing and a hook for hanging. The cast iron design is also indestructible. No need to worry about babying it. The only downside is how heavy it is. I recommend using a vehicle to at least transport it around.
Check Best Price
I hope you like this Le Creuset Tea Kettle review, If you would like to see more, please visit our Pots and Pans Review page.