Making purchases at Amazon.com and other website funds this website by generating revenue. Any help is appreciated and supports both me and content like this.
Best Enamel Cast Iron Skillet
Cast Iron is one of the most popular choice for cookware. They are the original nonstick and they are generally affordable. However, they tend to jump in price if its coated in a pretty color. They add a bit of flare and beauty to the traditional cast iron. With this coating, there are some advantage and drawbacks to it. Shape wise, they are a bit different to traditional cast iron as well. The Best Enamel Cast Iron Skillet has low sloping sides with a helper handle to easily carry.
Best Enamel Cast Iron Skillet List
Below, you will find a list of some of the Best Enamel Cast Iron Skillet. There are a few option to choose from, get one that best suits you. The major difference between them in the shape, color, weight and enamel durability. Performance wise, they're about the same.
Le Creuset Enameled Cast Iron Signature Iron Handle Skillet, 11.75″ (Best Overall)
Le Creuset is perhaps the most well known cast iron manufacturer. This signature series has wide comfortable handle with a all metal construction. The sides are low to promote evaporation and help in searing. Pans with too tall of a side can trap moisture causing it to steam. On either side there are pouring spout. What really set Le Creuset apart is the enamel durability. Unlike the other manufacturer, there are not set upper oven safe temperature. They also tend to resist chip better than other manufacturer.
Tramontina Covered Skillet Enameled Cast Iron 12-Inch (Best Buy)
While Le Creuset is our preferred choice, Tramontina makes a good alternative. The best thing about this model is that it comes with a lid. This lets you braise and prevent oil splatter. The downside to this is its tall sidewall. I recommend avoid crowding or else it will steam when searing. Aside from that, its a pretty good pan.
STAUB Cast Iron Fry Pan, 12-inch, Cherry (Best French Alternative)
If you want another French Brand, then Staub is a good choice. I personally like the color better. However, the shape is not as nice as Le Creuset. I would prefer a more gradual sloping side. This makes it easier to flip food as well. The helper handle cook be bigger as well.
Cuisinart Chef's Classic Enameled Cast Iron 10-Inch Round Fry Pan (Best Buy Alternative)
For a even more affordable alternative, cuisnart is a good choice. However, it does not have a lid like tramontina. Like the other models, this sidewall is taller so it can trap steam. Just be sure not to crowd food. But you do have pouring lips on either side.
What is Enamel Cast Iron Skillet
Enamel Coating, otherwise known as Vitreous enamel is a glass particle that is fused on top of cast iron. This form a protective layer on top of the bare cast iron. Most manufacturer these days apply a coating on both the inside and outside layer of the pan. The rim of these skillet are usually left bare to prevent fusing with the lid.
Traditional Cast Iron vs Enameled Cast Iron
The only different between these two cast iron is simply the coating. Strip away the enamel portion and you have bare cast iron. Appearance aside, there are performance different between these two cookware. While this may shock most people, but Enamel Cast Iron perform worse than traditional cast iron.
In my previous test, I have found that Enamel Cast Iron takes longer to heat up than traditional cast iron. It also have worse searing performance than traditional cast iron. Below, you will see a image of a piece of toast that is heated on a Enamel Cast Iron Skillet.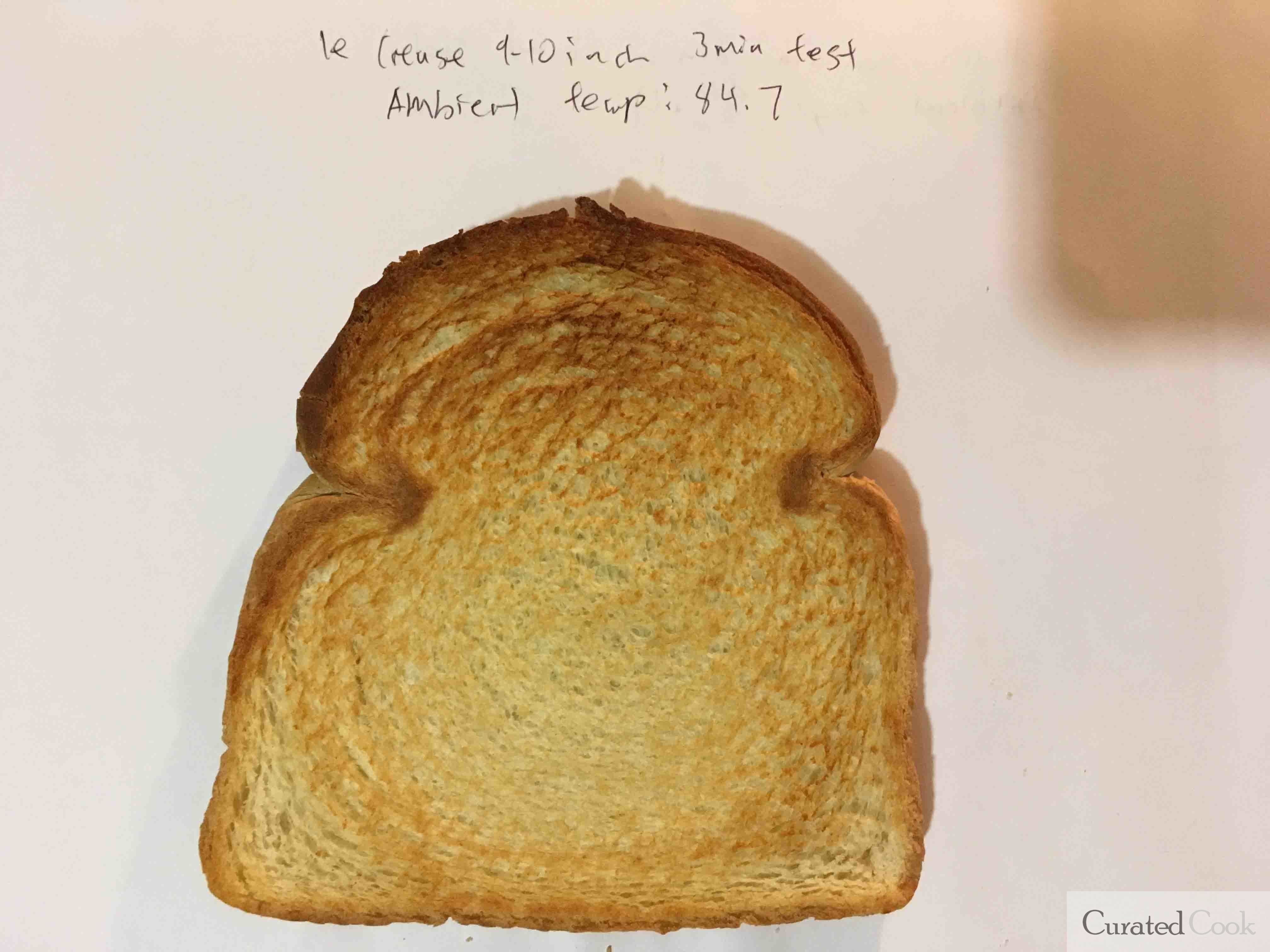 This same test was done a bare cast iron skillet. The result is shown below.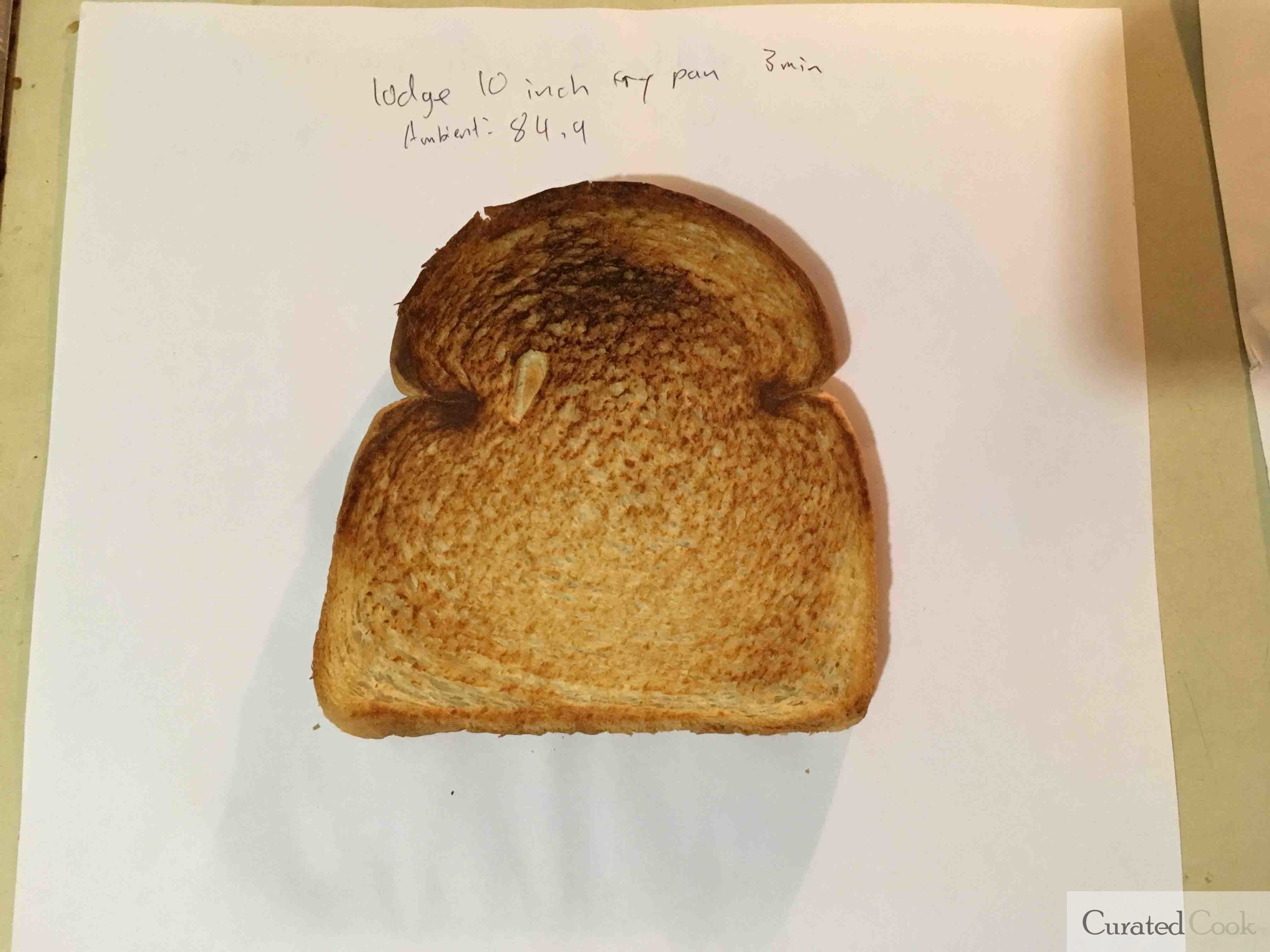 Notice how the toast was significantly darker on the bare cast iron? The reason for this is due to thermal conductivity. Since there is a glass coating on top of the bare cast iron, it is worse at transferring heat. This means for searing things like meats or vegetable, you are actually better off with a bare cast iron pan.
Other Differences
There are other difference as well. Since the glass coating is not porous, it has a much more difficult time holding on to a seasoning. This means it wont be as nonstick as a regular cast iron pan. Thats not to say it cant hold onto a seasoning, its just that it can strip more easily.
One thing to note is that the Enamel Coating can be fragile. The higher end manufacturer tend to be more durable, but not impervious.
So why get a Enamel Cast Iron Skillet?
The good thing to this coating is that it protects the pan from rust. With a regular cast iron pan, if you strip the seasoning and let it soak in water, it can start to rust. Not only that, you have to be very careful about cleaning. With a Enamel Cast Iron Skillet, you can just use soap and water.
Performance aside, the real reason people want a Enamel Pan is the color. It adds a nice hue and warmth to your kitchen. Hey we eat first with our eyes right? The same is true with cookware.
What cant you cook on Enamel Cast Iron Skillet?
You can cook anything Enamel Cast Iron Skillet. However, its not ideal to cook food that sticks a lot. Things like Stir Fry Noodles is actually better on a nonstick pan. Searing meats is better on a regular cast iron pan. They can go to a higher temperature and you dont have to worry about the coating. So while you can cook anything, its not ideal for all task.
Is the Enamel on Cast Iron Safe?
Yes, its safe. If it starts chipping on the bottom, its still safe. Its no different then a regular cast iron pan. However, if you see a trend on if chipping on the base, see if the manufacturer will let you replace it.
Thoughts
Enamel Cast Iron Skillet is a good alternative to traditional cast iron. Its easier to clean and it wont smoke as much. I personally think Le Creuset is the best option. The sidewall is lower and its one of the most durable. However, its expensive. You can find more affordable alternative from Tramontina and Cusinart. Both will work as well, its just that the sidewall are a lot taller and it can steam food.
Lodge or Le Creuset? Check out our article on Lodge vs Le Creuset Skillet.