Making purchases at Amazon.com and other website funds this website by generating revenue. Any help is appreciated and supports both me and content like this.
Demeyere Atlantis Cookware is a 7 ply stainless steel cookware. It offers even heat distribution with an excellent searing capabilities. Although Demeyere is not as well known to consumers, they are a giant in the professional kitchen. One of their most popular cookware are their stockpot. Recently, more of their products seems to be targeting consumers. This is probably thanks to the recent acquisition by Zwilling. Regardless, their offerings is a results of over a hundred years of manufacturing experience. This review will take a closer look at Demeyere Atlantis and we will see whether their cookware is any good.
Demeyere Atlantis Cookware Set Review Quick Summary
| Categories | Le Creuset Toughened Nonstick Skillet |
| --- | --- |
| Performance | Good |
| Colors | Silvinox or Silver |
| Brand Awareness | Europe and North America |
| Oven Safe Temperature | 500 Degree Fahrenheit (Unconfirmed) |
| Country of Manufacturer | Belgium |
| Thoughts | A good and well designed cookware. What makes it stand out is the handle design. However, the shape of their cookware is not as good as all clad. It really is a toss up between the two. You cannot go wrong with either one. |
| Reviewed Cookware | Demeyere 41006 Atlantis 7-Ply Stainless Steel Cookware Set |
Check Demeyere Atlantis Best Price
History of Demeyere
Demyere was founded in 1904 by Emmanuel Demyere. He was originally a plumber/zinc worker making Tin boxes for the company. His Son Maurice took an interest in the trade he soon had a company manufacturing a wide range of products. However, it was not until WWII did they shift manufacturing into household goods. Maurits Jan Demeyere, the third generation, was responsible for this massive shift and he help the company flourished. In 2008, Demyere was approached by Zwilling and was brought under their umbrella corporation.
Demeyere Atlantis Cookware Design
This section will discuss the various design and construction of Demeyere Atlantis cookware. We will go over handle, shape and general performance.
Handle
The handle is made of 18/10 stainless steel with a large heat choke at the base. This keeps the handle cool to the touch on the stove top. The all metal design also gives it a higher oven safe temperature than a plastic handle. While I cannot find the official number, it should be able withstand temperature of 500 degree Fahrenheit without any issue.
In terms of ergonomic, it is angled slightly with a soft taper. This angle helps reduce the strain that is placed on your wrist. The taper also contours to the shape of your hand. It would have been better if there was a slight texture. This helps improve the grip when your hand is greasy.
What is nice about Demeyere Atlantis series is that they do not have any exposed rivets. If anything, those handle were spot welded. However, I wonder how long this type of design will last.
Shape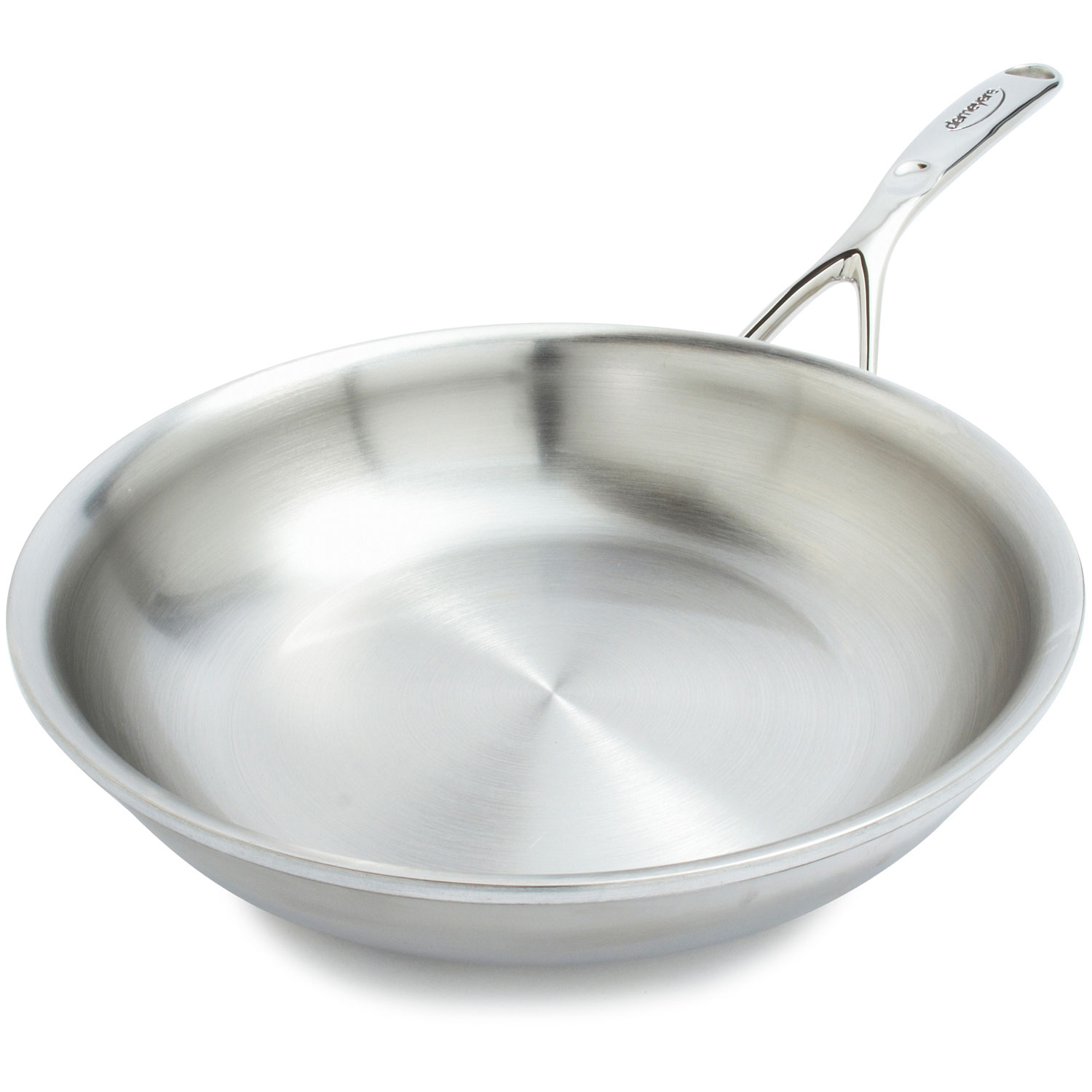 The shape of the cookware is ok. The skillet has a overly tall sidewall. While this design is great for tossing, it makes it difficult to cook with a spatula. Not only that, this design promotes condensation of liquid. This will eventually cause food to steam more than a low profile pan. The sauce pots are good but they would benefit a little more from a more wider sauce pan. A wider sauce pot, as oppose to a taller pot means that you can sear more food in a single batch.
The sidewall issue is also prevalent in the saucier. The tall sidewall gets in the way of whisking. But it does have a nice soft interior though.
Layers
Demeyere Atlantis uses a 7 ply layer. While the outer layer is stainless steel, the core uses aluminum. That aluminum is an excellent conductor of heat and will transfer it fast. The only issue is that it reacts with acidic food. To get around this, they use a stainless steel exterior.
While the layers is a little excessive in my opinion, that extra heft gives it an excellent searing capability. When you pick up the pan, it is heavy and it feels very well made. On the exterior, they use a "Silvinox" layer that supposedly resist fingerprint and helps cleaning. I honestly have no idea how it does that, but to me it just looks like a brushed finish. Once grease gets on there, it will turn black like every other cookware.
Lid
The lid is an all metal design. What is great about it is the oversize handle loop. This makes it easy to grab and hold. The all metal design is also nearly indestructible. Much better than a glass lid which can shatter with a thermal shock. However, it does not feel as well built as the industry 5 lid. That model has a Thermo Lid technology that prevents heat from getting transferred. Really its probably just a vacuum seal.
Induction Capability
For a cookware to be induction capable, it needs to have a magnetic pull. Most manufacturer will do this by attaching a stainless steel exterior. Since it is already inherent in its design, Demeyere Atlantis should be induction capable. You can test any cookware with a simple magnet. If it sticks, then its compatible.
Demeyere Atlantis Review Thoughts
Overall, it is a pretty good set of cookware. However, you are paying extra for it. All Clad has a similar model called the d7. While their handle is not as good, the shape is better. Which one you get should depend on your preference. You really cant go wrong with either one.
Check Demeyere Atlantis Best Price
I hope you like this Demeyere Atlantis Review, If you would like to see more, please visit our Pots and Pans Review page.