Making purchases at Amazon.com and other website funds this website by generating revenue. Any help is appreciated and supports both me and content like this.
Gotham Steel Pan is as seen on tv. They offer a copper color ceramic coating that is toxic free and apparently titanium reinforced. However most of the time these adverts are misleading. What you see on tv is rarely what you get in reality. What is great about these cookware is the rock bottom price. Advertiser know this is what entices people. So they try to make it seem like an amazing value. This review will take a closer look at the design and feature of Gotham Steel Pan. We will see if its any good.
Gotham Steel Pan Review Quick Summary
| Categories | Bulbhead Red Copper Cookware Set |
| --- | --- |
| Performance | Acceptable |
| Colors | Black and Copper |
| Brand Awareness | American |
| Handle | Metal |
| Oven Safe Temp | 500 Degree Fahrenheit |
| Pouring Lip | Yes |
| Thoughts | A poorly made pan. However, its dirt cheap. For that reason, its a incredible bargain. The issue with nonstick pan is that it last as long as its coating. Once it goes so does the pan. You might as well get it as cheap as possible. This way it wont hurt when you toss it. |
| Reviewed Cookware | Gotham Steel 9.5 Ultra Nonstick Ceramic Copper Coating by Titanium Frying Pan by Daniel Green, Brown |
Check Best Price
History of Gotham Steel Pan
Gotham Steel is a brand under the As Seen on TV company. They make a wide variety of products that is usually shown on infomercial at night. Their marketing campaign is incredibly sucessful as their product research is extremely intensive. It seems like all of their product always sell out. When they demo it on tv, it seems to always have a huge success. However, most consumer are surprised when it doesn't work out. You can actually see a bunch of their stuff at their website. Unfortunately, its mostly junk, at least to me…
Gotham Steel Pan Design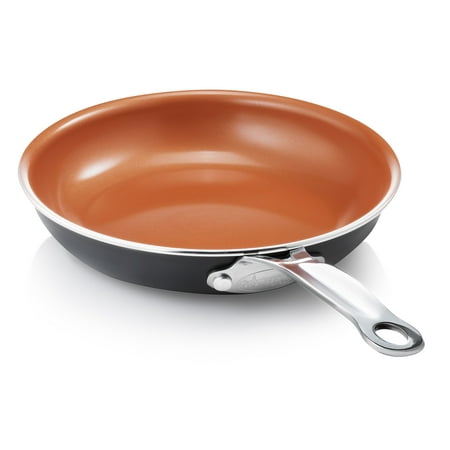 This section will discuss the design and construction of Gotham Steel Pan. We will cover handle, shape and general performance.
Handle
The handle is an all metal design. At the base there is a heat choke designed to prevent heat from traveling. On the stove top, it is unlikely for it to get hot. However, if you stick it in the oven, it will burn you. So a glove is always recommended. While its not as comfortable as a plastic handle, this metal design gives it a higher oven safe temperature. Gotham Steel Pan has a oven safe temperature of 500 degree fahrenheit. That is quite high for a nonstick cookware. Usually those with a plastic or silicone only have a max oven safe temperature of only 350-400.
In terms of ergonomic, its poor. The handle is thin and cuts into your hand. It seems like there was no effort in making it ergonomic. If you use it for a prolong amount of time, your hand can develop aches and sore.
Shape
The shape of their skillet is actually pretty good. It has low flaring sidewall. This helps in the evaporation of liquid and promote searing. Other pan with a overly tall sidewall will trap moisture and cause food to steam. The low sidewall also gives you enough room to reach under with a spatula. They also took the extra step and added a rolled lip to the pan. A lot of manufacturer these day skip out on that to save cost.
Nonstick Coating
The nonstick coating is the main selling point of the pan. It seems like nothing stick and its metal utensil safe. I wouldnt trust it. The coating is ceramic, while it might have bits of titanium in it, its not going to last. At its core, the coating is ceramic. Ceramic is notorious for having poor durability. What happens is that as the pan expand and contract. The coating will start tearing. This tear will reduce its overall nonstick ability. If you look at the reviews of any ceramic pan, you will find that it will only perform for a few month before failing. Using metal utensils or even a egg beater on it will probably make it a lot worse. I also saw him use a metal hammer on it, dont do that…
Something that they also advertised was that it was toxic free. What this mean is that they do not use PFOA. PFOA is a environmental pollutant that is known to cause cancer and a wide variety of other issue. The thing is that it rarely if ever ends up in the pan. It is unlikely you will face any issue.
Another thing about the toxicity is that teflon emits a fume if its overheated. Since it ceramic, you wont get teflon flu like you would a traditional nonstick pan.
Aluminum Construction and Induction Capability
At its core, the pan is a aluminum pan. Aluminum is great for conducting heat. Its light, cheap and the preferred choice for manufacturer. The issue is that its not magnetic. Something that is required for induction stove top. To get around this, manufacturer will stick a stainless steel pan. Since these are made so cheap, these pan is not induction capable. They did not stick the stainless steel base. If you want one that is compatible, look for the base. Or try a magnet on it.
Gotham Steel Pan Thoughts
Overall, the Gotham Steel Pan is a poorly made pan. Having said that, it is a incredible bargain for what you pay. The issue with nonstick pan is the durability of it is tied to the coating. Most manufactrurer source it from the same chemical company. So what you really want is to get it as cheap as possible, especially for ceramic. This way, when it breaks, you wont feel regret when you toss it. If you buy an expensive 50 dollar pan the durability is still tied to its coating. For that reason, Gotham Steel Pan is a great pan. Just because of how cheap it is.
Check Best Price
If you would like to see more articles like this Gotham Steel Pan Review, please visit our Pots and Pans Review page.