Making purchases at Amazon.com and other website funds this website by generating revenue. Any help is appreciated and supports both me and content like this.
Mirro Aluminum French Omelette Pan (Vintage) Review
Mirro Aluminum was a cookware manufacturer that was founded in the early 1900. The founder, Joseph Koenig started his company in Two Rivers Wisconsin. One of the pivotal points for the company was when they were commissioned by the army to make their canteen. From there, they manufacture red various aluminum goods such as boats, aluminum siding and cookware. One of the most popular one that you often see on Ebay is the French Omelette pan. Not to be confused with the French Chef Omelette pan by The Boston Pot Company. The French Omelette pan has a very half circle shape that folds out. It was designed to make a otherwise challenging omelette easy. We will take a closer look at its construction and design of the cookware.
What is a French Omelette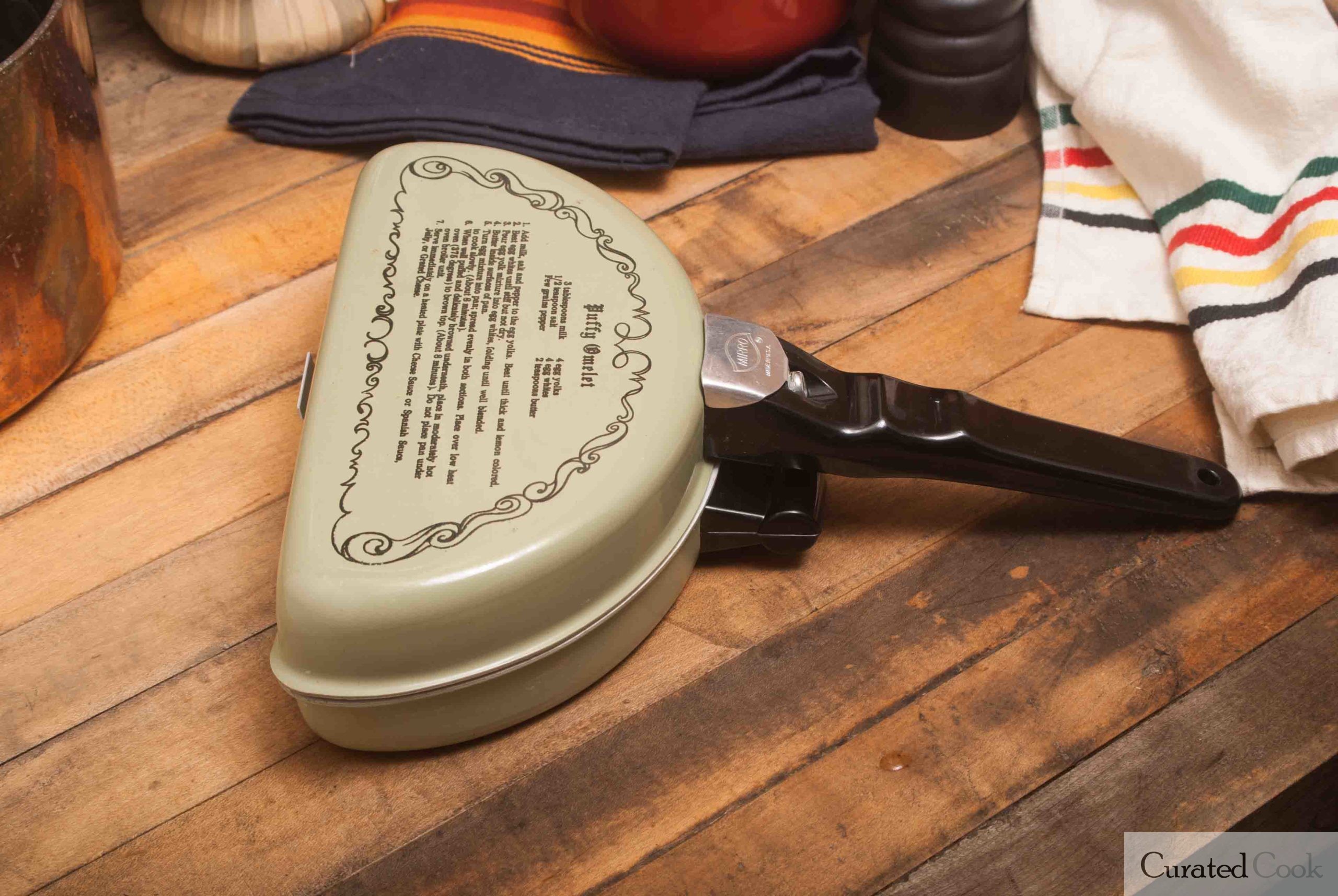 Instead of Scrambled Eggs, a French Omelette is one homogeneous piece of eggs that is folded over onto itself. Because of the skills required to make a perfect Omelette. Chefs will often use this as a benchmark for new cooks. Julia Child, who made the French Omelette famous in America, often demonstrated how to make it easily on her show. She would use her trusty pan and make multiple Omelette in a matter of minutes.
There are two famous version of the French Omelette. One is the one where there is a gooey center on the inside. The other is a more traditional America Omelette with a brown exterior. You can see the Jacque peppin make both Omelette in the video below.
Mirro Aluminum French Omelette Pan Design
Unfortunately for us, not every is as skilled as Julia Child or Jacque Peppin. Mercifully, the folks at Mirro Aluminum developed the French Omelette Pan. This section will look at the individual aspect of the pan to discuss how well its built and designed.
Handle
The handle of the pan is plastic and feels very cheap. Although I would have preferred something a little more robust, the plastic design will keep the handle cool. At the other end, there is a plastic handle that helps you fold the pan either open or closed. Both handles are held on by a simple flat head screw. However, the long handle has a metal plate that has the company logo Mirro.
Another interesting thing to note, is that the handle does not align itself.
If you look at the handle from the side, you can see that the helper handle is off center. It goes well with the general cheapness of the pan. Near the end of the handle, there is also a loop to let you hang it. However, its so narrow that its a challenge just to hang it.
How to Use the French Omelette Pan
The shape of the pan is what makes it so unique. You begin cooking with the pan fully open. You then heat them up and fill both side equally with beaten eggs. Once the bottom side of the eggs have set, you then add the appropriate fillings and then close it. If done properly, you should have a properly cooked eggs.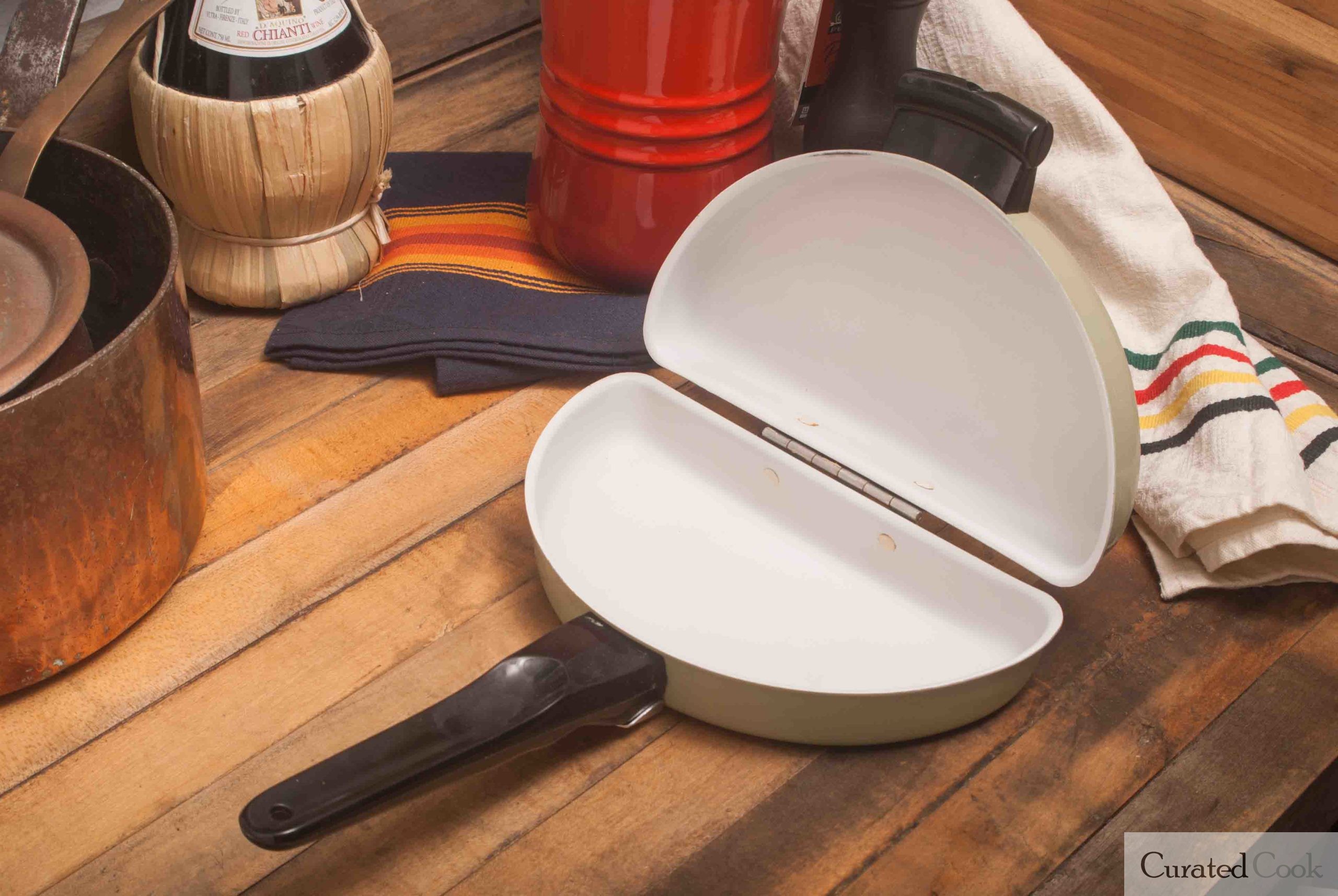 If you think about it, its a pretty ingenious way of making it. Hopefully, during the flip, you do it quick enough so that it doesnt collapse on itself. Also, the issue of the non stick coating is a concern. If it is not in full working conditions, you can expect some residual eggs to ruin your Omelette.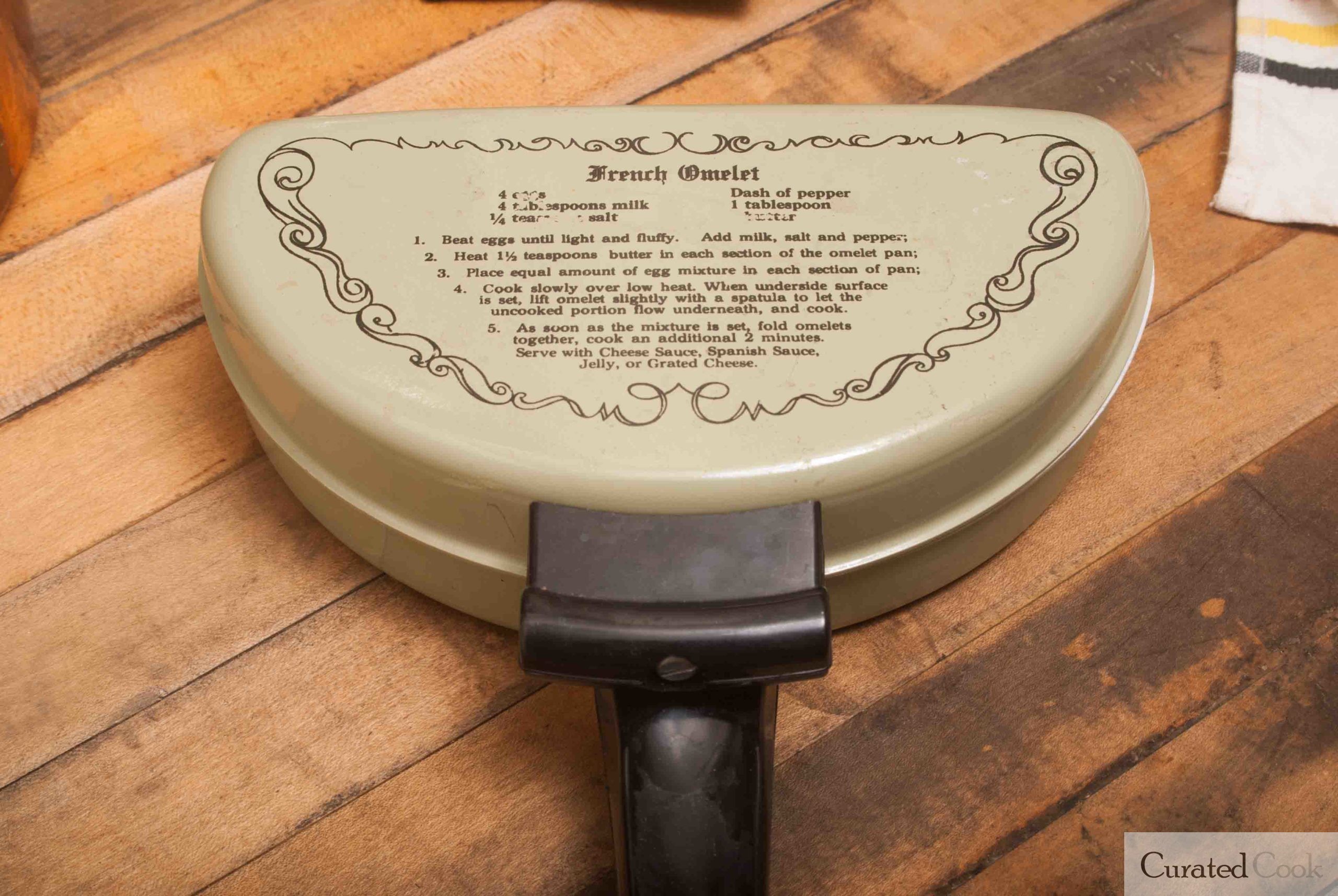 A better way to use this pan is to ignore the instructions and just use the other side as a saute pan. Fill the flat side with eggs and slowly cook it until it forms a half moon omelette. Once its almost done, flip the sauteed food onto the egg and close.
Fit and Finish
The fit and finish on this pan is horrid. When the pan is fully opened, it does not sit flat. There is a notch near the end of the pan that prevents it from opening all the way. Looking at it, it seems like they did this on purpose. When you go to fill the other side with eggs. It will run down the side because it does not sit flat. You need to rock the pan so that the egg is evenly distributed.
The handle is also not aligned with the other handle. Which drives ocd prone people like me insane. The general construction of the pan is also very light. I suspect that there is multiple heat spot issue because of how thin the pan is. It is recommended that you heat the pan under very low heat to try ti even it out.
I will say this, I am very impressed by how smooth the hinge is. When opening and closing it, it moves slowly with finesse. If only the other portion of the pan was so well designed. This is the only good thing about the pan.
Viking Crepe Pan Specs:
Note:These measurement are done by me with the tools that I have on hand. The manufacturers have their own measurement guidelines and that should be assumed to be accurate. What I find on this review can vary widely due to several factors, such as ambient temperature, location, water, tool calibration, stove btu, etc..and should only be considered as my opinion.
Weight: 473 g 1.042 lb
Rim Width:Around 8.75 inch
Height: Around 1.25 inch opened
Mirro Aluminum French Omelette Pan
This a pretty shoddy pan. The construction and design of it is horrible. I would categorize this as those cheaply made dollar store pans. Aside from the novel design and hinge, there is nothing good about it. It does help you make a omelette, but I recommend you just learn how to make it properly. Look at how Jacque Peppin does it and buy a traditional non stick pan. This one from T-Fal is a pretty good choice. If you are dead set on getting a pan in the same style as this one. Then I recommend you get one by Nordic Ware. It has pretty decent reviews on Amazon.
I hope you found this Vintage Mirro Aluminum French Omelette Pan Review to be informative, If you would like to see more, please visit our Vintage page.