Making purchases at Amazon.com and other website funds this website by generating revenue. Any help is appreciated and supports both me and content like this.
Sunbeam M'Sieur Crepe Electric Crepe Maker Review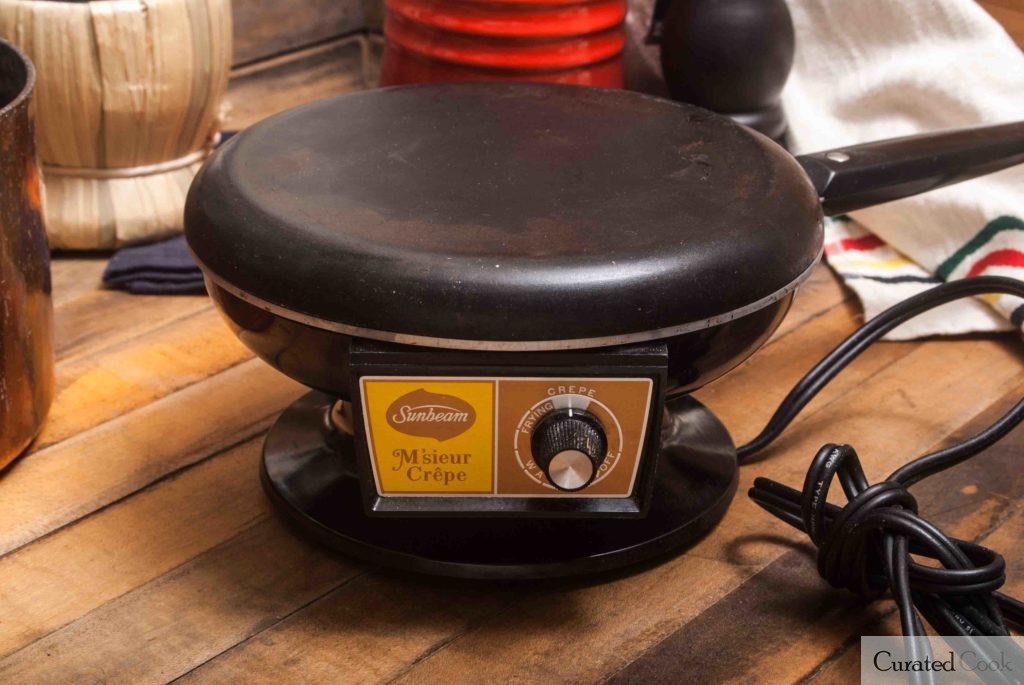 Sunbeam M'Sieur Crepe was one of the first electric crepe maker on the market. It was made in the 70's and was following the sudden uptrend of the crepe craze. Cookware manufacturer were all developing their own crepe pans to fit consumer demands. Viking and Nordicware both had their own version of crepe maker but sunbeam was the only one making an electric version. Crepe pans in those days are very different from what you see now. Instead of a traditional low flaring pan, these crepe pans are inverted. You make it by heating up the pan and then dipping it into a batter. This little crepe machine was such a hit that The Day, a New London called it a "Most Satisfactory of the electric Crepe Maker". Given such a reputation, it was no doubt one of the most iconic Crepe maker of the 70's.
Sunbeam M'Sieur Crepe Electric Crepe Maker Quick Summary
| Categories | Sunbeam M'Sieur Crepe Electric Crepe Maker |
| --- | --- |
| Performance | Good |
| Colors | Black and Gold |
| Brand Awareness | America |
| Power | 120 volt, 750 Watts |
| Place of Manufacturer | USA |
| Release Date | 70's |
| Average Price | 19.47 USD (88.32 USD in 2020) |
| Thoughts | Sunbeam M'Sieur Crepe was one of the first inverted electric crepe maker. This style of crepe machine lets you make a lot of crepe quickly. It is best served as a buffet or table service crepe maker. Even after 50 years, this model still works. |
| Modern Equivalent | Moss & Stone 8″ Electric Crepe Maker |
Making Crepe with Sunbeam M'Sieur Crepe
Making crepes is no simple task. The traditional french way of making crepes requires a pan and a wooden spreader. You need skills and experience to make that perfectly thin crepe. With the convex pan, all that is required is for you to invert it and dip. Sunbeam M'Sieur Crepe takes it a step further by letting you pre adjust the temperature of the pan. This way your crepe will always be at the perfect darkness.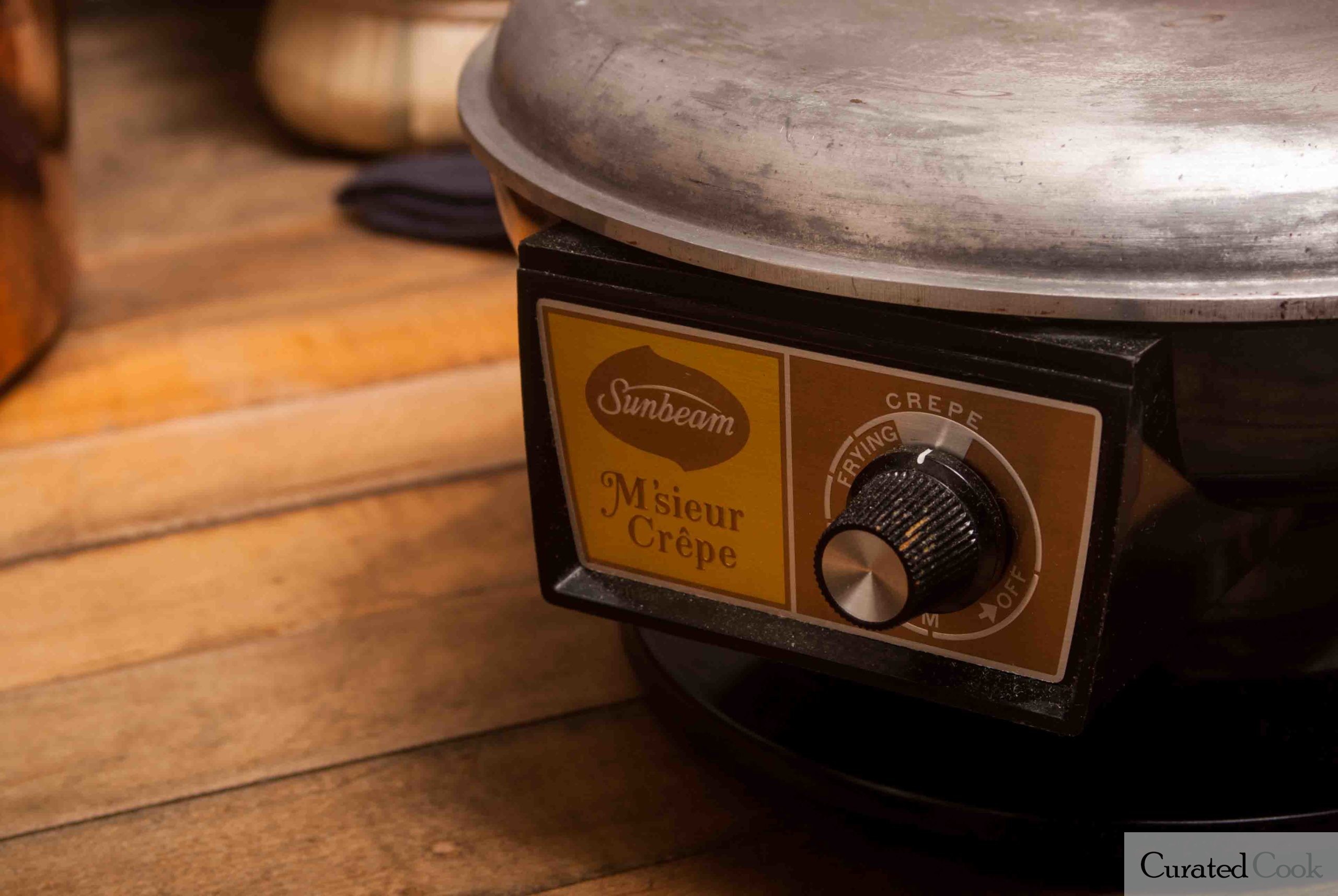 There are variable temperatures settings on M'Sieur Crepe dial. It ranges from warm to frying and then to crepe. Presumably that the crepe temperature is much hotter than the rest. While not recommended, you should be able to use the hot plate as a coffee warmer. But wait theres more, Sunbeam themselves marketed M'Sieur Crepe as a dual frying pan. All you need to do is flip the crepe pan around and it doubles as a frying pan.
Built for Speed
The best thing about this design of Crepe Maker is simply the speed of it. Since all you need to do is heat it up and dip, you can churn out many crepes in a ten minute interval. This is perfect if you work at a restaurant setting or you are entertaining guest. You can make the crepe right at the table and show off your french flair.
However, this speed comes at a cost. Namely the quality of the crepe itself. A good crepe is actually very thin. By using this method, you wont get that thin light texture that a traditional crepe has. You can try to thin out the batter but then it wont be the same would it. The good thing is that most people eating the crepe wont know the difference. Just be aware of the food snob, i.e. me.
Teflon Coating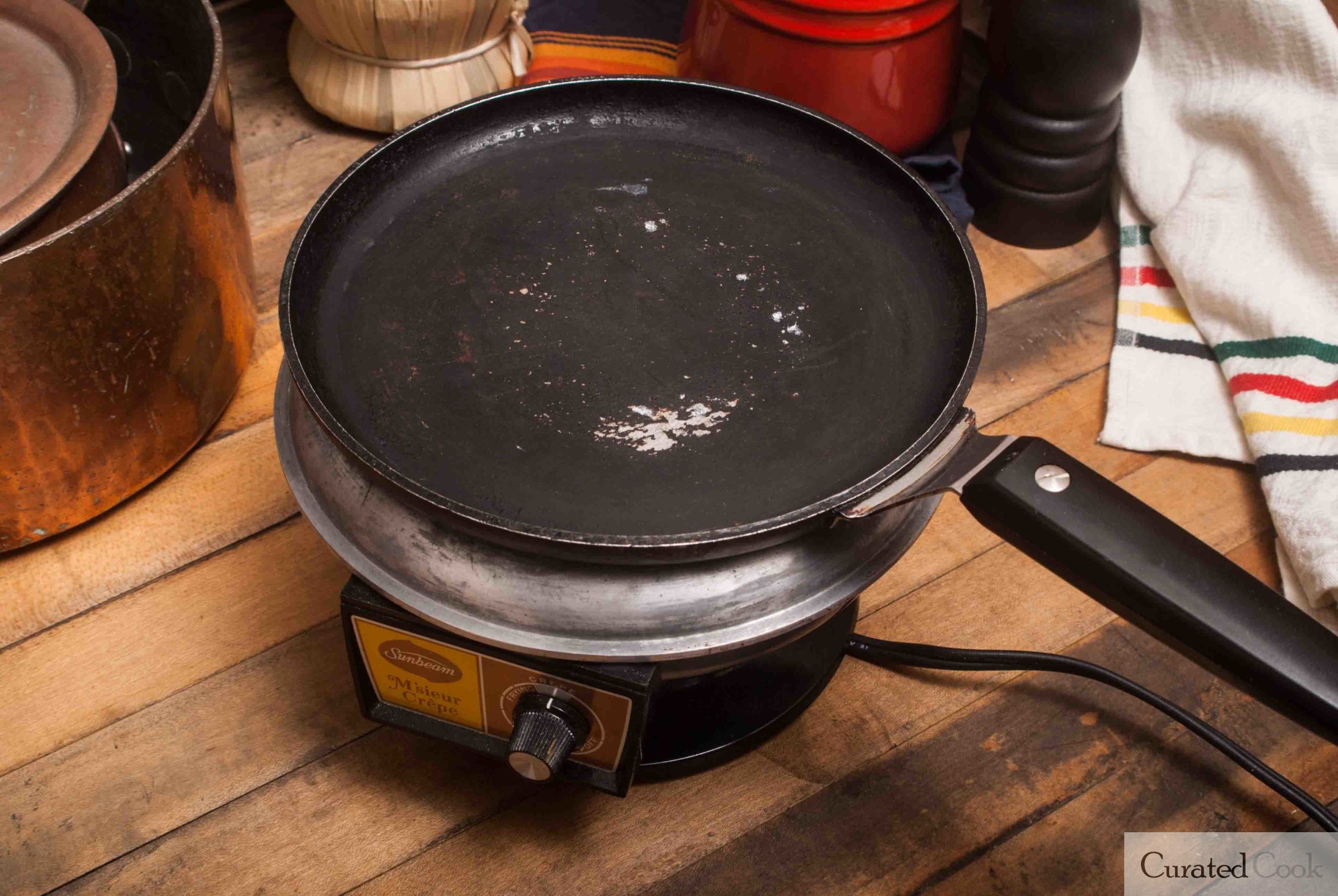 One of the most challenging thing about crepes is the sticking. If the batter sticks, then you have to toss out the crepe. To combat this, they used Dupont's Teflon II coating to ensure that nothing sticks. While nice in theory, I think that is the biggest thing limiting the durability of the pan. Teflon simply wont last, granted I have this pan now 50 years later. On a normal daily use, the teflon coating wont last past 1-2 years. Which I find to be a shame. Although sometime down the line, I might consider stripping the pan of the teflon coating and just using it as a aluminum pan. You might wonder if you can use another skillet, the answer is yes and no. As a skillet you can, but for crepe, no. Other skillet simply wont as well as original one.
General Construction and Design
Sunbeam M'Sieur Crepe in typical 70's fashion resembles that of a flying saucer. It has a brown gold color which fit the theme of that era. Interesting enough, they choose to use a black plastic as its base instead of wood grain. The top plate is made of Aluminum to ensure that heat is transferred rapidly. While I did not take it apart, I am sure that the inside consists of a metal coil. By adjusting the temperature knob, you will change the power draw.
Sunbeam M'Sieur Crepe was made in Chicago USA and has a power output of 750 watts. It is UL certified so the chances of you getting electrocuted is low. Overall, the general construction and build quality is good. Although I would have preferred the base to be made out of metal. All in all, it still holds up 50 year later.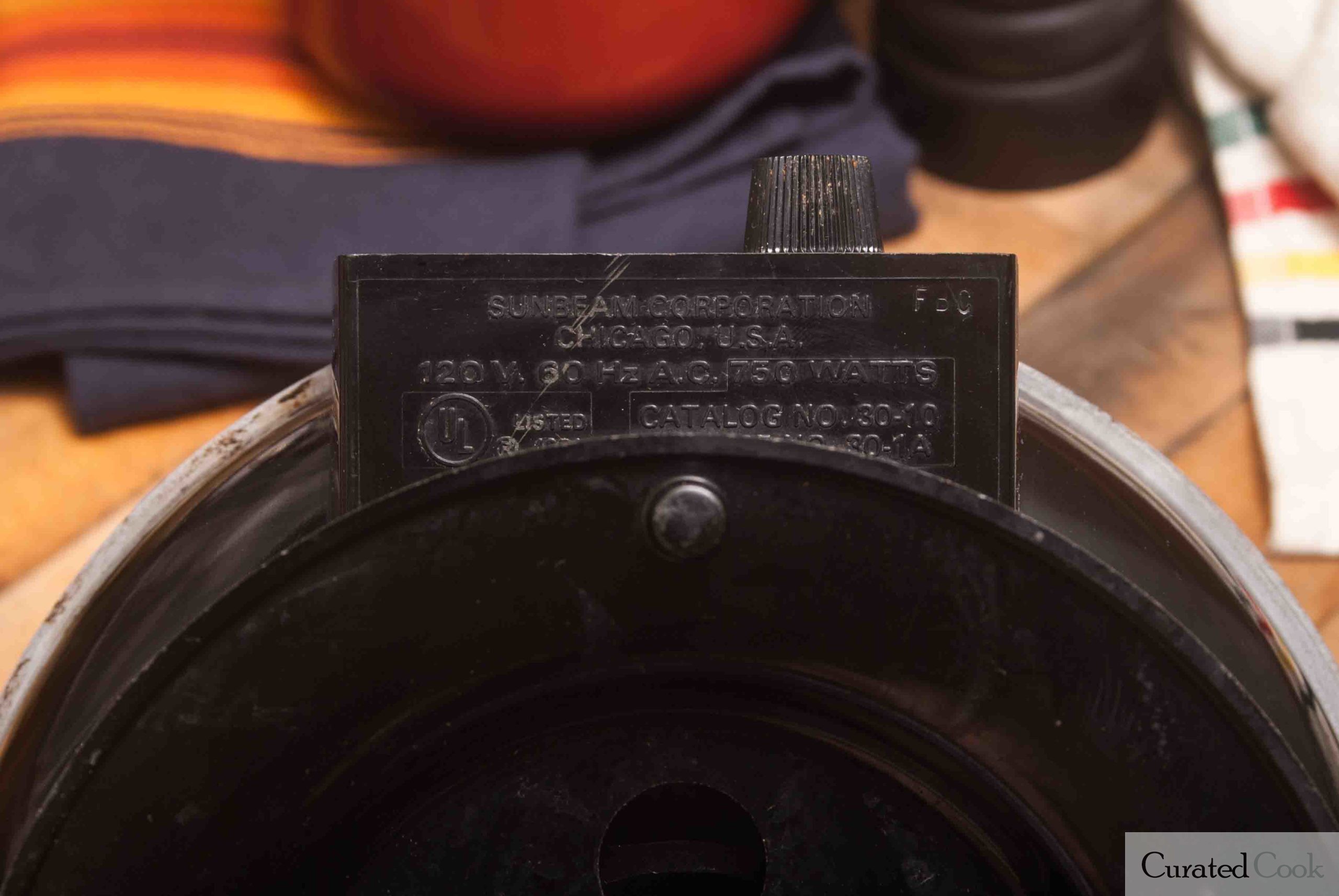 One thing to note about the pan. The handle actually comes dissembled when new. You need to piece it together with screws. Overtime, it can become loose so expect to tighten it from time to time. Some of the original accessories consists of a plastic spatula and a recipe book.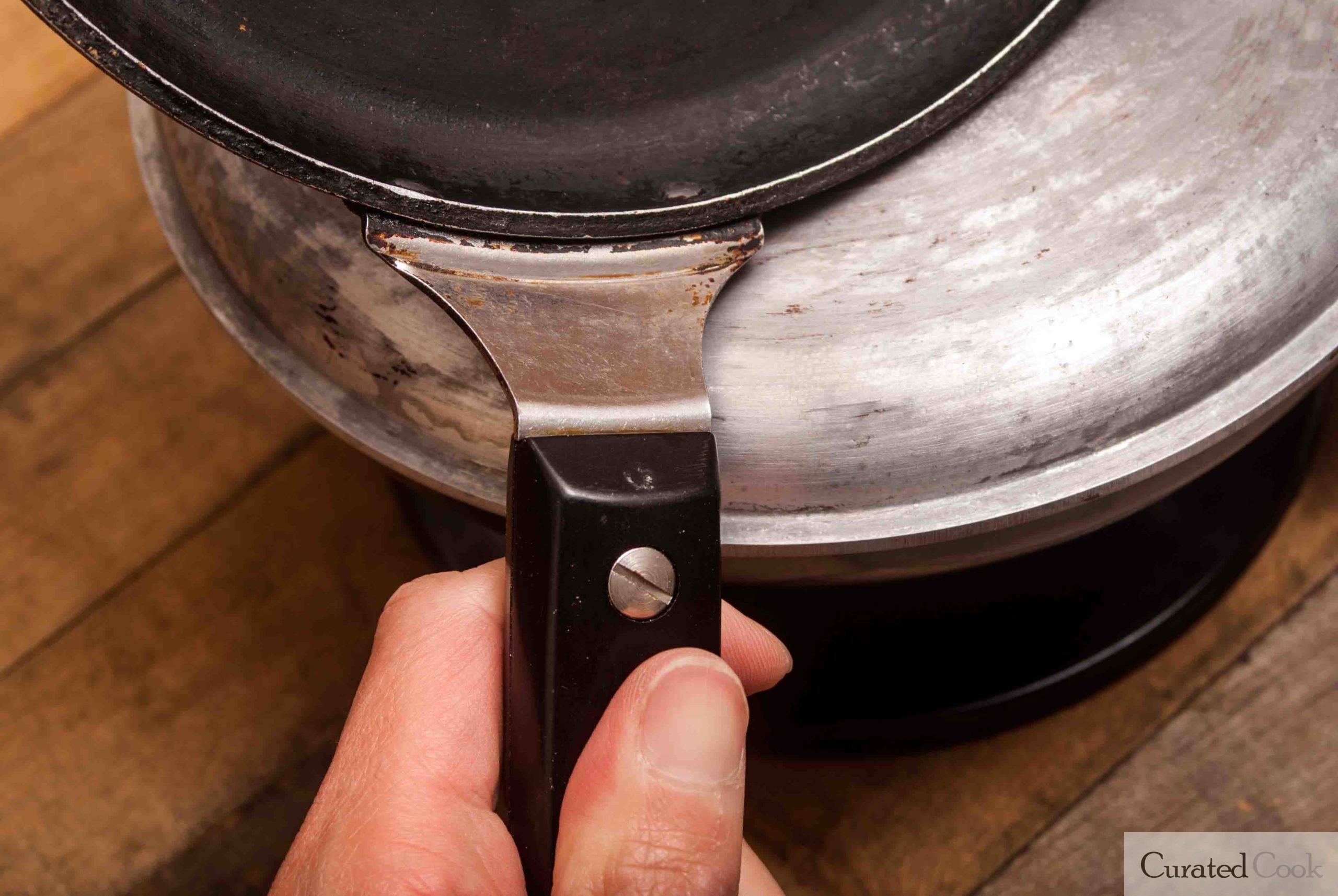 Sunbeam M'Sieur Crepe Electric Crepe Maker Thoughts
Overall, this is a unique and very interesting crepe maker. Today, electric crepe maker comes as a single piece. Those are typically made in China of questionable quality. But if you want a new electric model, those are your only choice. This inverted style of crepe pan are rarely made anymore. Your best bet would be to get a traditional one. The one made by De Buyer is affordable and works really well.
If you would like to see more articles like this Sunbeam M'Sieur Crepe Review, please visit our Vintage page.
Sources
The Day, a New London:
https://news.google.com/newspapers?nid=1915&dat=19760726&id=OusgAAAAIBAJ&sjid=3XEFAAAAIBAJ&pg=1407,4318032&hl=en