Making purchases at Amazon.com and other website funds this website by generating revenue. Any help is appreciated and supports both me and content like this.
All Clad C4 vs Copper Core Cookware Set Review
All Clad C4 vs Copper Core Cookware Set is one better than another? Although most of All Clad cookware uses a aluminum core, their premium line uses a copper interior. Their C4 line takes it a step further by including a copper exterior. While it may seem new, this isnt the first time that All Clad had a Copper Exterior. Their Cop R Chef was one of their earlier models which features a copper exterior. This review will take a closer look at the difference between the c4 and the copper core set. We will see whether that extra layer of copper does anything.
All Clad C4 vs Copper Core Cookware Set Review Quick Summary
| Categories | All Clad C4 Set | Copper Core Set by All Clad |
| --- | --- | --- |
| Performance | Excellent | Excellent |
| Colors | Copper Exterior | Stainless Exterior |
| Brand Awareness | America | America |
| Pouring Lip | Yes | Yes |
| Place of Manufacturer | USA | USA |
| Thoughts | The better handle design is what really makes it worth it. The extra layer on the outside offers marginal performance benefit. You also have to keep up with the maintenance. | All Clad Flagship model. While good, it is inferior to the C4 due to performance and handle design. However, if you already have it, its not worth it to upgrade. |
| Tested Cookware | All-Clad Copper C4005 C4 5 Piece Cookware Set(Winner) | All-Clad 600822 SS Copper Core 5-Ply Bonded Dishwasher Safe Cookware Set |
History of All Clad
All Clad has been around since 1967. It was founded by John Ulam and he pioneered the roll bonding technology. Although initially he meant to use it for Mint and ballistic, he saw the opportunity in cookware. All Clad held this patent for a long time until it finally expired. While there are many copy of this technology today, no one does it better than All Clad. Their durability and performance is still one of the best. In 2004, the company was purchased by Groupe SEB, a french cookware conglomerate.
Why User Copper?
Copper is one of the best heat conducting metal for cookware. If you compare it with cast iron, it transfer heat at least 4-5x as fast. The only issue is that it is expensive and it reacts with acidic food. For that reason, manufacturer like to use aluminum as a alternative. However, if you want the best of the best, copper is still the way to go. Lots of French Chef still use solid piece of copper cookware in their kitchen. It is just a little too expensive for most consumer. Not only that, there is a lot of work that goes to maintaining it. The copper dull and patina with use. To get around this, manufacturer like All Clad will use a thinner layer of copper. While you wont get the full benefit, it is still better than the alternative.
All Clad C4 vs Copper Core Cookware Set Design
This section will discuss the various difference of the C4 and the copper core series. We will go over construction, shape and overall performance.
Handle
The handle is one of the most iconic design that All Clad has. Not because its good, but because of how bad it is. There are numerous complaints about the pain and fatigue that the two sharp angle causes. While it does help you maintain grip, most are put off by the design. In recent years, All Clad has been releasing some changes to the handle design. They are usually more rounded and more comfortable.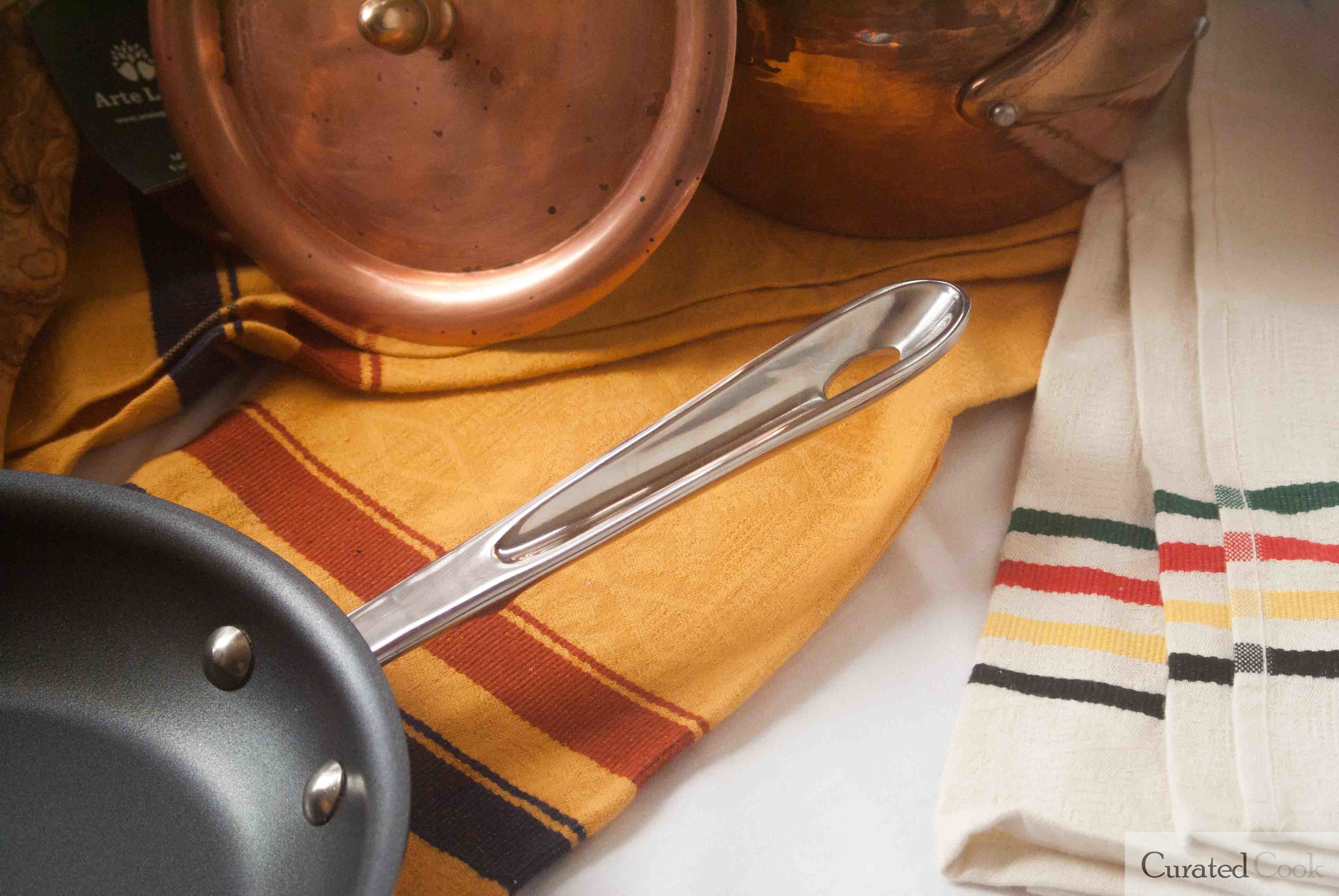 While the Copper Core series still uses the traditional handle, the c4 has a updated rounded handle. It is angled much like the copper core but with a slight bend in the center. It still carries the two edge but with a substantially thicker handle. This reduces the amount of fatigue and pain that the user will experience. At the base, there is a rectangular heat choke to prevent the transfer of heat. Overall, it is a much better design than All Clad original handle.
Shape
The skillets are virtually identical, for good reason as well. All Clad skillets are one of the best in the industry. They have low flaring side that promotes the evaporation of liquid. This also makes it easier to toss and turn food. The rolled lip also means that you can pour liquid with ease.
Their pots and saute pan are mostly the same as well. They are more wide than tall giving you a lot of room to sear and saute food. All Clad really does have some of the best designed cookware out there.
Layers
The layers is what really set the copper core and the c4 apart. In the copper core series, they use a 5 layer design. The outer and interior is made of stainless steel with two layer of aluminum core. At the center, there is a thin layer of copper. This makes the pan extremely responsive and it heats up fast with great heat distribution. When I did a test on a toast, there was almost no heat spot as well.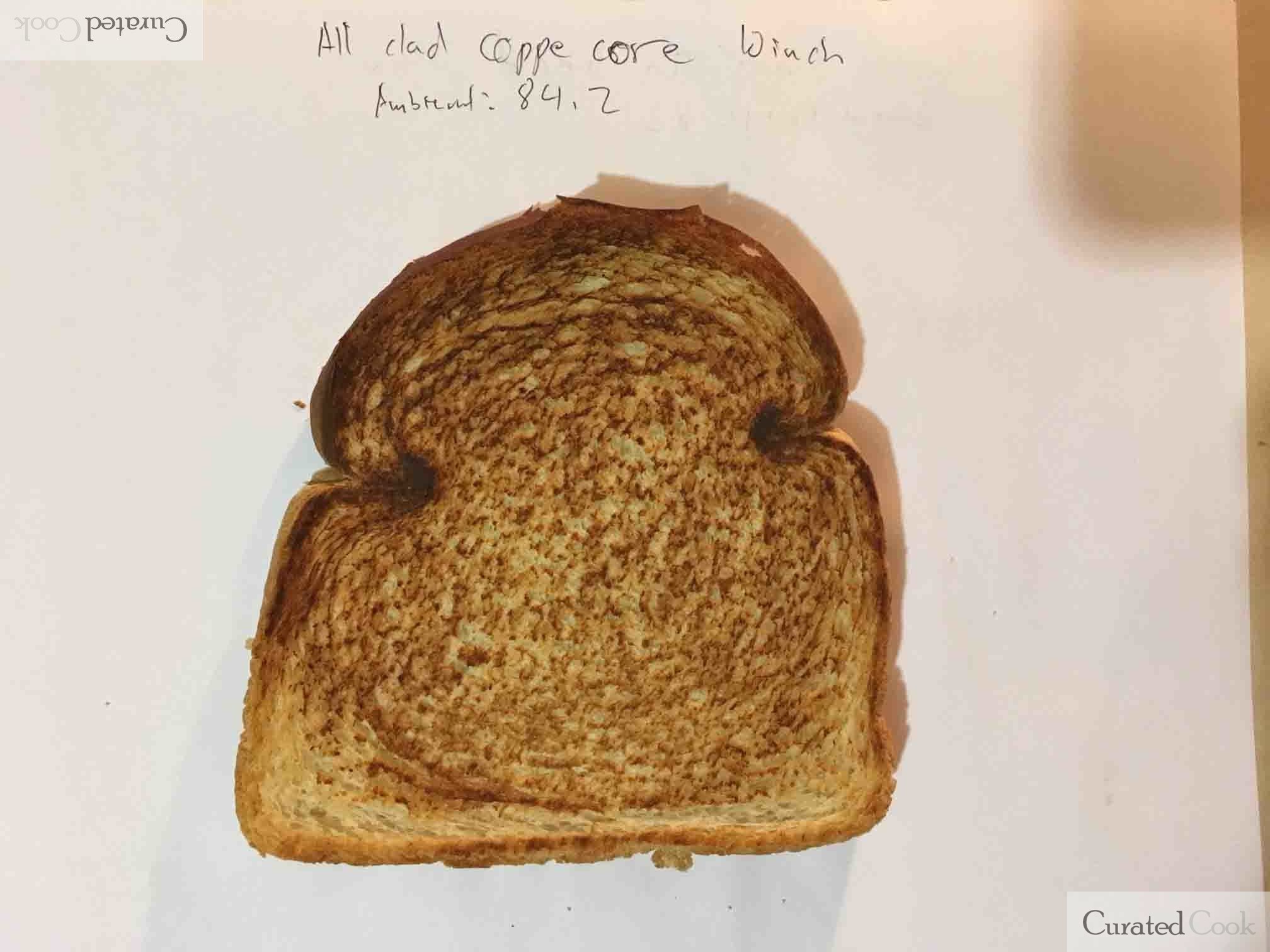 For the C4, instead of a stainless steel exterior, there is a copper exterior. That's the only difference. However, any performance gain that you get from that is very minor. Eyeballing it, it cant be more than .5mm thick. While it will perform marginally better, most cooks will not be able to tell the difference between the two.
There are also other issue associated with a copper exterior. It is extremely high maintenance. Copper will tarnish with use and turn dull. This cause a lot of consumer to complain and say that it is defective. When really, it is a natural part of copper. So unless you are prepared to deal with that, I caution against any allure of copper.
Caring for Copper
Having said that, the c4 is still very alluring because of the copper finish. To bring back its luster, you can use cleaner to polish it. Things like Copper Cream are often used to make it shine. All you need to do is apply it on and rinse with a damp cloth. Another common method will be the use of ketchup. Both will work, but I find the cream to be more effective.
All Clad C4 vs Copper Core Cookware Set Review Thoughts
Overall, the All Clad C4 Cookware set is better. A lot of that is attributed to the handle design. It is a lot more comfortable especially for those who have arthritic or other issue. The extra layer of copper adds marginally performance benefit but it is better. However, if you already have the copper core series, it is not worth getting it.
I hope you like this All Clad C4 vs Copper Core Cookware Set Review, If you would like to see more, please visit our Pots and Pans Review page.