Making purchases at Amazon.com and other website funds this website by generating revenue. Any help is appreciated and supports both me and content like this.
The Best Blackstone Griddle will sear steaks, fry eggs and cook anything you will ever need when camping. However, there is a lot of different configurations available. Making sense of all the different names and features can be a little confusing. This article will try and make sense of all that. We will list some of the Best Blackstone Griddle around. They all have their own quirks and features, you should get a model that best suits your need.
Best Blackstone Griddle Review Quick Summary
| Categories | Blackstone Tabletop Grill | Blackstone 28 inch Outdoor Flat Top Gas Griddle | Blackstone 1554 Station-4-burner-Propane Fueled |
| --- | --- | --- | --- |
| Performance | Great | Great | Excellent |
| Power | 24,000 BTU | 30,000 BTU | 60,000 BTU |
| Size | 22.50 x 19.00 x 9.00 inches (Unspecified Cooking Area) | 40 x 40 x 14 inches (470 sq. inches Cooking Area) | 40 x 40 x 37 inches (720 sq. inches Cooking Area) |
| Heat Zones | 2 | 2 | 4 |
| Thoughts | Great for on the go cooking. You can use it while camping or RVing in your mobile house. Best of all, its small so you can take it literally anywhere. For such a small unit, it packs a whalloping 24,000 btu. | Great if you have a smaller backyard. This model has 2 heatzone with a total of 30,000 btu of power. Its on a cart so you can transport it anywhere you want at home. | The best of the best. This model packs 60,000 btu of power. With 4 different heat zones and knob, you can control the heat as much as you like. This is the original and best model that blackstone has to offer. You cannot go wrong with it. |
| Reviewed Cookware | Blackstone Tabletop Grill – 22 Inch Portable Gas Griddle | Blackstone 28 inch Outdoor Flat Top Gas Grill Griddle Station | Blackstone 1554 Station-4-burner-Propane Fueled |
| Check Price | | | |
Who is Blackstone
Blackstone is a relatively new company located in Logan, Utah. They were founded in 2005 with their first griddle, the 36 inch Blackstone griddle. They specialize in outdoor cooking equipment particularly griddles. Their products can be found in all the major retail outlet such as home depot, amazon, walmart and more. Since 2005, they have become one of the most popular outdoor grill around.
Griddle vs Grill
Blackstone products focuses mostly on Griddles. They are different from you traditional grill. Grill uses hot air to smoke and cook food. They are designed more like an oven with a smoky flavor. While it is good, it takes hours to cook food.
A griddle is more like your home stove. Instead of a pan, the griddle is your cooking surface. These heat up food via direct heat, this is known as conduction. A lot of restaurant uses these to cook burger, stir frys, eggs and more. If you ever been to benihana, they use a similar style of flat top griddle. One isnt necessarily better than other, they just produce different type of food.
Whats great about a outdoor griddle is that you can cook it outside. No more heating up your house and you can enjoy the great outdoor.
Blackstone Griddle Design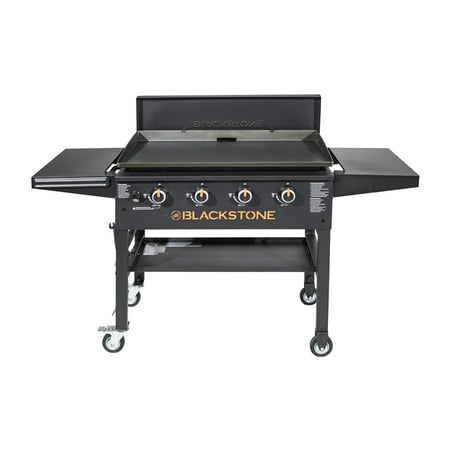 This section will discuss the features and design of Blackstone Griddle.
BTU and Power
Perhaps what is most impressive is the BTU that the girddle have. Some have upwards of up to 60,000 btu. BTU is called British Thermal Unit and it is a measure of how much power or in this case heat a grill can output. To give you an idea of how powerful it is, most standard home stove have a btu of around 7.5k. Granted, that 7.5k is only for one stove, but it is still quite an impressive feat.
On most blackstone griddle, there is more than one heat control. This lets you have dual plus zone of heat. One side can be designed for steaks and the other can be used for keeping food warm. This is great if you need to cook multiple dish at once.
Steel Griddle
Most modern flat top griddle uses steel. In the past, they might have used carbon steel or cast iron. However, there are some advantages to steel. Namely, its more resistant to rust. However, they are not impervious to it. You should still cover it from the rain and humidity to reduce the chance of it. If it does rust, getting rid of it is pretty simple. Turn up the heat to cook off the rust. Then use a metal scraper to get rid of the curd. After you remove it you need to reseason then griddle.
What most people dont know is that steel can take a seasoning much like cast iron can. As you use it, the nonstick properties get better and better. To season it, all you need to do is apply a thin coat of oil and heat it up to smoking. You should repeat as necessary. You can use any oil to season it. However most people like to use flaxseed oil to season their griddle. You can check out the manufacturer video on how to season it below.
How to Cook a Steak or Burger on a Griddle?
You can cook anything that you would in a pan. Things like steaks, burgers, veggies, eggs are all doable. The only downside is that it wont have that traditional bbq marks that some people enjoy. If you can look past that, this is actually more versatile than a grill.
To cook a steak, you should follow the same procedures as a traditional pan. The most important thing is prep work. Season your steak liberally with salt and stick it in the fridge. This should help season your steak and dry out the exterior. The dryer it is, the better the crust.
Prepare the griddle by getting it ripping hot. Turn up the heat until you see smoke from the griddle. Then put the steak on the griddle. I would turn it every 30 seconds, but some like to do it every minute. You should check the temperature with a thermometer to get your preferred doneness.
Cooking burgers are very much the same steps. The only difference is that you do not need to get it as hot. If you did not ground up the meat yourself, you should probably cook it well done.
For Tomahawk steaks, follow the same steps for steaks, its the same method. The only thing I would worry about is the bone area. They tend to be a bit underdone in those area.
Blackstone Griddle Cleaning
To clean a blackstone griddle, all you need is a metal spatula. Once the griddle cools down, go to town on it and remove the crud. If something is particularly stubborn, then splash some water on it while its hot. This should help remove the baked on crud. By avoiding soap, you reduce the chance of stripping the seasoning. Paper towel are kind of pointless because they get dirty fast. Its just a waste of resources.
However, if its your first use, then you should use soap and water. Dry it off with a paper towel to prevent rust.
Best Blackstone Griddle List
Below, you will find a list of some of the Best Blackstone Griddle. You should buy one that suits your need the best.
Blackstone 1554 Station-4-burner-Propane (Best Overall)
This model feature 4 burner that outputs a total of 60,000 BTU. That is strong enough to cook enough steak and burgers for a whole family. It has a width of 36 inch for a wide cooking surface area. It features multiple heat zones so you can keep complete control of the heat while cooking. Best of all, it is all on a cart for easy transportation. You can cook anywhere in your backyard.
Blackstone 28 inch Outdoor Flat Top Gas Grill Griddle Station
If you lack the space, the 28 inch model is a great alternative. It is slightly smaller to fit in small spaces. The power output is a bit smaller 30,000 btu, but that is plenty for the smaller cooking surface area. This model features 2 heat zone, one side for searing and the other for keep food warm. This model is great if you have a smaller backyard.
Blackstone Tabletop Grill (Best for Camping or Tailgatting)
If you need something portable where you can take camping of in your rv. The tabletop grill is a great choices. It comes in 17 or 22 inch so that you can take it anywhere you need. You can get a portable propane tank to heat it up as well. This model is a little bit weaker at 24,000 BTUs but its still plenty powerful for steaks and burgers. Like the other models, this one has heat zones so you can have perfect control of the temperatures.
Best Blackstone Griddle Thoughts
Overall, Blackstone Griddles are a great choice for outdoor cooking. They have many different configuration to suits your need. The original 36 inch model is the best and most powerful at 60,000 btu. However, not everyone can fit that size. For those of you with a smaller backyard, the 28 inch model might be more benefit. The power is cut in half but still great for cooking. If you need maximum portability, than the tabletop grill is excellent. You can pretty much take it anywhere you want. From camping to your rv, it is a great choice for on the go grilling.
I hope you like this Blackstone Griddle Review, If you would like to see more, check out our Evo Grill Review.