Making purchases at Amazon.com and other website funds this website by generating revenue. Any help is appreciated and supports both me and content like this.
Best Double Burner Griddle
A Double Burner Griddle lets you harness the power of two stove top at once. These are excellent for when you need to cook a big batch of food. You can cook pancakes, eggs and bacon all at once. Its no wonder that its a favorites among many household in America. However, there are many different variations avialable on the market. From cast iron to nonstick, they all have their own merits. This article will list some of the Best Double Burner Griddle available. We will delve in to what makes these griddle different.
Best Double Burner Griddle List
Below, you will find some of the Best Double Burner Griddle available. We will sort them by material.
Lodge Pre-Seasoned Cast Iron Reversible Grill/Griddle (Best Overall)
Lodge cast iron double burner griddle is the best overall. The heavy duty cast iron construction means that you can sear steaks, cook pancakes and fry eggs with ease. Best of all, you can reverse it for that BBQ grill look. It is one of the most versatile griddle available. You also do not have to worry about food sticking. It comes preseason from the factory. As you use it, it will get better and better.
Cuisinart MCP45-25NS Double Burner Griddle (Best Tri Ply Model)
Cuisinart double burner griddle combines aluminum and stainless steel for the most well rounded cookware. It has the thermal conductivity of aluminum with the durability of stainless steel. The interior uses a nonstick coating to make cooking easier. This model will get hot faster than cast iron and have a better heat distribution. The only downside is that its not good for steaks. The nonstick coating cannot handle the heat. The slight lip will also get in the way sometimes, buts its good for preventing grease splatter.
T-fal A92114 Double Burner Family Griddle Cookware (Best Budget Nonstick)
If you plan on only cooking pancakes, eggs and bacon, then T-Fal offers a great choice. It is affordable and it uses aluminum as its construction. It will get hot fast but just cant hold heat for larger cuts of meat. I would not try to cook steaks on this. However, if you need a affordable but functional double burner griddle, then this is the best choice.
Double Burner Griddle Compatibility
Double Burner Griddle stove top compatibility really depends on the type you get. For the most part, they should all work, including electric stove and glass stove top. On induction, only metal who has a strong magnetic pull like cast iron can work. However, I recommend that you stick with a traditional gas stove if you can. That can generate the most heat out of the bunch.
What can you cook on a Griddle?
You can pretty much cook anything you would in a skillet. The main advantage of the double burner griddle is its wide open space. There are no sides that will get in the way of flipping food. When you cook things like eggs and pancakes, it is much easier. You can even cook steak on it without any issue.
Different Type of Griddles
There are a few different type of Double Burner Griddle on the market. The most common of which is nonstick. Nonstick griddles are constructed of mostly aluminum with a nonstick coating. This is the most affordable of the bunch and pretty much nothing will stick. However, the downside is that its generally light and kinda flimsy. They cant take as much heat as cast iron or stainless steel.
The next popular choice is the tri ply design. These pans has alternating layers of stainless steel and aluminum. By combining these different metals, they get the heating properties of aluminum with the strength of stainless steel. These are the best overall. They offer durability with the performance of aluminum. These cost a bit more than your traditional nonstick pan. However, most of these Double Burner Griddle will usually have a nonstick coating applied to it.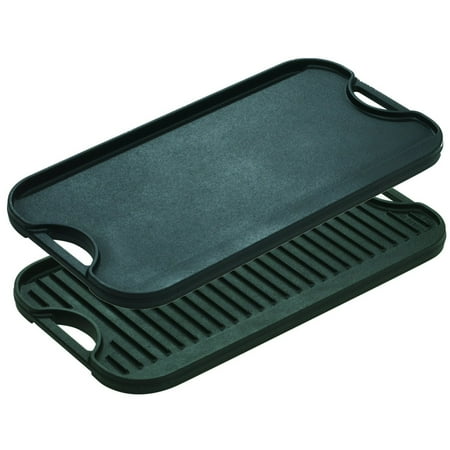 Finally, cast iron is usually the best choices of the bunch. The reason being is that its heavy and holds a lot of heat. This means you can sear steaks and cook pancake all day. While it does take a while to heat up, once its hot, it stays hot. Best of all, the nonstick coating will only get better. Few other cookware can claim that. However, I would caution those with glass stove top. Because of the heavy construction of cast iron, it can scratch it. If this is the case, then I recommend you go with the tri ply or nonstick model.
Best Double Burner Griddle Thoughts
Double Burner Griddles are great for cooking breakfast. It has a large wide cooking surface area to prepare breakfast fast. You can cook meals for the family in one go. If you want the best of the best, then cast iron will be your best bet. It can sear steaks, eggs, bacon, pancake and more. Once it gets hot, it stays hot.
Tri Ply model are the most well rounded. They conduct heat fast and hold moderate heat. While it does not have the steak searing ability of cast iron, it is still pretty decent.
For the budget orientated, the nonstick models are great. They uses a nonstick construction and is generally very light. They cant sear thick cuts of meat but breakfast are a breeze in these griddles.
I hope you like this article, If you would like to see more, check out our Evo Grill Review.