Making purchases at Amazon.com and other website funds this website by generating revenue. Any help is appreciated and supports both me and content like this.
Le Creuset Braiser Review
Le Creuset Braiser is versatile, compact and soon to be one of the most used tool in your kitchen. It has two loop handle with a gentle sloping side. While the main task for it is to braiser, you can do so much more with it. From frying to broiling, you can do anything you would normally do in a traditional skillet. But what exactly makes this braiser so great? This review will take a closer look at its design and features.
Le Creuset Braiser Review Quick Summary
| Categories | Le Creuset Braiser |
| --- | --- |
| Performance | Great |
| Colors | Wide Range of Color |
| Brand Awareness | World Famous |
| Handle | Two Loop Handle |
| Country of Manufacturer | France |
| Thoughts | Le Creuset Braiser is a excellent versatile cookware. While its main task is for braising, you can use it for so much more. Its compact design lets it fit in a smaller oven and you can bring it to the table. Its beautiful and performs great. |
| Reviewed Cookware | Le Creuset LS2532-3267 Signature Enameled Cast-Iron Round Round Braiser |
Check Best Price
What is a Braiser Pan?
A braiser is a cookware that is designed to trap in moisture. You initially start off with a sear then half submerge food in liquid. Usually, you will finish cooking in the oven. The heavy lid will ensure that the moisture will stay trapped in the pot.
There are a few different variation of a braiser, one is called a Daubiere. It is essentially a rectangular box that is designed for longer shanks. Another type of braising pot would be a dutch oven or oval dutch oven. The main difference here is the height of the braising pan.
Le Creuset Braiser Design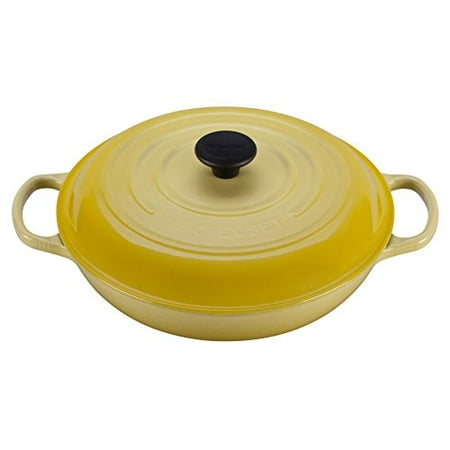 This section will discuss the design and features of Le Creuset Braiser Pan. We will go over handle, shape and general performance.
Handle
The handle is what sets a braiser apart from a skillet. Instead of a long handle, you get two large handles. These handles are generally wide and comfortable letting you get a good grip on it. While this may seem simple, I am constantly impressed by how bad other manufacturer get it. Theirs is usually oddly shaped or too small to use effectively.
Nevertheless, these two loop handles makes it easier to transport and fit in the oven. A traditional long handle can get in the way of a smaller oven. Not only that, it looks better on the table. Making it the perfect pan for a oven to table presentation.
One downside for these two loop handle is maneuverability on the stove top. A long handle actually helps you move and toss food around a lot easier. You cant do that as well with the loop handle.
Shape
The shape of the braiser resembles that of a traditional skillet. The sides are low and has a gentle curve. This lets you fry things with ease. A taller sidewall tend to trap moisture during the initial stage of cooking.
The soft interior also helps you whisk easily. Other cookware like saute pan has a sharp corner. They can get in the way and trap food in the corner. They really designed this braiser well.
If you compare Le Creuset Braiser vs The Dutch Oven. You can generally do what you can do basically the same task. The difference is the ease of use. The tall height of the dutch oven makes it difficult to sear and flip food. The lower sidewall is easier if you intend on frying things.
Cast Iron Construction
Le Creuset Braiser uses a enamel cast iron construction. Despite what most people tell you, cast iron is actually a poor conductor of heat. They develop heat spot and take forever to heat up. However, that heavy construction means that it can hold a lot of heat. This heat retention helps you when you sear food. It also keeps food hot when you bring it out to the table. Making it good as a serving dish.
Colors and Enamel Coating
No doubt one of the biggest selling point of Le Creuset is the color. They have all colors of the rainbow and more. Their enamel coating is also one of the best in the industry. They are durable unlike those made in China who chip at the slightest accident.
The interior enamel is made with a cream coating. This is better because it lets you judge the quality of the fond. While the black interior do hide any marks, if you are not experienced, you can accidentally burn your food.
Lid
I personally find the lid to be one of the best feature of this braiser. It is heavy and durable. Some of the other cookware will use a glass lid and those are junk. They are fragile and they fog up. You cant even see inside either way. So its best for a heavy duty lid. Its also beautiful to look at.
Le Creuset Braiser 3.5 vs 5 qt
I like to use a cookware that is appropriate to the amount I am cooking. This reduces overall energy usage and speed up cooking. If you can, get both sizes. However, the 5 qt model is definitely a lot more versatile and functional. You get more cooking space for a better sear. In the 3.5 qt, if you accidentally put too much, you can crowd the food and cause it to steam. Not only that, if you have too much, you cant add more to a 3.5, but you can with a 5 qt model. If I had to choose one, get the 5qt.
Le Creuset Braiser Thoughts
Le Creuset Braiser is a great versatile cookware. It is compact and its beautiful. Perfect for the oven to table cookware. If you are looking for a cookware to wow your guest this is the way to go. There is very little to no downside to this.
Check Best Price
I hope you like this Le Creuset Braiser review, If you would like to see more, please visit our Pots and Pans Review page.