Making purchases at Amazon.com and other website funds this website by generating revenue. Any help is appreciated and supports both me and content like this.
Crepes are French Style Pancakes. Instead of thick and fluffy, it is thin and often stuffed with fruits. The technique and equipment needed to make crepe are a little bit different than your standard pancake. With crepes, you need a spreader to make it thin and uniform. The Best Crepe Pan are usually nonstick and distribute heat evenly. There are even specialty pan known as a Crepe Suzette pan. Those are designed for table side service.
What is a Crepe Pan?
A Crepe Pan is a pan with a low sidewall. They are designed to let you spread batter evenly with a crepe spreader. Normal pans will have sidewall that are too tall and gets in the way. Some Crepe pan even have no rivets for easy use. Generally nonstick and carbon steel are the preferred choice, however some master crepe chef will use copper with stainless steel.
What is a Crepe Suzette Pan?
As if a these pan are not rare enough, there is a thing called a crepe Suzette pan. A Crepe Suzette Pan is a round pan usually 12 inch in diameter with a slightly raised sidewall. Unlike a crepe pan whose sides are diagonal, a Crepe Suzette Pan sidewall are straight up. Its tall enough just to hold in sauce and butter.
These Pans are designed to be used as a table service equipment. While you rarely see this in America's Diner, its much more common in France. The server will actually prepare/finish crepe right at your table. In this situation, they will use a Crepe Suzette Pan. Some might even flambe in them.
Electric Crepe Pan and Other Models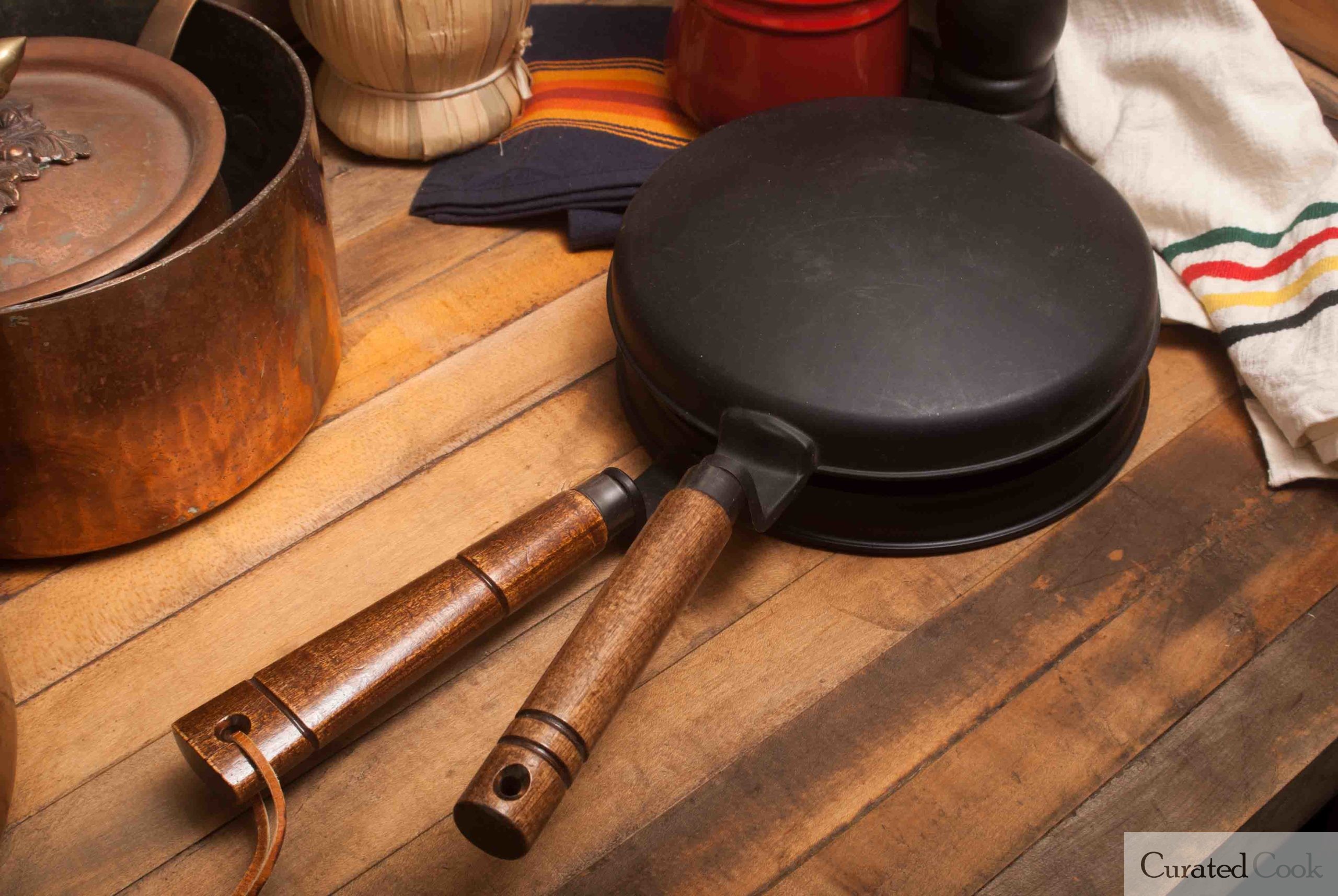 Modern and Traditional Crepe Pan look like a regular pan with a small lip. However, in the 70's there was a convex style of Crepe Pan. Nordic Ware Crepe n Things was one of the more popular variety. Instead of using a Crepe Spreader and Spatula, you heat up the pan and dip in the batter. This was designed to make crepe easy for the masses. Unfortunately, this designed has mostly died off for the stove top version.
Electric Crepe Pan are still widely available in questionable quality. They work very much like the Convex Crepe pan. The main difference being that you heat it via a electric outlet. The top portion is generally made of nonstick for easy use.
Different Metals
You have a wide choice of metal to choose from from Aluminum to Carbon Steel. They all have their strength and weakness. My preferred choice will be either Carbon Steel or cast iron. They develop a nonstick coating and generally last forever. The major drawback is that they are poor heat conductor. The first batch is usually the worse because they arent heated properly. You can actually just avoid this by just heating it slowly.
Aluminum nonstick pan are best for novices. They heat up quick and have great heat distribution. The teflon coating also ensures that nothing sticks. The issue is that they do wear out, so if you cook crepes daily you might have to replace it every few years.
For the truly skilled cook, copper with stainless steel is the best. They have excellent heat distribution and heat up the quickest. The downside is that the stainless steel coating can be difficult to cook with. They stick more than either of the other models but they do develop better browning. That browning adds more flavor than a plain blonde crepe. You can usually combat the sticking with butter…
Design
There are some things you should consider. The most important being the low sidewall. The lower it is the better. Professional vendors sometimes use griddle with no sidewall. Nevertheless, pan with sidewall will usually have a handle attached. Getting one with a rivetless design is ideal. They wont get in the way of the batter. If you cant find one without rivets, you can compensate by just getting a larger pan.
Best Crepe Pan List
Below, you will find a list of some of the Best Crepe Pan on the market. I have listed them based on categories, choose one that best suits you.
De Buyer Crepe Pan, Blue Steel (Best Overall)
De Buyer Crepe Pan is one of the best model on the market. Its carbon steel construction lets it develop a nonstick coating. The sidewall are low for easy spreading and turning. Best of all, it has no rivet. The handles are spot welded on for strength. While De Buyer has a Mineral B version of this pan, that one has rivets. Nevertheless, this model is affordable and you can get them in a range of sizes.
Cuisinart 623-24 Chef's Classic Nonstick Hard-Anodized 10-Inch Crepe Pan (Best Non Stick Model)
If you dont want to deal with the fussiness of seasoning, then Cuisinart Nonstick Pan might be for you. The Hard Anodized nonstick coating is more durable than you standard teflon Pan. While the handle is a little uncomfortable, this pan does its job and nothing will stick. This pan also boast a whopping 500 degree Fahrenheit oven safe temperature.
Lodge Pre-Seasoned Cast Iron Griddle (Best Cast Iron Model)
For an all purpose pan, Lodge Griddle Pan is a good choice. While its not designed for Crepes, the low sidewall is perfect for crepes. I recommend that you heat it up slowly, otherwise your first batch of crepe might be ruined. Its not the best at heat distribution. The lip is also a bit taller than other model.
Mauviel Made In France M'Heritage Copper M150B 12-Inch Crepe Frying Pan (Best Copper Model)
If you have the skills and need perfect heat, then a Copper Model might be right for you. This model by Mauviel is 12 inch in diameter and uses very low sides for easy spreading and turning. Since its copper, it conducts heat well and gives excellent color. If use properly, it can be nonstick as well, you just need practice. Just be aware, its a lot more expensive than the other brands.
Other Utensils
A Crepe Spreader and Spatula is a highly recommended tool. They are used to spread the batter thing and give you the best result. If you just swirl it, you will get lumpy results. The spatula also makes it easy to flip. My article on the Best Crepe Spreader and Spatula should help you find one.
Thoughts
There are many crepe pan on the market. For the Overall Best, I recommend a carbon steel one. De Buyer is my go to pan. Its affordable and easy to use. However, nonstick is even easier, its just that it wears down and will need replacing. If you need a cast iron model, Lodge Griddle pan is a great alternative. But for those who truly love crepe, the copper crepe pan by Mauviel is King.