Making purchases at Amazon.com and other website funds this website by generating revenue. Any help is appreciated and supports both me and content like this.
Hi Chew Candy is a Japanese edible bubble gum. Instead of lasting forever, you can actually swallow it. It is most famous for its fruity and citrus filled flavor. They come in a wide variety of flavor such as mango, watermelon, cherry, pineapple and more. While its a huge hit in Asia, it is still relatively unknown in the states. The closest equivalent that the states has in Starburst but the flavor is vastly different. If you can, I highly recommend that you give Hi Chew a chance. Each packet will contain ten individually wrapped pieces.
Hi Chew Candy Review Quick Summary
| Categories | Hi Chew Candy |
| --- | --- |
| Taste | Sweet and Tangy with a texture much like bubble gum. But you can actually swallow Hi Chew. |
| Uses | Great as a small dessert after lunch. Good if you just have a sweet tooth. |
| Health and Nutrition | Mostly composed of sugar. I would not eat too much of it in one setting. One or two pieces wont hurt though. |
| Shelf Life | Usually one year after production. |
| Thoughts | A great Japanese starburst like candy. If you like starburst, you will love this. They have over 170 flavor, so it can fill anyone craving. |
| Reviewed Snack | Hi-Chew Sticks Chewy Fruit Candies Variety Pack (Strawberry, Green Apple, Grape, Mango, Kiwi) 10-Pack |
History of Hi Chew
Hi Chew was invented by Taichiro Morinaga. Although he was born in Japan, he eventually moved to America to learn the secret of candy making. In 1899, he returned to Japan and started selling candy to the people of Japan. It was such a hit that he opened his very own confectionery shop. In 1956, Morinaga invented chewlets, it was a predecessor to Hi Chew. It chewed like gum but also dissolve so you can eat it. In 1975 the company decided to bring back the chewlets under the name of Hi Chew. It is available in over 170 different flavor. Today, Hi Chew a iconic candy that is eaten throughout Asia. The popularity in America is slowly growing, but manufacturing of the candy is still in Taiwan.
Taste and Texture
Most Hi Chew will have a bright and citrus flavor. The texture is that of a bubble gum but slightly harder. After the first bite, it will slowly disintegrate making you think that you can swallow it, which you can. The main difference between this and bubble gum is that you can bite it in half easily.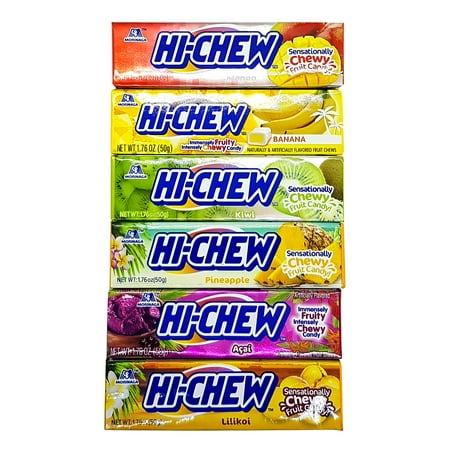 Hi Chew Ingredients
Below you will find a list of ingredients for the Mango Flavor. Different flavor might vary in ingredients.
Ingredients: Glucose Syrup, Sugar, Vegetable Oil, (Hydrogenated Palm Kernel Oil, Palm Kernel Oil) Less than2% of Gelatin, Mango Puree, Malic Acid, Citric Acid, Natural and Artificial Flavor, Sucrose Fatty Acid Esters, Sorbitan Monosterate, Beta-Carotene(Color), Soy Lecithin. Contains Soy Bean.
Hi-Chew Candy Health and Nutrition
As with any candy, its not really healthy. Its high in Sugar Content. The other variable are relatively low. Interesting enough, their nutrition is based on the whole packet rather than individual Pieces. Nevertheless, eating one piece will not kill you. One thing to note is that they include gelatin. This means that is not vegan friendly. The plus side is that it is gluten free.
| Nutrition Facts | Value |
| --- | --- |
| Serving Size | 1 Packet (50g) Serving Per Container 0 |
| Calorie | 210 |
| Total Fat | 5g |
| Saturated Fat | 4.5g 0% |
| Trans Fat | 0g |
| Cholesterol | 0 |
| Sodium | 0 mg 0% |
| Total Carbohydrate | 42 g 15% |
| Dietary Fiber | 0g |
| Total Sugar | 32g |
| Other Carbs | 0g |
| Protein | <1g |
| Vitamin D | 0 |
| Calcium | 0 |
| Iron | 0% |
| Potassium | 0 |
As far as I know, Hi Chew contains no chemical that makes it addictive. Although sugar itself can be addictive. So if you have a sugar tooth, then that might be an issue. In terms of dental health, chewing anything sugary is bad for your teeth. I recommend brushing your teeth after eating it. If you dont want to do that, you can always let it dissolve in your mouth. Although that defeats the purpose of Hi Chew.
Where to Buy
In the past, Hi Chew can only be found in specialist Japanese Market. Nowadays, you can find them in your local walmart or seven eleven. They're not big enough to be found in your local markets though. If you want, you can probably find it at online retailers like amazon or walmart.
Hi-Chew Candy Thoughts
Hi Chew is a great candy if you never tried it before. Its very different in flavor compared to starburst, but at the same time, its the closest equivalent. I personally think its superior to starburst. As with any candy, you should eat it in moderation. You wont get any more addicted to it then you would a regular candy.
I hope you find my Article on Hi-Chew Candy to be helpful, please visit the Food Review page for more!