Making purchases at Amazon.com and other website funds this website by generating revenue. Any help is appreciated and supports both me and content like this.
Roasted Seaweed Snack are one of the best snack for your health. The crispy texture with its salty and oily flavors are great by itself or paired with rice. While its relatively unknown in the west, it is commonly eaten in Asian household. Go to any supermarket and there are a variety of shape and sizes. you can buy it in convenient rectangular or large sheets. While it is relatively expensive, the taste is amazing and worthy of any household.
Roasted Seaweed Snack Quick Summary
| Categories | Roasted Seaweed Snack |
| --- | --- |
| Taste | Salty with a sesame aroma. The texture is light and crisp. |
| Uses | Eaten by itself or wrapped in rice with spam or pork floss. |
| Health and Nutrition | Because of the content weight, it wont impact your health significantly. However, there is some concern about the content of arsenic/cadmium. More research needs to be done though. |
| Shelf Life | It usually last a year if left unopened. |
| Thoughts | A great alternative to potato chip. It is versatile and you can make a wide variety of food. If you never tried it before, you will be surprised at how delicious it is. |
| Recommended Best Roasted Seaweed Snack | Jayone Seaweed, Roasted and Lightly Salted, 0.17 Ounce (Pack of 24) |
Check Best Price
What is Roasted Seaweed?
Roasted Seaweed Snack is a Korean made product. It is designed to be eaten by itself or paired with other food. While it both Nori and Roasted Seaweed are both made from kelp, the uses are different. In Japanese cuisine, Nori is used primarily for sushi. They also have a strip variety known as Teriyaki Nori. Those are sweet and commonly eaten by children. The texture is also a bit more malleable so that you can form and roll it.
Roasted Seaweed Taste
In contrast, roasted seaweed is roasted and brittle. It is light and has a light crisp to it. The flavor is usually heavily salted with sesame oil covered. The aroma is also quite different. The sesame oil will waft into your nose triggering your saliva. As a whole, it is designed to be a savory snack.
How to Eat Roasted Seaweed Snack?
As stated before, you can eat it by itself. However, that will get expensive pretty fast. One of my favorite way is to just wrap it in rice. If you have some spam, you can make some musubi. Musubi is a Hawaiian rice roll with spam. It is quite popular and considered a national dish. The small rectangular box are great for a bite size snack. Although I would personally cut the spam to be small strip. The roasted seaweed is already quite salty. You do not want to overpower it.
You can also use the sheets to make large sushi rolls. Just be aware that is is very brittle. Don't be surprised if it breaks up on you. If sushi does not suit your taste, you can make some onigiri. Put some Pork Floss inside and shape it. It has a perfect balance of sweet and salty.
Roasted Seaweed Snack Health and Nutrition
Because of weight of the snack, there is hardly any nutritional value. You can eat it daily without it impacting your health. However, once you start pairing with it rice or other grains, you should watch the overall carb content. But for the Roasted Seaweed snack itself, you can eat packets without it affecting your health.
Is Roasted Seaweed Good for You?
At its core, roasted seaweed is kelp. Any benefit that you get from kelp is the same as those in the roasted seaweed snack. Some of the benefits that you can get from seaweed is Niacin, Iron, b12 and Zinc. It also has a good amount of Iodine. Having said that, the volume that you are getting from the snack is so small, it will have very minor impact on your health.
Nutrition
Here are some of the nutritional Fact per 5 g.
Total Fat 2g
Cholesterol:0
Sodium: 45mg
Total Carbohydrate: 1g
Protein 1g
Vitamin D: 0
Calcium 7mg
Iron: .35 mg
Potassium 95mg.
This data was found on one of the manufacturer pack. The data will vary from manufacturer. Use your best judgement.
Toxicity
There is a downside to dried seaweed though, they can contain trace amount of arsenic and cadmium. The amount will vary base on the manufacturer. This was found by a study by Tomohiro Bito†, Fei Teng‡, and Fumio Watanabe*. You can read their scientific Journal Here. However, more study should be done to confirm this finding.
Where to Buy?
In the past, you can only find roasted seaweed in Asian Supermarket. However, it is slowly trending to be a healthy alternative to potato chips. Today, you should be able to find them in any trendy health supermarket. Amazon and Walmart should carry these snacks.
Roasted Seaweed Sheets vs Boxes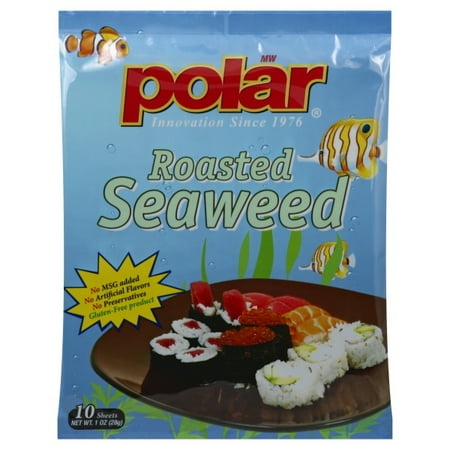 There are a few varieties. The most common are the Roasted Seaweed Sheets and the small rectangular boxes. The rectangular boxes are by far the most expensive and they take a lot of retail spaces. What you are really paying for is the plastic container. However, if you need a way to transport it and eat it conveniently, its the way to go.
In contrast, the larger sheet has more but its a bit messy eating it. What you can do is do a make shift sushi roll a lot easier. You can do that for the small one but its more work.
Thoughts
Roasted Seaweed Snacks is a great alternative to potato chips. They are a healthy alternative to potato chip. If you have never tried it, its worth a shot. You can also wrap it to make sushi or onigiri. It is a versatile snacks that kids and adult will love.
Check Best Price
I hope you find my Article on Roasted Seaweed Snack to be helpful, please visit the Food Review page for more!