Making purchases at Amazon.com and other website funds this website by generating revenue. Any help is appreciated and supports both me and content like this.
Hario Copper Kettle Review
Hario Copper Kettle also called the Buono is a kettle that is specifically designed for pour over coffee. It comes with a goose neck spout that allows for more control when pouring. Hario Kettle comes in two type of materials, copper and stainless steel. Which one you choose is dependent on your preference but there is no denying how beautiful the the copper model is. Brown, Copper and Brass are the perfect combination of color for any copper pot. This Hario Copper Kettle (Buono) review, will look at how this Kettle is designed, how does it compares to Mauviel's Copper Coffee pot and how durable it is.
Hario Kettle (Copper) Review Quick Summary
| Categories | Hario VKBN-90CP "Buono" Drip Kettle, Copper |
| --- | --- |
| Performance | Great |
| Compatibility | Gas, Electric, Halogen, Glass Top |
| Colors | Polished Copper |
| Warranty | Unclear, couldn't find any Information |
| Brand Awareness | America and Japan |
| Country of Manufacturer | Japan |
| Thoughts | A great and beautiful gooseneck kettle. It is made with copper with nickel linning. The issue is the outer coating. They used something to keep the copper patina from forming. However, with use, that coating peals and its hard to get it off. |
| Reviewed Cookware | Hario Buono Kettle (Copper Version) |
Hario Copper Kettle Design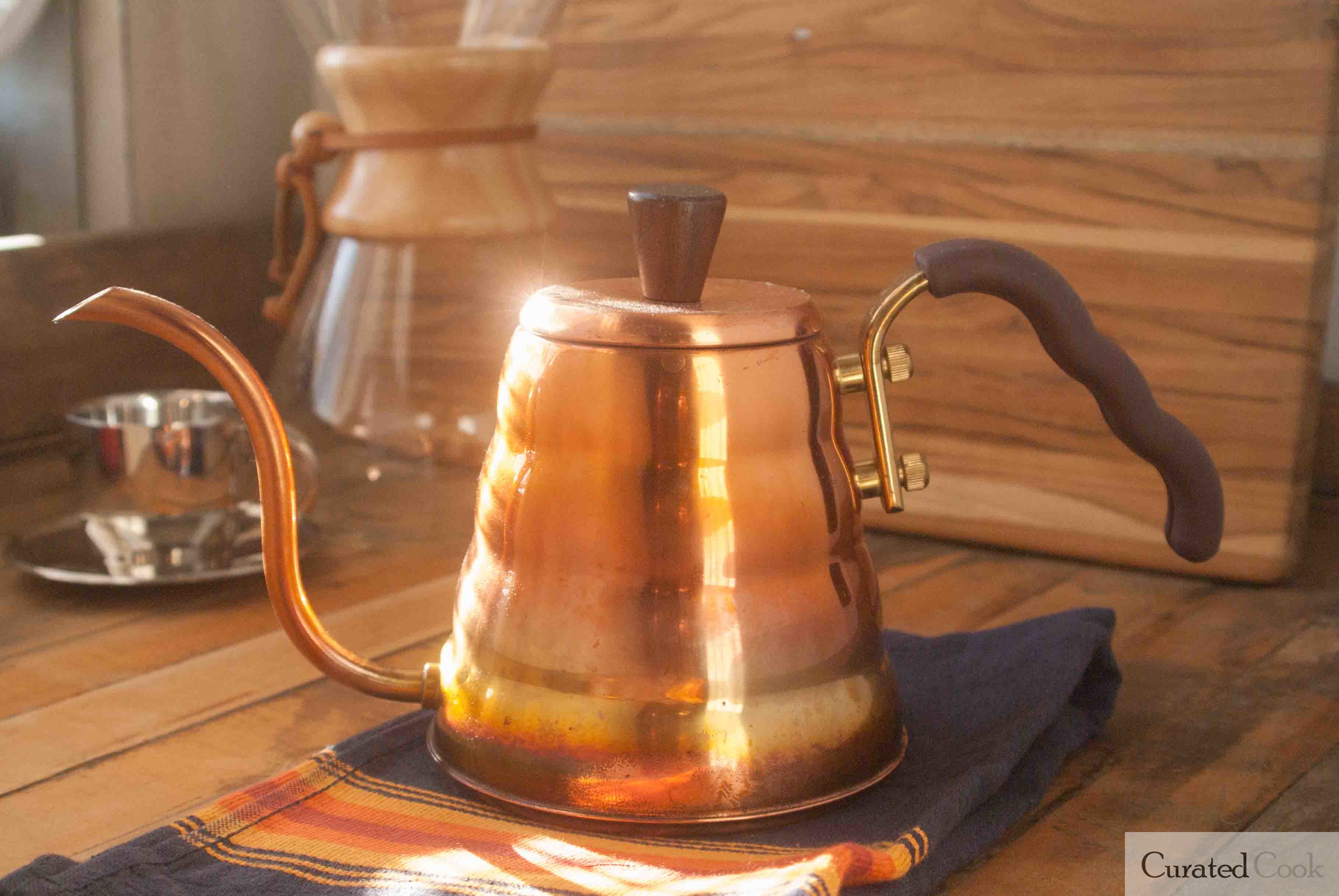 Handle
The handle is one of my favorite part of this kettle. It is made of brass with two twist on screw that affixes to the body. On the grip end of the handle, it shares a wavy design similar to its body.
Depending on the version you get, you might get a rubber cover that protects your hand from the hot kettle. This rubber cover seems like an after thought from Hario. Looking at some of the complaints online you can see a lot of users complaining about the heat of the handle. I suspect that most people who purchase this kettle are not use to having an all metal handle. My experience with the rubber cover is mixed. As long as you don't grip the handle in haste, you wont burn your hand. However, if you grip it without being careful, there is still exposed brass that can and will burn your hand.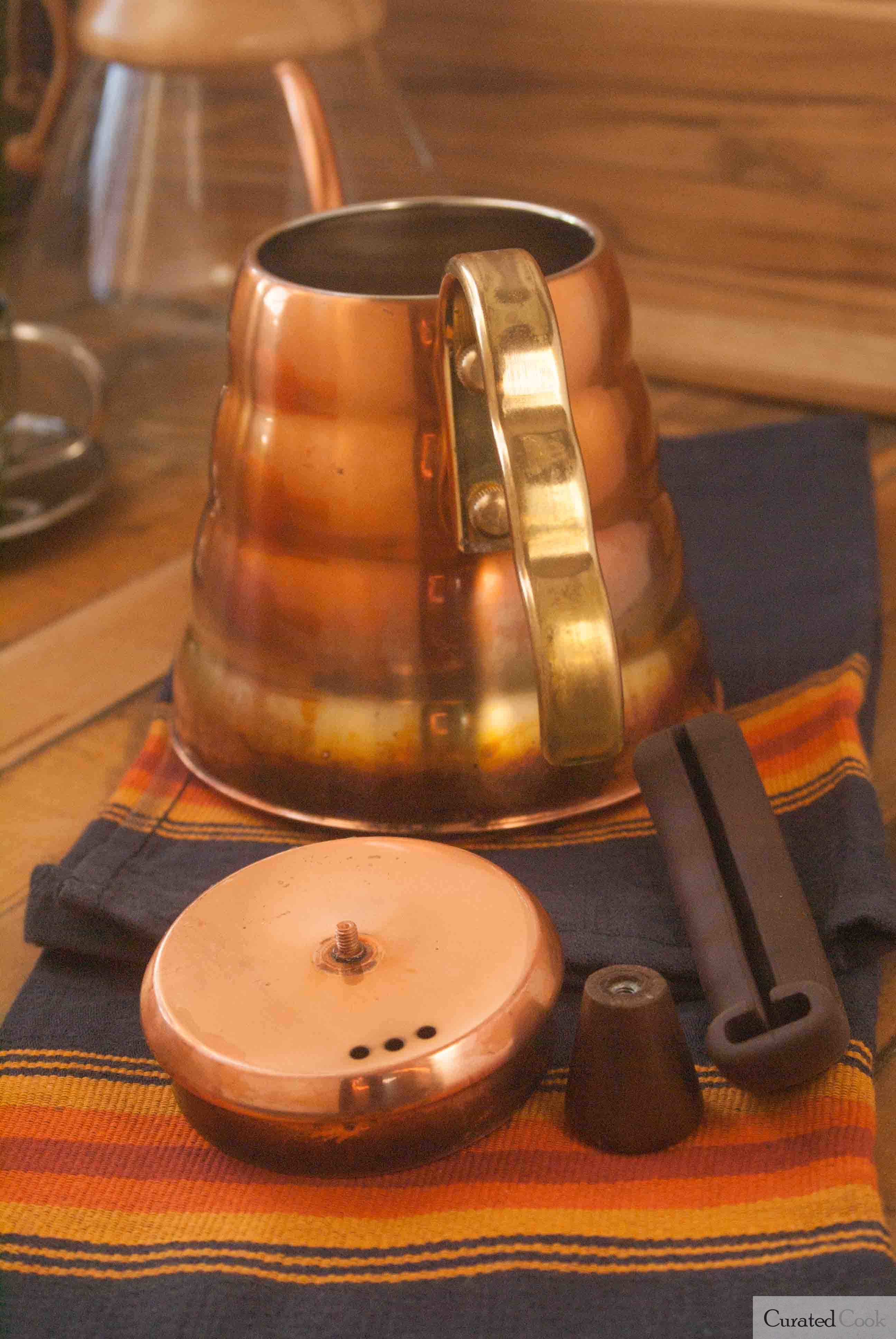 Body
The body resembles a Michelin tire Christmas tree. Every section from the bottom looks like a tire that is stacked on top of another. If you change the color to red, green and gold you will have a very festive kettle. Regardless, I doubt that the round curve actually makes any difference in terms of heating water. What will make a difference is the wide base and narrow opening. A wide base will give the most contact to the heating element so that water can boil faster. Reducing the diameter of the opening will prevent steam from escaping retaining more heat inside the kettle.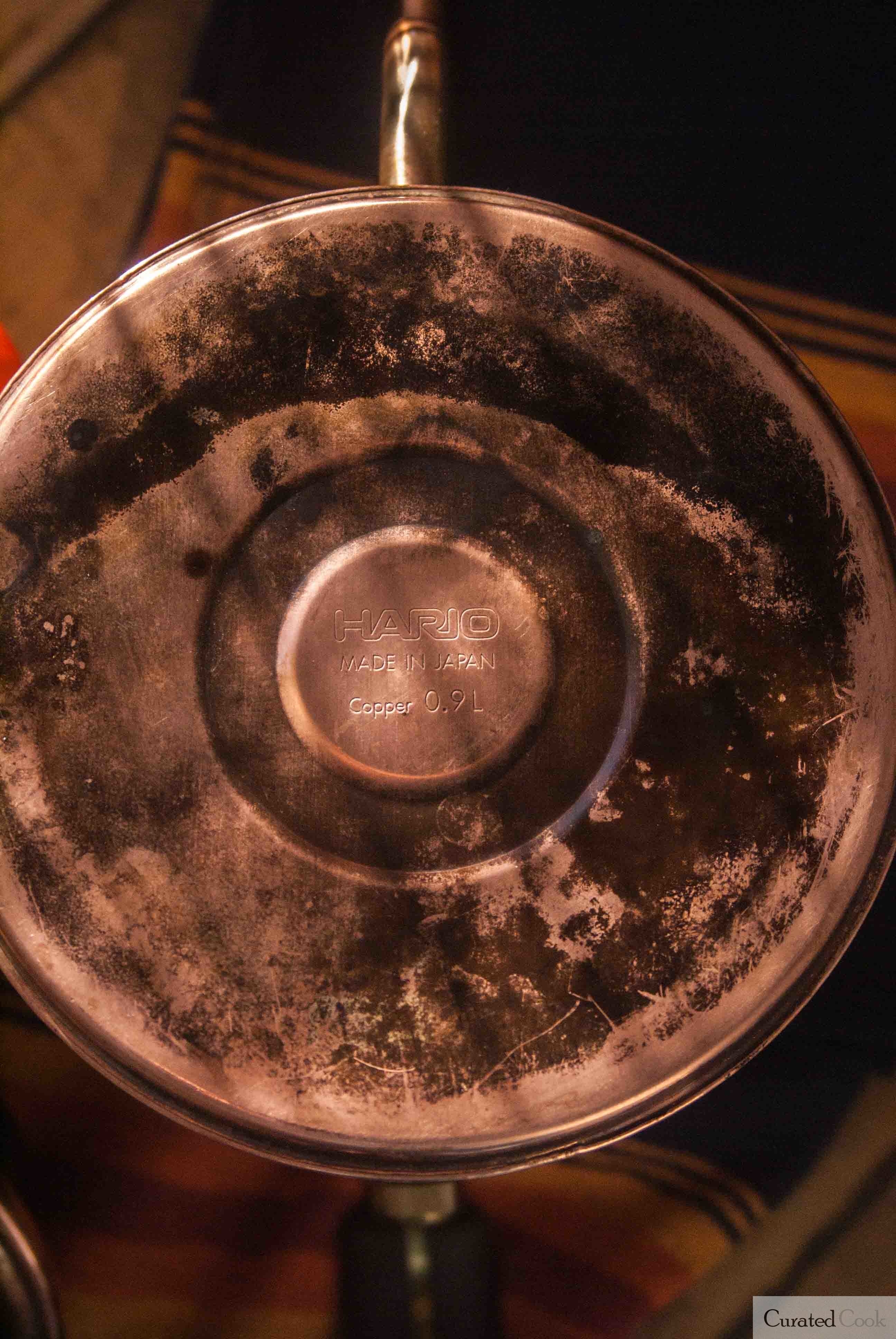 Lid
The lid is made of copper with a wooden knob on top. When you twist off the wooden knob, you can see the screw is affixed to the lid via a copper screw. The knob itself looks like it was drilled then a female thread was tapped inwards and possibly glued together. Flipping the lid over, you can see where the the copper screw was welded in. This tells me that it was not molded from one single piece.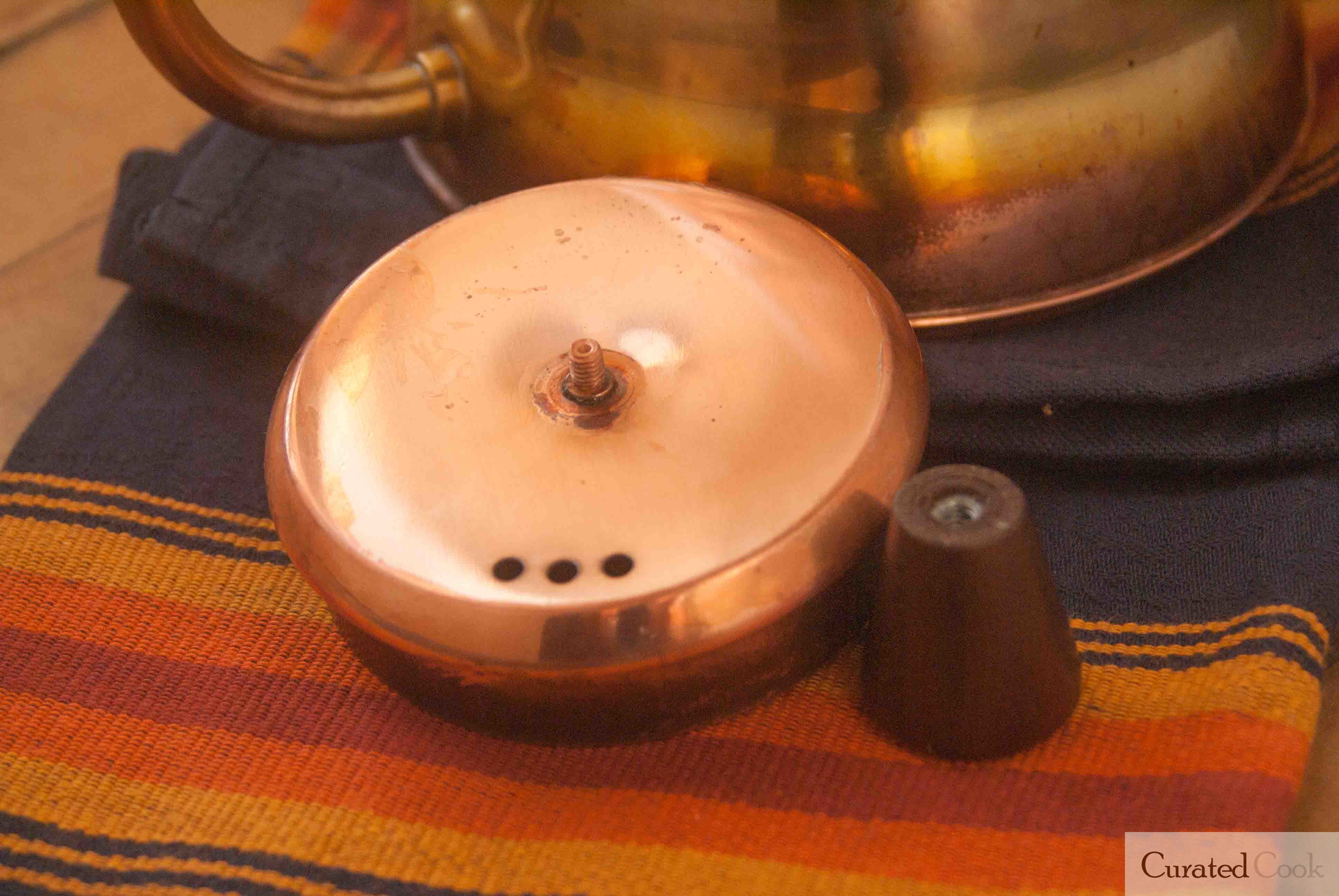 On the lid itself, there is three holes that vents the steam outward. If you have the vent pointed toward the handle, it will burn your hand. Kind of a bad design on their part. The lid itself also lacks any latching mechanism. It will fall out of you tilt it too far forward. Luckily, when I was pouring water for the pour over coffee, I never had any issues with it falling.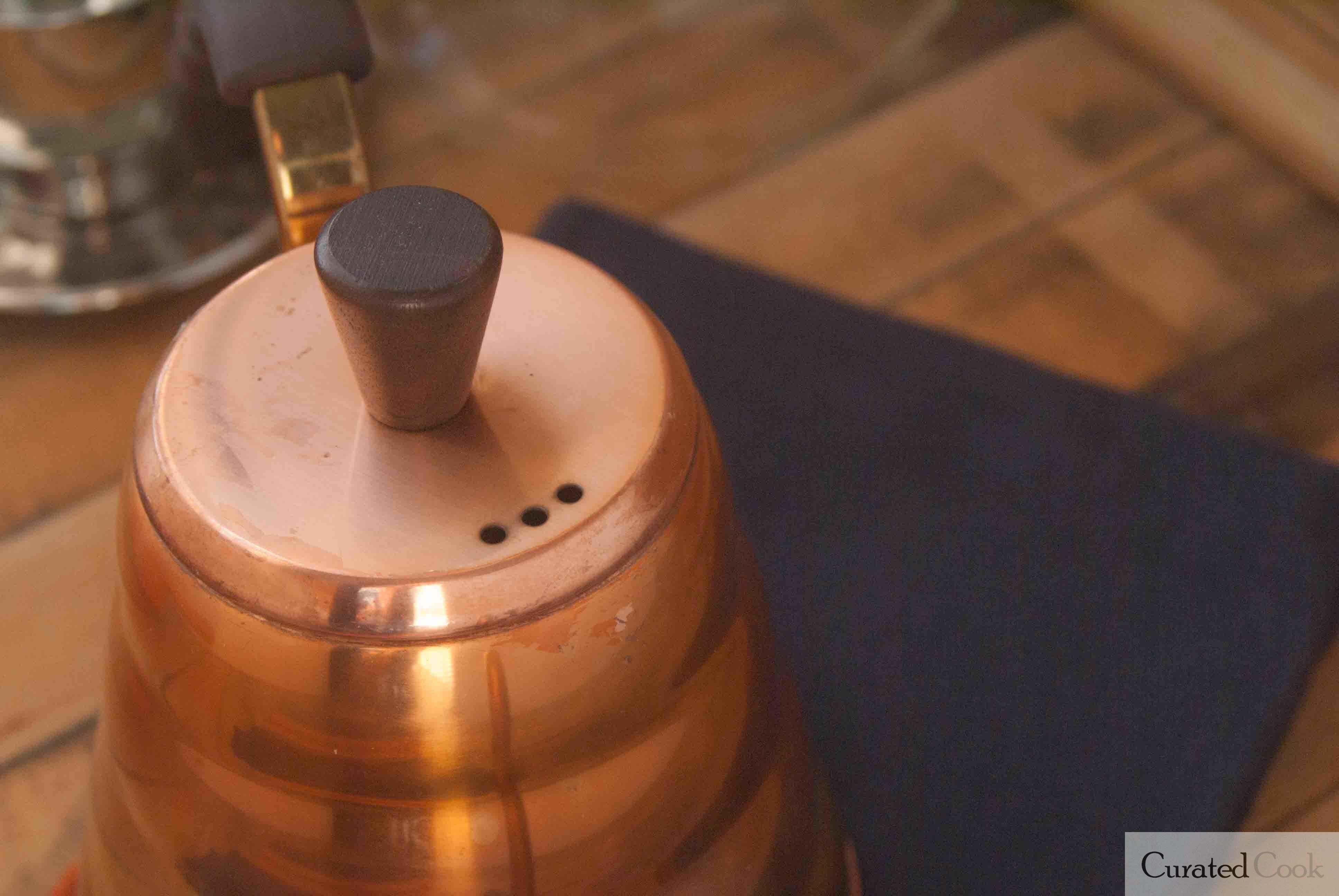 Spout
The spout is your standard goose neck spout, it allows for good control when pouring. The inside has no nickel lining so its bare copper for those who are concerned about this issue. Near the base, you can see that it is welded on after the body was formed.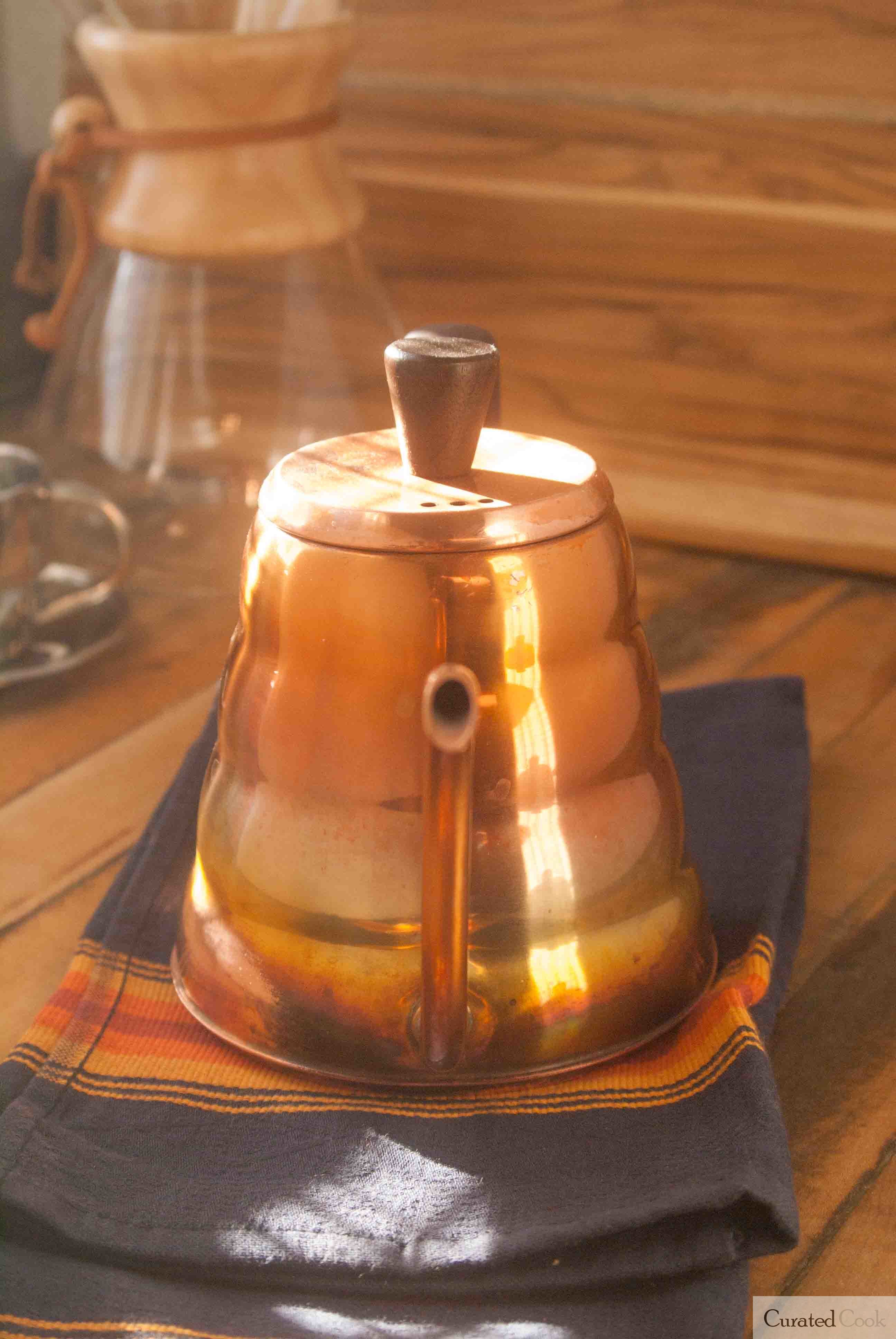 Hario Copper Kettle Thickness
Using my micrometer, I found that the thickness is no larger than .40mm. Which is very very thin. For boiling water, the thin copper is actually beneficial. Thick copper means that the kettle has more mass to heat up. The less resistance from the fire to the water means that the water will heat up faster. The downside to this is that the Copper kettle will not be very durable. This kettle was bought second hand and I see two dent already on it. The spout was bent inward and I was able to bend it back forward with my hand. Interesting enough, the spout is 1.02 mm, twice the thickness of the body. Probably cant have the spout bending in on itself.
Hario Copper Kettle Copper and Nickel
There seems to be some confusion online on what is the composition of the pan. Based on the copper leaching out of the Nickel, I can tell you that this kettle is pure copper. The lining itself is nickel which is plated on. On the downside, it is a little disappointing to see the nickel wearing out. Since only water is boiled, I wonder what caused it to wear thin.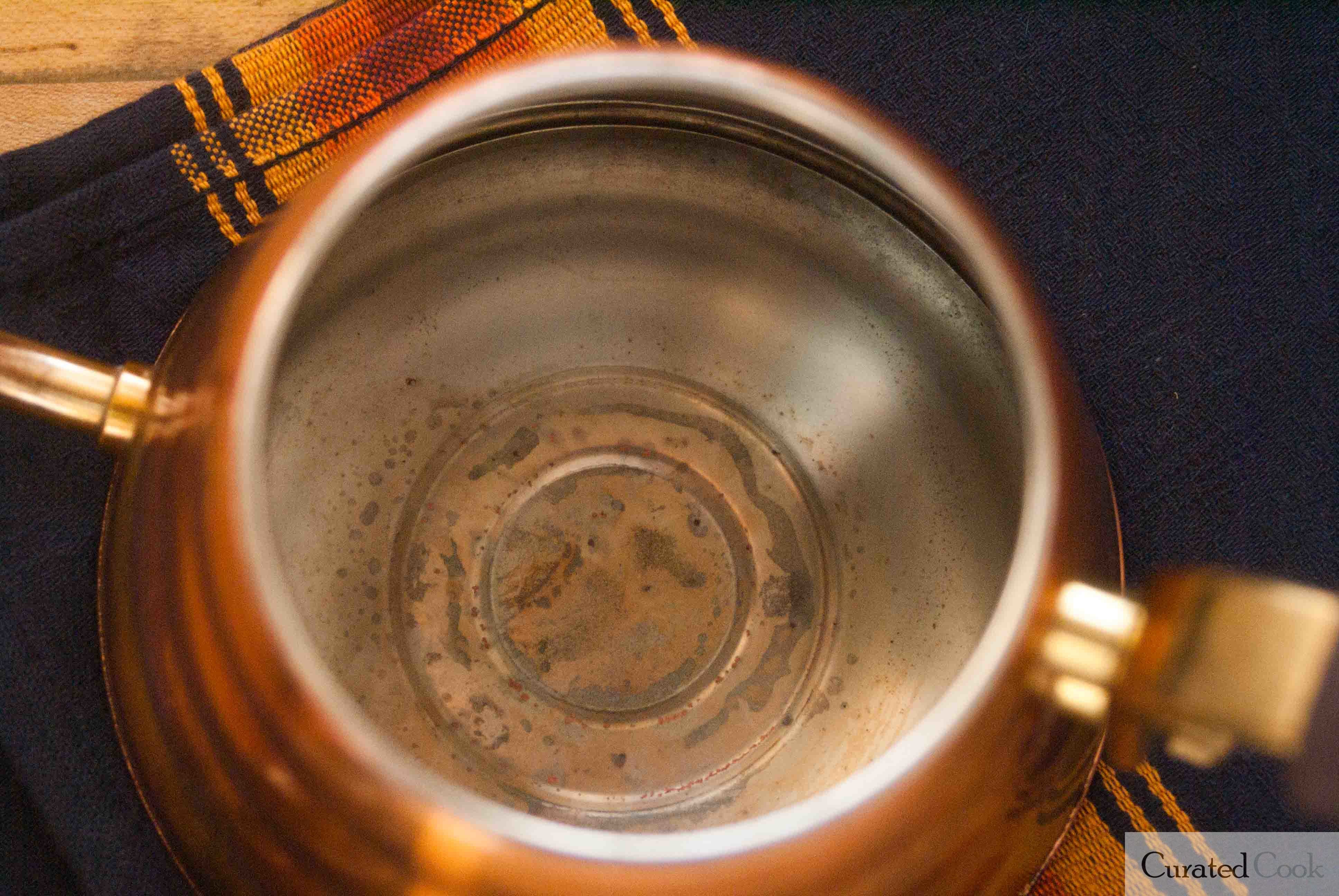 On the exterior, there is also a film to prevent the copper to form patina. That film is thin and scrubbing it will cause it to come off. When pieces of the film come off, some part of the pan will darken and other will stay normal. In my opinion, this is more of a hindrance than a benefit. Hario probably did this to prevent consumer from complaining.
Fit and Finish
Fit and Finish is excellent when new. However, if you use this pan even moderately, it will get get damaged easily. This pot is simply not durable enough for vigorous use.
To see this kettle in action, watch the video below.
Conclusion
This is no doubt one of the most beautiful piece of cookware available. The combination of of brass, copper and brown just compliments each other so perfectly. The only issues I have is how thin it is and how fragile it is. If it was not for those factor I really do believe this one of the best piece of cookware out there. If you would like to purchase Hario Copper Kettle, I recommend that you purchase it at Amazon. It helps support more reviews like this.

I hope you like this Hario Copper Kettle review, If you would like to see more, please visit our Pots and Pans Review page.