Making purchases at Amazon.com and other website funds this website by generating revenue. Any help is appreciated and supports both me and content like this.
ISI Whipped Cream Dispenser Review
ISI Whipped Cream Dispenser is one of the best whipped cream dispenser on the market. Made in Austria, they come in many different configuration. The most popular model is the ISI Gourmet Cream Whipper. Its all metal construction ensures that it durable and will last a lifetime. However, there are some issues that is involved with this dispenser. This review will take a closer look at the design and features of ISI Whipped Cream Dispenser.
ISI Whipped Cream Dispenser Review Quick Summary
| Categories | ISI Whipped Cream Dispenser |
| --- | --- |
| Performance | Excellent |
| Colors | Stainless Steel with Red or Black Accent |
| Brand Awareness | Europe and North America |
| Capacity | Various Sizes |
| Country of Manufacturer | Austria |
| Thoughts | ISI Whipped Cream Dispenser is one of the oldest soda siphon manufacturer around. Its all metal design ensures that it will last a lifetime. While there is quite a bit of components, once you learn how it works, it should a great addition to your kitchen. |
| Reviewed Cookware | iSi 160301 Gourmet Whip Cream/Food Whipper for All Hot and Cold Applications, 1 Pint, Stainless Steel/Red |
Check Best Price
History of ISI
ISI is one of the oldest manufacturer of soda siphon in the world. It was founded by Carl Pochlter in 1867. Originally, they made medical supply out of steel. Their growing reputation in metal fabrication soon lead them to make soda siphons. However, it was not until the 1940 did they shift their production to soda siphon for the consumer market. Interesting enough, today they have a division dedicated for automotive. They manufacturer a safer way to inflate airbags. They make the airbags for some of the biggest manufacturer in the automotive industry such as Audi. Nevertheless, their focus on quality and innovation made them one of the largest soda siphon manufacturer in the world.
What is a Soda Siphon
A soda siphon is a pressurized container that can fill liquid full of Co2 or Nitrogen. In the 1920-30, they were often used to make carbonated water. However since the popularity died off, they are not as common. Today, it is often used in making whipped cream or carbonated water. While its not really used in the home, it is prevalent in high end kitchen. They would often use this to make flavored mouse or different fluffy confectionery. Although, most people who use it at home mainly use it for whipped cream. If you were so inclined, you can even rejuvenate a flat soda using carbonation.
How to Use Whipped Cream Dispenser
First time user might be a little confused on how to use it.
1) Chill the bottle and liquid in the fridge for at least half an hour.
2) Fill the bottle with the appropriate ingredient. Be sure to not over fill it. Usually the max fill line is somewhere a little more than half way.
3) Place the gasket firmly on the cap and screw the head on evenly. Be sure not to cross thread it. You can do this by turning it counterclockwise until you feel a pop, then turn it clockwise.
4) Put the co2 cartridge into the holder and twist it onto the receptacle. This should fill the container full of gas. The container is only good for one use so do not try and reuse it. Shake the bottle and remove the holder.
5) Your bottle should now be able to dispense the cream. If not, try chilling the bottle a little longer.
William Sonoma has a pretty good instructional video as well. You can check it out below.
ISI Whipped Cream Dispenser Design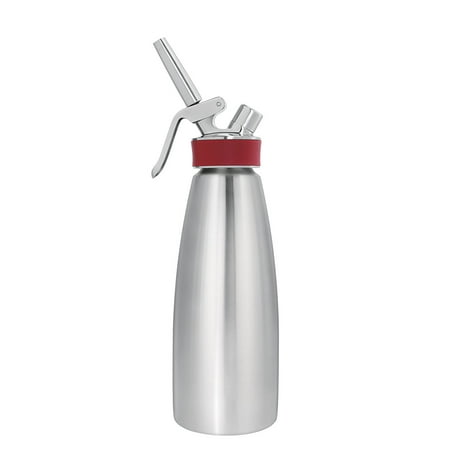 This section will discuss the design and features of ISI Whipped Cream Dispenser. We will discuss construction and general performance.
Metal Construction
In the past, soda siphon were mainly made of glass. ISI Whipped Cream Dispenser uses a an all metal body. This improves overall durability and longevity. However, isi does recommend that you get it looked over if you manage to drop or damage it. Between the top and the bottle, there is a gasket to help seal in any gases. There are also various smaller gasket between the nozzle and co2 dispenser. Depending on the model you get, the top might be either metal or plastic. I recommend the gourmet model simple because of the metal top.
Nozzle
The nozzle has various attachment available. Depending on the task, you should use the appropriate one. If you want to fill a cream puff with cream, there is a needle attachment. However, if you want whipped cream, you should use the pipping attachment.
At the base of the nozzle, there is a little valve mechanism. This valve can be removed and should be cleaned after every use. If you do not do that, residual cream and harden and block the exit way. This can stop it from dispensing or cause it to dribble. Not only that, old milk will start to turn rancid and smell really bad.
To clean it, you can pull it out and soak it in hot water. If you have the brush, I recommend trying to clean it that way as well. I have two different model and they are both a little different. Make sure you don't get them mixed up.
Charger Holder
The charger hold is what tighten and seals the co2 cartridge. Be sure not to loose this. Some are plastic and the other are metal. Obviously the metal version are a little more robust so I recommend that you get that version.
Gasket
Overtime, the gasket can get damaged. If it is dried or cracked. It will not hold a good seal. This will cause the gas to escape and the bottle will not work as intended. If it is indeed damaged, replace it. You will not be able to use it otherwise.
ISI Whipped Cream Dispenser Thoughts
Overall, ISI Whipped Cream Dispenser is incredibly well built. It is made in Austria and the all metal design means that it will last. However, be sure to get the gourmet model. The lesser model might come with a plastic cap. I also recommend that you get the larger size. It cost almost the same and you get more capacity. While there are various other models available, those are usually made in China with questionable quality.
Check Best Price
I hope you like this ISI Whipped Cream Dispenser review, If you would like to see more, please visit our Pots and Pans Review page.