Making purchases at Amazon.com and other website funds this website by generating revenue. Any help is appreciated and supports both me and content like this.
Cristel Cookware Set Review
What better way to save money than with a Cristel Cookware Set. It has detachable handle with nesting capabilities. Each of the cookware is just small enough so that they can rest on top of each other. Not only that, it is made with a stainless steel construction. However, usually these type of stackable cookware comes with some drawback. Most notably is the issue with the durability. While a detachable sounds nice, it tends to be flimsy and if you lose it, you just lost your handle. This review will take a closer look at the design and feature of Cristel Cookware Set.
Cristel Cookware Set Review Quick Summary
| Categories | Cristel Strate Cookware Set |
| --- | --- |
| Performance | Mediocore |
| Compatibility | Gas, Electric, Glass, Induction, Ceramic, Halogen |
| Colors | Stainless Steel 18/10 |
| Warranty | Lifetime Warranty |
| Brand Awareness | Relatively Unknown |
| Country of Manufacturer | France |
| Thoughts | I have issues with the handle design and construction. With the main issue in regards with durability. However, if you need to save space, they are a great choice. Kind of expensive. If you have the room, then I recommend going with the Castel Pro instead. |
| Reviewed Cookware | Cristel Strate STQL13KSAS Set of Handles |
Check Best Price
History of Cristel Cookware
Cristel was founded by Frédéric Japy in 1806. His company was originally dedicated to manufacturing clocks with modern technique. It wasnt until 1849 that his son Japy Frères manufacture one of the first stamped French Saucepan. In the late 1800's they were considered one of the quickest growing company around. They made things such as coffee grinder, typewriter, garden furniture etc…
In the 1900's the war managed to stop the company growth. They were plagued with the advent of plastic. Soon, the company was take over by Banks. It wasnt until the early 1980 did the former employee manage to open the company illegally. The local authorities saw what they were doing and allowed it to happen. From there, the company managed to pull through.
In the 1990 Paul Dodane set the trend to make removable handle on the sauce pot. This soon became one of the defining feature of the company.
Today, they are slowly gaining back market share. While they are still relatively unknown in the states, they are putting efforts to change that.
Cristel Cookware Set Strate Design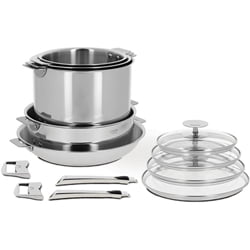 This section will discuss the design and construction of Cristel Cookware. We will go over things like handle, shape and general perofmance.
Handle
The handle on their cookware set is a detachable handle. They come in a wide variety of colors and each set usually comes with two. You also get two helper handle. These handles are detachable so that you can save space and nest the cookware on top of each other.
The main issue that I have with these handles is mainly durability. These things will never be good as a traditional riveted handle. They dont feel as secure and if you loose the handle, well you have no handle. I generally dont like these type of cookware, but I can see that in some situation where it is necessary.
The plus side is that when you cook, these handles do not need to be attached. You can just attach it after you are finish cooking. This will prevent it from getting hot. Interesting enough, the lid also has a notch for the handle. In case it gets hot, you can use the handle to remove it.
At the base of the handle, those little shrek ears looks to be attached via weld points. They should be good enough for everyday cooking. Although they can fail.
Oven Safe Temperature
Usually cookware with a metal handle have a high oven safe temperature. However, the cristel set with detachable handle only have a oven safe temperature of 350 degree Fahrenheit. This is honestly quite low. Most nonstick cookware set have a oven safe temperature of 350-400 degree Fahrenheit. For a stainless series to have this as a oven safe temperature is disappointing.
Shape
The shape oc the cookware is ok. The frying pan has low flaring side which is good. However, I do not like how its so angular. A gentle flaring side would be much better. The sauce pot on the other hand is good. They are really wide. This gives you a lot of room to sear food and promote evaporation. Sauce pot that are too small will cause you to crowd food. This will make it steam and boil food. In the long run, this will increase overall cooking time.
Each of the cookware are cleverly designed so that they are smaller than another. This lets you nest the cookware on top of each other. Unlike other nesting cookware, they dont have notches on the handle to latch on to each other. However, this set is unlikely to fall over. As a whole, its a pretty good design if you are short on space. Perfect for things like a camper van.
Construction
As of now, the majority of their cookware uses a stainless steel construction. The Strate features a disc bottom base instead of a fully cladded design. A disc bottom base improves the overall weight and help increase thermal storage. This is great for searing food like steaks or large cuts of meat.
However, these disc generally have a few issue. Namely the heat distribution. Since the sidewall are thinner than the base, they tend to get really hot compared to the base. This cause food to scorch on the side. The fully cladded design has the same thickness from the rim to the base. These design are better overall but tend to cost more. Cristel to do make a fully cladded set called the Castel Pro. You can check those out if you are interested.
The one good thing about the disc bottom is that it adds induction compatibility. Manufacturer will often time but a stainless steel base which is magnetic. You can see if a cookware is induction capable with a magnet. If it sticks, then its compatible.
Cristel Cookware Set Thoughts
Overall, its a little pricey for what it is. These space saving cookware usually have poor design and construction. The Cristel Strate is no exception. If you need to save space, then this is a good choice, a bit expensive though. However, if you have the space, I would rather go for the Castel Pro.
Check Best Price
I hope you like this Cristel Cookware Set review, If you would like to see more, please visit our Pots and Pans Review page.