Making purchases at Amazon.com and other website funds this website by generating revenue. Any help is appreciated and supports both me and content like this.
Gotham Steel Stackmaster Cookware Review
Gotham Steel Stackmaster Cookware is a great way to save space. The adverts for these pans is plastered across late night television. What sets them apart from the original set is that you can stack them. If you have a small kitchen, having many separate pots can be a bit of hassle. Luckily the Gotham Steel Stackmaster Cookware set will let you stack it vertically. This review will take a closer look at how the stackmaster is designed and how it works.
Gotham Steel Stackmaster Cookware Review Quick Summary
Check Gotham Steel Stackmaster Cookware Best Price
Who is Gotham Steel?
Gotham Steel is a brand of As Seen on TV. They make a wide range of household goods. Some of their cookware brand includes granite stone or diamond pans. All of which is incredibly successful but offer different features.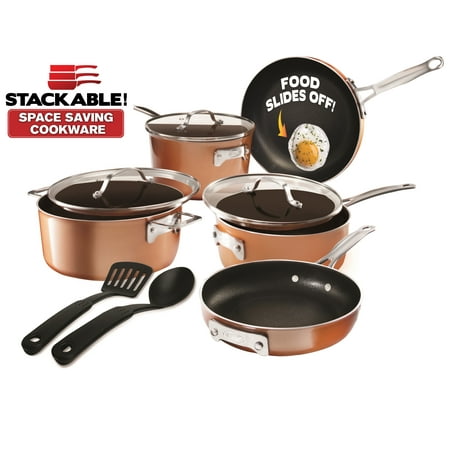 Gotham Steel Stackmaster Cookware Design
This section will discuss the design and features of Gotham Steel Stackmaster Cookware Set.
Handle
The design of the handle can be a little better. The edges are sharp and can dig into your hand. If they only rounded it and make it a little thicker, it can be quite comfortable.
Its an all metal design so it can go in the oven. The oven safe temperature of these pans is 550 degree Fahrenheit. While it does get hot, on the stove top, it should stay relatively cool. The base has a Heat choke to prevent heat from transferring. The stainless steel construction also aids in it.
Stacking Feature
How they make these pans stackable is via size reduction and the metal plates. Since the smaller diameter base will fit in, all they need to do is add a plate on either side. This lets the pan sit neatly on top of each other. While you can do this for your regular pot, they dont have the plates. This cause it to sit unevenly and cause it to fall over.
Nonstick Coating
Gotham Steel Stackmaster Cookware uses a three layer ceramic nonstick. While this is good, compared to teflon, its not as durable. Ceramic nonstick is not as ductile as teflon. As such, it can develop micro tear overtime. This degrades the ability of the nonstick coating. The good thing is the three layers will circumvent some of the issue. In the videos you see them use a chopper and egg beater in the pan. I am recommending that you do not do that. The less damage you do, the longer it will last. I would also avoid the dishwasher. There are reports from users that the coating will come right off.
Lid
The lid is made of glass. The good thing about this is that you can look inside while cooking. The caveat is that once it steams, you wont be able to see anything. So in a sense, its kinda pointless. It would have been better if they used an all metal design. The glass is fragile and can shatter if you are not careful.
Compatibility
Because of the stainless steel base, this cookware is compatible with all type of stove top. Usually nonstick cookware will be made of all aluminum for performance and cost. Adding a stainless steel base is a bit more expensive so its good to see that they added that.
Gotham Steel Stackmaster Cookware Thoughts
If you are low on space, then Gotham Steel Stackmaster Cookware is a great choice. It can be stacked vertically so you can have more room for other pantry good. The bad thing about this is the handle comfort and nonstick coating. I would have preferred a traditional teflon pan, but most want a ceramic alternative. It does work though and for the price its a bargain for a whole cookware set.
Check Best Price
If you would like to see more articles like this check out our Gothan Steel Pan Review.