Making purchases at Amazon.com and other website funds this website by generating revenue. Any help is appreciated and supports both me and content like this.
Donvier Ice Cream Maker Review
In the 80's the Donvier Ice Cream Maker was all the craze. Requiring no salt or ice, you can hand crank your own ice cream right at home. A simple concution of cream milk and sugar is all that you needed. This simple contraption was a hit in Japan. However, marketing efforts in America failed. Luckily, a man by the name of James Kabler saw potential. Soon Donvier Ice Cream Maker was a hit sensation in America.
Donvier Ice Cream Maker Review Quick Summary
| Categories | Donvier Half Pint |
| --- | --- |
| Performance | Acceptable |
| Country of Manufacturer | Japan |
| Price When New | 30-40 USD |
| Brand Awareness | America and Japan |
| Release Date | 80's |
| Thoughts | A portable and manual way of making ice cream. However, this method is only a slight modification of a traditional ice cream maker. They cut down the churning time to every 2 minutes when a traditional one require continuous churning. This was probably done just to improve sales, not flavor. |
| Reviewed Item | Donvier Half-Pint Ice Cream Maker |
Nikkal Industries and Donvier Ice Cream Maker History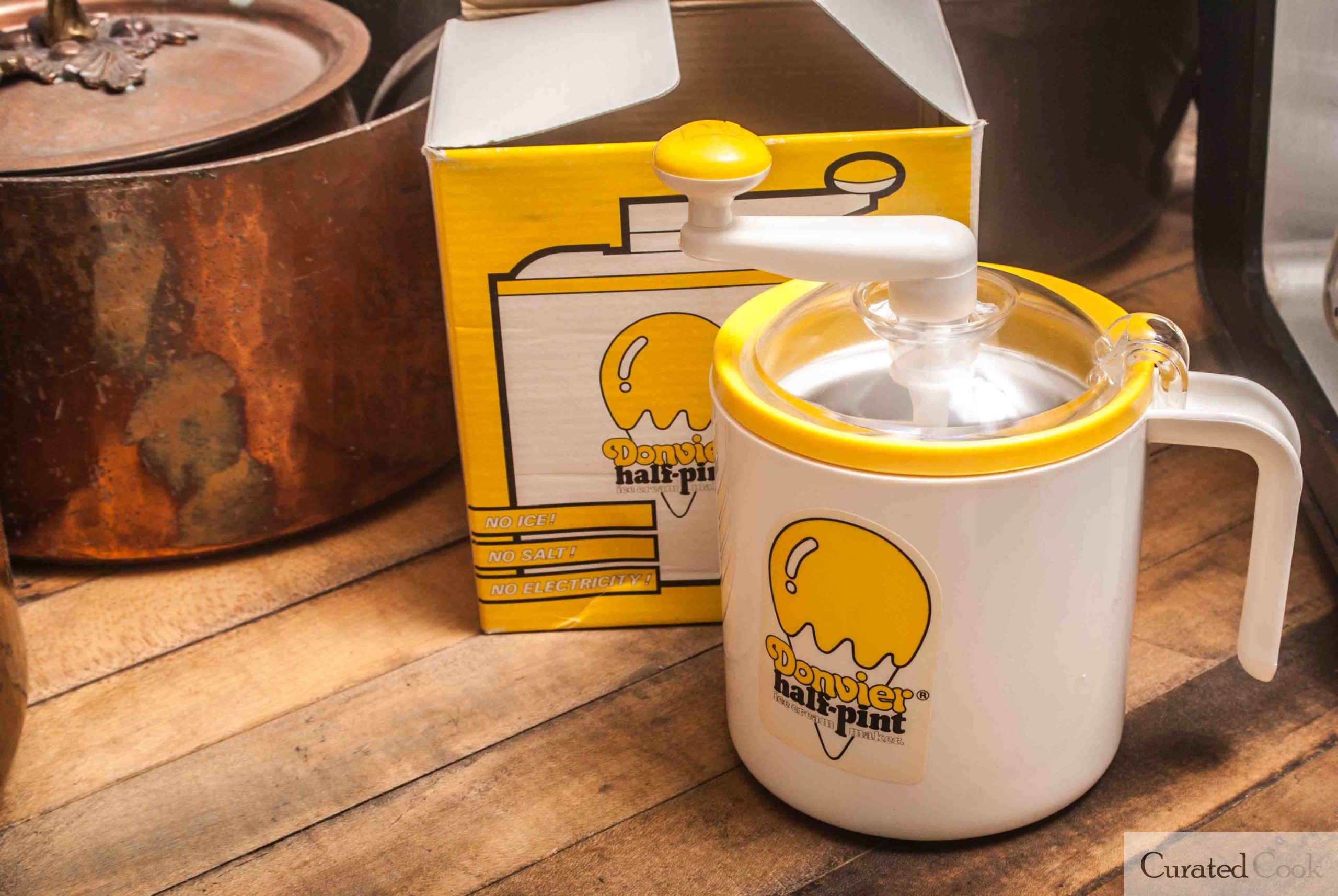 James sought exclusive marketing rights for the U.S. marketing rights from Nippon Light Metal, the one who patent the device. They had a goal of selling 1 million ice cream maker. With the go ahead, they formed Nikkal Industries in 1984. Luckily for the company, they got a New York Time Writer to review the ice cream maker. He called it "one of the most ingenious devices I have seen in years.". They used the reviews and got hotel worker to slip the reviews under the door of hotel patrons. It worked, more reviews starting coming out and big retailers like Macy's and Bloomingdales started placing orders.
The popularity shot up and sales were over 8 million. But the success did not last. The rising cost of business, the slowing of sales and logistic issue caused the company to close in the 1990.
Today, most have never even heard of the Donvier Ice Cream Maker. I never even heard of personally and the only reason I bought it was due to its build quality. I was impressed by its construction and its ingenious design. This review will take a closer look at its design and construction. We will see what makes it works and whether its any good.
How Ice Cream is Made
In a traditional ice cream maker. A container is put in a bucket full of ice. You fill container with milk, cream, sugar and other flavoring then you churn it. The bucket of ice is then filled with salt to release the chilling effect of the ice. As you churn the cream, the ice slowly freezes it. This churning ensures that the ice crystals form is small. Giving a smooth creamy texture. Ever notice how when you refreeze ice cream, it never taste the same? That is because it formed really large ice crystal.
Donvier Ice Cream Maker Design
The general principal of Donvier Ice Cream Maker is very similar. Instead of the ice bucket. They have a metal tubing filled with coolant. You freeze the coolant then that would act as the chilling ice. On the top, there is a crank that is connected with the paddle. Every 2 minutes, you would hand crank the ice cream to ensures that large crystal dont form. After 15 minutes, you would have your very own ice cream.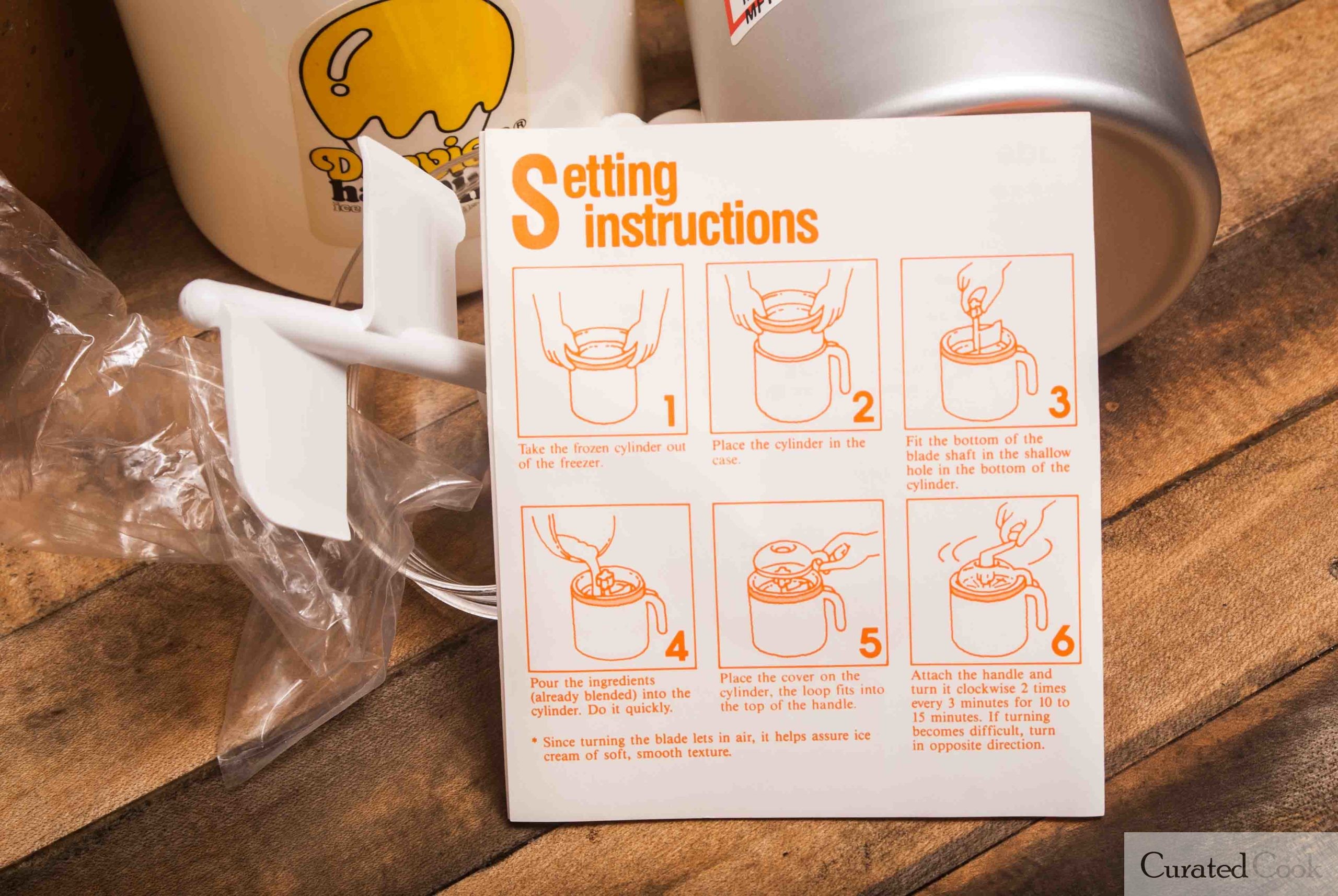 This is very different from the traditional method of continuously hand cranking it. I suspected that this was only included for marketing purpose. No one in their right mind would want to sit there for 15 minute constantly stirring. Traditional and even modern ice cream maker have motorized paddle on the top. The only one who still used the hand crank methods are the really really old one 100 year plus one. Nevertheless, it worked for them and sales grew.
Oddities and Tidbits
Although the general build quality of the item was great, there were some oddities and tidbits that I would like to point out. First of all the is the caution sticker on the metal cylinder. It shows too hilarious artwork of the cylinder. One says not to heat and other not to touch with cold hands. These artwork and the artwork throughout the product is very similar to how the Japanese market their product. Very cartoony in design and meant to be playful.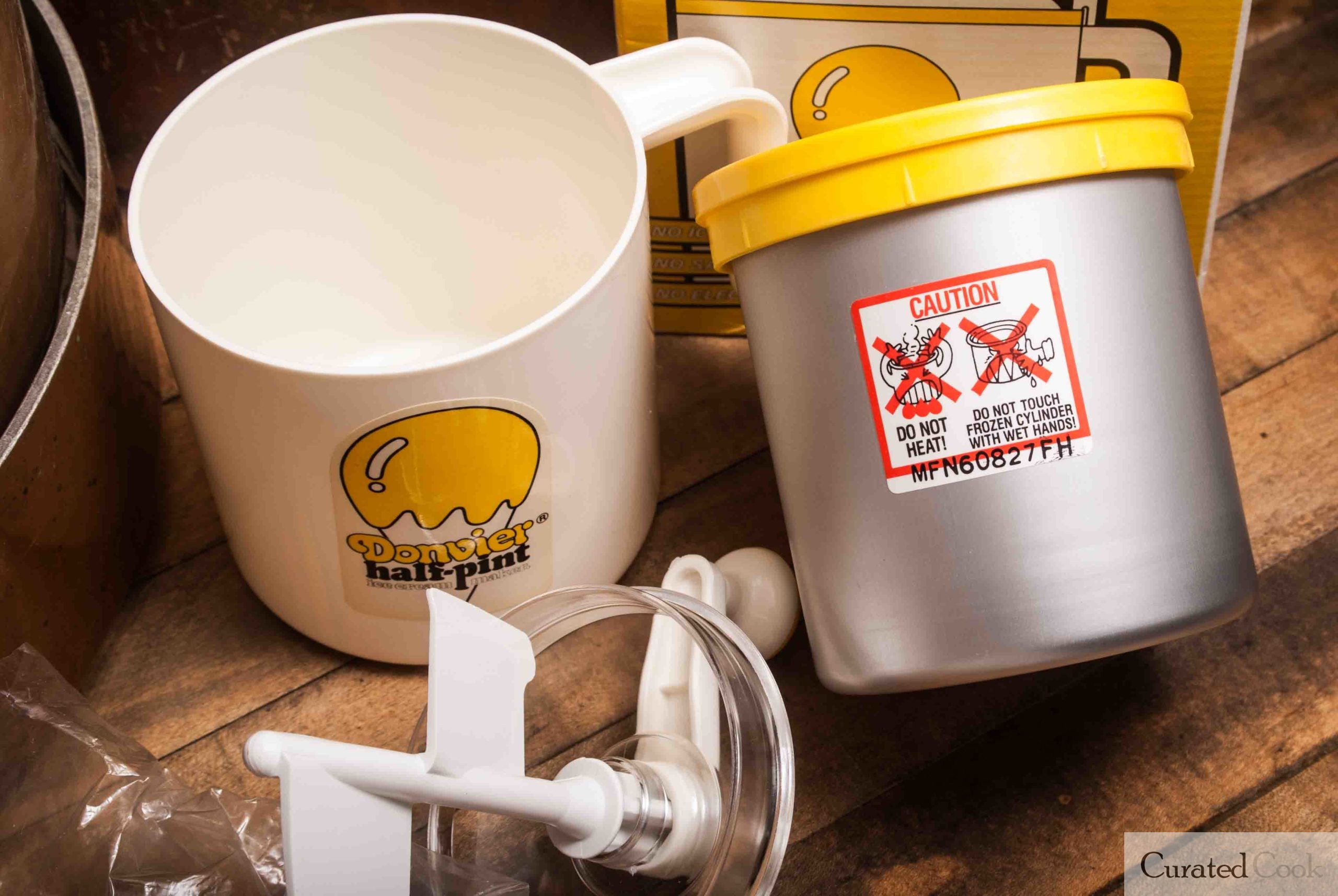 On the exterior of the ice cream maker, the Donvier Half Pint sticker was haphazardly slapped on. Manufacturers would sometimes use stickers instead of engraving to save manufacturing cost. If they find that tooling or making a mold will be more expensive than its worth, they would use stickers instead. This is done in a lot of white label manufacturing. For the Donvier this was probably just for the Japanese and America Label.
Donvier Ice Cream Maker Instructions, Content and Marketing
Other than that the content was very sparse. It only came with a simple three fold instruction sheet. The word made In Japan slapped right in the front. Inside, there are various recipes for ice cream that you can make.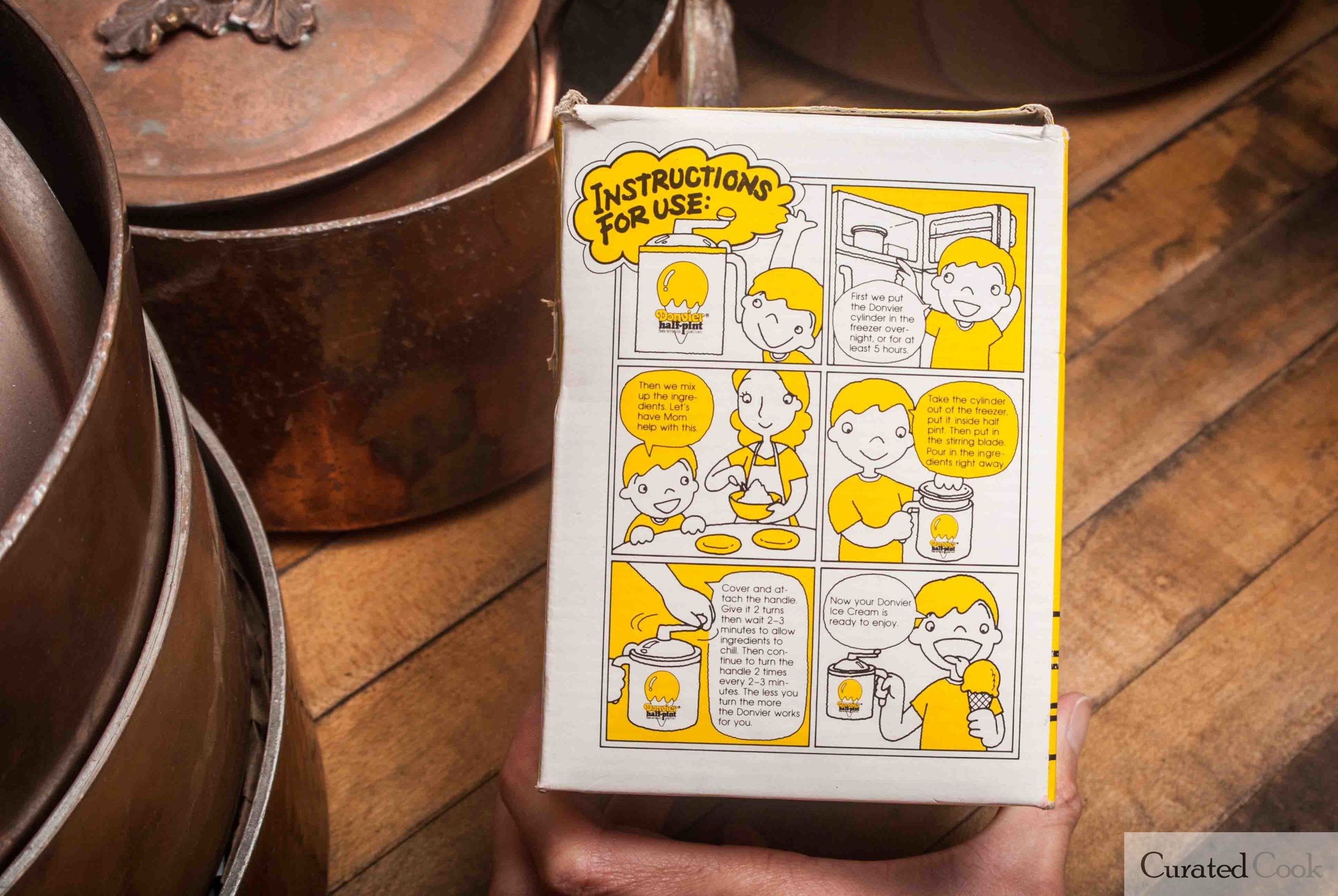 On the box, that too is very colorful and very different from how things were marketed in the 80's. Again, it probably took its style from how the Japanese did it. Everything is well made and high quality. The cartoon even look like it was Japanese but changed just a bit to look American. Honestly, its quite fascinating how they did it.
Donvier Ice Cream Maker Recipes
I imagine most of the Recipes for this Ice Cream maker is most likely gone. For your reference, I will list them all out there. This is for the Half Pint, I suspect you can just increase the quantity for your ice cream maker size.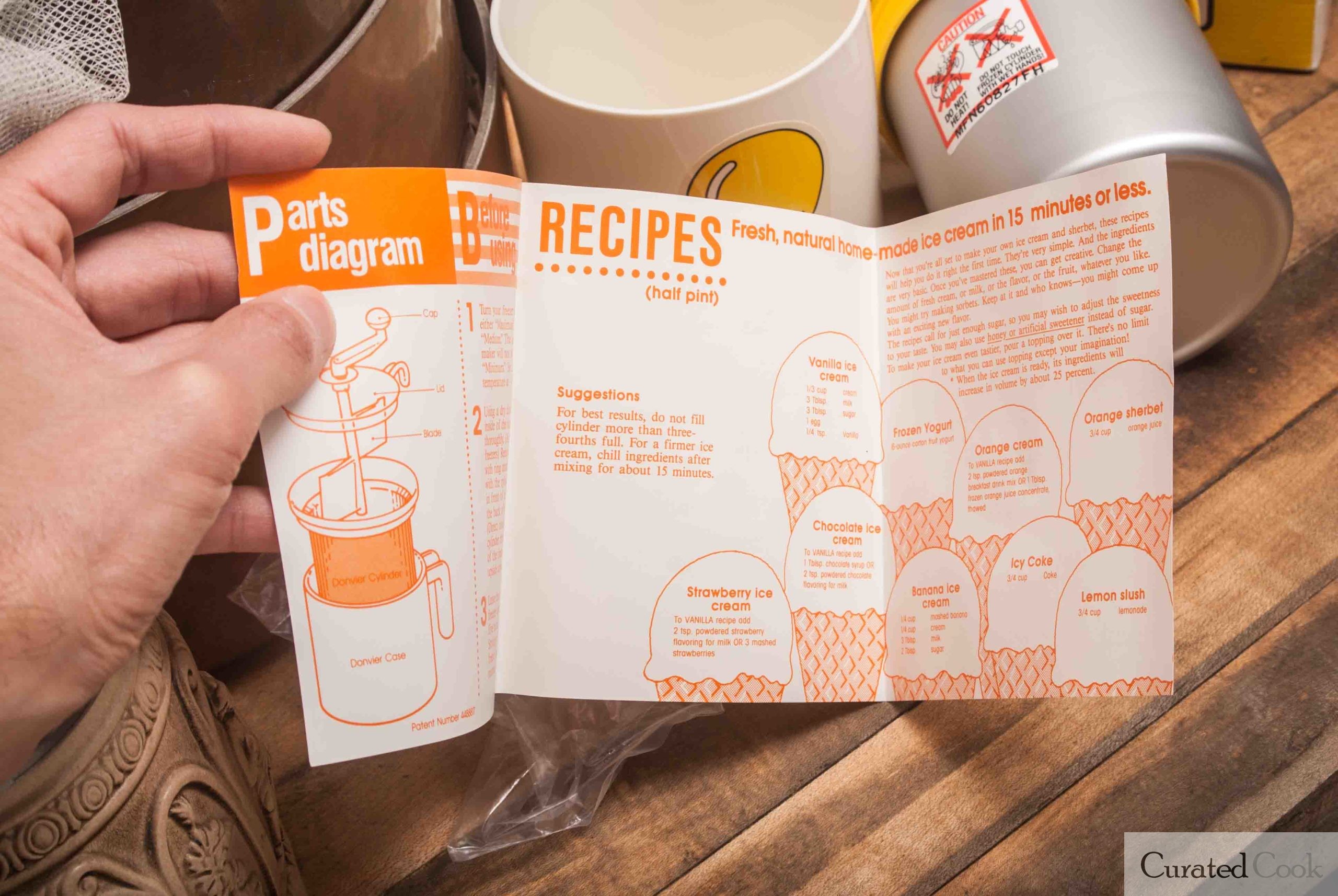 Vanilla:
1/3 cup cream
3 Tbslp milk
3 Tblsp sugar
1 egg
Chocolate Ice Cream:
Add to the Vanilla Ice Cream
1 Tblsp Chocolate Syrup or
2 tsp chocolate powder flavoring for milk
Strawberry Ice Cream:
Add to the Vanilla Ice Cream
2 tsp powder strawberry or
3 mashed strawberry
Banana Ice Cream:
1/4 cup Mashed Banana
1/4 cup Cream
3 Tblsp Milk
2 Tblsp Sugar
Frozen Yogurt:
6 oz fruit Yogurt
Ice Coke:
3/4 cup Coke
Lemon Slush:
3/4 cup Lemonade
Juice Slush:
Pour 1 cup of any unsweetened juice or any combination of juice. Then mix.
Donvier Ice Cream Maker Thoughts
Donvier Ice Cream Maker is a interesting ice cream maker. Although the desgin isn't really anything special. They simplified the machine to make it easier for hand cranked ice cream. Which was what made them so successful in the first place. People got a satisfaction of making their own hand made ice cream. Unfortunately, business condition ultimately lead to their failure. However, the build quality of this item is still top notch and something that should be commended.
If you would like to see more articles like this Donvier Ice Cream Maker, please visit our Vintage page.
Sources
The Virgina Pilot:
https://www.pilotonline.com/food-drink/article_7c1b45b9-2c0b-5f98-a7de-84a15cd23747.html